Introduction
Located on the corner of George IV bridge and Victoria Street (hence the new name of the former Missoni hotel) stands the trendy G&V Hotel.  Once owned by the Italian Missioni family, this hip and colourful hotel has recently become the latest addition to the Quovus Collection; a collection that expertly incorporates the lifestyle of a contemporary global traveller into their luxury hotel design inspiration and it fits perfectly well into the expanding portfolio of Edinburgh's luxury accommodation scene.
After a recent introduction and guided tour by Sales and Marketing Director, Scott Robertson we were kindly invited back to indulge in a spot of afternoon tea. An invitation we were delighted to accept.
We'd made our reservation for 3pm last Friday but this is clearly a popular choice as when we called to change our reservation time we were informed that there was no availability as they were fully booked. It was no big deal just meant we had to work an extra half hour longer before we enjoyed our afternoon of luxury!
We were unsure where afternoon tea would be served but the Bar was the destination point which was busy when we arrived at 3pm (and even busier when we left at 5pm) with a mixture of guests and the general public enjoying coffees, afternoon cocktails and of course the main attraction; afternoon tea.
After a warm welcome by the kilted staff we were alleviated of our sodden jackets and taken to our table. We made ourselves comfortable on the dog tooth corner seat that accommodated our gleamingly clean round glass table in the trendy bar area.
Our dedicated waiter knew that we were there for afternoon tea so preceded to double check our dietary requirements, Ross confirming that he is a vegetarian and me confirming that I am fine with everything! Before we knew it our glass of fizz (draught Prosecco) arrived and as we took our first sip we immediately felt relaxed in our trendy and colourful surrounds.
Next to be served was the Mini Pina Colada ice-lollies, served over ice in a Martini glass these blue tinted lollies looked fascinating. Informed that they were to cleanse the palate I decided to save mine until the three tier tray of goodies was served. Ross tucked in immediately and his expression after first suck said it all; extremely pleasant and refreshing.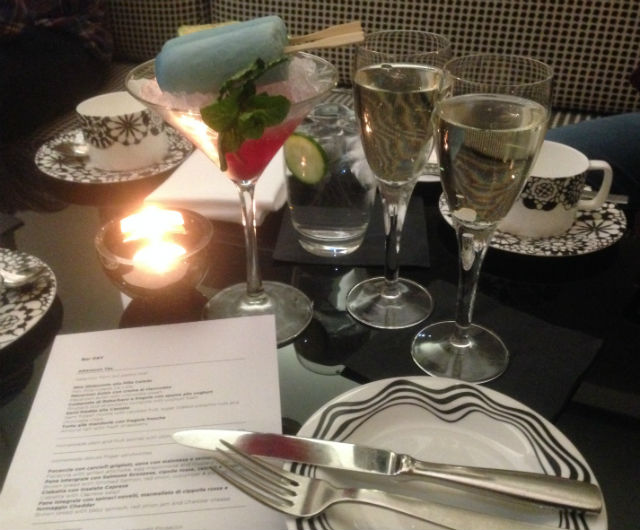 Soon after the traditional three tier cake stand arrived and our waiter knowledgeably talked us through each of the Italian inspired treats.
Savoury Deluxe Finger Sandwiches
Focaccia with grilled artichoke, egg mayonnaise and mustard cress.
Ciabatta with Caprese salad (this was actually fresh tomato with mozzarella and basil foam)
Brown bread with baby spinach, red onion jam and cheddar cheese.
Brown bread with smoked salmon, red onion, cucumber and pickled lemon. We didn't actually sample this one as Ross had asked for veggie I too had received veggie, I politely pointed this out and the waiter quickly offered to change but I was quite happy with the extra Ciabatta with Caprese salad that we received as a substitute for the salmon. In fact this turned out to be my favourite savoury dish so happy days all round.
Selection from their Pastry Chef
Macaroon éclair with chocolate cream
Rhubarb and strawberry compote with yoghurt foam
Semi frozen ricotta with candied fruit, sugar coated pistachio nuts and chocolate chips.
Almond tart with fresh strawberry.
Scones
Homemade plain and fruit scones with clotted cream and strawberry jam.
And So It Begins
What a feast awaited. Without a moment's hesitation we tucked in.
My afternoon tea strategy is to take a nibble of each and work out which I like the best and save this until last and to my surprise from the savoury selection the Caprese salad ciabatta was a firm favourite with both me and Ross.
I thought the ice lolly was a great touch and worked well with my nibbling strategy, however when I went in for the Pina Colada kill it had already started to melt and dolloped off the stick into the ice bearing glass. All was not lost as I could easily scoop it with a spoon, however my comment would be to serve this after the cake stand arrives to try and maintain its frozen composition for longer.
The homemade scones were served warm and it was suggested to us that we try the rhubarb and strawberry compote with them. I did on one half of a plain scone and the flavours worked really well but I liked the rhubarb and strawberry combo so much I couldn't resist savouring this in solitude, saving lashings of cream and jam for the remainder of the scones. I noticed that even the strawberry jam was an Italian brand, very fruity and a ready supply of this and the clotted cream – which was great as Ross and I seemed to hoover this up like it was going out of fashion!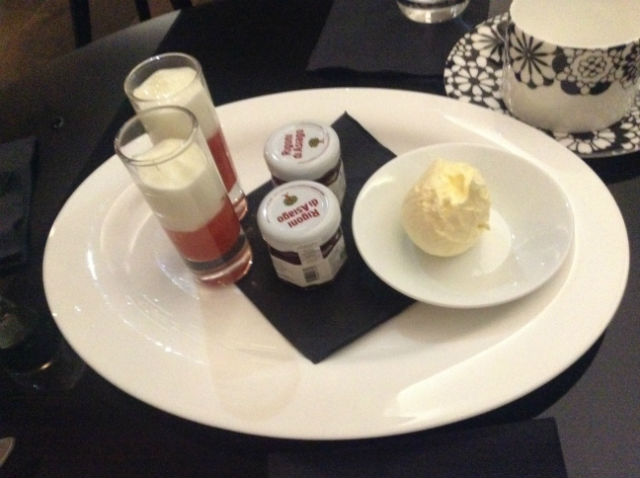 From the pastry selection Ross' favourite was the semi frozen ricotta with the candied fruit and mine as I mentioned was the rhubarb and strawberry compote with yoghurt foam.
Our waiter was extremely attentive throughout the course of our afternoon and had we wanted more drinks they would have been served in a timely fashion. We decided to give more alcohol a miss and moved on to our tea. Nine different teas were presented on the menu, however I opted for fresh mint (this wasn't actually on the tea menu but they obliged without question) and Ross went for a caffeine kick with an Americano……which smelt divine I must add.
Conclusion
I did enjoy the G&V afternoon tea experience and the Italian inspired dishes offered a different and flavoursome take on the traditional version. One of the things I love and hate about afternoon tea is the sugar high and sickly feeling this indulgence induces and I'd prepared myself for this BUT today it completely eluded me. An enjoybale afternoon tea without the crash and burn of a sugar high.
Prices and Options
Afternoon Tea = £21.50 per person
With a glass of draught Prosecco = £27.00 per person
With a signature Cocktail = £29.50 per person
With a glass of draught Prosecco and chocolate dipped strawberries = £29.50 per person
Contact Details
Address: G&V Royal Mile Hotel Edinburgh, 1 George IV Bridge, Edinburgh,EH1 1AD
Tel: +44 (0)131 2206666
Web: www.quorvuscollection.com/gandv-hotel-edinburgh