Get 10% off hotel bookings at Hotels.com using the code - AFFGENUKQ41218. Use this link to active the offer. Hotels.com
White sandy beaches, crystal clear waters, a lively nightlife… Phuket has plenty on offer for sun-seeking holiday-makers. As Thailand's largest island it's a great place to base yourself for discovering other nearby paradises, although you might not want to leave at all. Phuket boasts over 30 beaches, each with a different vibe depending on what you seek, from the buzzing Patong and Kata Beaches, to more romantic hidden gems on the north of the island. The island is also home to some incredible resorts for he luxury lovers amongst us.  Here is the TLE pick of our favourite luxury spa hotels in Phuket Thailand.
Heading To Koh Samaui? Read our guide to the best Luxury Koh Samui hotels.
The Anantara Layan is situated on Phuket's west coast, with stunning views over a tropical bay. There are 30 rooms/suites and 47 pool villas, surrounding an intimate and secluded beach. A private chef is available for bespoke dining. For complete relaxation, you can visit the Anantara spa facilities. There's a children's club to keep the little ones entertained while you relax. For those who want to indulge further, there's a five-day spa and wellness retreat, featuring rejuvenating spa treatments and nourishing cuisine. If you're feeling a bit more energetic, there's a fitness centre, watersports and a cooking school to keep you busy. For the lovebirds, the Anantara Layan has a private wedding chapel nestled on the tropical cliffside. Read More & Reviews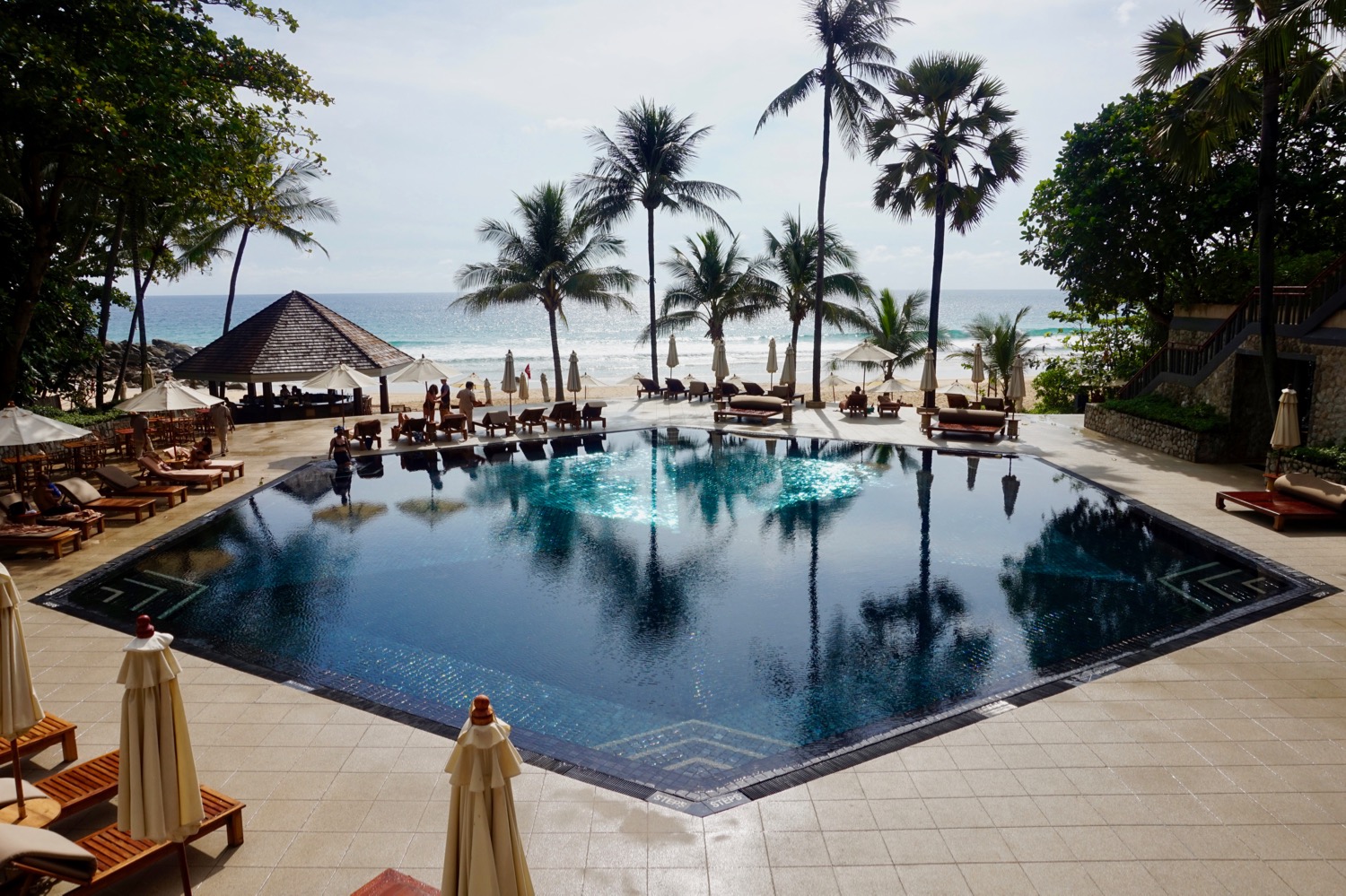 Overlooking a sandy white beach on Phuket's west coast, the Surin hotel promises seaside serenity with its stunning views. There are 103 cottages and suites in the resort, and you can choose between being on the beachfront or nestled into the hillside forest. Each residence comes with thoughtful extras such as local organic toiletries, beach hats, and espresso machines. There are several formal and informal dining options, so there's something whatever your mood. You can try out yoga, tennis and much more, before relaxing and ordering a drink by the pool. Read More & Reviews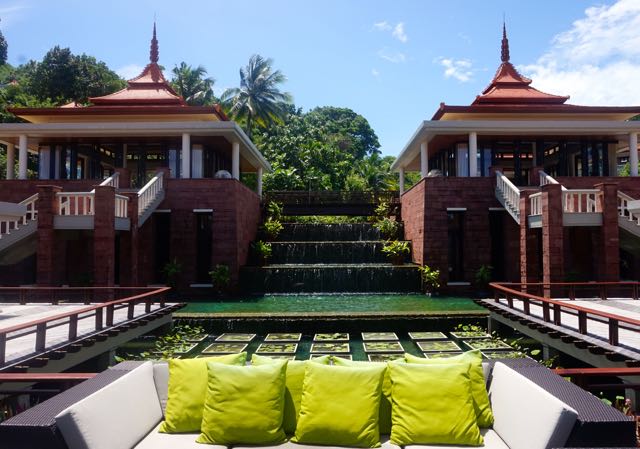 The Trisara calls itself 'The Garden In The Third Heaven' and it's not hard to see why. The hotel is positioned looking out to sea in the north-western hills of Phuket, taking advantage of the stunning sunsets. There are a number of options for types of accommodation, such as tranquil villas with private pools and kitchens. There are cruises and excursions available from the resort, to help you explore the local neighbourhood, rich with cultural heritage. When dining, the ingredients for your meal are locally sourced from markets, fishermen, and even Trisara's own working farm. Read More & Reviews
Check availability and prices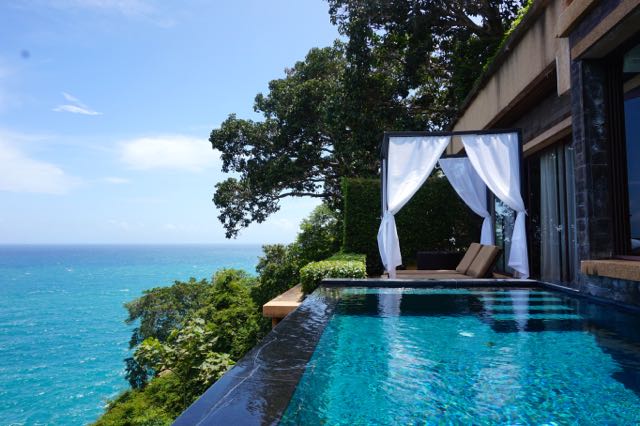 Overlooking the blue waters of the Andaman sea, the Paresa is a five-star resort offers panoramic views from its secluded vantage point. From suites to villas, there's accommodation to suit everyone. Finishing touches include four-poster sun loungers, luxury bedlinen and outdoor showers. Some villas offer in-suite dining, infinity pools and even private spa facilities. The resort facilities feature a luxury Thai spa, cooking academy and library. If you fancy heading out of resort, there are excursion options to suit any taste. You can catch fish for lunch, go snorkelling or visit a nearby sanctuary where you'll feed and care for retired elephants. Read More & Reviews
Guests who stay at this unique resort are invited to step into a fantasy world where luxurious tree house pods provide the perfect accommodation. Each pod is suspended from the forest that graces the coast and comes with a wide range of modern conveniences while also offering stunning views of the ocean and golden sands of Kamala beach far below. This sophisticated hideaway also boasts a lagoon-like swimming pool featuring its own waterfall and bar, while guests can also unwind and get into shape with daily classes including yoga, Tai Chi on the beach and Muay Thai boxing. Read More & Reviews
People who want to enjoy pure pampering and relaxation are sure to love this luxurious resort, which can be found cascading on the edge of Koh Yao Noi off the west coast of Phuket. Guests are collected from the airport and taken to the hotel in a private boat to this enchanting spot where they can take part in a wide range of activities such as kayaking in the crystal clear waters, cycling and swimming. The Zen garden spa is the perfect place to relax while gazing at views of the enchanting Phang Nga Bay. Read More & Reviews
Guests can enjoy stunning views of the crystal clear water that laps the shore of Panwa beach while they unwind in style in their luxurious suite. The rooms here boast enormous picture windows to let in plenty of light, while the contemporary Thai décor sets the perfect tone. The slightly secluded southern island setting is island for honeymooning couples and the hotel offers plenty of first rate amenities to enjoy such as a modern spa, several swimming pools set in lush gardens and large tennis courts, while people who like to dine in style will be in for a real treat. Read More & Reviews
Set right on the edge of the powdery white sand of Nai Harn beach, this cool and contemporary resort commands one of the most desirable positions on the whole of Phuket. The hotel originally opened its doors to guests in the '80s and has received a large number of international celebrities over the years. The infinity pool is set with floating sun loungers where guests can unwind and take in stunning views as the sand slowly gives way to the turquoise waters of the Andaman Sea, where a wide range of aquatic activities are just waiting to be enjoyed. Read More & Reviews
Boasting its own private beach club and commanding panoramic views of Phang Nga Bay, this is a stylish accommodation option where guests come to see and be seen by those in the know. Whether you prefer sipping cocktails at sunset while gazing at the ocean, indulging in a romantic evening meal on the terrace or splashing around in the infinity pool, pure style and relaxation are guaranteed. With 27 private villas and just 79 sleek and sophisticated rooms to choose from, the hotel is an exclusive as it is luxurious. Read More & Reviews
Set in a commanding position in Emerald Bay, this hotel can be found perched high on the rocks to provide guests with enchanting views. While guests are treated to nothing but the best in terms of style and amenities, this is also a great place for the environmentally conscious to stay as the hotel concept incorporates a number of ecologically sound methods such as rainwater collection. This provides guests with peace of mind as they enjoy paradise from their private pool or terrace, while the private beach below is the perfect place to explore. Read More & Reviews
As soon as guests touch down at Phuket International Airport they are greeted by hotel staff and whisked away to the enchanting Nai Yang Beach setting, which is backed by a stunning palm grove and faces a private strip of golden sand. While each of the rooms here is spacious and luxurious, perhaps the real highlight is the tropical garden. This huge lush space is set with palm trees and a number of hot tubs and swimming pools where guess can unwind while enjoying the intense naturally beauty of this luxurious playground for as long as they desire. Read More & Reviews
Commanding the perfect position between the beautiful sandy beaches of Kata Noi and Kata Yai on the east coast of Phuket, Kata Rocks is the perfect place to use as a base for those who refer the minimalistic approach to luxury. Guests are provided with plenty of privacy as the ocean facing rooms and villas come complete with their own spa pools and small gardens to unwind in. Those who are feeling social are sure to love hanging out in the infinity pool and at the bar, while the modern spa offers an impressive selection of contemporary treatments. Read More & Reviews
An invigorating ten-minute speedboat ride takes guests across the calm and clear waters to this luxury hotel set on a craggy island. This is the perfect place for guests to live out their desert island fantasies without having to skimp on creature comforts as there are 67 private villas to choose from nestled in nature complete with large picture windows and spacious terraces to unwind on while soaking up stunning ocean views. Couples will love the private pools, which allow for intimate island paradise experiences. Read More & Reviews
Set on the edge of Bangtao beach, the Banyan Tree is one of Phuket's best known luxury hotels and combines traditional Thai class and elegance with modern creature comforts and pampering that guests have come to expect from this well established brand. The hotel's huge grounds play host to a wide range of activities and amenities such as golf on a stunning course, tennis courts, a yoga pavilion and two large swimming pools. Each of the onsite villas and suites is sumptuously decorated and fitted so that it serves as a luxurious retreat, while guests are provided with private beach access and invited to indulge in a little pampering in the world class spa. Read More & Reviews