Centara is a hotel brand that TLE have become very familiar with after having stayed at a number of their properties across Thailand over our many visits to the amazing country. Read more about our times staying in Hua Hin and Bangkok.
A Thai owned and operated brand, Centara have set the standard across the country for luxury hotels and holiday experiences and their latest addition, the Centara Grand Beach Resort Phuket, is no let down as TLE discovered on our recent stay in Phuket.
What to Expect
Taking its design influences from the Sino-Portugese shops and houses which are main features of Phuket Old Town and nestled away in one of the quieter ends of Karon Beach in Phuket, the hotel is perfectly positioned for chilling out but also exploring the nearby resort town.
Large in size compared to some other hotels we have stayed at on the island; 262 rooms, suites and villas are built around a core hub housing a spa, multiple restaurants, gym, bar and clubhouse. Located on the beach you have the Andaman sea on your door-step and clever architecture of means that virtually all rooms have a view out to the sea.
Check In And Welcome
Like all resorts in Phuket it is easier to prebook hotel transport before-hand to pick you up and take you to the hotel and I would advise doing this as opposed to relying on getting a taxi from the airport once you arrive.
Upon arriving at the hotel lobby we were greeted by bell boys who took our bags away. Check in is in the beautiful lobby area, a cooling drink is offered on arrival and the usual documents passport etc are required to check into the hotel. Everything is very simple and convenient.
Like most hotels on the island electric buggies are the best mode of transport to get around and one was waiting outside with our luggage preloaded ready to take us to our villa which was at the far end of the resort.
The Room
We had the pleasure of staying in one of the resorts best accommodation options, their luxurious villas, tucked away in the private east side of the hotel complex they are completely indulgent.
Villas include your own private entrance and grounds and at the front you have your own pool.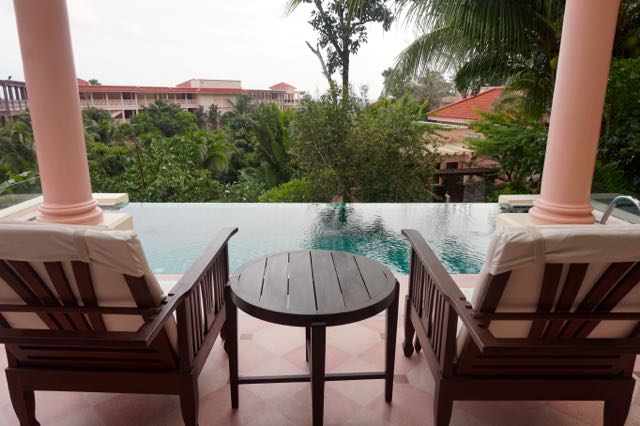 Once in through the front door to the right you have your own large lounge which can comfortably seat ten or more if you were having a party and a well stocked mini bar has everything you could possibly need to get a party started.
The bedroom is one of my most favourite villa bedrooms I have seen so far, a huge space with large vaulted ceiling and ceiling fan in the middle (I am convinced these fans do nothing, but they make me feel like I am on holiday).
The bedroom and bathroom blend into one in the villa, immediately behind you is a gigantic marble bath which you could literally have a party in. Little finishing touches like full-sized amenities by Harnn and bath salts are there for your romantic soak.
Behind the bath is the twin sized marble sink area, which is packed with more amenities. There is a separate walk in closet with the usual robes and slippers and laptop safe. A separate fully marble wet room with rain shower and hand shower is to the back right.
I love room 'goodies' and a bottle of wine ready for pouring on arrival as well as Thai fruit and sweets on arrival are a nice welcome.
The villas also have an evening turn down service which includes champagne, sweet and savoury nibbles and refreshing fruit juice as well as turning down the bed and closing the blinds.
Other Rooms 
If you are not staying in a villa you will be in one of their beautifully appointed rooms (all of which feature a balcony or terrace). Rooms can comfortably sleep two adults and most take two adults and two children. But there are larger family rooms and Jacuzzi suites available.
Food and Drink
We ate breakfast in the main restaurant, which ended up being a rather stressful affair. Given the size of the hotel the restaurant was rather full and queuing for food became a chore. However there was a great selection of food;  everything you would expect to meet a European palette in addition to Thai and Chinese Asian dishes as well. We ended up going back to the club lounge for breakfast which was a very much slimmed down breakfast offering but the peace and quiet of the club lounge was bliss.
The Cove Restaurant
The hotel also has a beachside restaurant, The Cove, which we didn't have time to eat in. This served international and Asian fusion menus.
Club Lounge
One of the added extras of staying in a villa is that you have access to the hotels club lounge, which is a great bonus. Here  afternoon cocktails, morning breakfast and afternoon tea are served. We hit the cocktail period and made full use of their free flow cocktails, wine and beers.
Gym and Spa
The hotel also has a large spa and large gym with brand new gym equipment.
The Town Nearby
Relaxation is the name of the game so you should find everything you need in the resort complex, however if you do decided to go for a leg stretch it's only abound a 15 minute walk into the town centre.
Final Thoughts
The hotel is beautiful and serviced to an incredibly high standard and I really enjoyed my time there. I would point out that the hotel is positioned more toward the family market, which it is perfect for.
If you are a couple wanting to relax there are more appropriate hotels on the island but for families this is the dream ticket!
Finances and Details
A night in a villa at the Centara Grand Beach Resort Phuket costs 25,080 Thai Baht per night (approx £451)
Address: Karon, Mueang Phuket District, Phuket, Thailand
Phone: +66 76 201 234
Web: www.centarahotelsresorts.com