Nestled in a secluded cove, with private beach and lush manicured garden's is one of Phuket's most exclusive resorts – the Trisara. Small in size at only 48 beautifully appointed villas, intimate in style and altogether luxurious it's no surprise that this is one of the islands most exclusive getaway resorts and TLE found out just what makes the Trisara so successful when we recently visited on a long weekend break to the island.
What to Expect
The Trisara is only 11 years old, but in that time the brand has carved out a place as one of Phuket's finest luxury bolt holes. Unlike many other hotel brands on the island – this is not a chain that follows a cookie cutter model, instead the Trisara's owners are also the managers and it's this closeness to the day to day running of the business that keeps the standards impeccable and the brand at the top of it's game.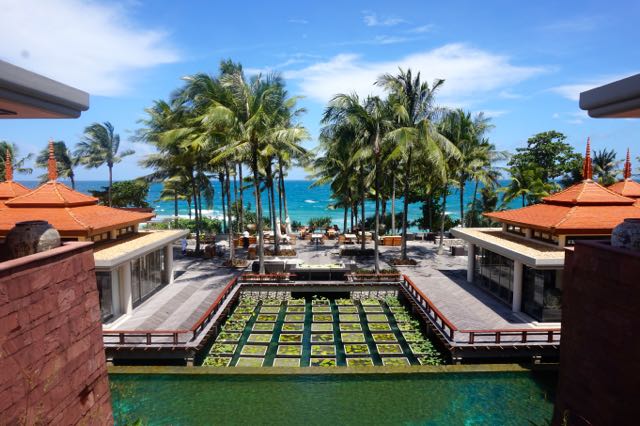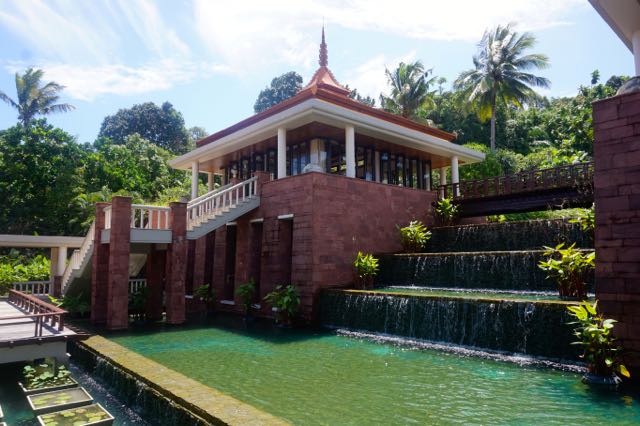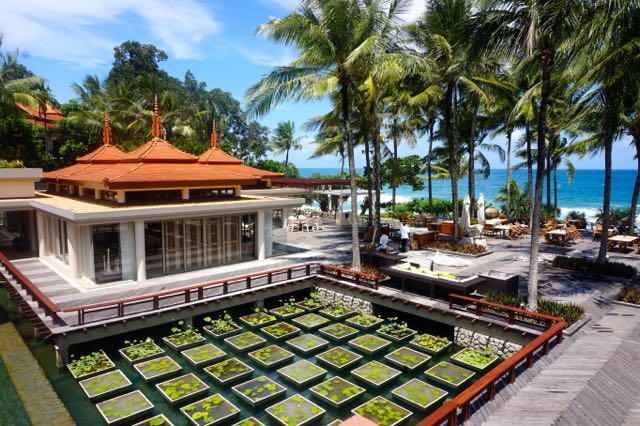 There are 48 pool villas and suites as well as a number of larger residential properties for rent with up to six bedrooms (more about that later)… Tight security keeps the resort completely private and intimate and being only 15 minutes from the airport makes it easy and stress-free to get to. This is the perfect resort for a honeymoon or a couple coming away to spend time unwinding and relaxing.
The Rooms
We spent our stay in a One-bedroom Pool Villa, of which there are 22 and what an experience it was. The villa is large set over 240 sqm – the lounge and bedroom are 96sqm and include gigantic oversized king size bed positioned in the middle of the room that looks out to your 10m private pool and deck. To the left of the bed as you sit on it is your lounge area complete with sofas , TV and Bose sound system and to the right is your work desk.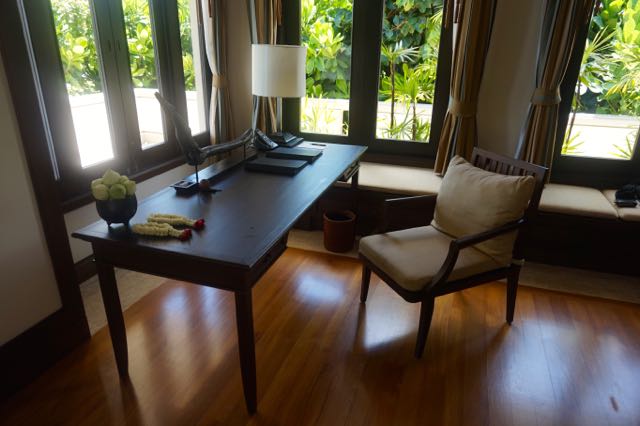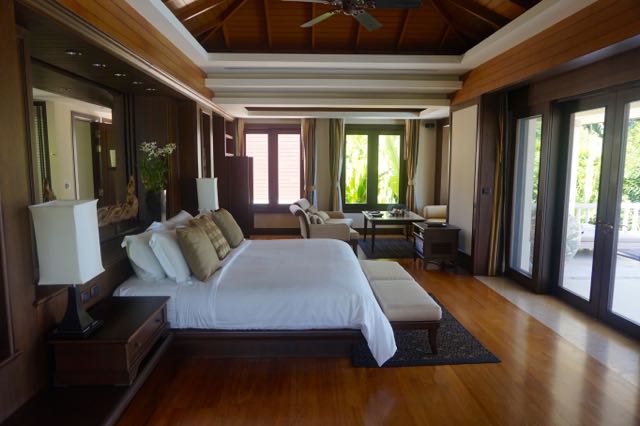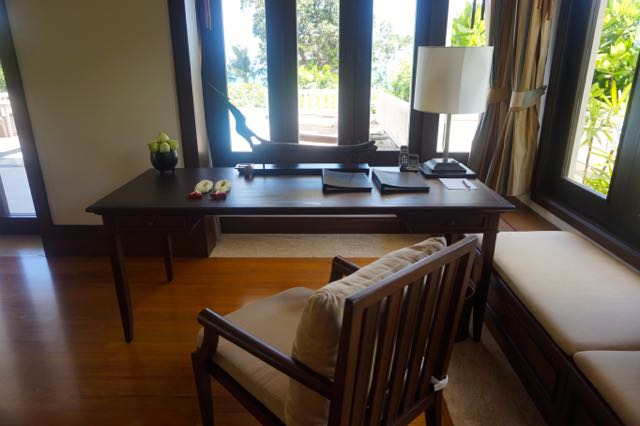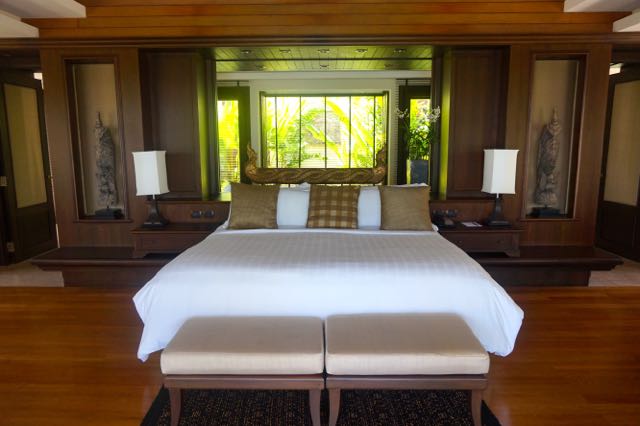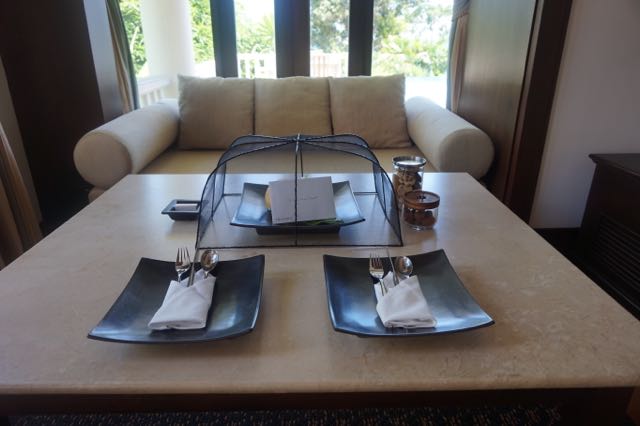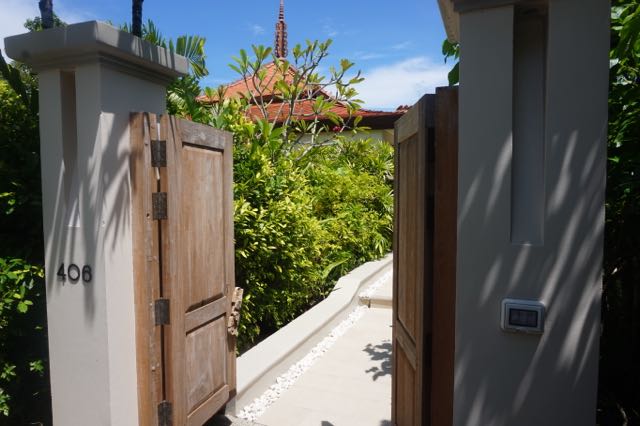 The bathroom runs along the back of the villa with a huge central two person bath and twin 'his' and 'her' sinks – a separate dressing area, indoor shower and larger outdoor shower area, toilet and two built in wardrobes complete the back of the villa.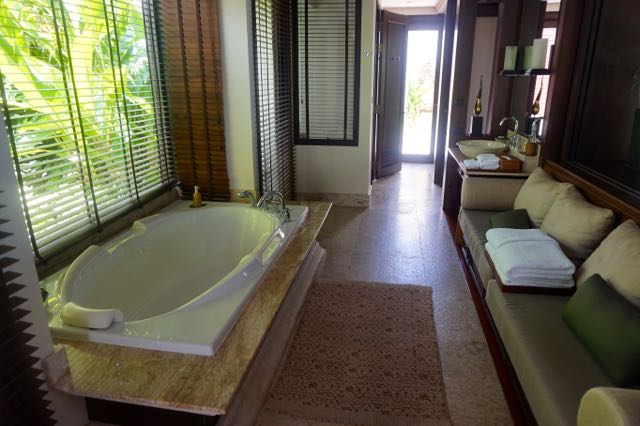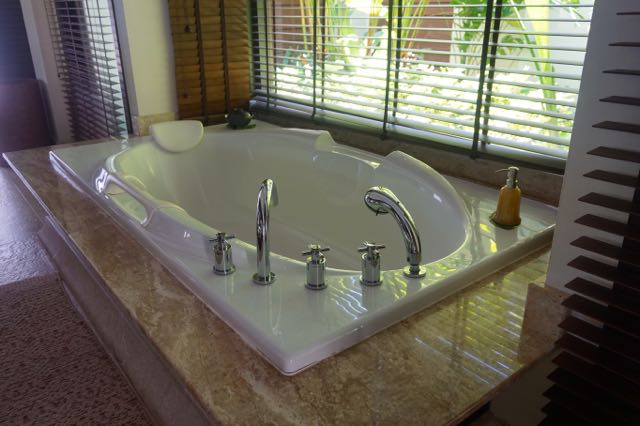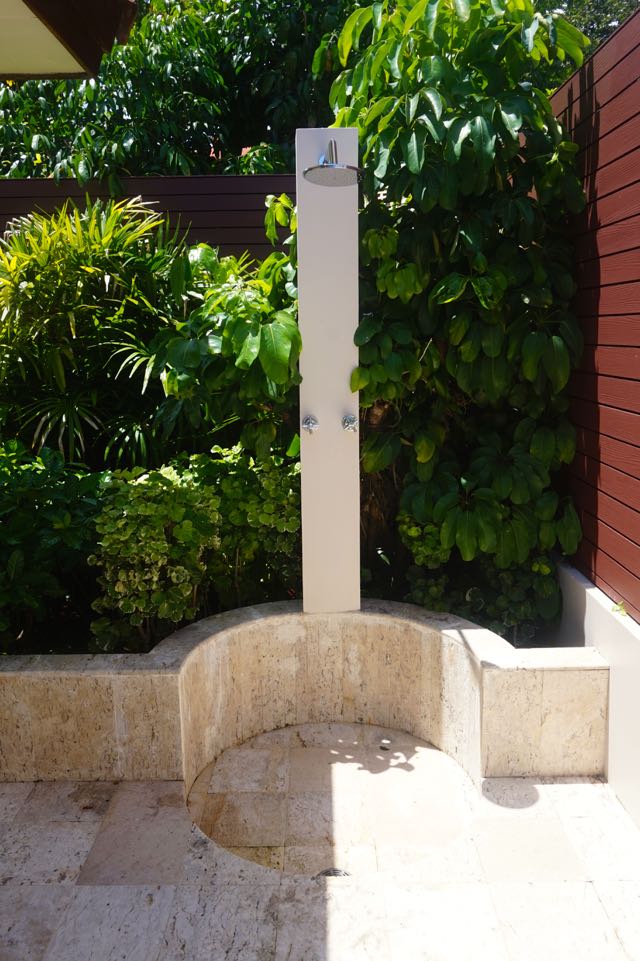 The bedroom and bathroom are part open plan by day and by night the spaces can be separated by a series of wooden mirrored shutters. For privacy the toilet has its own separate area – so fear not none of the romance will be lost 😉
The outdoor area is a magnet for any sun starved Brit and this was where I spent most of the time. The large infinity pool is simply sublime, swim out and admire the direct view out to the Andaman sea (of which all villas have a view of) or lie back and look up at the turquoise blue sky as you float about.
The pool area is flanked by a teak deck wrapped around each side, you have 2 sun loungers on the right in the sun and two under the shade of the villa. For that morning coffee sit at the table beside the pool and just take in the view.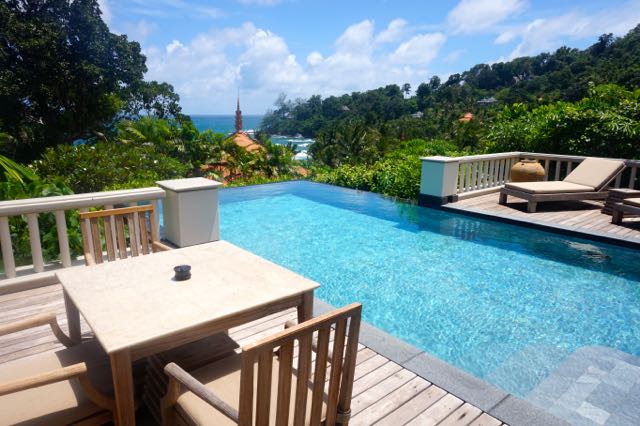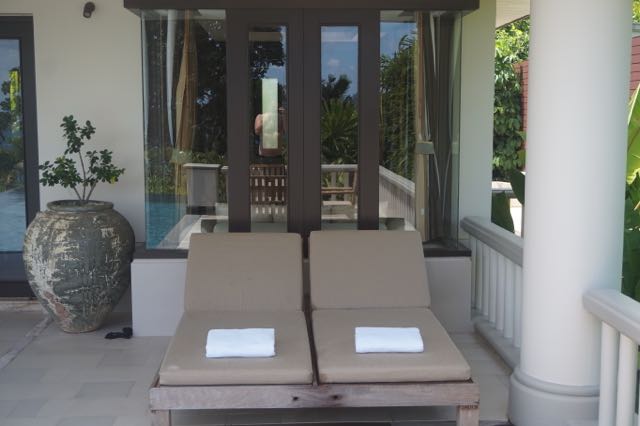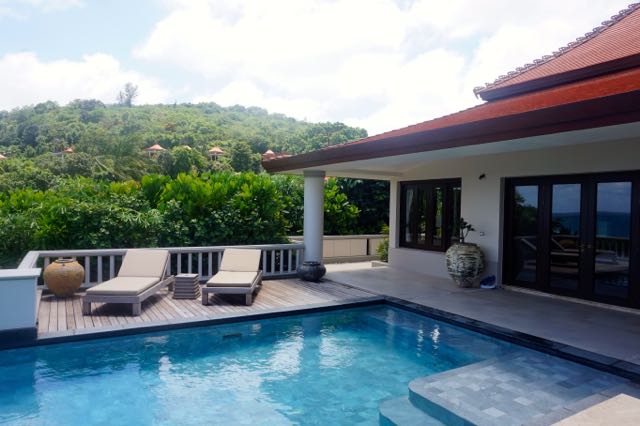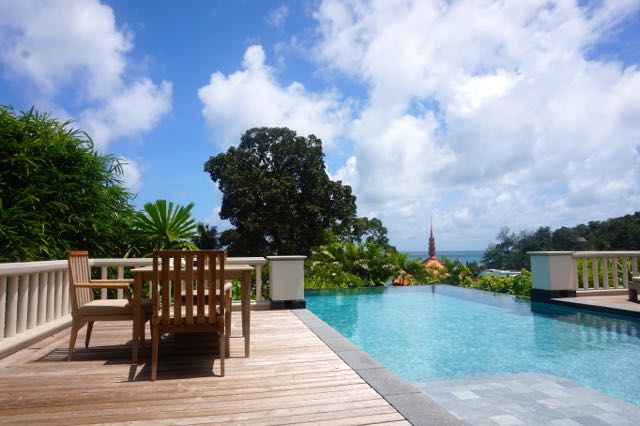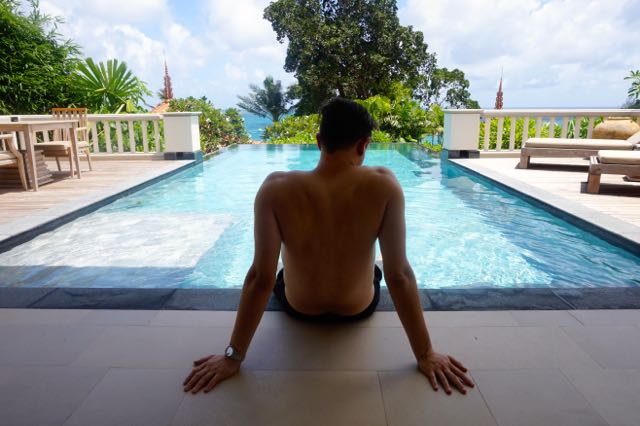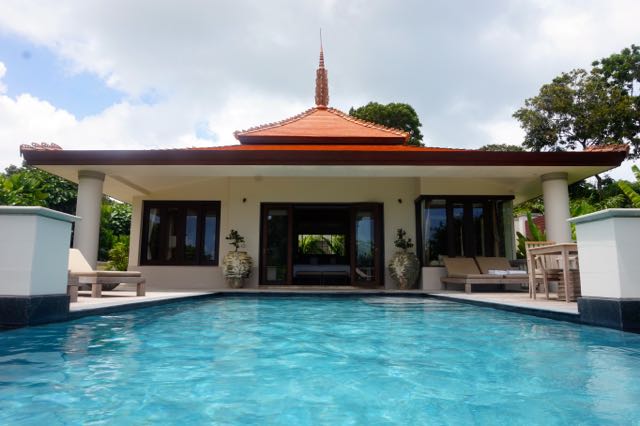 Clever garden planting around the villa keeps the space in complete privacy, whilst still offering a perfect view out to sea.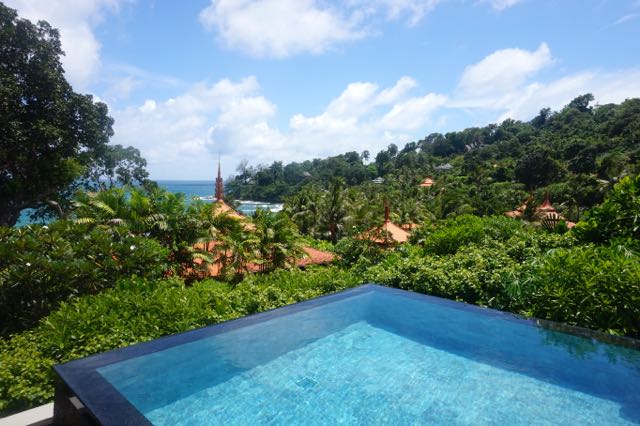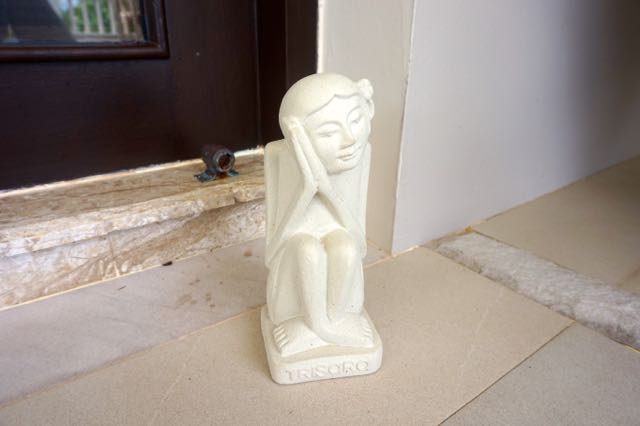 To maintain guest privacy members of staff will enter the villa by the staff entrance rather than pool entrance and if you really don't want anyone to disturb the moment position the 'Angel of Privacy' at your villa garden entrance and no one will cross her path.
Some of the finishing touches I liked
Music
It's nice to take your own music with you when you travel and thanks to the surround sound Bose system that runs through the villa you can plug in your mp3 player or iphone or anything with a phono jack and away you go.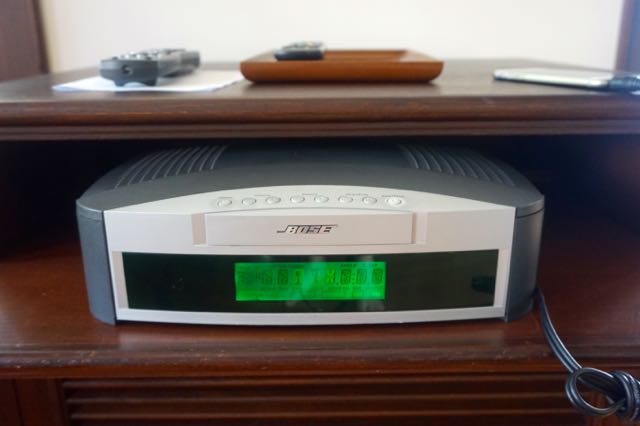 Water
An initiative by the hotel to reduce their drinking water consumption from reservoirs is their Reverse Osmosis Water Plant. The plant takes seawater, cleans and filters it and then remineralises the water which ends up being bottled and sealed in glass bottles for your room. Hear the satisfying 'pop' as you open one of the water bottles from your chilled minibar.
In addition to this all pools contain no chlorine.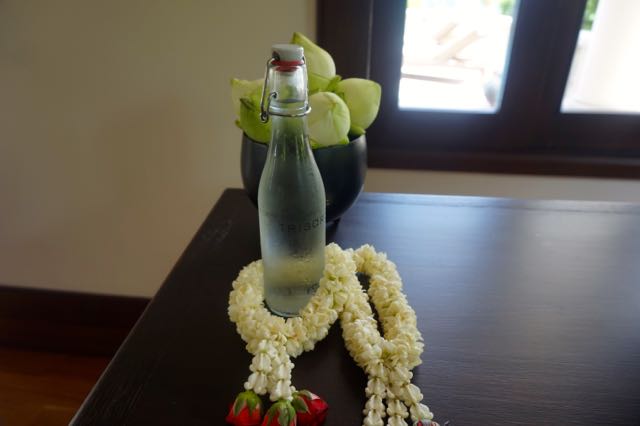 Turn Down Service and Welcome Amenities
Your villa includes a welcome amenity of fresh Thai fruits, in addition to a selection or freshly made cookies and truffles – which are topped up during the turn down in the evening – expect to put on a few pounds…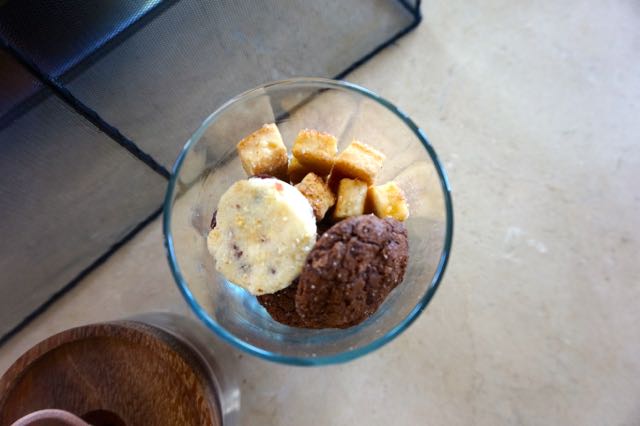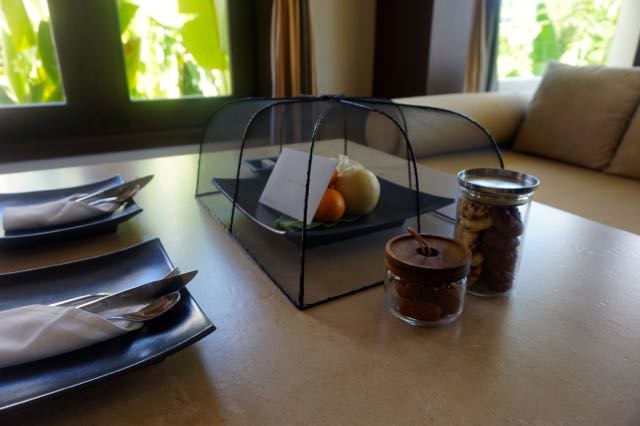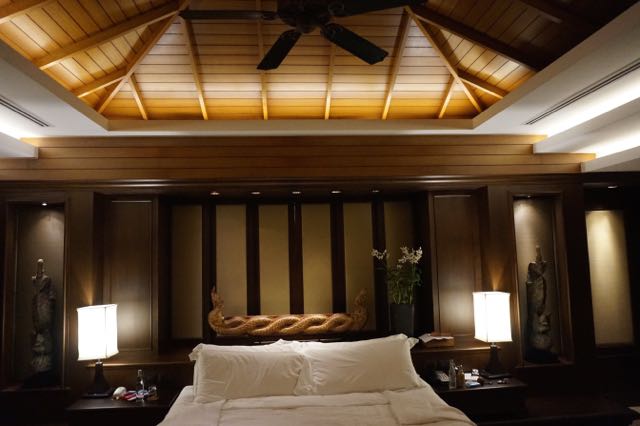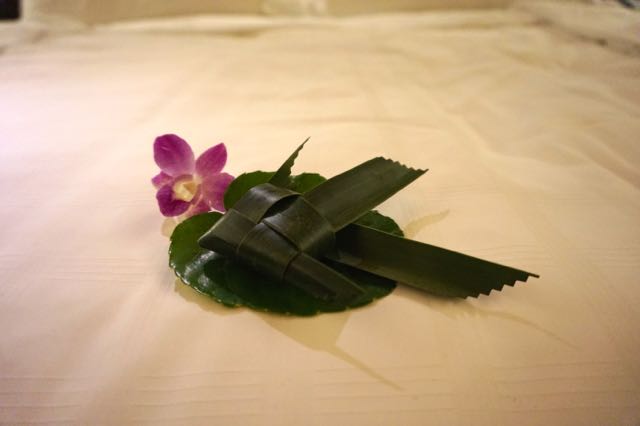 The Service
The service is impeccable from the moment you arrive, right though the whole trip. As the villas are large, guests are shown around the whole property and shown how everything works and what things do – there are lots of little goodies in drawers and tables so it is useful to know what is what.
Trisara Bag
If you are heading out for the day – take the your Trisara woven beach bag with you, which is also complimentary to take away with you after your stay as a memory of your trip.
Some of the sensible stuff I liked
Wifi
I would actually struggle to stay somewhere now that doesn't include easy to use free Wifi and Trisara have made things simple – login and away you go and it works through-out the resort.
Mirrors
Mirrors everywhere – the backs of the two bathroom doors have full sized mirrors and the shutters between the bedroom and bathroom are mirrored and turn into a giant wall of mirrors.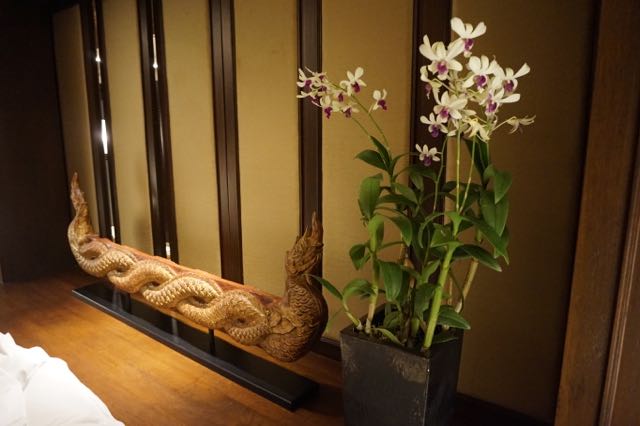 Mosquitos
This area of Thailand does include mosquitos, your villa comes complete with a natural Deet free spray to use at night and there is a insect repellant coil you can burn too.
Buggies
Whilst an extremely intimate resort – it is set over a large space, so just call up a buggy from your villa when you want to head to a different part of the resort and one will come along in a matter of minutes for you.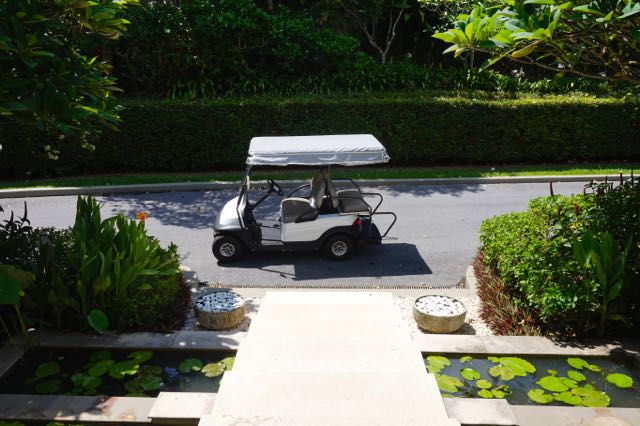 Residential Villas
The Trisara resort is also responsible for the 20 residential villas which are privately owned and therefore all quite individual in style.
Villas range in size from 2 – 6 bedrooms and include their own staff and kitchens. They are perfect for family getaways and range in price from $2k to $6k USD per night.
We were nosy enough to look around the 6-bedroom villa, which has a touch of the Richard Branson to it. Owned by a French family that live in Hong Kong, it has a nautical feel to it when you get down to the bottom level – you would be forgiven for thinking you are on a cruise liner.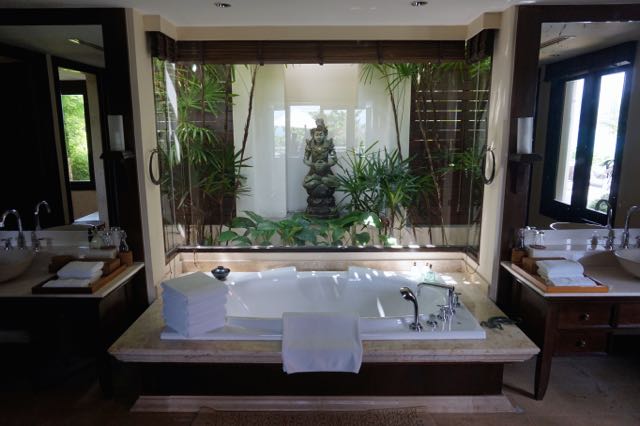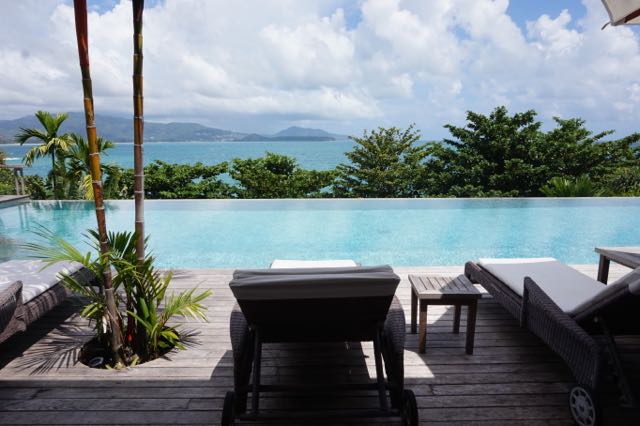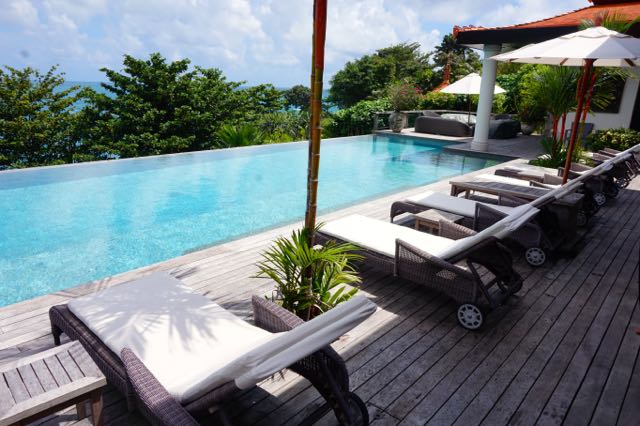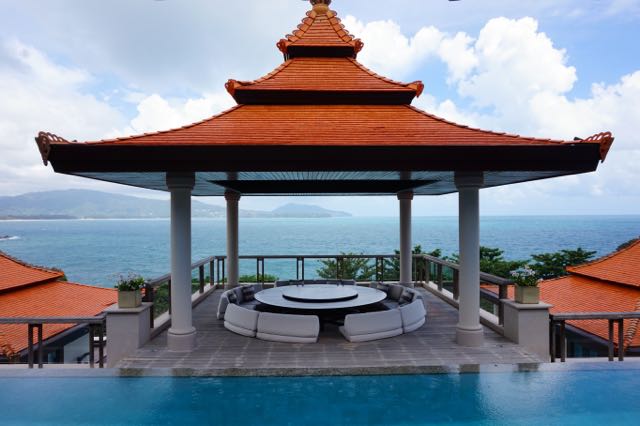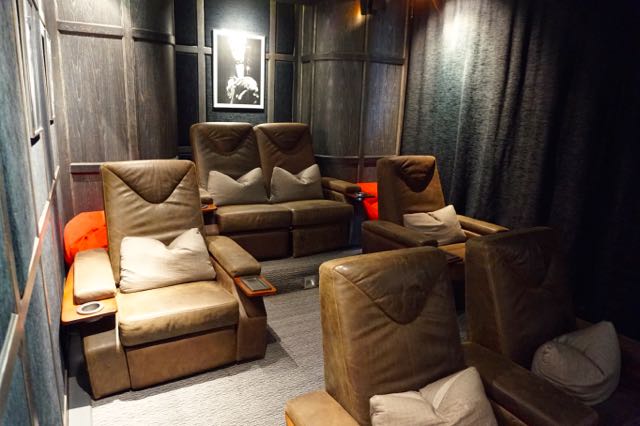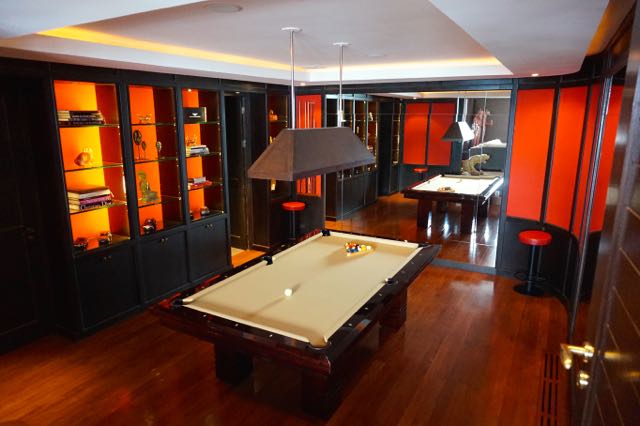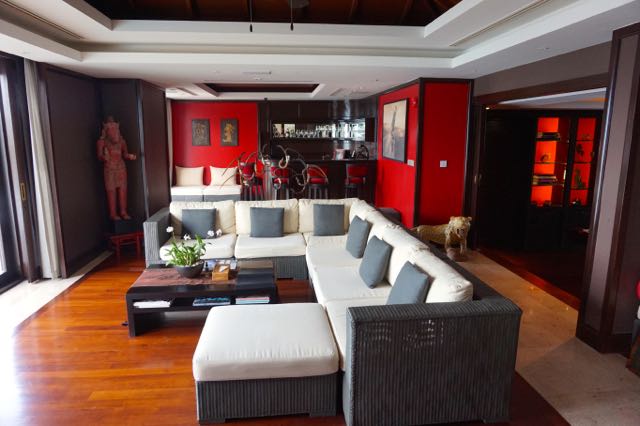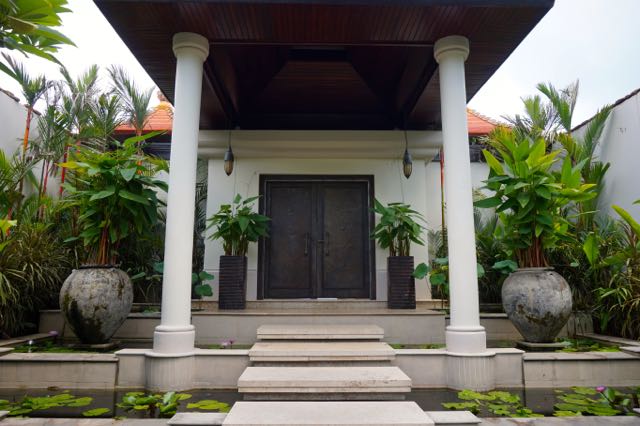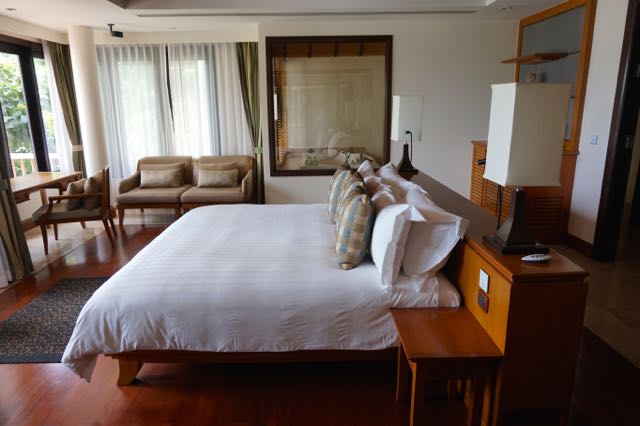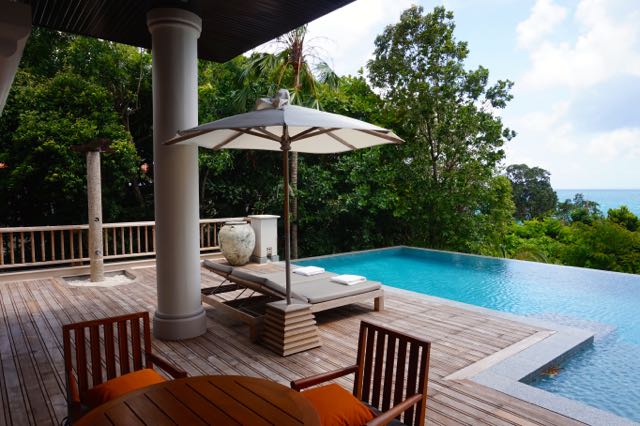 Other Parts of the Hotel
Restaurant
The hotel has two restaurants, the Deck, which we had lunch in and offers a selection of Thai and European dishes, out on the decked area next to the beach. This perfect setting is great for both lunch and dinner.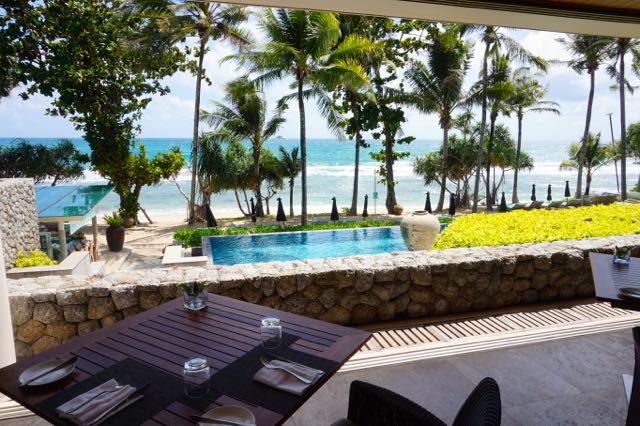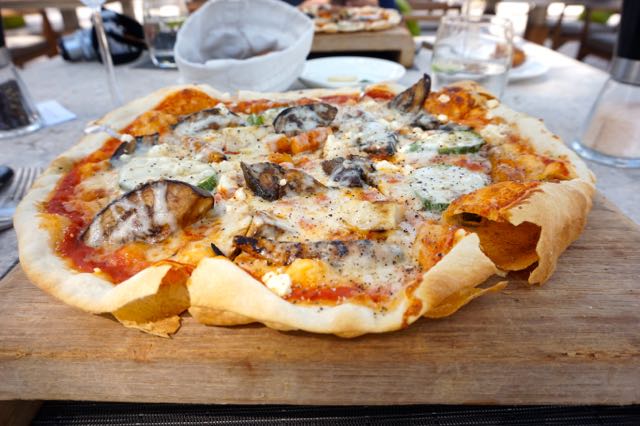 Trisara Seafood – offers freshly caught seafood from both the Andaman sea and the Mediterranean, paired with wonderful wines from the Wine Spectator awarded cellar and is a perfect place for a romantic dinner.
Breakfast
Breakfast is both buffet and a la carte – whilst the buffet is a slimmed down version of bigger resort options – find muesli's yogurts, cereals and a wide bread and pastry selection.
The a la carte menu is something quite special – order as much as you want from the menu, which is split into European, Thai, Chinese breakfast options.
Bar
We didn't drink in the bar but in the evening it looked the perfect spot for a drink – in fact all the communal areas at night looked just beautiful.
The bar offers Asian and Western tapas as well as a variety of wine from their award winning cellar and lets not forget a comprehensive list of classic and signature cocktails.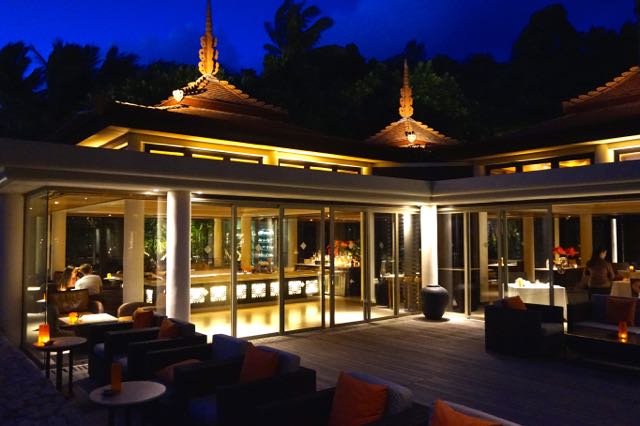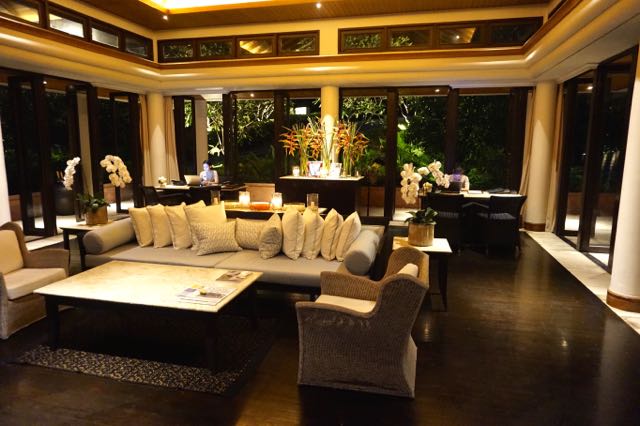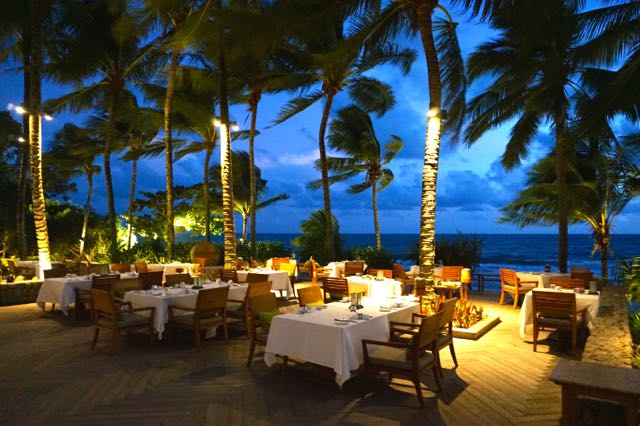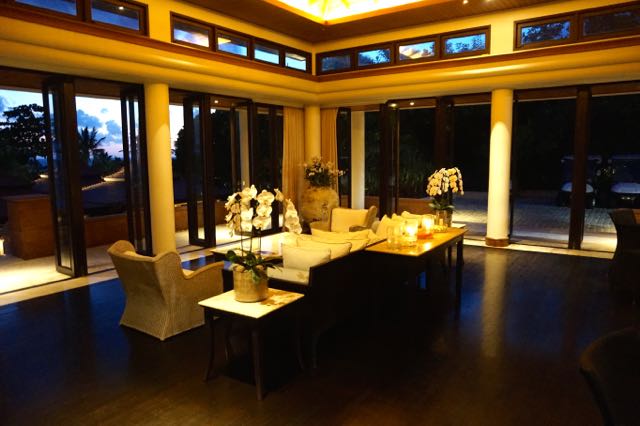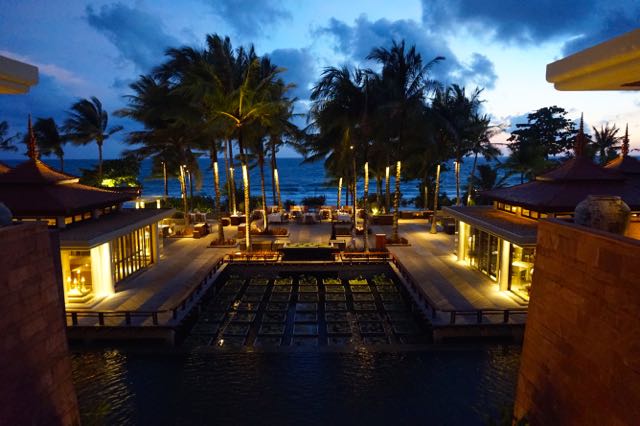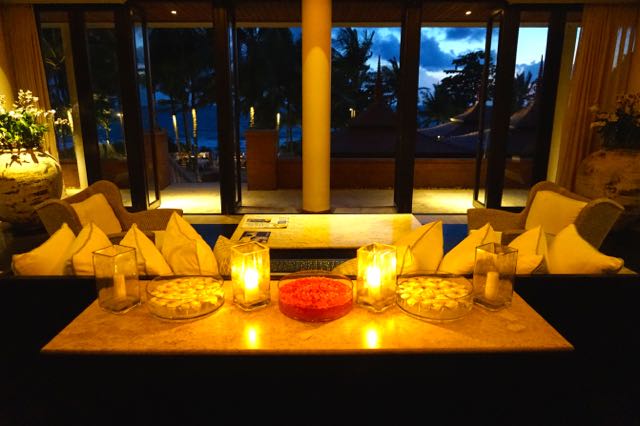 Pool and Beach
I must admit I was too busy enjoying my own private pool to try out the main hotel pool, but when we did pass it looked the perfect spot for a cooling dip.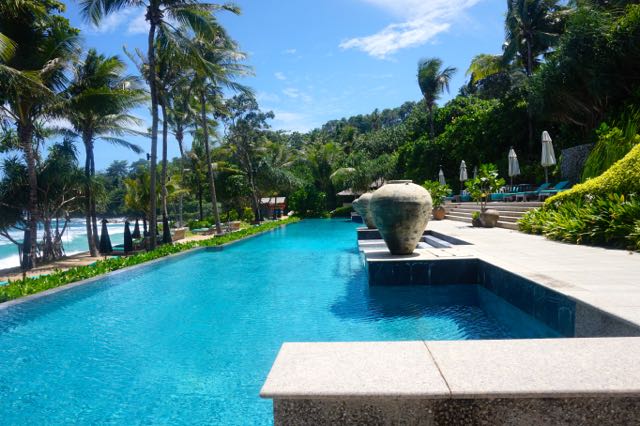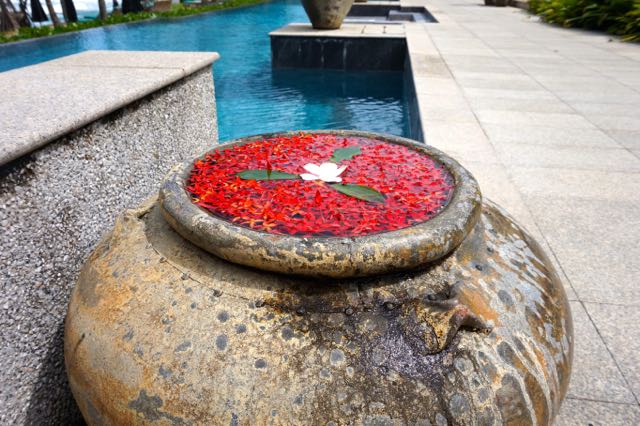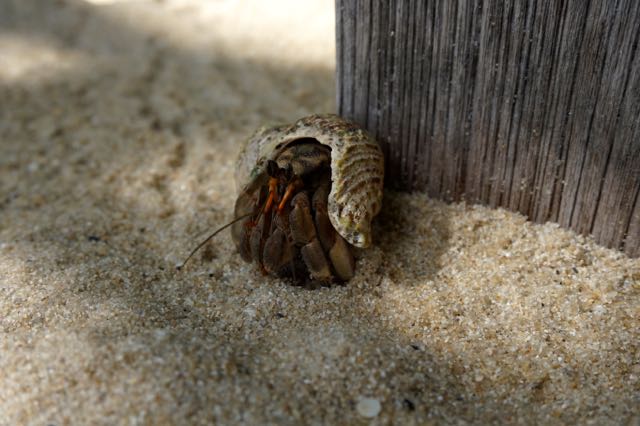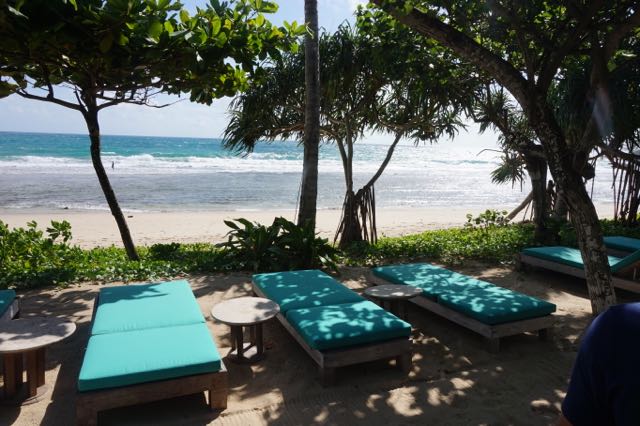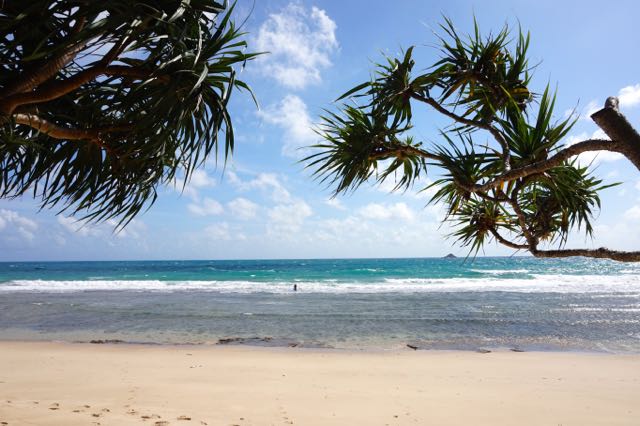 The hotel is situated on the beach and because of the cove shape of the bay it is completely enclosed so there is no one to disturb you. Complete with sun loungers and hammocks you do feel like you are on your own private desert island. You will spot lots of little hermit crabs hiding on the beach, don't worry they don't bite, they are fascinating to watch as they go about their daily business and a bit of an emblem now to the area.
Final Thoughts
A night at the Trisara is expensive compared to other resorts on the island, but you get what you pay for. I was in state of complete relaxation the entire time I was there, it was bliss.
Finances and Details
A night in an Ocean Pool View Villa is $ 1,770 (£1136.51) per night including breakfast.
Address: 60/1 Moo 6, Srisoonthorn Rd., Cherngtalay, Phuket 83110, Thailand
Phone: +66 76 310 100
Web: trisara.com