Spring 2022 saw the re-awakening of the fabled Castle Elvira in Puglia. Reimagined as a new designer hotel spread over four levels, the launch was three years in the making. This followed what has been an extensive period of abandonment, beginning not long after the castle's construction in the late 1800s. Now its original detailing has been beautifully restored, including a cinema and rooftop bar, accompanied by eclectic furnishings and the latest tech. The result is a luxe, artistically-minded environment, the backdrop for Castle Elvira's one-of-a-kind experiences.
Love and magic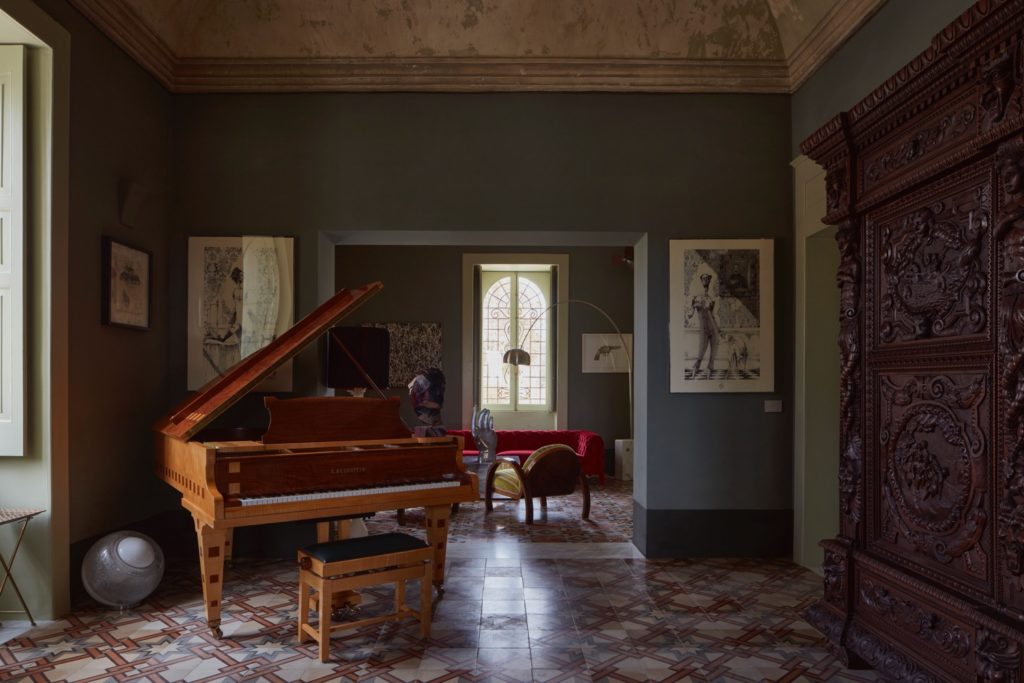 According to legend, the castle was a replica built by a moneyed couple for their only daughter Elvira's 17th birthday. In gratitude, she prepared a feast in their honour, but, having mistakenly eaten poisoned mushrooms picked from the grounds, Elvira perished and the castle was abandoned. Owner Steve Riseley spoke of his love and vision for the hotel: "Whether a fable or reality, I fell in love with the castle and Elvira's tragic story. From the moment I saw the property I wanted to breathe life back into the decaying buildings, restoring the glory, filling the park with love and magic and so that the story of little Elvira can live on."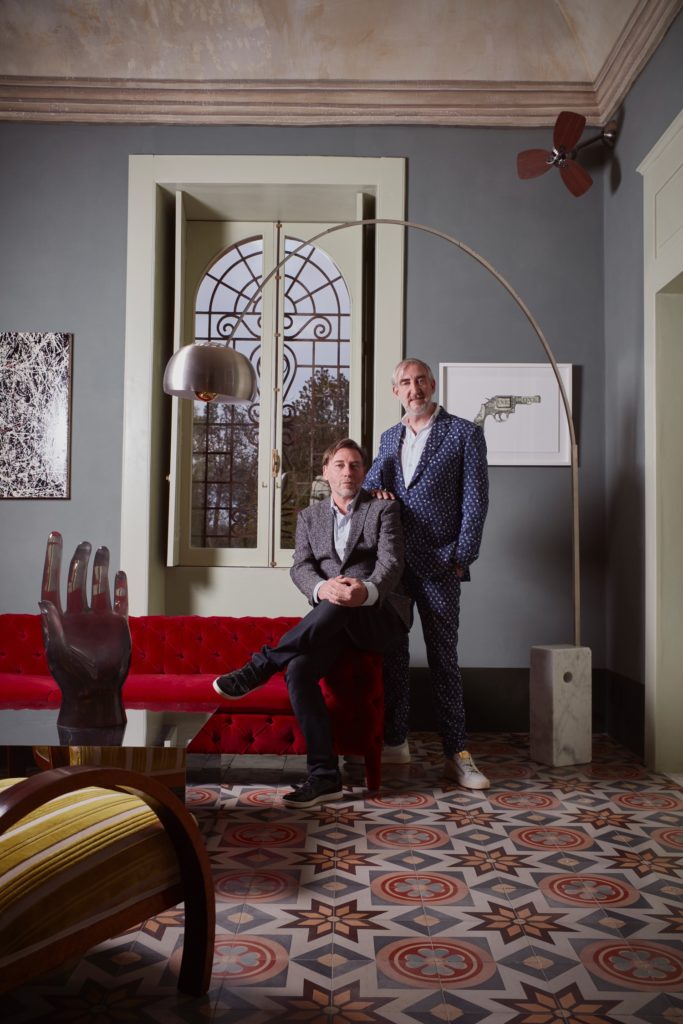 Bringing Elvira into the 21st century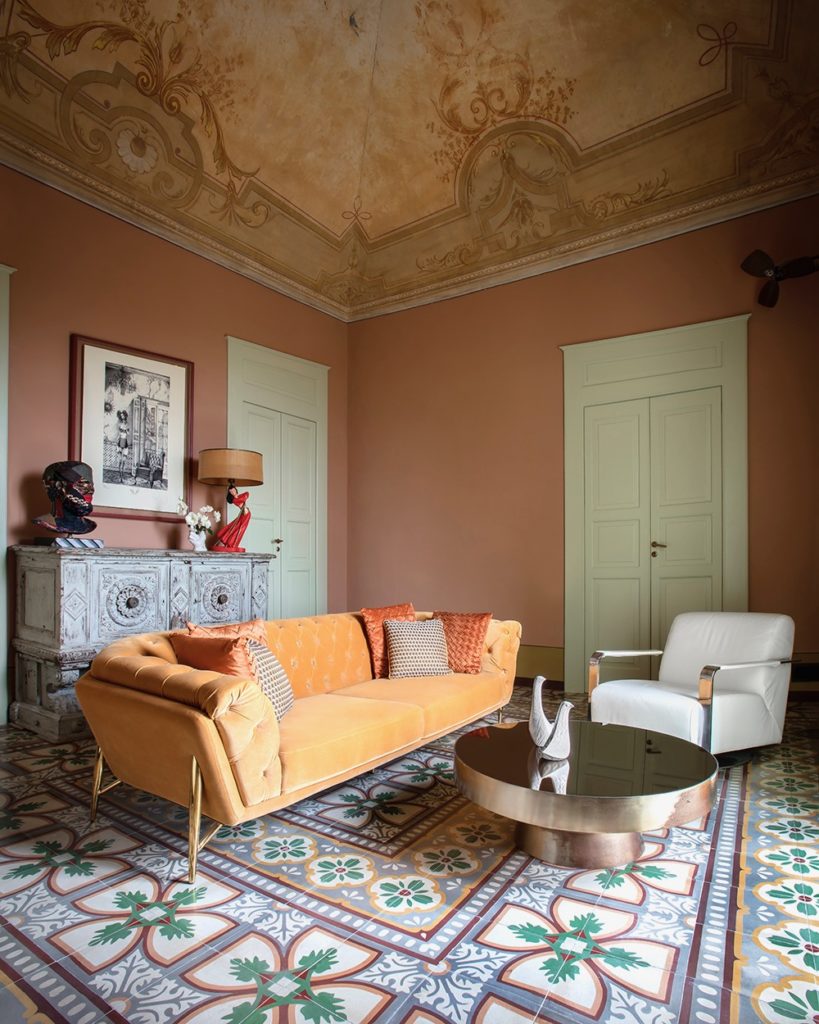 Riseley acquired the castle in 2018, before bringing a specialist team — including architects Filotico & Partner — on board to begin the renovations. Breathing new life into the castle's fairytale heritage was an integral part of the process, carefully introducing state-of-the-art innovations that add to, rather than detract from, the fashionable period ambience. Hand-picked antique and modern designer furnishings, custom-made lighting and a curated art collection have been added, with works by Riseley's husband, the artist Harvey B-Brown, in the mix.
Sunset over St Elia Ridge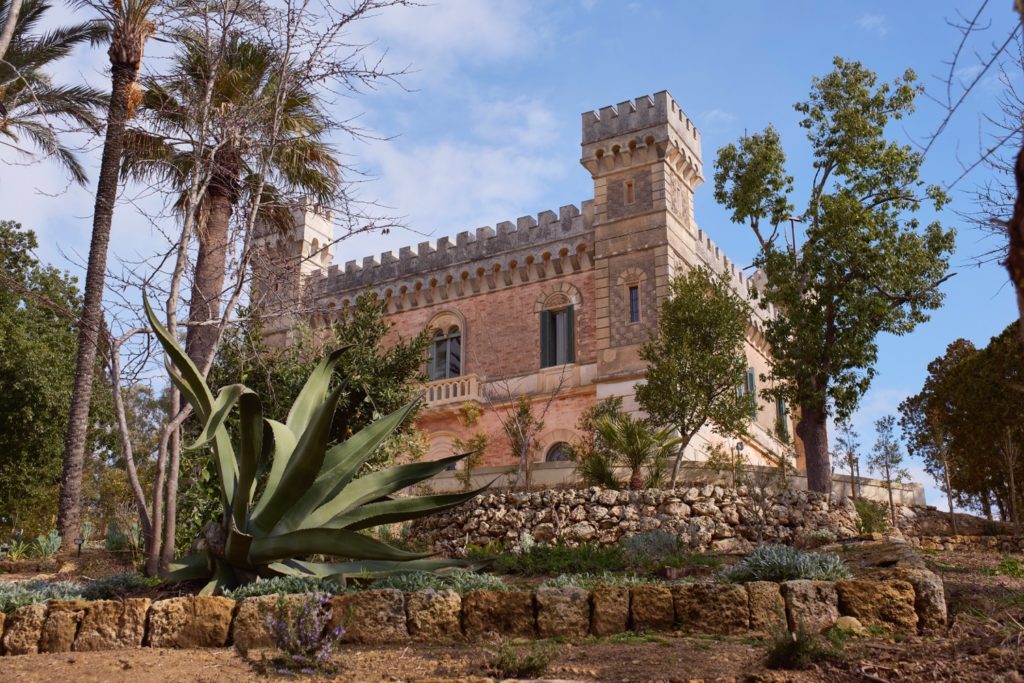 Encompassing 37 acres of private parkland including gardens, citrus and olive groves, the property is set on St Elia Ridge — an area dubbed The Street of Health for its high altitude and clean air. With a network of ancient pathways, the grounds overlook the local landscape and provide an enchanting setting for picnics and wedding parties among the wild Italian gardens. It is here that ingredients are grown for the hotel's dining room. There's also a tropical garden with a 70 square-meter heated swimming pool and flooded solarium, large sunbeds with a Sonance bespoke sound system, a 12-person jacuzzi and an ornamental pond. Borrow one of the hotel's loaner rickshaw pedal-bikes to fully explore the estate, or, for the most breathtaking 360-degree views, ascend to the castle's roof terrace via a red glass-lined lift, for cocktails at sunset.
A castle, a cottage and a tower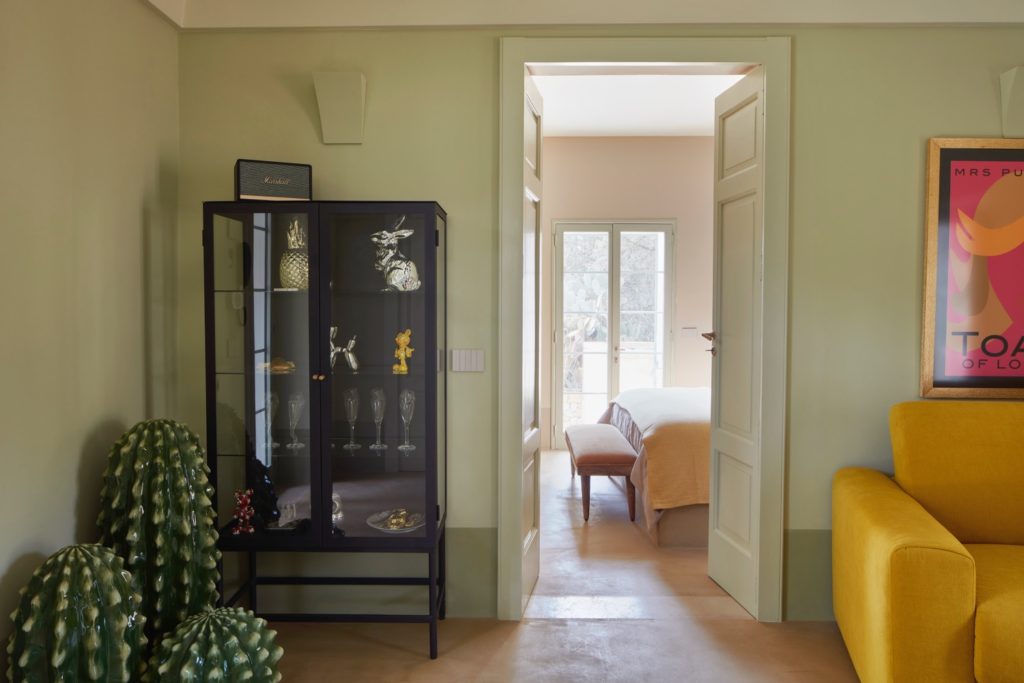 The castle itself accommodates four striking en-suite guest bedrooms. Guests can also elect to stay in the adjacent groundskeeper's cottage, with its two bedrooms, private garden, outdoor sunken jacuzzi and shower and barbeque. Super king-sized beds with aloe vera-infused pocket sprung mattresses, hypo-allogenic pillows, Conran pure linen bedding and Sicilian organic bath products by Ortigia are all on hand, to ensure the most comfortable stay. Every castle needs a tower, and Elvira's plays a role as a sister residence. Up to eight guests can stay here, across its four suites. And while the tower is close to the castle, it enjoys its own private gardens and rooftop and a 40 square-metre heated swimming pool, all enveloped by olive and citrus groves.
Music, meals and movies
A 65m2 enfilade ground floor salon provides space to relax, read in a secluded nook, or drink and socialise with musical accompaniment on the 1902 Beckstein grand piano. There are both formal and informal dining rooms, the latter recreating family-style meals that are integral to the Pugliese way of life. The onsite restaurant provides breakfast, lunch, aperitif and dinner, with authentic Cucina Povera Salentina cuisine. And there's a mobile cocktail bar in a converted Italian Piaggio Ape.
Elvira's experiences
The amenities within the Elvira estate make it conducive to a range of unique experiences. Book the Adored and Adorned portrait experience (from €10,000 for three nights for up to four guests); this is led by artists Harvey B-Brown & David Scheinmann and includes painting, photography, collage and digital art, creating meta portraits using elements of the castle's own artistic inspiration.
The pair also teach life drawing classes (from €75 per person) in the Cafe and Atelier. Pugliese Pasta Making Classes (from €50 per person), hosted by private chef Fabiana, teach master rolling and shaping techniques and of course include a gourmet tasting session.
Elvira Pizza Nights (from €35 per person) provide a weekly opportunity to enjoy pizzas from the handmade wood fire oven. And the Elvira Movie Nights present modern and classic films, cartoons and top TV shows with popcorn and cocktails. Those staying at the castle can also take advantage of excursions in Lecce and beyond, with the team on hand to advise on the best places to eat, shop and visit, if guests would rather explore under their own steam.
Contact Details
Castle Elvira lends itself perfectly to a celebratory gathering, such as an exclusive use wedding, as well as to romantic getaways for couples and enriching experiences for groups of friends.
Rates for a double room with breakfast start at €499 per night, with rates for Castle and Cottage exclusive hire for 12 people starting from €2,500 per week.
Website: www.castleelvira.com
Address: Via Andrano, 73019 Trepuzzi LE, Italy