BAMO announces the completed renovations at Chileno Bay in the Baja California Peninsula.
Chileno Bay Resort & Residences, is the ultimate in laid-back luxury and has received a complete renovation by San Francisco-based interior design firm BAMO who took inspiration from the idyllic location, designing a palette that complements the natural environment, exalting the view with floor to ceiling windows, and leveraging the climate with indoor/outdoor living. It was designed from a perspective of youthful exuberance that exudes a fresh experience to the Baja California Peninsula.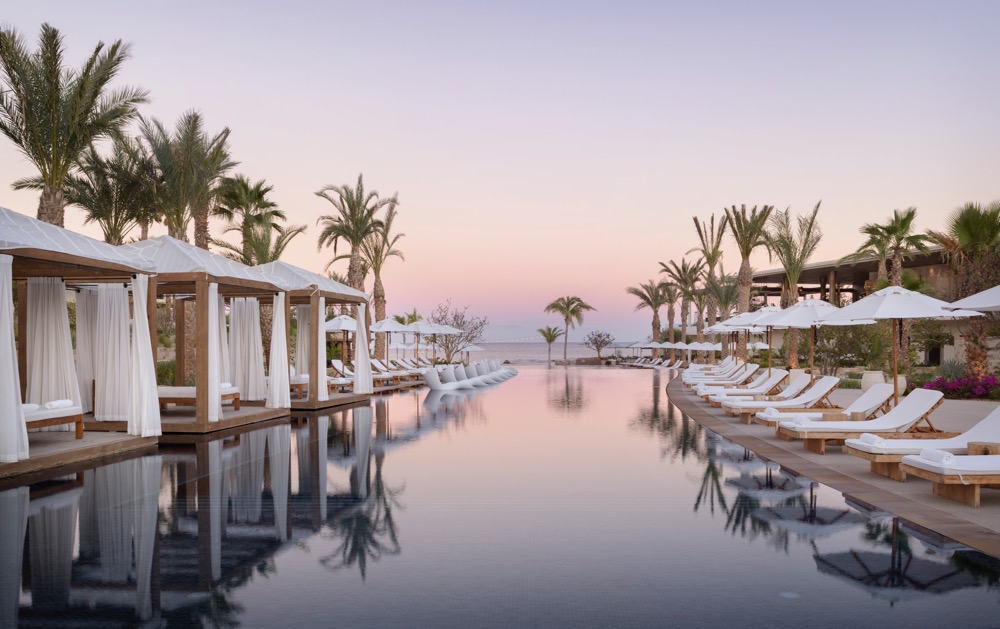 This beachfront hotel and residential resort is nestled within the 1,200 – acre Chileno Bay development. A boutique luxury resort, it features 60 guestrooms with up to 885 square feet and 32 residential villa suites in two, three, four and six-bedroom layouts.
A strong architectural identity is established and reinforced throughout the property, providing a welcome break from traditional Mexican architectural and interior expectations. Buildings dot the landscape in symmetrical arrangements, with broad, horizontal wood rooves that are bisected by stonewalls and white plaster exteriors, contrasting with the rugged land and sea. The contemporary, low profile architecture maximizes the ocean front views and indoor/outdoor living.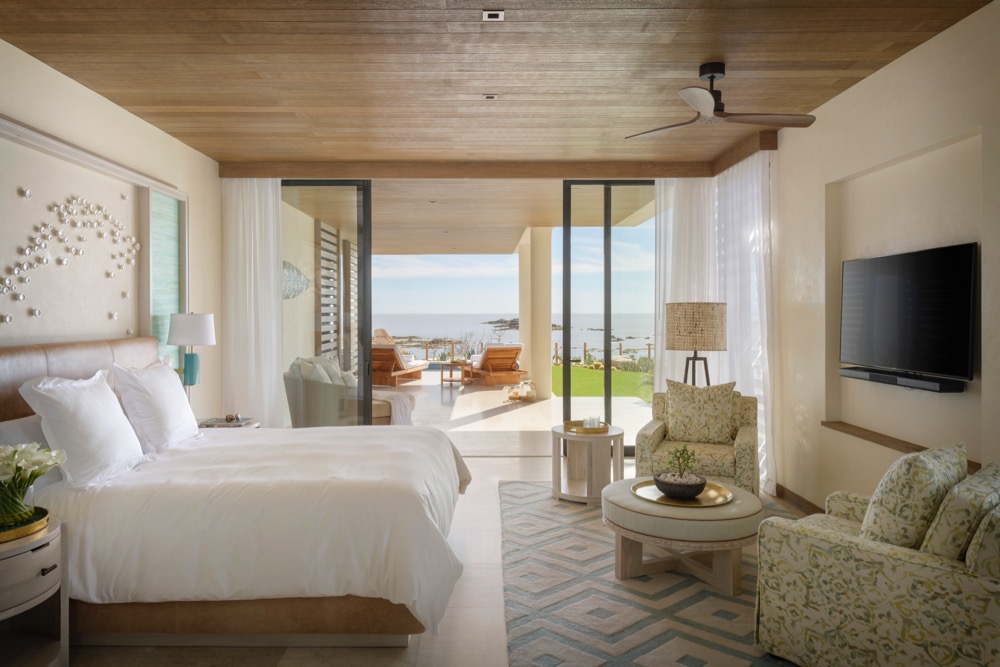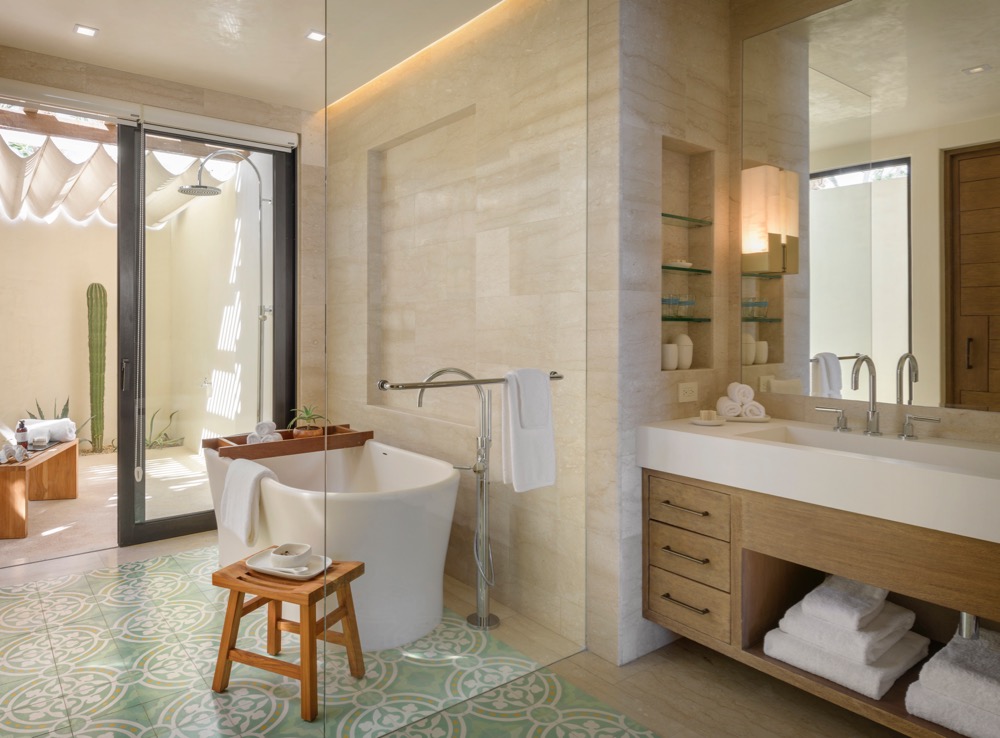 In the lobby an open-air passageway envelops guests with unparalleled views of the resort and Chileno Bay. The design invites guests to effortlessly experience the relationship between indoor and outdoor from the very moment of arrival.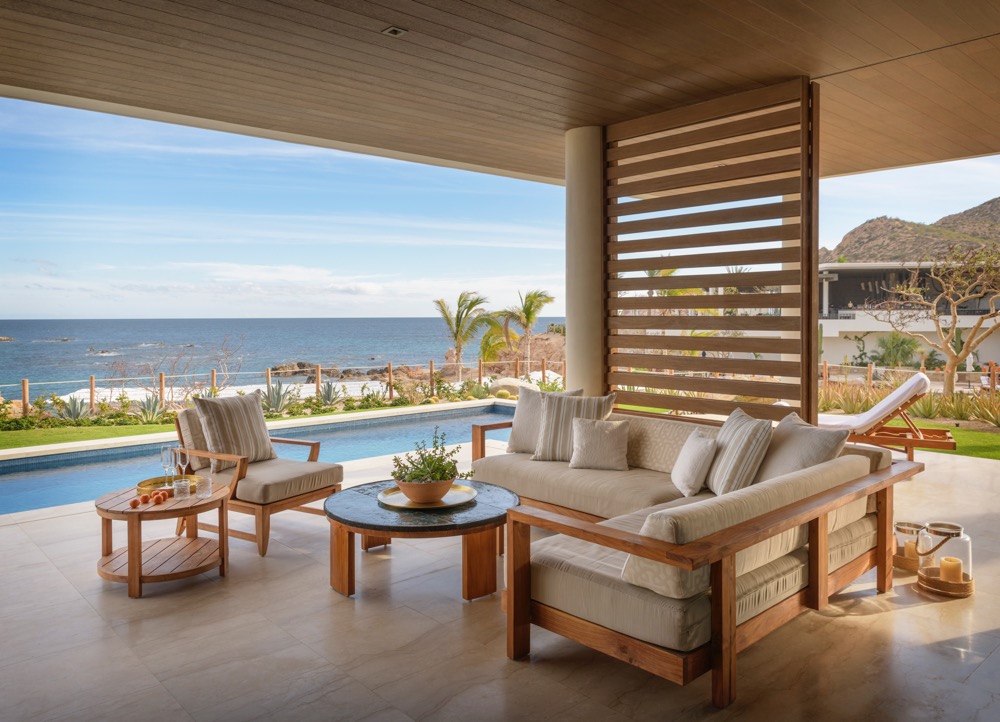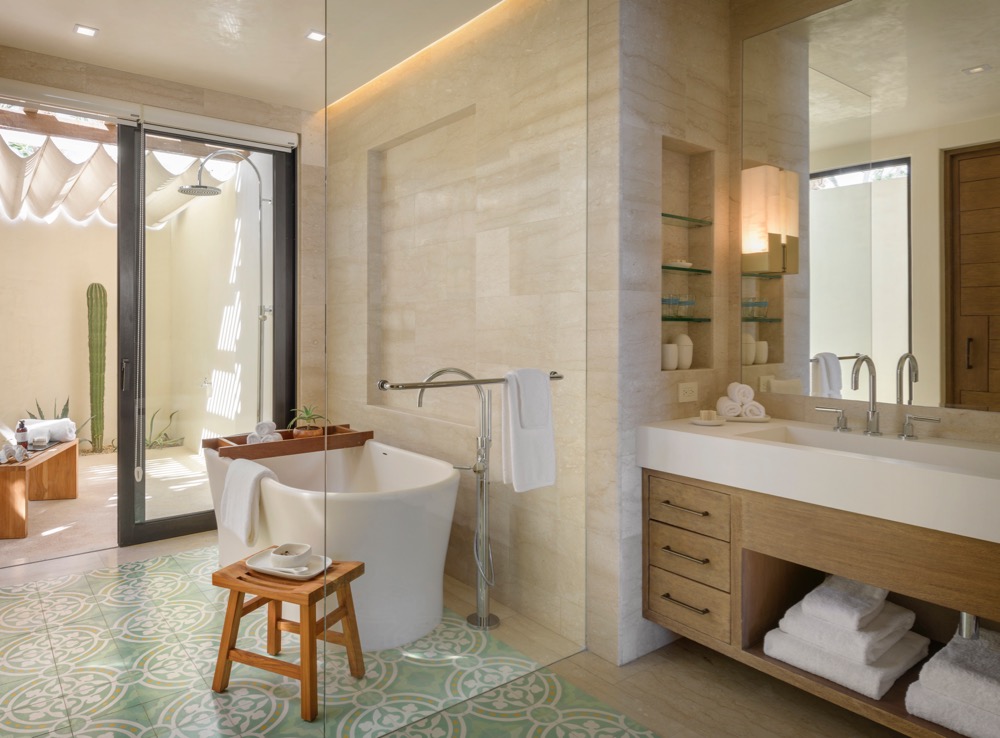 Villas and guest rooms are clean, light, and airy. At the entry of the units contemporary, local art selections sit below deeply colored plaster ceilings. Moving further into the space, natural materials and a palette of cerulean blues and golden sand hues respond to the oceanfront setting and exceptional vistas. Full-height windows allow guests to fully absorb the horizon and it feels as if you can almost touch the ocean.
Modern spaces flow one into the next, with limestone flooring balanced by the warmth of wood ceilings above. Stonewalls become architectural features, with soft white plaster completing the interior envelope. Wood is again introduced in clean-lined millwork and screens, as well as live-edge tabletops and organic side tables. Contemporary furnishings upholstered in linen, cotton, and leather are suitably comfortable for lounging.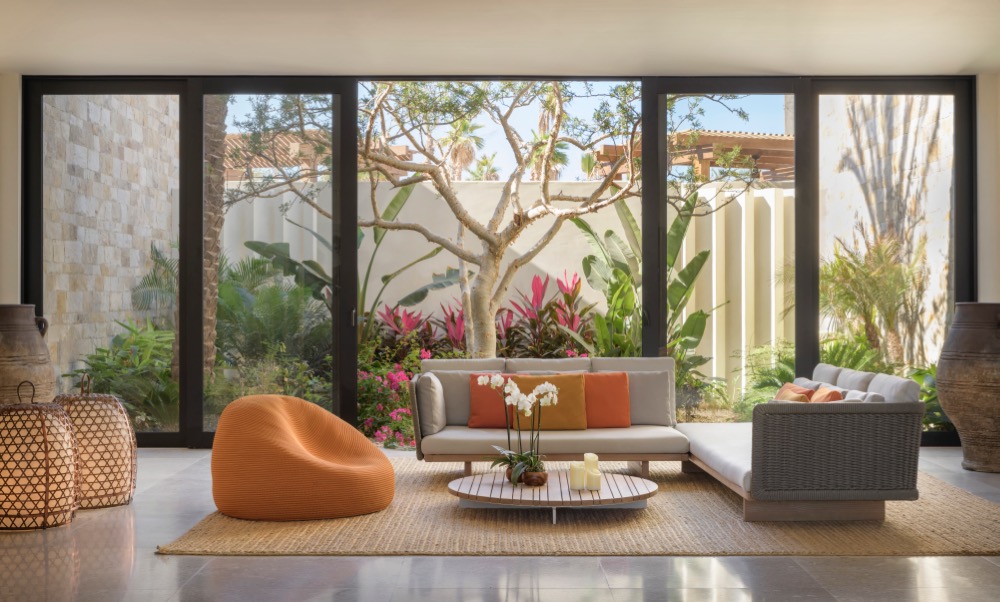 In the bathroom, encaustic tile in a mix of modern geometrics and traditional patterns appear as mini art installations with colors inspired by the cactus and agave landscape and cerulean blue waters. The hardware and furniture accents in dark bronze harmonize with the warm tones while adding a bit of edge, and a freestanding cast stone tub completes the space.
Outside, a 138-meter swimming pool meanders from the heart of the resort to the ocean's edge and promises to be the area's most dramatic pool experience. This piece came to life through collaboration between Glazier Le Architects, Girvin Associates and BAMO. The resort also features an ocean-edge restaurant for dining under the stars and extensive recreational activities: golf course, spa, fitness center, movement studio, kid's club, and owners lounge.