There are three things I love, shopping, Christmas and Hong Kong, so I thought I would combine them all into a week long shopping trip to Hong Kong, which I have just returned from (Ross Instagram).
If you have never been to Hong Kong before, you will discover when you go there that the city takes its shopping seriously, and I mean seriously!  The other thing they take seriously are Christmas decorations in all the shopping malls, with one mall outstripping the next one in the seasonal stakes.
So here is a handy little breakdown of the main luxury malls in Hong Kong, where they are and this years Christmas decorations!
Times Square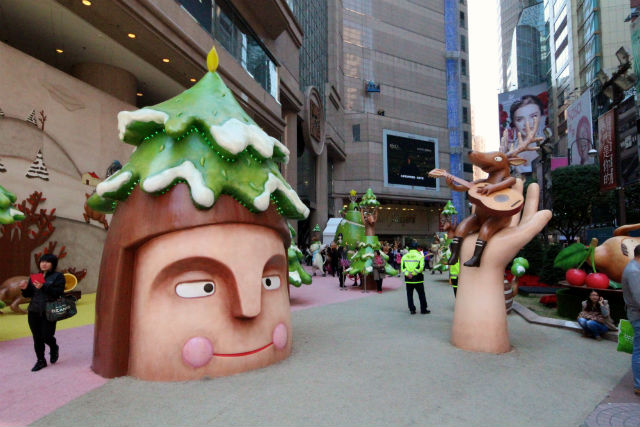 Times Square is at Causeway Bay and it is a juggernaut of a mall packed full of every luxury brand you can think of. Its very big and set over 10 floors, so be prepared to walk!
Address: 1 Matheson Street, Causeway Bay
http://www.timessquare.com.hk/eng/

IFC Shopping Mall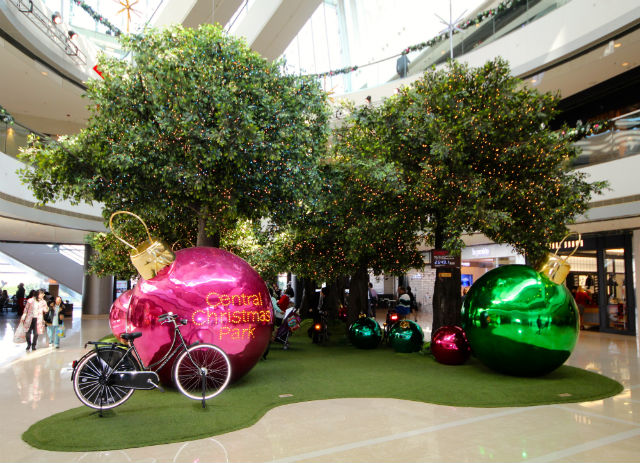 The IFC Mall (International Finance Centre Mall) is on the island side of Hong Kong, and sits directly above Hong Kong station, which is where you get the airport express from. They have a huge range of shops from Apple to Lane Crawford, Prada and Reiss the list goes on and on.
Address: 8 Finance Street, Central
www.ifc.com.hk/en/mall/shopping.jsp
1881 Heritage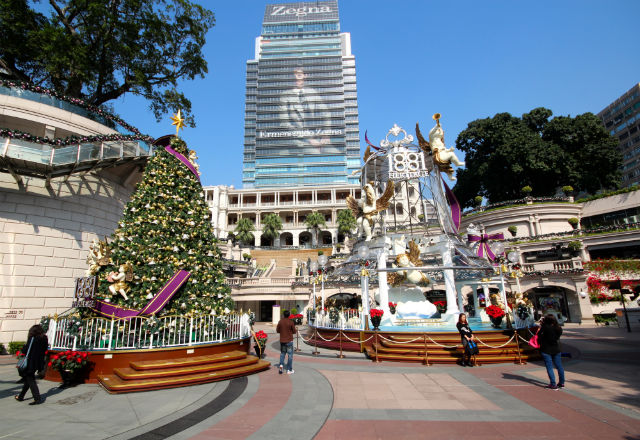 1881 Heritage is at Tsim Sha Tsui and easy to get to from the Star Ferry and the TST MTR stop. This is a premium luxury spot with focus predominantly on jewellery and home to Tiffany and Co, Rolex and Mont Blanc among others.
Address: Canton Road TST
www.1881heritage.com/flash/#/en/home/

Landmark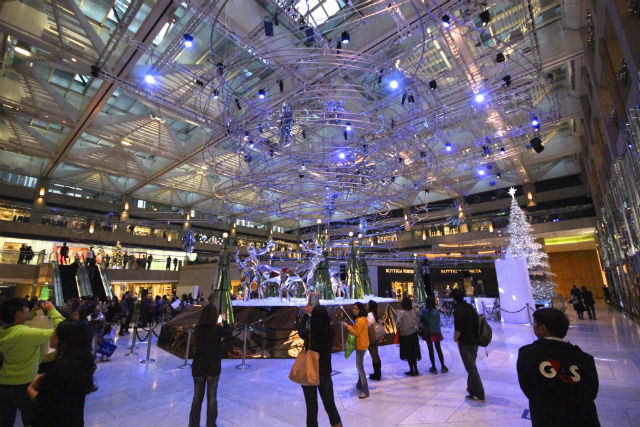 Landmark is on the island side (exit Central MTR stop). This is packed with every designer brand you can think of so you can definitely give your credit card a workout. The Landmark had my favourite Christmas decorations, which was a mechanical decoration adorning the whole roof of the building.
The Landmark Gloucester Tower, 12-16 Des Voeux Road Central
www.landmark.hk/english/index.aspx
Langham Place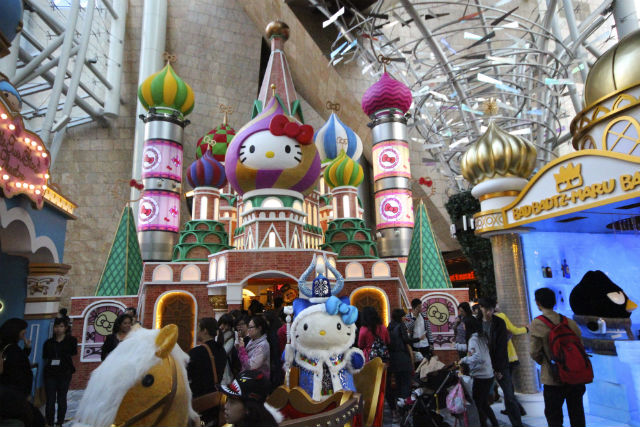 Langham Place is in Mongkok and attached to Langham Place hotel. It's on a huge number of levels, it doesn't have the full range of luxury brands but it does make up for it by having some really great fashion brands that you won't see outside of Asia and a great place to stock up on a new wardrobe. Be warned it is very big and busy (it is in Mongkok after all, the worlds most densely populated place) but there are a lot of restaurants and cafes in it too which you can recharge your batteries at!
Address: 555 Shanghai Street, Mongkok
www.langhamplace.com.hk/tc/
Harbour City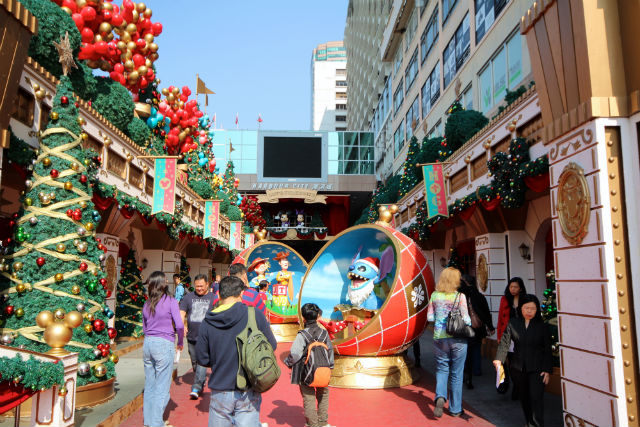 Harbour City, as the name suggests is at the waterside of Kowloon, right on the point of Tsim Sha Tsui. Within easy reach of the Star ferry and TST MTR station and houses hundreds of luxury brands including Bally, Celine and Anne Fontaine.
Address: 7-27 Canton Rd, Tsim Sha Tsui
www.harbourcity.com.hk/landing.htm
Isquare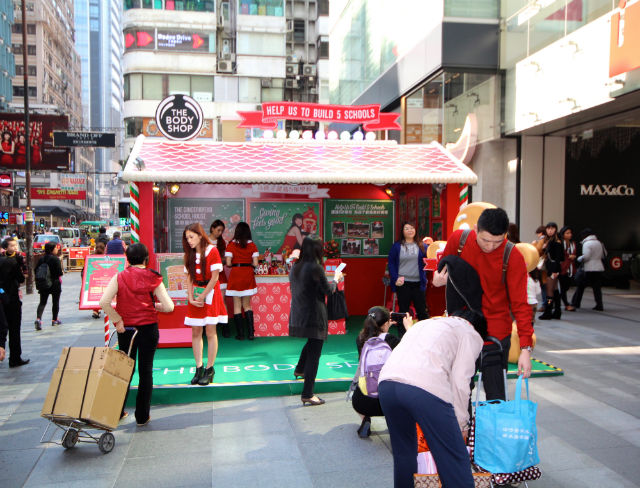 The shops in Isquare are slightly lower down the luxury food chain, but still a great mall, it has a number of big Hong Kong jewellers in it so a good place to pick up some bargains.
Address: 63 Nathan Road, Tsim Sha Tsui
www.isquare.hk/home.php
Mirimar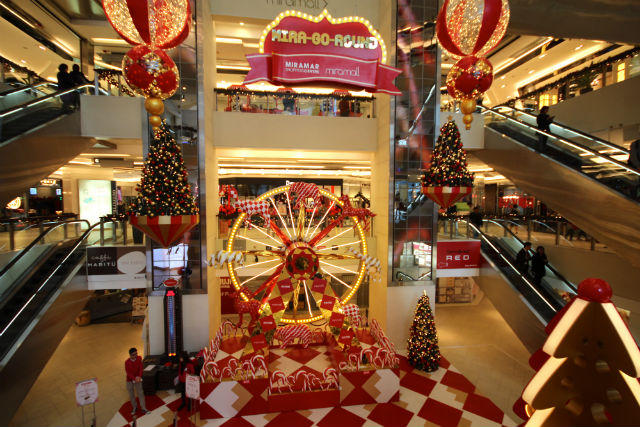 Mirimar is in Mongkok and is great for Asian fashion brands and also some familiar brands like American Eagle, Anna Sui and Calvin Klien.
Address: 132 Nathan Rd, Mongkok
www.miramarshoppingcentre.com/tc/home.aspx
Where are they located?
View more images from this trip to Hong Kong on our Pinterest Board.