I recently had the pleasure of a private tour of The Old Town Chambers; Edinburgh's latest and without doubt most stylish luxury serviced apartments and most recent addition to the Lateral City portfolio. Despite being aware of its existence it wasn't until I was given the tour that I fully appreciated it. I was truly blown away by its grandeur, scale and ability to sit so naturally within such a historic skyline – it really is one of Edinburgh's hidden gems!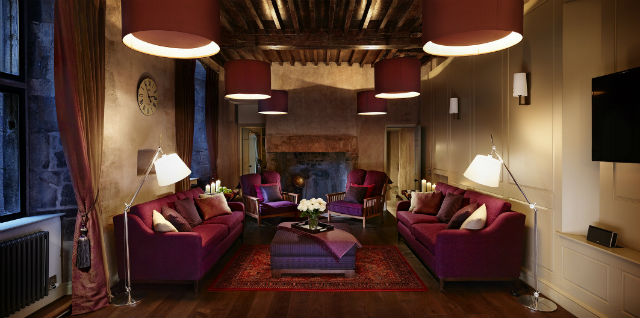 Julie Grove, CEO of The OLD Town Chambers, tells us more………..
The development comprises of different development styles; i) fusion of original architecture with modern renovation ii) complete new build and iii) complete original. Which was the most challenging to work with to achieve the desired results and were there any parameters in which you had to work?
The Architect might have a different view, but for me I think the meshing of the traditional and the modern so that it works in the current day, but sits in the iconic Edinburgh skyline must have been very tricky indeed. The two new crow step gable ends on the new build are a nod to the local architecture of the time, whilst the renovation work undertaken to the exposed stone and beams and the interiors of the Townhouse were all undertaken within specific parameters.
Each of the properties showcases artistic photography of the different phases of the development. It's a wonderful idea and really gives guests an insight into the art of developing – was the use of the photographs in this way planned or did it naturally evolve?
Chris Stewart Group always documents the changes they make during a development and so it felt right that these photos should be used as our artwork and interesting for guests too!
The artwork is just one of the finishing touches that demonstrate the fine attention to detail within each of the properties. Share with us some of the other details that make The Old Town Chambers such a unique place to stay?
The furniture was all made specifically for us by local companies including the sofas, beds, headboards and dining tables.  Our use of Harris Tweed from Bute adds a Scottish detail that is not twee, but it's a nod to our heritage.  With regards to the beds, I spent a lot of time having to sample mattresses delivered to my house so I could personally sleep on the bed and make sure it would meet our exacting standards.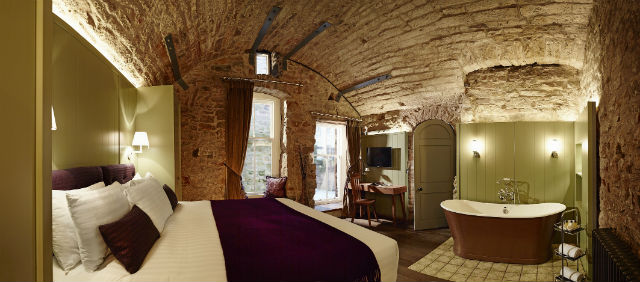 A lot of the soft furnishings are from local suppliers which not only creates a strong contemporary Scottish feel but is also a great way of supporting local businesses. As a previous member of the Association of Scottish Businesswoman – is this an important part of how you do business?
This whole development has been a great source of employment, the site employed about 200 generally men each year for three years as they built it and we have used local companies as suppliers from kitchen and bathrooms to furniture. I think it's very important to support your local economy after all that's what would have happened when the building was built!
What other mod cons (sorry I sound like my granddad there!) can a guest expect from a stay with you?
Our heating and lighting system is pretty special, it works to ensure that we maximise the efficiency of those systems, but guests can control both individually, for example, there's a global off switch at the door and when you enter the door lights come on at that point.  No longer do we have to leave bed lights on like hotels normally do.
We also have Bose Bluetooth sound systems as not everyone has an iPhone now and smart TV's letting you watch your Netflix or Lovefilm account.
And the not so mod cons; by this, I mean the natural beauty of the spectacular views of the city and beyond. Please tell us how you've been able to encapsulate these into the 'liveability' of the apartments.
For me, our designer Karen Brown, has really maximised the space, whilst showcasing our amazing views.  For example, our 2 bed penthouse has a roll-top bath that looks out onto its own private bedroom balcony overlooking The Scott Monument.  Our apartments are larger than all our guests expect and more than half of them have a view over the north of Edinburgh and Princes Street, the fact that many of our windows are French doors which can be pushed back to let the view in, is just amazing, but all the time you can be sitting on your sofa and watching TV if that's what you prefer.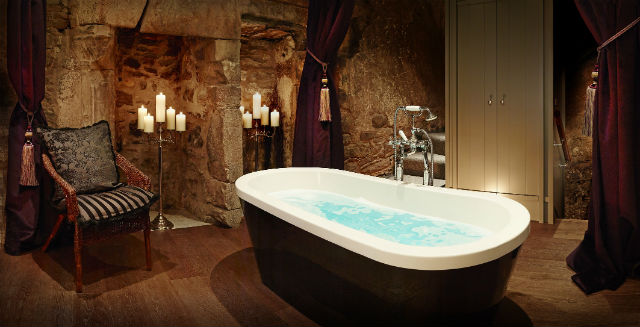 You've just been awarded 5 stars from Visit Scotland. What does this mean for you as a business and for your guests?
I was very keen to get our Visit Scotland award because it's based on quality and I think this gives our guests an idea of what they can expect, so yes it's very important to us and I believe it gives our guests comfort.
Within the Old Town Chambers there are a range of different apartment types. Please give us an overview of each and who they'd be most suitable for (i.e. families, friends, work, and romantic surprises)
We have one bed, family, two bed, three bed and penthouses.  Our one beds have a master bedroom and a sofa bed, so work for families as well as just 2; however I think our family apartments give that extra space and the kids always love our bed decks. If you are looking for a romantic break as a couple then our one bed penthouse has amazing views and a huge terrace.  For larger, more extended family breaks then the two or three beds work very well or just friends who want space.
Our three-bed penthouse is proving popular for drinks parties and dinners as we have a bespoke table that can seat 20 that we can set up in there and again, amazing views.
Which is your personal favourite property and why?
Oh that's toughie…..so many of them are different, they all have something different, but I do think the two bed penthouse might just have it….the bath looking out on the private balcony and wall to wall, floor to floor French windows in the living room mean the view takes my breath away every time I enter it.
Best time of year to visit Edinburgh? 
It depends what you are looking for, but for me as a tourist, if I came looking to really see Edinburgh and feel like a local I would choose May or September.  If you want to experience the madness of the festival then August is a must, we are right off the main thoroughfare and it is amazing…..and finally as a Christmas lover, our views over the Christmas market are really second to none…..
There is so much to do in and around Edinburgh City Centre how do you help guests make the most of their stay?
Our 24-hour Concierge can always advise what to see and do and we keep our website up to date with ideas of things to see and do.  However we do also work with Call Alfred a Concierge Company who can get hold of tickets for anything or tables anywhere!
What are your own top tips for guests visiting Edinburgh?
Go to the Castle, it's the top tourist attraction for a reason.  Also, Camera Obscura is great, especially for kids (of all ages) and I love the Real Mary Kings Close tour, it really shows you what living in ancient Edinburgh would have been like.  Finally, go on a walking tour with a company like Mercat or a bus tour.
Please provide an indication of prices at The Old Town Chambers.   
Our one beds start from £150 per night.
If someone is flying to you have a transfer service from airport? If so please provide details.
We work with various chauffeur companies or transfer companies and of course, the airport bus leaves from Waverley station, 2 minutes' walk from us.
Not only are The Old Town Chambers spectacular by any modern day standard they are steeped in Scottish history, which I learned after a fascinating tour of the site with Mercat Tours, founder Frank McGrail.
There is a ducat on the corner of the two bed penthouse (this is above where the Evening News building was previously located). This ducat was the landing area for the pigeons that carried the results of the local football results for the Saturday publication 'The Pink'. On one particular occasion, when the local rivals teams were playing a close game Hearts scored in the very last minute and in the heights of excitement the young boy holding the pigeon accidentally squeezed the pigeon so hard it died and couldn't return the match results! The match report was published with a 0-0 result.
The Old Chambers Townhouse originally belonged to Andrew Bertram, a wealthy merchant back in 1480. Andrew Bertram was thought to be a jeweller as there are reports he worked in 'lucken booth' (locked booth on the Royal Mile) which were associated with such trades.
 The Old Chambers Townhouse was one of the first houses to be built off the Royal Mile as the population of Edinburgh expanded.
The Cor family took ownership of the house in the 16th century with Clement Cor and his new bride taking residence in 1590. Just up the steps from the current entrance to the house is another door above which is an inscription which was made by Clement and Helen. You can see their initials above a religious Latin message which (loosely) translates as 'hope of another life'
The Old Town Chambers contact details:
t: +44 131 510 5499
e: host@oldtownchambers.co.uk