Waldorf Astoria The Caledonian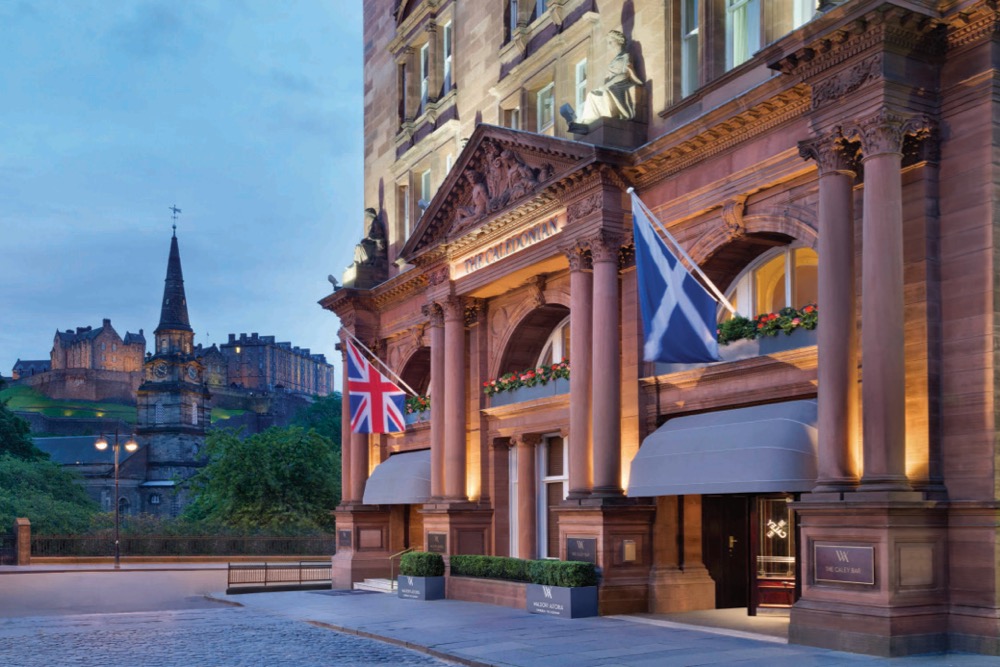 Grazing by Mark Greenaway is located in the five-star Waldorf Astoria Edinburgh – The Caledonian, affectionately known as "The Caley" to locals which first opened its doors in 1903 and today stands at the pinnacle of Scottish hospitality. The property features 241 beautifully decorated guestrooms and suites, two award-winning restaurants, a spa and an indoor swimming pool as well as offering some of the best views of Edinburgh Castle.
Read our full review of the Waldorf Astoria The Caledonian here
Grazing By Mark Greenaway
Diners at Grazing by Mark Greenaway are encouraged to relax, unwind and "graze", as they feast on fare from this lauded, accoladed and awarded chef. The restaurant is found on the ground floor of the hotel with entrances from both inside the hotel and outside; a light-filled space thanks to large sash and case windows and sophisticated, understated furnishings allows the focus to fall on the showstopping food.
The restaurant is included in our guide to the best restaurants in Edinburgh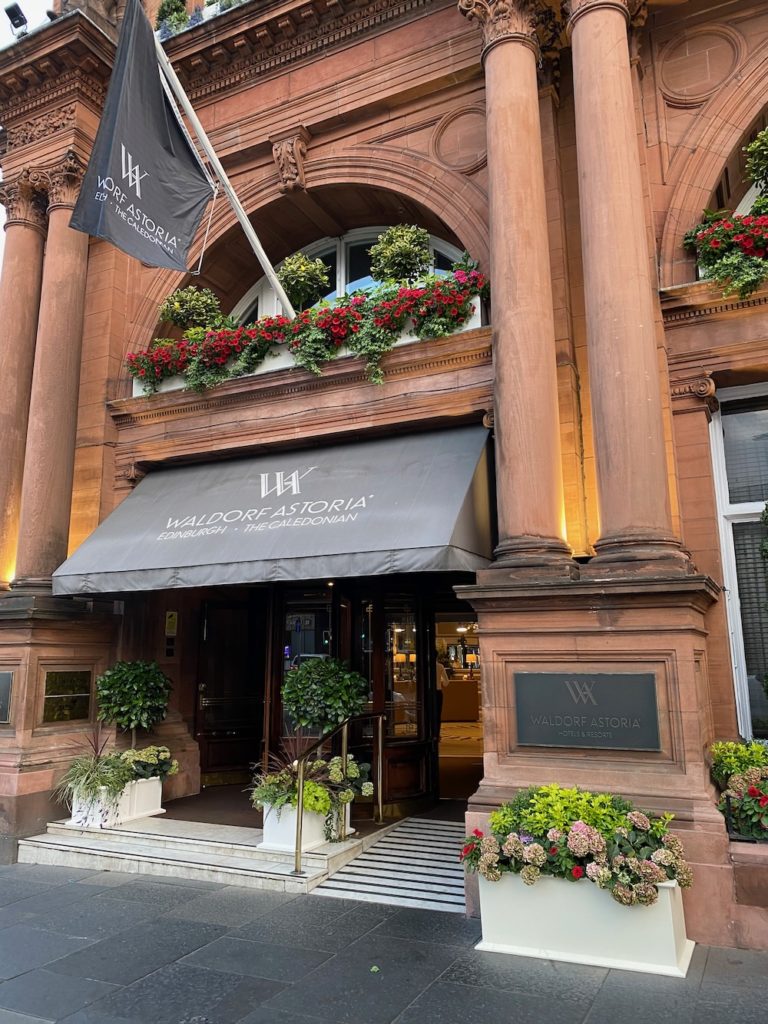 The First 100-Mile Menu
Chef Mark's new menu showcases seasonal flavours and colours across its four dishes two savoury and two sweet plus a surprise amuse-bouche. We were told the tasting menu will change every four to six weeks, in line with its commitment to seasonality and sustainability of ingredients – a longstanding ethos of Mark's and his restaurants.
Additionally, each of the plates is paired with a unique cocktail or mocktail. The drinks also carry the 100-mile philosophy, placing suppliers such as Nc'Nean Distillery and Buck & Birch in the limelight.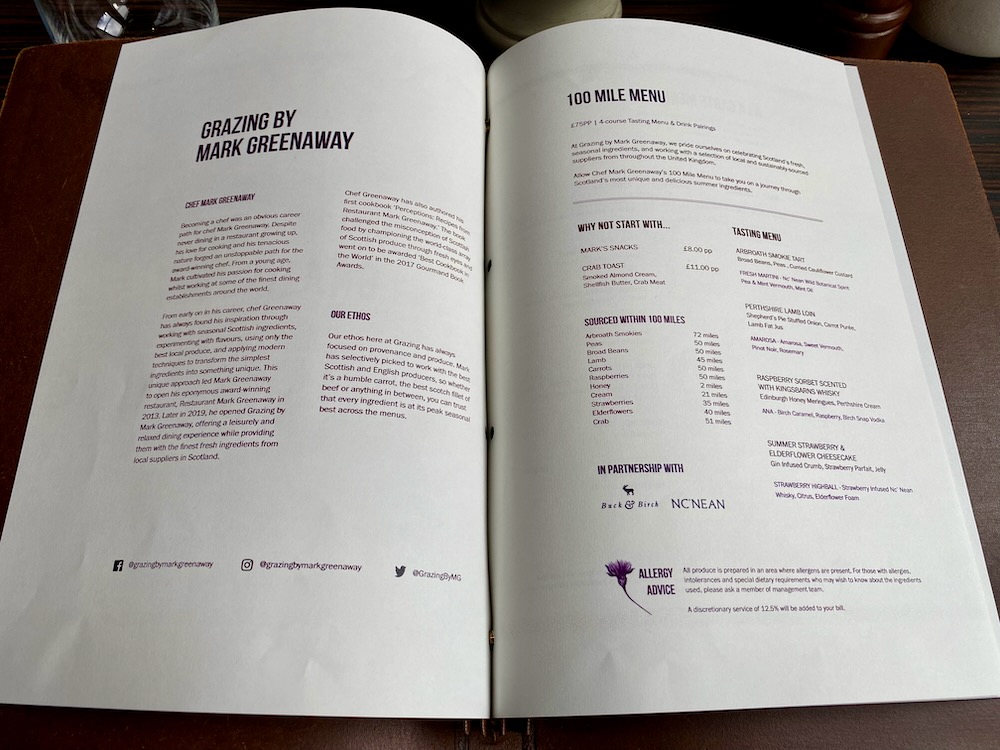 Mark comments on the new menu – "It was an absolute pleasure working on this menu with my team, it will be a truly evolving menu and we are all looking forward to creating new dishes using the freshest local produce. We see this as the natural evolution of grazing because we have always championed local and seasonal Scottish produce, this just takes things to a whole new level for us and to be able to support such micro farmers or producers is a real honour and pleasure for the whole team. I love uncomplicated dishes and appreciate all the producers we are working with within the 100 miles radius, and I hope this menu really shows how much we value their work."
Amuse-Bouche
We kicked off the experience with a surprise amuse-bouche of steak tartare and red cabbage presented in the most pretty box.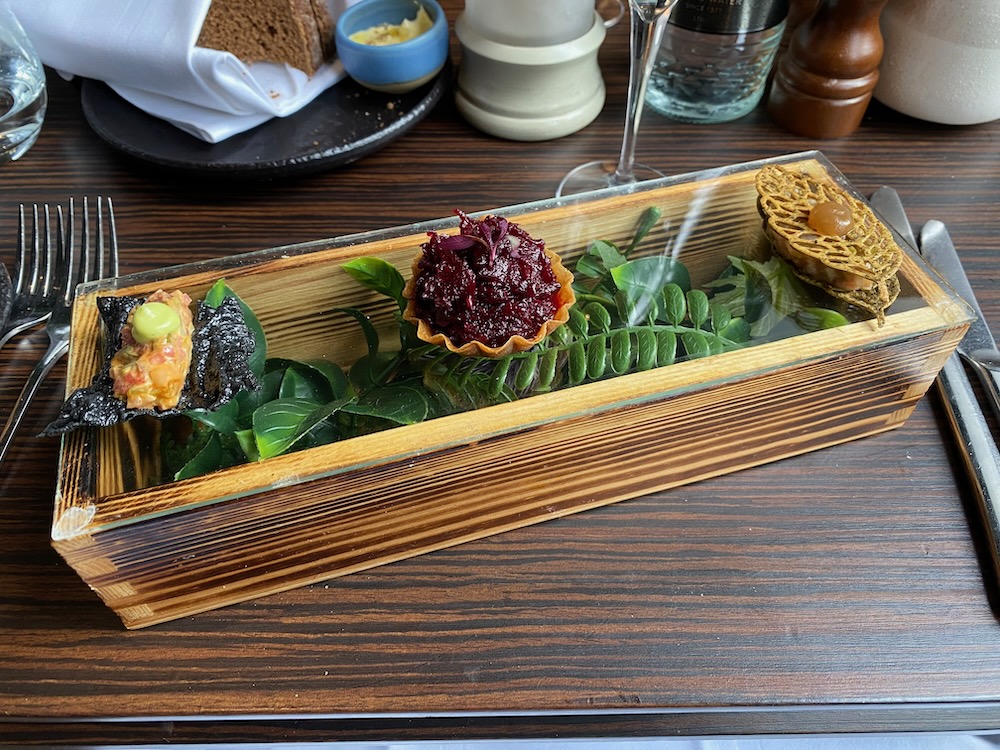 Course One
We then moved onto the first course an Arbroath Smokie Tart with broad beans with the fish sourced just 72 miles from the hotel. The tart was finished with peas and curried cauliflower also sourced from 50 miles away and sitting on a bed of savoury custard.
This was paired with a Fresh Martini and by fresh they mean fresh! It was a wondering pairing to the tart made with Nc'Nean wild botanical spirit, pea and a mint vermouth and mint oil which gives it an almost mouthwash-like feeling.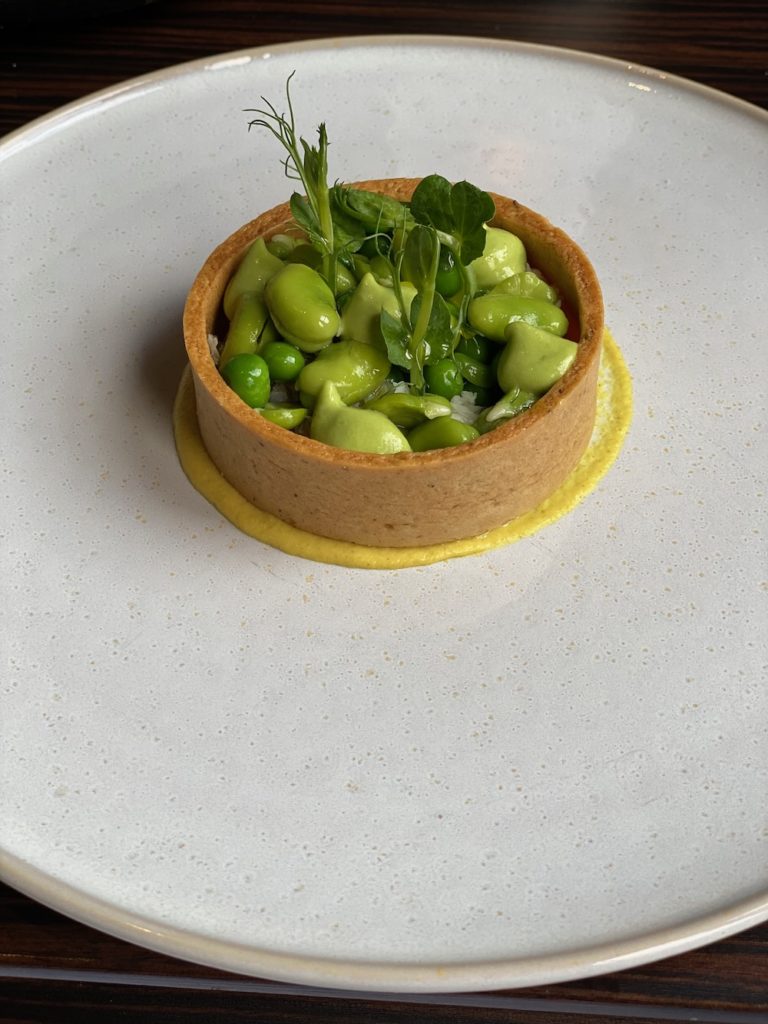 Course Two
Moving on to course two was Perthshire Lamb Loin cut to include a bit of fat to enhance the flavour and served with a Shepherd's Pie stuffed onion, carrot purée and lamb jus which is theatrically poured over your plate for you. If you don't like lamb there is an alternative option of hake fillet.
This was paired with Amarosa, made with Amarosa rum liqueur which is made in Scotland, sweet vermouth, pinot noir, rosemary and raspberry. The cocktail had a real depth to it, with warm notes which worked well with the lamb.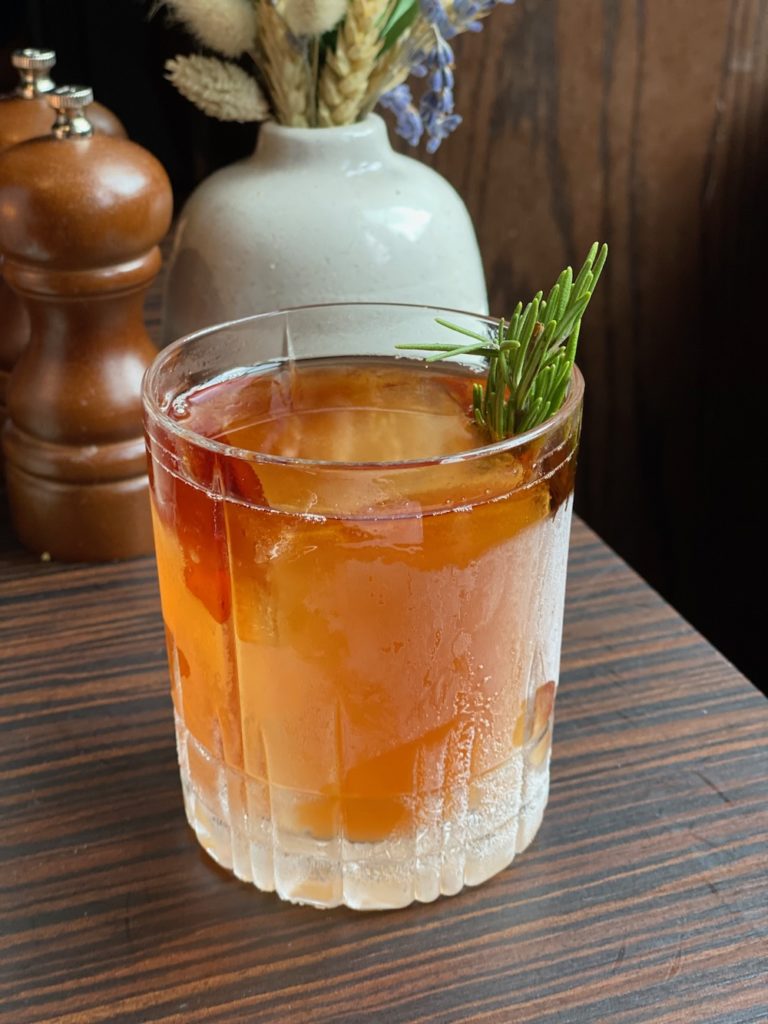 Course Three
Moving on to the first of the desserts, which was a sorbet scented with Kingsbarns Whisky served with Edinburgh honey meringues and Perthshire cream, It was light and fresh and there was still space after eating it for the second dessert.
This was paired with Ana – featuring burch caramel, raspberry and Buck and Birch snap vodka, it was light, and fruity, but also quite complex with notes of sherry to it.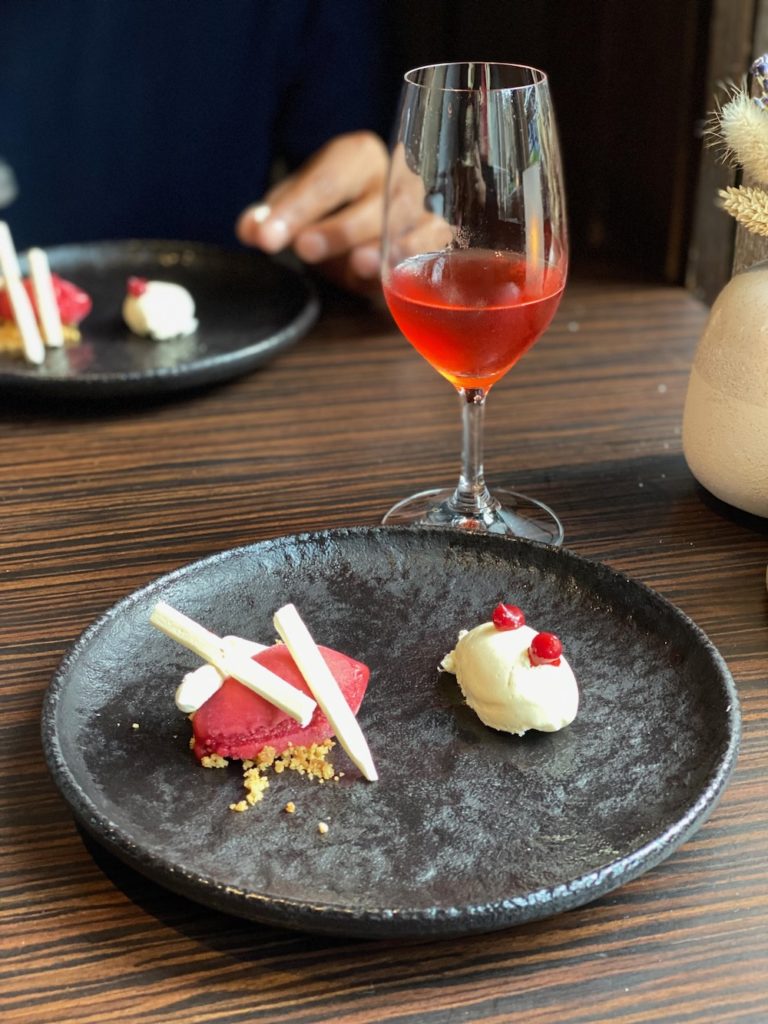 Course Four
The final course was Summer Strawberry & Elderflower Cheesecake with gin-infused crumb, strawberry parfait and jelly. This was my favourite course I could have had two portions, the side of the cheesecake reminded me of caramac bars, and it was delightful!
They saved the best drink till last too. Their Strawberry Highball. Strawberry-infused Nc'Nean whisky, citrus, elderflower foam.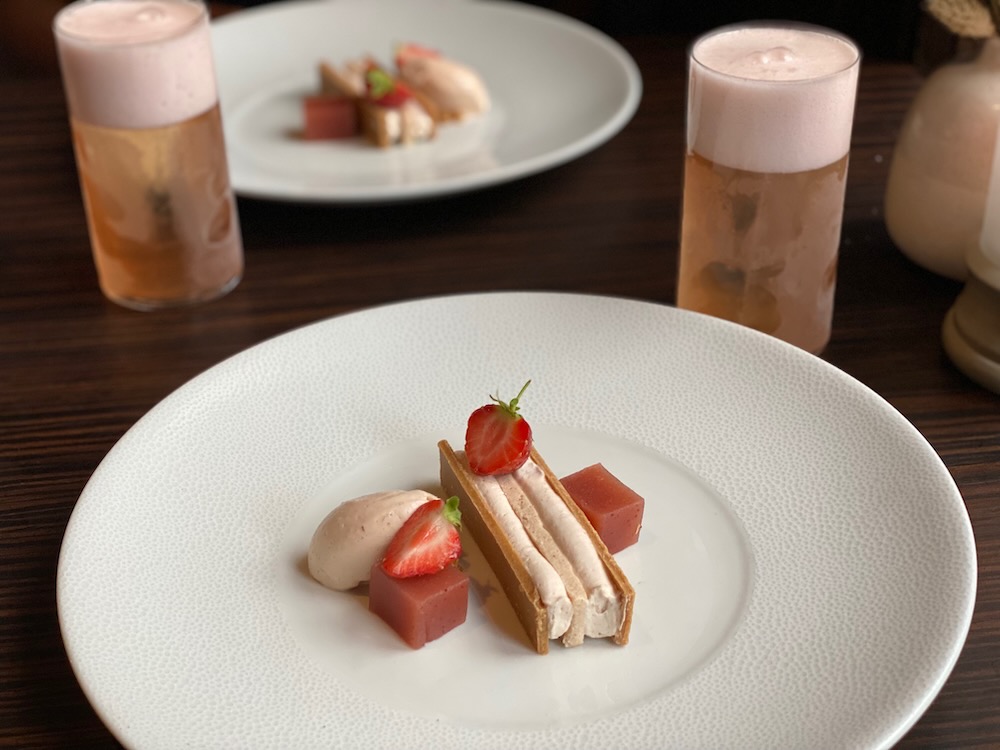 Prepare to be truly inspired by this tasting menu that captures the essence of Scotland. I eagerly await to see the evolution of the menu with the changing seasons, knowing that Mark's creative touch will without doubt showcase the finest produce from the local region in his unique and unmistakable style. A delightful culinary journey lies ahead!
Contact Details
The new 100 Mile Menu is priced at just £75 per person which is exceptional value for money, given it includes both drinks and food. plus you are supporting local Scottish producers into the bargain. We loved this new menu and we know you will do too.
Website: www.markgreenaway.com
Address: Rutland St, Edinburgh EH1 2AB