If you're looking for something a little special to enjoy on Father's Day this year, why not try one of these luxurious drinks? From a smooth single malt whisky to a zesty gin, there's something to suit every taste and palate. So read on to discover the best drinks to gift the fathers in your life this fathers day.
Kingsbarns Distillery

Dream to Dram
Kingsbarns Distillery's flagship single malt, the Dream to Dram, is a fruity, floral expression matured in first–fill ex–Bourbon casks from Heaven Hill Kentucky distillery and first–fill STR barriques (STR means shaved, toasted and re–charred). It was distilled in 2015 and is an excellent introduction from Kingsbarns! And right now receive half price bottle engraving making this the ideal Fathers Day gift.
Gentleman Jack Gift Set Bottling Note
Give the gift they really want this Father's Day with Jack Daniel's Gentleman Jack Gift Pack. New for this Father's Day, the Gift Pack features a travel-sized wash bag with a 70cl bottle of the world's only double-mellowed whiskey, Jack Daniels Gentleman Jack. 
Monkey 47 Schwarzwald Dry Gin
Monkey 47 Schwarzwald Dry Gin is a full-flavoured gin with a complex taste that is perfect for mixing into cocktails. It's made with 47 different ingredients, including juniper, citrus, spices, and a real Black Forest "secret weapon", fresh lingonberries. The gin is distilled and matured in traditional earthenware containers, which brings out all of the flavours of the ingredients. Aficionados, bartenders and connoisseurs the world over have come to appreciate the incredible complexity and harmony of a gin, which has consistently been voted the No.1 Top Trending Gin brand in the World's Best Bars.
Bushmills 10 Year Old
Bushmills whiskey is a smooth and rich whiskey, made with bourbon and sherry casks. It is made in the village of Bushmills in County Antrim, and has been made there for over 400 years. The water used in the whiskey comes from the river busk, and the whiskey is made with experience and craft passed down from generation to generation.
Woodford Reserve Double Oaked
An innovative approach to twice-barrelled bourbon creates the rich and colourful flavour of Woodford Reserve Double Oaked. Uniquely matured in separate, charred oak barrels – the second barrel deeply toasted before a light charring – extracts additional soft, sweet oak character. On the nose, Woodford Double Oak gives rich notes of dark fruit, caramel, sharp honey, chocolate, marzipan, and toasted oak. Full-bodied in taste, drinkers are met with a delicious mix of vanilla, dark caramel, hazelnut, apple and spices. With a long and creamy finish, lingering hints of honeyed apple also pull through. Ideal for those looking for a fuller flavoured tipple to raise with their dad this Father's Day
Adriatico Amaretto Roasted
A delicious Italian amaretto liqueur from the Adriatico selection, made with hand–picked almonds from the Apulian countryside. These tasty nuts are roasted, macerated and distilled, then combined with cane sugar, cinnamon, cocoa, coffee and vanilla. The team also adds just a pinch of salt, too. This liqueur is perfect for cocktails.
Gin d'Azur
Taking inspiration from the famous beaches of southern France and inspired by the landscapes of Provence, Gin d'Azur is bursting with botanicals found in the regions of France. Crafted at the family-run distillery in Cognac, this gin is perfect to sip with fathers, friends and family alike and can be used to create delicate cocktails such as a classic Martini and Negroni.
WhistlePig 10 Years Old
This whiskey is a rye that is 10 years old and has won multiple awards. It is 100% rye and is from Alberta, Canada. It is then re–aged in new, charred American oak in Vermont, USA. It is a bold, spice forward whiskey that is sweet on the palate with hints of caramel and vanilla, followed by rye spice and mint, then a warm butterscotch and caramel finish.
Plymouth Gin
Plymouth Gin is a smooth, creamy, full-bodied gin that has been distilled using the same blend of seven exotic botanicals since 1793. It is produced in small batches only three times a week at England's oldest operating gin distillery in the South West of England. Ideally served with Fever-Tree Aromatic Tonic over ice with a twist of lemon. Alternatively, savour its smooth taste in a classic cocktail.
Cotswolds Rum Cask Single Malt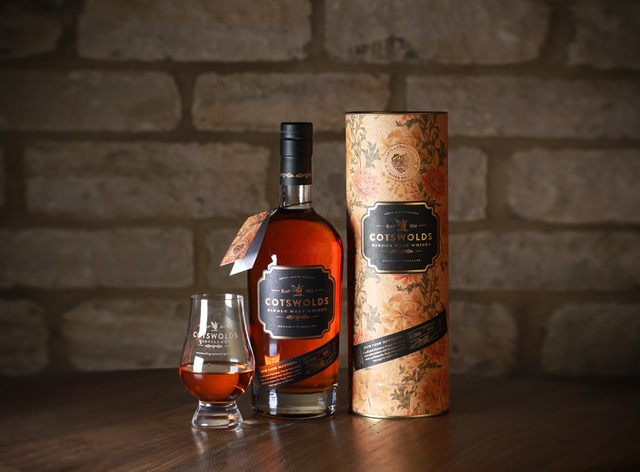 The Rum Cask Single Malt Whisky is the third release in Cotswolds Distillery's Hearts & Crafts collection. The yearly limited–edition series celebrates the Arts & Crafts movement, which flourished in the Cotswolds and stood for the importance of traditional craftsmanship – the same values upon which the rural distillery was built. This limited release has been aged in rejuvenated French oak ex–red wine casks seasoned with fine Caribbean rum, resulting in a well–balanced single malt with notes of soft brown sugar and ripe pears. All bottles come with a limited–edition William Morris design presentation tube.
Horse With No Name
The Horse's Spirit Co. is a company that makes a spicy spirit combo of bourbon and habanero pepper. The bourbon comes from Texas's Firestone & Robertson Distilling Co., while The Horse's Spirit Co. makes a habanero distillate (using red savina peppers, specifically) in Germany, which are then combined to make Horse With No Name! Great in cocktails, particularly in a warming twist on a Manhattan, or a Mule…
Patrón Añejo
Patrón Añejo is a tequila that is distilled in a way that makes it resemble whisky. It is oak–aged for over 12 months, giving it a unique flavour. It can be enjoyed on its own or in a twist on the classic Old Fashioned Cocktail. With a finish of caramel & smokey notes, Patrón Añejo makes an ideal alternative to whisky.
Buck & Birch Wild Botanical Spirit
Buck & Birch is the tale of relentless pursuit of flavour, of journeying into the wild and capturing the magic of land and sea in award-winning liqueurs and spirits. Their Wild Botanical Spirit is made by combining pure spirit with raw sap, and then flavouring it with wild birch flavours that are gathered during different seasons in Scotland. You can serve it neat or mixed, and it's best if you chill it in the freezer first. If you're making a mixed drink, pour it over ice, add tonic or soda, and garnish with citrus.