Venice is a city packed so full of buildings, history, tourists, culture, it's amazing that there is room to move and in some places, there actually isn't!
So what better solution to the problem than to stay on another of Venice's islands and just get away from the craziness of the city after a hard day exploring.
Hilton Molino-Stucky is one of the newer hotel properties in Venice and with its uninterrupted views looking onto Venice from Giudecca Island, rooftop pool (which is the only one in Venice) and skybar which is a also rarity in the city, it's no surprise that the hotel is top of the wishlist for a lot of city visitors.
The Aman Venice features in our best luxury hotels in Venice edit.
What To Expect
Housed in what was a former flour-mill on Giudecca island, which is a 5 minute boat trip to Venice city, stands the Hilton Molino Stucky. A fully restored historical building with 379 guest rooms, panoramic views across the whole of Venice and is only a 15 min water bus (free to hotel guests) to San Marco.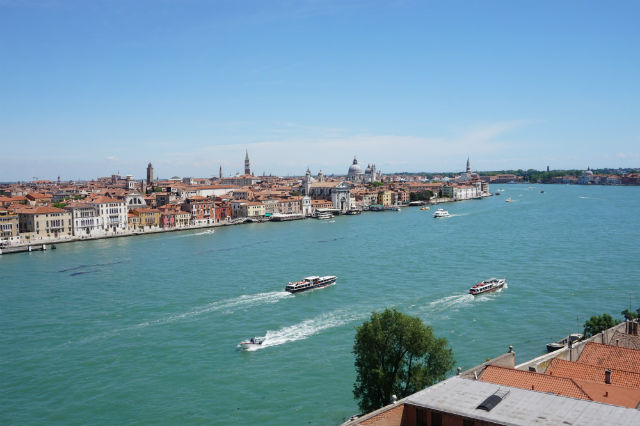 The hotel is big; it has 7 restaurants, a spa and everything else you would expect from Hilton BUT… and this is just my opinion but it lacks soul. The outside of the original building is grand and looked really exciting however the inside left me feeling deflated, this is a functional hotel with no cultural trimmings. You could have been anywhere in the world once you are inside.
Check In and Welcome
Check in was easy and quick, staff were friendly and helpful.
The Room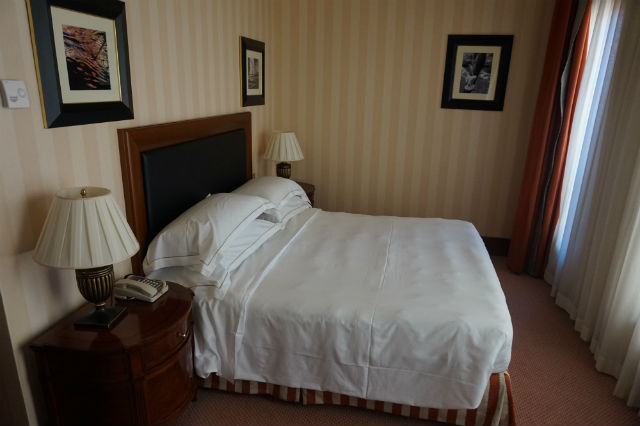 This is normally the point in my review where I become gushy about how fantastic the room is, but with the Hilton Molino-Stucky this didn't happen. The room was fine, it did the job, but I didn't want to spend any more time than necessary in it – which actually was a positive as I spent more time out and about exploring beautiful Venice.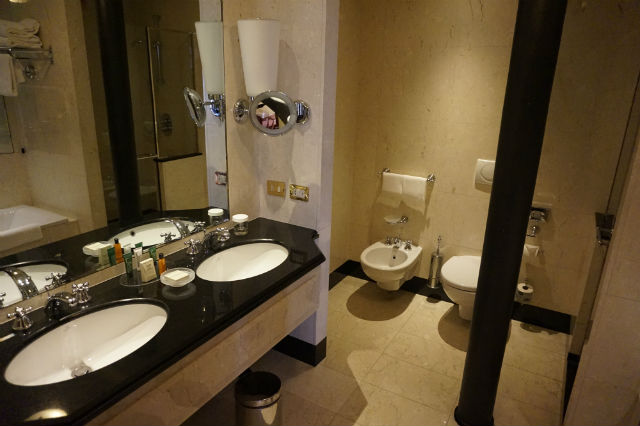 The room presents all the conveniences you would expect in a 5 star hotel and was quiet and the bed was comfortable, I did have a great sleep!
The Rest of the Hotel
The hotel's one saving grace and what I think makes it is it's roof top pool. There is something beautiful about being able to swim around and look down on Venice from above and for that alone I would recommend staying at this hotel. This cannot be replicated anywhere else in the city.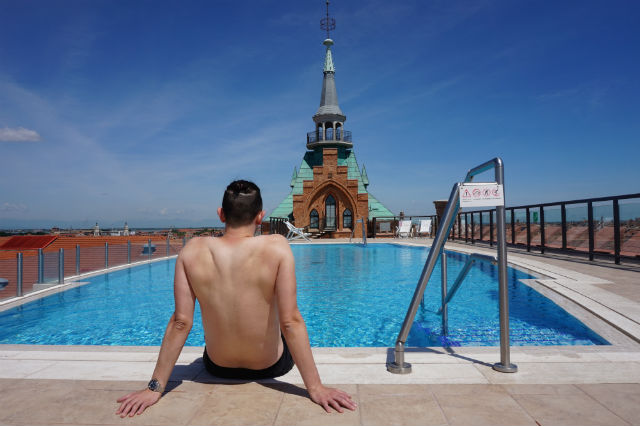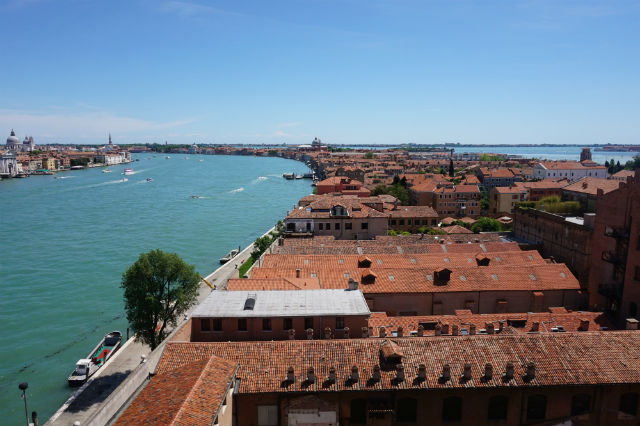 Adjacent to the roof pool is an outdoor rooftop bar as well as an indoor bar, both of which had a good atmosphere when I was there, which wasn't just because I was in town 😉
The Negatives
The hotel is classed as a 5 star hotel, but the rooms are more in line with a 4 star so don't get your hopes up for complete luxury.
One other thing that bothers me is having to pay for WIFI, this is an issue with Hilton in general and it should be addressed. I don't want to check into my room, then have patchy WIFI across the hotel and can't add more that a certain number of devices whilst being charged over £10 per night for the service, when virtually all 5 star hotels now offer it for free.
The Finances
A basic room in the hotel is £140 per night without breakfast.
Would I Recommend it
Even though I was underwhelmed with the overall hotel experience, the rooftop pool and unique view of the city, plus the option to be able to get away from the bustle of Venice ticked a few luxury boxes, so it will suit some peoples needs.
Whilst is it on a different island, which means you do need to be organised as ferries are every 20 mins, it actually wasn't too much of a problem in the evening. The hotel also offer direct pickup and drop off to the airport and the number 2 and 4.1 ferry line take you to the heart of Venice.