NetJets was established in 1964 and has been leading the way in private aviation ever since. With over 760 aircraft, in an excess of 5,000 airports spanning more than 200 countries, NetJets Owners can access the most luxurious fleet of jets via multiple ownership models. Whenever and wherever their lifestyle demands dictate.
The business operates around four core principles; safety, service, access and exclusives – events tailored to Owners' individual interests. It's also an innovator in sustainability, committed to reducing NetJets' environmental footprint where it has been carbon neutral in Europe since 2012.
Read on to discover the many benefits of this premium service.
Safety
Safety comes first at NetJets, for Owners and employees alike. And it's an aspect that the business invests in heavily, with over $80 million per year dedicated to the continuous development and training of their team. This is more than most airlines spend on pilots' salaries alone.
Expertise is key and although pilots and flight attendants are more than qualified to fly a range of aircraft, the NetJets ethos is that they commit to flying only on one. This means that pilots develop concentrated expertise on only one set of procedures and reactions to their chosen aircraft. This ensures that, especially in an emergency, responses are second nature. The company's uncompromising commitment to aviation safety is evident in all facets of the business and a key differentiator that sets it apart.
Pilots must complete a minimum of 24 hours' simulator per year. This is in contrast to the industry average of 16 hours. Additionally, NetJets' pilots fly with the support of top weather and slot experts who work diligently behind the scenes. Owners can therefore be confident that every flight route has been meticulously planned to be as safe as possible.
NetJets is also the only private aviation operator to monitor crew member alertness, analysing circadian rhythms, sleep and travel patterns to prevent the risks associated with fatigue. As a result, your team is always fully fit to fly.
Service
NetJets Owners can expect an international client service experience that is second to none. A group of language experts care for the team and ensure clients from across the globe are well looked after. Meetings may overrun, business matters may require immediate face to face attention – or the ski conditions in a favourite resort may be unmissable! Whatever the reason or purpose, NetJets flights run to the Owners schedule. Owners can easily request a flight by emailing their Owner Services Team, by calling their personalised phone number, or by using the NetJets mobile app. Every aspect of a flight is planned, coordinated, and confirmed by a dedicated team who is available 24/7.
The support of a responsive and professional behind the scenes team makes everything run seamlessly. A super example of NetJets' ability to go above and beyond, was an instance in which an Owner had broken his leg while on land during a trip away. This meant he was in a cast for the return journey, so the team lowered cabin pressure to ensure his inflight experience was as comfortable as possible.
And the whole family is welcome on these supremely comfortable aircraft. Activities for children, treats for pets, tailored menus for gourmands mid-air dining and celebration surprises are all part of the inflight experience.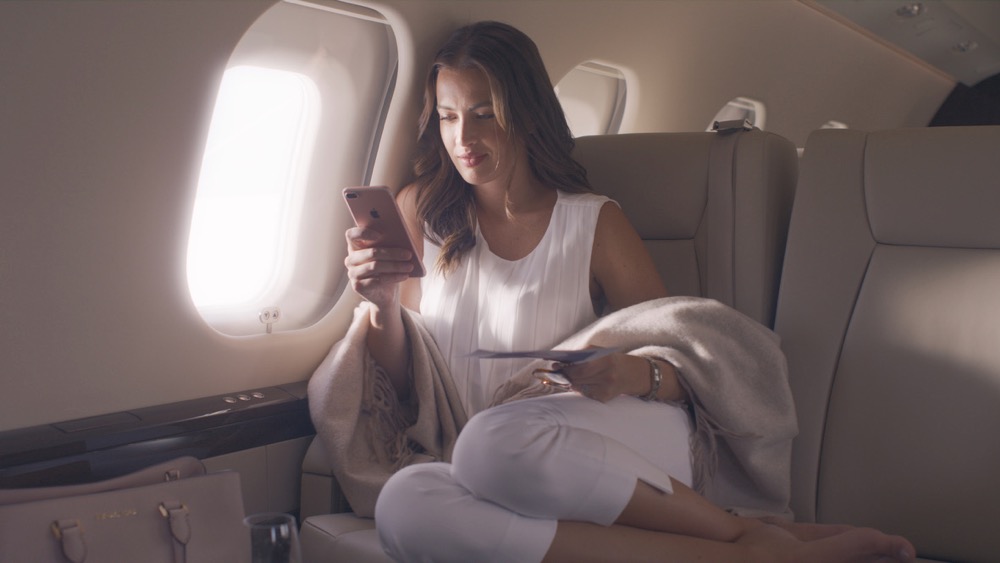 Access
Demand for private aviation has shown a dramatic increase over recent years, with NetJets welcoming new Owners at more than a 350% increase in 2020. To satisfy this increasing demand, whilst also delivering exceptional customer service and flexible access, NetJets is expanding the fleet. More than 50 new aircraft are set to join the global fleet by the end of 2021, with the anticipated recruitment of an additional 300 pilots.
An industry-leading, multi-tiered cleaning and disinfecting programme is also implemented in each and every aircraft after use, adding peace of mind for those wary at the prospect of travelling in the current climate.
Sustainability
Pioneers in sustainable aviation, NetJets is the first airline to purchase Air BP's new certified sustainable aviation fuel (SAF), ISCC PLUS. SAF is made from recycled sustainable feedstocks such as used cooking oil and household waste. Using this reduces the lifecycle of airline carbon emissions by 80% compared to standard aviation fuel. NetJets will purchase at least 10 million gallons of SAF each year from the refinery, which is scheduled to begin production in 2025.
NetJets is also one of the first companies in private aviation to launch an extensive sustainability programme in 2008 called Blue Skies, which offers Owners a way to seamlessly purchase the equivalent amount of carbon credits to ensure their flight activity is carbon neutral. Through this global programme, NetJets partner with ClimateCare to directly support carbon projects that align to United Nations Sustainability Development Goals.
Another example of the brand's commitment to sustainable aviation is its policy that the aircraft must remain in its arrival destination until required (by one of its Owners) to fly to another destination. The continuous process of measuring, reducing and offsetting the business' carbon omission is paramount and extends beyond the flights, to all operational activity.
Exclusive Events
The benefits extended to Owners goes much farther than getting from A to B in ultimate comfort and convenience. The brand creates exclusive Owner's events, each of which is based on the passions and interests of clients. Unforgettable experiences organised by NetJets have included:
A one-on-one tennis match with Roger Federer (himself a NetJets Owner)

Hospitality on a stunning luxury 17th-floor terrace overlooking the Monaco Grand Prix

Private auctions at the historic London based antique house, Christie's

Preview days at international art fairs such as Art Basel

Gastronomic dinners at elite venues

Private concerts with bestselling music artists such as Madonna, Placido Domingo, Andrea Bocelli and Kylie Minogue

Complimentary stays in exotic five-star resorts
The team's partners can arrange tailored travel experiences too, taking care of your itinerary alongside your flights.
The Fleet
Shared ownership, a lease programme and an anytime access option provide complete flexibility to suit the client's needs. And as the fleet is made of 760+ aircraft positioned around the world, a plane can be available to you with as little as 10 hours' notice. Choose from light jets carrying up to seven passengers, mid-size jets carrying up to eight passengers, super mid-size jets carrying up to nine passengers, large jets carrying up to ten passengers and long-range jets carrying up to 13.
NetJets caters for unique travel needs, with incredible service standards, high levels of support, rigorous standards and a genuine interest in its Owners. It's no wonder then, that over a third of NetJets' clients have continued to travel with the brand for over a decade.