One of Europe's most anticipated launches of 2020, Villa Copenhagen officially opened its doors in the heart of Denmark's capital city on July 1. Housed in the century-old Danish Post and Telegraph office, adjacent to Tivoli Gardens, the 390-room Villa Copenhagen is a Grande Dame hotel for the 21st century, offering approachable, conscious luxury through a commitment to the UN Sustainable Development Goals and meaningful experiences that connect guests to the landscape, culture, and energy of the city.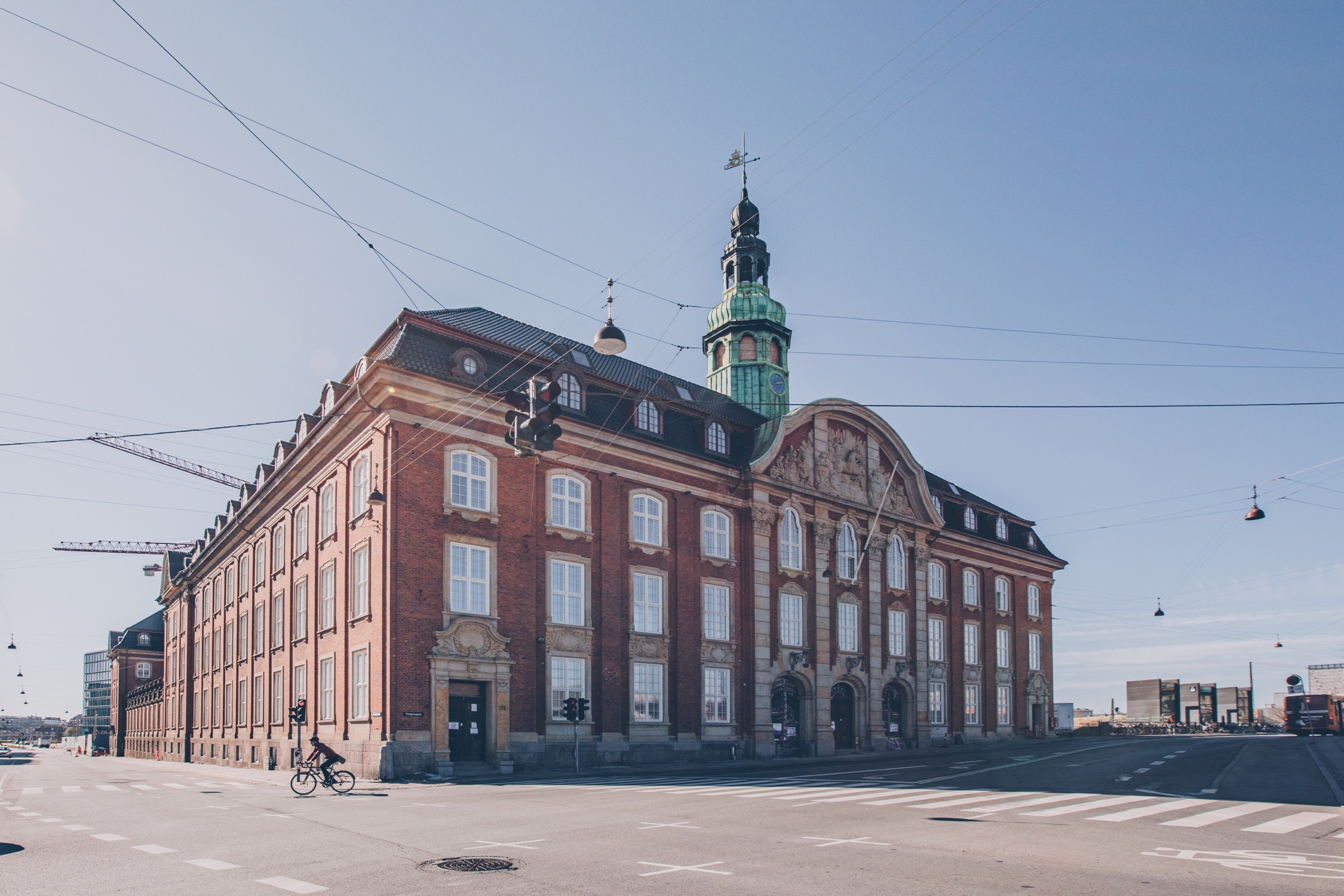 Architectural Design, Accommodations, and Artwork:
To ensure that the new interiors matched the grandeur of the 1912 Neo-Baroque architecture, and to keep the building at the forefront of Scandinavian design for another hundred years, Villa Copenhagen appointed Universal Design Studio, an award winning London-based architectural firm, to create several public spaces and 381 guestrooms across the hotel's five floors. Evoking the ambiance of a sophisticated Danish residence, rooms feature high ceilings, herringbone floors, restored original windows, gold accents, and muted colour palettes that pay homage to paintings by 19th century Danish master Vilhelm Hammershøi. Thoughtful touches include keyless entry and remote check-in, virtual check-out, and an optional white glove service. The firm also designed the two-story Universal Penthouse Suite, which features a grand walnut and steel spiral staircase leading up to lounge space and a master bedroom.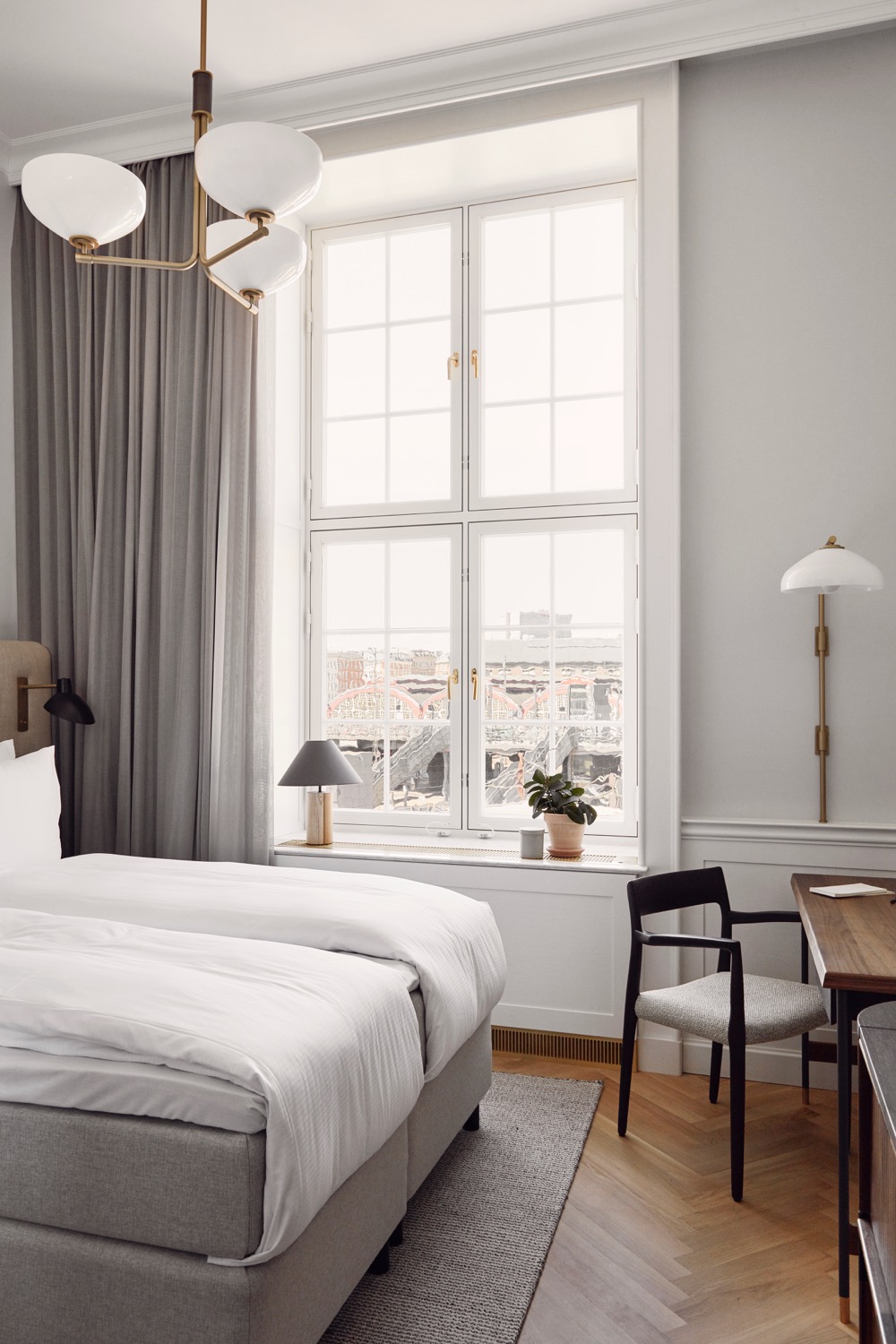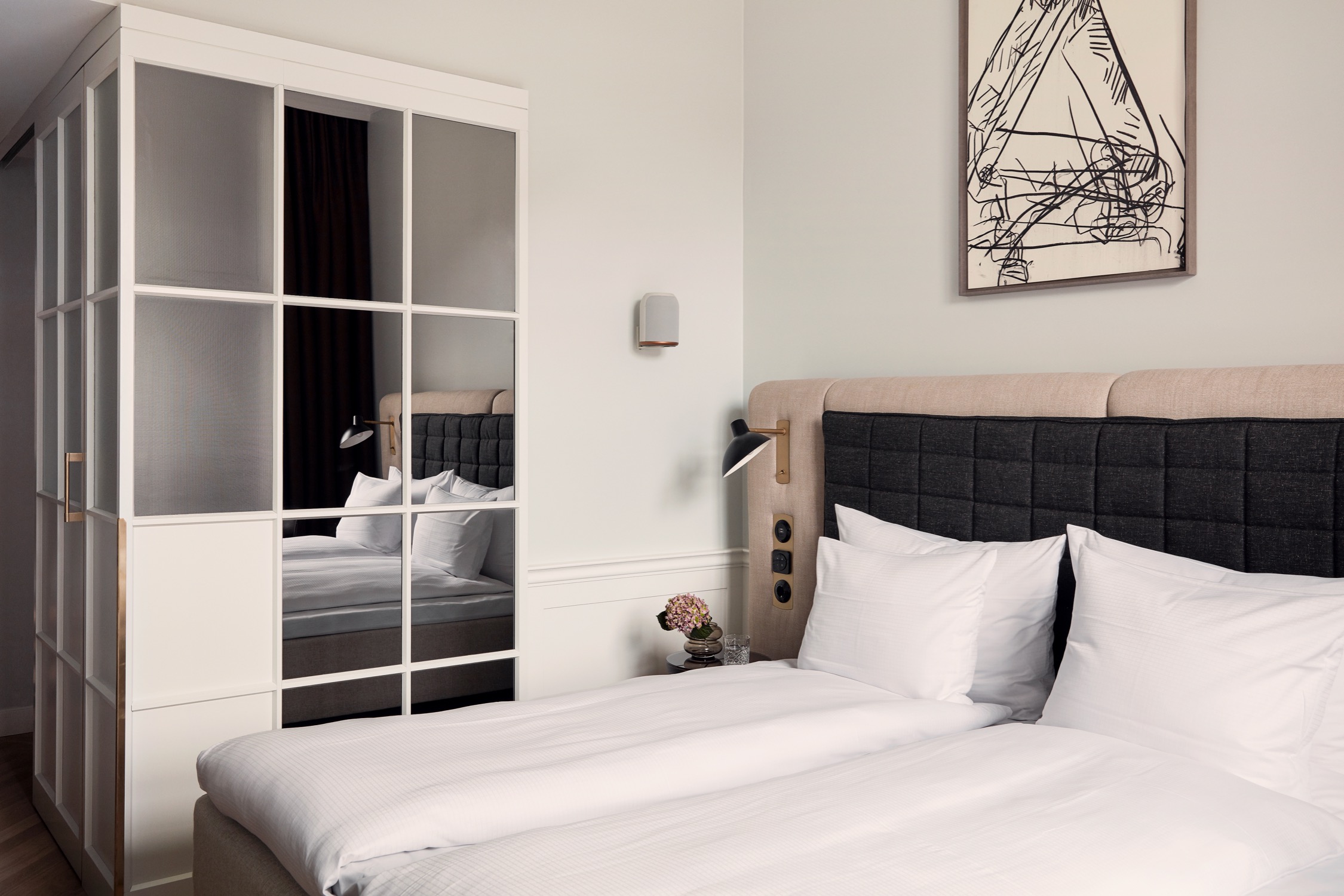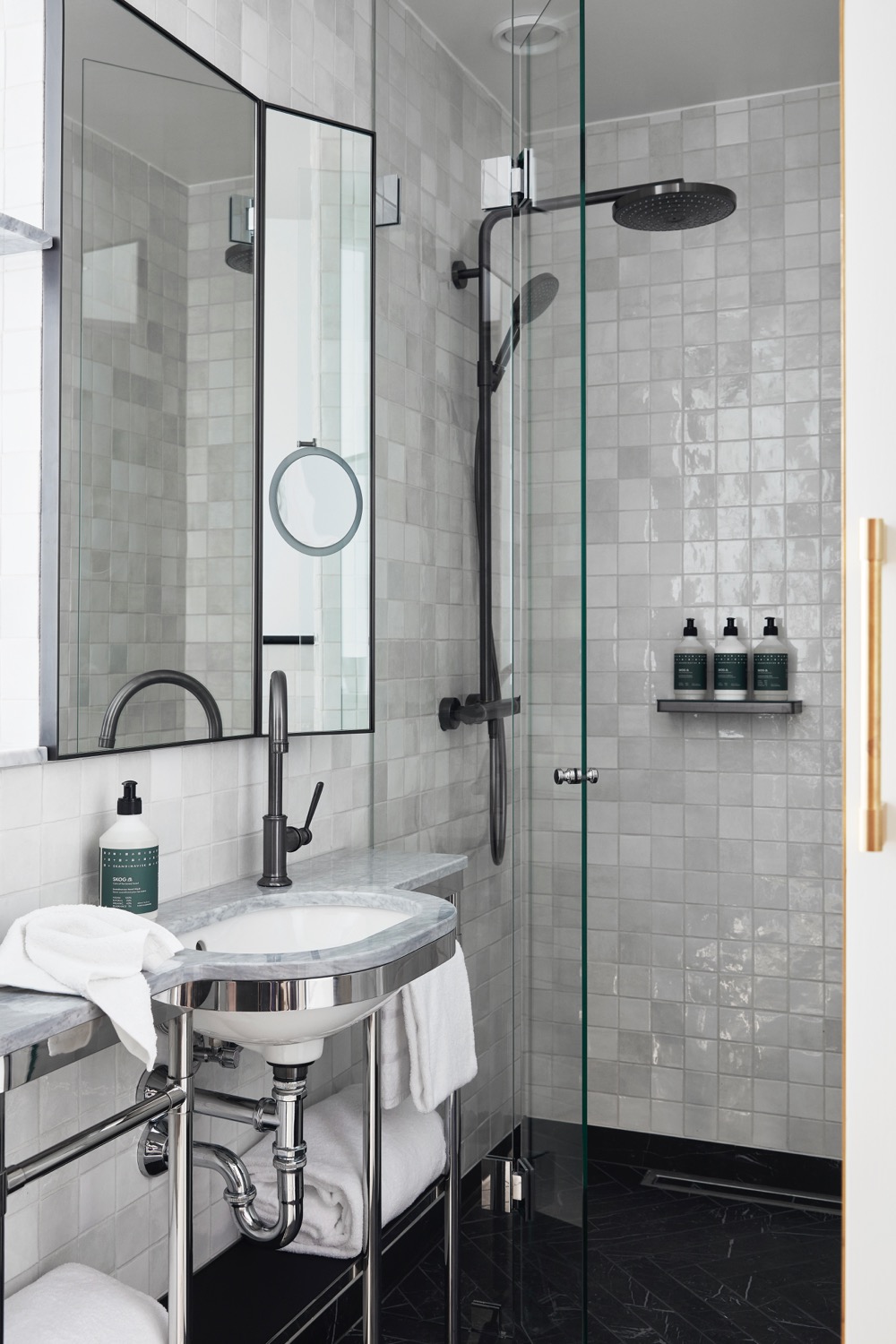 Other contributors include Danish architect Eva Harlou, who designed the sought-after Earth Suite, a fully sustainable suite entirely comprised of recycled materials and textiles with eco-friendly furniture by Mater Design; and Shamballa Jewels, a Danish fine jewellery brand that designed the remaining seven suites, including The Shamballa Master Suite, which is the most expensive suite in Denmark at US$8,100 per night, as well as two other spaces within the hotel, specifically The Courtyard and Old Boardroom.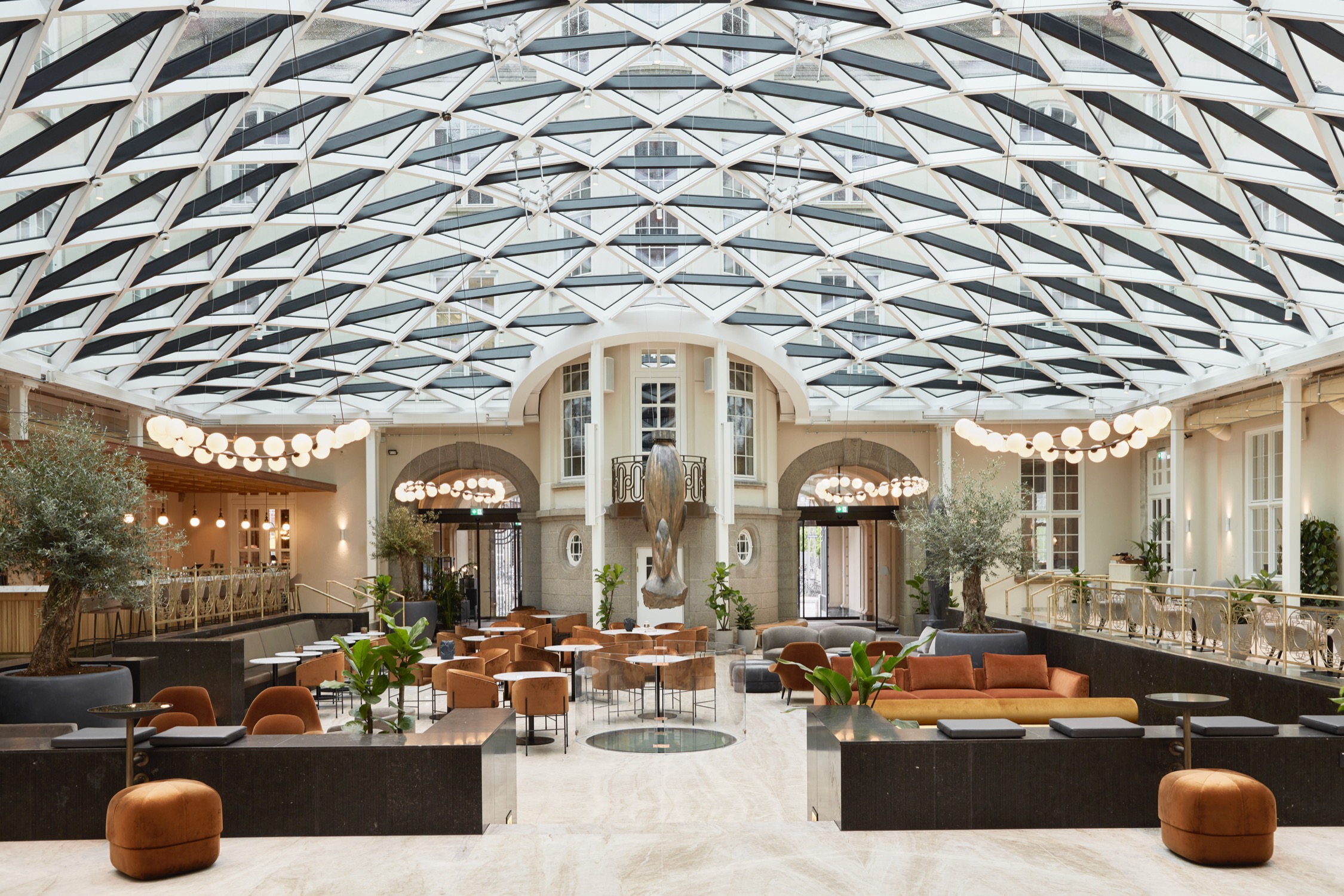 Villa Copenhagen is also home to the city's finest private art collection valued at more than US$2 million. With celebrated art curator Sune Nordgren at the helm, current artworks on display include pieces by local talent and celebrated international artists, including Jaume Plensa, Per Kirkeby, and Ian McKeever.
Read our guide to the best luxury hotels in Copenhagen
Social Spaces:
Villa Copenhagen features ample outdoor and interior green spaces to promote a sense of wellbeing and tranquillity across its public areas, going above and beyond current government health and sanitation regulations while maintaining its vision of delivering an inspiring and playful ambiance. Highlights of its social spaces include:
The Courtyard – Designed by Shamballa Jewels, The Courtyard fuses Eastern philosophy with a modern Nordic aesthetic to create a multi-dimensional space for pop-up events, live music, and exhibitions. For the opening programming from July 1-4, Copenhagen-favourite Maria Black Piercing Studio occupied the space, offering exclusive appointments and a selection of the brand's jewellery for sale in the hotel's lifestyle shop Passagen.
Old Boardroom – A vestige from the building's Post House era, the Old Boardroom serves as a private event space for intimate gatherings and dinners, and remains almost entirely in its original form with antique chandeliers, restored wooden panelling, imitation wall tapestries, and a connecting kitchen for private catering.
Meetings and Event Spaces – Villa Copenhagen offers 24,757 square feet of flexible meeting and event spaces for smaller gatherings or large events of up to 1,200 attendees. The hotel commissioned Mater Design to create the conference room chairs, with each one made exclusively from approximately 6 pounds of recycled ocean waste.
Rooftop Pool and Bar – Up on the roof, guests can go for a dip in the sustainable lap pool, warmed year-round with excess heat from the hotel's cooling system, enjoy cabana service from the pool bar, work up a sweat at a 24-hour fitness centre, sauna, or escape to a hidden garden growing organic herbs, spices, vegetables, and honey for daily dining menus.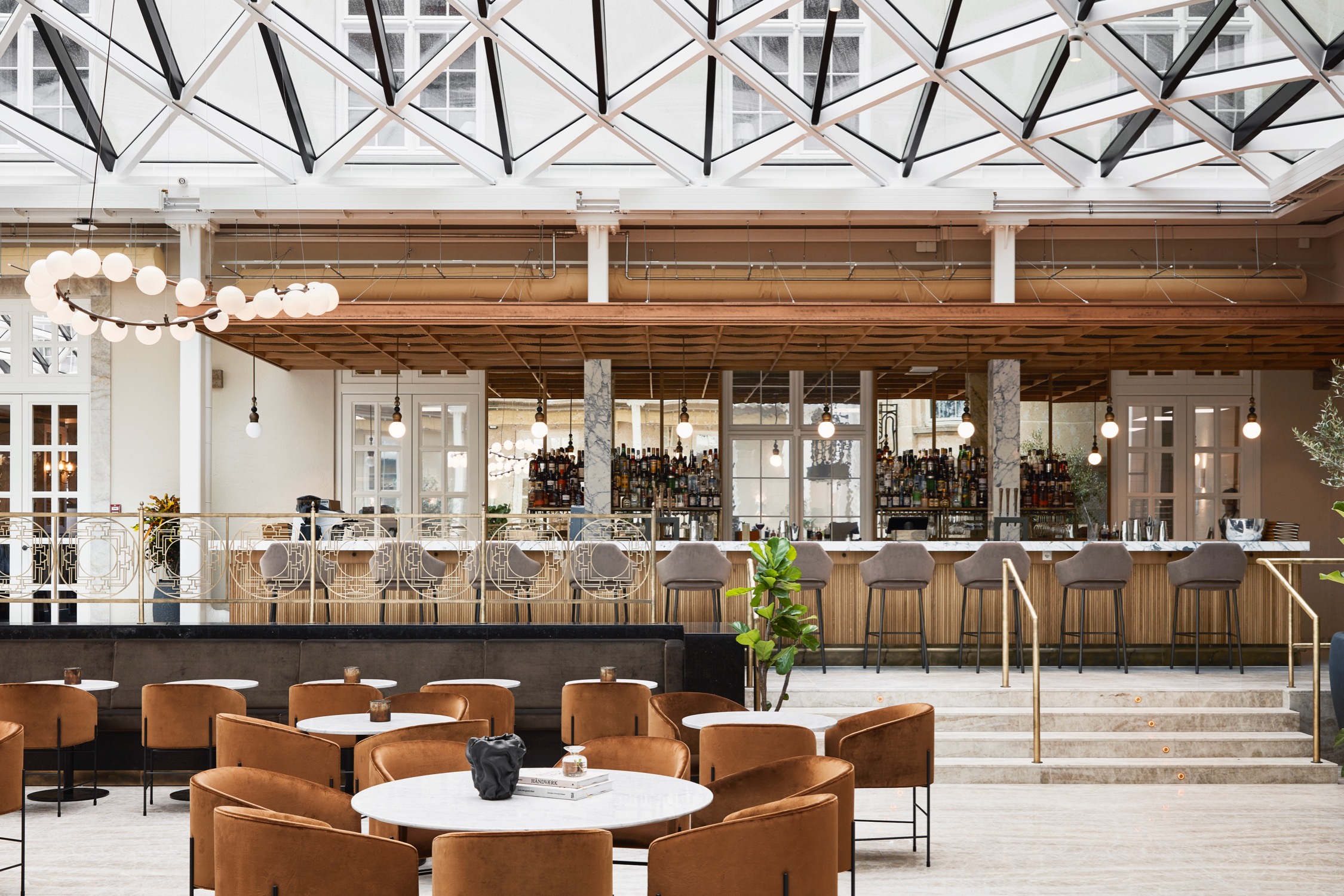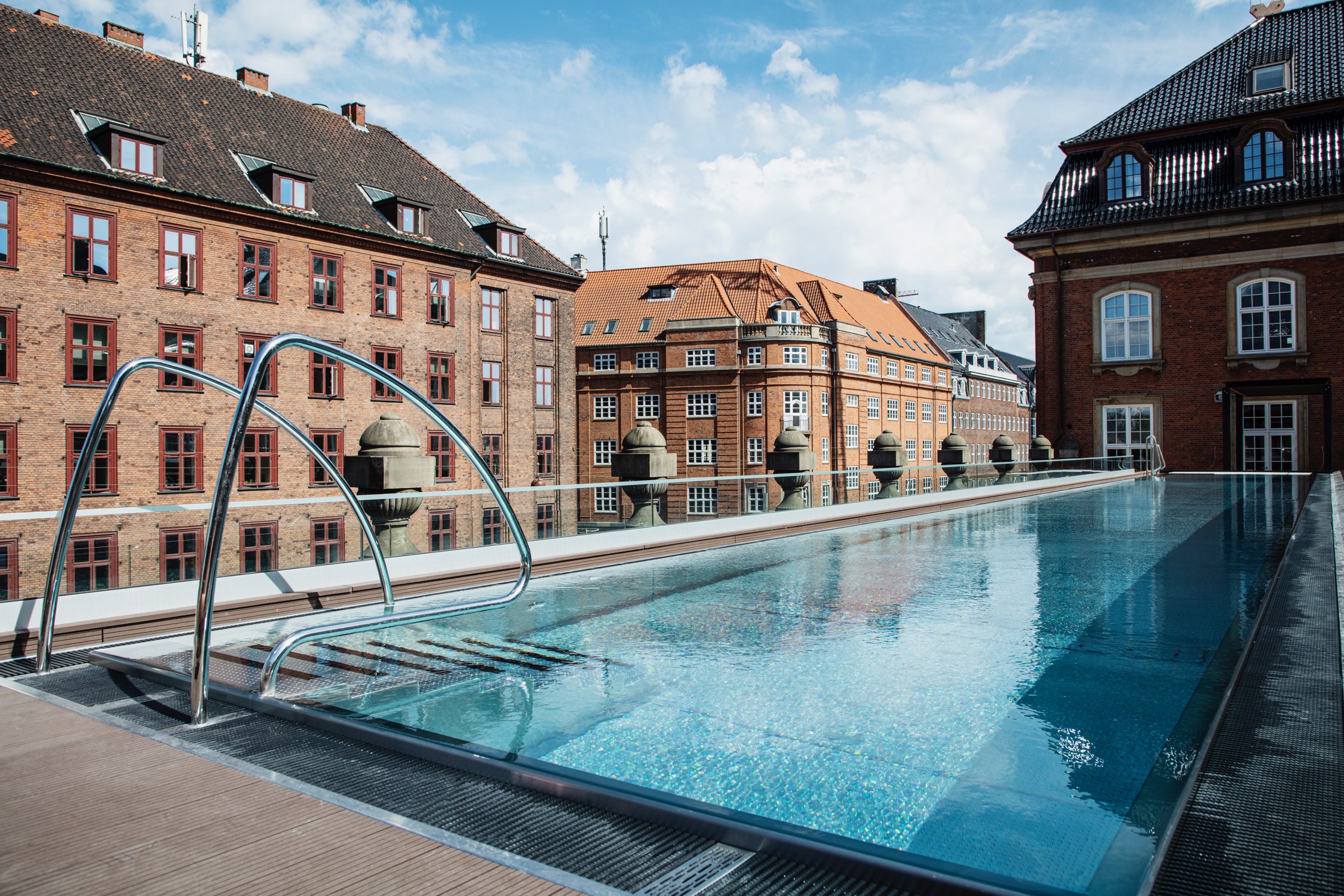 Cuisine:
Executive Chef Tore Gustafsson is responsible for Villa Copenhagen's sustainable food profile, which focuses on 'carbon-free' dining and zero food waste. He worked with Epicurean, an F&B design studio from celebrated interior design house Goddard Littlefair, to develop all five of the hotel's food and beverage outlets. Located on the ground floor in the former sorting room of the Post House, the Public and Rug Bakery outlets make up a spacious breakfast and flexible event space with an open kitchen, where guests are provided with personalised options for fresh bread, pastries, and coffee, including individually sealed to-go 'FIKA' bags, as well as à la carte options that can be served via in-room dining. The T37 Bar & Lounge offers a menu of tongue-in-cheek aesthetic, craft cocktails, and light dishes in a beautifully restored corner with original marble columns. Next door, the Playroom is stocked with table and board games, books, and plush furniture for laidback evenings. Kontrast brasserie has its own street entrance facing Central Station, and provides a cosy all-day restaurant open to city residents with contemporary takes on mid-century décor. Fresh, flavourful dishes made with organic ingredients from the hidden garden and local suppliers are served by Gustafsson and his team from a bustling open kitchen.
Local Partners:
To showcase Villa Copenhagen's personal and diverse approach to guest services, the front-of-house team is kitted out in uniforms by local sustainable fashion brand sur le chemin. While coordinated, team members can choose items that best suit their individual style from the capsule collection, which is made up of different pieces with prints of notable Copenhagen streets. Other hotel partners include Skandinavisk natural fragrances for in-room guest amenity kits; NOTEM Studio for hotel stationery; Bodum for porcelain dinnerware; and Mikkeller beer for guest minibars, with the craft brewery also hosting a curbside beer bus serving refreshing ales to guests this summer.
A member of Preferred Hotels & Resorts, Villa Copenhagen is offering a special opening rate starting at £160 per night in a standard room. To book or for additional information, visit www.villacopenhagen.com