Leading French hospitality group EVOK has announced the opening of Sinner in July 2019, joining Nolinski and Brach as the third addition to its hotel portfolio. The 43-key Tristan Auer-designed property is located in the eccentric Le Marais district of Paris, launching with a destination restaurant, bar and a spa. Conceived to push boundaries and break rules, Sinner is both elegant and provocative, capturing irreverence without compromising on the luxury expected from one of the French capital's finest hotels.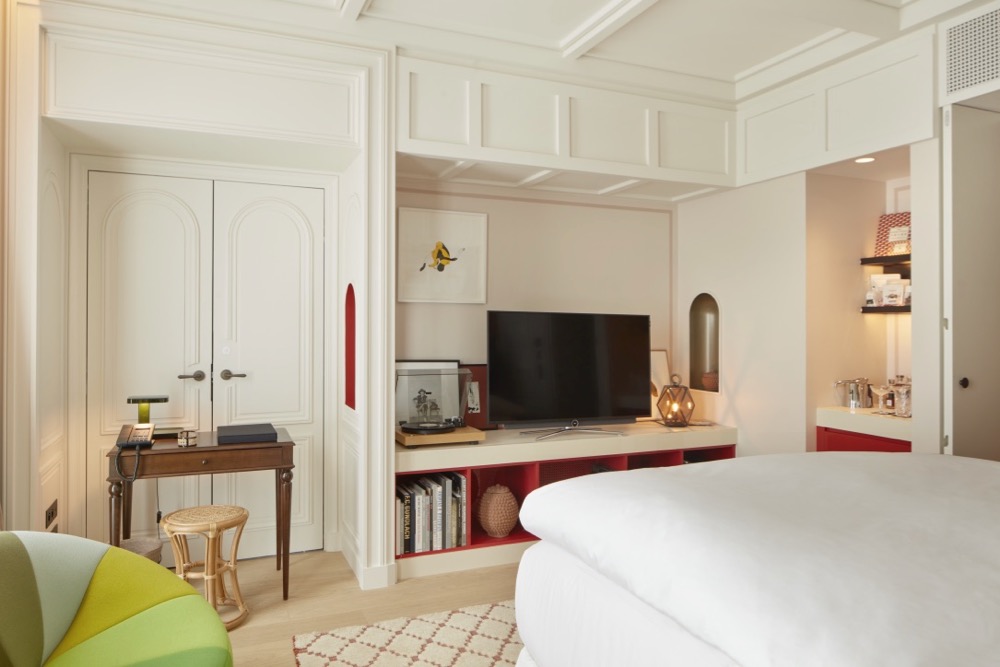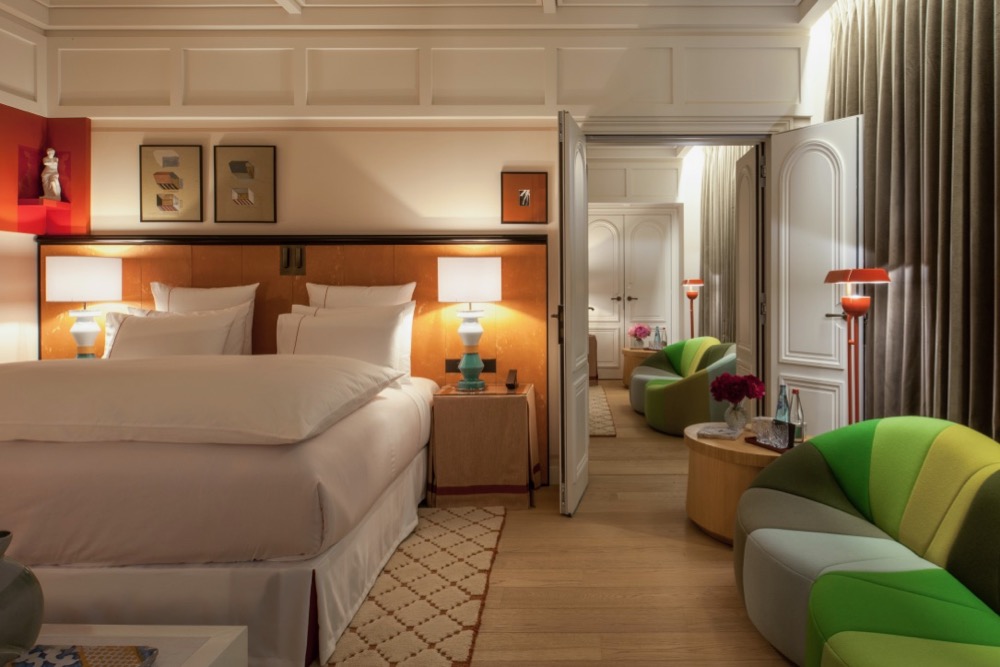 A blend of religious heritage, opulent rooms and spectacular spaces characterise Sinner's distinctive and daring interiors. Known for his surprising design details, Auer eschews trends in favour of an expressive clash in style and era, taking inspiration from the Le Marais neighbourhood often referred to as 'Old Paris' and now a hub of creativity as well as the frivolity of the 70s.
Read our guide to the best luxury hotels in Paris
Vaulted archways, gothic-inspired candelabras, and stained glass windows evoke a monastic aesthetic. Dark, lantern-lit hallways lead guests to their rooms where the use of clean lines and playful prints inject a contemporary touch. Striking design details include red doors with knockers and peepholes inspired by carriage porches, an installation of chained metal pipes hanging by the lifts; and a candlelit crypt opposite reception, home to a cabinet of curiosities which serves as Sinner's curated concept store.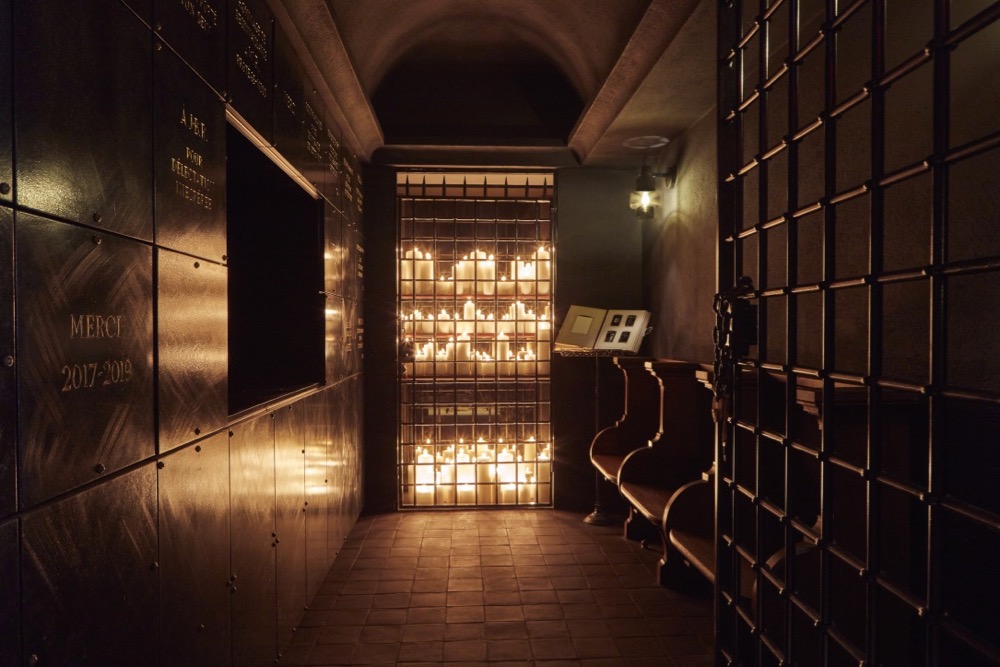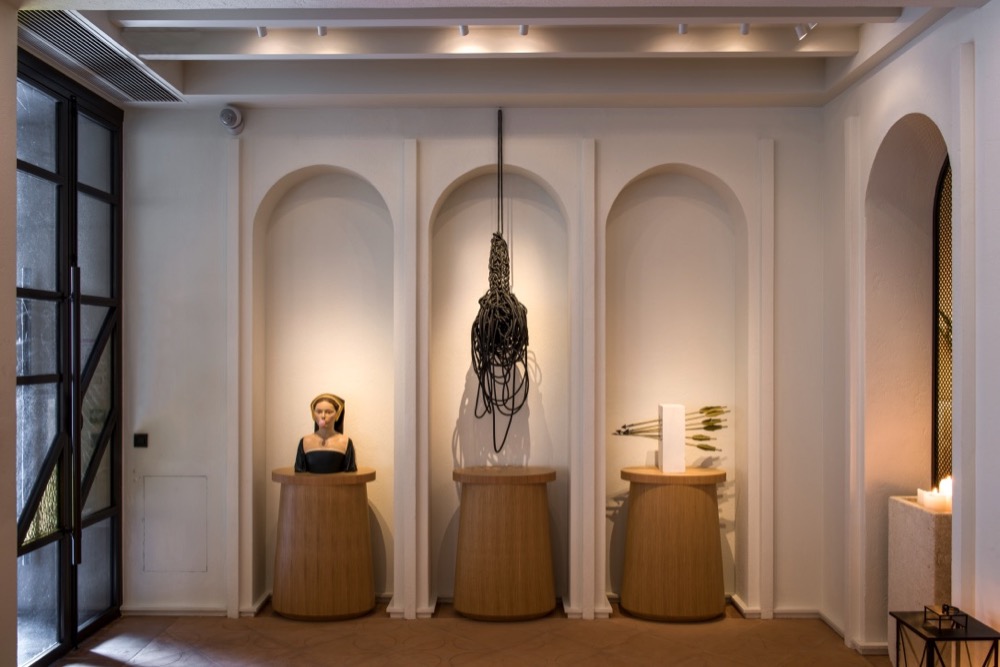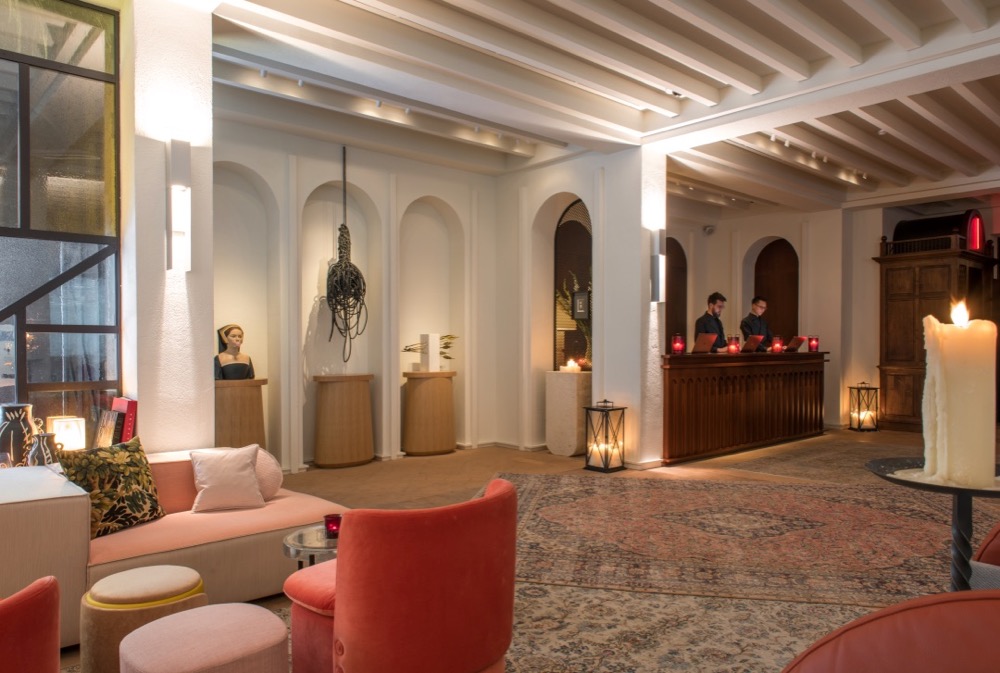 Upon entering, a grand lobby leads through to a double-height bar and restaurant, that will be a buzzing hang out both day and night. At Sinner's restaurant, Chef Adam Bentalha has designed an ethnic menu of "tribal" food, fusing North African and South American cuisines, taking inspiration from street food culture, and the simplicity of Peruvian and Brazilian dishes. Bentalha joins from EVOK's Brach hotel, having previously worked at some of the world's finest hotel restaurants, such as the Bar Vendôme brasserie at Hotel Ritz Paris and La Bauhinia at Shangri-la Hotel Paris. Meanwhile, patisserie chef Yann Brys – named the Meilleurs Ouvrier de France in 2011 – whisks diners to far-flung destinations with exotic dessert creations.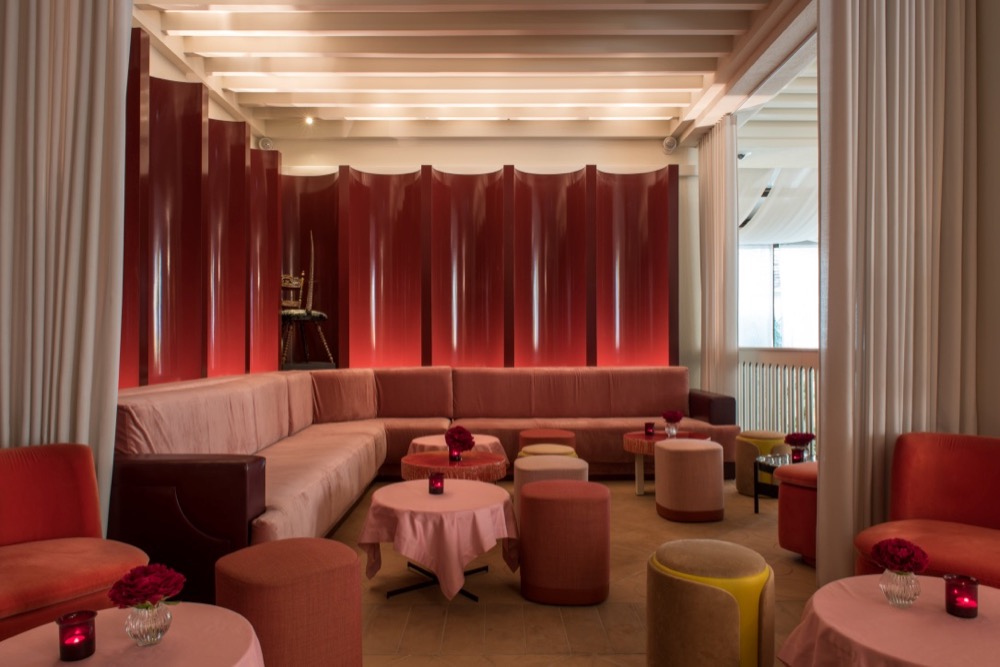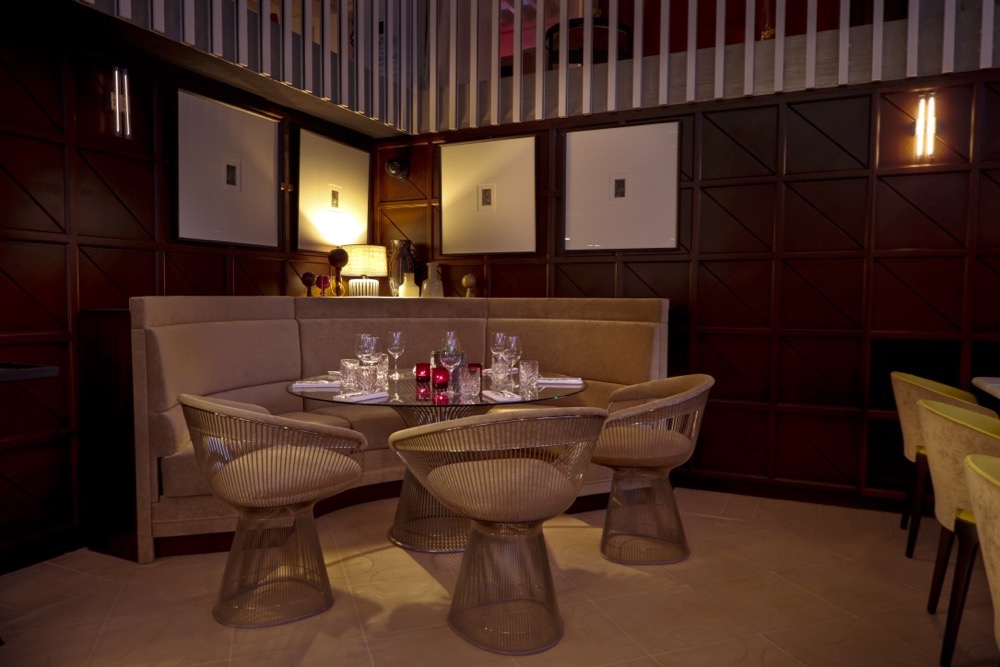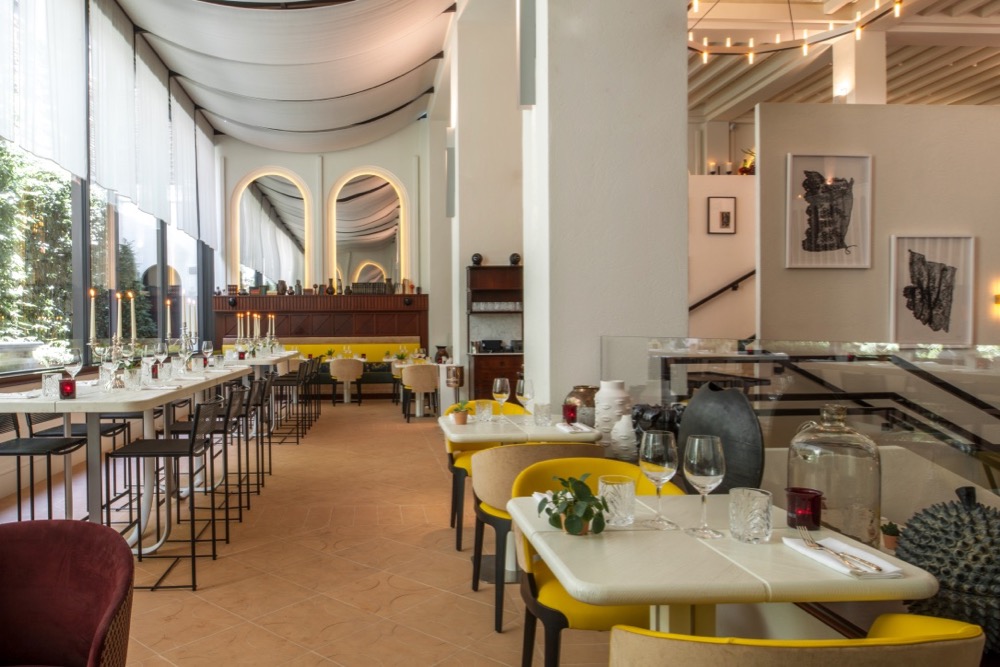 Sinner's enticing bar will showcase a distinctive and punchy menu of ten Latin-inspired concoctions including the 'Crimson Heart' and 'Memento', using fresh products and homemade infusions. Spirits are sourced from small distilleries with a large selection of rums, whiskies and gins to choose from. Exotic cocktails are accompanied by fusion finger food such as cold kemiah, cromeskis, ceviche, shish kebabs, tapioca vegetable sauce, and more.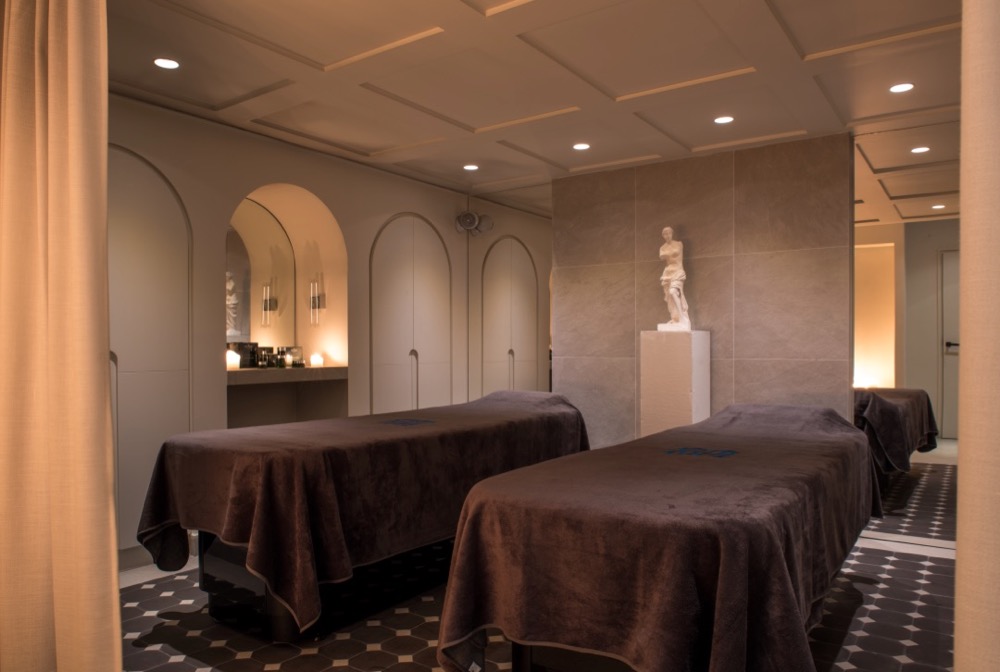 Hidden behind an underground nail-studded door, the hotel's spa, Ablutio, offers guests a private retreat from the outside world and revives its namesake tradition of tribal purification rituals. Bespoke treatments are created using Orveda products, an organic, eco-responsible, vegan, unisex brand based on Ayurvedic treatment practices. Spa facilities at Ablutio include an indoor pool inspired by Greek and Roman baths, a hammam and a unique partnership with famed French spa practitioner and international wellness leader Jimmy Jarnet, who has designed exclusive treatments for Sinner. 
The entire experience at Sinner promises to awaken the senses through an olfactory journey of interplaying materials and meticulous curation.
www.sinnerparis.com