The Newt in Somerset, a working country estate near Bruton, has now opened its hotel and spa to guests. Set within Hadspen House – a Grade II*-listed Georgian manor house – and its Stable Yard, the hotel has 23 individually designed bedrooms. Guests are encouraged to embrace country living and explore the historic estate and surrounding area. The bucolic setting has inspired a garden-to-table menu in the restaurants, as well as botanically-based treatments in the world-class spa.
The hotel and spa follow the opening earlier this year of the formal and productive gardens, ancient woodlands, apple orchards, cyder press, restaurants and farm shops. The ethos of The Newt in Somerset is to celebrate all things of our county, with a focus on the local and sustainable. Everything is rooted in respect for the land, the environment and all creatures living on it.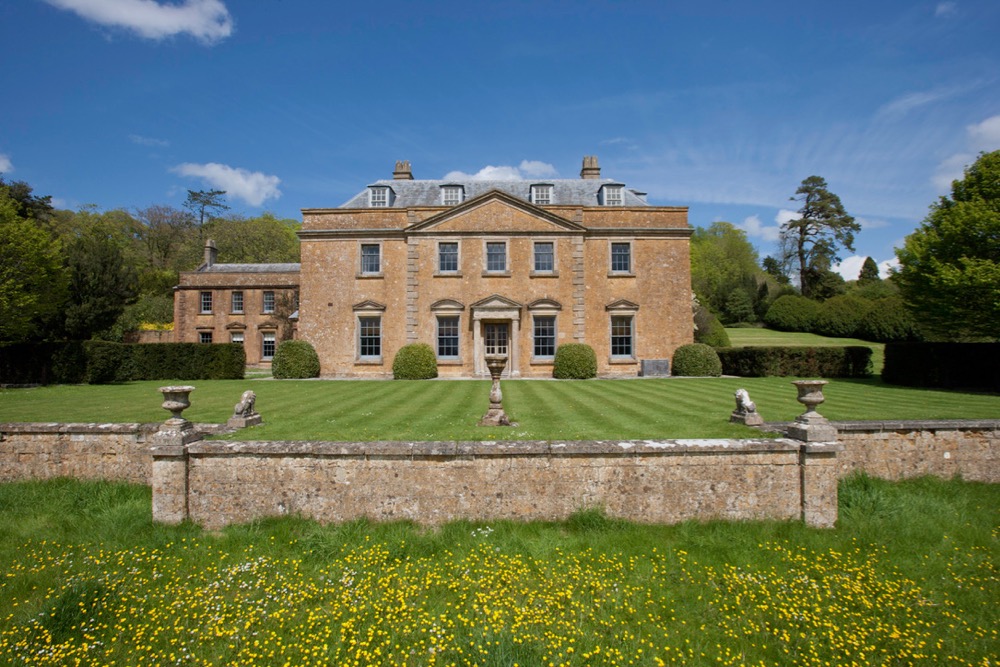 Hadspen House has a fascinating history. First built between 1687-1690 by William Player, who described it as 'a Gentleman's House', it was extensively remodelled in Georgian times. Henry Hobhouse II, a lawyer from Bristol, acquired the estate in 1785, adding a façade of local limestone. His descendants would live here for the next two centuries, remodelling the house and adding more naturalistic parkland. References to this interesting family of activists, politicians and conservationists can be seen by guests throughout the estate.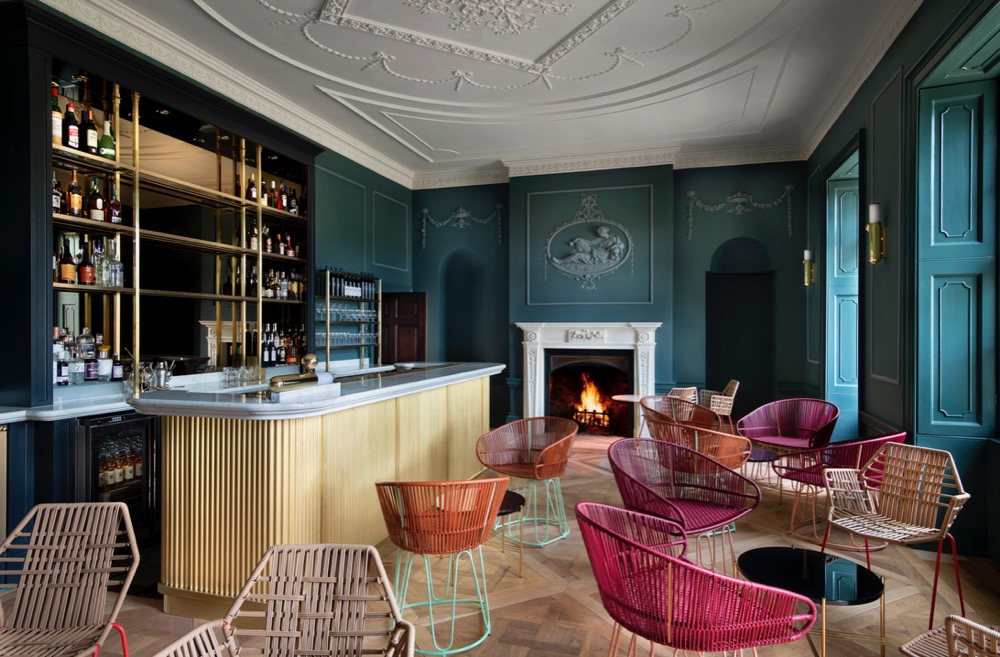 In designing the hotel and gardens, the past is reimagined by combining historical elements with contemporary architecture and playful design. Creative direction is provided by owner Karen Roos, a former magazine editor and also the creator of Babylonstoren in South Africa.
Local materials and craftsmanship were incorporated into the design and architecture. Orange coloured Hadspen limestone and blue lias were quarried nearby and used in a myriad of forms, while the skills of local blacksmiths, carpenters, architects and stonemasons are celebrated.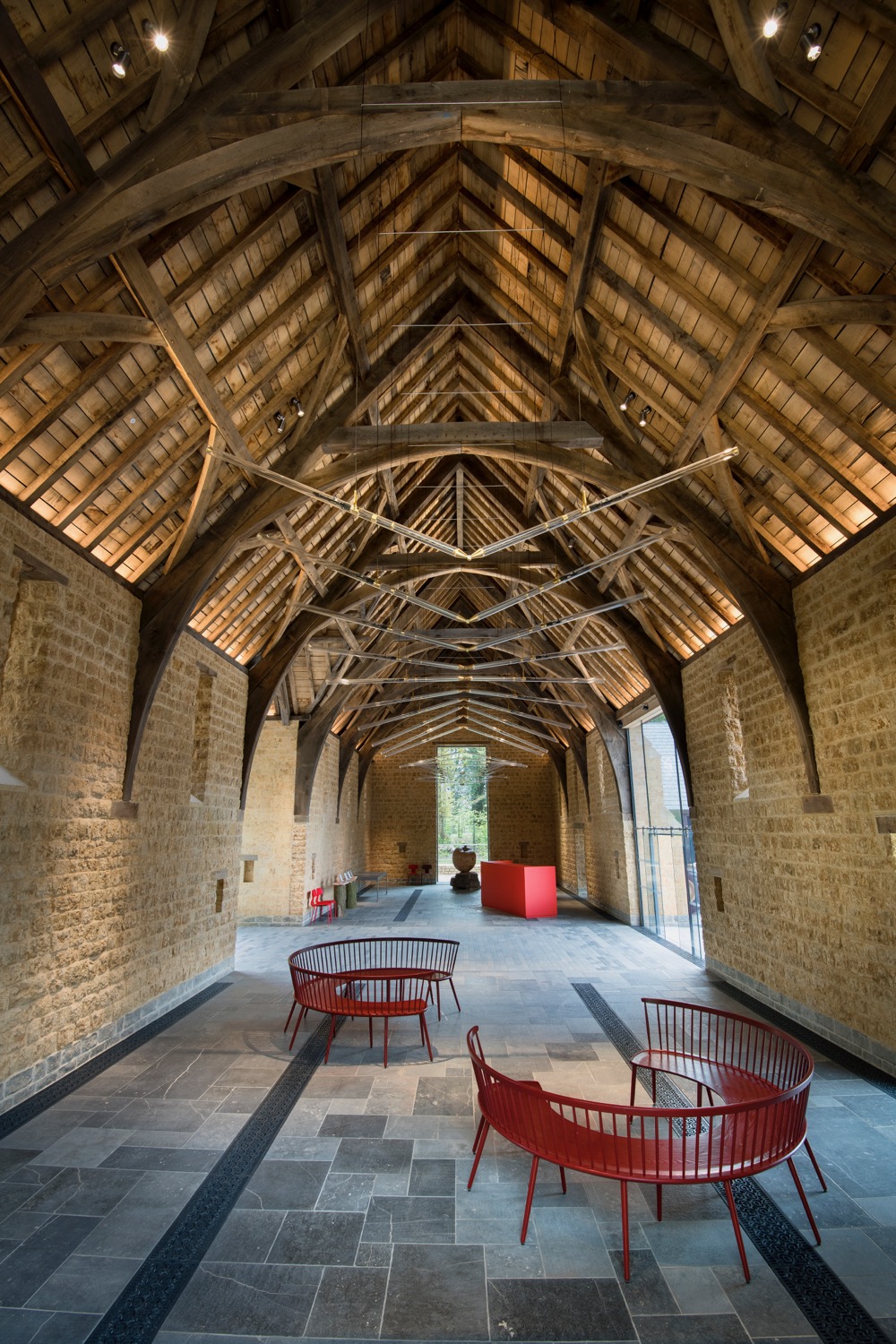 The design of the hotel aims to echo the gardens, with a colour palette of greens ranging from sage to emerald, contrasting with bursts of colour. Sweeping views of the countryside are in evidence from windows and terraces. Old sits alongside new, such as original oak panelling in The Botanical Rooms lit with statement Tom Dixon fittings, which also hang over the staircase as an oversized chandelier; or a vintage record player in the Croquet Room, to be enjoyed while reclining in a surprising Moroso hanging chair. A range of antiques were collected over many years by Karen, placed alongside bespoke pieces and hyper-modern additions.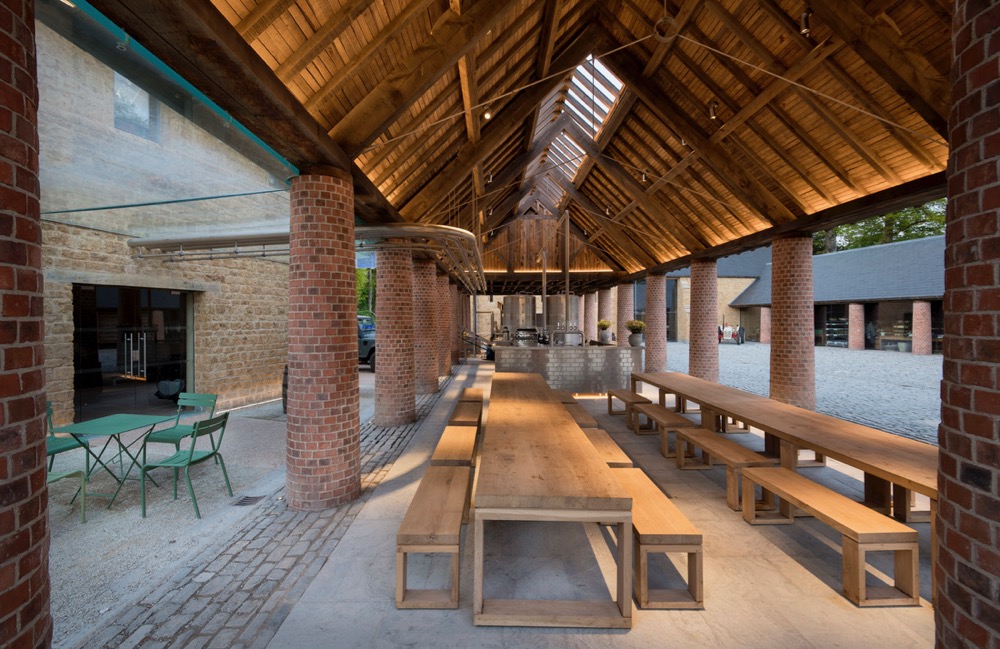 Individually designed bedrooms in the main house have retained original Georgian features and proportions, with sash windows and clean lines. Several have four-poster beds and free-standing baths. Stable Yard rooms have been converted into sophisticated accommodation, while retaining original features from their historic function. Contemporary touches abound, also larders stocked with homemade treats, Dyson hairdryers, Nespresso coffee machines and flat screen televisions. Twenty-three bedrooms are scattered across the main house and its Stable Yard and Clock House, each varying in design.
Hotel guests can explore the gardens after hours, relax on sun terraces, play records, take high tea in the library and play croquet on the lawn or badminton on the private grass court, affectionately named Old Knobbly after its surrounding cloud-shaped yew hedge.
Every plate of food served on the estate features something grown or foraged at The Newt in Somerset. Gardeners and chefs work closely together to harvest fresh ingredients daily – over 350 vegetables and salad varieties are cultivated.
The Botanical Rooms is the hotel's restaurant with 70 covers. The restaurant offers a window on the house's Georgian heritage. It harks back to a true country house kitchen, with head chef Ben Abercrombie serving a menu shaped by the lifecycle of the estate. Dishes include just-picked fruit and vegetables from the garden, while a unique grill designed for the kitchen and fired from the estate's woodland prepares venison and meat from the area. The restaurant comprises two spaces – the immersive Glass Room filled with orange trees and greenery adjoins the intimate Oak Room. Dried botanicals line the walls and comfortable leather banquette seating makes this the ideal space for feasting. A vaulted cellar underneath the restaurant is home to an extensive wine collection.
The dramatic bar, painted in a deep teal, contrasts with the flat gold bar and vibrant-coloured bamboo chairs by Sebastian Herkner for Ames, ensuring it will be the place to enjoy a creative cocktail from a menu inspired by heritage – such as the Penelo-pea, made with homemade apple gin and peas from the garden.
The Newt in Somerset Spa offers treatments inspired by an English country garden. Located where the cow barns once stood, the interiors embrace a sense of calm and wellbeing. Hadspen stone meets forest marble, glass and natural oak, to give a luxurious finish and plenty of natural light. In the seven treatment rooms, locally-made botanical ingredients are used.
Spa facilities include an indoor swimming pool and indoor/outdoor hydro pool, sauna, steam room and halotherapy room. Signature treatments include a mud rasul experience in a private couples' chamber and an authentic full-scale hammam. Facials, wraps, massages and manicures are also offered.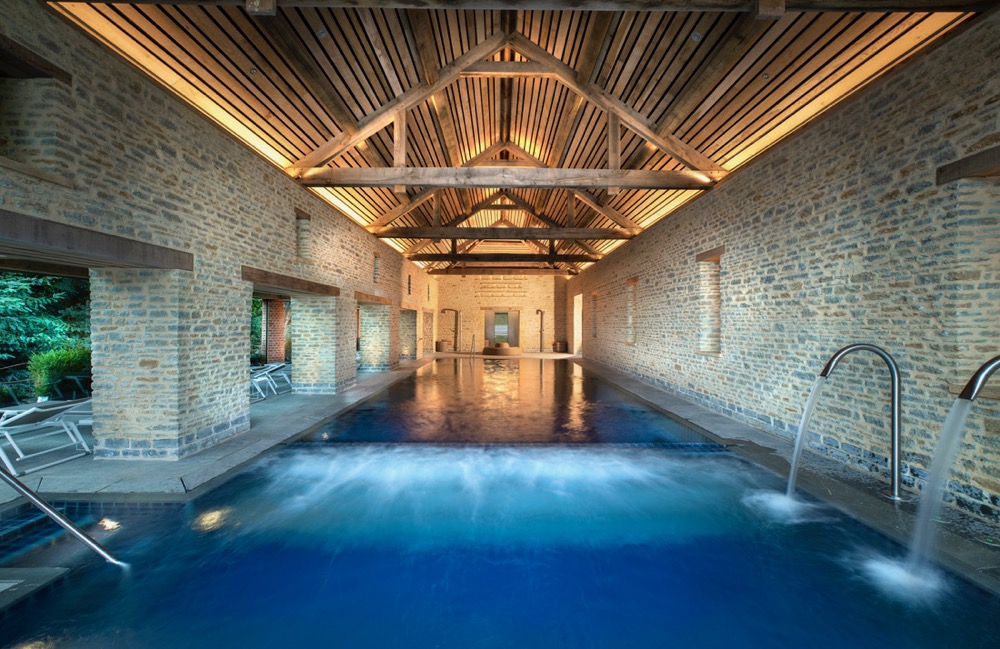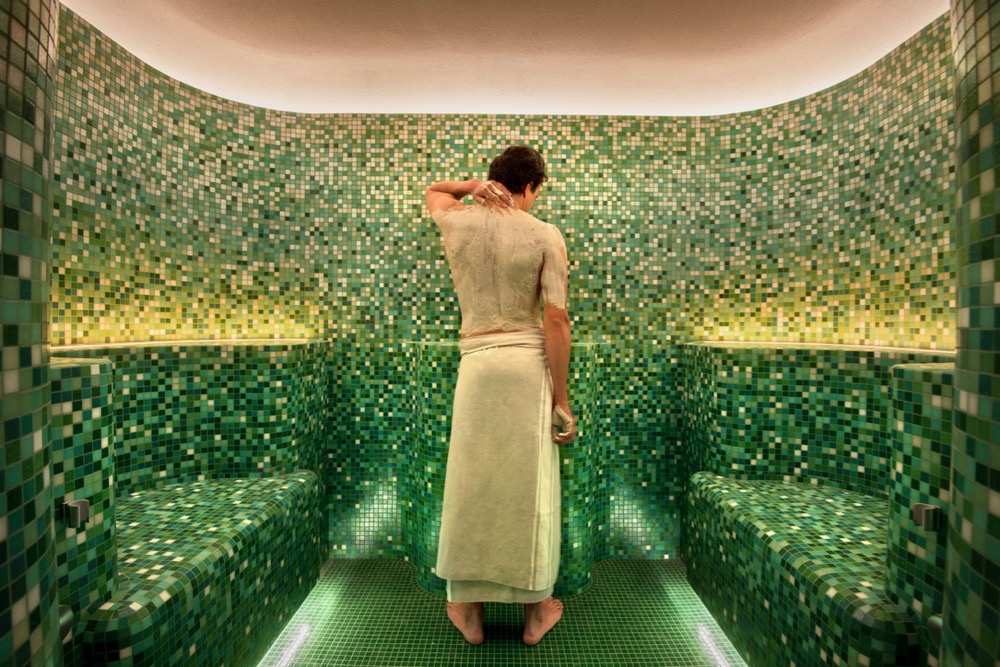 Food and drink offerings are designed to promote nutritional health with kombucha and pickles for gut health, olives and chickpeas for healthy skin. Outside, a medicinal herb collection evokes monastic gardens of the medieval era, providing a calming space for guests to soothe body and mind.
The high-spec gym is located opposite with views over the hotel's private kitchen garden.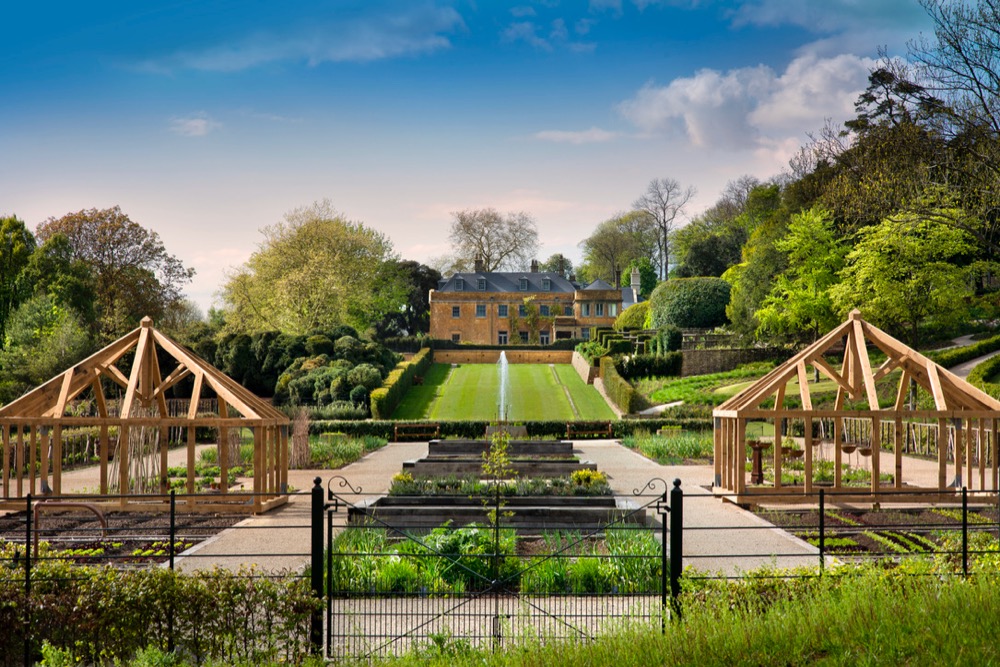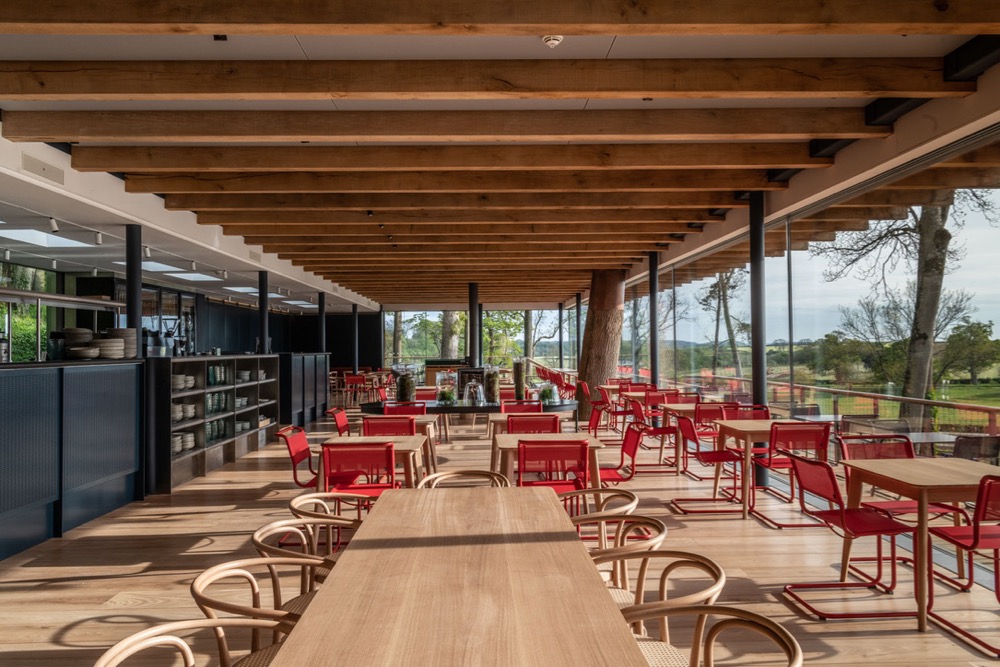 At The Newt in Somerset, gardens take centre stage, with acres of formal gardens designed by renownedItalo-French garden architect Patrice Taravella and cared for by an expert gardening team. They provide sustenance for the body and inspiration for the mind, supplying all restaurants on the estate with herbs, flowers, fruit, vegetables and honey.
The gardens have a beloved horticultural heritage, with a reputation for new and rare plants. Three varieties were created at Hadspen and still thrive here today – Astrantia 'Hadspen Blood', Lobelia 'Hadspen Purple', and Anemone 'Hadspen Abundance'.
Visitors are led on a journey through time: from a Baroque maze to colour rooms, to a Victorian fragrance garden and modern water gardens. There are also wildflower meadows and ancient woodland walks to discover, along with the estate's deer park. A contemporary moving installation from Amsterdam's Studio Drift is on display in the Threshing Barn, while interactive 'nests' by Porky Hefer are popular with visitors and resident chickens alike.
At the core of the gardens nestles a Parabola walled garden with a comprehensive collection of trained apple trees, arranged in a maze. The Parabola encloses some 3,000 square metres of garden within 9ft of walls and contains 460 apple trees of 267 varieties. UK cultivars are divided by county. A daily Garden Tour is led by one of the expert gardening team.