As the first international luxury hotel in Armenia, Marriott's latest addition to its Luxury Collection – The Alexander Yerevan is truly special. Offering 114 beautiful minimalist designed guest rooms and located in the historic centre of Yerevan, staying here offers guests a once in a lifetime experience.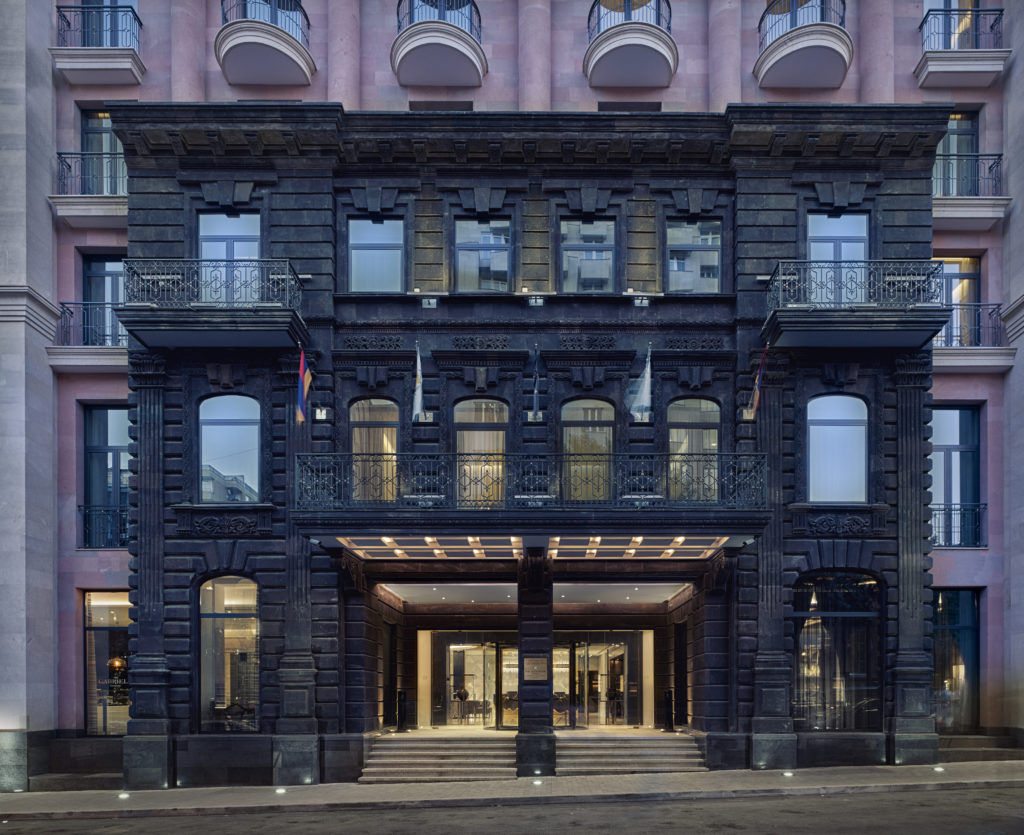 Between Europe and Asia, within the Caucasus mountain region, lies the small country of Armenia. Often overlooked for its larger and far more famous neighbours, Armenia gives travellers the unique opportunity to step back in time and discover the grandeur of the Armenian heritage. Armenia has over 4000 historical monuments leading many to refer to it as an open-air museum.
Yerevan, Armenia's capital, provides the perfect mixture of modern conveniences and architecture and ancient history. Here, travellers can visit the Matenadaran library which houses thousands of Ancient Greek and Armenian manuscripts, sip coffee in Republic Square or dine at any number of high-end, fantastic restaurants.
The Alexander, a Luxury Collection Hotel, Yerevan, is located in the heart of Yerevan's historic quarters, allows guests to access the best of Armenia while staying in a truly luxurious hotel. Even the hotel's facade with a history dating back to the 18th century presents a unique glimpse into the country's fascinating past. The building was originally built as a workshop for a well-known tannery company and named after the owner's father, who was a famous war hero. Today, after more than three centuries, this same building with its stunning black facade houses The Alexander, a Luxury Collection Hotel, Yerevan. Throughout the building there are many historic reminders including the National Ornaments which include the Alphabet Wall and a selection of authentic jars from History Museum.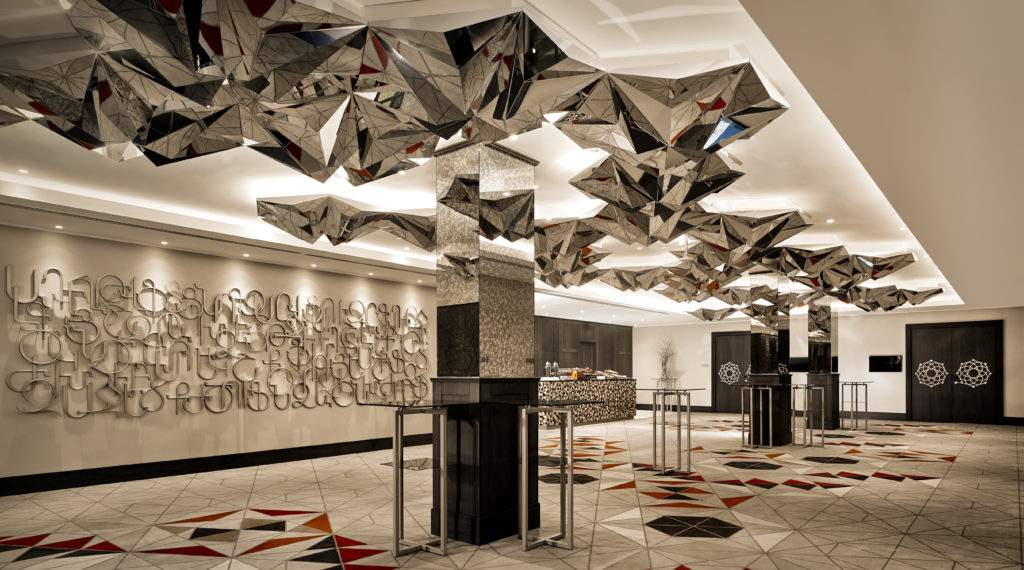 This hotel includes 114 guest rooms and suites featuring scaled-back, minimalist design, rich gold accents and hints of decorative Armenian motifs. Superior Rooms offer an expansive layout with ultra-comfy bed practically ensuring a good night's rest while Deluxe Rooms have a lounge and dining area perfect for breakfast in the suite before heading out to explore Yerevan. Each of these guest rooms and suites has been specifically tailored to make sure guests have a comfortable, luxurious stay.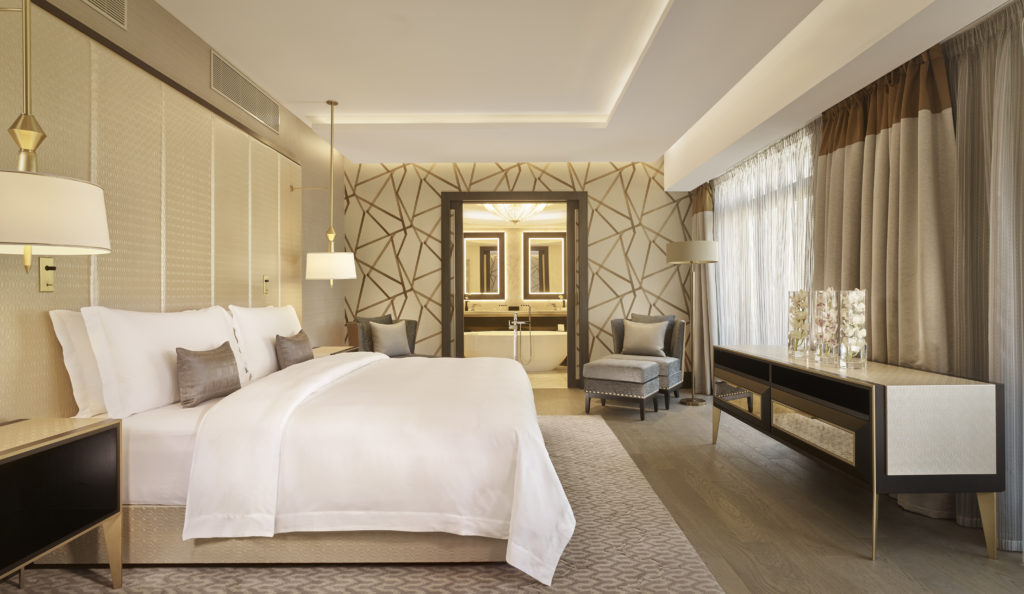 The Alexander Yerevan hotel's exquisite collection of bars and restaurants attracts Armenian and international elites with a famous social scene. Gabriel's Bar & Lounge offers luxurious simplicity combined with a modern approach. Its high-end, fashionable design and exceptional service make drinking here a pleasurable experience.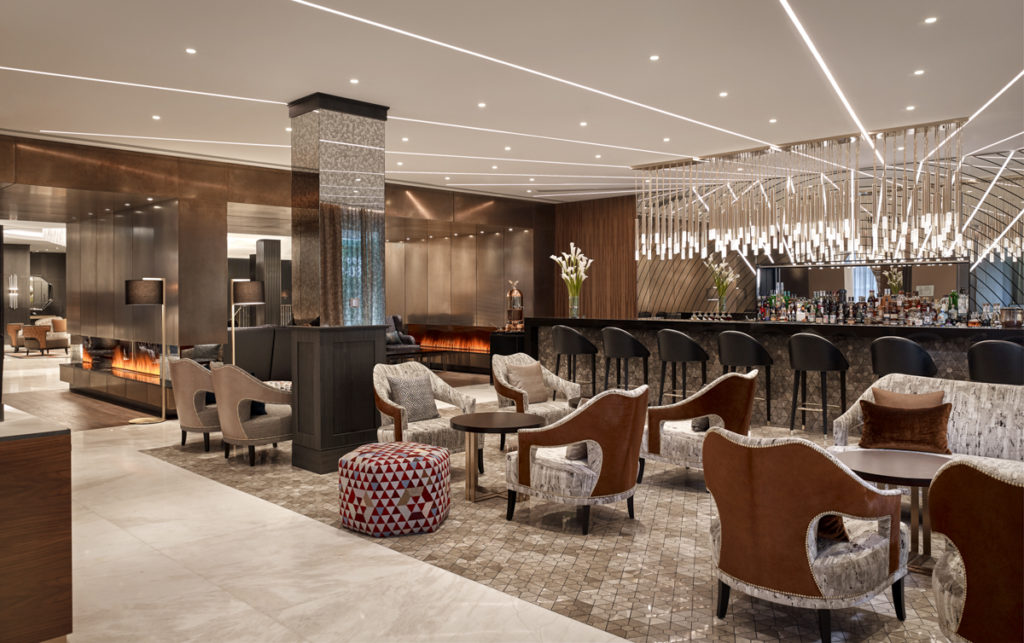 On the hotel's first floor is Gabriel's Patisserie, a high-end boutique pastry shop serving locally-sourced coffee and mouth-watering sweets and pastries. There's an excellent collection of freshly made treats including rich chocolates, baked goods and much more. It's the ideal place to relax with a newspaper or book in the mornings or afternoons.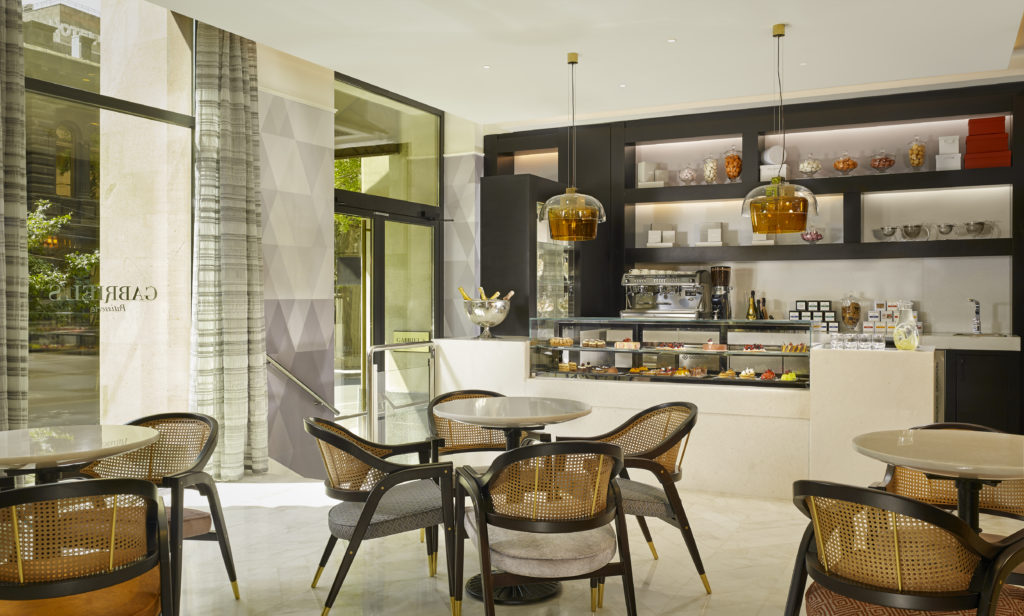 For an unforgettable fine dining experience, head to the roof. Providing exquisite views over Yerevan, the Atelier 1797 Penthouse Bar & Grill is known across the city for its sophisticated, contemporary atmosphere and its chef's culinary expertise. A stay at The Alexander wouldn't be complete without dining at the Atelier.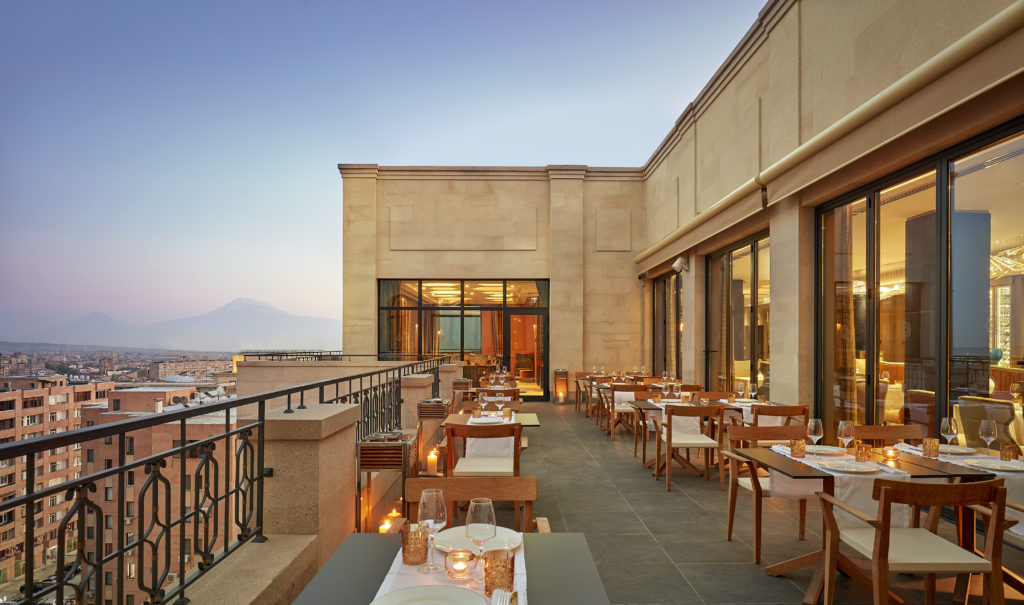 The Alexander also hosts the exclusive, member-only The Keys Aficionado's Private Club. With its wood-panelled decor, handsomely designed bar and glass wine cellar, this is the perfect place to relax and enjoy some of the finest Armenian and international vintages. To access this exclusive club guests, need to be invited and given a special key that unlocks the door.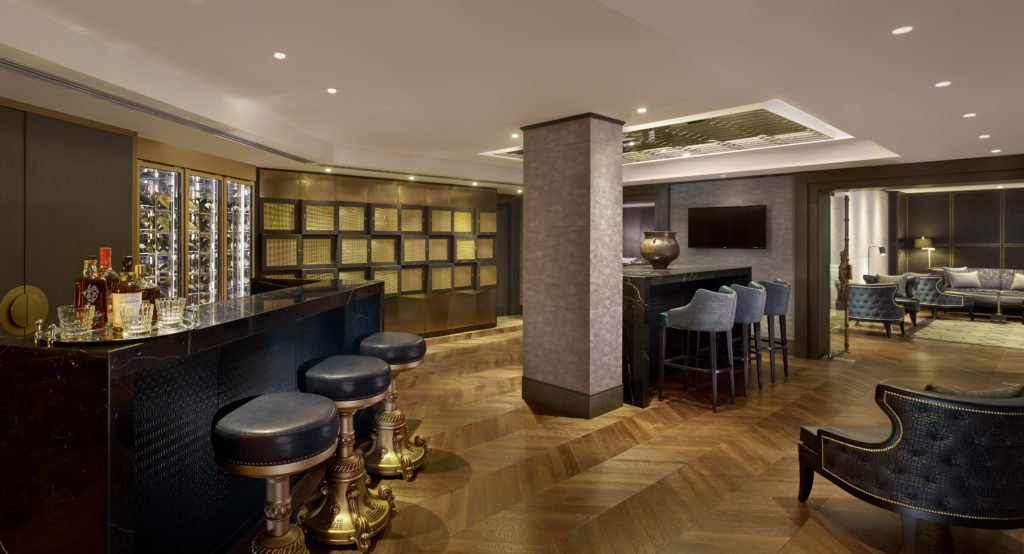 A little less private, The Alexander's spectacularly designed library provides another fantastic place to relax and unwind after a hectic day. Its uniquely chosen literature collection means that there's always something worth reading and its plush high back chairs and fireplace make reading a comfortable and enjoyable experience.
Achieve true relaxation at The Alexander Yerevan indoor pool and spa. Located on the 11th floor the indoor heated pool provides breathtaking panoramic views over Yerevan's historic centre and the jagged peaks of Ararat Mountain. Relax poolside on an ultra-comfy lounger and hotel staff will deliver expertly crafted cocktails and drinks.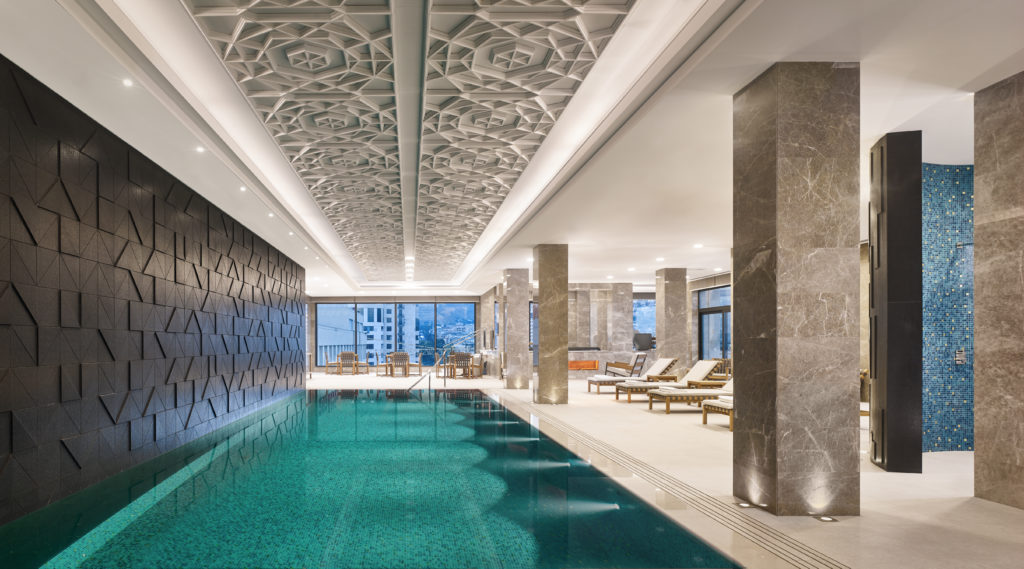 Escape from the stresses of modern life with expertly delivered, luxurious services from Alexander Spa and Beauty Salon by Anne Semonin. Combining high-end modern design with fully trained beauty clinicians Alexander Spa by Anne Semonin provides a welcomed break that'll leave guests feeling completely refreshed and restored.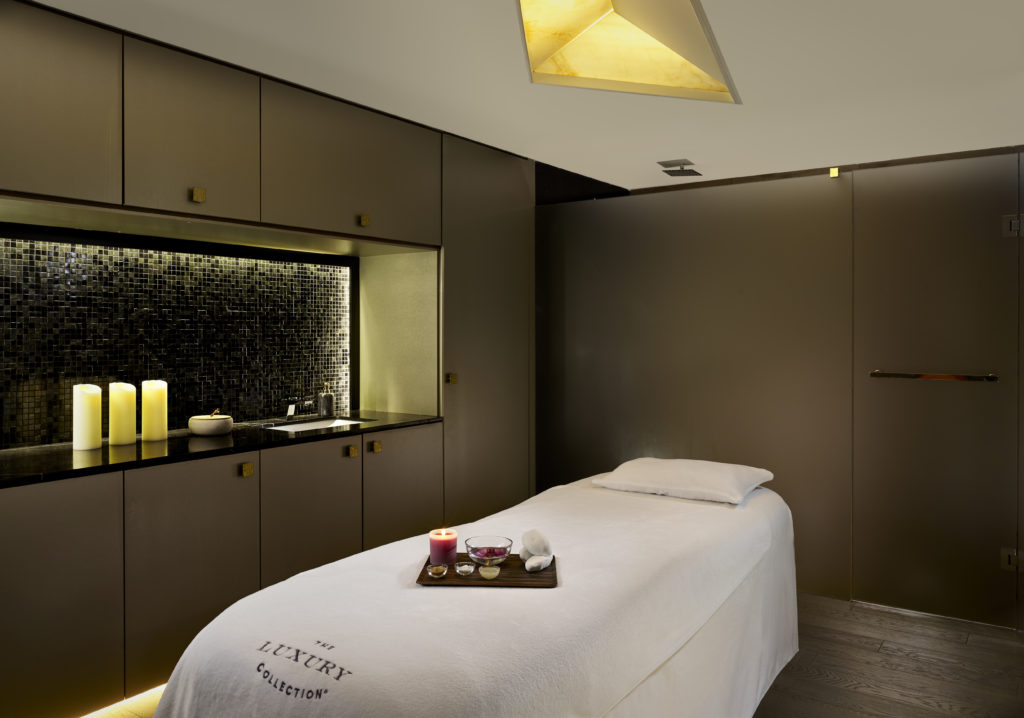 Find Out More:
A: 3/4 Abovyan Street, Yerevan  0001 Armenia