When visiting the cultural and style capital of the Netherlands, one doesn't immediately think of wild nature; of wetland birds; boxing bucks; or sparring konik ponies. Yet take the train from Amsterdam's Central Station and within an hour you could be on safari, writes Andrew Forbes.
Each season offers something unique in nature, so if you're planning a city break to Amsterdam this autumn or spring, then consider adding a half day trip out to Oostvaardersplassen, one of Europe's most interesting nature reserves.
It's even more remarkable when one considers that these 56 square kilometres of protected terrain are sandwiched between modern urban Dutch civilisation – close to the vibrant city of Amsterdam, as well as the strikingly new town of Almere (which by the way is worth a visit if you're interested in contemporary urban architecture).
In Oostvaardersplassen amongst the wetlands, marshes, grasslands and meadows lives an abundance of wildlife. Although much of the surrounding countryside is open for hiking and cycling, the main park is strictly protected, so to access the natural wonders of this area you must be part of an organised guided safari tour.
Head to De Oostvaarder, the official visitor centre, where you can join regular safaris that leave with trained rangers.
Whatever the season you will be assured of impressive sights, including of herds of red deer. These graceful, timid and elegant animals play an important role in maintaining the ecosystem, as their grazing opens areas for geese and other fowl.
There are herds of wild cattle too and a few large groups of wild konik ponies, which make for a fascinating sight.
Birdlife is everywhere, including great egrets, which thanks to the park have returned to the Netherlands after more than a century. If you keep your eyes peeled on the safari you might also see hares and foxes.
Upon your return to the visitor centre you can eat well in the visitor centre restaurant, and if you like shopping allow time to be tempted by the main unique gifts in the boutique.
It's quite the contrast to the urban attractions of Amsterdam, but is well worth adding to a weekend break.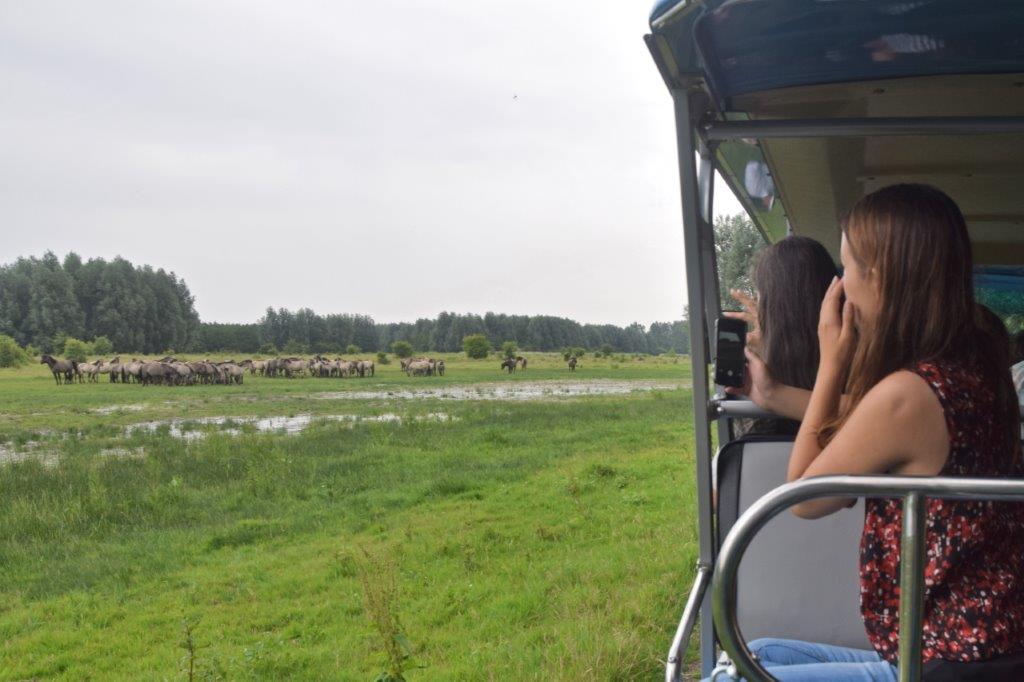 Information
Oostvaarders Nature Observation Centre, take a short train journey from Amsterdam Central to Almere Oostvaarders, and from there it's around a 25-minute walk to the centre. Alternatively, get the train from Amsterdam Central Station to Lelystad Centrum (around 40 minutes), and from there it's only a short bike ride to De Oostvaarder. You can rent an OV rental bike from the station in Lelystad.
For more details on some of the finest Dutch restaurants and luxury hotels, see our collection of luxury Amsterdam Interviews and reviews here.