If you are looking for a hotel pool with a view in Madrid then the Dear Hotel is the place to stay at. Residents of the hotel have access to the roof top pool and bar which offers panoramic views out across the city and up the Gran Via.
We spent one night in the Dear Hotel which is a 4 star property, located on the Gran Via at Plaza de España which is a two second (literally 2 second) walk to the metro station.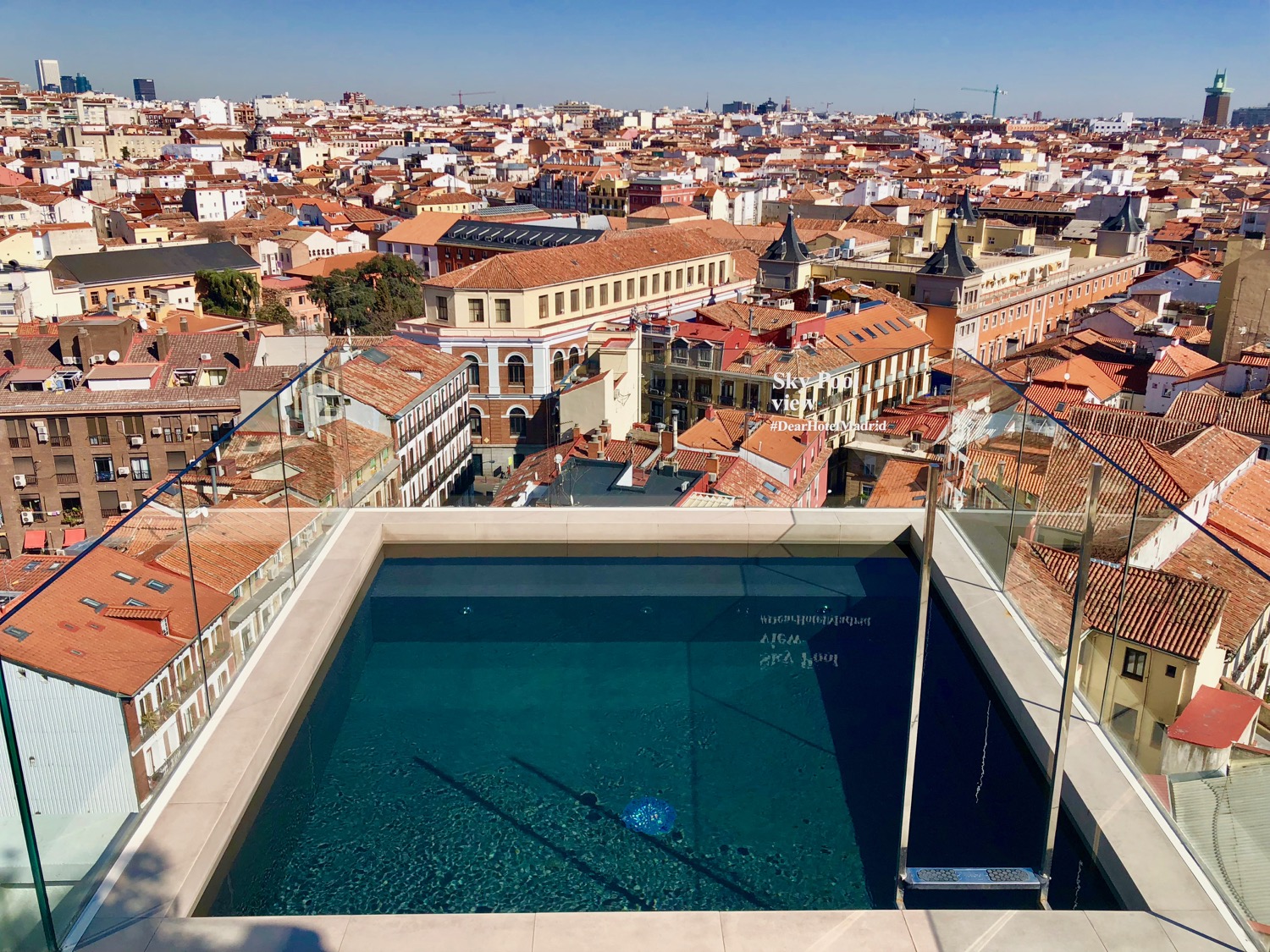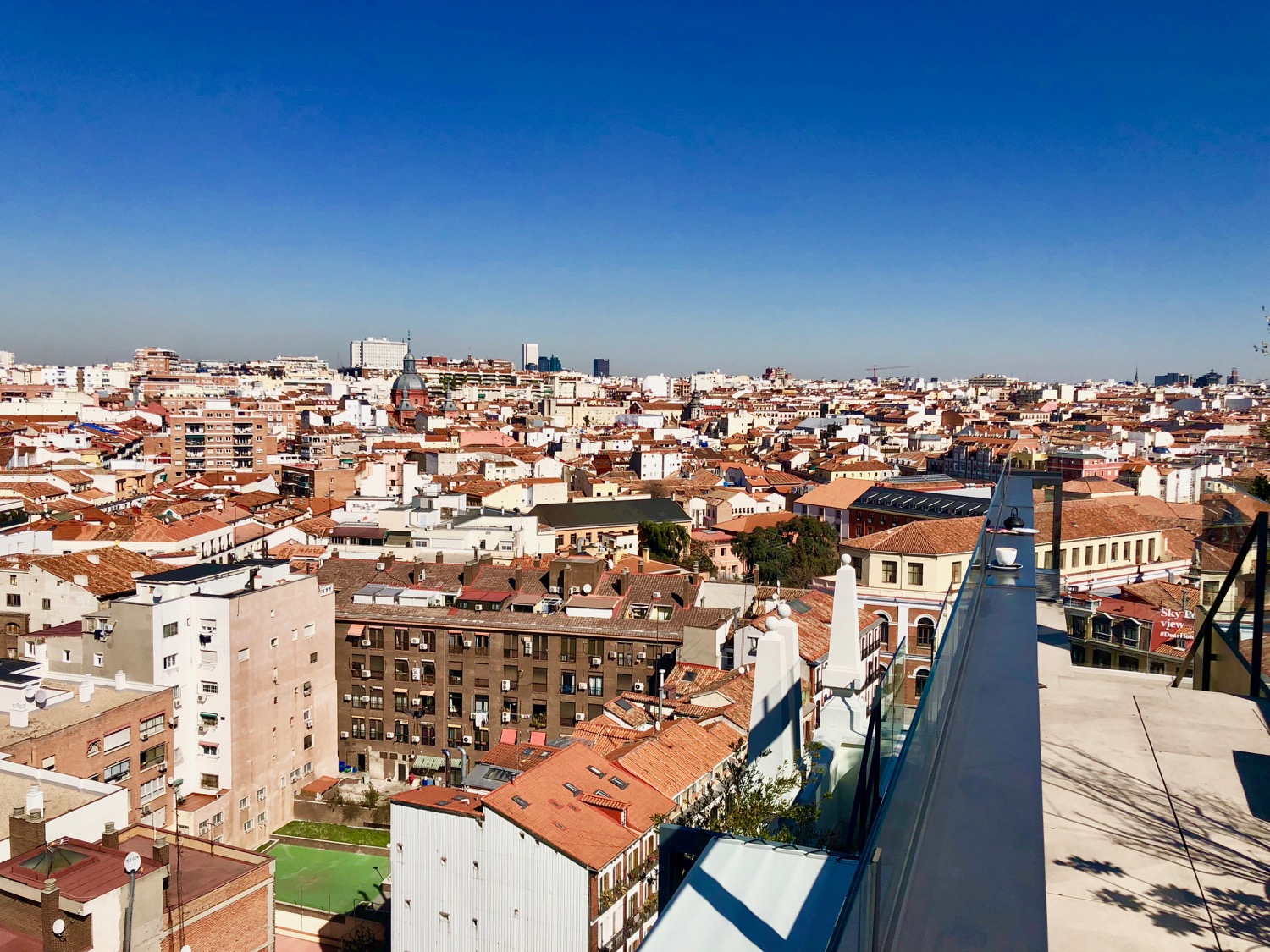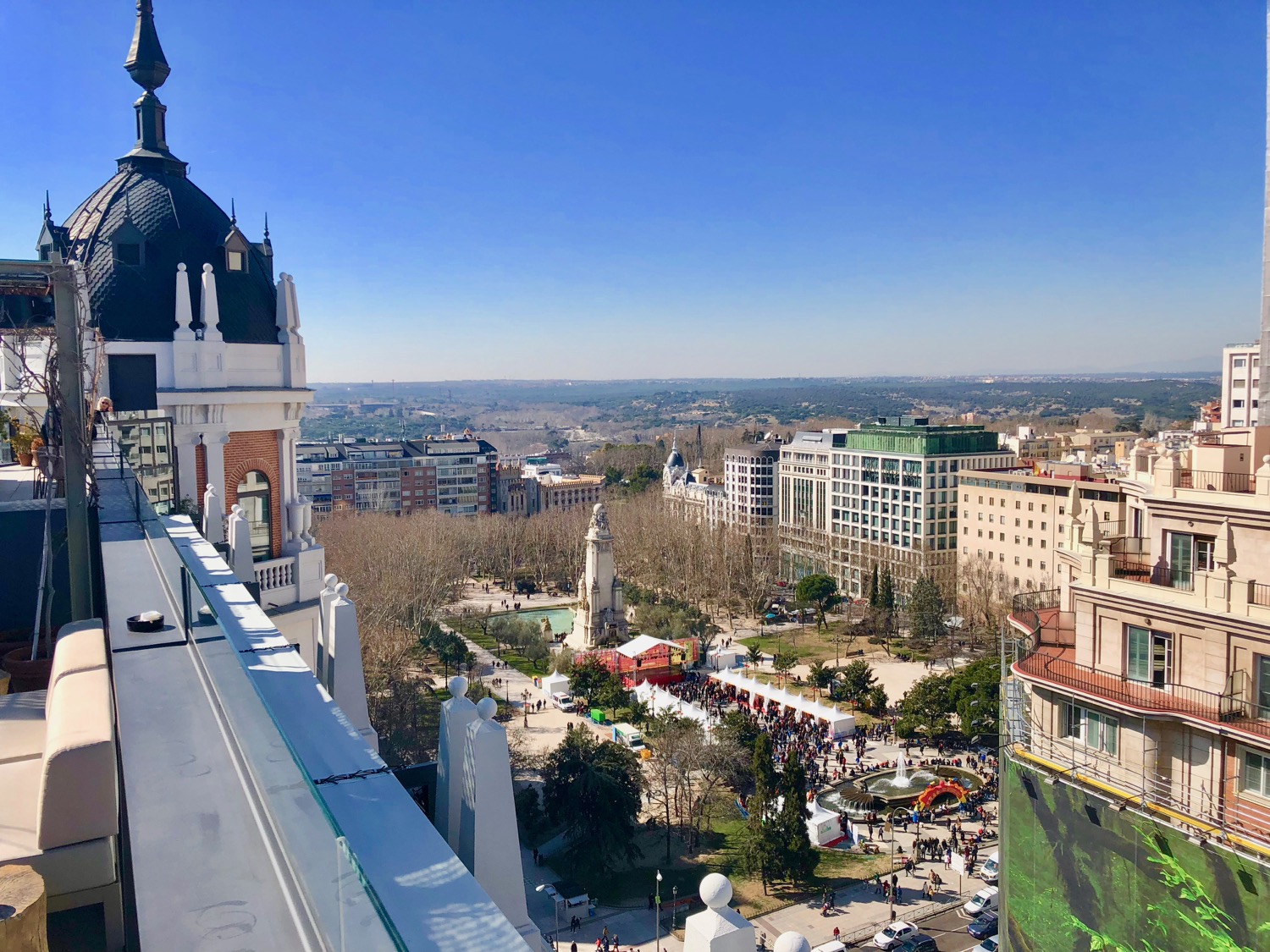 Location
This part of the city has a constant buzz of traffic and noise, but rooms are very well sound proofed so you will get a good nights sleep! The Grand Via is a Mecca for shopping and the Dear Hotel is conveniently located within the heart of the shopping district, so ideal as a weekend break location and the areas of Sol, Chueca, Conde Duque, Triball and Malasaña are a short walk away.
Hotel Character
The property was designed by interior designer Sandra Tarruella using a pallet of pale greys and natural tones. Floors are oak and furniture is clean and minimalist, heavily influenced by Scandinavian styles. The property is tall and narrow with a very small minimalist designed reception and lobby, so you need  head up to the roof to get a slice of the action.



Rooms
There are 162 rooms, split into various categories, including deluxe, premium and suite options. Some rooms have terraces and most rooms have street views. Suites have coffee machines while standard rooms come with tea and coffee-making facilities. Rooms have nice finishing touches like the open plan wardrobes which fit the Scandi style a bag of fruit and delicious amenities in the bathrooms.


Food and Drink
Breakfast is served up in the Nice To Meet you restaurant on the 14th floor (a great view to start the day off on). If you stay at the hotel you will want to make use of the Sky Lounge and restaurant on this level too. With the Sky Lounge offering the ultimate place in the city for a sunset drink and obligatory Instagram pic by the plunge pool!
Service
Service is efficient at the lobby and "super efficient" at the roof top area (possibly we visited when the staff were overloaded with customers and came across as slightly off-hand with us, but don't let that put you off).
Final Thoughts
The Dear Hotel is a great base for a weekend break (and included in our luxury hotels in Madrid guide), it's very clean and contemporary and offers value for money in what is the heart of Madrid. Rooms have everything you need in them, they are functional rooms, I wouldn't say they are dripping with finishing touches but the roof top bar and pool really make the hotel special.
Address: Gran Vía, 80, 28013 Madrid, Spain
Web: www.dearhotelmadrid.com