The Balearics have a well-deserved reputation for regional gastronomy. Quality produce, artisan production and the contemporary creatively of award-winning chefs means that dining out on these Mediterranean islands is always a highlight of any visit.
Mallorca, the largest of the islands has the most developed restaurant scene, from chic waterside beach bars to Michelin star dining. Yet for the most romantic gourmet experience, there's probably only one place to go; The Fortress Restaurant, at the unique, boutique hotel Cap Rocat (one of Mallorca's best hotels), writes Andrew Forbes.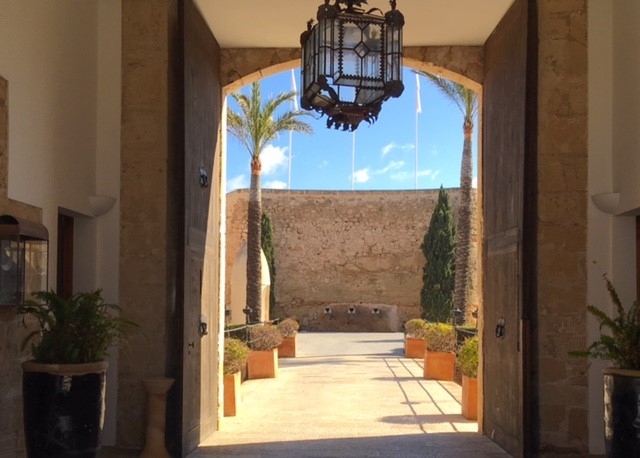 La Fortaleza – The Fortress Restaurant at Cap Rocat Hotel
Cap Rocat is like no other property I know on Mallorca. This 19th century former military fortress, built into the golden cliffside of Palma's bay is a truly spell-binding place. Owner and designer, Antonio Obrador has used his exceptional flair to create an exotic oasis for guests, combining colonial, North African, vintage European and Mediterranean influences.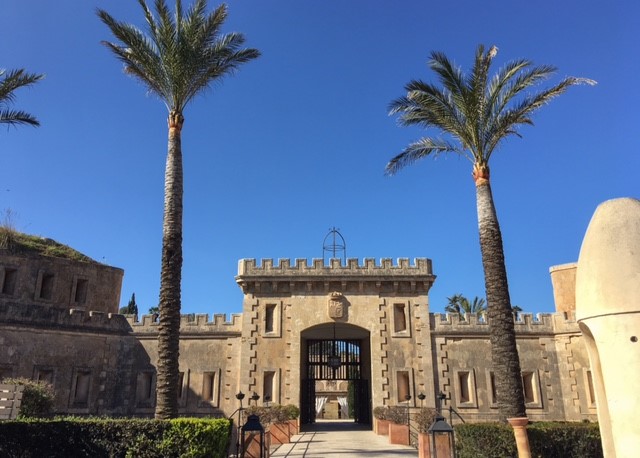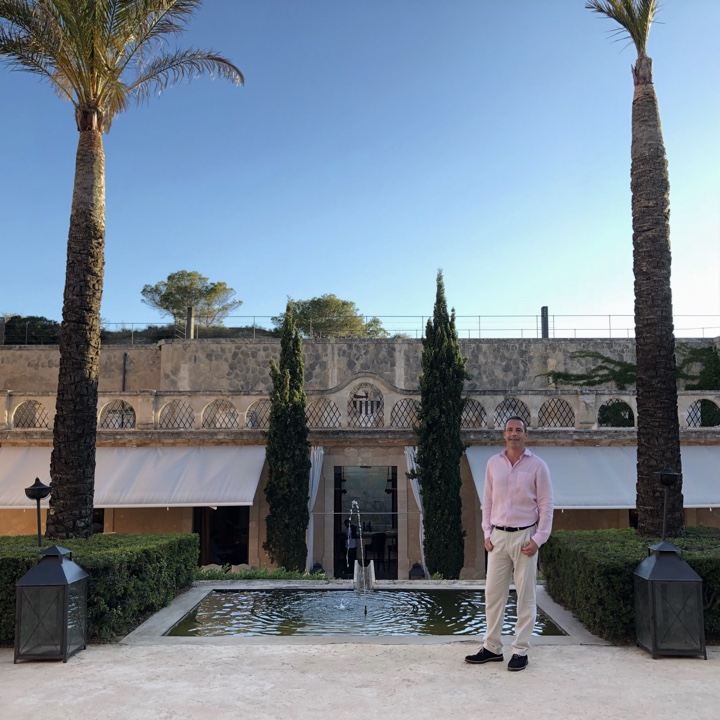 The signature restaurant, La Fortaleza is a remarkable setting for a gourmet tasting menu. The architecture adds drama and touches of fantasy, whilst the location, up on the fortified walls, offers panoramic views out across Cap Rocat to the bay – the perfect place for a romantic meal as the sun sets.
Cocktail Alchemy
In the style an alchemist from a bygone age, our waiter began to create a signature cocktail in front of us. Seated on the huge terrace, with the warm evening light casting long shadows, we watched in fascination as the potion was created with fun and flair – an appetising mix of vermouth and Cointreau.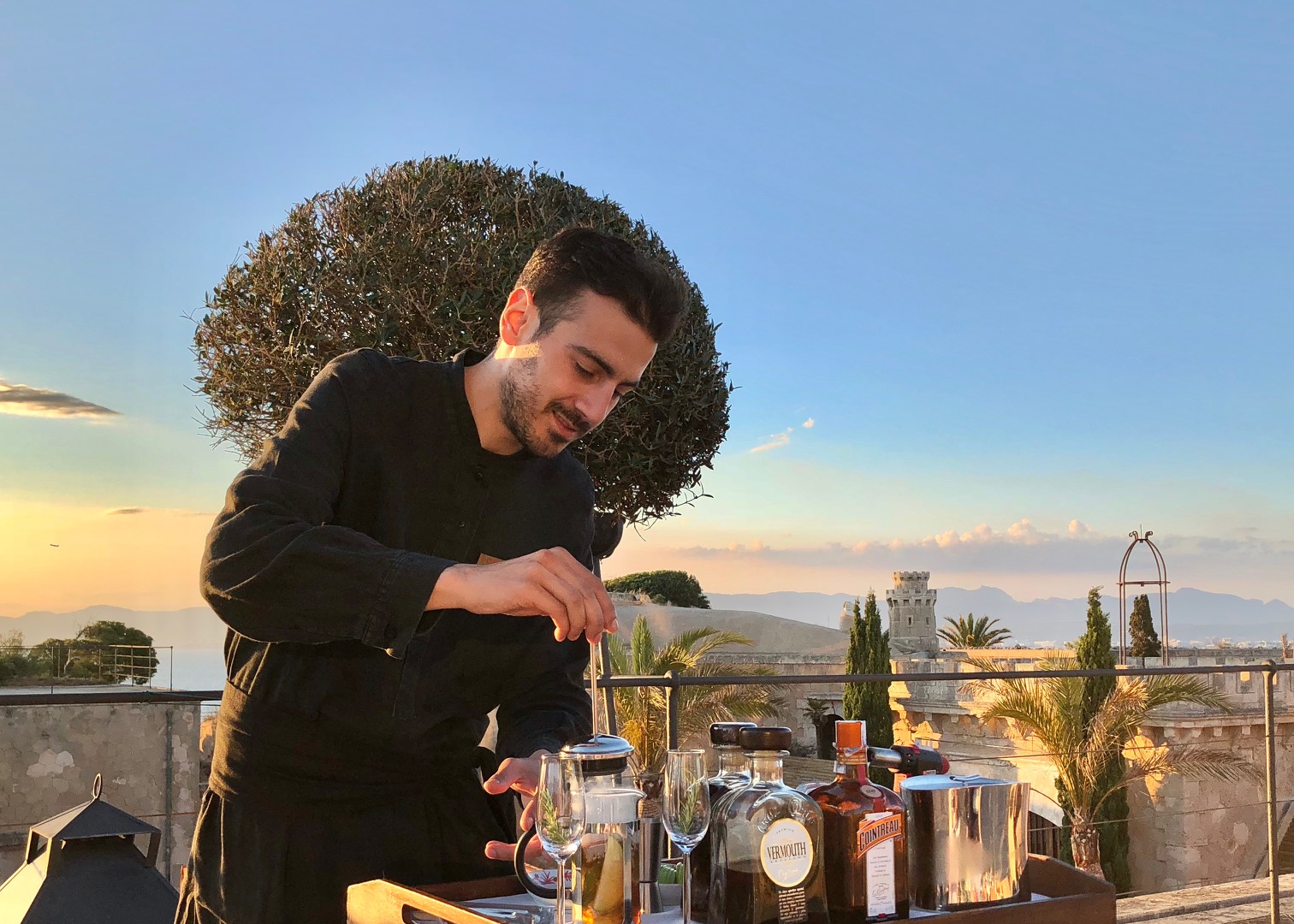 Let the magic begin
Nibbles were served (with yet another cocktail!) as the sun was setting, followed by pre-starter appetisers. Torches along the ramparts were lit, and the evening began to feel even more magical.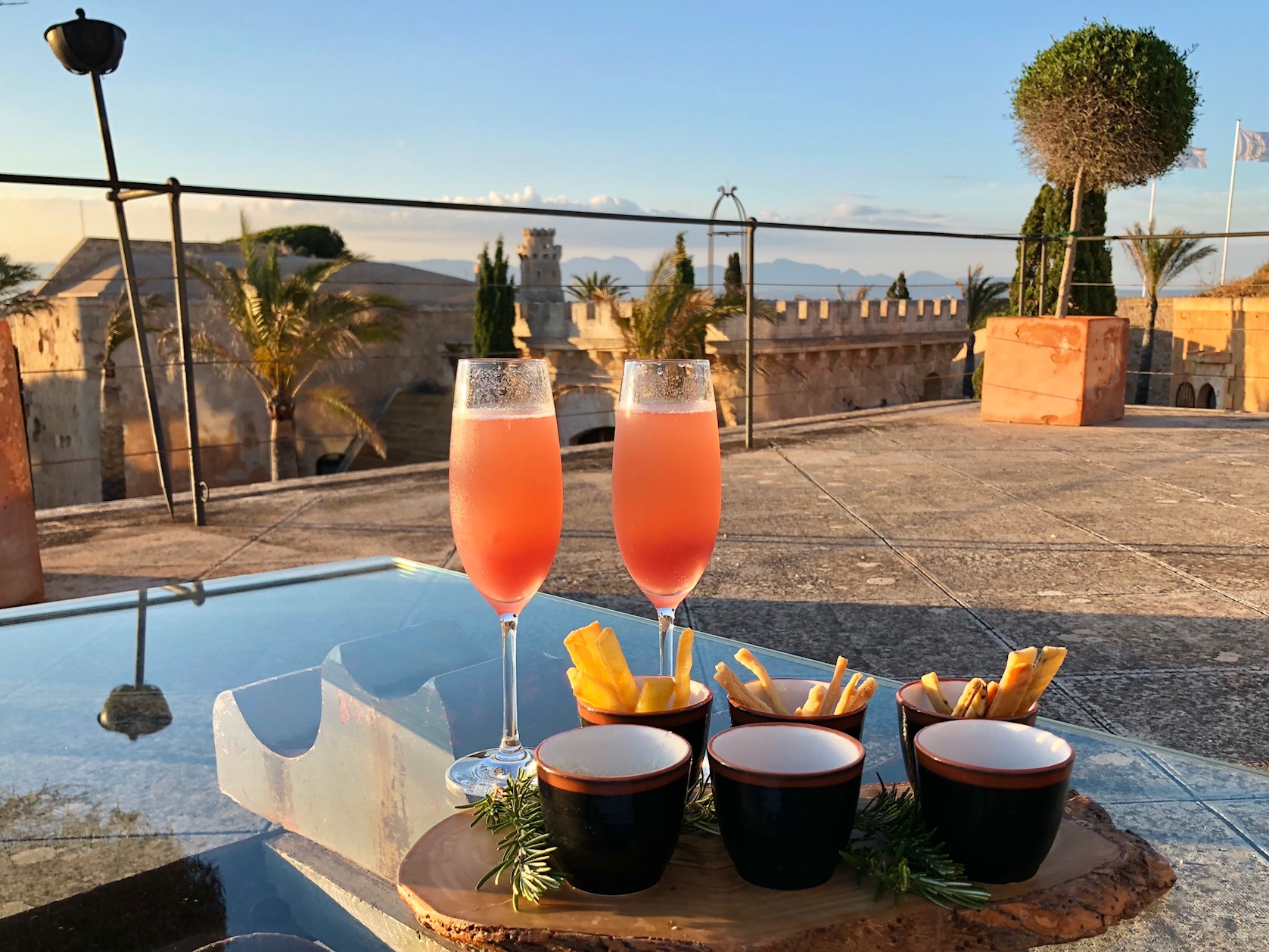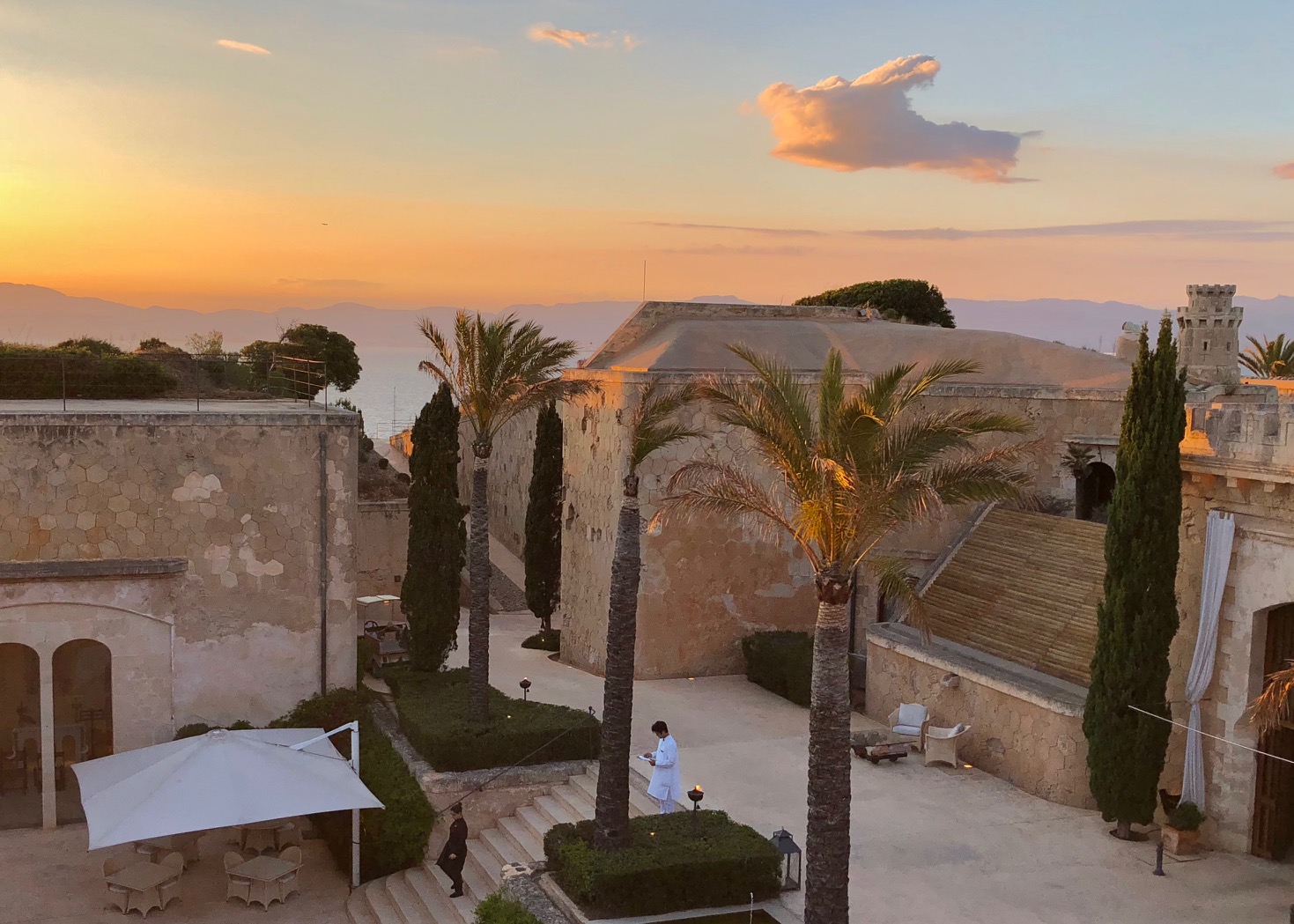 Paula the head waitress set the tone for an evening of great service; friendly attentive and knowledgeable.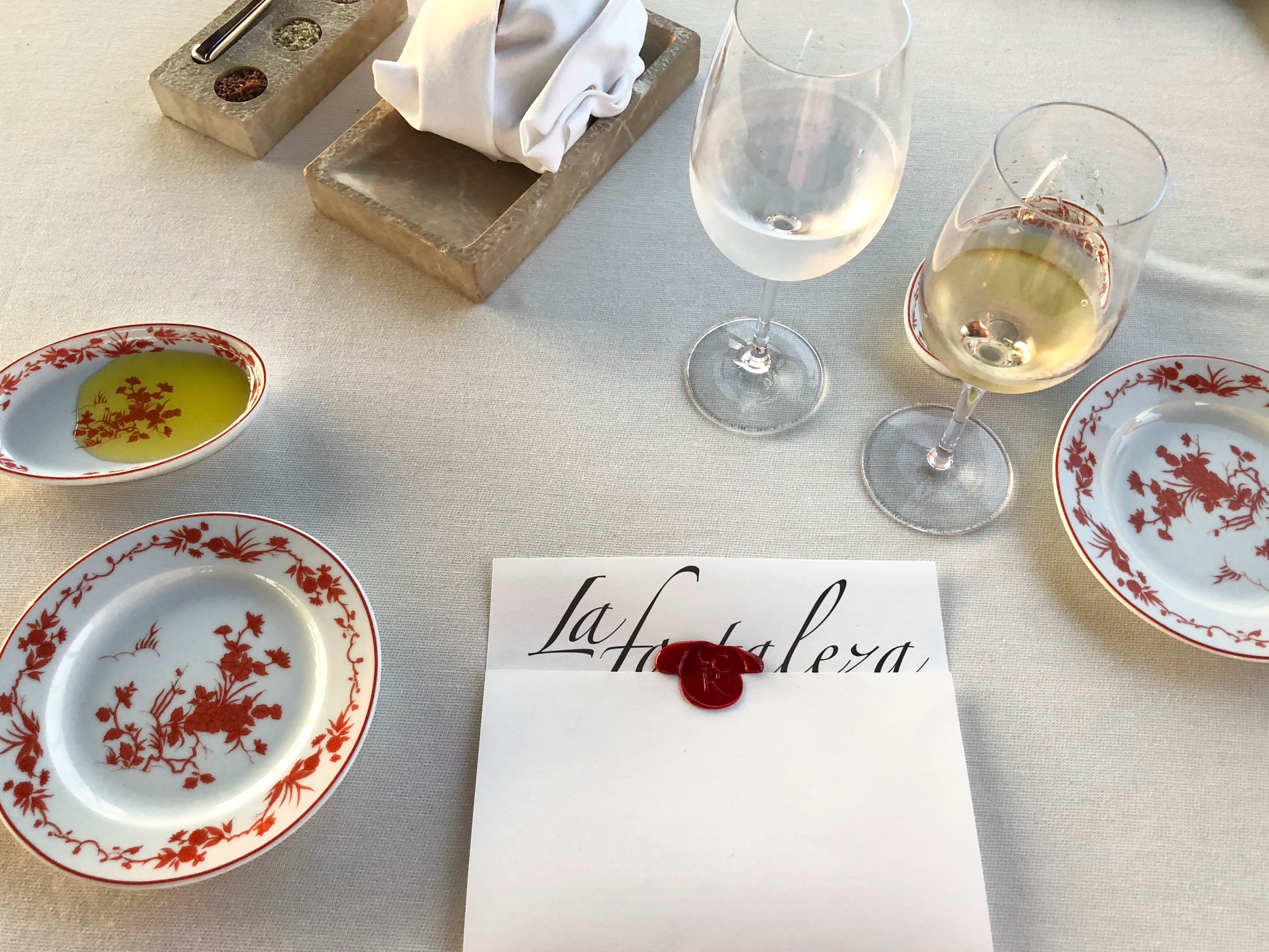 Inside our tables awaited us. The setting was simple, yet elegant, with flawless linen, vintage china and the menu presented as a classic parchment with wax seal, a theatrical touch that is so in keeping with the ambiance and style of this wonderful building.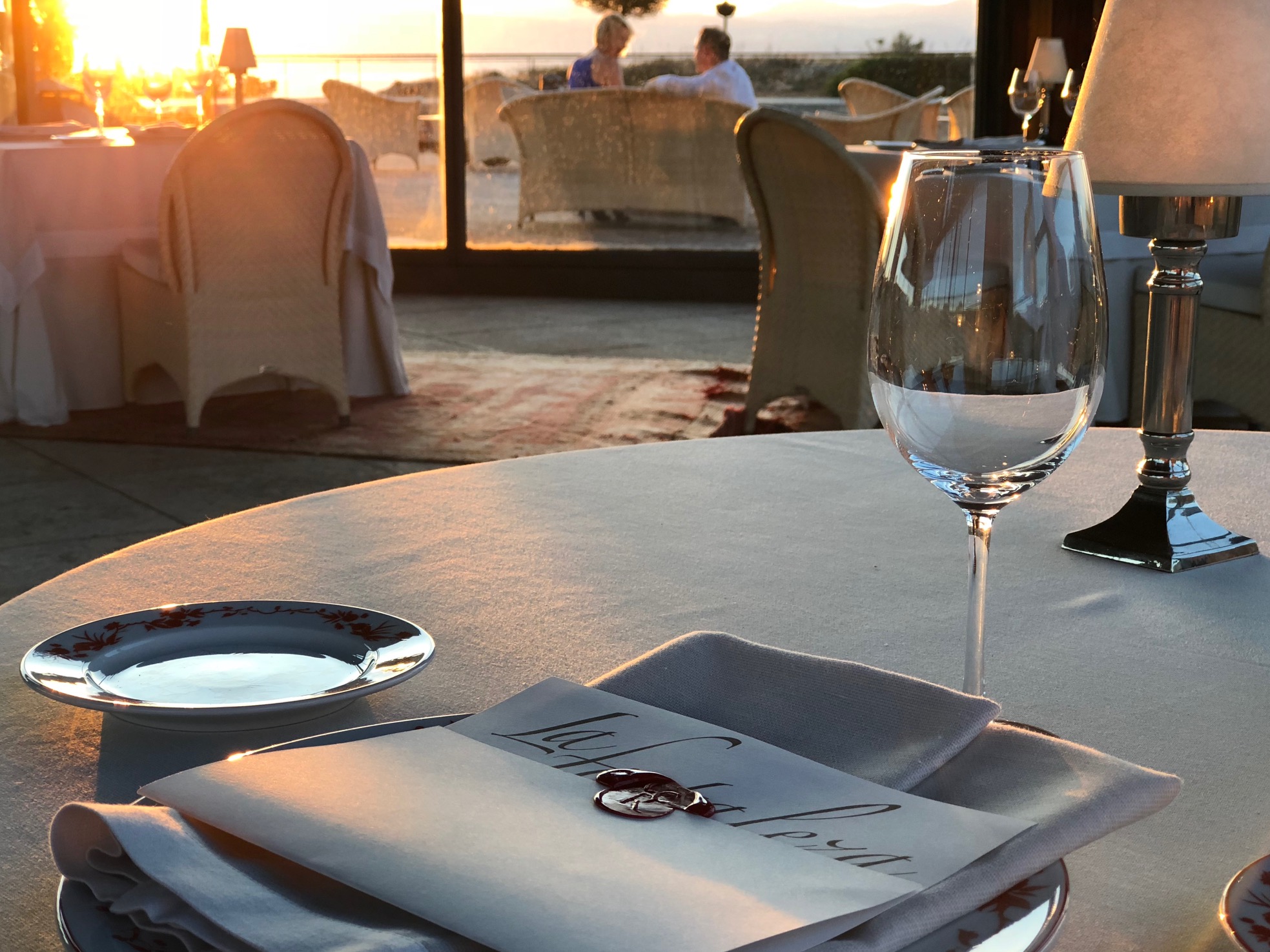 The multi-course tasting menu embraces the fine local produce of the island. Chef Victor Garcia uses modern techniques and presentation lifts the cuisine; this is island fine-dining.
The two tasting menus and the a la carte offer a a selection of fish, seafood and local meat such as lamb and pigeon.
Mallorca Wine Discovery
Rebecca the wine waitress is an expect in Mallorca wines, and takes the initiative to suggest original and interesting wines. These included a sweet Dolce de Gel from Mallorca's Mortiix winery – a great choice for the first plate of mackerel. Then a Moorish young white, Quíbia 2017 by the Anima Negra winery in Falanis. To accompany the pigeon and meat was a well-structured red, Vinya Son Fangos Negre by Pla i Llevant and a delicious Pinot Noir from Mandia Vell.
As a desert wine I tried Ambrosia, made with malvasia, a grape that grown in the foothills of the Tramuntana mountains.
Tasting Menu
As the evening progressed, and the light became subtler I was able to photograph all the dishes, but presentation was excellent.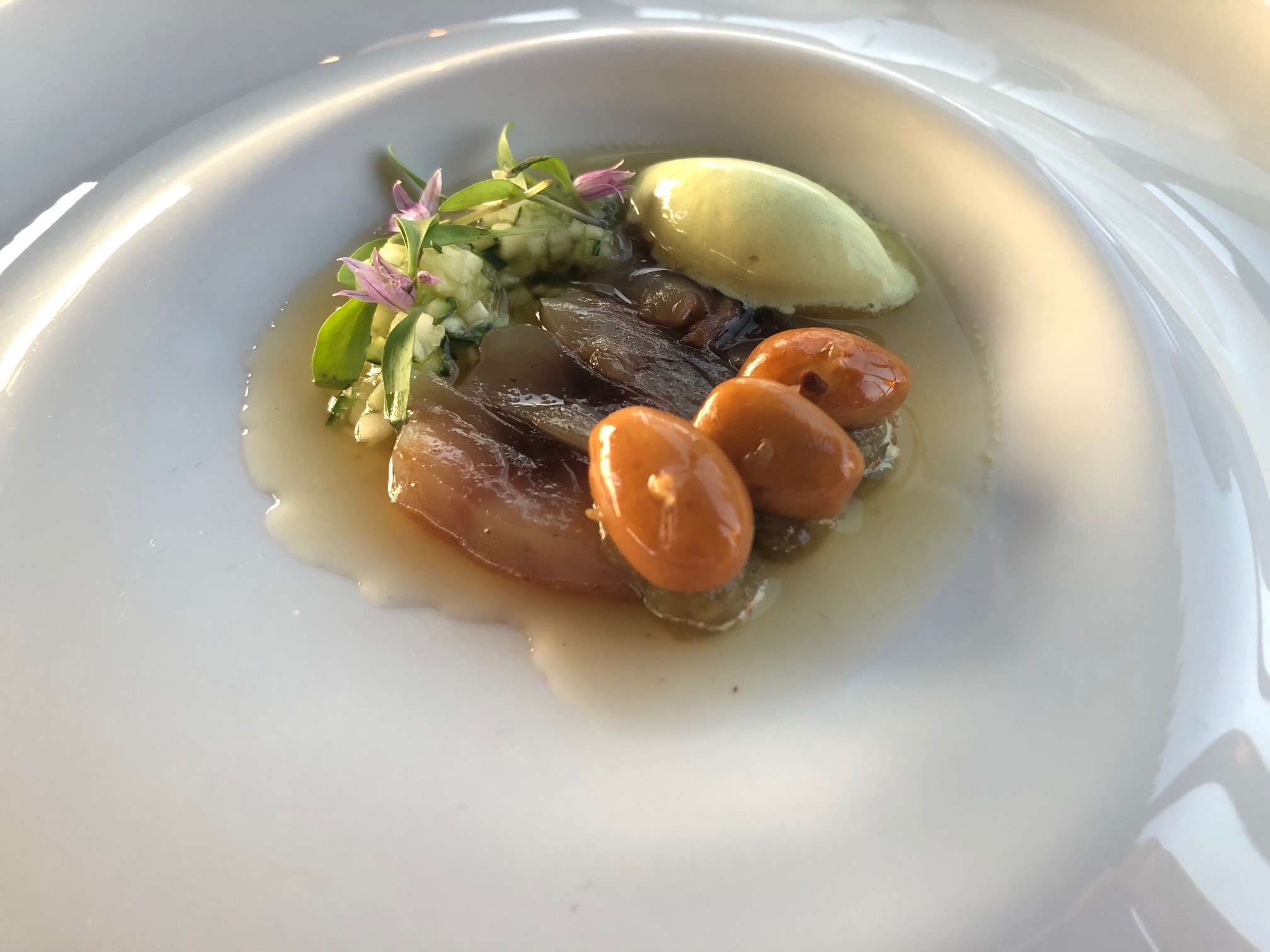 Mackerel, Curry & Almonds – a great way to start the meal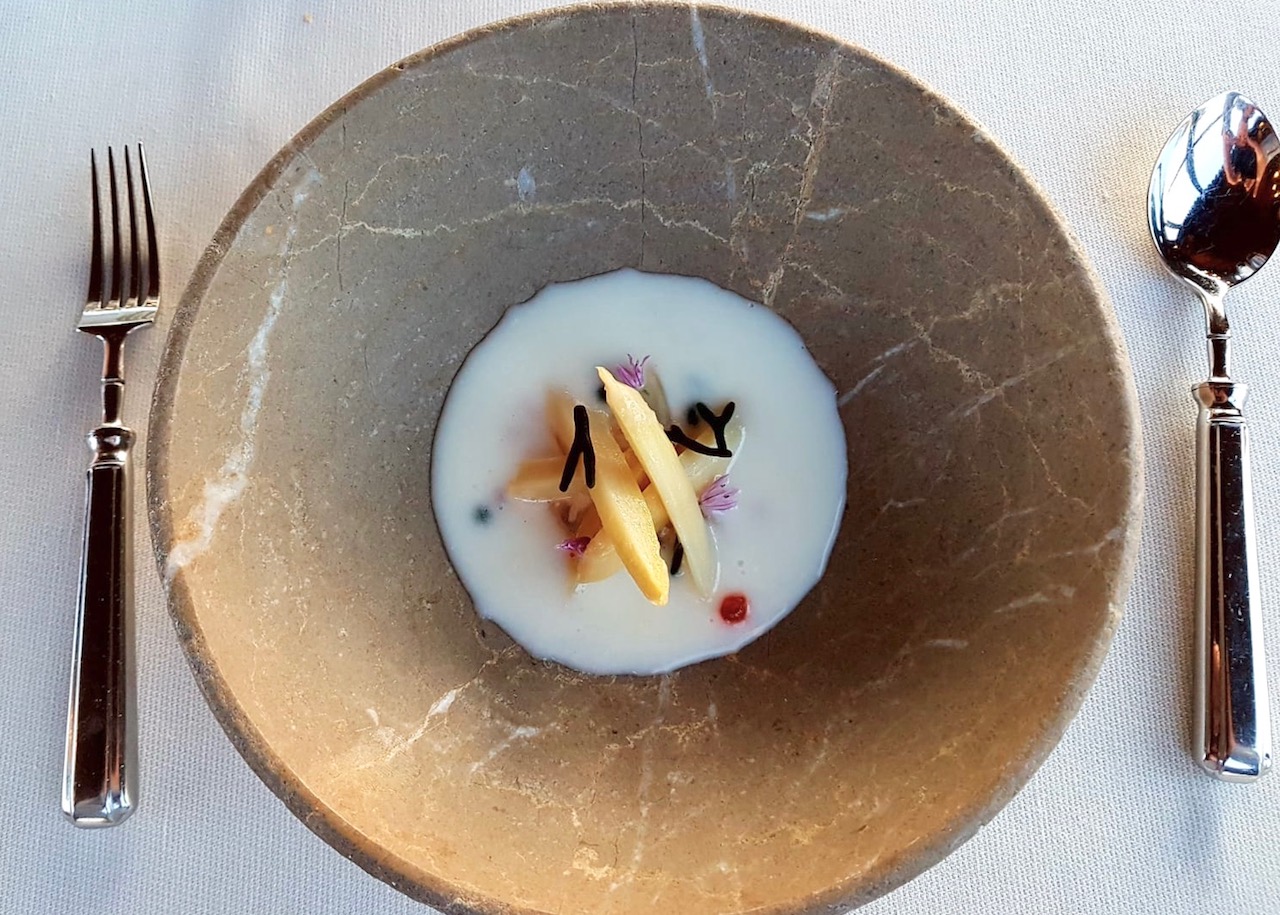 Crab, White Asparagus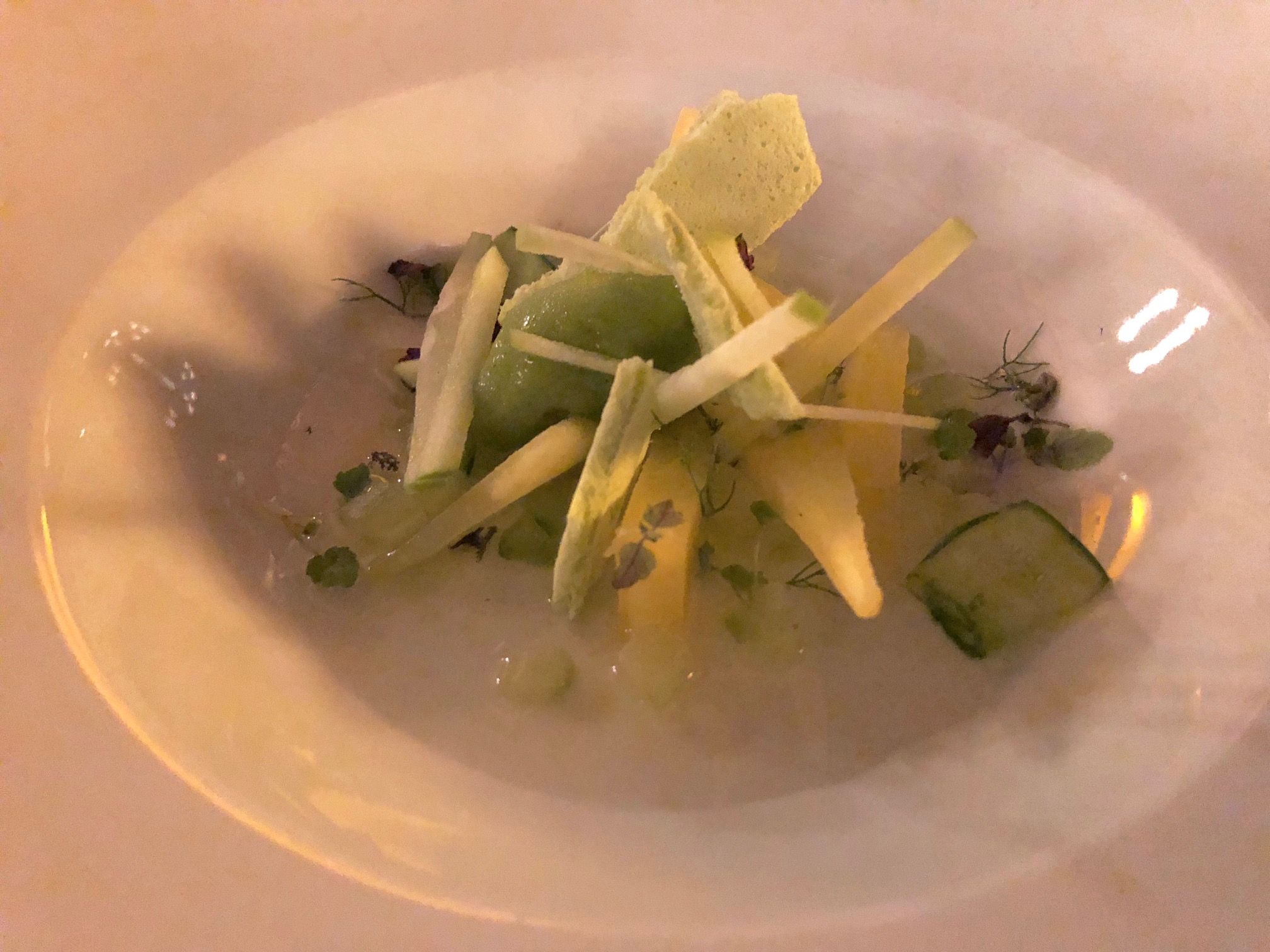 Green Apple, Fennel & Cucumber – a refreshing pudding
An Evening of Fantasy & Style
Dinner at La Fortaleza, The Fortress is romantic, theatrical, memorable evening in a magical setting.
It's even better if you can stay the night – the property is spectacular with a glorious pool area.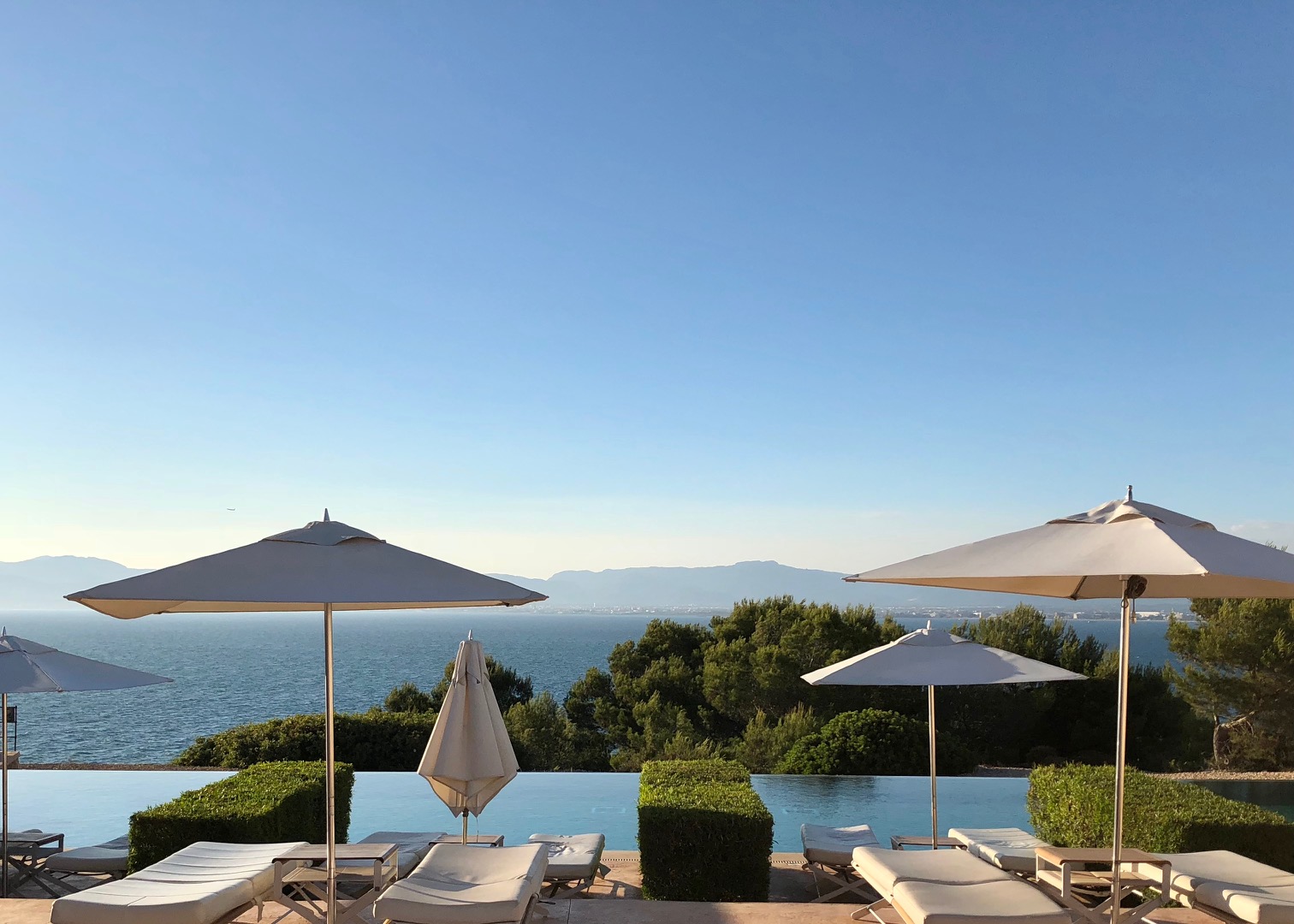 There's a fabulous spa too – you can read my piece on Spa at Cap Rocat here.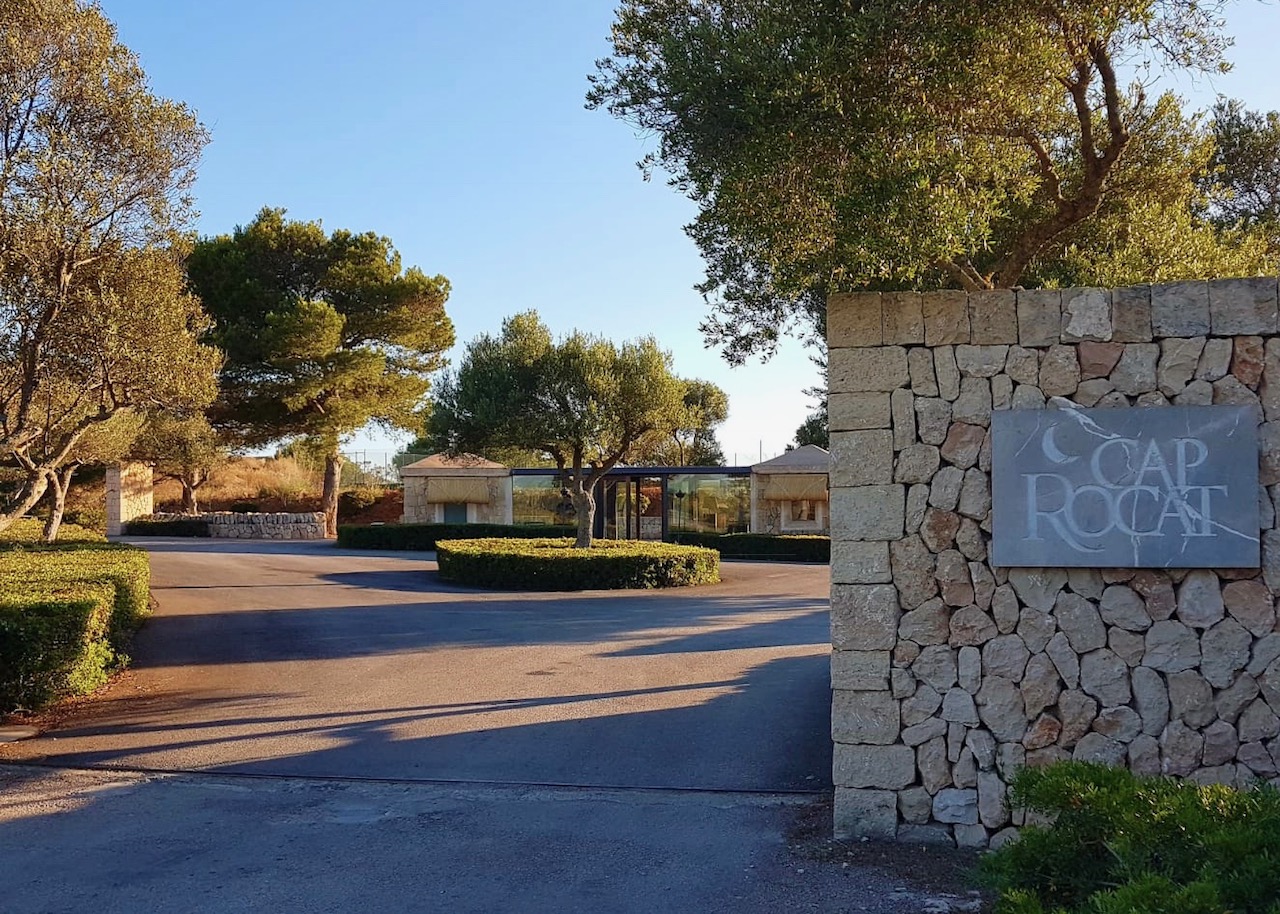 Information
Tasting menus at La Fortaleza are from €80 excluding wine.
Overnight stays at Cap Rocat are from €450 per night based on two sharing on a B&B basis.
Tel: +34 971 74 78 78
Email:www.caprocat.com
For more inspiration for travel to Mallorca, read The Luxury Editor Eat Do Sleep Guide to Palma, here.
Disclaimer: I was an invited media guest; although my opinions remain my own. I only write about products, services, restaurants, hotels and travel experiences that I consider to be of value to readers, and where I have enjoyed a positive experience.