The UK's first and finest chocolatiers, Charbonnel et Walker, has joined forces with Blackwell Rum, a brand created by one of the most influential record producers of all time, to create a brand new truffle recipe, with a musical twist.
Blackwell Rum
The brand has an illustrious history. Its founder, Chris Blackwell, comes from one of the longest producing rum families on the island of Jamaica. He founded Island Records in 1959, but returned to his spirit roots in 2008 with the inception of Blackwell Rum based on an original family recipe. The beverage pays homage to Jamaica's unique and limitless energy.
Charbonnel et Walker
With a royal warrant, highly respected reputation and celebrated patronage, the fine chocolatier Charbonnel et Walker was established in 1875 and was exclusively a dark chocolate house until the late 1970s. Charbonnel et Walker chocolates are still hand-made to the traditional recipes of Madame Charbonnel and are sold from their shop on Bond Street (as well as other locations and online).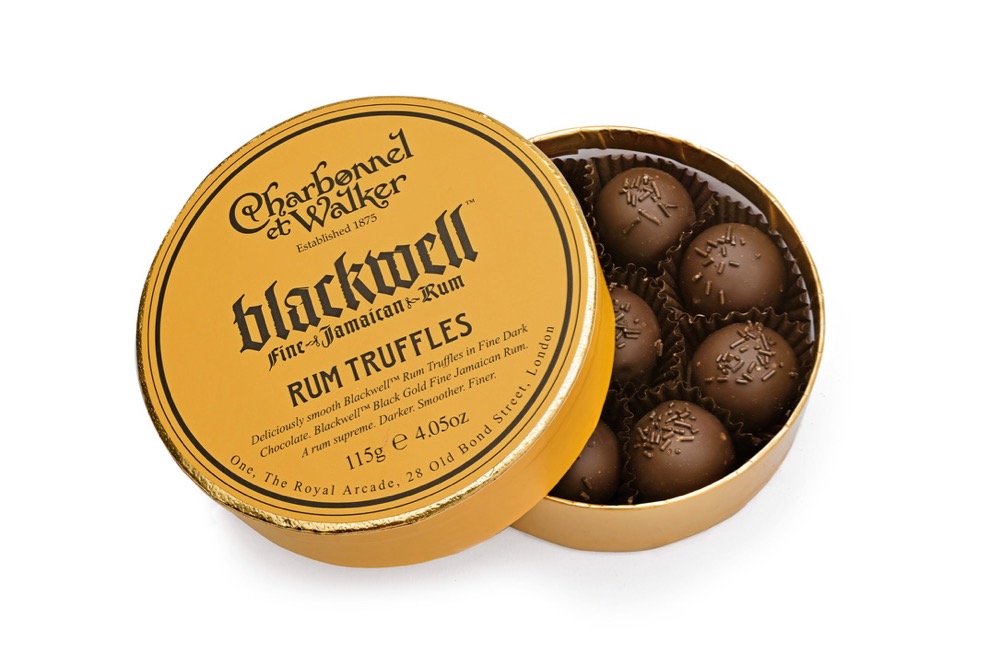 A rum-chocolate partnership
Blackwell Rum Truffles have been made with The Black Gold Blackwell Rum (which currently has a limited-edition tie-in with the 007 franchise). The spirit's dark rum character is offset by a light butter-gold body, soft notes of vanilla, sweet and silky caramel, toasted marshmallow, and a natural spice finish. The dark couverture Charbonnel et Walker chocolate has been crafted using 70% cocoa solids encasing the truffle and complementing the spiced notes of the spirit.
The hidden extra 
Fans of Charbonnel et Walker will be delighted that Blackwell Rum truffles are presented in the chocolatier's signature style – a luxurious handmade box, embossed with gold. And, as a nod to Island Records, the truffle box lid contains a QR code, providing access to an exclusive playlist. It's been curated by Blackwell himself, including Island Record artists and is designed to be listened to while savouring the truffles.
Blackwell Rum Truffles are now available via www.charbonnel.co.uk, at Charbonnel et Walker stores and concessions. A box of nine truffles has an RRSP of £16.