Akira At Japan House; where do I start? The restaurant is incredible, truly a work of art in itself and a must goto restaurant if you want to experience great quality Japanese omakase. Japan House is a relatively new addition to Kensington having opened just last year. Located in a former Art Deco building on High Street Kensington the building curates the best of Japan and is a project launched by the Japanese Ministry of Foreign Affairs with two other Japan Houses open globally, one in São Paulo and one in Los Angeles. The London Japan House is a minimalist dream, designed by Katayama Masamichi, who created Uniqlo's flagship store in Oxford Street.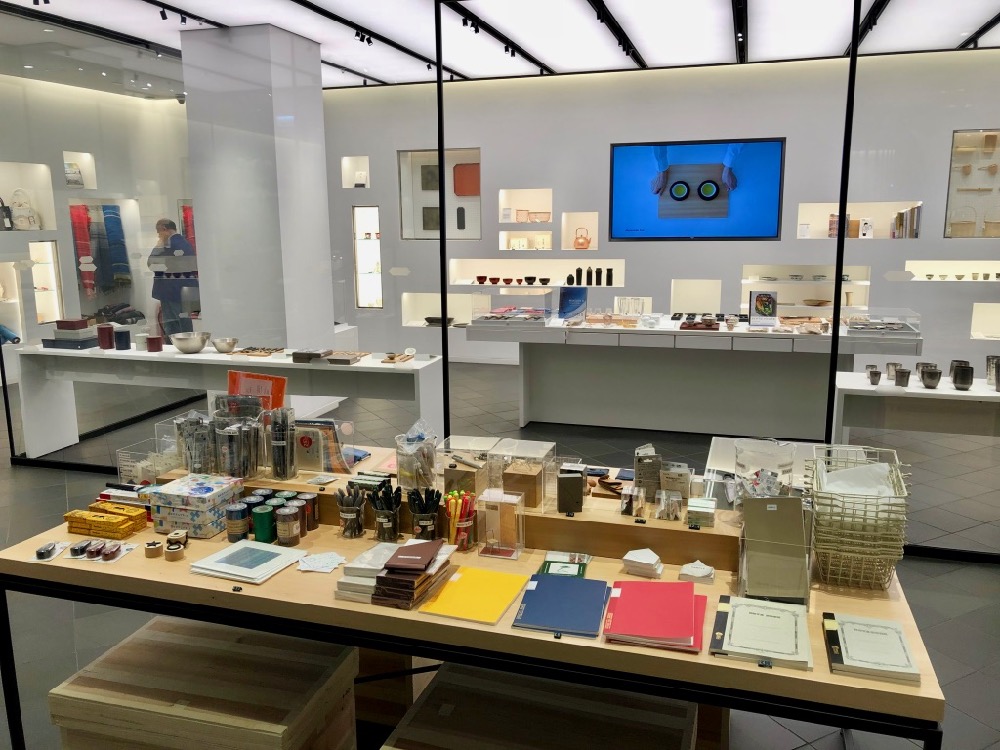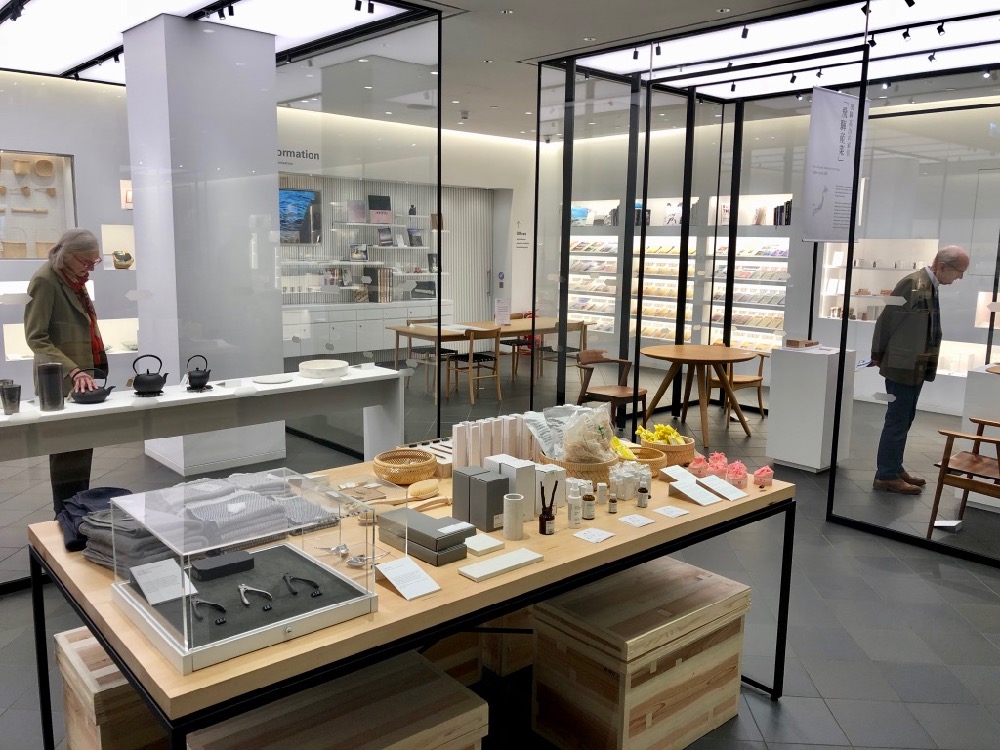 On the ground floor is a coffee bar serving Nel Drip Japanese coffee and a beautiful shop containing artisanal and hand crafted Japanese products for sale. Moving up to the first floor is the restaurant Akira, the eponymous restaurant from acclaimed Executive Chef Shimizu Akira (of Engawa) is founded on the trinity of Japanese cooking principles; food, tableware and presentation.
Read our guide to the best luxury hotels in Kensington

Background & Concept
Dining at Akira is an immersive Japanese experience and starts the minute you are glided through the bar to the restaurant, and greeted to a loud cheer of "Irrashaimase!" from the chefs in the kitchen which means "come in, welcome" in Japanese.
The restaurant has a clean and contemporary feel to it, but kept warm by the use of beautiful wooded furniture from woodworker George Nakashima. The restaurant, like the rest of the building, was designed by Katayama Masamichi and reflects the Japanese philosophy of place and home – "doma" – a social space where family, friends and neighbours gather.
Wooden partitions, a black slatted ceiling and polished concrete floors echo the precision of Akira's dishes. Choose to sit at a table or at the open kitchen counter for a fascinating insight into how the chefs work.
30 Images of Japan that will make you want to go
The restaurant bar provides the ideal place to try out innovative cocktails featuring Japanese ingredients including rare sake, yuzu and shiso. Sit at the bar and enjoy a Citrus Cooler with citron vodka, kumquat, mint, yuzu juice, apple sake and lemonade; a Whisky Dreamer with Japanese whisky, nashi pear, plum shrub, pear liquor and tonic water; or a choice of nonalcoholic specialities like the zingy Green Piece made using sage syrup, lime juice, honey and ginger beer.
The Menu
Akira has a comprehensive A La Carte evening menu where you can pick your own dishes from sushi and sashimi though to rice and noodle options as well as grilled dishes cooked on a Robata Charcoal Grill and three or five course omakase menus.
We were in for lunch and the menu is streamlined down to a smaller offering of dons, traditional rice bowls, noodle dishes and signature bento boxes as well as their three course sushi and robata omakase menus.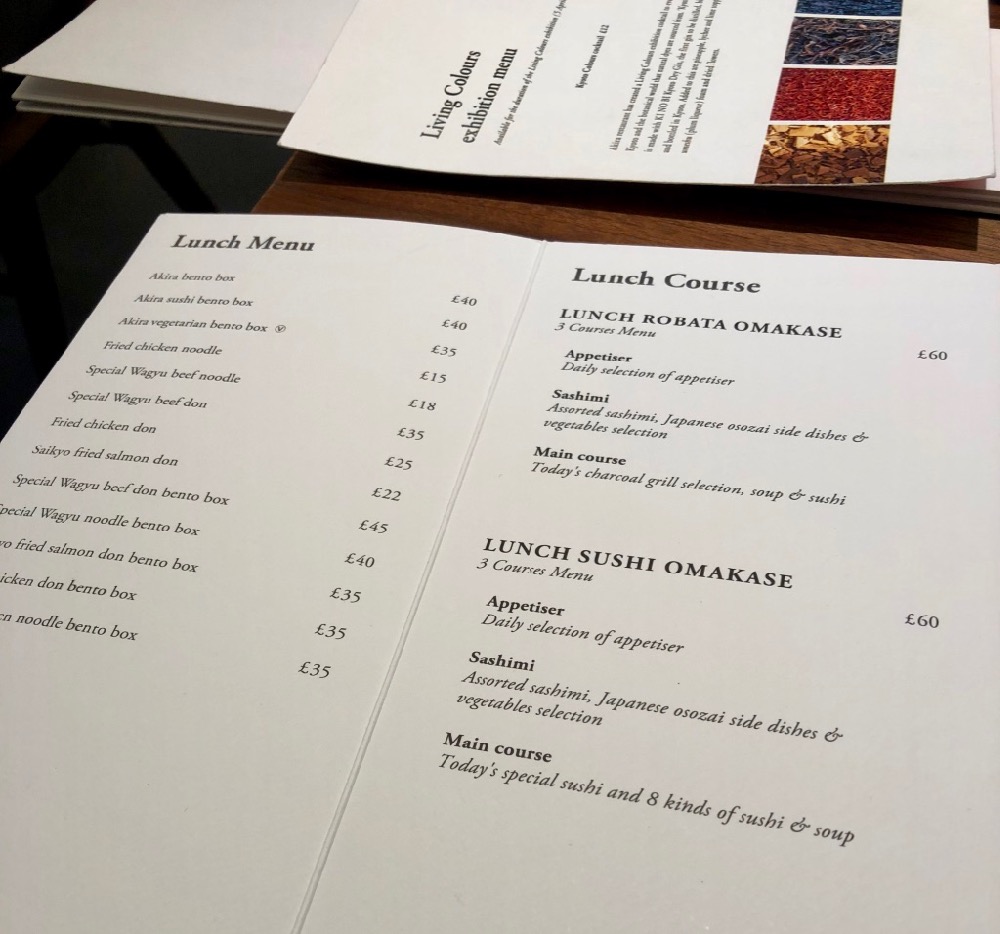 What We Ate
For a signature Akira experience we opted for the omakase set menus (we both went for the sushi option), with three courses at lunch for (£60) and up to five available for dinner for (£75). Visually striking and delicious, each omakase includes a daily changing starter, such as seabass and watercress carpaccio with shiso Genovese sauce or belly tuna sashimi salad with jalapeno dressing; an elegant, filled bento box, and main course of either Wagyu beef or sushi. You won't leave hungry!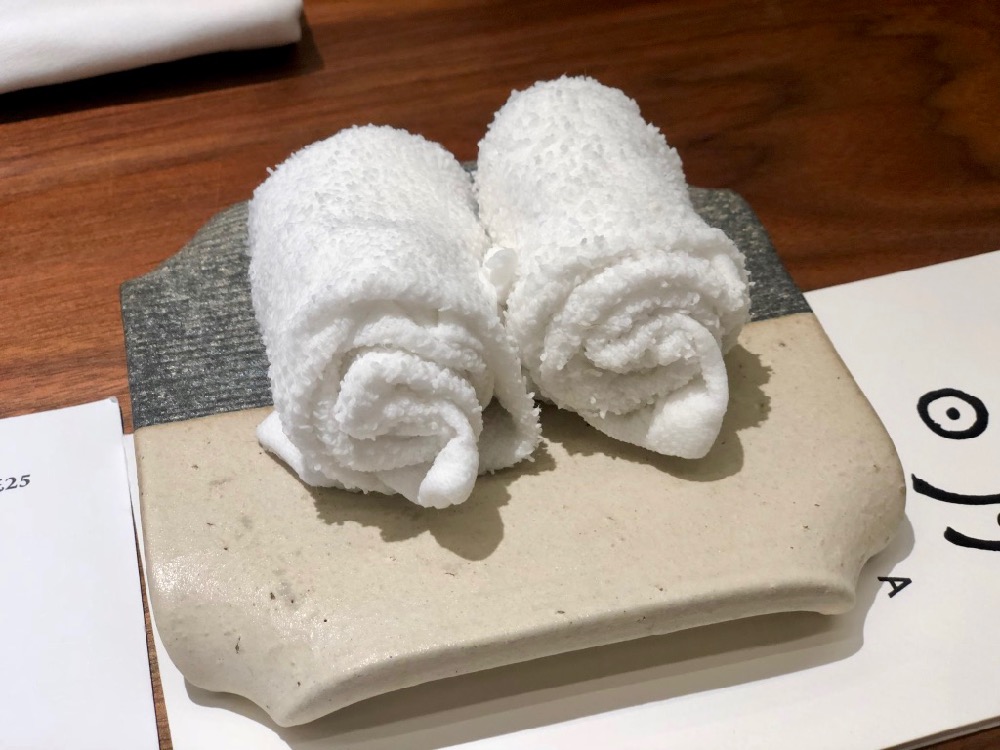 I normally opt for wine when I dine and they have an impressive wine list, but as we are dining in a Japanese restaurant I want an authentic experience so opted for sake and they have 28 to choose from! Sake comes cold or hot and we chose hot and it is served warm in this beautiful ceramic warmer.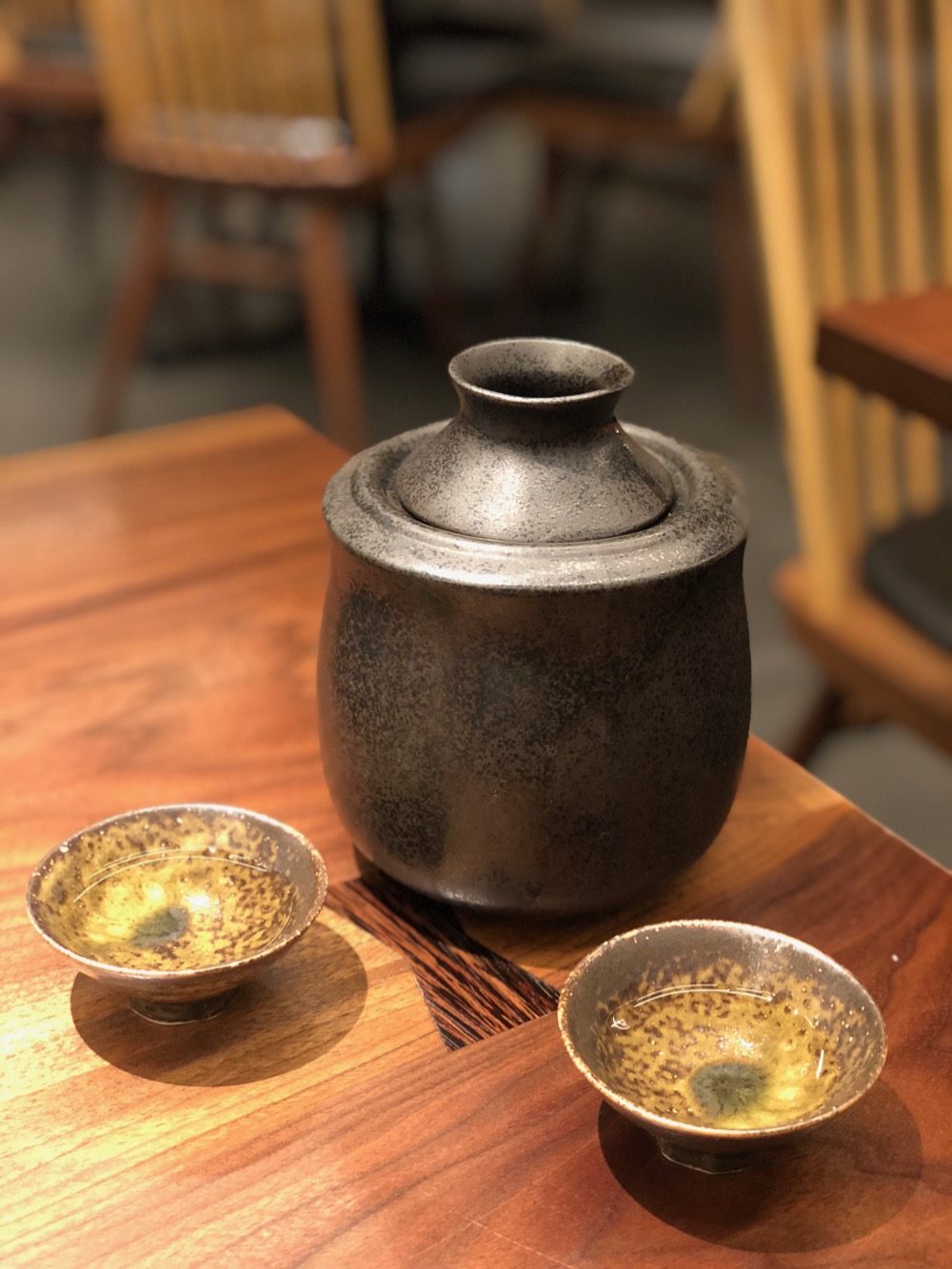 Appetisers are served in gold finished ceramic dishes that look almost volcanic in style. They change daily and todays offering was an artfully constructed deep fried salmon bite, sitting on a bed of mayonnaise style sauce, topped with a slice of fatty tuna and finished with salmon roe and chives. While a little hard to eat with chopsticks out of the bowl, the appetiser was delicious.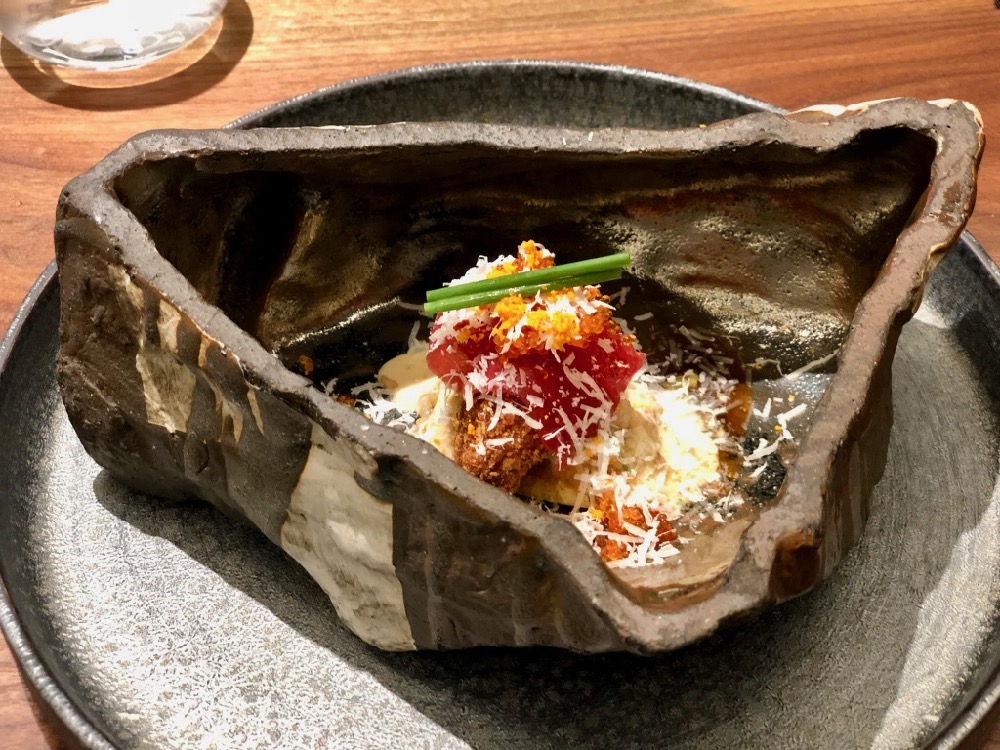 The middle sashimi course is both a feast for the eyes and mouth, like a gastronomic advent calendar. Served in a 15 compartment wooden box, with each compartment holding a different ceramic bowl filled with a delicious bite to eat. The middle row is the sashimi which ranged from fatty tuna, salmon, eel, sea bass and yellow tail. The top row included omelette, pickles, deep fried vegetables and watercress and fresh wasabi. The bottom row included potato salad, chawanmushi (steamed egg) topped with edamame beans, and dipping sauces.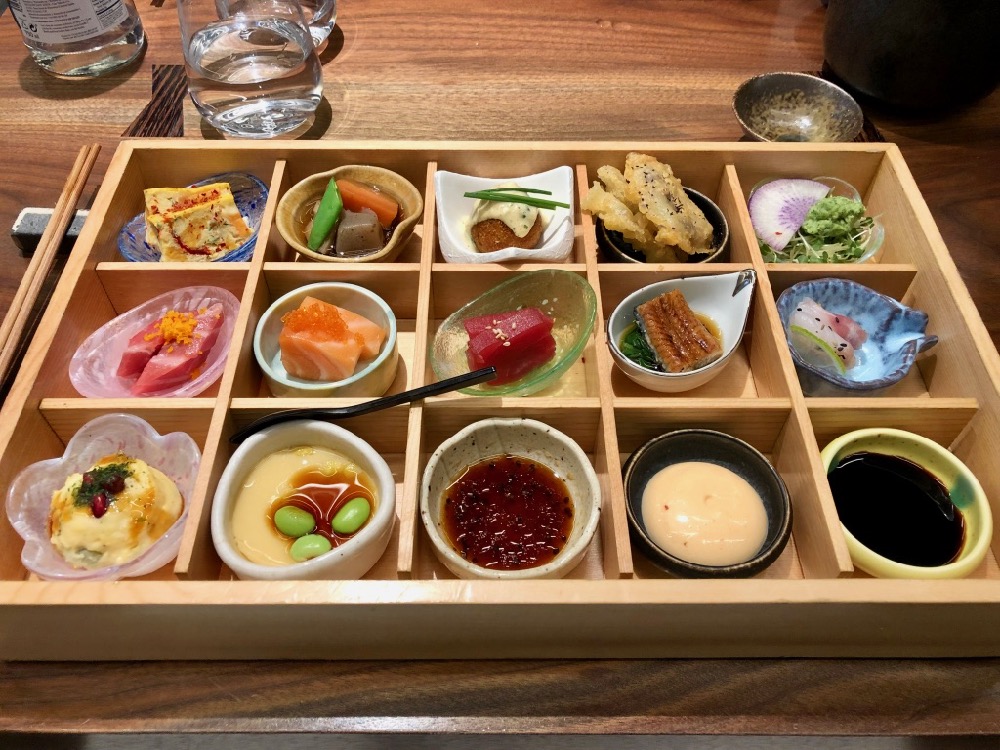 By this point I was quite full, there is something about eating small portions slowly, but that was only the middle course. For the main course, it was a box with nine partitions which included a range of sushi, salmon roe, octopus and soy sauce.
And a beautifully presented side dish of salmon and roe and a a bowl of fresh hot miso soup with seaweed.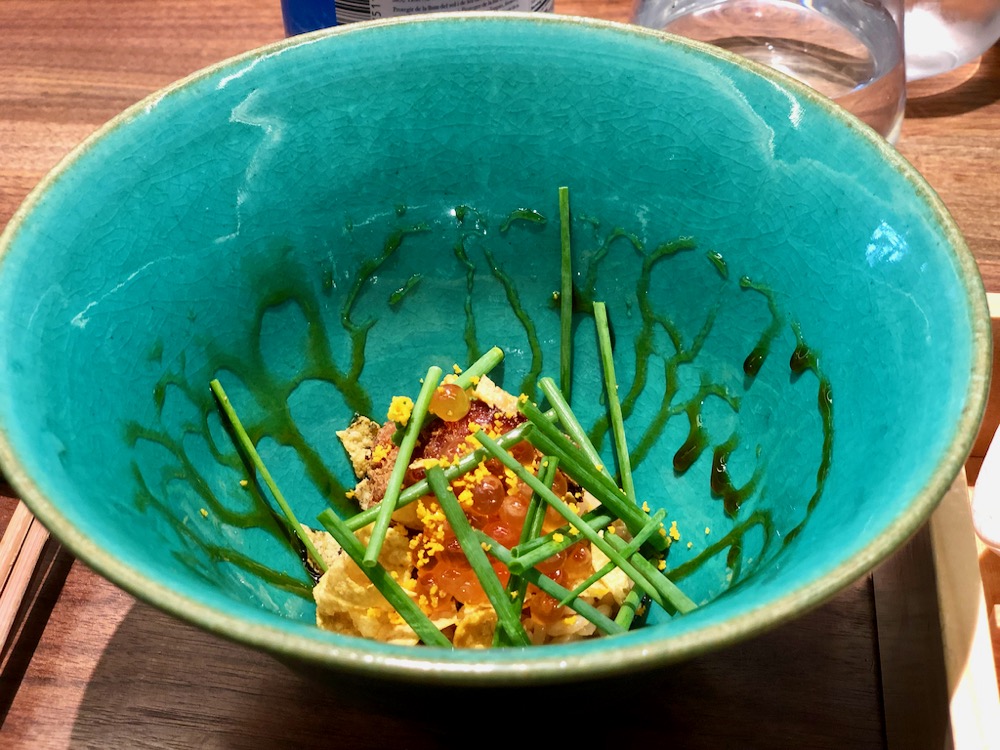 Final Thoughts
Japan is a culture you cannot fail to fall in love with, and a visit to Akira at Japan House is a must if you want to experience excellent quality omakase. The freshness of the fish and food presentation mixed with the service and design of the restaurant make it well worth the visit, so make sure you add it to your list of restaurants to visit if you live in London or planning to visit.
Address: 101-111 Kensington High St, Kensington, London W8 5SA
Web: japanhouseakira.london