A Natural Sanctuary
Originally a coconut palm plantation, the 27-acre expanse that now hosts Anantara Koh Yao Yai finds itself cocooned between a lushly wooded hillside and a mesmerising turquoise bay speckled with limestone islets adorned with dense jungle greenery—a sanctuary for numerous avian species. Unfurling gracefully along a kilometre of glistening golden shoreline, this recently inaugurated retreat epitomises serenity, expansiveness, and indulgence.
A sprawling emerald lawn, punctuated by venerable trees, meanders gracefully between a shaded swimming pool and the pristine golden beach, fostering an ambiance of security and seclusion. The immaculate beachfront offers an idyllic setting for swimming and the observation of diverse marine life, including indigenous crabs that make appearances during low tide, enhancing the overall experience.
Arrive By Speed Boat
This paradise is only a 45-minute boat ride from Phuket and a mere 20 minutes from Krabi, making it accessible yet far enough from the crowds. We took the Phuket route and the boat leaves from the NH Boat Lagoon Phuket, on arriving at the boat lagoon, the Anatara team takes your bags and coordinates the transfer from Phuket to Koh Yao Yai. It is worth noting that the hotel can also arrange transfers from the boat lagoon to Phuket airport which is around a 30-minute transfer away making it convenient to get to and from the airport.
From the moment you step foot on the resort's private jetty, you are enveloped in an aura of exclusivity and luxury staff greet you at the pier and a buggy takes you up to the hotel resort. It feels very much like being in the Maldives.
Lobby and Communal Area
Once you arrive at the resort the buggy takes you to the lobby which looks out over the whole resort and offers splendid sea views. A welcome drink and cooling towel are on hand while you check in.
Following check-in you are taken to your room – getting around the resort by foot is very easy, however, buggies are always available to transport guests around.
Luxurious Accommodation
Anantara Koh Yao Yai offers a selection of 148 elegantly designed suites, villas, and penthouses that seamlessly blend classic aesthetics with the rich heritage of Thailand, infusing them with local charm. For couples seeking an intimate retreat, the resort presents one and two-bedroom villas nestled along the shoreline, where you can relish secluded luxury. These exclusive villas include the services of a dedicated butler, complimentary bicycles for exploration, and direct access to the pristine beach.
Family Pool Access Suites
Families will find the Family Pool Access Suites spacious and comfortable, featuring stylish beechwood furniture and direct access to the resort's family pool. The Family Sea Views Suites cater to both adults and children, offering bunk beds with an in-room slide and hidden play areas. The Deluxe Sea View Suite, covering 90 square meters, provides uninterrupted sea views from its private balcony.
Anantara Koh Yao Yai also ensures that families have a memorable experience. The Kids' Club, one of Thailand's largest, offers a plethora of activities, including a bubble pool, dance studio, supervised projects, and more. Toddlers have their dedicated zone, and teens have a separate building with a restaurant serving a selection of family favourite food and drinks. The family pool transforms into an outdoor cinema at sunset, and family-friendly activities like beachside s'mores, hiking, Thai dance classes, and spa treatments are available.
Sea View Pool Penthouses
For those seeking the pinnacle of luxury, the resort's eight Sea View Pool Penthouses, attended by personal butlers, offer panoramic views of the Andaman Sea. These 366 sqm cocoons of opulence include an infinity-edge pool, sundeck, and even a glass bottom infinity pool in one of the penthouses.
Our Villa During Our Stay
The expansive Beachfront Pool Villas are the crowning glory of this resort, which we were lucky to be hosted in during our stay. Located along the width of the beach all the beachfront villas have been designed with eco-friendly grass roofing to seamlessly blend into the natural surroundings, while you are looking from the main hotel lobby across to the beach you wouldn't even know they were there. These private sanctuaries feature spacious terraces overlooking your own private lawn and offer direct beach access, further complemented by the impeccable service of a private butler dedicated to fulfilling your every whim during your stay.
Lobby
Personal Bar
Kitchen and Guest Toilet
Dressing Room & Closet in the Bedroom
Bathroom
Pool
Garden & Beach
Culinary Delights
Anantara Koh Yao Yai spoils with a diverse range of dining options. Choose from elegant or relaxed, beachfront or poolside there are plenty to surprise and delight.
Signature Beach Restaurant
Adjacent to the beach, this chic dining option offers a diverse menu featuring global culinary delights. Enjoy a midday feast of sushi or freshly grilled lobster, and later in the evening, savour a perfectly cooked steak beneath the starry sky.
You can sit inside and out, the inside dining room is stunning, but there is nothing like dining outdoors.
The restaurant has a wide range of new and old-world wines, but don't underestimate the quality of Thai wine it really is delightful. We tried this Rosé from Koh Ya and it was wonderful.
The menu offers a wealth of international options, so having had Thai for lunch we went for pizza and burger which were both great.
Pakarang
The primary dining outlet in the hotel, Pakarang, serves a lavish breakfast buffet featuring dishes from around the world, complete with multiple live cooking stations for freshly crafted dishes. During lunch and dinner, the focus shifts to authentic Thai cuisine with a section of local dishes, which I highly recommend you try out.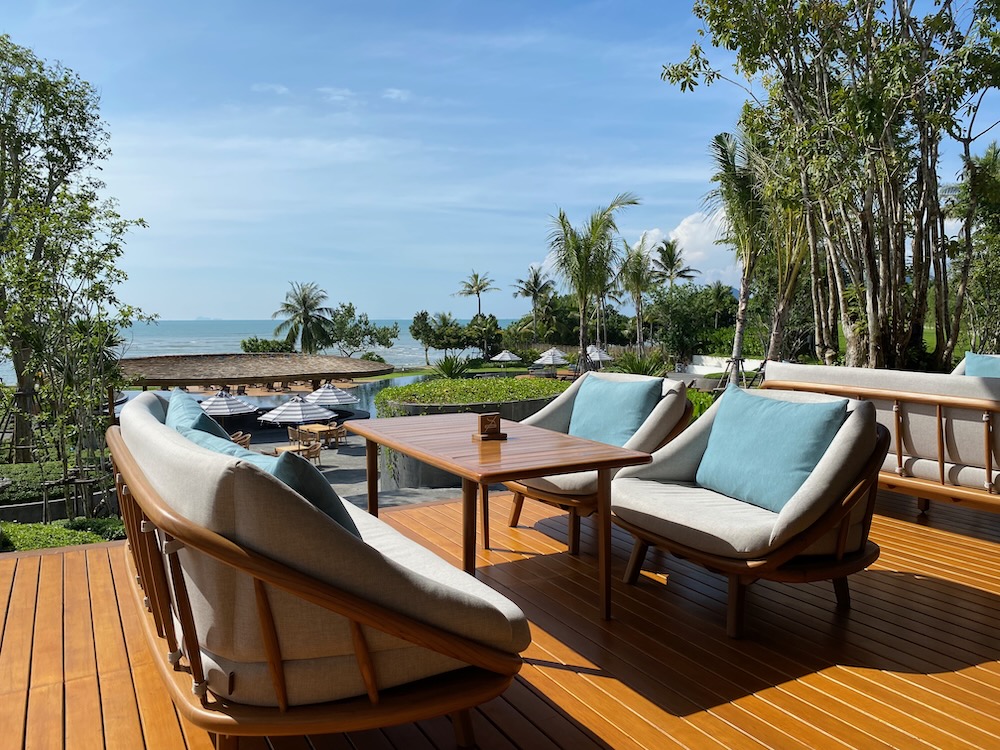 Breakfast
Breakfast is lavish with a huge array of Western, Chinese, Korean, Japanese and Thai options, plus live cooking stations, it's a feast that will set you up for the day.
Japanese Restaurant
Savour a delectable Omakase experience featuring an exquisite selection of seafood and meats meticulously curated by the chef, with a daily-changing menu in their soon-to-open Japanese Restaurant where you will be able to experience both traditional and contemporary Japanese culinary delights while taking in breathtaking views of the beach and the ocean.
Spice Spoons
If you want to come back from Thailand that little bit more knowledgeable about how to cook some classic Thai dishes, Anantara's Spice Spoons classes are a whole lot of fun. Guided by the hotel's executive chef, you prepare dishes to your liking, cook them with the experts, and then enjoy them for lunch.
Pools and Swim Up Bar
The resort has a main swimming pool next to the beach where you can while away the afternoons, sunbathing ordering snacks from your lounger, or take a leisurely paddle across to the swim-up bar for a sunset cocktail.
A Sanctuary for Wellness
No desert island retreat would be paradise without a spa and the hotel's wellness centre is sheer bliss. Offering a range of calming amenities, including an outdoor hydro pool and a hammam. Immerse yourself in their signature treatments inspired by local natural elements. Explore the revitalising effects of Thai massages, ancient wellness traditions, and invigorating therapies and ceremonies crafted to purify, harmonise, and invigorate your senses.
Enriching Experiences
Koh Yao Yai remains wonderfully undeveloped, offering an enriching journey for food enthusiasts, nature lovers, yogis, and marine enthusiasts. Guests can embark on inspirational excursions such as vintage sidecar tours, island-hopping adventures, mountain climbing, and scuba diving. Onsite activities include stand-up yoga, paddleboarding, mountain biking, and nature walks.
Final Thoughts
Anantara Koh Yao Yai Resort & Villas stands as a testament to luxury, sustainability, and unforgettable experiences. Whether you seek a romantic getaway or a family-friendly paradise to unwind this resort has it all and we highly recommend it as the place to stay on a trip to Phuket or Krabi.
Contact Details
Website: www.anantara.com
Address: 88, 8, Koh Yao Yai, Ko Yao District, Phang-nga 82160, Thailand