Aviary is nestled on the 10th floor of the new Montcalm Royal London House Hotel, bordering the City and Shoreditch on Finsbury Square. Since opening in December 2016 Aviary is fast becoming one of London's hottest destination rooftop restaurants with an impressive cocktail bar and spacious outdoor terrace offering enviable views across the city.

Background and Concept
Aviary is firmly committed to backing Britain with its promise to serve high-quality British produce. With London's increasingly global restaurant scene it is sometimes easy to forget what a wonderful selection of produce the UK's green and pleasant lands and coastal regions offer. Aviary is sourcing from small British livestock farmers using the best of the UK's heritage breeds and fish is responsibly sourced from south coast day boats and British fishing ports where ever possible.
There is an Art Deco feel to Aviary with large glass circular ceiling lights and gold, cream and earth brown fabrics, lifted with colour pops of purple, orange and green. The opulent design coupled with animated patrons sipping decedent cocktails conjures up a glamorous atmosphere similar in style to The Great Gatsby; however, they have yet to introduce a champagne fountain.
We noted that the bar did empty out post 9pm but this may be symptomatic of a mid-week night combined with an increasingly dry January.
The Menu
Starters are divided into a Raw selection offering shellfish, sashimi and beef tartare, as well as small dishes for those that prefer their food to have touched some heat. For main courses, options include selected cuts of meat and fish cooked over the charcoal at temperatures of up to 500 degrees in the cast iron bertha coal oven or a variety of more intricate dishes cooked to traditional methods. A daily changing butcher's cut priced at £12 offers great value; on the day we visited this was a 200g Barnsley lamb chop.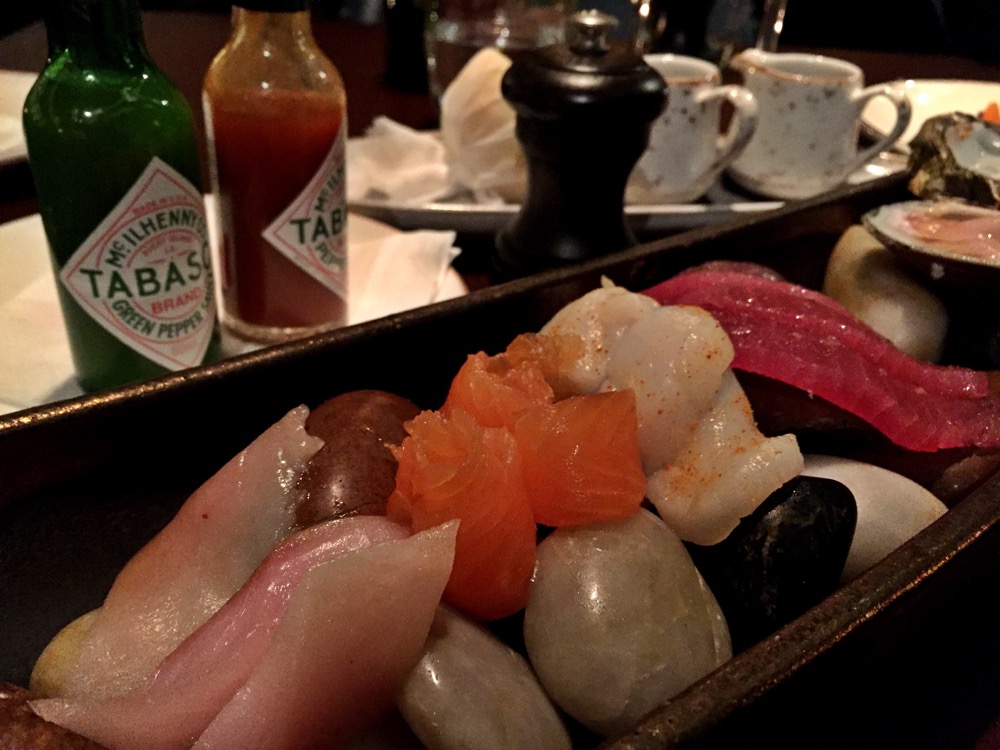 There are accompaniments for larger appetites including pulled beef belly, griddled king prawns and whipped blue cheese as well as an ample selection of sides and a resolution-breaking dessert menu.
The Food
An indecisive nature led me to test the merits of the Raw bar with a Raw platter which is conveniently available for one or two people. The seafood selection was presented in an oblong dish filled with pebbles – while beautifully presented it did make it a little tricky to eat and would most likely send the traditional plate brigade into a tailspin.
The platter included an oyster from Colchester, a juicy cherry stone clam, yellowfin tuna cured in soya, so tender it could be cut with a feather, sea trout cured in Sipsmith gin, mackerel sashimi and scallops sprinkled softly with powder made from dehydrated roe. My guest enjoyed Barbary duck cooked pink and complimented with lightly picked carrots, chervil root, crunchy buckwheat and the sweetness of aromatic black garlic.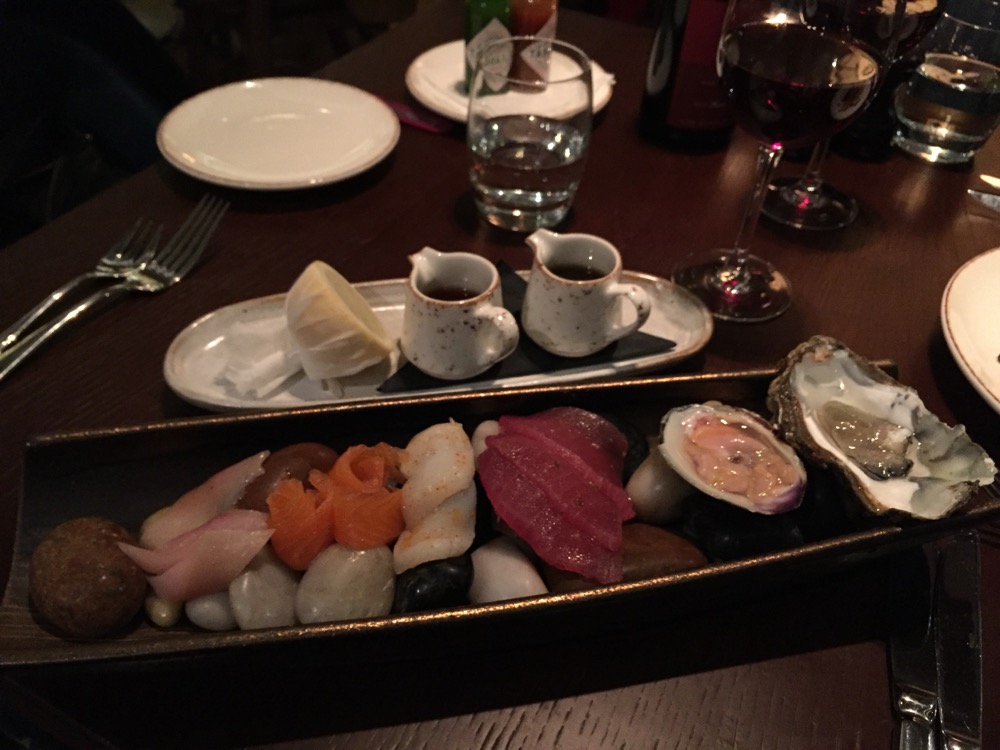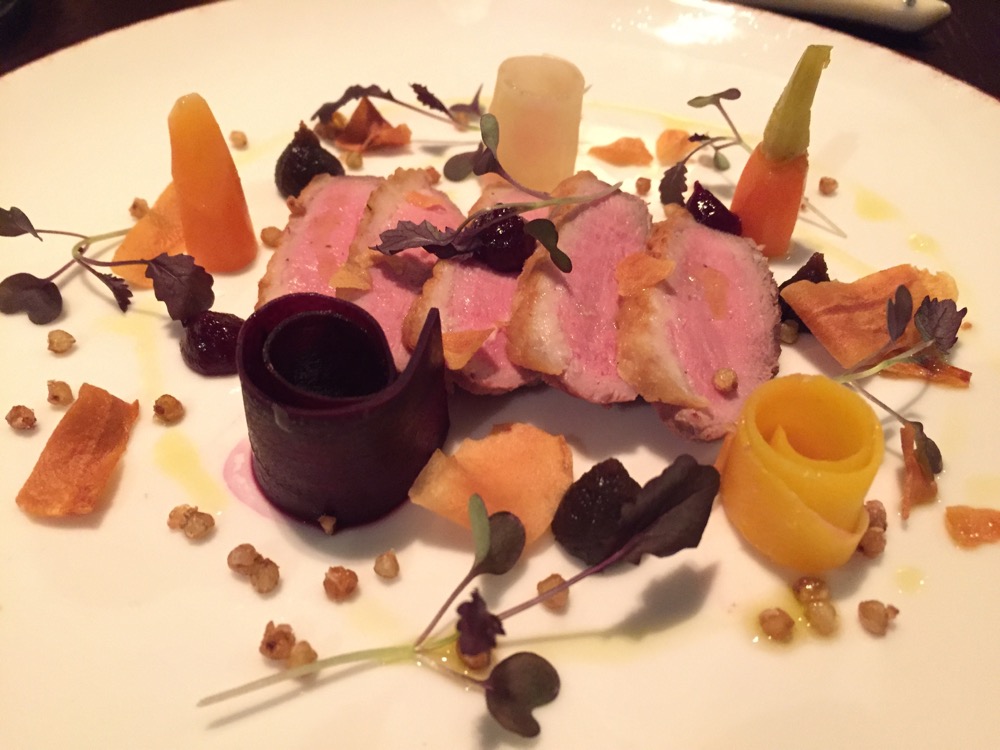 For the main course, my guest opted for the 500g Longhorn bone-in rib, and looking around at fellow diners this is clearly a very popular choice from the coal oven. Longhorn cows are old working cows, so it is advised that this cut is cooked to medium. This meat has aged magnificently and flavour seeps though from the fat and the bone marrow. We ordered a peppercorn sauce on this side but in all honesty this meat can hold its own without the need for extra ingredients. I would recommend simply ordering thrice-cooked chips and a gem and onion mixed salad on the side. The creamed spinach is also delicious if you fancy a little extra indulgence.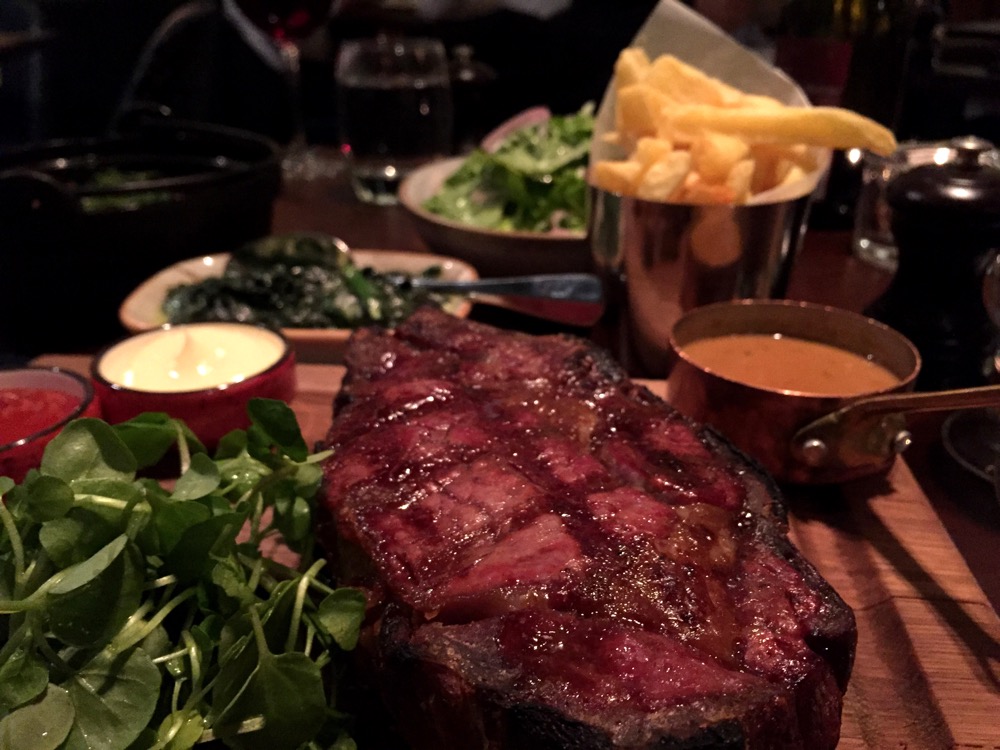 In the name of research, I moved away from the coal oven and chose the second main course from the 'Dishes' section of the menu. The Peterhead cod, octopus, garlic sausage and braised white beans did not disappoint at all. Lightly pan fried, the cod partnered beautifully with the velvety squid, smoky sausage and creamy beans.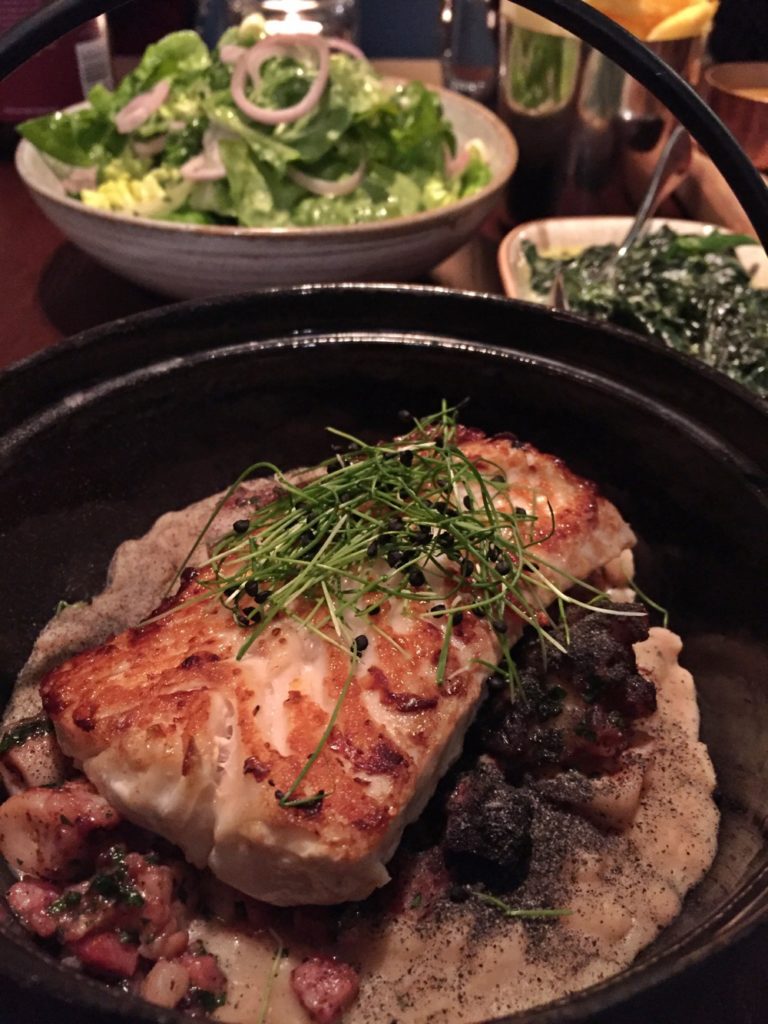 The dessert menu nods to a bygone era with chocolate honeycomb sundae, custard tart with banana ice cream and sticky toffee pudding. Anyone born circa the 60s and the 70s with fond memories of dinner parties where After Eights were served ritually will understand why ordering the 'After Eight' Arctic Roll was an obvious choice. The cool mint ice cream was surrounded by soft chocolate sponge, a crisp chocolate shell and served with chocolate crumble, satisfying a sweet tooth and refreshing end to a fulfilling menu.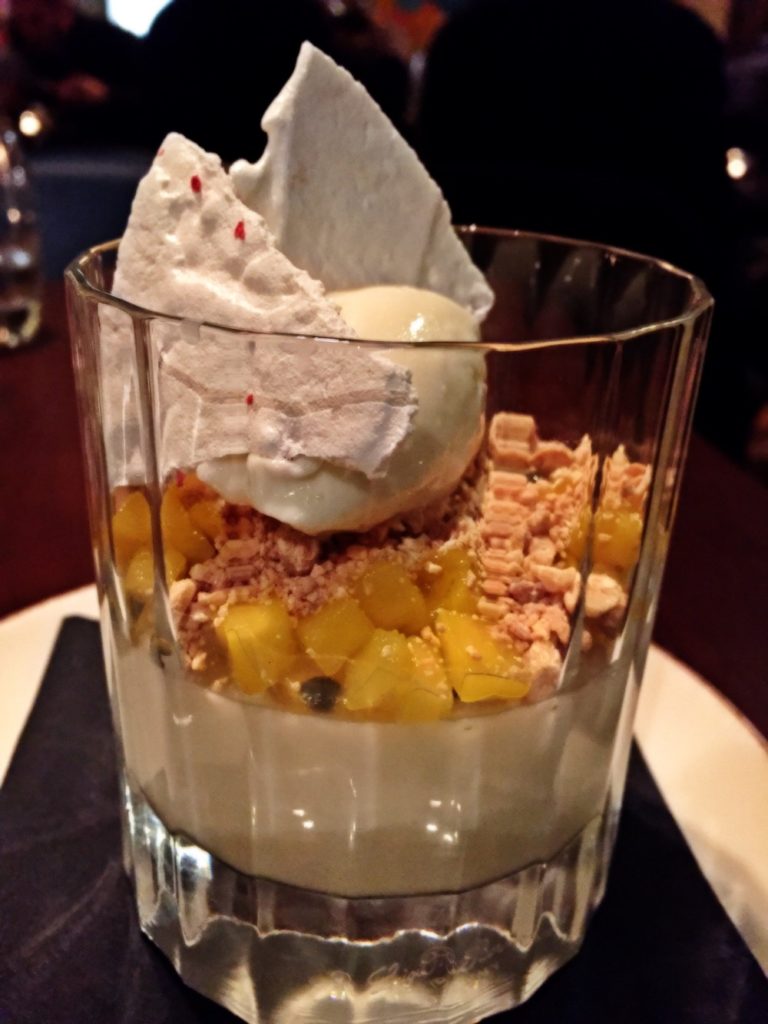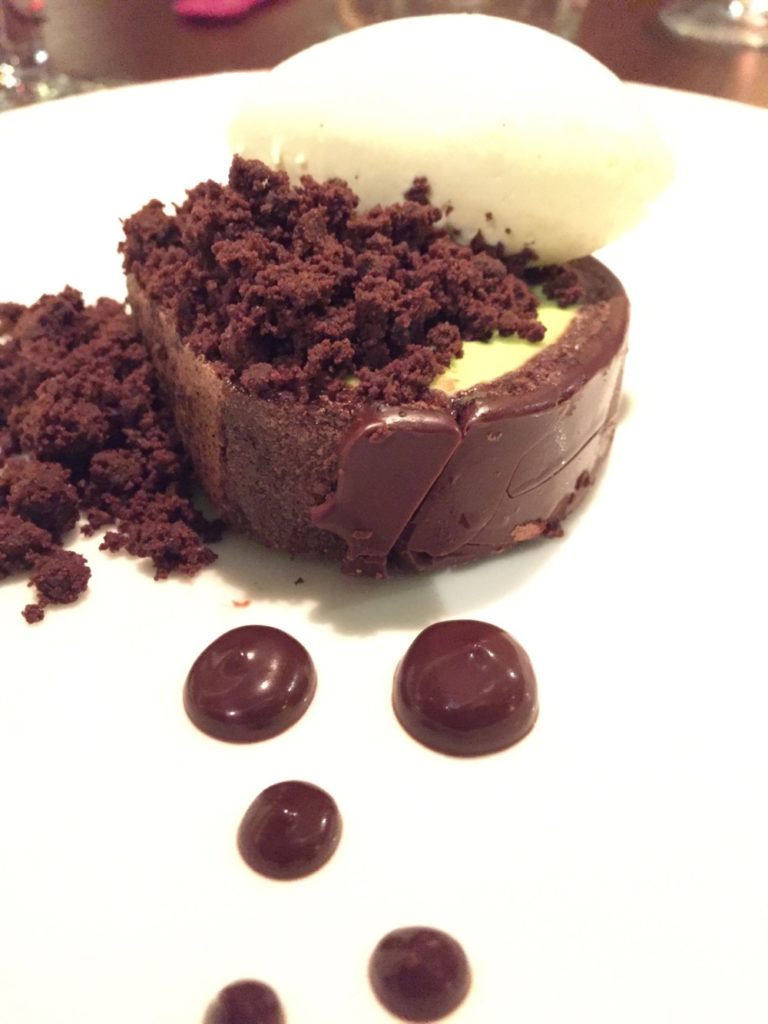 My guest opted for an equally satisfying coconut panna cotta served with fresh mango and passion fruit, crispy meringue and a roasted white chocolate crumb.
Wine and Drinks
The cocktail menu at Aviary is inspired, with parallels to an alcoholic adult sweet shop. Separated under headings including Floral and Elegant, Tricks and Treats, Coopers and sharing Pineapples, Deep and Dirty, the mixologist must have had a lot of fun with the creation of this list. We sampled the Sour Cherry Bomb, a sweet and sour pretty pink cocktail with Sipsmith vodka, cherries and rhubarb bitters served with a cherry candy neatly wrapped in a brown paper bag on the side. My guest chose a slightly more manly option of Roy and & His Mango, a combination of Johnnie Walker Black, Belsazar red and mango served ceremonially with a sprig of smoking rosemary which infused well with the smouldering flavours of the whisky.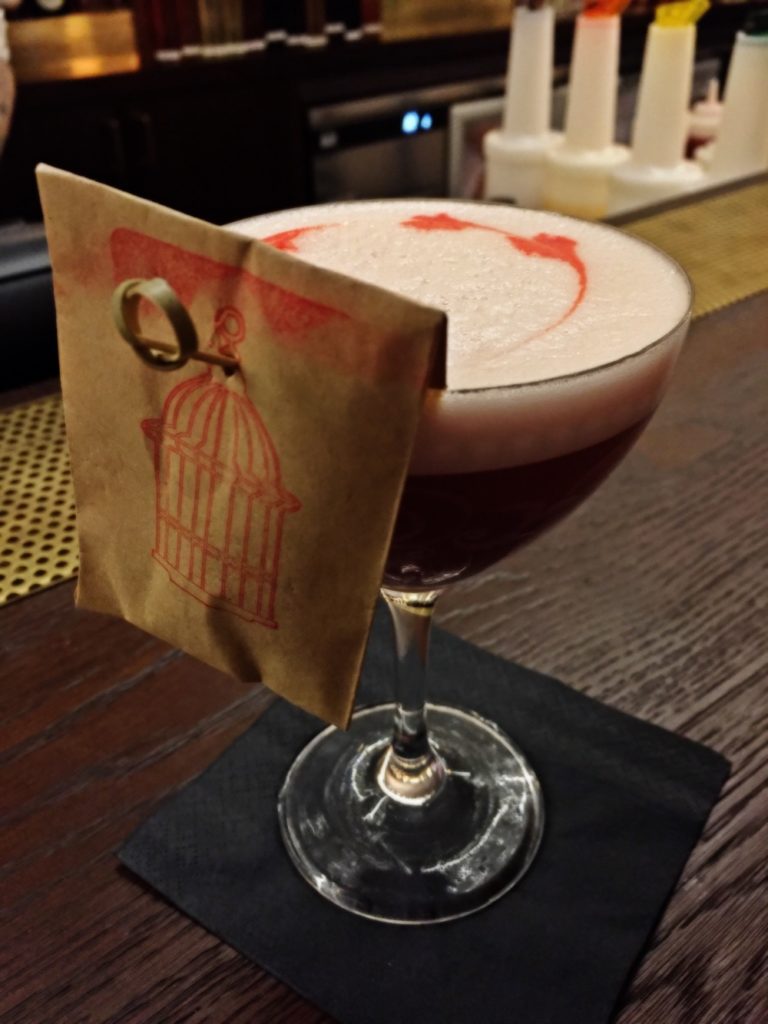 The wine list is comprehensive and reasonably priced with bottles starting at £20. We chose a Tuatara Bay Pinot Noir from New Zealand (£35.50), a lighter red with an earthy depth of flavour and hints of cherry which carried well across both the meat and fish dishes.
Finances and Details
Starters range from £7 to £14 and mains from £12 to £35. Most main course dishes require a side dish which all come priced at £3.50 and are generous in size. Puddings are £7.
For information and reservations visit www.aviarylondon.com