Barcelona is one of the most striking and cosmopolitan capitals in the Med with a plethora of luxurious hotels, bars and restaurants to its name. One of our favourite hotels in the city is the Hotel Arts Barcelona and we were so pleased on our trip last week to Barcelona to try out their new bar and cocktail experience in the hotel P41.
P41 & Coctelarium
Already playing host to one of the city's finest restaurants, the two Michelin starred Enoteca Paco Pérez, inspired by its location, Hotel Arts has opened three new gourmet experiences this Spring 2018.
The fresh palate begins at the newly reinvented bar – P41 & Coctelarium. The new epicenter of cocktail culture in Barcelona. Owing its name to Barcelona's latitude coordinates and guided by the talented mixologist Diego Baud – from Barcelona to New York, passing through Rome, Istanbul, the Chinese region of Xinjiang and the Japanese province of Mutsu –  classic cocktails and signature drinks have been inspired by the global localities that lie on the very same parallel; allowing visitors to be deliciously transported across the globe with just one sip. Adding artistic flair, the space has been designed by the prestigious GCA Architects with internationally acclaimed Inocuo who have created a striking ceramic mural that adds meaning to the global metaphor.
So How Does The New Bar P41 Check out?
Well, it turns out rather deliciously! On arrival at the hotel you will find the new bar on the right hand side of the lobby with with the bar connecting to the terrace and pool area. The night we were there P41 was really buzzing with guests and staff, but we managed to find two seats at the circular bar area to sit down. We were immediately greeted by bar manager Paul our mixologist for the evening, who very quickly welcomed us, settled us in with water and olives and started to explain the new menu and concept.
P41 as explained above are Barcelona's latitude coordinates, the bar menu has a wine selection of spirit drinks and wine so if you are looking for a gin and tonic, or a whisky on the rocks they have have everything you can imagine.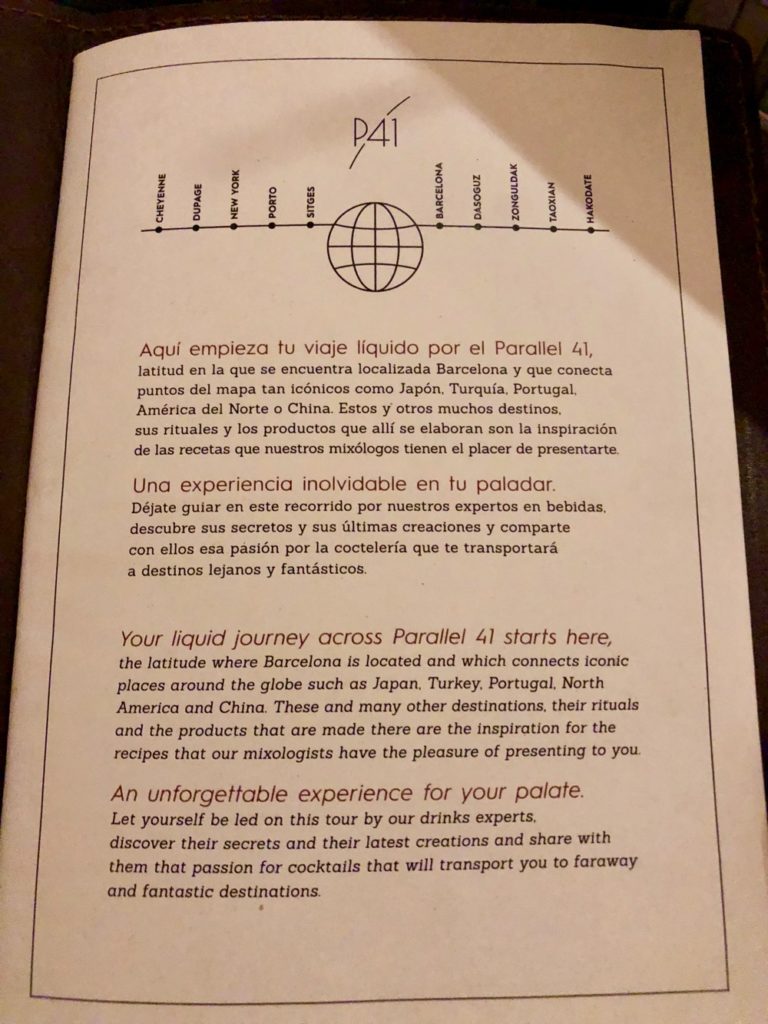 But forget a gin and tonic, what you really want to try out are their incredible cocktails ……… and they are really incredible!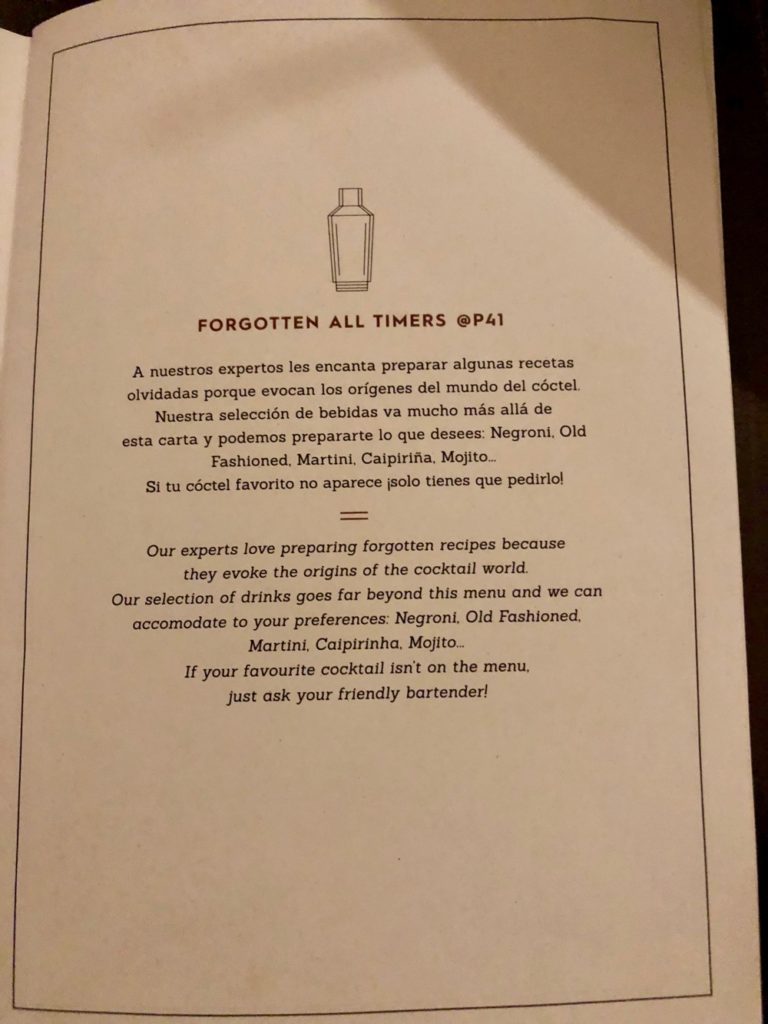 The cocktail menu has been designed as a series of flight boarding passes, one for each of their signature cocktails and each cocktail is connected to Barcelona's latitude coordinates, so you can take a cocktail journey around the world.
Cocktails
We started off with one of their most popular cocktails their Mediterranean Mule, the inspiration for this cocktail being born right in the local area. Fresh ginger ale and bitter peppers combine with the Sipsmith Gin and lime, to create a wonderfully refreshing, cocktail, perfect for a warm summers day in Barcelona.
For our second cocktail we split off, my partner had another gin based cocktail the Smoking Razz, while I went to my Scottish roots and had a whisky based cocktail The Pine Wood Journey. The Smoking Razz not only tastes incredible, it looks incredible too.  Taking influence from Chinese smoking pipes you use the spout of the pipe like a straw to drink the Smoking Razz. My Pine Wood Journey was just what I was looking for, sharp and intense with the flavour of Macallan Whisky, mixed with maple syrup and bitters.
Bites
So the bar doesn't serve main meals, rather taking influence from tapas style food they have a Bites menu, with a series of small and incredibly delicious bite sized bar snacks.
We had a real feast, we started with the Gyoza dumplings, which are one of their most popular options, these vegetarian dumplings come in a set of four and drizzled with a soya based dressing.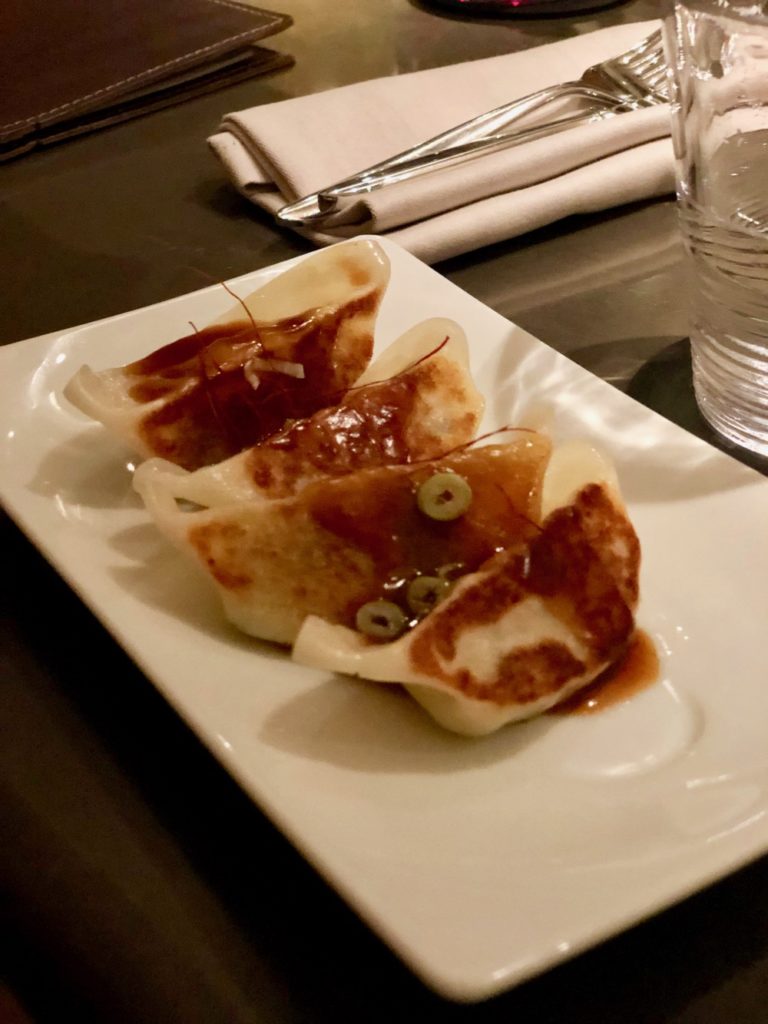 Now these gorgeous little mouthfulls below are the Iberco Ham, and Pan y Tomato bites. You would be forgiven for thinking the balls on top are caviar, they are actually balls of olive oil – created when olive oil is added to liquid nitrogen. When you put the bite into your mouth the oil turns back into liquid.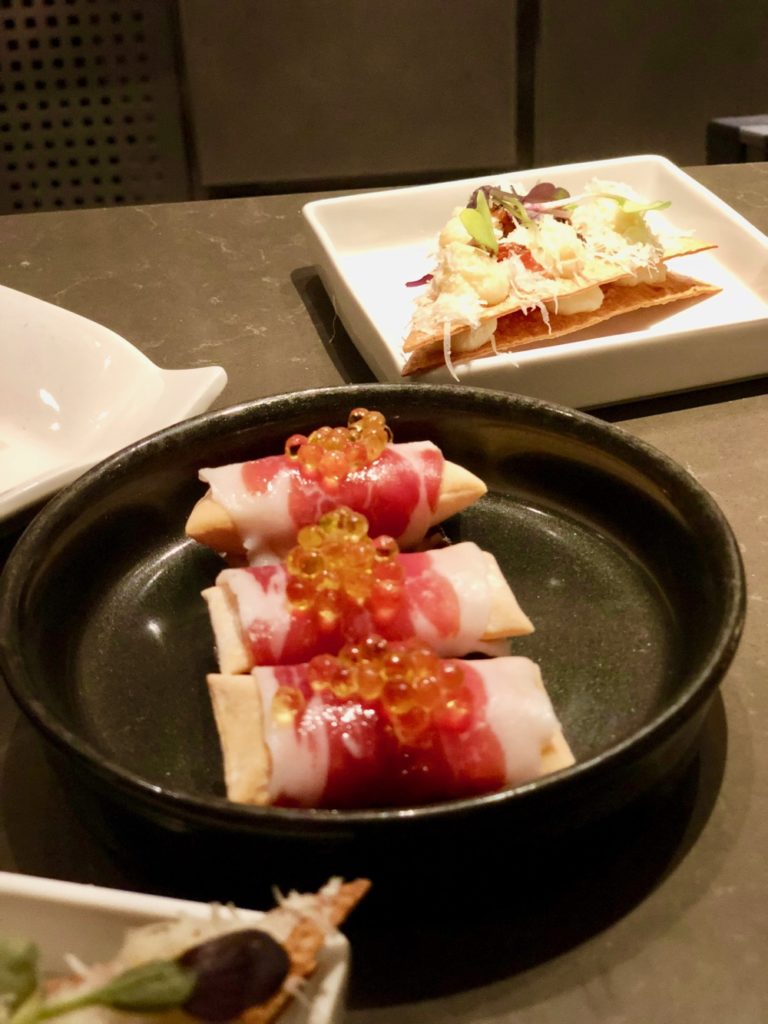 We also tried triangles of Perorino cheese and truffle toast and their take on the classic Spanish omelette.
To finish in style we went for four of their fresh Oysters which come in daily from France. Don't bother asking for tabasco sauce, have them with a drizzle of lemon and let the natural flavours of the Oyster shine through.
Final Thoughts
A visit to P41 was a real highlight of our trip to Barcelona, the bar offers a creative cocktail menu and highly creative bar snacks, we recommend you add this to your next trip to the city.
Address: Carrer de la Marina, 19-21, 08005 Barcelona, Spain
Web: www.hotelartsbarcelona.com/en/p41-bar-coctelarium