Say cheese and go shopping for the season's style-forward Fromage boards and accessories to make your dairy intake even more enjoyable. From specialist slicers to graters and full-blown sets, here are the current best luxury buys.
Viners 5 Piece Cheese Serving Set
This hard-wearing set comprises a hard cheese knife with a sturdy sharp blade, a soft cheese knife with an anti-stick sharp thin blade, a chisel with a wide flat blade and sharp edge to tackle crumblier cheeses, a serving fork, a stone board to keep cheese cool and a magnetic block for safe storage. It comes with a two-year guarantee from a company that's been in business for over a century.
Brunello Cucinelli Cutting Board And Cheese-knife Set
Italian-made, this cutting board is crafted from walnut wood, with a white KRION® base and a tie at the end. It comes with two stainless-steel cheese knives boasting horn handles; the perfect accoutrements to complete a dinner party.
Soho Home Cresswell Set Of Three Mango Wood And Bronze Cheese Knives
Already have a board? Purchase these glossy, sculpted knives to mix and match with your existing accessories. They take their design cue from the interiors in Soho House Hong Kong and feature polished antique bronze, with black mango wood handles with natural markings. Each set is unique.
Luxe Dark Agate Cheese Knives – Set Of 4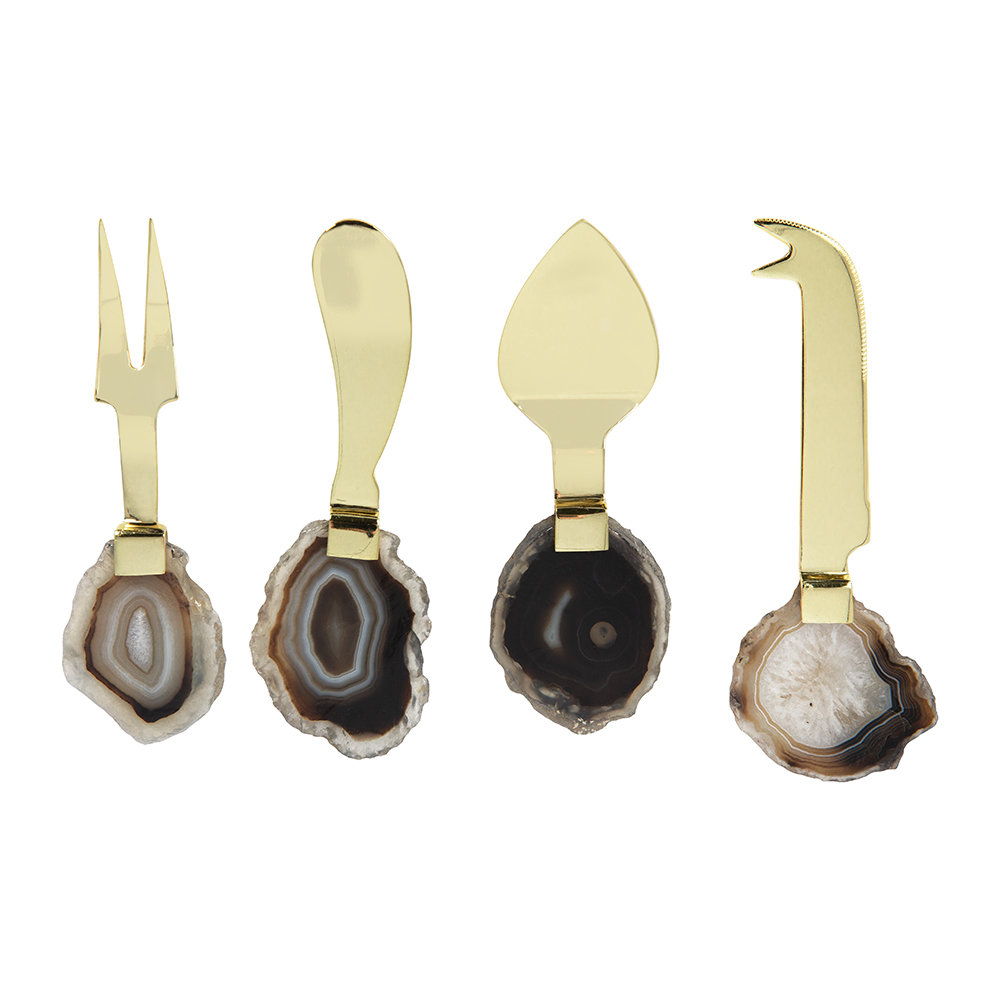 Available only at AMARA, these knives are made from agate and stainless steel. Due to the natural agate formation, each has its very own pattern – like a thumbprint. Matching accessories can also be purchased, each a work of art.
The White Company Cheese Knives – Set Of 3
Crafted in high-quality and classic 430 stainless steel, these have been designed alongside award-winning tableware experts Robert Welch (based in rural England). The trio is made up of a hard-cheese knife, a soft-cheese knife and an all-purpose knife and is presented in a gift box.
John Lewis Marble Cheese Board & 3 Knives Set
Held safely in a mango wood box with a marble-topped slider lid, are three knives for hard and soft cheese. Each of the knives has brass-finished stainless steel heads and complementary marble detailed handles.
Olive Wood Cheese Grater
Designed by Just Slate, this has a removable stainless steel fine grating plate, with an olive wood bottom to catch and serve the hard cheese shavings. It's hand-crafted and hand-tied with an adorable ribbon, making it an ideal foodie present.
Xl Gourmet Cheese Grater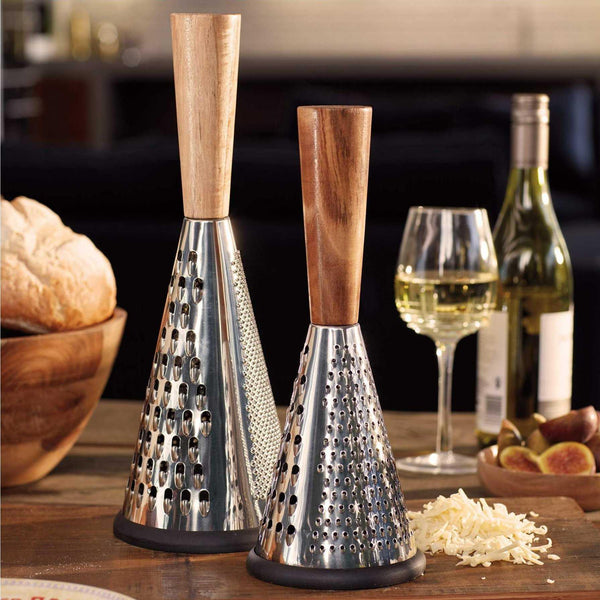 By Distinctly Living, this free-standing stainless steel grater stands at 34cm tall – an attractive addition to an Italian-inspired dinner table. It features an acacia wood handle, revealing a natural grain that marks each piece as unique.
L'Objet X Haas Brothers Brown Cheese Louise Serving Boards
Larger dinner parties call for an increased area of space – enter this duo of serving boards. Each is crafted from 100% wood (smooth smoked oak) with brass hardware and the brand's logo engraved on them. A cheery addition to your table; the boards combine to depict two smiling faces in a cosy embrace.
Jonathan Adler Nixon Cheese Board And Knife Set
The abundance of cast brass and white marble makes this set an ultra-glamorous, timeless option. The board, with two handles at each end, comes with a single matching knife and is quite the showpiece for those who want to make a statement.