In a world that never seems to slow down, the simple pleasure of sipping a perfectly brewed cup of coffee has become an essential part of our daily routines. Whether you're a dedicated coffee connoisseur or a casual caffeine enthusiast, the quest for that ideal cup of joe is a journey that unites us all. Discover our favourite premium coffee and coffee pods that we are drinking right now.
The Nutcracker Whole Bean Coffee from Artisan Coffee Company

The Nutcracker Whole Bean Coffee from Artisan Coffee Co. is a delightful blend that captures the essence of the holiday season in every cup. This carefully crafted coffee is a symphony of flavours, featuring a rich combination of nutty undertones, subtle hints of spice, and a touch of cocoa. The beans are sourced from the finest coffee-growing regions, ensuring a high-quality and ethically produced product. The meticulous roasting process brings out the full spectrum of flavours, creating a well-balanced and aromatic coffee experience.
Caravan Compostable Coffee Pods
Caravan, a pioneering craft coffee and all-day dining brand, has partnered with Waitrose to introduce its home compostable coffee pods and premium coffee into the national retailer for an exclusive supermarket offering. Now more than 120 Waitrose stores in the UK will carry Caravan's 'Daily' and 'Market Blend' coffee pods, while 'The Daily – All Day Blend' and 'No Boundaries – Female Farmed Blend' coffee will be available in over 250 Waitrose stores nationwide, and online. Caravan's debut in supermarkets aligns with its mission to simplify the coffee experience for UK consumers by providing on-pack taste profiles, strength indicators, and online brew guides, making high-quality coffee accessible to all. The products boast unique flavour profiles, sustainability, and Caravan's commitment to supporting women in the coffee industry through its Female Producer Programme.
Dark Woods Coffee – Good Morning Sunshine Ground Coffee
Wake up to a clean-tasting Central American medium roast crafted from Arabica beans. Full-bodied, it contains notes of cherry, apricot, cocoa, toffee and French toast. Dark Woods is based in the moors of the West Yorkshire Pennines, out of a riverside Victorian textile mill.
Grind Coffee – Black Blend Ground Coffee
Presented in an uber-trendy sugar almond pink reusable tin, this is one to show off on the shelf. Designed for espresso and black coffee drinkers, it's floral and light but packs a caffeine punch. The brand launched via a Crowdfunding campaign five years ago. Soon after, it opened a roastery and barista training lab from a warehouse in London's hip Shoreditch district.
Dark Woods Coffee – Colombia Finca El Jordan Single Estate Ground Coffee
Another taste sensation from the Dark Woods vintage Probat drum roaster, this blend originates from the volcanic soils of El Jordan near Gaitania in Colombia. The beans are washed to give a fresh, clean taste, with the sweet and zingy flavours of citrus, marzipan and caramel emanating through the brew.
Harrods – La Perla Negra Coffee Beans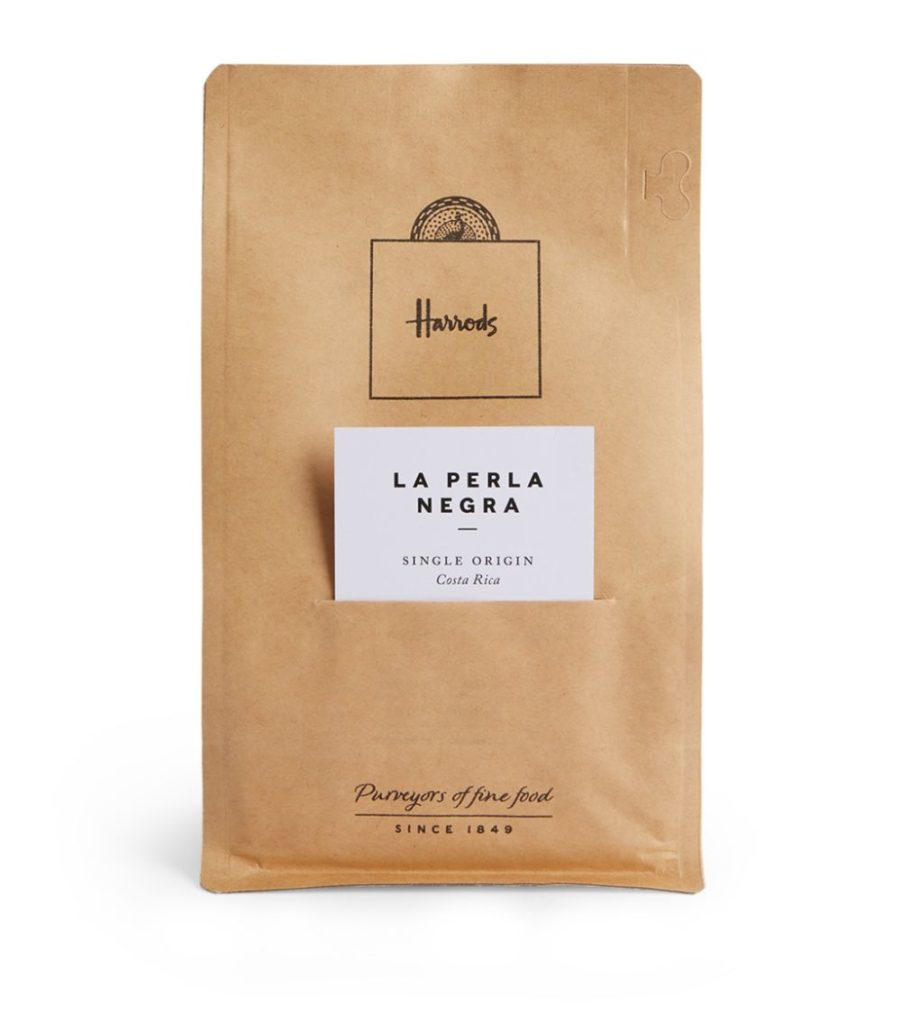 If you'd rather grind your own, then invest in a few packs of these 100% La Perla Negra coffee beans. They're sourced from Costa Rica and sold exclusively by Harrods. Suitable for all-day drinking, they contain notes of sweet toffee, sweet blueberry and sticky blackcurrant.
Harrods – Jamaican Blue Mountain Coffee Beans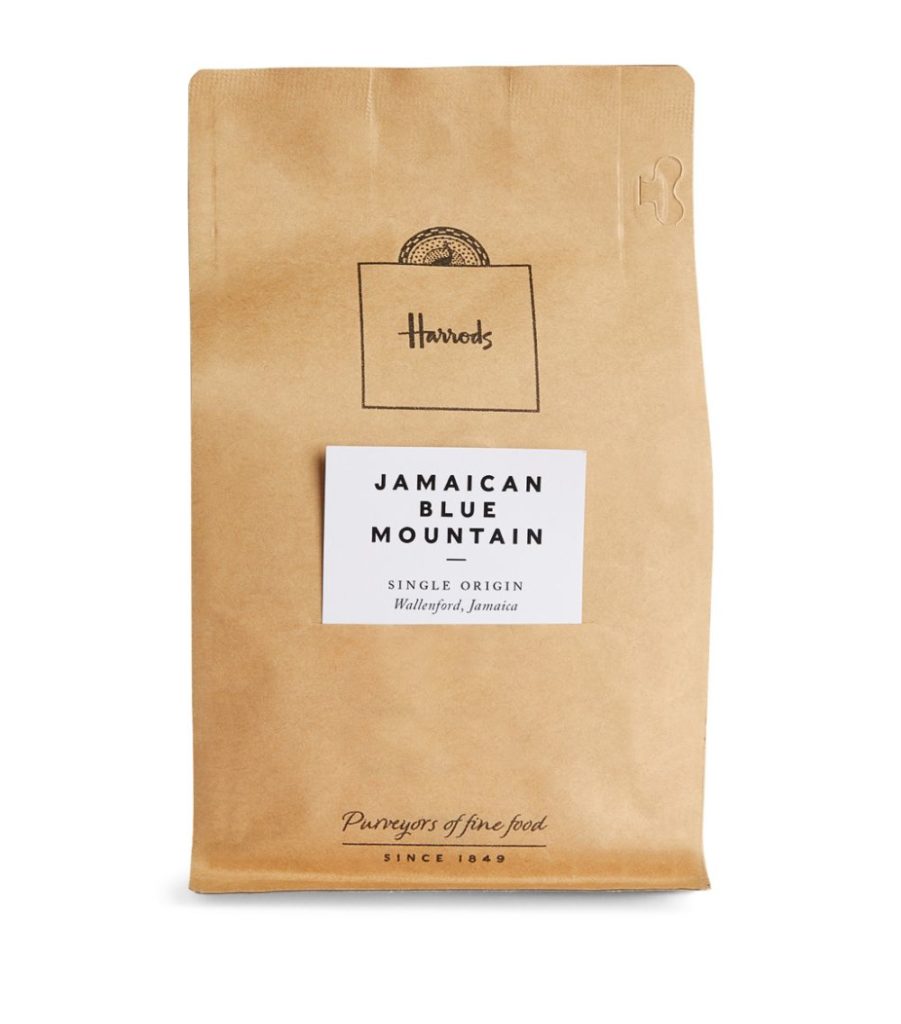 Also exclusive to the iconic Knightsbridge department store, these Jamaican Blue Mountain Coffee Beans are grown on some of the highest mountains in the Caribbean. The whole beans offer a mild, mellow texture perfect for those who dislike any bitter after taste.
Fortnum & Mason – Queen's Blend Coffee
Feel like royalty as you sip on a cup of Queen's Blend from Fortnum and Mason. It was originally created for the early 20th century for Queen Alexandra, the wife of Edward VII and derives from the beans of small-batch farmers in East Africa and South America. Intense, dark roasted and spicy, it comes in a pretty, feminine, floral caddy that makes for a charming gift.
Coffeegram – Panama Geisha Coffee Pods
Those seeking some new pods to pop into the machine can try the exotic Panama Geisha blend of jasmine, plum and Assam tea found in this sleekly packaged pack of 10. Coffeegram tailors its brews to individual preferences, so you're bound to find one that suits your tastes.
Rare – 10 Coffee Pods

Shop sustainably with Roar Gill's 100% compostable carbon-neutral capsules. The brand has a policy of additional tree planting to offset emissions, with beans coming from the oldest coffee plantations in the Brazilian Cerrado region. Compatible with original style Nespresso machines, the product was Awarded Best Indy Buy 2020 for Eco Pods by the Independent Newspaper and featured in the Observer's 50 Things We Love in Food & Drink in 2020.
Fortnum & Mason – Connoisseur Coffee Pods
Most suited to after-dinner libations, this Connoisseur Blend Coffee comes from South American Arabica beans. Strong, smooth and rich, the Fortnum and Mason coffee is also compatible with Nespresso machines and comes in bright cheery packaging.
Grind – Compostable Nespresso Pods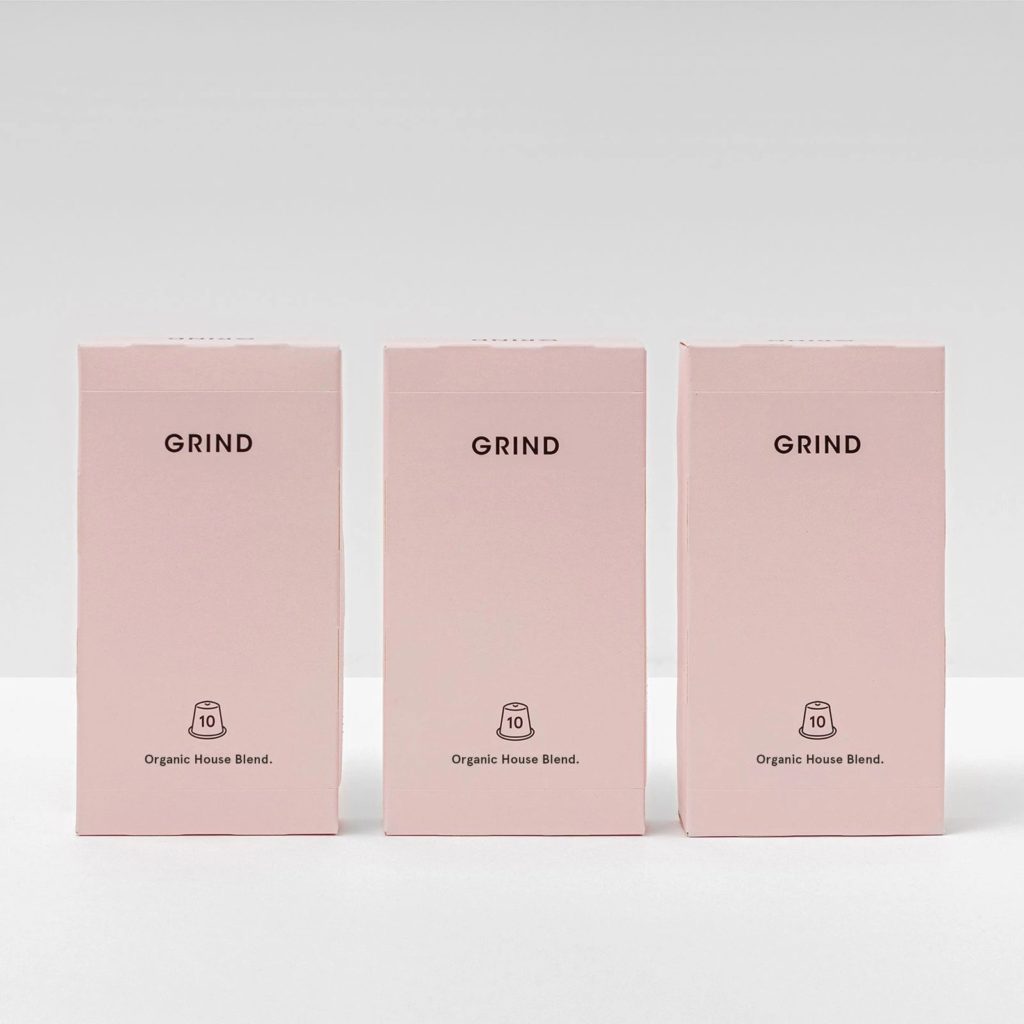 Grind's British roasted range extends to pods, with these compostable, convenient postable packs. A Which best buy, the organic product is 0% plastic and 100% vegan. It comes in a pretty pastel pink pack of 30 servings, with siganture house, black or decaf options for every type of caffeine imbiber.