The United Arab Emirates capital doesn't do things small. The fastest roller coast, the tower with the biggest lean (more than the tower of Pisa!), the highest penthouse, the biggest mosque – there aren't many records Abu Dhabi hasn't broken. This desert oasis is consistently at the forefront of challenging world records, technological innovation, and luxury experiences like no other. Truly immerse yourself in the Gulf culture by wandering around the Dhow harbour, haggling for a bargain in the markets, exploring some of the most opulent mosques you have ever seen, or just chilling out in an atmospheric shisha café. Since they do everything big, it's no wonder some of the best hotels in the city are almost unbelievable. Here are some of our favourites…
The St. Regis Abu Dhabi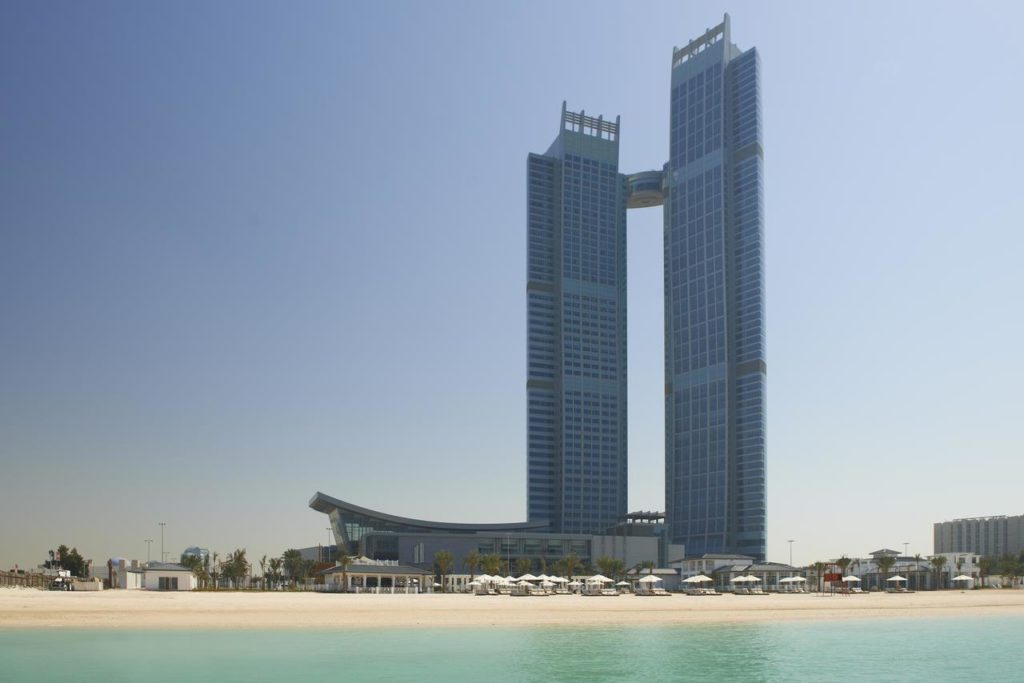 Backed by the prestigious St. Regis name, this hotel is an urban resort that caters to business and pleasure travellers alike. Located on the Abu Dhabi Corniche and connected to the Nation Galleria Mall, you'll enjoy the utmost in luxury, relaxation, and shopping. Each of the rooms and suites is plushily decorated and offers stunning views of the sea or the city. Dining options abound with several cuisine types as well as a bar and cantina. Don't miss the selective treatment menu at the hotel's exclusive spa.
Rosewood Abu Dhabi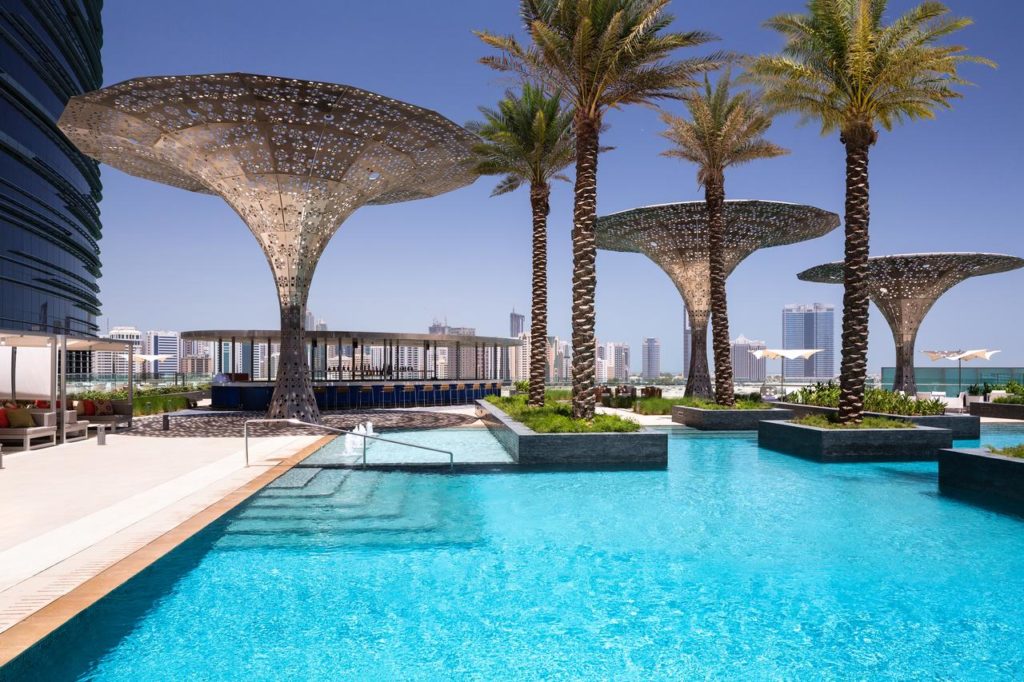 Extravagance is the name of the game at the Rosewood with a hotel modelled after the beauty of the Arabian Sea and that evokes a feeling of true relaxation in the middle of the city. Not only does the hotel offer a series of luxurious rooms, but the exclusive suites are a true wonder to behold. The hotel boasts a golf and beach club as well as a fitness centre, pool, and spa. Dining options are varied and include nine bars and restaurants to choose from. No matter what you're in the mood to eat or drink, there's something here for everyone.
The St. Regis Saadiyat Island Resort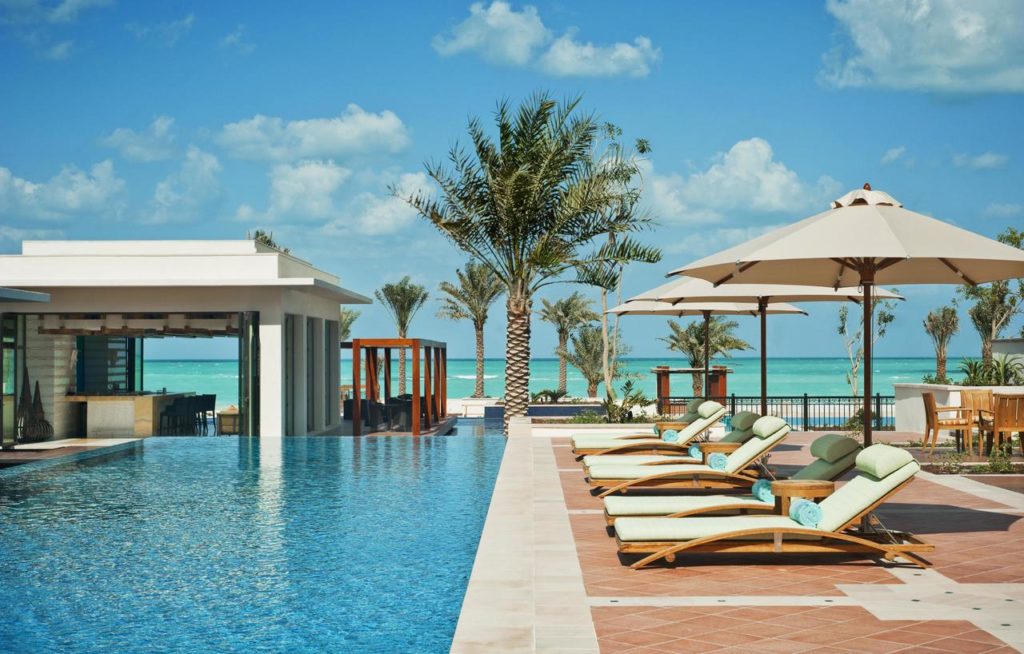 True to its name, this island resort is a beautiful blend of city living and waterside relaxation. The seductive Arabian Gulf outside the doors of the hotel offers an escape from the everyday and the golf club gives you a reason to enjoy the great outdoors. Located Saadiyat Cultural District, the hotel is minutes from a wildlife refuge and downtown Abu Dhabi. There are three decadent pools to enjoy in addition to the sand and surf. Dining is eclectic, a selection of international cuisines. For a true respite, the St. Regis will always deliver.
Four Seasons Hotel Abu Dhabi at Al Maryah Island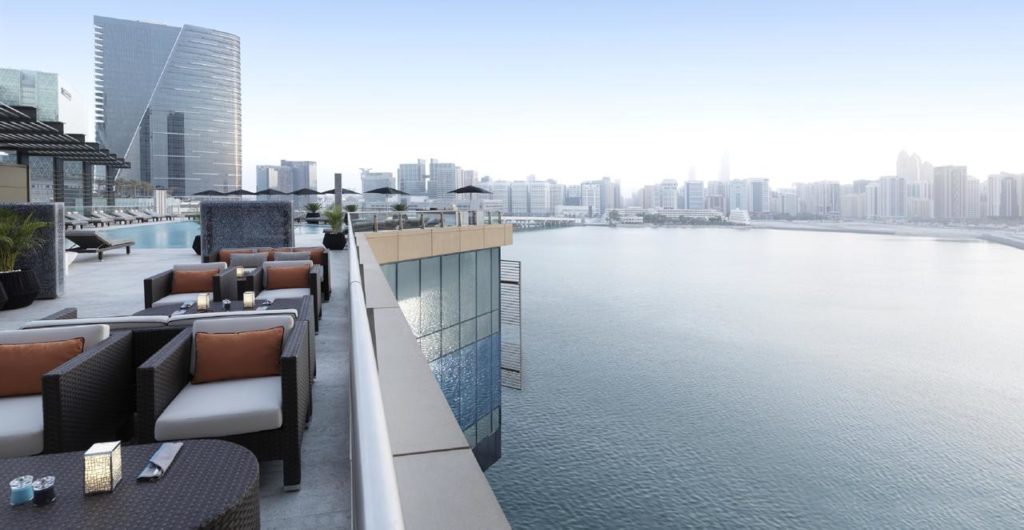 The Four Seasons name is one that you know will always deliver luxury and opulence and this hotel is no exception. Location within a collection of 200 islands, the hotel calls to business travellers, but is also a destination for vacationers and shoppers. The Dahlia Spa offers an extensive selection of decadent treatments including a variety of massage options. There's also a rooftop pool with panoramic views of the city to be had. Each room is thoughtfully decorated and ready to welcome you right in for a relaxing place to unwind and enjoy some downtime.
The Ritz-Carlton Abu Dhabi, Grand Canal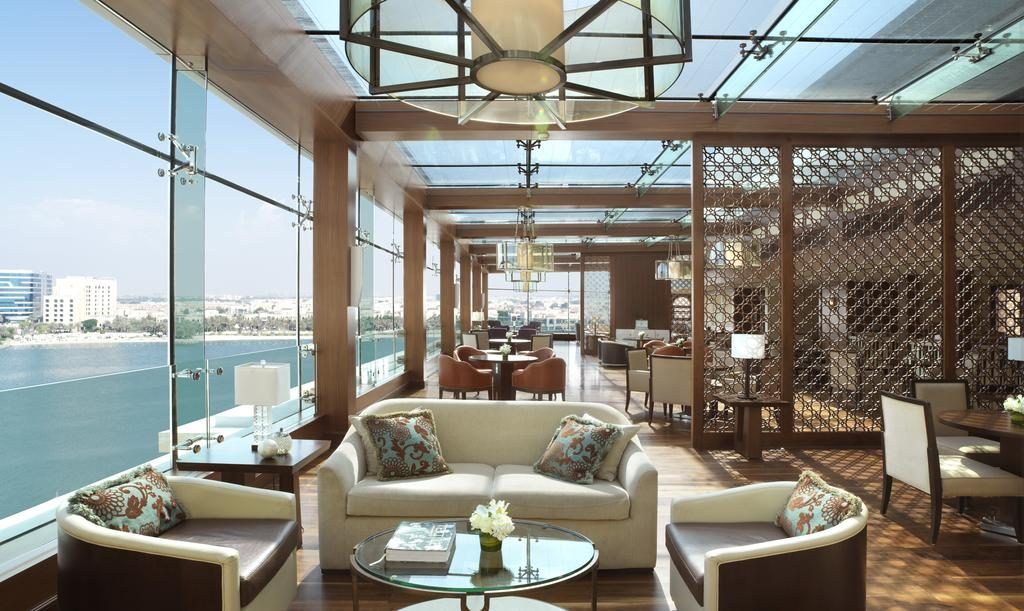 Luxury is always at its best at the Ritz-Carlton and the Abu Dhabi location is no exception. Beautiful lush greenery welcomes you in and lovely visions of the Al Maqta Creek and Sheikh Zayed Grand Mosque will delight your love of nature and architecture. Inside you'll find plush bedding and delightfully decorated rooms that are a traveller's dream, whether you're there for business or pleasure. The hotel boasts an indoor waterpark, an exclusive spa, and a wonderful mixture of cuisines at the hotel's eight restaurants that serve up everything from steak to noodles and everything in between.
Bab Al Qasr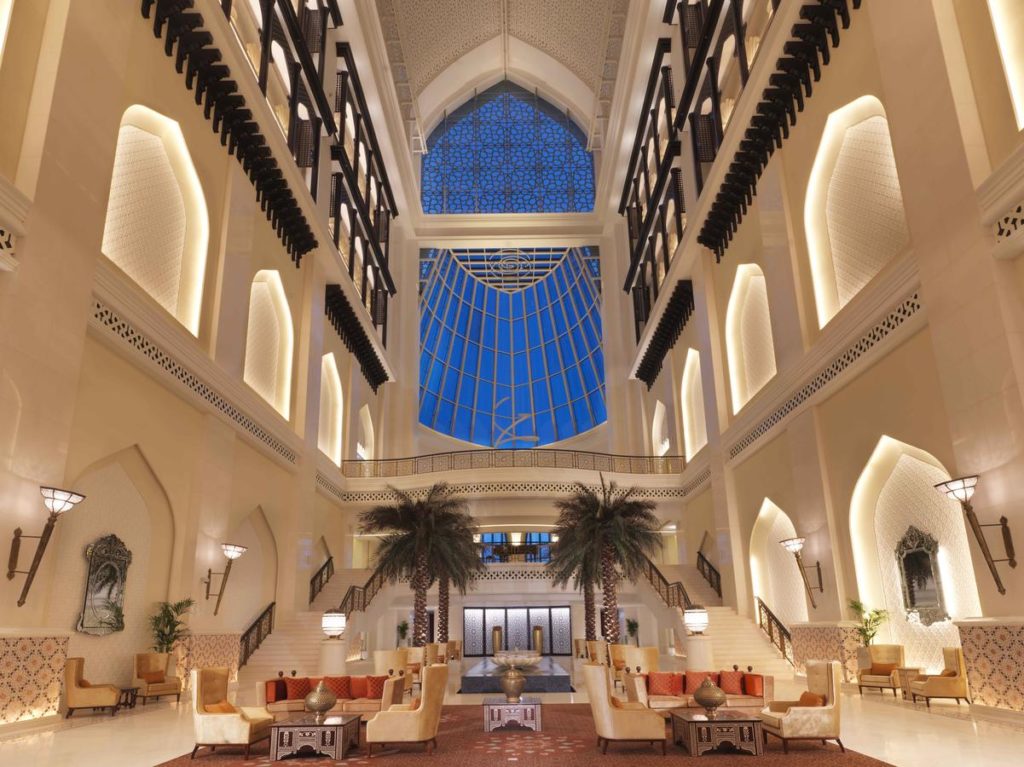 True opulence awaits you inside the Bab Al Qasr hotel with its lobby filled with palms and plush seating in shades of cream and red. Beautiful views abound outside the window of each luxurious room designed for the ultimate in rest and relaxation. The hotel features an exclusive collection of restaurants and a distinct Moroccan influence in both dining and decor. Relax and rejuvenate in the hotel's spa or lounge poolside and soak up the sun. The hotel also boasts a fitness centre and a hair salon, and can organise tours and excursions.
Emirates Palace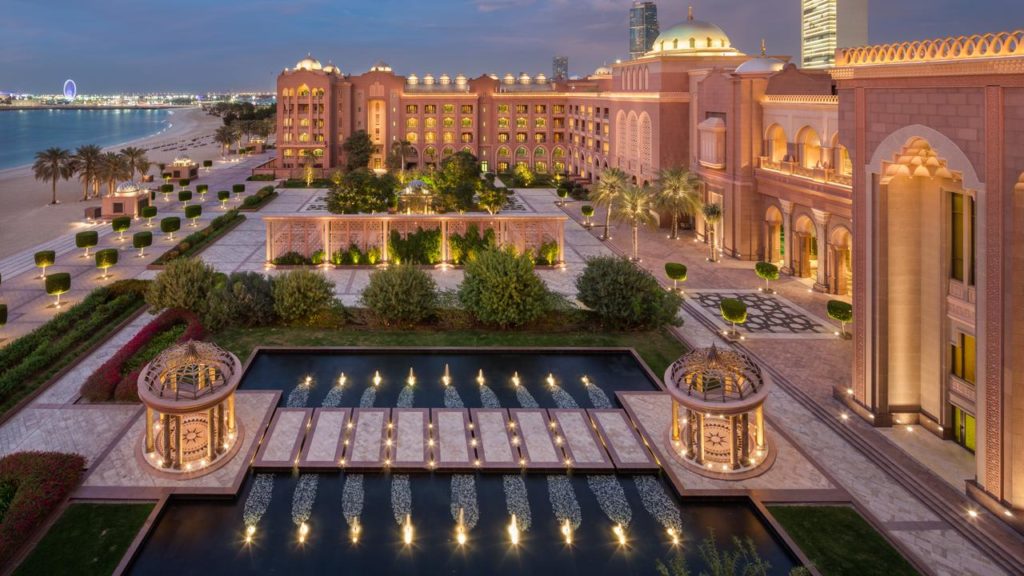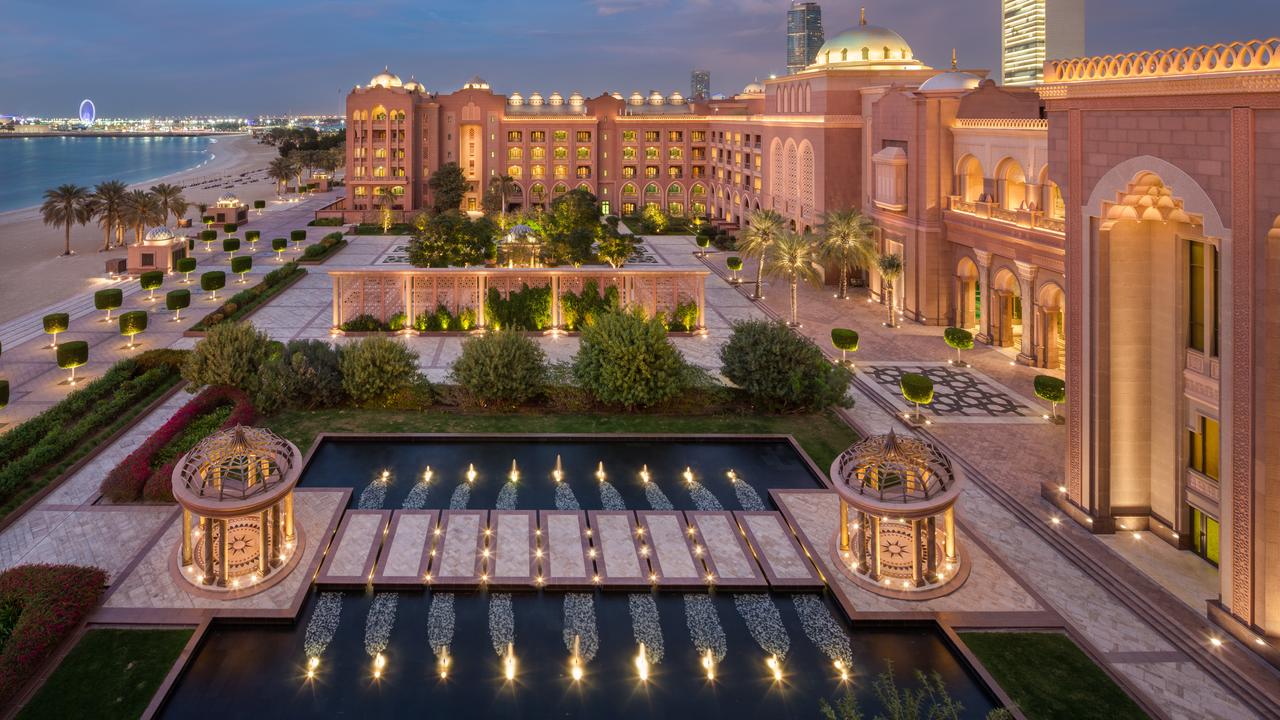 A true palace, this hotel will never let you down with its lavish design and luxurious hospitality. Located in the heart of Abu Dhabi, the hotel is near the pristine waters of the sea and also boasts a decadent pool and spa for your rest and relaxation. The rooms and suites are beautifully furnished and have state of the art sound systems, private balconies, and lovely views of the city. Delectable food can be found at any of the hotel's bars or restaurants, whether you desire a full meal or just a couple of cocktails.
Yas Viceroy Abu Dhabi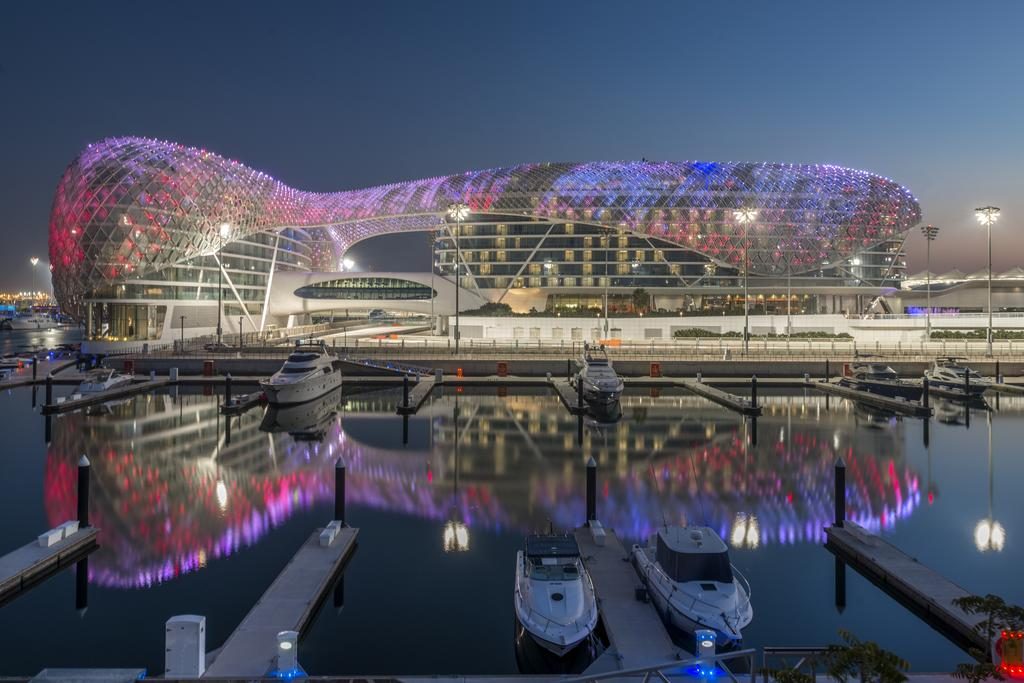 The Yas Viceroy is a great base for shopping due to its location and is a stunning vista of architectural mastery. Each of the hotel's 499 rooms is well outfitted with warm decor, swanky en-suite bathrooms, and plush bedding that invite you right in. The spa features a selection of decadent treatment options, including a variety of massages and beauty therapy choices. Dining is available for breakfast, lunch, and dinner and the bar is a great place to have a drink and relax with friends or colleagues. The hotel also boasts a pool and state of the art fitness centre.
Qasr Al Sarab Desert Resort By Anantara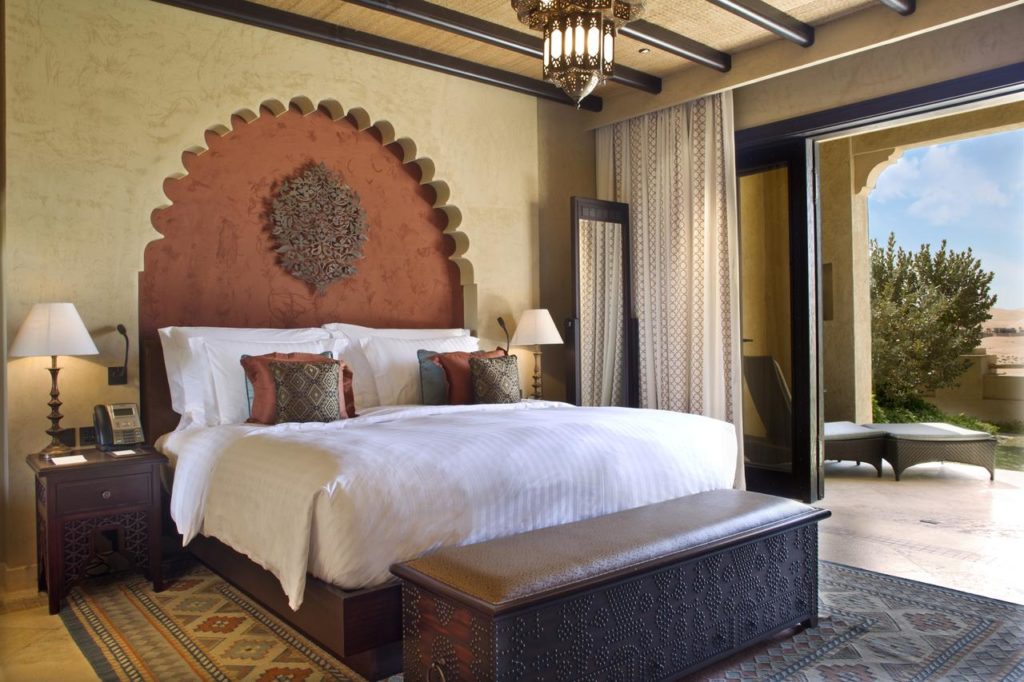 Beauty and luxury come together here at the Qasr Al Sarab Desert Resort. When you aren't lounging in your perfectly decorated and absolutely luxurious room, you'll love the lovely desert views and a few hours resting by the pool with a cocktail in hand. In addition to the breath-taking panorama of the hotel and its desert setting, there are also restaurants with breath-taking views next to the pool and on the roof. Enjoy the poolside bar where you can have a meal or snacks with your drinks while you take in the wonder that is the desert surrounding Abu Dhabi.
Park Hyatt Abu Dhabi Hotel and Villas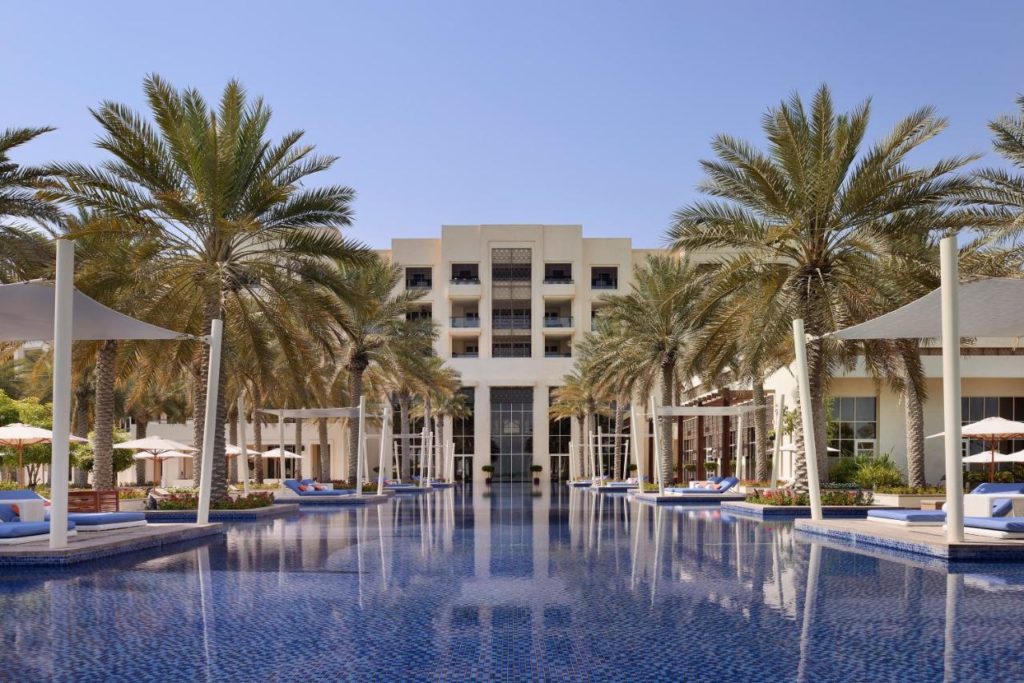 Park Hyatt Abu Dhabi is an award-winning beach resort that presents guests with a seamless experience of old-world charm and new age culture. Rooms and suites are spacious and sleek, with all the modern-day amenities a guest would expect from a Park Hyatt hotel. Depending on the room or suite type chosen, guests can enjoy unrivalled views of the Arabian Gulf, landscaped gardens, and a private pool and terrace. For guests that enjoy action there are plenty of activities within the resort including; tennis courts, a fully equipped gym, water sports, a spa and wellness centre and kids club – to name a few and in the nearby area guests can enjoy a round or two at the Saadiyat Beach Golf Club which is just a short walk away, explore the coastal habitats on a boat tour or take in the hustle and bustle of the cultural capital. The resort boasts a wonderful range of cuisine served in its three restaurants; from all-day casual dining to an elegant experience guests will not be disappointed. A great choice for an all-round luxury experience.