Budapest is an architectural treasure trove. The city showcases a variety of styles from baroque masterpieces and elegant neo-classical examples, to striking art nouveau designs. The golden age of this city was in the late 19th century but now a lot of the buildings are a continuous reminder of its complicated history – many are pot marked with bullet holes or shrapnel marks, leftovers from WW1 and the 1956 uprising. This complex heritage though is fascinating to discover and explore. The food in the city is great too – look beyond the goulash and you will find a city with a sophisticated cooking reputation harking back to its time as a culinary capital in the early 20th century. Another iconic feature of Budapest is the amazing hot springs dotted around the city – the locals swear they are the best hangover cure! Find your perfect base from which to explore the Hungarian capital with the top luxury hotels in the city, as selected by The Luxury Editor experts…
W Budapest
Housed in the historic Drechsler Palace, the W Budapest embodies visionary design, diverse dining options, and a socially conscious atmosphere inspired by Budapest's cosmopolitan essence. Situated on Andrássy Avenue, W Budapest features 151 stylish guestrooms and suites, incorporating elements from Budapest's rich history and culture. The interior design narrates a fusion of Buda and Pest, paying homage to the city's artistic heritage, vibrant cultural scene, and iconic figures like Harry Houdini and Zsa Zsa Gabor. The hotel also boasts three innovative dining concepts, including Nightingale by Beefbar, a destination restaurant offering Asian cuisine paired with Beefbar's signature meat dishes, and the exclusive speakeasy Society25, serving bespoke cocktails with a historical touch. W Lounge serves as the hotel's social hub, catering to various occasions from business meetings to vibrant DJ performances. In addition to its event spaces, W Budapest offers passionate guest programming, including FACES OF BUDAPEST and W RE(TREAT) yoga classes. The AWAY® Spa complements the experience with relaxation and luxurious treatments, creating a hidden oasis beneath the bustling city. With its unique design ethos, W Budapest aims to connect luxury travellers with the spirit of Budapest in an elevated yet playful setting.
Matild Palace, a Luxury Collection Hotel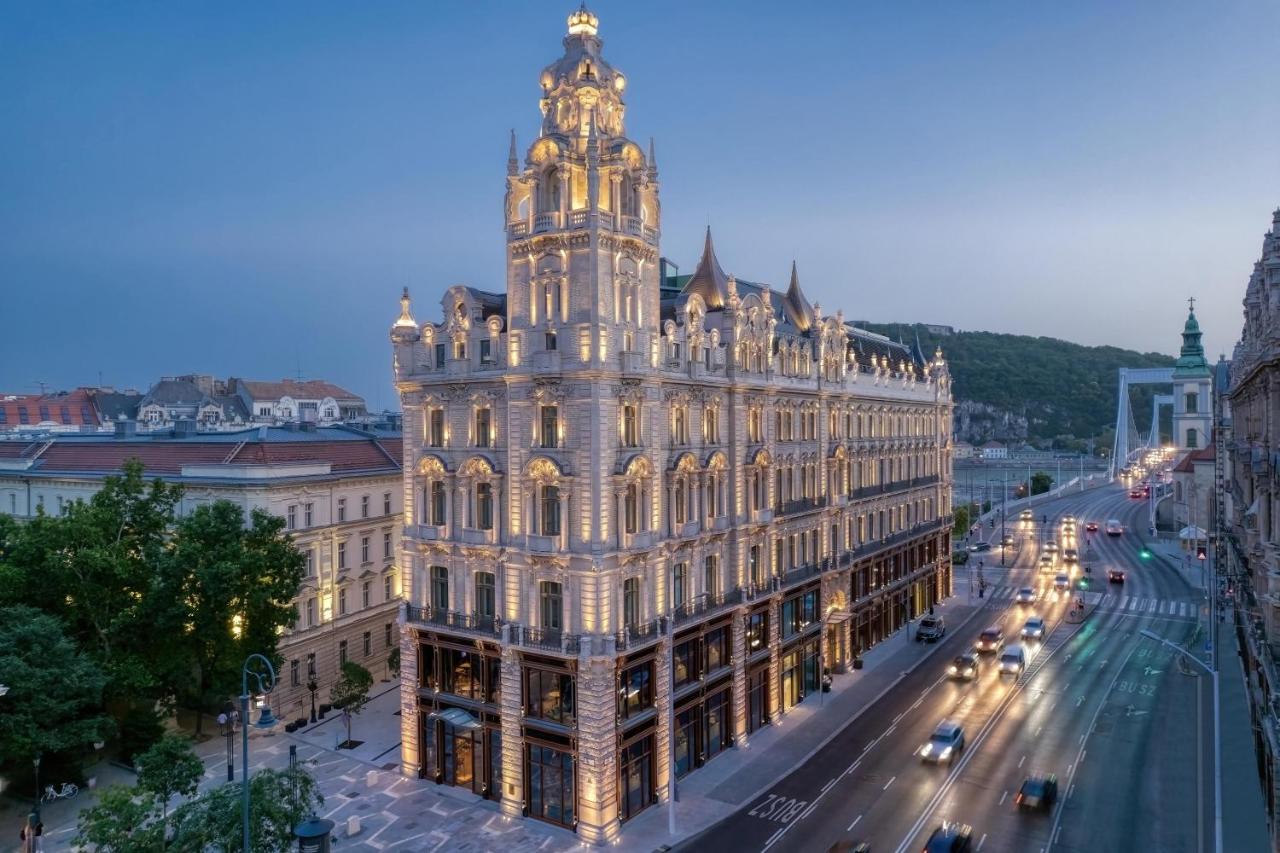 Step back in time, to Budapest's Belle Epoque era, at the Matild Palace, a UNESCO World Heritage Site. First commissioned by Her Royal Highness Maria Klotild as a playground for intellectuals and creatives, the riverside property boasted the city's first-ever lift. In 2021 it received a full makeover, accentuating its vintage grandeur, but with modern and eclectic design touches. 130 bedrooms and the public spaces have been implanted with elements of Art Deco, Art Nouveau and Baroque design codes. Spago, by Wolfgang Puck, is found on the ground floor, with a sophisticated outdoor seating area. On the rooftop, is The Duchess bar and there's a Matild Cafe and Cabaret.
Párisi Udvar Hotel Budapest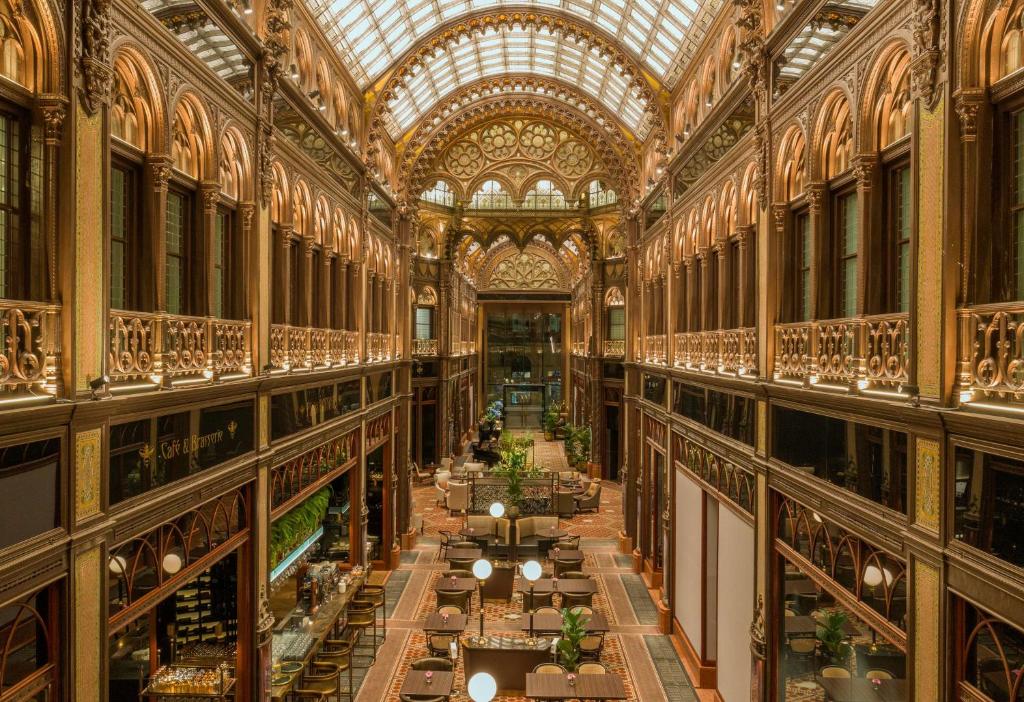 Párisi Udvar Hotel Budapest, In The Unbound Collection by Hyatt, is one of the most central and spectacular hotels in the heart of Budapest. The iconic hotel, transforms the Art Nouveau shopping arcade into a palatial hotel where guests enjoy top-class service in uneatable surroundings. The Art Nouveau style continues throughout the hotel with 110 rooms and suits all stylishly showcasing a fusion of gothic and Moorish-inspired details. For those wishing to take style and luxury to the next level, the Paris Residence boasts over 290 square metres of private space with the most stunning views of the city. Relax and unwind in the hotel's tranquil spa which also offers guests the choice of a variety of bespoke wellness and beauty services. And for the more energetic guests access to a 24-hour high-tech fitness studio is available. The energy and vibe of the metropolitan city is reflected in the hotel's dining facilities, where a melting pot of cultures come together and cater for every taste at every hour of the day; from the perfectly presented sweet treats at the patisserie, light bites at the café, gourmet dishes at the brasserie and refreshing cocktails at the bar. With classy and high-tech conference rooms, the hotel is equally suited to business guests as it is for those staying here on leisure.
Corinthia Hotel Budapest
Effortlessly graceful, the Corinthia's elegance begins with a neo-classical façade that opens into a creamy marble lobby and attention-grabbing staircase. Clean and unfussy, the glass atriums and light marble gives this luxury hotel an airy feel and sense of space. Benefiting from a central location on the Great Boulevard, the Corinthia offers a convenient base from where to explore Budapest as well as pleasingly sophisticated and comfortable accommodations. Guests can enjoy the facilities of a Royal Spa with a stunning Corinthian-columned pool, Finnish saunas, whirlpool tubs, steam room and full menu of treatments along with a complimentary juice bar. There's also a 24-hour gym. Four restaurants offer an international selection of menus and there's music and entertainment in various venues from live folk music in The Brasserie to piano music in Le Bar. The Orfeum Club has evening cabaret shows in the summer.
Kempinski Hotel Corvinus Budapest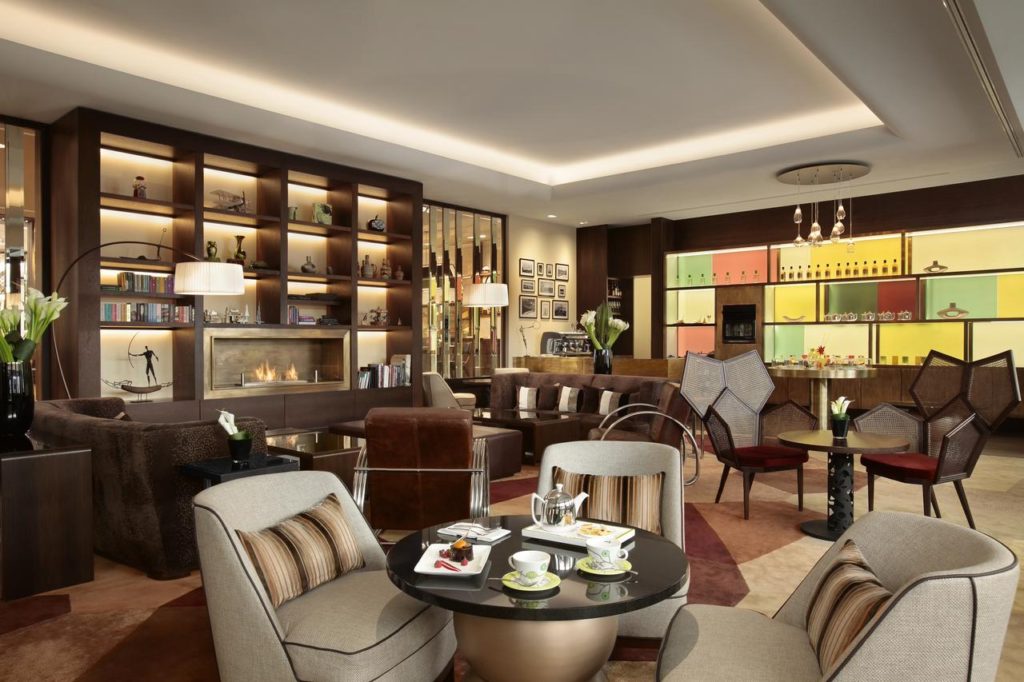 Centrally located for the classic tourist areas of Vörösmarty tér and Váci utca, the Kempinski Corvinus is a modern hotel of straight-lined stone and glass, very different to most of Budapest's luxury hotels that are in converted 19th-century mansions. Rooms are comfortable, light, and spacious with some art Deco touches. Leisure, pleasure, and culture are high on the list of amenities. The modern setting includes a ground-floor promenade with shops, a café, a deli, and a small gallery featuring new and young artists. You can kick back in the Living Room in a comfy sofa with a book or catch one of the regular Saturday night concerts. The spa is fitted with a pool with jet streams, a Finnish sauna, steam baths, a gym, and offers a range of treatments. You can choose from various eateries in the hotel including a Nobu and the buzzy ÉS Bisztró or chill out in the Blue Fox cocktail bar.
Aria Hotel Budapest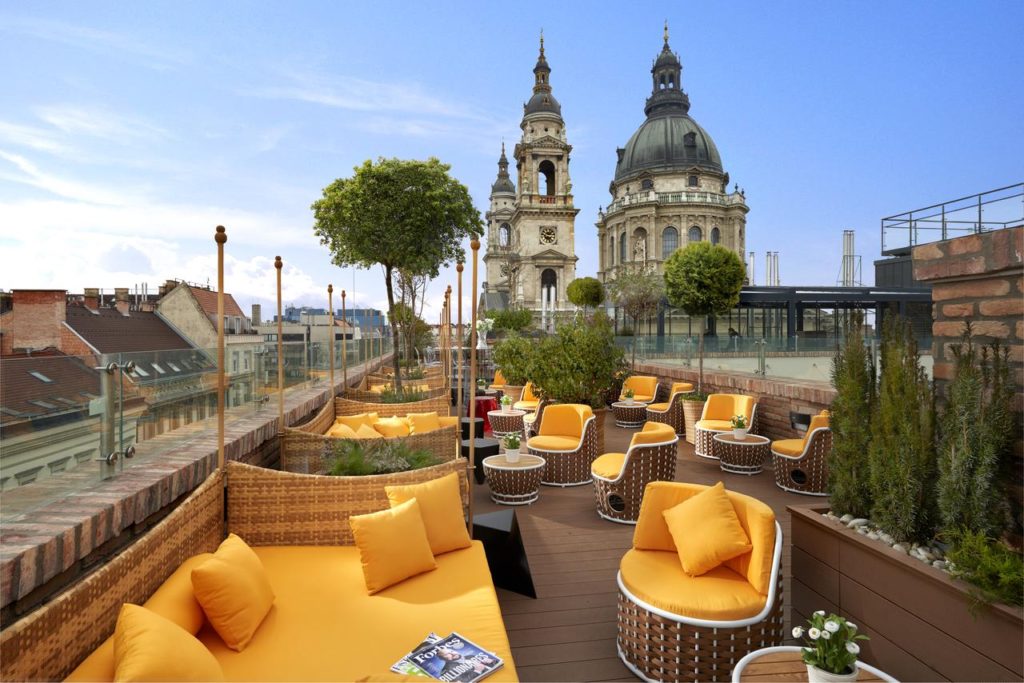 Within 15 minutes of Váci utca and in the shadow of St. Stephen's Basilica, the Aria is a luxury hotel with an excellent location and top-notch service. You might guess from the name that there's a music theme to this top hotel and indeed, one of its key features is the space-age piano in the gorgeous garden courtyard. The entrance and lobby has a keyboard carpet, treble clefs and violins hanging from ceilings and light fittings, and each wing is themed to a different musical genre with each room is dedicated to a different artist from Liszt to Louis Armstrong. Guests can relax in the spa with a beautiful pool, steam room, sauna, gym, and range of treatments. Dining and drinking continue the music theme with the Stradivari Restaurant, Satchmo's Bar and Library, and the music garden. The crowning glory is undoubtedly the rooftop High Note Sky Bar with its fabulous views of Budapest.
Four Seasons Hotel Gresham Palace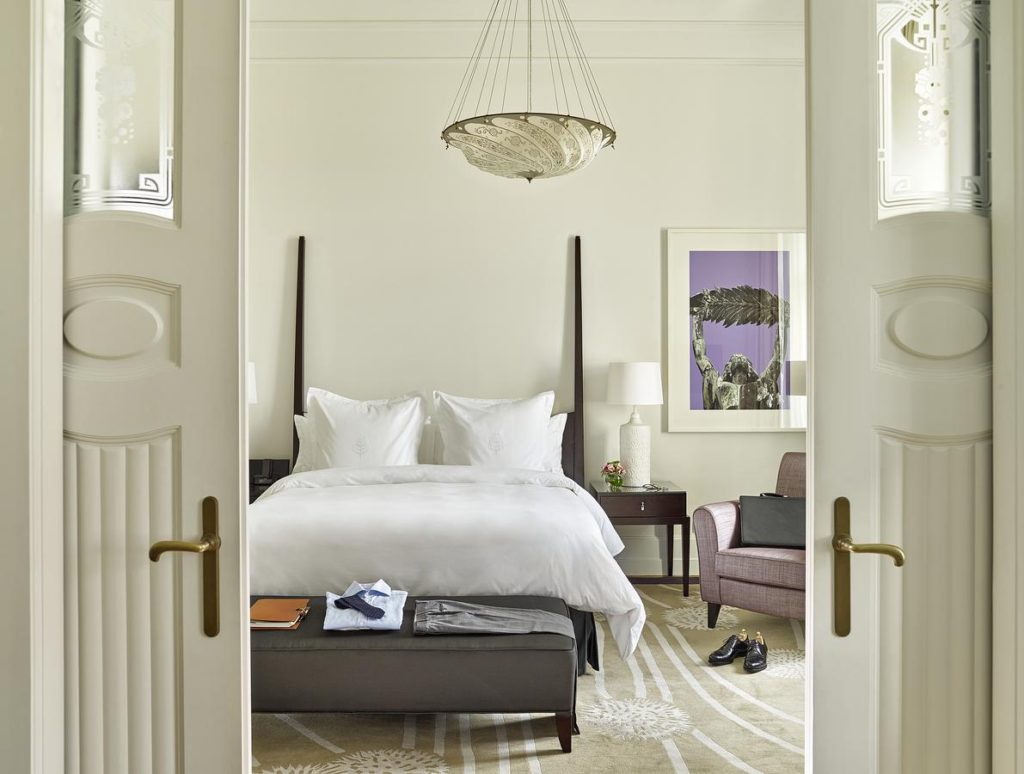 One of the grande dames of Budapest's luxury hotels, The Four Seasons Gresham is a stunning Art Nouveau masterpiece right on the banks of the Danube on the eastern end of the famed Chain Bridge. The stained glass and mosaic lobby, thick carpets, columns, chandeliers and gold all more than hint at palatial luxury and rooms are spacious and elegant with bathrooms of black and cholate marble. Guests can be pampered in the beautifully appointed wellness centre which includes an infinity edge pool, full treatment spa, sauna, steam room, and relaxation room. Afternoon tea is served in the lobby and you can choose to dine in the contemporary brasserie or the bar set in the historic Peacock Passage.
The Ritz-Carlton Budapest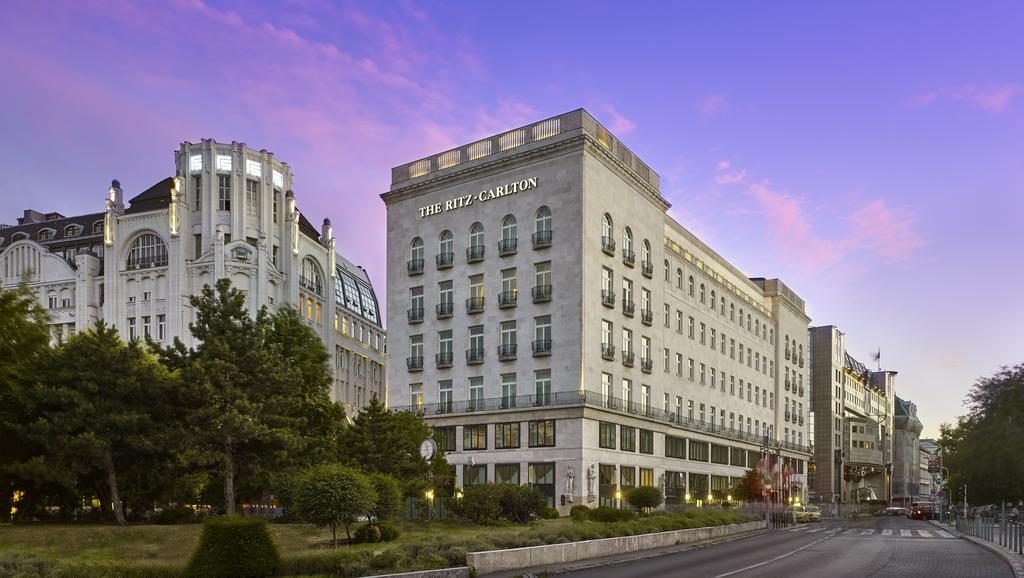 A splendid blend of the elegance of a bygone era with modern service standards and hospitality marks this centrally-located luxury hotel near to Budapest's main attractions and retail areas. Rooms are contemporary with neutral colour schemes and there's a "Hungaricum" showcasing various interests such as the Rubik's Cube invented in the country in 1974. The grand 19th-century building houses a spa with a lovely pool, 24-hour fitness centre, sauna, steam room, thermal suites, Jacuzzi and a full menu of treatments. You can dine on fine Hungarian cuisines in the restaurant or less formally in the lounge, while the cocktail bar calls you in after a day sightseeing for a relaxing evening with live piano music.
New York Palace, The Dedica Anthology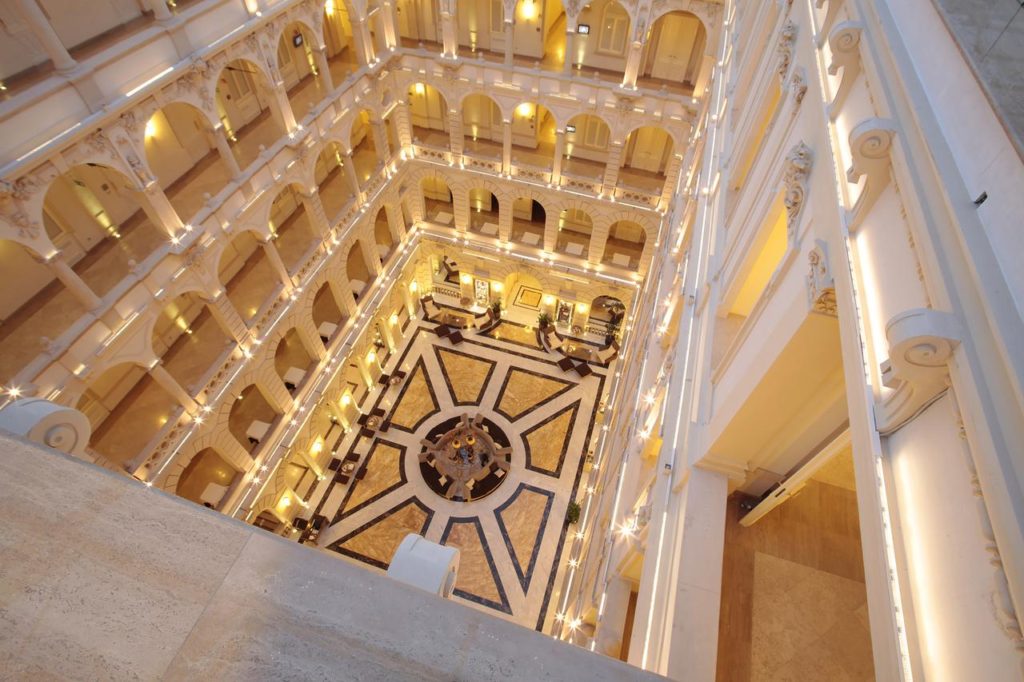 Completed in 1894, the New York Palace is one of the most elegant buildings in Budapest. With a harmonious marriage of classic and modern, the interior of the hotel has expansive and opulent public spaces featuring tons of marble, ornate columns, and gilding. Accommodations are large with modern fittings and amenities. Once the centre of literary life in the city, the ground floor is now the New York Café, a veritable belle époque feast for the senses with its ornate décor of carved marble columns, frescoes, and golden statues and aromas of excellent coffee. The grandeur continues in the luxury spa which is glorified by countless Swarovski crystals and is fitted with a pool, Jacuzzi, and sauna. There's also a separate fitness room. You can dine in the café or the more intimate surroundings of the fine dining salon or just kick back with a cocktail in the refined but welcoming bar.