Travel to a magical land where the sounds a Muezzin's calls to prayer echo through the air, intricate minarets dot the skyline and the air is warm and tropical. Cairo has long been a city of much wonderment and mystery – it's enchanting history, its opulent monuments, and its constant buzz make it a multi-layered city waiting to be explored. This city is busy (it has over 22 million inhabitants) and it never stops so be ready, but if you are seeking a place pulsing with energy and you can keep up, Cairo may just be the perfect city break for you. Discover the best luxury hotels the city has to offer with our handy guide.
Waldorf Astoria Cairo Heliopolis
Built in 2018, this hotel was designed (by the London-based Adrian Barboza studio) to evoke the sea and the sand, in earthy and green-blue tones. There are plenty of nods to its local heritage too, with a lobby made in the image of Pharaoh Ra's eye, as well as signature Waldorf Astoria elements, including the brand's classic clock which is surrounded by a Nile-like water feature. The hotel is surrounded by botanical gardens and provides close proximity to attractions such as the presidential palace, Khan El Khalili Bazaar and the Grand Egyptian Museum. Guests can also enjoy a jazz bar, a pool bar, Brasserie Ayda and a spa onsite. 
The St. Regis Cairo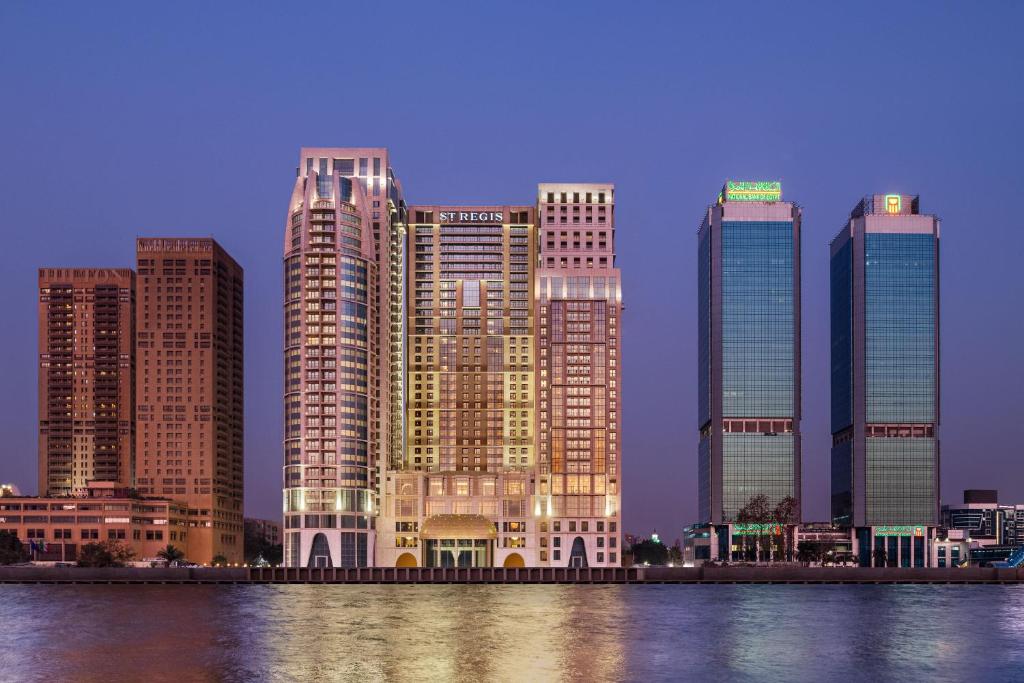 The St. Regis Cairo, a Marriott Bonvoy hotel, is located in the heart of the bustling metropolis, at the North end of the Corniche. Its prime location offers easy access to the many wonderful historic attractions this city is renowned for. The hotel is a striking sight on the skyline, standing at 36 stories tall and is equally as impressive inside showcasing modern Egyptian glamour at its best. The hotel presents 286 guest rooms and suites which sit alongside 80 luxurious apartments. Guests can enjoy an array of fine international cuisine served throughout the hotel's seven restaurants and bars; including La Zisa, a relaxed space that boasts sweeping vies across the Nile. There is an indoor and outdoor pool, along with a spa and fitness centre for guests to use at their leisure.
The St. Regis Almasa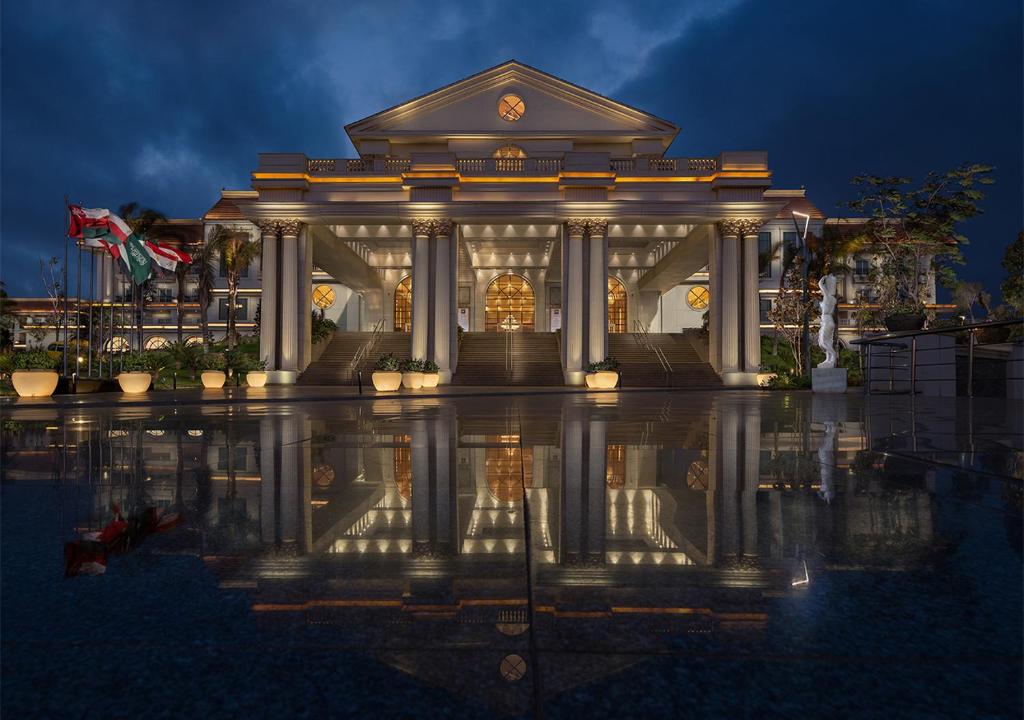 Combing luxury and comfort, The St. Regis Almasa Hotel, Cairo, a Marriott Bonvoy hotel, sits just outside the capital, in an area that is set to become the best address in the city, and offers guests a peaceful place to which to escape. The hotel presents 270 guest rooms, 90 suites, 60 apartments and 14 villas – all of which showcase timeless design and exquisite architecture and benefit from either a private balcony or patio overlooking the pool and lush landscape. The hotel's restaurants include three smart/casual options serving a range of international cuisines. There is a great selection of activities, both onsite and in the local area, for guests to enjoy; including a choice of swimming pools, fitness centre and spa, horseback riding, tennis, volleyball and much more. The brand's signature Butler Service is also available for guests to call upon for around-the-clock assistance.
Kempinski Nile Hotel

The Kempinski Nile Hotel, situated on the banks of the Nile River in Egypt's beautiful capital of Cairo, offers its guests a fantastic, 5-star boutique experience. Being in the heart of the capital's Garden City district, makes the local attractions, shopping areas and the famed Pyramids of Giza easily accessible to guests. With 137 rooms and 54 exclusive suites with private balconies, 4-star restaurants and lounges, rooftop pool, a luxury spa and fitness centre, the Kempinski Nile lives up to all expectations.
Four Seasons Hotel Cairo at Nile Plaza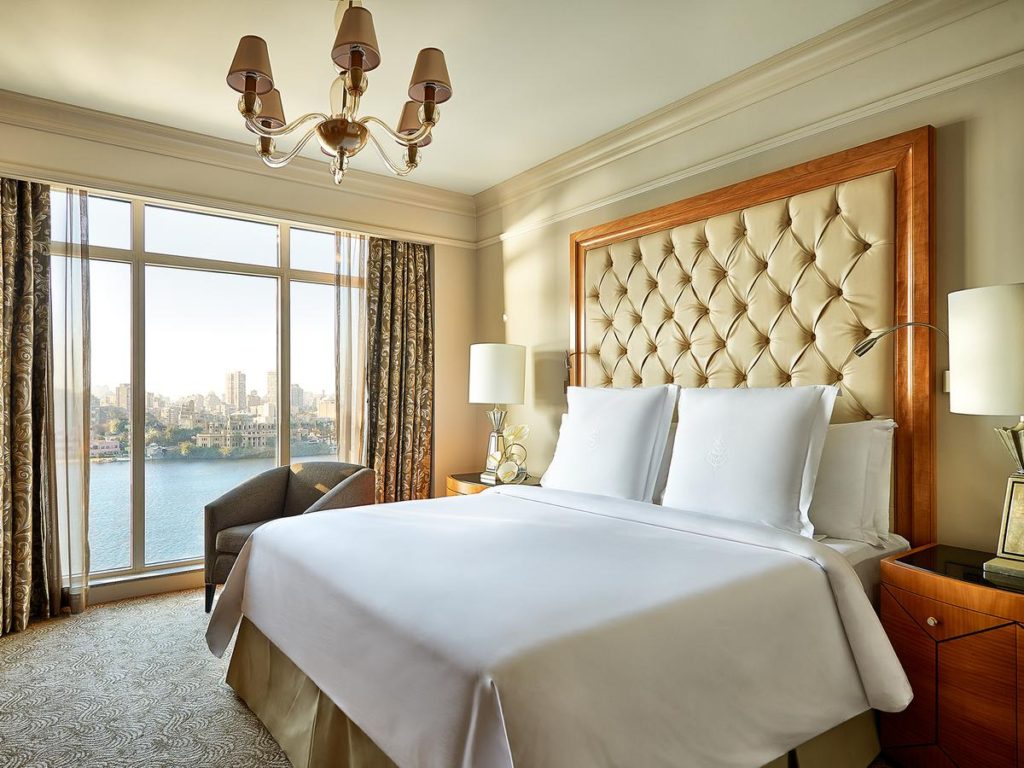 Guests are treated like celebrities at the Four Seasons Hotel Cairo at Nile Plaza. This luxurious 5-star hotel features panoramic views of the Nile River, air-conditioned rooms complete with a marble bathroom and flat-screen satellite television. A beautifully landscaped outdoor pool area, luxury spa facilities, a salon, gym, indoor pool, car rental and a rich breakfast buffet served each morning are offered for the sole purpose of making sure that their luxury treatment lives up to their guest's expectations.
Hotel Sofitel Cairo Nile El Gezirah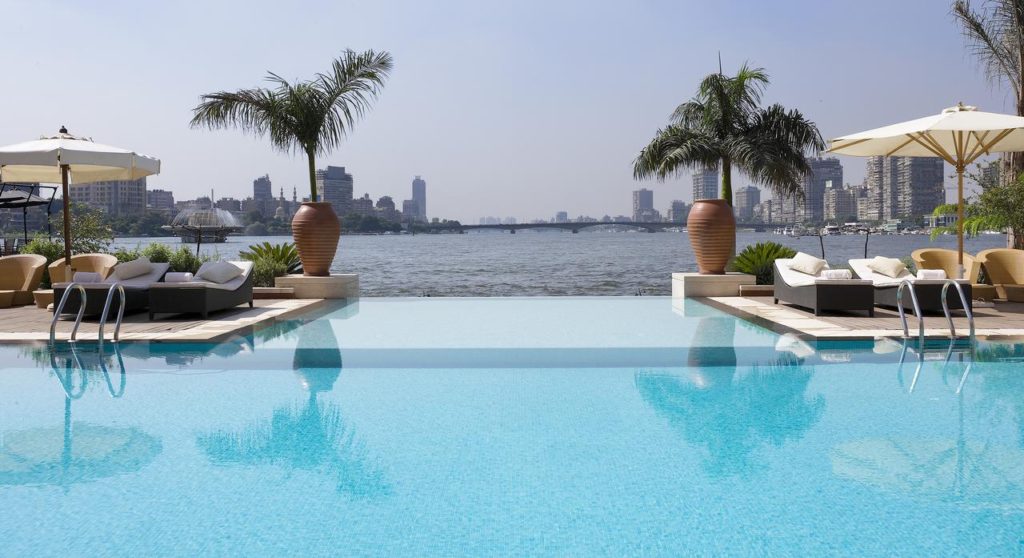 Guests to the Sofitel El Gezirah, a luxury 5-star hotel situated on the River Nile, can enjoy leisurely strolls along the hotel's private promenade that offers spectacular views of the river. Apart from a variety of leisure facilities, the Sofitel El Gezirah also offers no less than seven restaurants serving Egyptian, Moroccan, Indian and Italian cuisine. Bars on the property include the trendy Window on the Nile and the Le Duplex Bar. Tours and trips of the area can be arranged with the concierge.
InterContinental Cairo Semiramis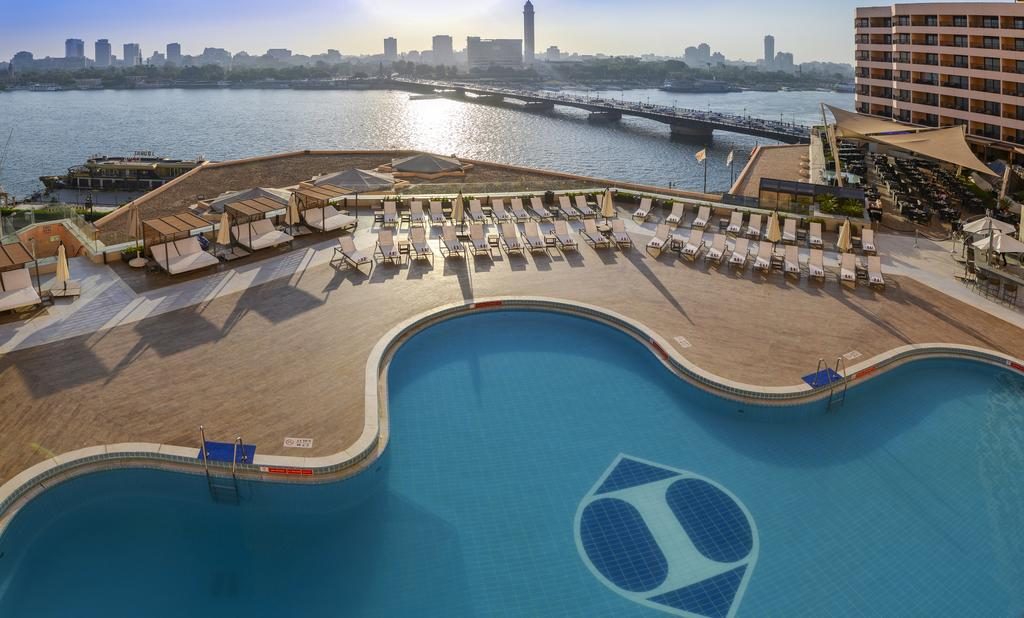 Just a five minute walk from the Egyptian Museum, the InterContinental Cairo Semiramis, a luxury 5-star hotel overlooks the Nile River. It features a variety of facilities, including a heated outdoor swimming pool, a gym, complimentary WiFi, an on-site casino, as well as 24-hour front desk service. All rooms have large balconies offering views of either the city or the Nile River. Satellite flat-screen television, as well as in-room cold and hot drinks are available for guest's comfort. The restaurants at the hotel offer meals ranging from Thai and Italian to Lebanese dishes and guests can watch professional belly-dancers performing at the Haroun Al Rashid Night Club.
The Nile Ritz Carlton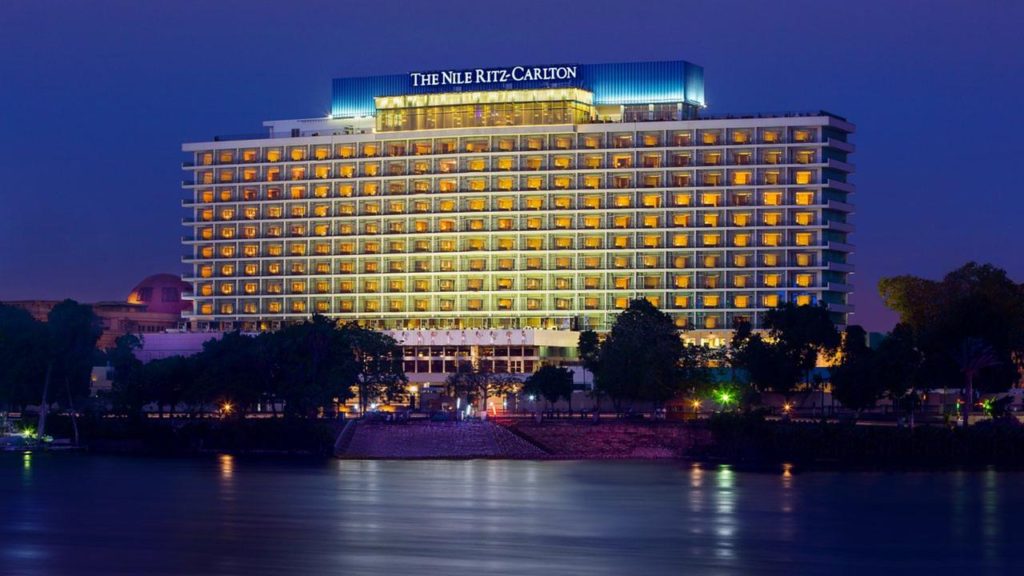 The iconic Nile Ritz Carlton, situated between Tahrir Square, the Nile River and next to the Egyptian Museum, is situated right in the heart of Cairo. Rooms are elegant and spacious, each of them offering a working desk, television and coffee machine. Every room includes a private en-suite bathroom comprised of a walk-in shower and luxury bath. Slippers, bath robes and hairdryers are included too, for guest's comfort and convenience. The Nile Ritz Carlton also has a casino and plenty of night-life entertainment for guest's enjoyment, as well as nine top-class restaurants and bars.
The Fairmont Cairo, Nile City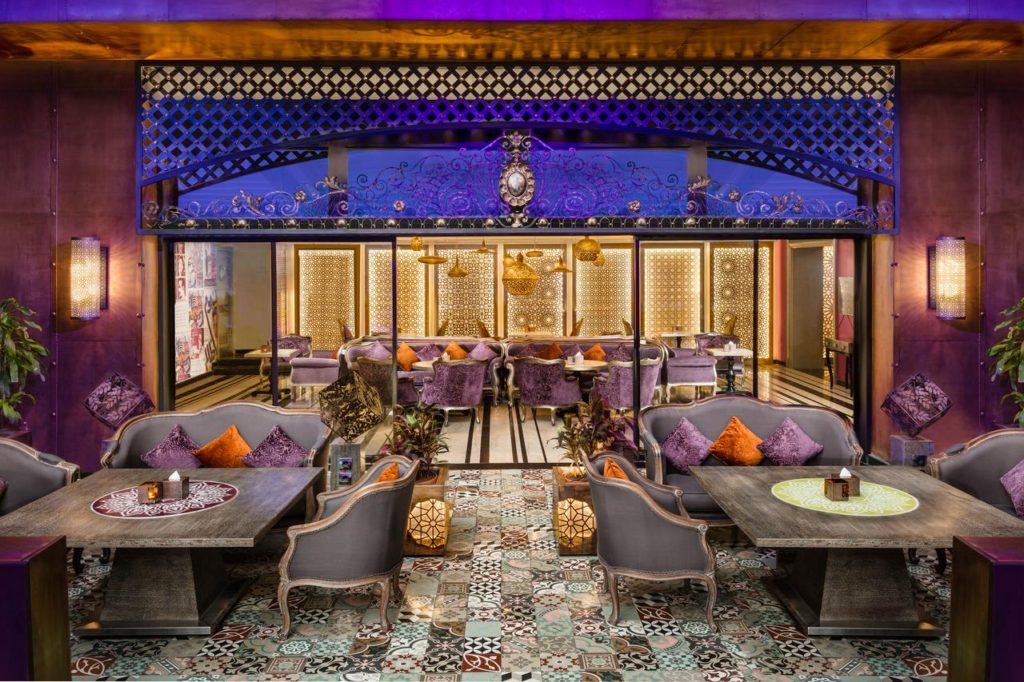 Situated just 23.5 miles away from Cairo International Airport, The Fairmont Nile City offers everything in the line of luxury that guests would expect during their stay. Guests stay in elegant, soundproof rooms, some of them offering panoramic views of the Nile and can choose to dine at one of seven food and beverage venues on the property. Al Fresco dining on the rooftop terrace is also available and the Bab El Nil provides great Middle Eastern cuisine and night-time entertainment.