Cyprus is a lot more than just sun-soaked beaches and turquoise warm waters. There is that too, but take time to explore more of this island and be rewarded with a captivating culture, alluring landscapes steeped in myth and history, and a taste-bud tingling mix of culinary customs. Whilst there may be a divide on this island, all inhabitants share a distinct belief in family bonds and a sense of community – whatever side of the line you are on, you are sure to experience warm and welcoming hospitality. The natural beauty of the island, the wonderful Mediterranean climate and the myriad of outdoor pursuits on offer will all surely tick the vacation must-have boxes. If that isn't enough, check out some of the beautiful luxury hotels we love on the island and see if you can still resist booking then…
Cap St Georges Hotel & Resort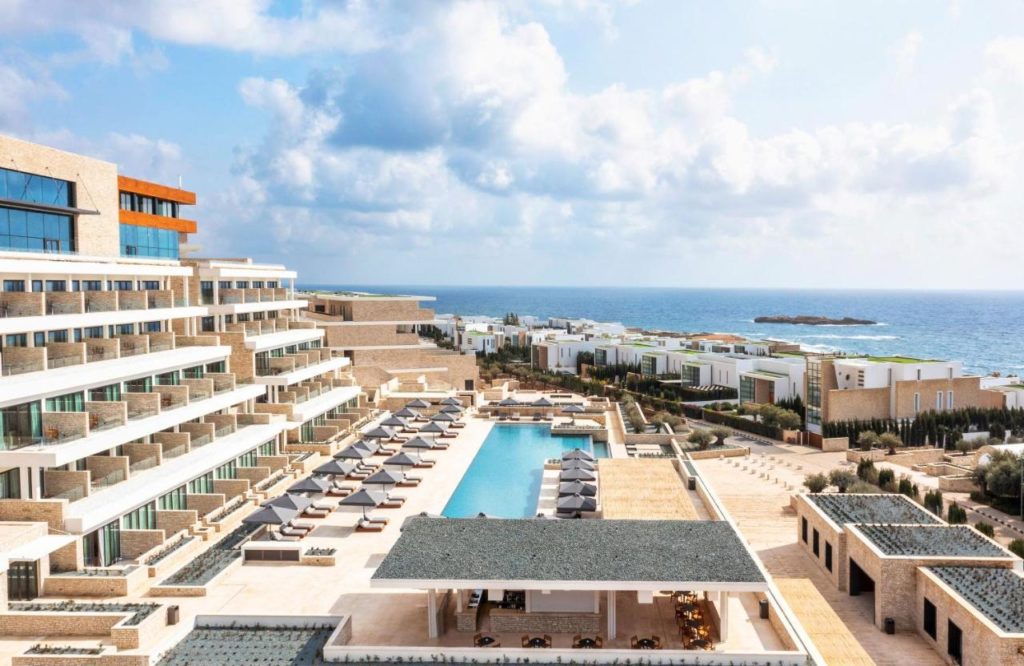 Offering some of the most upscale accommodation in Cyprus, this sleek resort is beside the exclusive Maniki Beach. Guests can arrive by helicopter for what promises to be the full five-star experience. But it's understated and chic, using natural textiles and neutral colours alongside cutting-edge technology and top-end products. The tranquil ground floor spa encompasses an indoor pool, hydrotherapy whirlpool, cold plunge pools, a lounge space, thermal saunas, steam rooms, aromatherapy experience showers and Rasoul mud treatment chambers. There are seven stunning venues in which to eat and drink, including the romantic and elegant Thalassa Pool Bar.
Aphrodite Hills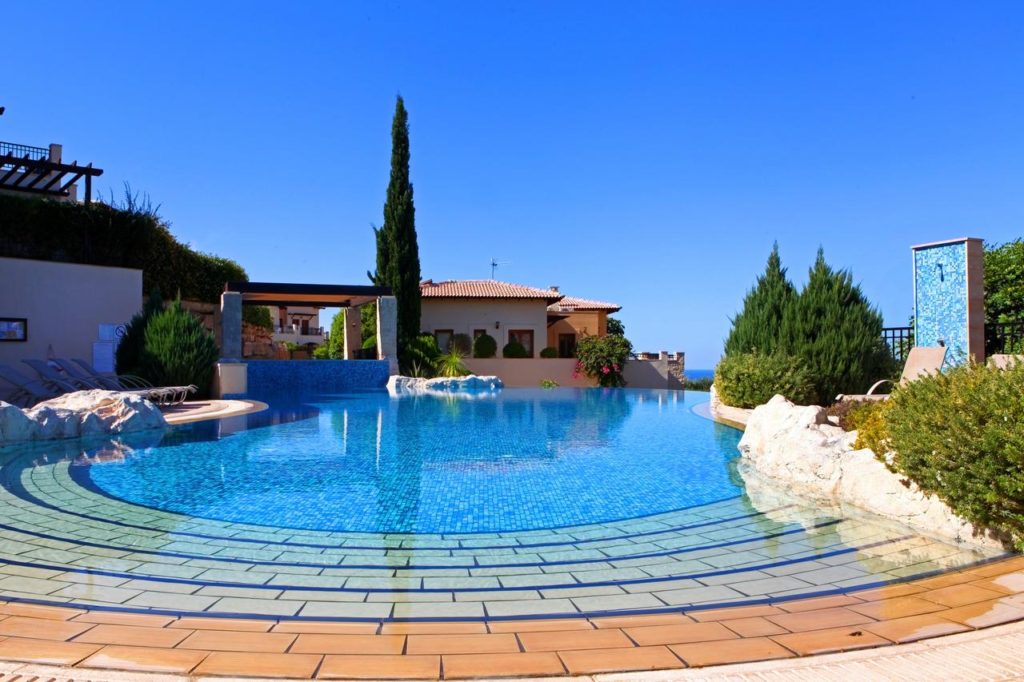 Located on the island of Cyprus, Aphrodite Hills Resort is the place to set all your feelings free. This 5-star luxury hotel offers panoramic Mediterranean Sea views that wave relaxation mood. The hotel provides unique accommodation with sublime elegance, an opulent spa, and restaurants, not to mention,that  it's surrounded by one of the island's finest golf courses with manicured greens. Culinary skills are diverse at the Aphrodite Hills. They include fine Mediterranean dishes, international dishes, gourmet-style Asian cuisine, cuisines from Cypriot souvlaki, and simple Italian pasta. The Aphrodite Hills attracts people from all walks of life, from families, honeymooners, business people, and people simply looking to get away from their busy schedules.
Four Seasons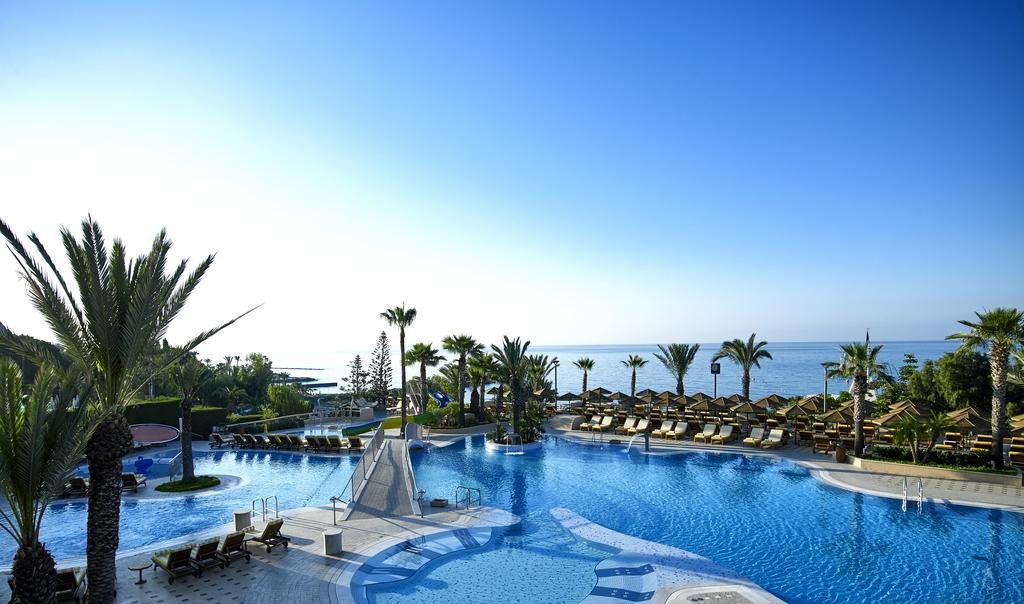 Located on the coastline with unhindered views of the Mediterranean Sea, the Four Seasons Hotel has everything you need to relax, have fun, and rejuvenate your body and mind. The attention to detail at this 5-star hotel is next to none. The exquisite guest rooms, unique luxurious spa, a grand foyer and atrium with dazzling grey marble décor, water sports facilities, are just but a few of the facilities that set the scene for a destination that's lavish in the extreme. From the Mediterranean-inspired dishes to Chinese cuisine, dining at the Four Seasons Hotel is simply exquisite. This luxurious hotel is perfect for romantic gateways, family holidays, business trips, and anyone looking to just relax.
Anassa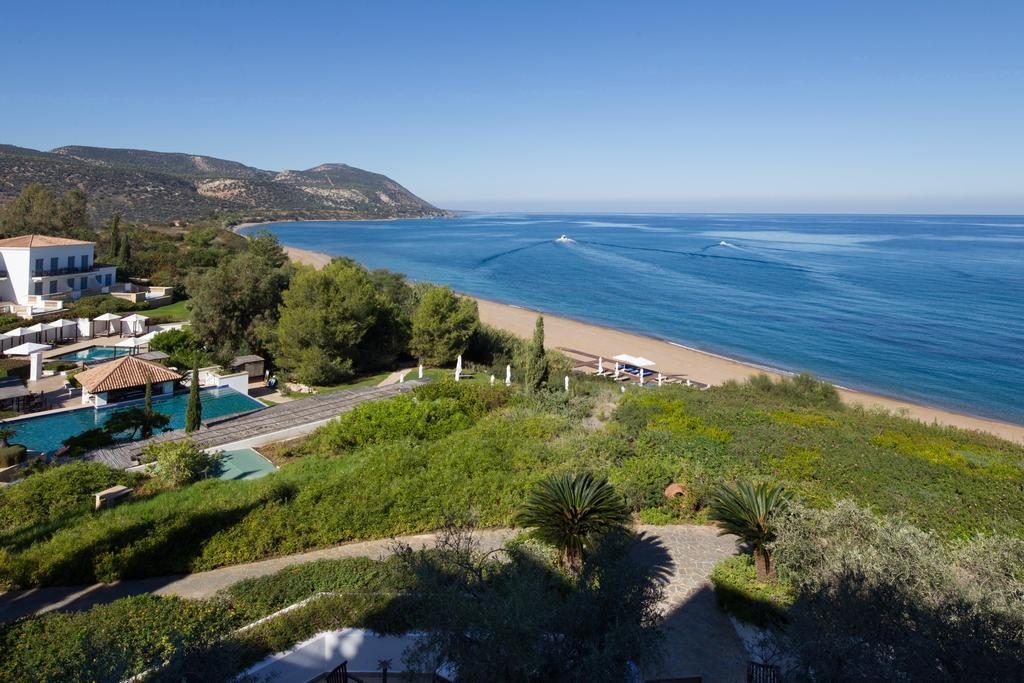 As the name suggests, Anassa Hotel is a true queen of the island of Cyprus. This 5-star luxurious hotel displays the charm of a traditional Cypriot village. The hotel is set tumbling down a secluded hillside with outstanding natural beauty, and the facilities are designed to blend in with the surrounding landscape. You can also see the crystal clear waters of the blue lagoon by taking a short boat ride. The hotel offers a self-contained experience as it houses facilities such as a neo-classical spa that offers tranquillity, Ultra-glamorous Kult Boutique, excellent restaurants, swimming pools, and much more. Anassa has an outstanding level of cuisine, which includes huge buffets, infused Asian and Mediterranean dishes, and barbecue. From friendly kids clubs to beach activities, the hotel offers something for everyone to keep in their memories.
Casale Panayiotis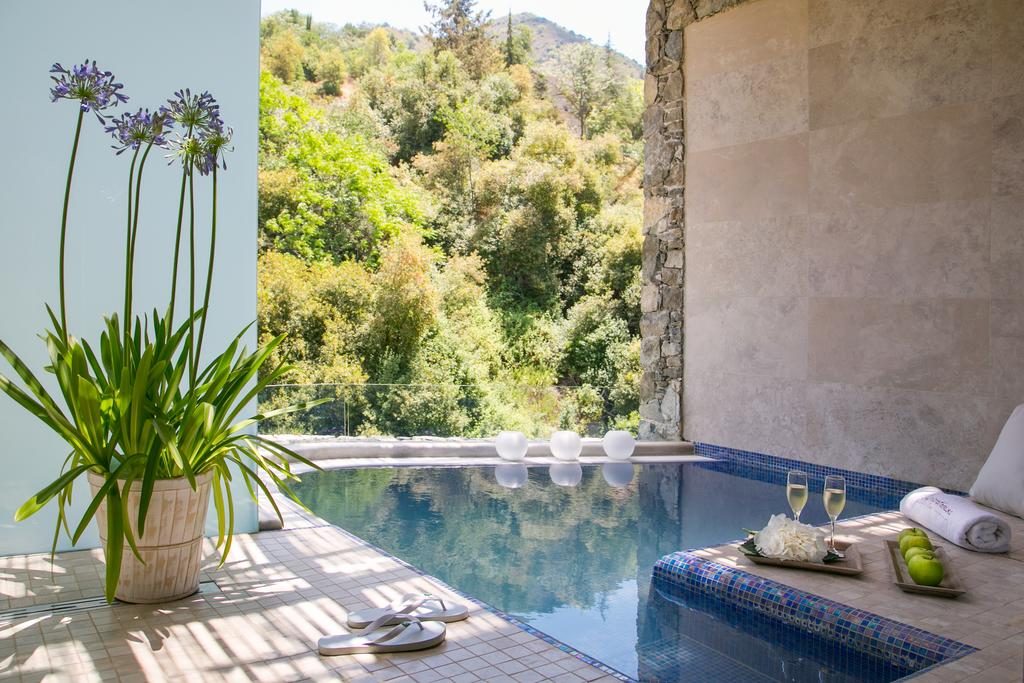 Located in the beautiful Marathasa Valley in Kalopanayiotis village, the Casale Panayiotis Hotel has been renovated to include a wide variety of facilities that will make your stay unforgettable. The hotel invites you to discover village life in a luxurious setting. With accommodation scattered, they have TV, Wi-Fi, and fireplaces. Casale Panayiotis is perfect for nature-lovers as it overlooks a rippling brook in the evergreen shade, which offers stunning views of the rugged mountain peaks, not forgetting the historic St. John Lambadistis Monastery. Casale houses several eating and drinking venues. Even though it accepts children, the hotel is a perfect destination for couples looking for a romantic gateway.
Golden Bay Beach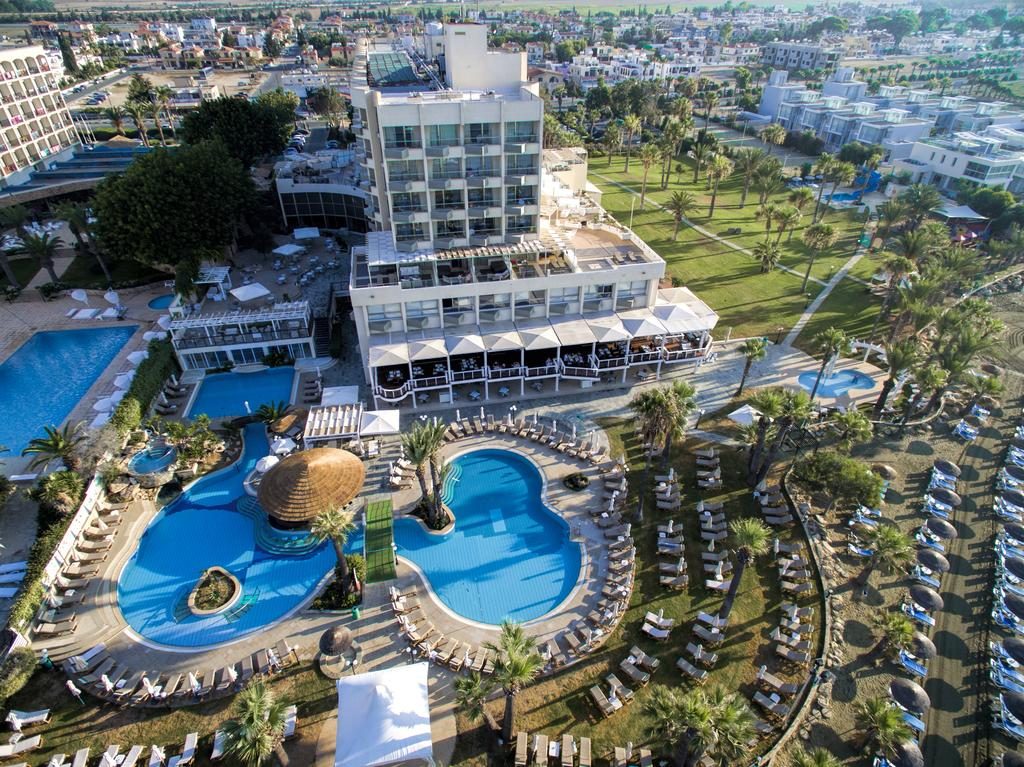 Golden Bay Beach Hotel offers a traditional setting with sparkling décor and cutting-edge designs. The guests here enjoy the relaxing sound of waves crashing as the hotel is located right next to Larnaca's famous Golden Bay. This 5-star luxurious hotel is known for a wide range of excellent facilities, exemplary hospitality, and luxurious surroundings. The food and drinks here are out of this world and include Cypriot classics, local delicacies, cocktails, and beers. Golden Bay Beach also comprises of a varied programme of activities and children's menus for your little ones.
Columbia Beach Resort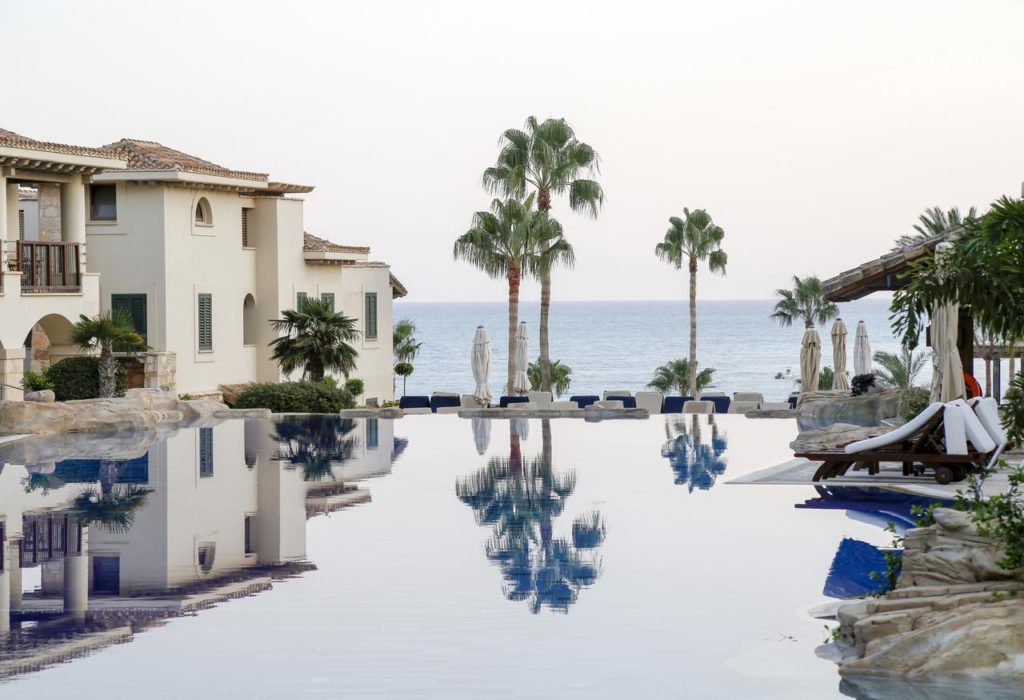 Located in the Bay of Pissouri, the Columbia Beach Resort is a home away from home. Relax in the lagoon style pool, while admiring the breath-taking views of the Mediterranean Sea. Revitalise your body and mind with award-winning spa treatments. And, wind down with gourmet cuisine that includes à la carte dishes and fine local dishes. The interior is filled with detailed designs, luxurious and majestic views, and breath-taking surroundings. This luxurious hotel offers several activities, including boat trips and swimming lessons. The Cub Life crèche and the Den Kids Club offer fun activities for the kids.
The Elysium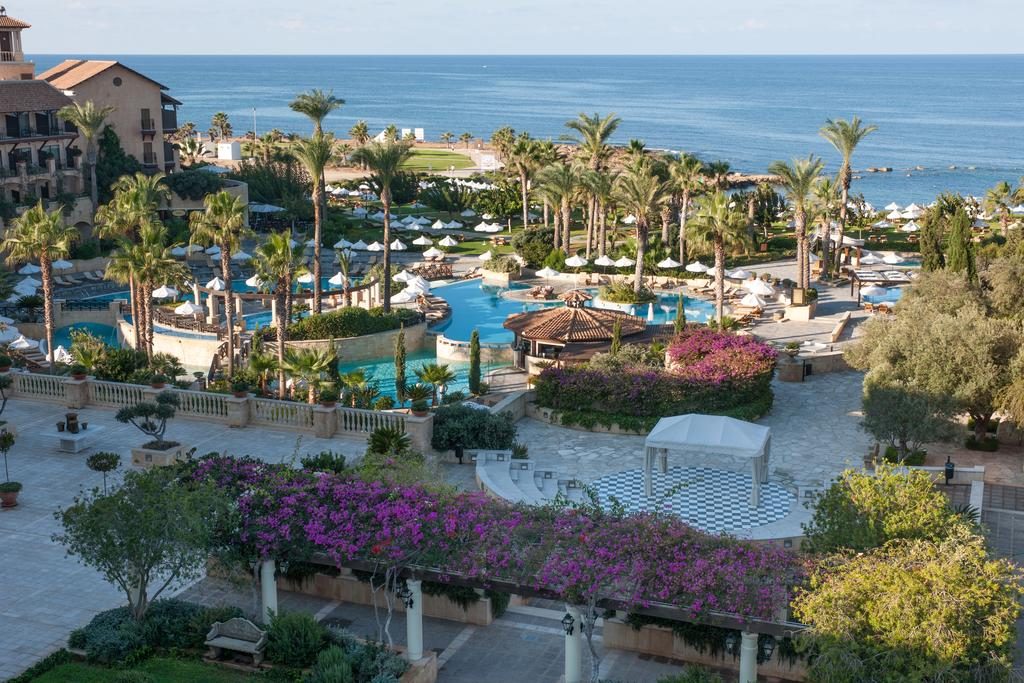 The Elysium, meaning blissful in Greek mythology, is surrounded by a busy tourist area, including the famous Unesco Tombs of the Kings site. But, once inside, it feels like you are miles away in another part of the world. The hotel consists of a stylish wellness centre that offers ESPA beauty treatments, a gym, a children's play area, and a Byzantine-style chapel that's popular for weddings. With designs that are inspired by the Byzantine architecture, this luxurious hotel manages to be palatial and welcoming at the same time. The Tuscan-inspired cuisine, Cypriot dishes, and international a la carte cuisine make dining at the Elysium feels like an adventure.
Annabelle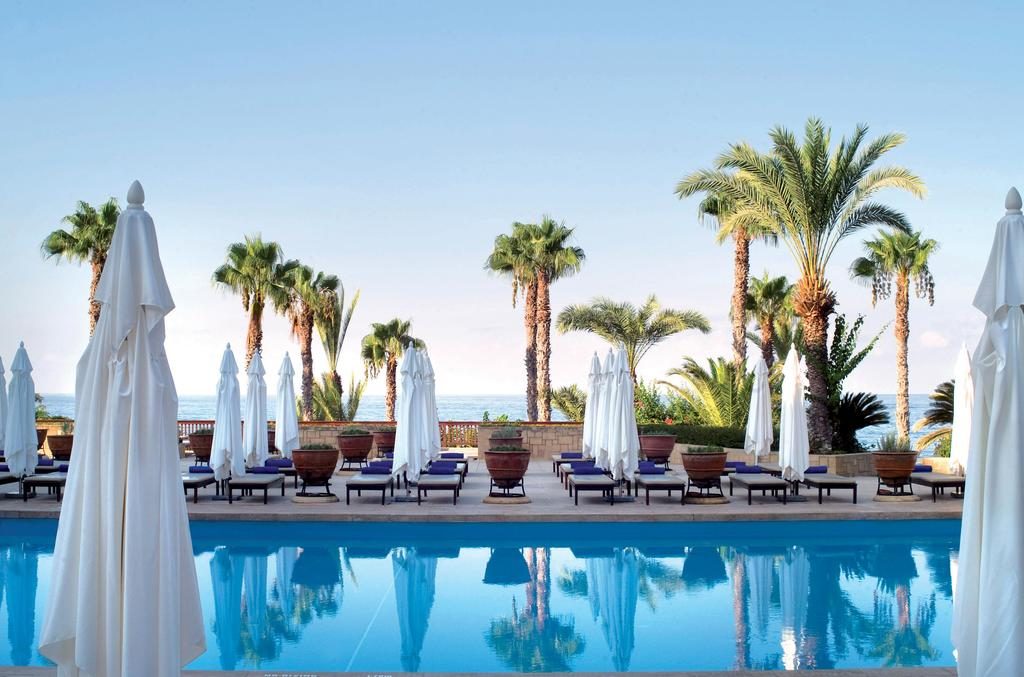 Everything at the Annabelle hotel from the facilities to the cuisine, to the service, celebrates the exceptional heritage of Paphos. The hotel is set right beside the beach with richly planted tropical gardens, offering a sense of privacy. While it's been in existence for over 30 years, this luxurious hotel has recently been transformed to offer the feel of an effortlessly elegant doyenne and a sense of glamor. The list of facilities in this hotel is endless and the friendly team is super-efficient when advising on local attractions.