Thailand's second largest island, Koh Samui, attracts the most diverse groups of visitors of all the Thai islands. Visitors enjoy the four and five star hotels, relax on the fabulous beaches, and make use of the top quality restaurants and spa facilities. With its excellent island transport links, it is also a favourite stop-over for the island-hoppers who wish to spend their two or three weeks holiday visiting as many of the islands as possible. To give you an idea of what this tropical paradise has to offer, here is a selection of some of the best hotels on Koh Samui.
Heading To Phuket? Read our guide to the best Luxury Phuket hotels.
Banyan Tree Samui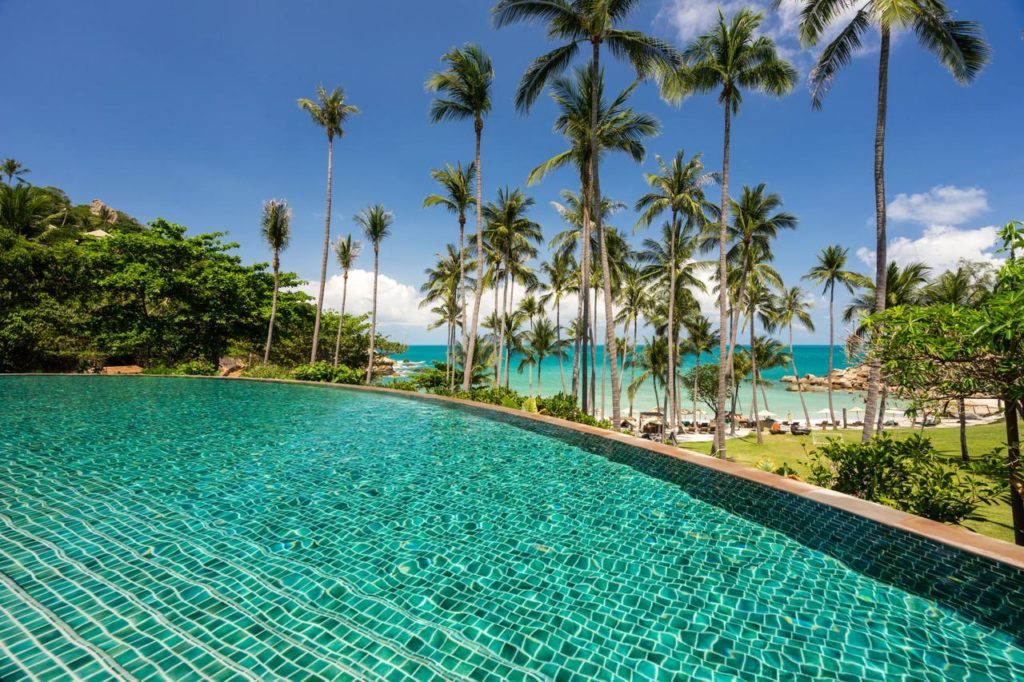 The Banyan Tree Samui resort nestles on the edge of the Lamai jungle. From its secluded position overlooking the Gulf of Thailand this plush five star, 88 room complex whispers tranquillity. With its private beach, three restaurants, three lounges, indoor and outdoor pools, top quality spa, wellness and fitness centres with personal service, guest don't need to even leave the complex. However, for those wishing to explore more of this idyllic island, water and road shuttle transport is readily available.
Belmond Napasai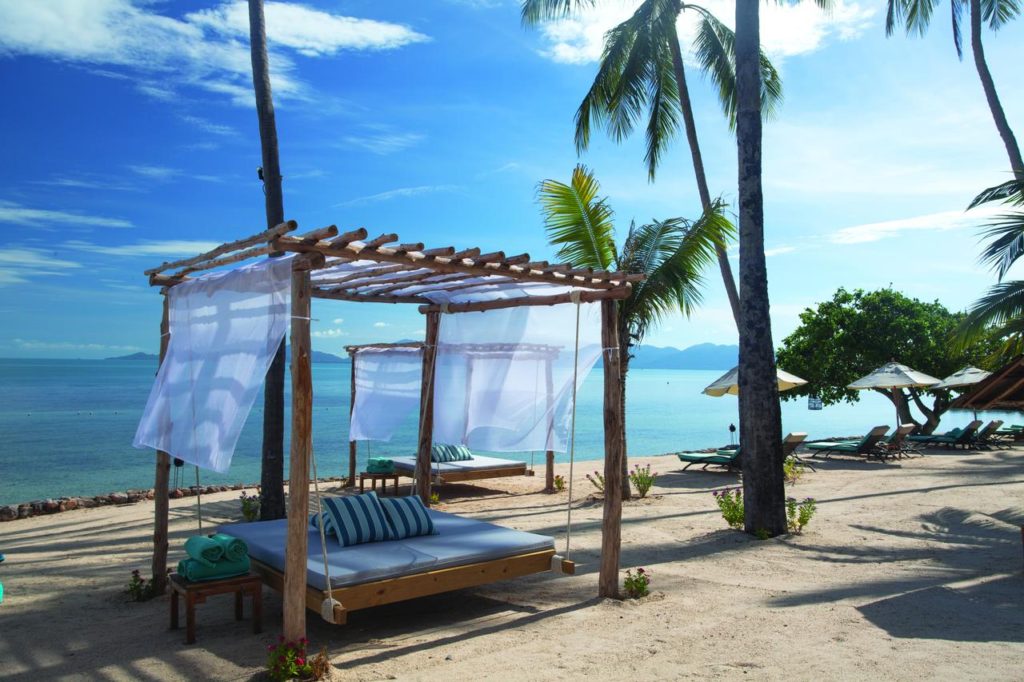 Just 10 miles from the airport, the Belmond Napasai five star hotel complex is snuggled amongst the palms that border its picturesque private beach. With 24 suites, 45 villas and a raft of different things to do, it is an ideal venue for a family holiday. Activities include an attractive infinity pool, children's pool, spa and wellness treatments, tennis courts, and a variety of water sports, boat trips, golf, and elephant excursions. With qualified dive instructors on hand, the whole family can sign up for diving or snorkelling lessons – or just lay back, unwind, and enjoy the tranquil atmosphere of the Belmond Napasai.
Four Seasons Resort
Situated just a 30 minute drive from the international airport, and the same distance from Big Buddha, Four Seasons lies on the northwest tip of Koh Samui, at Laem Yai Bay. One of the most popular destinations on the island for those seeking an 'away from it all' romantic occasion or peaceful break. Four Season's staff have built a well deserved international reputation for offering guests the very best in personal service. Add to that the splendour of their 60 detached villas, picture postcard surroundings, gourmet cuisine, extensive range of activities and you have the perfect recipe for complete holiday indulgence.
Ammatara Pura Pool Villa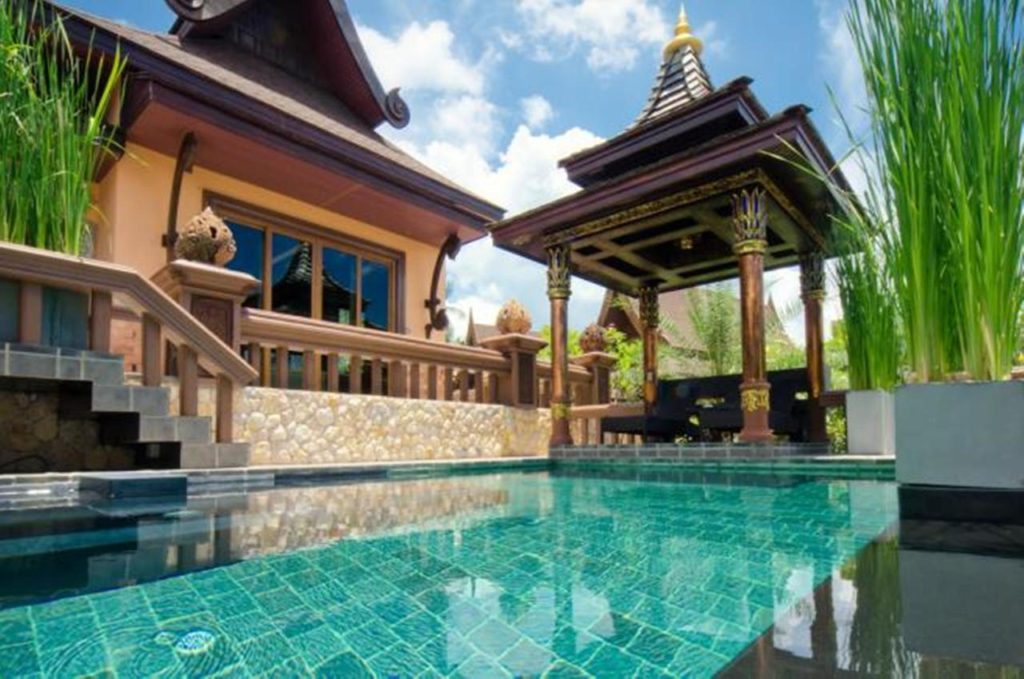 If history and culture are on your holiday agenda then a stay at the Ammatara Pura Pool Villa complex on the edge of Lamai Beach should fit the bill. The whole complex is traditionally styled, with much use made of dark Thai wood, intricately carved trees, statues and religious deities. The beautiful villas also embrace traditional building techniques with timber beams, cool tiles, and heavy, period style furniture. The restaurant offers Asian and International cuisine and vegetarian and vegan options. With a sauna, spa and fitness centre guests can be as active or as laid-back as they like.
Vana Belle, a Luxury Collection Resort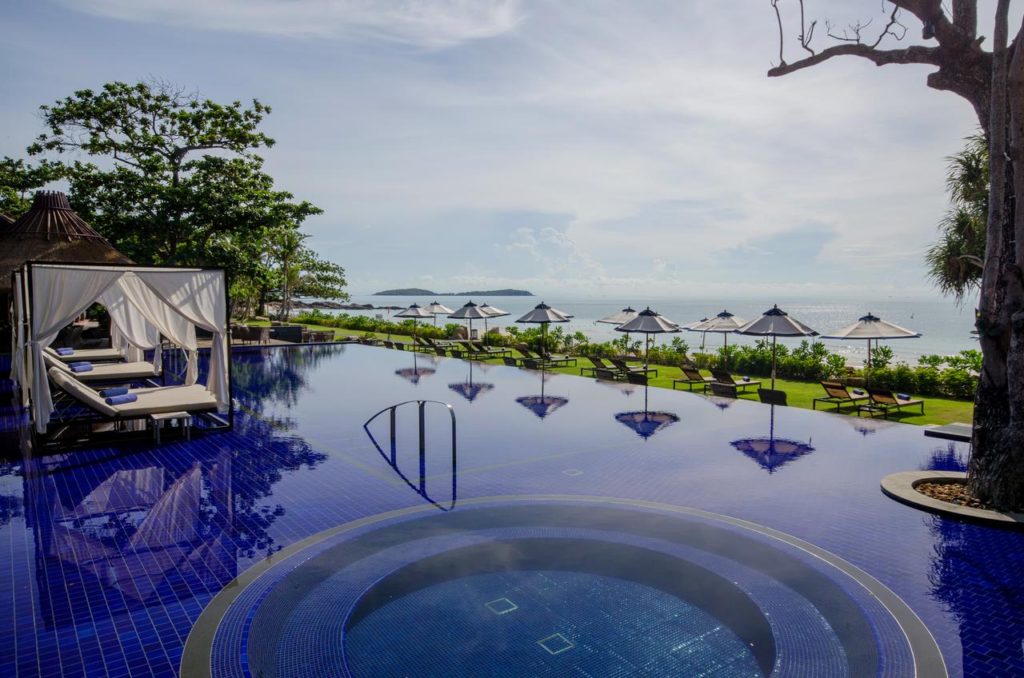 Only a fifteen minute drive from the airport lies the stunning beach area of Choweng Noi and the 80 suites and villas of the luxurious Vana Belle Resort. Lying back off the beach, amid swaying palm trees and tropical vegetation, the Vana Belle offers a tranquil location from which you can explore the surrounding area. Alternatively if exploring doesn't appeal then guests can choose to soak up the relaxing atmosphere with a good book, interspersed with visits to the spa, wellness and fitness centres. Restaurant facilities are limited, with Panali, the shore side eatery serving Italian cuisine, and the hillside Kiree restaurant, offering guests traditional Thai food.
Silavadee Pool Spa Resort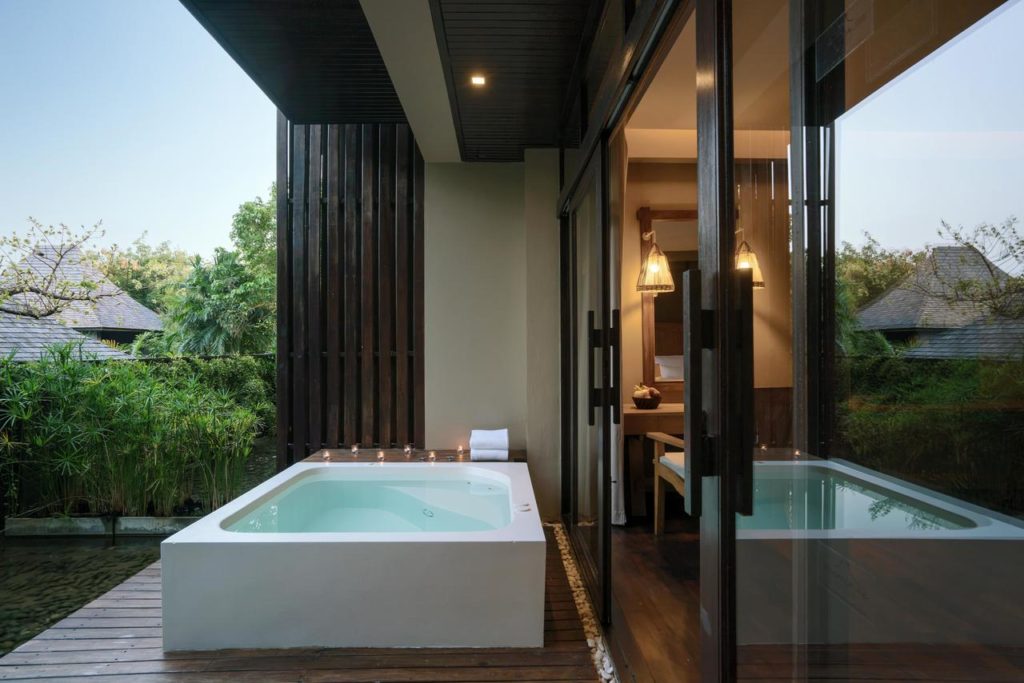 The hillside location of this luxury resort allows the most stunning views over the Gulf of Thailand. Just 15 minutes from the airport, Silavadee means 'beautiful rock' in Thai, and refers to the pristine, private beach just a few minutes' stroll from the resort. The 44 villas and 36 rooms are decorated with modern Thai furniture and fabrics. Whether relaxing around the pool, eating in the hillside restaurant, or enjoying a cocktail on the rooftop terrace, the stunning views across the bay will provide memories to last a lifetime.
Muang Samui SPA Resort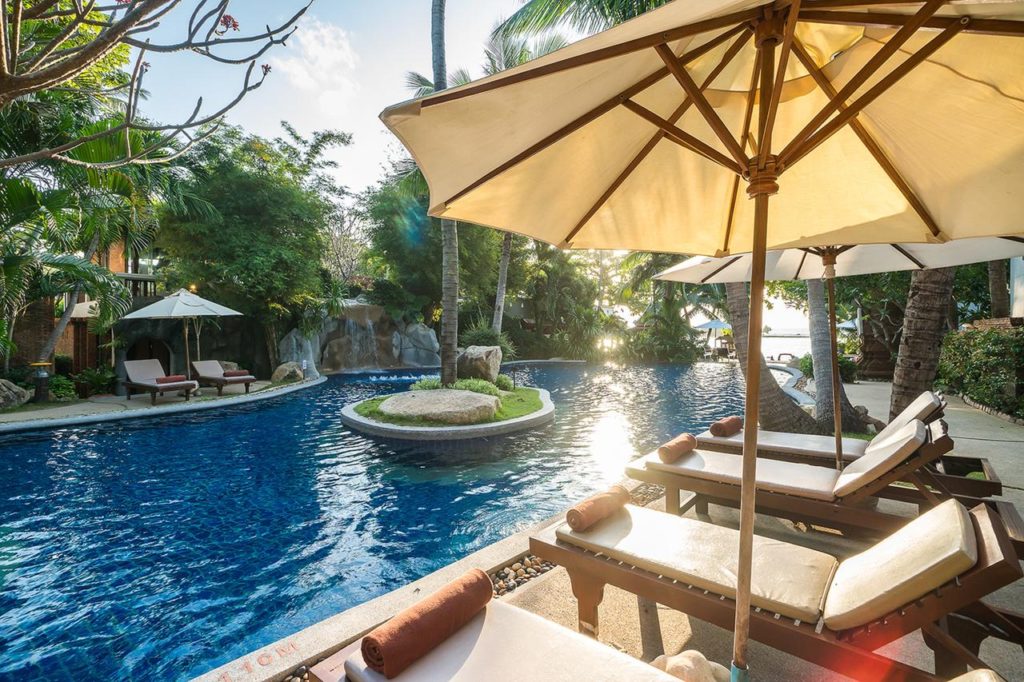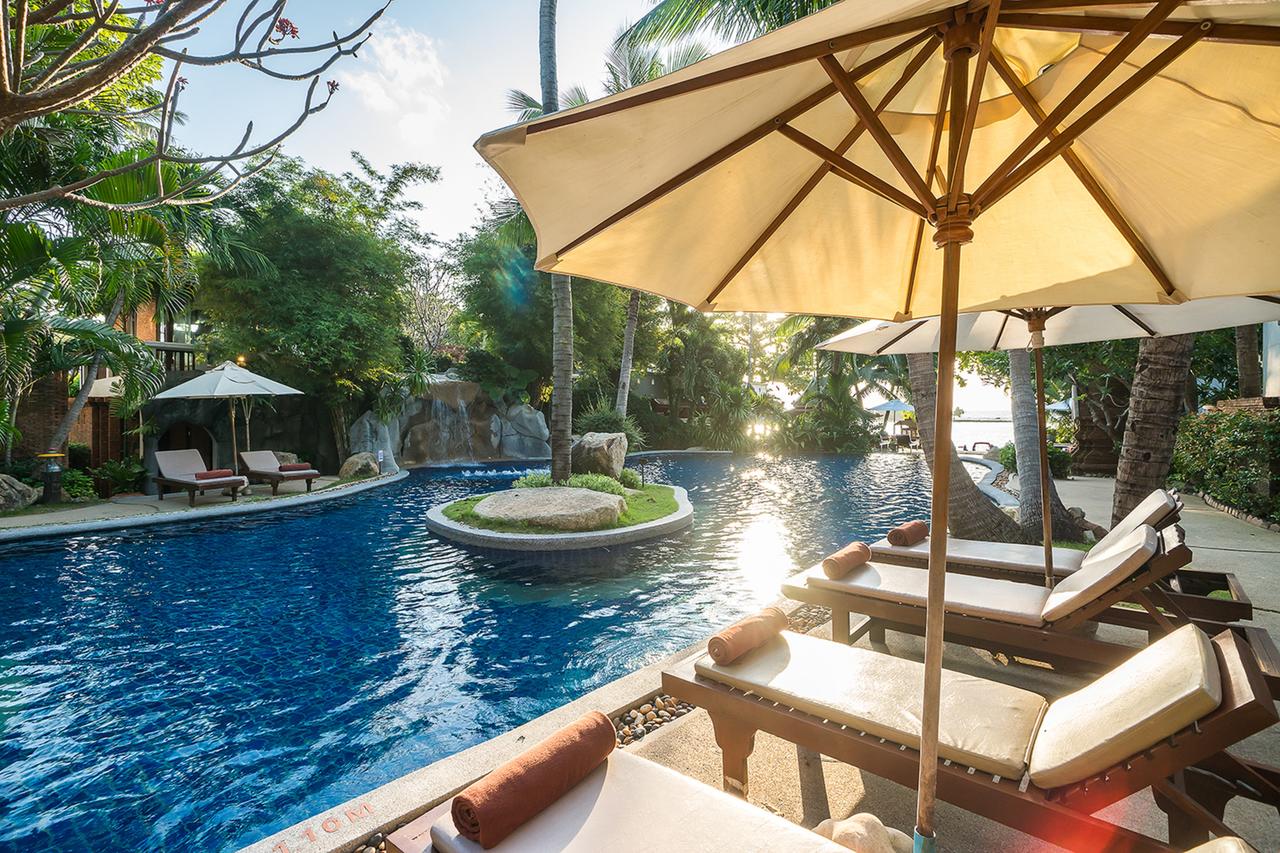 Muang Samui is on the east coast of the island, and just ten minutes by car from Koh Samui's airport, or 15 miles from Nathon City if arriving by ferry. A boutique complex, the resort has 53 suites, all with terraces and views out to sea or across the tropical gardens. Comfortable rooms are decorated in typical Thai style and have all the usual facilities. The two restaurants serve Italian, international, or traditional Thai cuisine. Guests can choose to spend their time unwinding around the pool or on the beach, before jumping into a hire car to explore further afield.
Anantara Bophut Resort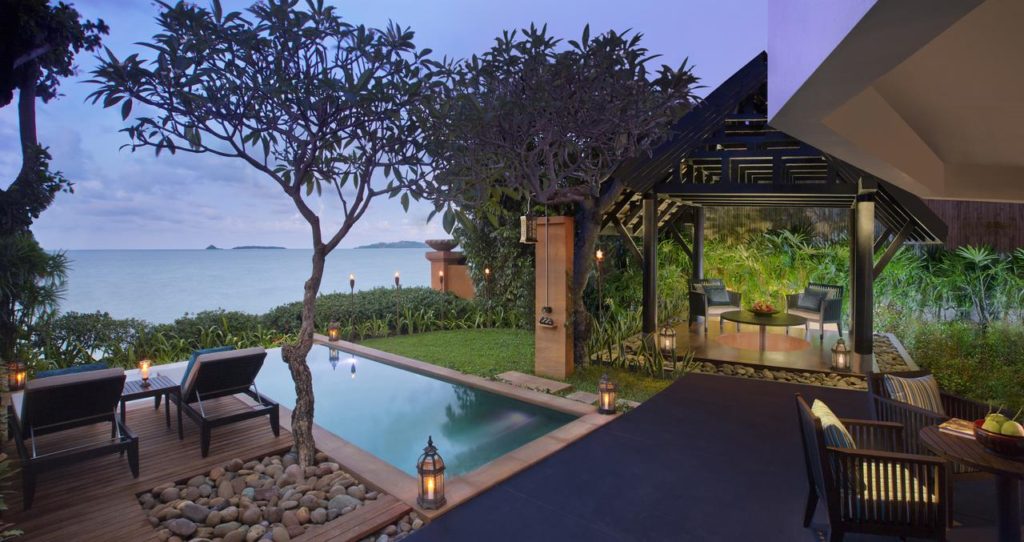 For guests who enjoy trying a little of everything when on holiday, the Anantara Bophut Resort is ideally placed to do just that. Popular with both couples and families, in-house facilities are excellent. Rooms, although not as large as some other resorts, are tastefully decorated, and seamlessly blend traditional with contemporary. Of its three excellent restaurants, the Full Moon Samui is the piece-de-resistance with its many seafood, international and Thai speciality dishes. Amongst its many facilities, the exceptional spa and wellness centre is an experience not to be missed. Add to that being next door to the Fisherman's Wharf at Bo Phut and only a short taxi ride from Chaweng's bustling night life makes the Anantara Bophut Resort a fantastic base.