Over 40-million visitors a year make Paris the most visited of all the European capital cities. The city is awash with iconic monuments. The Eiffel Tower, the Louvre, Notre Dame, the Bastille, the Arc de Triomphe, and the Palace of Versailles, to name but a few. The romance of strolling beside the River Seine. The smell of croissants and coffee at breakfast time. A glass of French Chardonnay on the terrace of a small café, as you do a little people-watching. Gourmet dining in the chic bistros and restaurants, and elegant evenings at the theatre or opera. Taxis to Pigalle, South Pigalle and SoPi for those wishing to party into the early hours. With an alluring atmosphere you can almost taste, Paris has it all. Why not find out for yourself, and treat yourself to a short break in a luxurious Parisian hotel.
La Fantaisie
La Fantaisie, a family-owned boutique hotel by the Leitmotiv Hotel Group, has recently opened in Paris' Faubourg-Montmartre neighbourhood, offering a unique and enchanting experience. Designed by renowned Swedish designer Martin Brudnizki, the hotel's interiors reflect nature's beauty with soft greens, warm yellows, and coral touches, creating a tranquil atmosphere for guests, while the hotel's 63 rooms and 10 suites were envisioned to provide a total disconnect from the hustle and bustle of the urban environment outside. The culinary direction is led by the exceptional Dominique Crenn, known for her sustainable and innovative cuisine, while the spa, in partnership with Holidermie, provides a holistic approach to relaxation and well-being. Located between Pigalle and Grands Boulevards, the Faubourg-Montmartre neighbourhood offers a rich cultural experience with its history, theatres, boulangeries, and charming establishments, making La Fantaisie a true haven in the heart of Paris.
Shangri-La Paris
Stay in the regal building that was once home to Prince Roland Bonaparte. It's listed among France's "Monuments Historiques" and has an enviable location opposite the Seine and facing the Eiffel Tower. As such, rooms (all with seating areas, marble bathrooms and Guerlain toiletries) have an outlook of one or both of these landmarks, with private balconies providing the opportunity for the most romantic of selfies. The hotel group has its roots in Asia, so you'll find plenty of aesthetic and cultural influences, particularly in the food. And the dining at Shangri-La Paris is something very special, with two refined restaurants, one of which is Michelin-starred.
Le Damantin Paris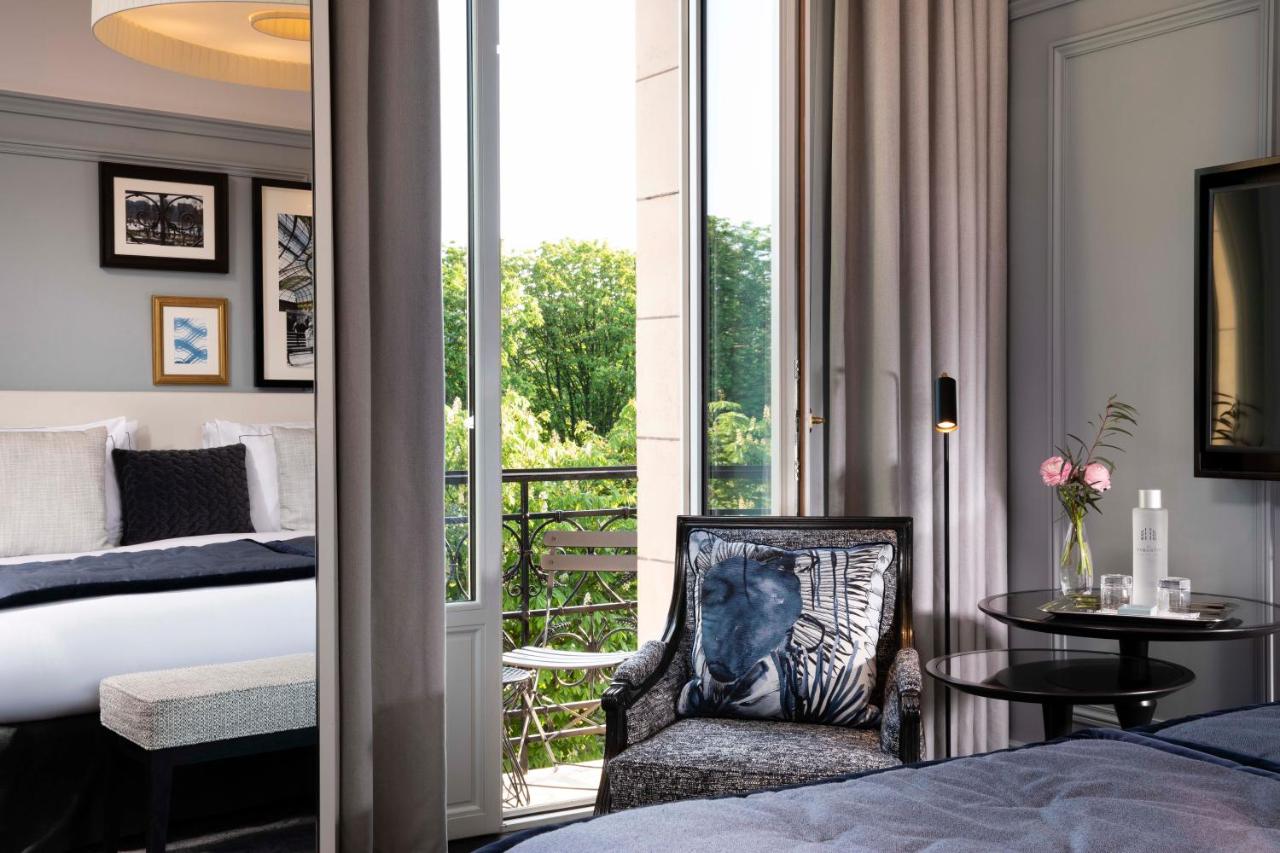 Previously a private mansion house, this grand, red-brick 19th-century era building sits on the Right Bank of the River Seine. Its interior design makes use of the period features, yet remains fashionable and striking, with strong colour choices where bold dark and moody hues are offset by splashes of sophisticated colour. The spa includes a glowing subterranean pool overlooked by a lounge with floor-to-ceiling windows, making it feel like something from a Bond film. There's also a library, a living room and a bar and kitchen serving French cuisine alongside creative cocktails.
Hôtel San Régis
A boutique hotel in a 19th-century mansion, the San Régis enjoys a secluded setting, on a quiet rue in the 'Golden Triangle' of the exclusive 8th arrondissement neighbourhood. Owned by the Georges family, its atmosphere is homely, yet opulent. 30 bedrooms and 12 suites have all been individually decorated; a selection of fine fabrics, oil paintings and antique furnishings have been painstakingly curated to create a unique impression. And its restaurant, Les Confidences, takes its cue from nature, with a garden-inspired dining room and a living wall. Hôtel San Régis' discreet entrance, unique styling and personalised service combine to ensure it's popular with celebrities and VIPs.
Hôtel Plaza Athénée
If you saw the final episodes of HBO's Sex and the City TV series, you'll recognise Hôtel Plaza Athénée as the splendid establishment in which Carrie Bradshaw stayed. The character was wowed by the view from her suite balcony, and you will be too as it's opposite the capital's most iconic emblem. The front elevation features wrought-iron balconies planted with colourful flowers and is found on Avenue Montaigne, close to designer boutiques. After a spot of nearby shopping, you can unwind in the hotel's Dior spa and dine in its Michelin-starred restaurant.
Le Metropolitan, Paris Tour Eiffel, a Tribute Portfolio Hotel
In the 16th arrondissement, this too has Eiffel views. Le Metropolitan is cosy and quiet, with an almost museum-like feel and 19th-century architecture designed by François Champsaur. Decor is simple and calming; true Parisian chic. The super comfy beds are the kind you sink into after a long day's sightseeing — some are housed in uber-contemporary minimalist four-posters and bathrooms have been crafted using Capri marble and Zimbabwe granite as feature materials. The hotel's restaurant is seductive and alluring, displaying understated luxury, while the bar (open all day for morning coffee through to late-night cocktails – is entered via two works of art.
Majestic Hôtel – SPA Champs Elysées
Found in the same neighbourhood as Le Metropolitan, the Majestic Hôtel epitomises timeless French elegance. It's a spa hotel with a huge swimming pool in which you can take aqua-biking classes; a gym in which you can book personal training sessions and treatment rooms for a therapeutic experience like its hammam ritual. Each of the 57 bedrooms has heavy drapes and artwork specifically chosen to complement the space, while one and two-bedroom suites provide kitchenettes for those wanting to do a little home cooking. But there is a restaurant within the hotel, and a bar serving chic afternoon tea. Another highlight of Majestic is its top-class Les Clefs d'Or concierge.
Madame Rêve Hotel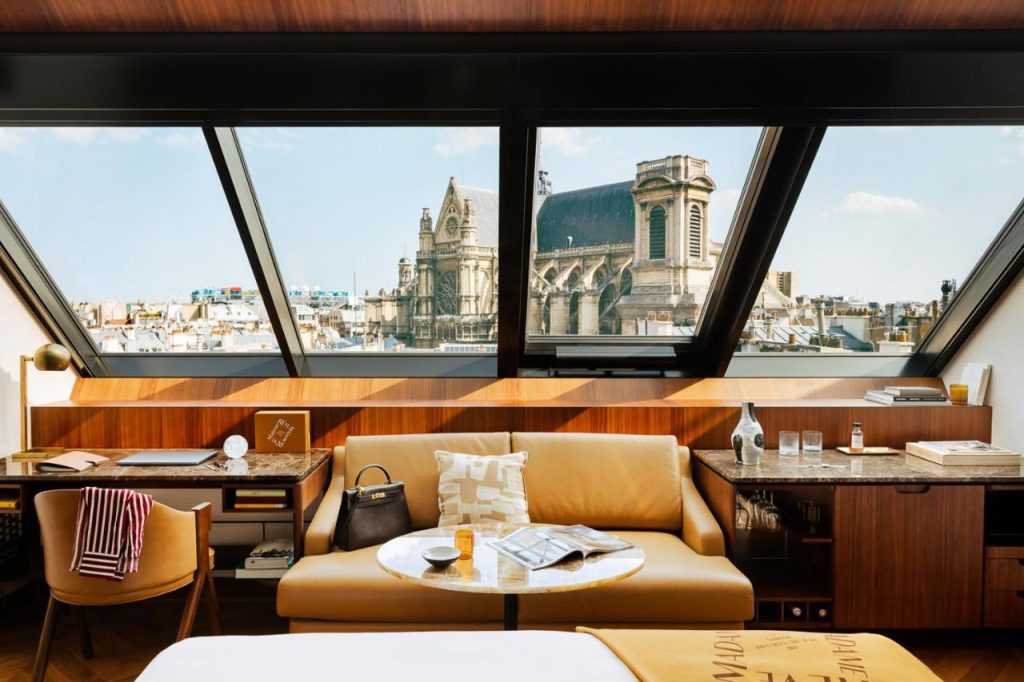 Nestled in the iconic 19th-century Louvre post office building, the Madame Rêve Hotel boasts a great location and its 82 rooms and suites and public spaces offer guests a unique panorama over the Parisian cityscape. With a subtle design of precious woods and golden-brown fabrics, there is an understated vibe of luxury here. The five-star hotels presents guests with two culinary experiences Madame Rêve Café serves a taste of the Mediterranean and La Plume takes its menu inspiration from Japanese influenced cuisine. For guests that need to recharge, the fitness room is equipped with the latest equipment and the sauna with breath-taking views is the perfect place to unwind or for full relaxation indulge in a treatment on one of the two calming treatment rooms.
La Demeure Montaigne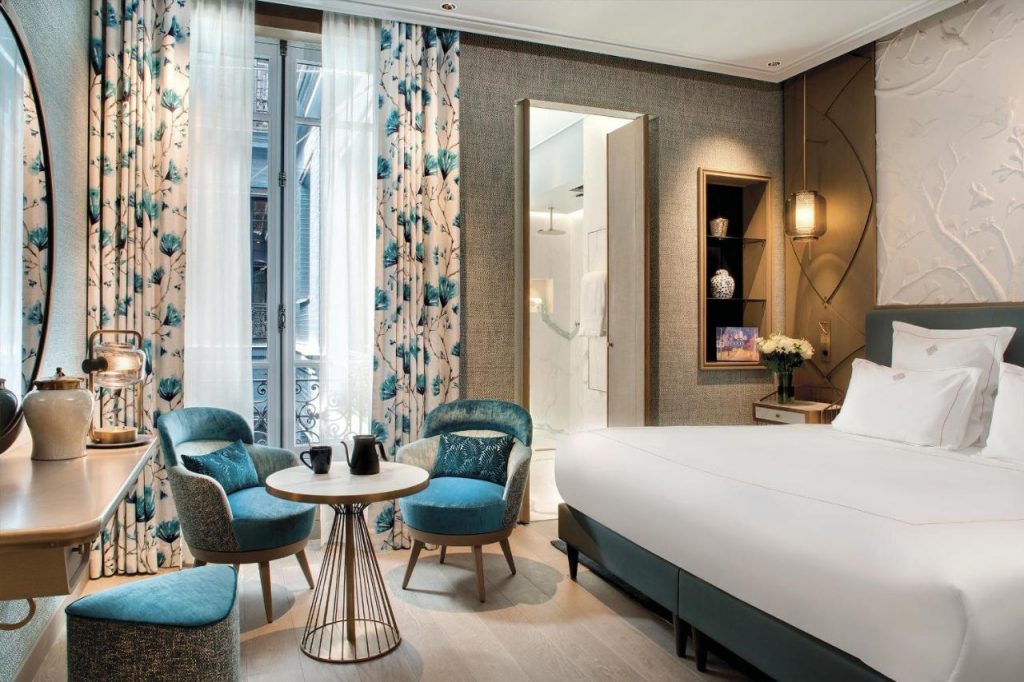 This five-star spa hotel located perfectly encapsulates contemporary luxury with Parisian spirit and flair. Located at 18 rue Clément Marot, a few steps from Avenue Montaigne, La Demeure Montaigne, offers guests an intimate experience in which they can make the charming private mansion their home from home during their stay. No detail is overlooked at this exquisite abode, which is also home to a gastronomic restaurant, hidden bar and Thalgo Institute. Its 93 rooms and suites are just as stylish as the rest of the hotel and the Eiffel Suite has a confidential location offering guests the utmost in privacy. Gourmet and seasonal dishes are served at the discreet restaurant whilst guests can enjoy fine wine, champagne and cocktails in a relaxed yet trendy atmosphere. The spa is a collaboration with the marine cosmetics brand Thalgo and is a cocoon of tranquillity in the heart of bustling Paris. This beautiful city bolthole offers unassuming luxury and high-class service right in the heart of Paris.
Hotel Raphael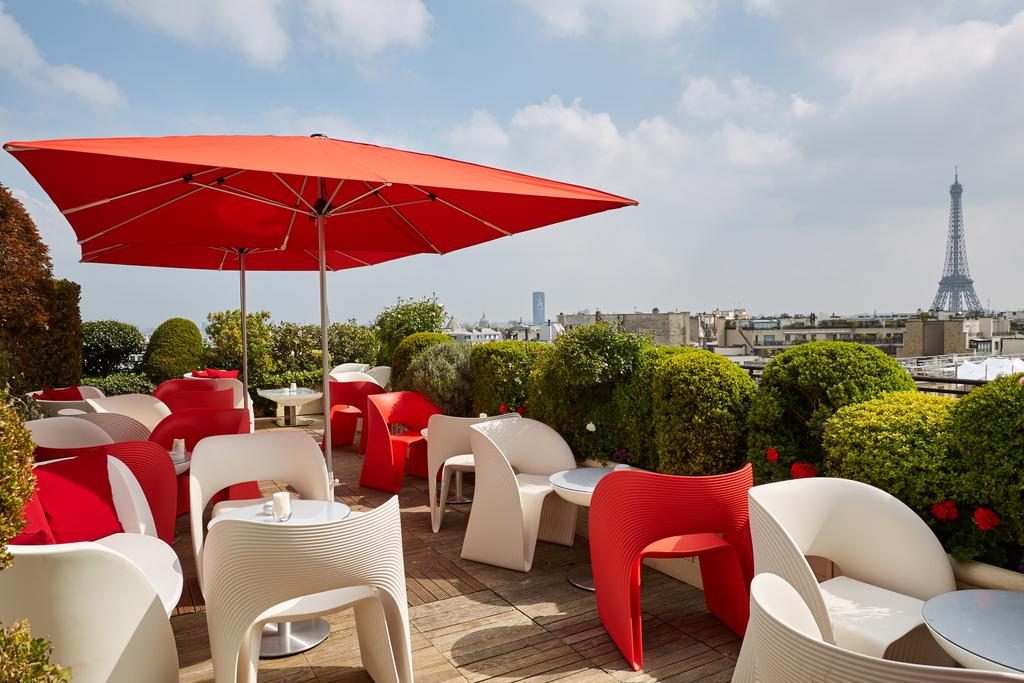 Tradition has a lot to do with the city of love, and there is no better place to get totally immersed in tradition than the 5-star Hotel Raphael. Operated by the same family for four generations, the hotel maintains the highest of time-honoured, traditional standards. Situated in the city's business centre, close to the Arc de Triomphe, each room is as unique as the hotel itself. With its large collection of lovingly restored antiques and traditional décor and furnishings, it is the ideal place to base yourself, for a little Parisian amour.
The Peninsula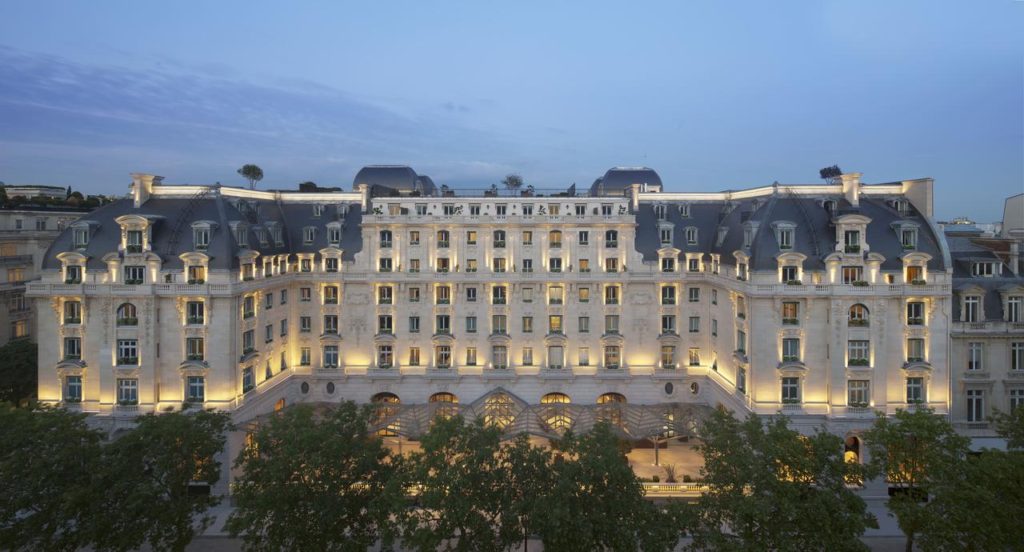 Located on Avenue Kleber, just a few hundred yards from the Arc de Triomphe and close to Montaigne with its chic designer boutiques, The Peninsula is central for those days out, wherever you're headed. Traditional blends with contemporary in this opulent 200-room hotel. A-listers from stage and screen, and international sports stars are frequent visitors to enjoy the sumptuous rooms, and suites displaying expensive artworks and traditional dark woods with contemporary fittings. Bathrooms have marble floors and walls, deep luxurious bathtubs, and double sinks. Every convenience you can imagine is included in the rooms – and some. A 5-star hotel with a 'Palace' reputation.
Le Bristol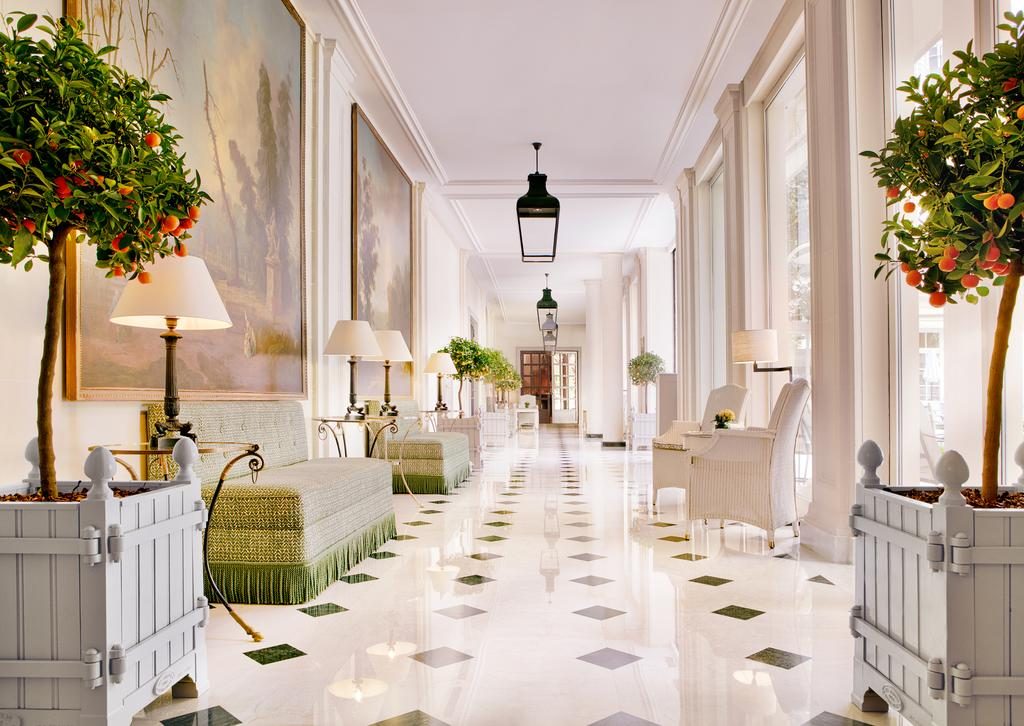 Sitting in the centre of old historical Paris, on the Rue du Faubourg Saint-Honoré, The Bristol was the first hotel to be labelled a 'Palace' (French terminology for a hotel a cut above five-star). Opened in 1925, and now one of the Oetker group hotels, its marble foyer, crystal chandeliers, 17th-century tapestries, and Louis XV and XVI style furnishings, resonate affluence. The hotel has an award-winning spa, a sixth-floor swimming pool with panoramic views across Paris, and two Michelin-starred restaurants. Just 14 miles from Orly Airport and 18.5 miles from Charles de Gaulle Airport, the hotel also offers charging points for electric vehicles, should you decide to hire a car during your stay.
Park Hyatt Vendôme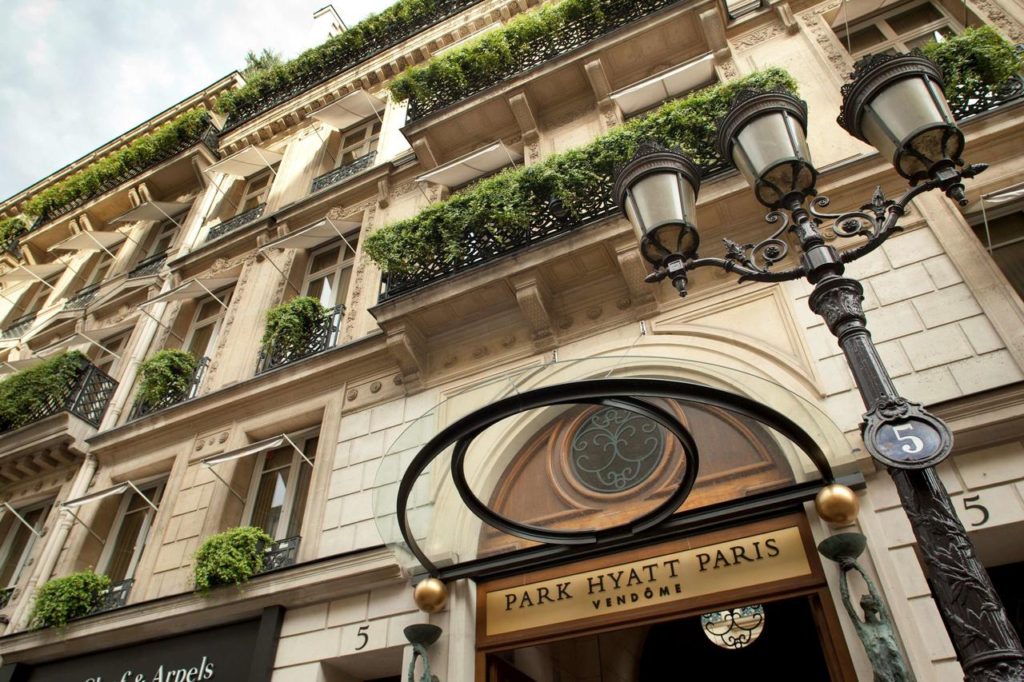 Centrally placed, and close to the Place Vendôme and Palais Garnier, many of the big Paris attractions can be reached in a pleasant 15-minute stroll from the hotel. When you wish to explore further afield, a number of Metro stations are just metres away. A magnet for many A-list celebrities, from tennis grand slam winners to chart-topping singers, the hotel offers the very best of five-star accommodation, dining and amenities. Rooms and suites are set off in pleasing contemporary styling with attractive, elegant adornments. The main restaurant has a one-star Michelin rating, while breakfast and brunch can be enjoyed in the glass-ceilinged Les Orchidées, or the relaxing La Cheminée.
Le Roch Hotel & Spa
For those who prefer elegant, contemporary styling, with a refined, casual, homely ambience, the 37 room, five-star boutique Le Roch Hotel and Spa, will meet all your requirements. Situated in a quiet part of old Paris, between the Opera, Louvre, and Place Vendôme, the hotel offers a unique Parisian atmosphere, combined with the technological needs of modern living. Rooms and suites are a good size, with pleasing, modern styling by native Parisian, Sarah Lavoine. Along with its innovative restaurant, the hotel also boasts an excellent, well-stocked bar, pool, spa facilities, and pleasant sun terrace to enjoy an early evening aperitif.
La Réserve Paris Hotel and Spa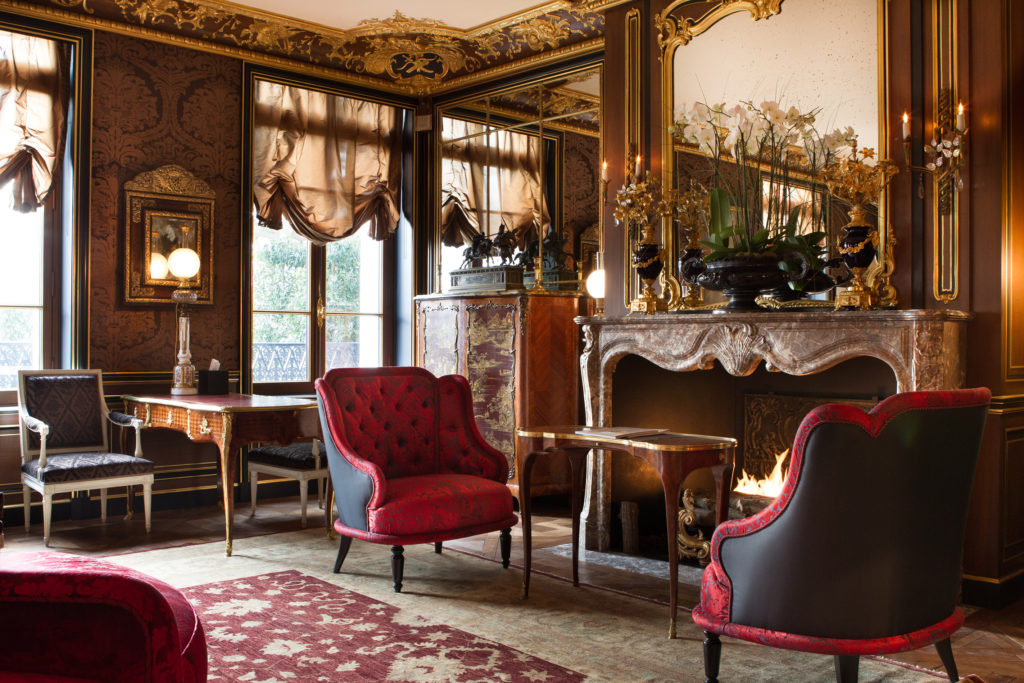 When you pay four figures a night for your accommodation, you expect nothing less than the very best of five-star everything. At La Reserve Paris Hotel and Spa, you get just that. Situated on the fashionable Avenue Gabriel, the hotel verges on the ambience of a private gentleman's club. Built during the 1800s, and providing stunning views across the Paris skyline, the interior was completely redesigned by hotel designer Jacques Garcia. With its modern feel, yet traditional look, the décor and furnishings allude to the personal service which is so much a feature of the hotel.