When it comes to finding the best luxury hotels in Scotland, there are plenty to choose from. Whether you're looking for a five–star hotel in the city or a cosy country retreat, there's something to suit every taste and desire. To help you narrow down your options, we've put together a list of our top picks for the best hotels in Scotland. From grand highland estates to chic city boltholes, these are the places to stay if you're looking for a truly exceptional experience.
Cameron House
Cameron House is one of Scotland's most luxurious hotels. Located on the banks of Loch Lomond, this five-star hotel offers stunning views, world-class cuisine, and an unrivalled level of service. Housed in a recently refurbished, restored and historical 17th-century Baronial mansion, Cameron House Hotel is situated in the heart of the Loch Lomond & Trossachs National Park. Cameron House's rooms and suites are some of the most spacious and well-appointed in Scotland and the hotel's grounds are truly breathtaking. Guests can enjoy a round of golf on the hotel's championship course, relax in the spa, or take a boat out onto Loch Lomond as well as enjoy a wealth of sporting activities. Cameron House is the perfect place to escape the hustle and bustle of everyday life and enjoy a truly luxurious experience.
Fingal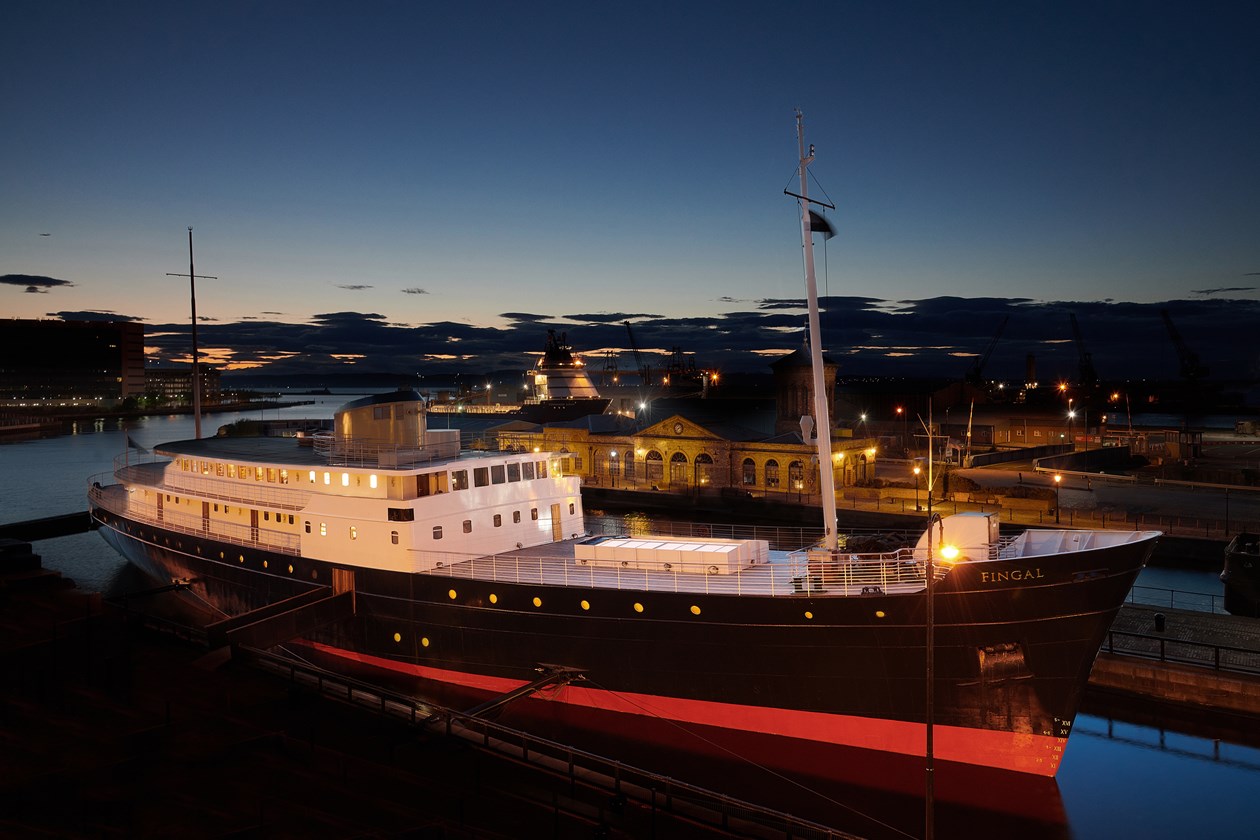 Scotland is home to many fine hotels all of which boast wonderfully unique features; from historic castles, and luxury loch-side hideaways through to iconic city centre icons and Fingal is no exception. Berthed in Leith, Fingal, started life as a Northern Lighthouse Board Ship ferrying lighthouse keepers, essential supplies and maintenance staff to lighthouses. Since she retired from service in 2000, the ship has undergone a meticulous and respectful restoration and is now a beautiful luxury floating hotel (read our review here). The ship boasts 23 high-spec cabins, top class service and a delightful restaurant where residents and non-residents can enjoy breakfast, Afternoon Tea, dinner a supper menu and (on dry days!) cocktails on the deck. This is a truly unique experience and a place we highly recommend.
Kimpton Blythswood Square Hotel
A landmark hotel in Glasgow and the city's only 5-star hotel, the Kimpton Blythswood Square Hotel is celebrated for its gorgeous Georgian architecture, superior service, recently renovated rooms, incredible spa and fabulous destination restaurant Bo and Birdy. The five-star property continues to define Glaswegian luxury as the only hotel in the city with AA accreditation. And you can't beat the location right in the heart of the city, with private gardens right outside its doorstep. This is, without doubt, our favourite hotel in Glasgow!
Gleneagles, Auchterarder
The Gleneagles Hotel is an institution when it comes to luxury getaways. Its conception came about in 1910 when the General Manager of the Caledonian Railway Company had the vision to build a large country house hotel built in the style of a palace in the picturesque valley through which his railway line ran. It opened in 1924 and was quickly coined 'the Riviera in the Highlands" Set in an 850-acre estate with three championship golf courses and an unbeatable array of sporting activities to try. From equestrian and shooting to fishing and off-road driving, there is plenty to keep you entertained or for a more relaxing experience enjoy some time at the ESPA Spa. Whilst there are 232 rooms, the design of each is constructed to feel like a far more intimate, boutique hotel with a mix of traditional and modern interiors. Guests can enjoy dinner in the incredible Andrew Fairlie Michelin-starred restaurant, the only restaurant in Scotland to hold two Michelin stars or for something more casual The Dormy Bar & Grill serves a selection of delicious dishes.
Cromlix Hotel, Cromlix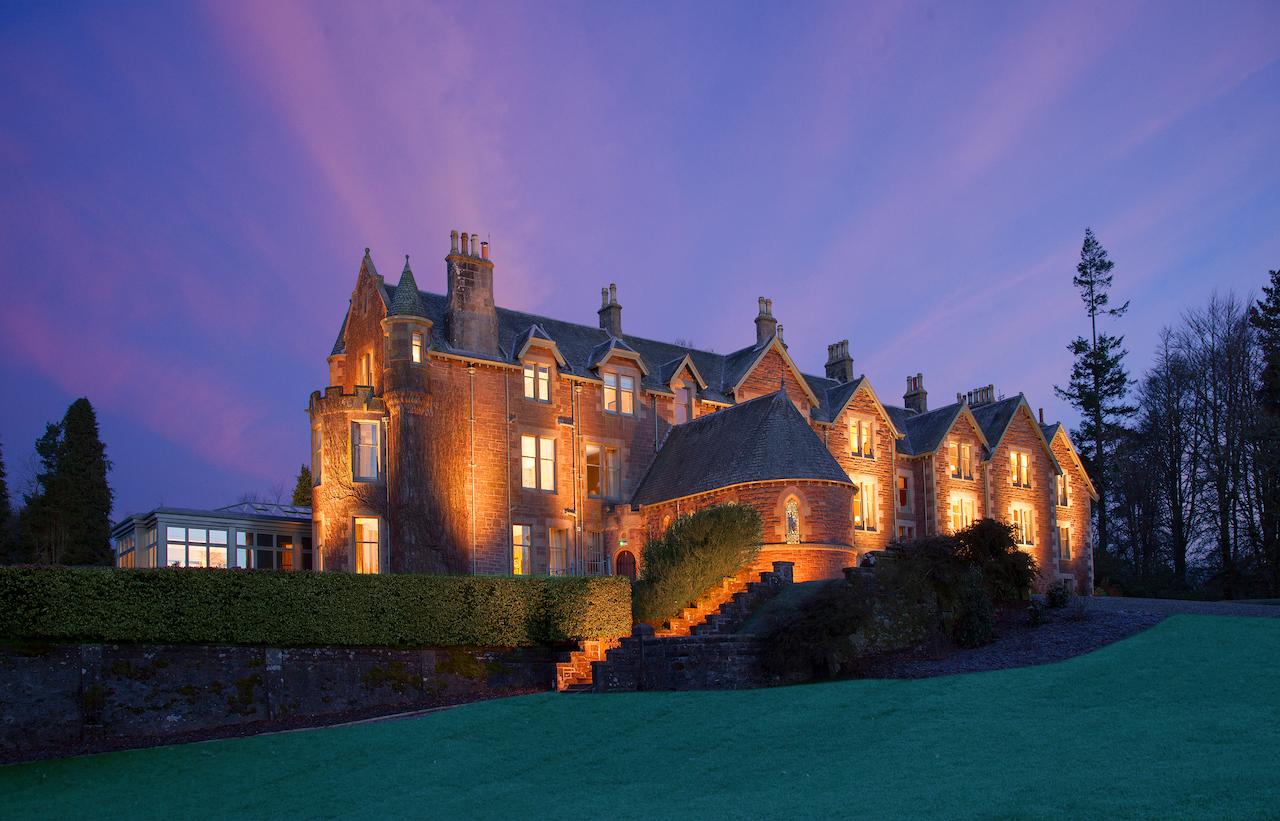 This stunning 17th-century castle is steeped in history and since its sensitive and thoughtfully executed renovation, Crossbasket Castle has become one of Scotland's most luxurious hotels.  Still boasting many of its unique period features all of which have been restored to their original beauty using traditional craftsmen and materials this hotel is bursting with a romantic aura and grandeur typical of the era in which it was constructed. With nine breath-taking en-suite bedrooms each of which is decorated in a classical style that strikes the perfect balance between traditional character and modern finishing. The crowning glory of this hotel is the four-story bridal tower which dates back to the 16th century. The fairy-tale turret room, built on a hill overlooking the Calder river, is served by a sweeping spiral stone staircase. A short walk from the castle, there is a self-catering lodge available for guests who would like a longer stay or a more home-from-home experience. The fine-dining restaurant showcases a range of contemporary dishes, created by the Roux culinary dynasty, using ingredients from Scotland's renowned natural larder with an added touch of creative flair from the iconic Roux team. The woodland in which the castle sits is ideal for exploring nature, with majestic waterfalls, wildlife and outdoor pursuits.
Crossbasket, Glasgow, West Coast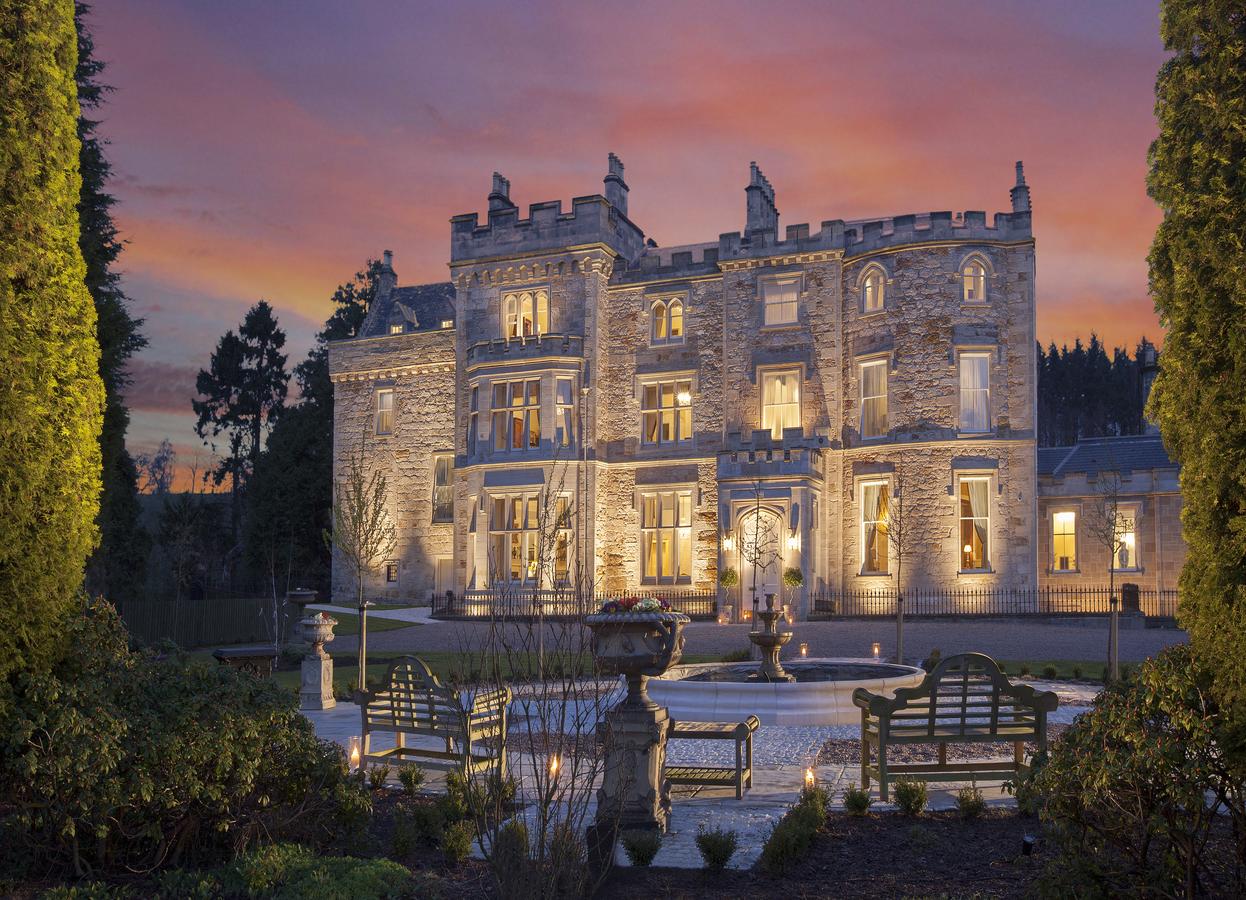 One of Scotland's premier hotel and event venues, Crossbasket Castle is steeped in the history of Scotland. Observe the immaculately presented beauty and grandeur of traditional architecture, restored using traditional crafters and materials. Crossbasket offers both peace and tranquillity, striking a careful balance between tradition and modernity. Sumptuous fine dining is offered by the Roux culinary dynasty, showcasing the best of Scotland's renowned larder.
Old Course Hotel, St Andrews, Fife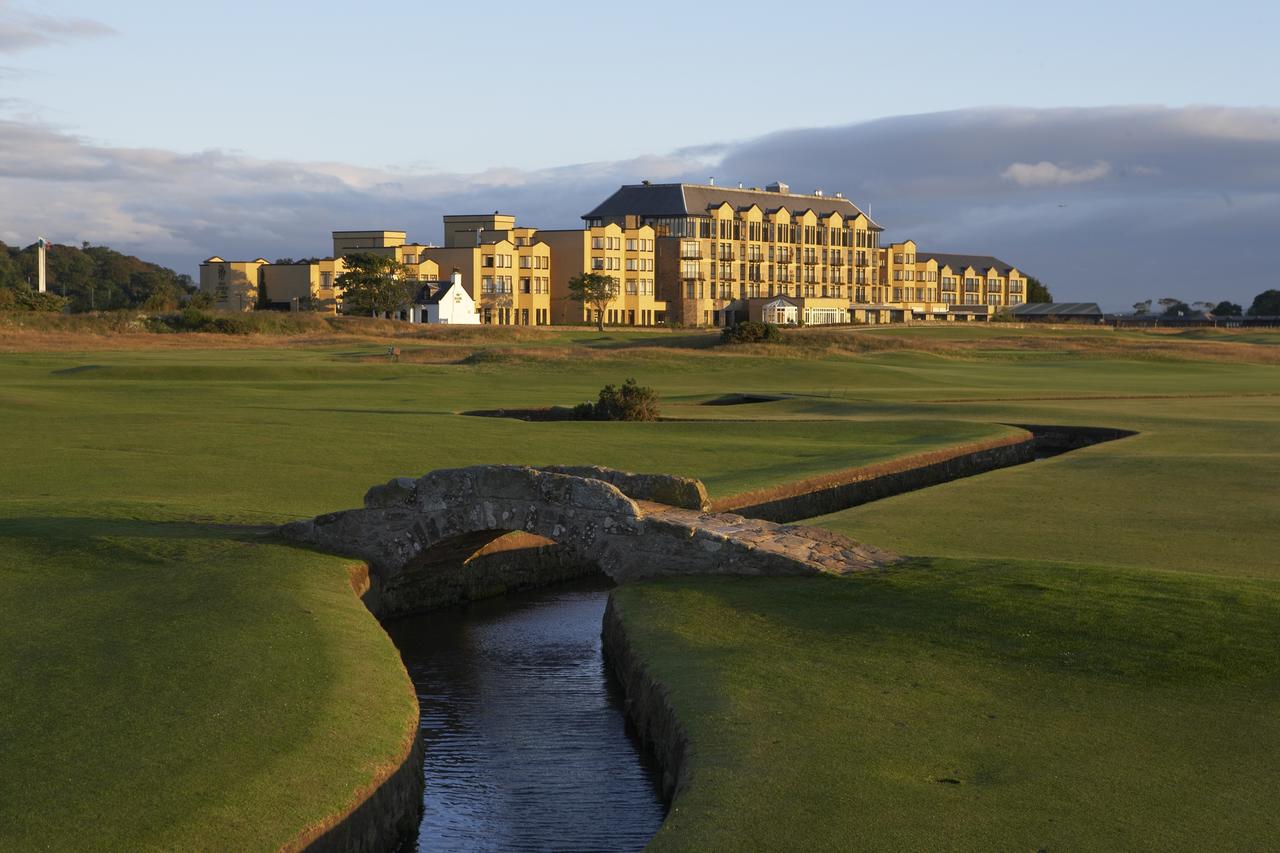 Recognised as one of Europe's leading hotel resorts, this five-star hotel overlooks the famous links courses and offers classical elegance with suites designed by French designer Jacques Garcia. Bordering the stunning Scottish coastline and a mere stone's throw from the historical town of St Andrews, this prestigious hotel is the perfect vacation resort for golfers and non-golfers alike. Offerings include world-class luxury spas and fine dining experiences, as well as Scotland's finest malt whiskies served at the award-winning Road Hole Bar.
The Balmoral Hotel, Edinburgh, East Coast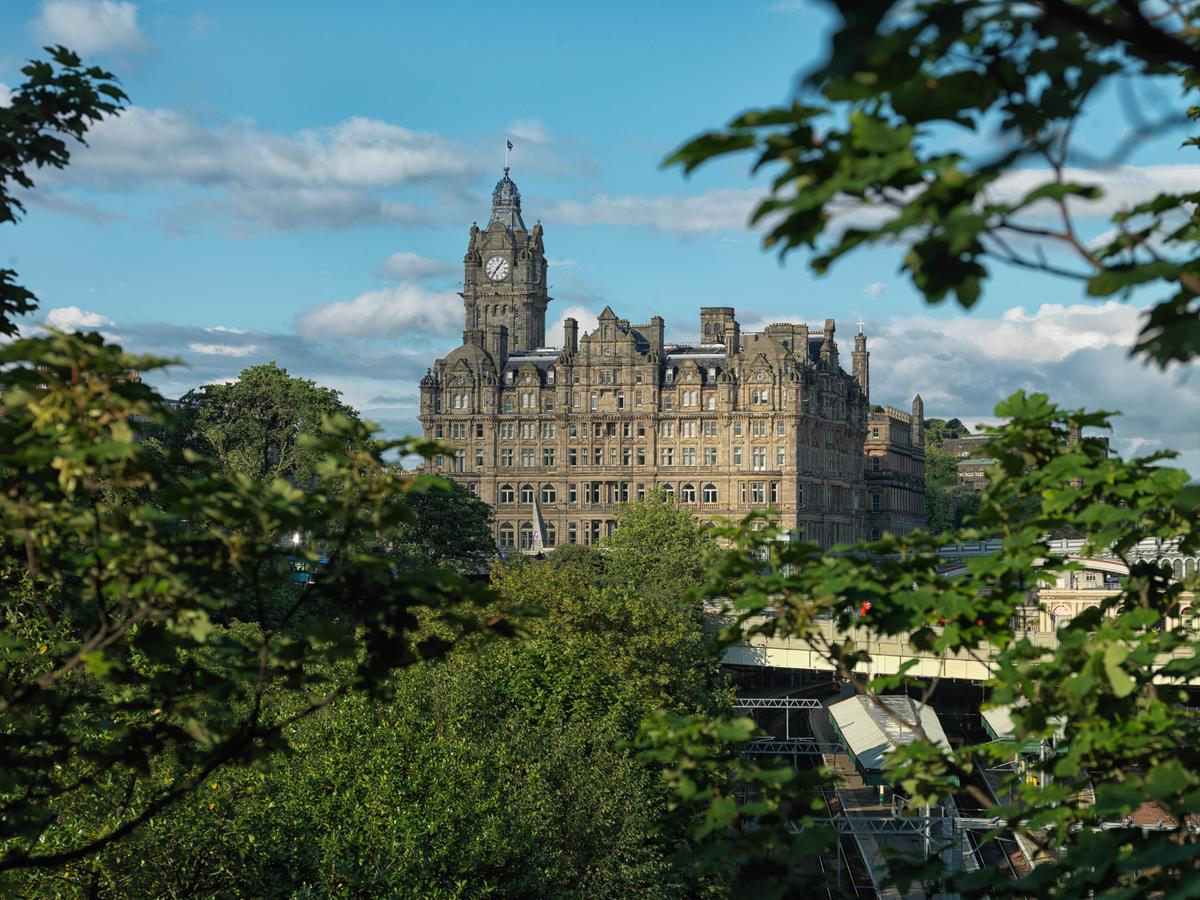 If you want to impress with the finest Edinburgh address on your luggage tag then this is the hotel for you. The Balmoral Hotel is an iconic landmark hotel and has been standing proud on Edinburgh's famous Princes Street for over a century. Now owned by the Rocco Forte Hotel Group the hotel maintains its timeless elegance through tasteful and thoughtful design – with 168 rooms and 20 suites, each of which has been individually designed by Forte family member  Olga Polizzi. The warm hospitality, exceptional concierge service and exciting exclusive guest experiences are reason enough to make this your hotel of choice. Couple this with the Michelin-starred Number One restaurant and award-winning spa and you have a match made in city break heaven.
Glenmorangie House, Tain
One of only a handful of Scottish hotels to boast the Michelin Hotel Guide single 'Red House' symbol, this country house is found on the coast, an hour from Inverness. Deeply romantic in setting, Glenmorangie House is surrounded by a walled garden and located beside a ruined castle. And with just nine bedrooms, the intimate atmosphere lends itself to an exclusive couples' escape. Award-winning menus are served in a dinner party style to provide a sociable element to your stay and camaraderie with fellow guests. As you may expect from a hotel inspired by the national beverage, whisky tastings are frequent – plus you might even be surprised by a spontaneous post-dinner ceilidh featuring local musicians.
Prestonfield House, Edinburgh, East Coast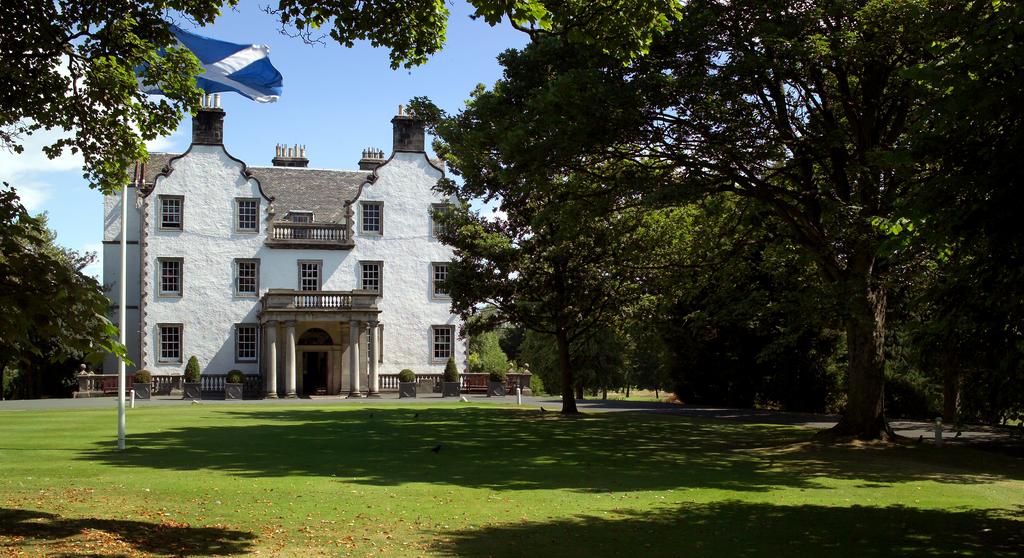 For a true five-star atmosphere, you need look no further than the facilities of Prestonfield House, where opulence and luxury collide within one of Edinburgh's luxurious historic buildings. Featuring antique furniture and fine linens, you can be sure of supreme relaxation and comfort within the classical suites. One of Scotland's most exclusive hotel suites, Prestonfield House offers the seclusion and privacy of a countryside resort, situated within 20 acres of stunning tended gardens yet only a short walk from the heart of Edinburgh's night life.
Glenapp Castle, Ballantrae, West Coast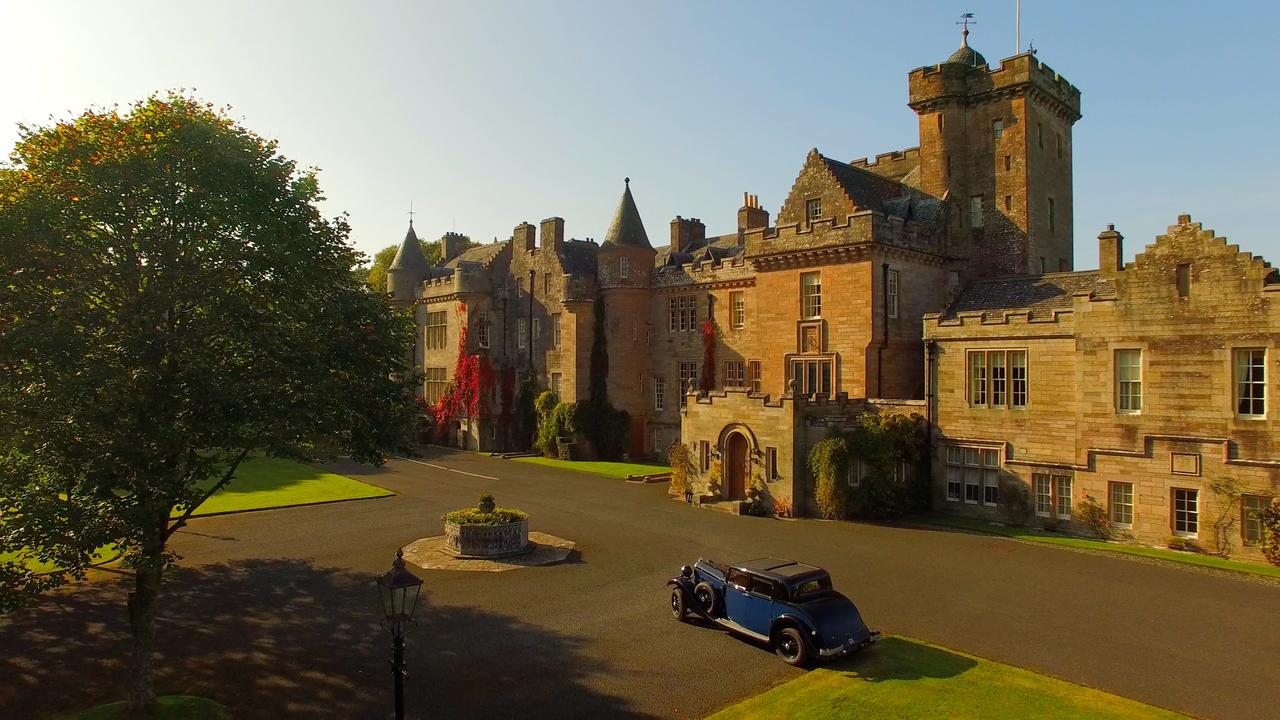 Hidden within 36 acres of Italian gardens and woodland outside of Ballantrae, this hotel lies close to the Ayrshire coastline. A late 19th-century baronial castle, it was first intended as the family seat for the Earl of Inchcape and holds a significant claim to fame – Winston Churchill was said to have discussed the D-Day landings while staying here in the 1940s. Pursuits for the well-heeled are a speciality – shooting, fishing and falconry, as well as tennis and croquet. Inside, guests can relax beside log fires, feast on six-course meals and peruse enormous wine lists. 17 bedrooms offer a period feel filled with antiquities and panelled or marble bathrooms include Penhaligon toiletries.
Inverlochy Castle, Fort William, West Coast
This stunning resort is surrounded by the sparkling waters of the nearby private loch. Impeccable attention to detail will ensure that you experience the vacation of a lifetime. Inverlochy is described favourably by Queen Victoria after her stay in 1873, and it is no wonder as the hotel is situated among the finest scenery in Scotland. A mile from Ben Nevis distillery, Inverlochy Castle Hotel offers stunning mountain views and rooms decorated in the period style, including elaborate furnishings presented as gifts by the King of Norway. Fine dining is available at Albert and Michel Roux Jr, where the finest dishes created from local produce are presented with care and finesse.
The Isle of Eriska Hotel and Spa, Isle of Eriska, West Coast
There is something extremely romantic and magical about escaping to a private island for a holiday and the 300 acres of stunning land that is the Isle of Eriska certainly does not disappoint. This is the setting and the perfect backdrop for those guests choosing to stay at the Isle of Eriska Hotel and Spa.  For over four decades the Buchanan-Smith Family worked hard on developing and nurturing this hotel which has flourished into a luxury destination offering guests peace, tranquillity, outdoor pursuits and much more – all with a touch of luxury. The hotel comprises of 34 bedrooms with 16 bedrooms in the main house, 5 spa suites located in the gardens with private hot tub, 2 garden cottages and 6 hilltop reserves along with a self-catering house option which is a short drive from the main hotel. Fine dining in the Hotel Restaurant or something more casual on The Deck can be enjoyed by residents and non-residents.
Boath House Hotel, Nairn, North East Scotland
This beautiful Georgian mansion was built circa 1825 by one of Scotland's most prominent architects of the time Archibald Simpson, however, sadly was on Historic Scotland's 'endangered list' until the early 90s when husband and wife team carefully and meticulously restored the building back to its former glory. Set in 20 acres of beautifully manicured gardens and woodland the elegant house comprises of nine rooms and spacious suites and two stand-alone cottages for guests who wish to stay for longer periods or want a more home-from-home experience. Service is relaxed and friendly and there are several exquisite dining options for both residents and non-residents to enjoy.