Found on the island of Honshu, Kyoto is often cited as the land's cultural hub. It served as the Japanese capital and emperor's residence from 794 until 1868. As a result, it's packed with fascinating temples, Shinto shrines, museums, palaces and botanical gardens, some of which make up a UNESCO World Heritage Site. Many national traditions – such as formal dining, tea ceremonies and geisha performances – are upheld, keeping tourists enthralled and putting it firmly on the sightseer's map. It's also home to artisan makers, artists and writers inspired by the large city's ambience and rich heritage. And here are some of our favourite hotels in beautiful Kyoto. 
Garrya Nijo Castle Kyoto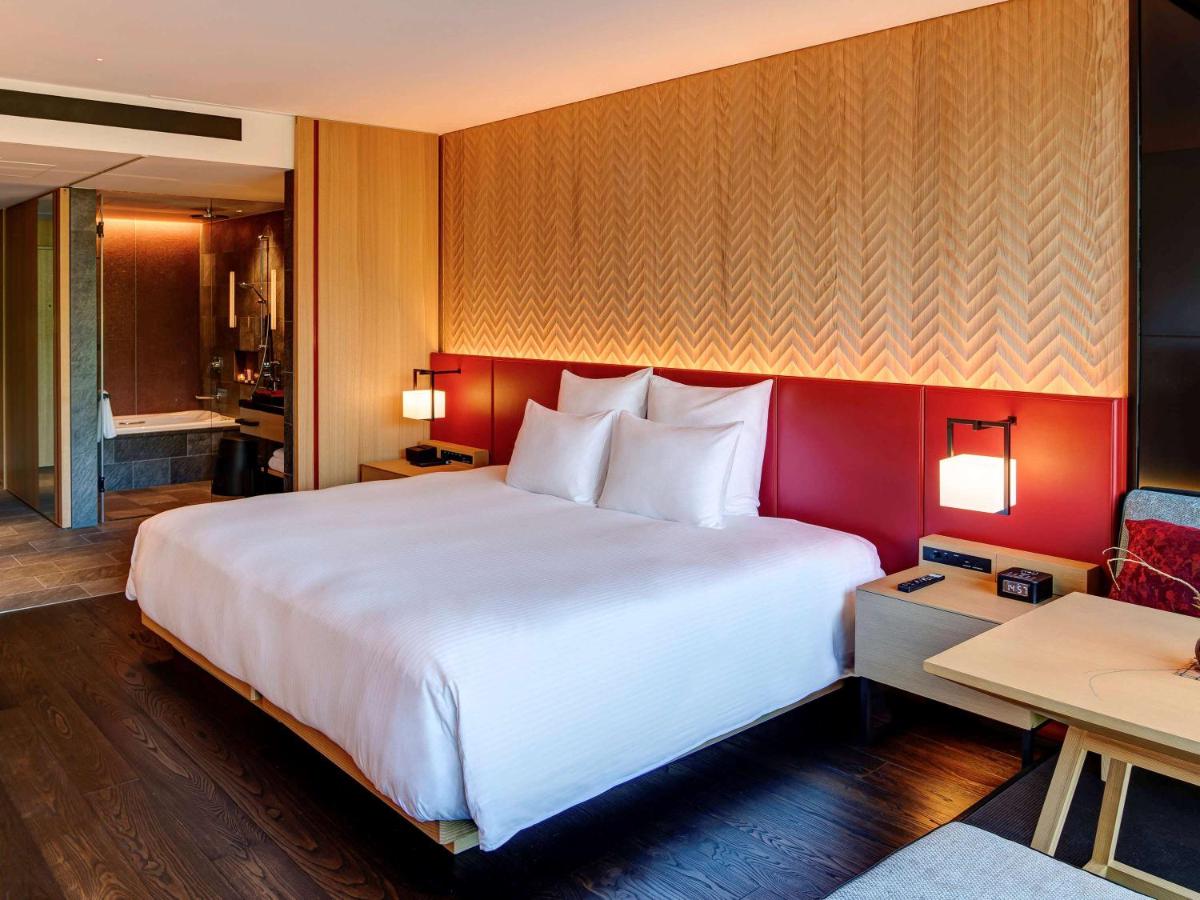 This secluded retreat was opened by The Banyan Tree Group in 2020, accommodating 25 balconied bedrooms. It faces Nijo-Jo Castle and features interior architecture in a flying geese formation, taking its cue from the castle and Katsura Imperial Villa. The interior design is by the world-renowned Yukio Hashimoto; here the outside is drawn in, with picture windows emphasising its lush garden surroundings; greenery, planting and a calming water feature akin to a serene mini lake with a tree island at its centre. Garrya Nijo Castle Kyoto also accommodates the Singular restaurant serving French cuisine, a kitchen and a well-being lounge.
dhawa Yura Kyoto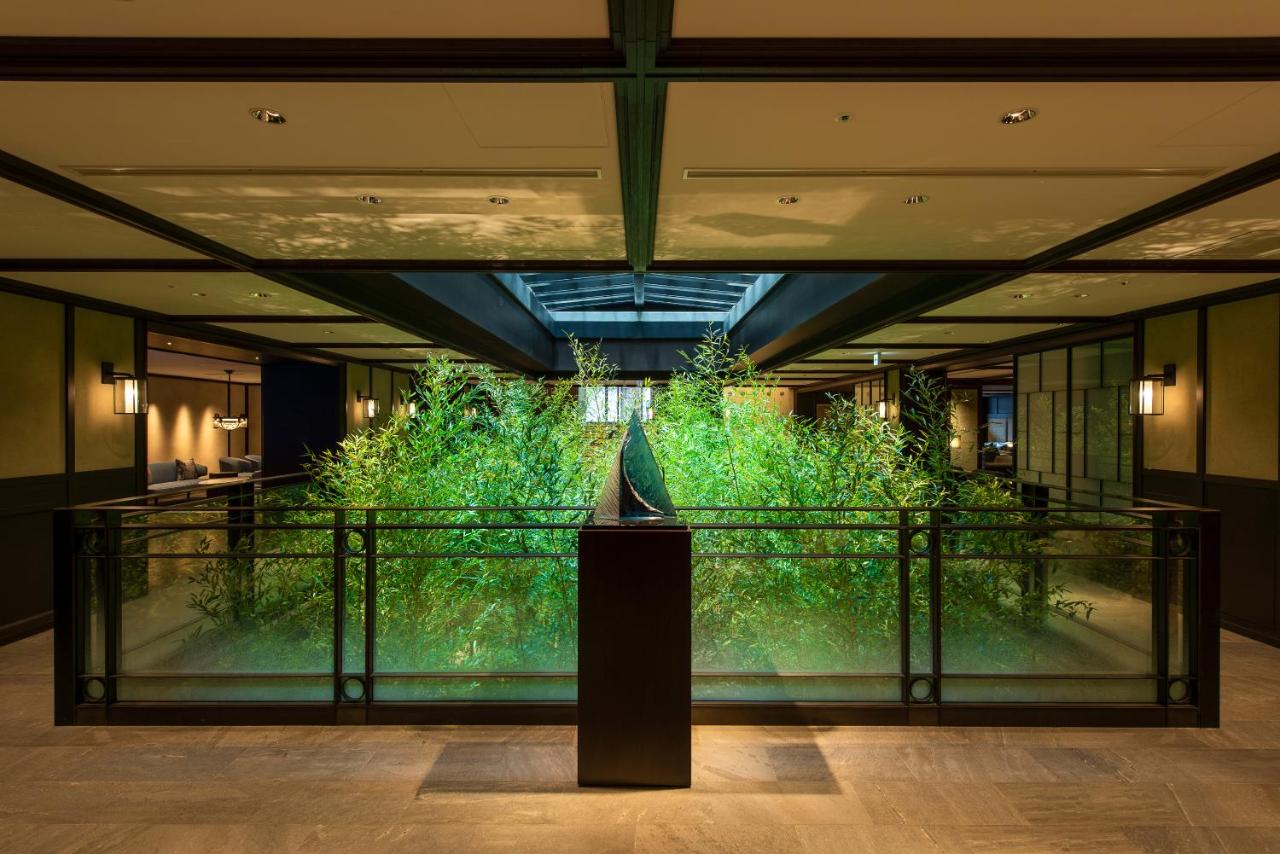 Within walking distance of attractions, this boutique hotel is ideally located close to the Kamo River. Antique and old-world pieces are woven among contemporary furnishings to tell the story of the area's heritage and showcase traditional Japanese crafts. Grill 54th is the all-day dining venue with an open kitchen cooking up rare Wagyu beef, seafood and local specialities. While 1867 is the lounge bar offering afternoon tea, modern cocktails and pre-dinner drinks. Dhawa Yura also has a 24-hour gym and bedrooms ranging from doubles through to king or twin suites with C.O. Bigelow amenities.
THE HOTEL HIGASHIYAMA by Kyoto Tokyu Hotel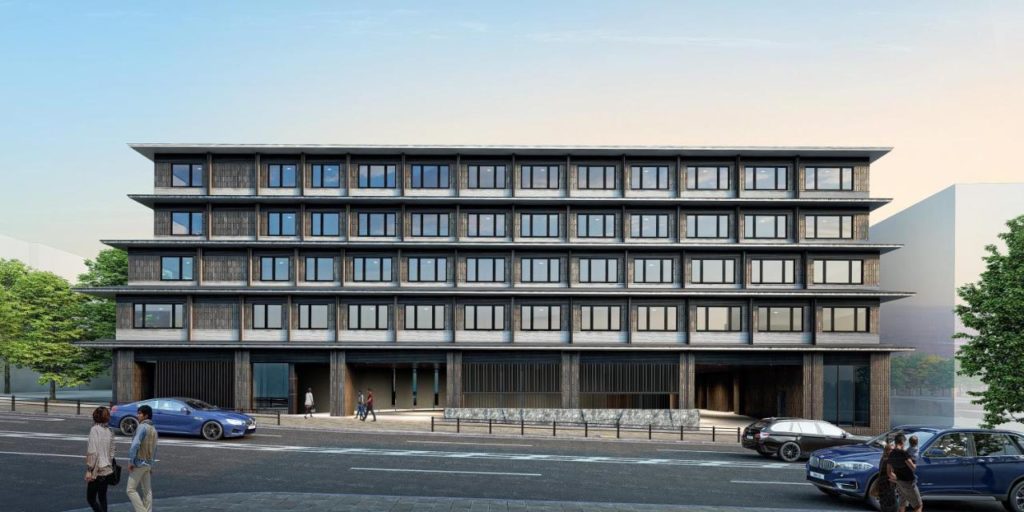 Opened in July 2022, this new five-star hotel is just a few minute's walk from the subway in an artsy neighbourhood of Kyoto, a prime spot. It provides a sensorial experience of Japanese culture and exudes omotenashi hospitality. 168 rooms are spread across its six floors, in a moody, sophisticated and enveloping design that echoes traditional elements, with warm modern sensibilities and natural textures. The Hotel Higashiyama has a restaurant, a cafe, fitness centre, a bar, a spa and a tranquil garden that's set within the inner courtyard of the hotel.
Four Seasons Kyoto
Be wowed by the incredible and ancient grounds of the Four Season Kyoto set amongst the ancient and scenic temple district. The hotel sits at the heart of the 800-year-old Shakusuien, a beautiful pond garden thought to have once been the garden of samurai Taira no Shigemori. The garden is so incredible it was immortalized in a 12th-century poem "The Tale of Heike". The hotel itself is contemporary but rooted firmly in tradition, history and natural beauty. Décor is simple, elegant, and exudes typical Japanese minimalism. Rooms are tranquil, functional and bathed in natural light, some with peaceful garden views – a truly restorative view to wake up to. The hotel also features a stunning Michelin-starred Edo-style sushi restaurant, Sushi Wakon, and a great spa with a menu full of ancient healing rituals. The Four Seasons also offers a whole host of traditional experiences including the opportunity to experience the enigmatic charm of traditional Geishas at a kaiseki (multi-course) dinner featuring performances from the talented artisans, taking part in a traditional tea ceremony conducted by a tea master, and learning the art of making your own chibi-maru lantern with a 10th generation Kojima master.
The Westin Miyako Kyoto
Set amongst the Higashiyama Hills the Westin Miyako Kyoto boasts a stunning outlook over the ancient capital. The hotel is ideally located between the two main sight-seeing districts of the city and is one of the oldest Western-style hotels in Kyoto. Popular with visiting famous faces, many of the rooms enjoy stunning vistas as far as the Kitayama Mountains and are decorated simply and functionally. Style may not be at the forefront of this hotel and many aspects of it are still very traditional, but service and facilities are top notch here. The hotel boasts the more casual Aquablu Café restaurant in addition to their Grandview dining room, which from the name you can guess, serves creative continental cuisine whilst enjoying an incredible aspect over the city. At the Westin Miyako you really will be spoilt for choice with facilities. The hotel has multiple boutiques, a tranquil Japanese garden, a business centre, a fitness centre, a hair and beauty salon, plus an in-house florist!
The Ritz-Carlton, Kyoto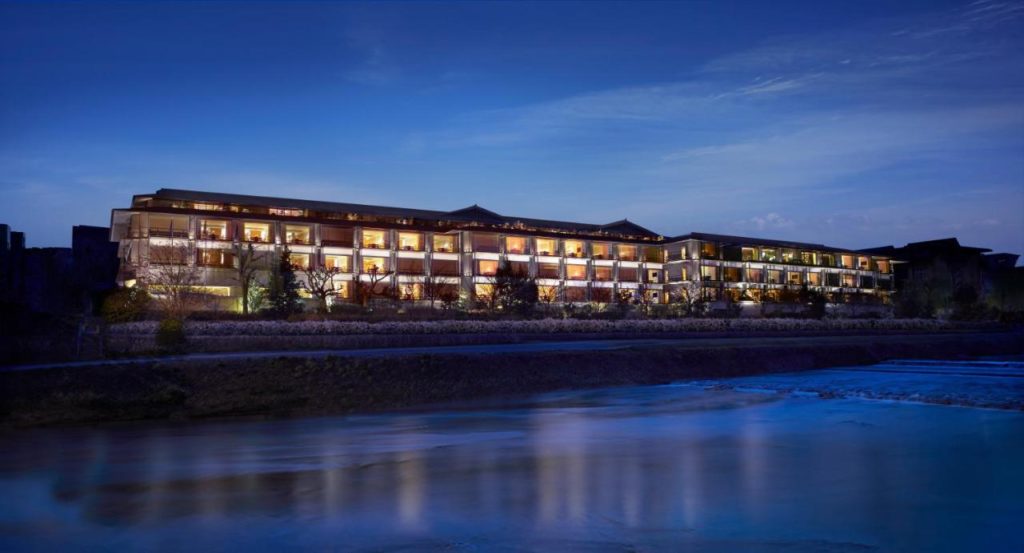 A name synonymous with luxury the Ritz Carlton Kyoto is situated on the Kamogawa River with views out over the Higashiyama mountains. 134 rooms and suites, the hotel takes on the Japanese motifs of Kyoto and includes four restaurants and bars including modern Japanese cuisine and a spa for the ultimate rejuvenation.
Suiran A Luxury Collection Hotel, Kyoto
Part of the Luxury Collection group and set on the Hozu River. This is boutique luxury, with only 39 guest rooms. Feel at one with nature at this out of town retreat. Japanese in style and design you can completely relax after a day of sightseeing in central Kyoto.
Hyatt Regency Kyoto
The Hyatt Regency is located in the city centre of Kyoto in the historic area of Higashiyama Shichijo. It is close to the central JR Kyoto Station with is perfect if you are short on time in the city and looking for an area rich in culture, history and food during your stay.
Hotel Granvia Kyoto
Located in the JR Kyoto station complex you really are in the heart of everything. Ideal for people looking to hit the ground running and get out and explore. If you want to shop there is a gigantic mall connected to the station as well and it is convenient for the Shinkansen bullet train.