With production first documented around the 12th century, Irish whiskey was among the first distilled drinks to come out of Europe. And its popularity is unwavering, centuries later. Whether you're dipping a toe into some whiskey tasting, or gifting a connoisseur, here are the bottles you should be buying.
Micil Inverin Small Batch Blended Whiskey
Micil Distillery was established to honour Micil Mac Chearra, who began distilling poitín in 1848 on a hillside in Connemara. The distillery, located on the shores of Galway Bay, represents Ireland's longest unbroken family distilling tradition, as the family has been crafting exceptional Irish spirits for over 170 years. Throughout this time, they have diligently preserved the traditions, skills, and recipes, passing them down from one generation to the next. This five-part peated blend with a triple cask finish is inspired by Micil Distillery's rich distilling heritage. It combines the fruity spice of Connemara 'fuisce' with the peat smoke reminiscent of the illicit stills and kilns of Inverin. The whiskey is finished in re-charred ex-bourbon quarter casks, Pedro Ximenez casks, and Micil peated poitín octaves. These finishing casks impart a touch of sweet, smoky turf flavour from the family land in Connemara.
Bushmills

 

16

Year Old
Aged in a combination of Oloroso Sherry and bourbon-seasoned barrels, before going through a final finishing period in Port wine casks, the unique maturation process creates a truly fantastic whiskey. With complex notes of juicy fruits, nuts, and spice, as well as a hint of ruby redness, the 16 Year Old Single Malt is best enjoyed neat or with a small ice cube to unpack its unique flavours.
Redbreast Irish Whiskey
Malted and unmalted barley go into this triple-distilled liquor, a signature bottling that's been matured in both American Oak barrels and Oloroso Sherry seasoned Spanish oak butts. Satisfying and complex, Redbreast's distinctive flavoursome taste will linger – it's the whiskey that keeps on giving.
Knappogue Castle 12-year-old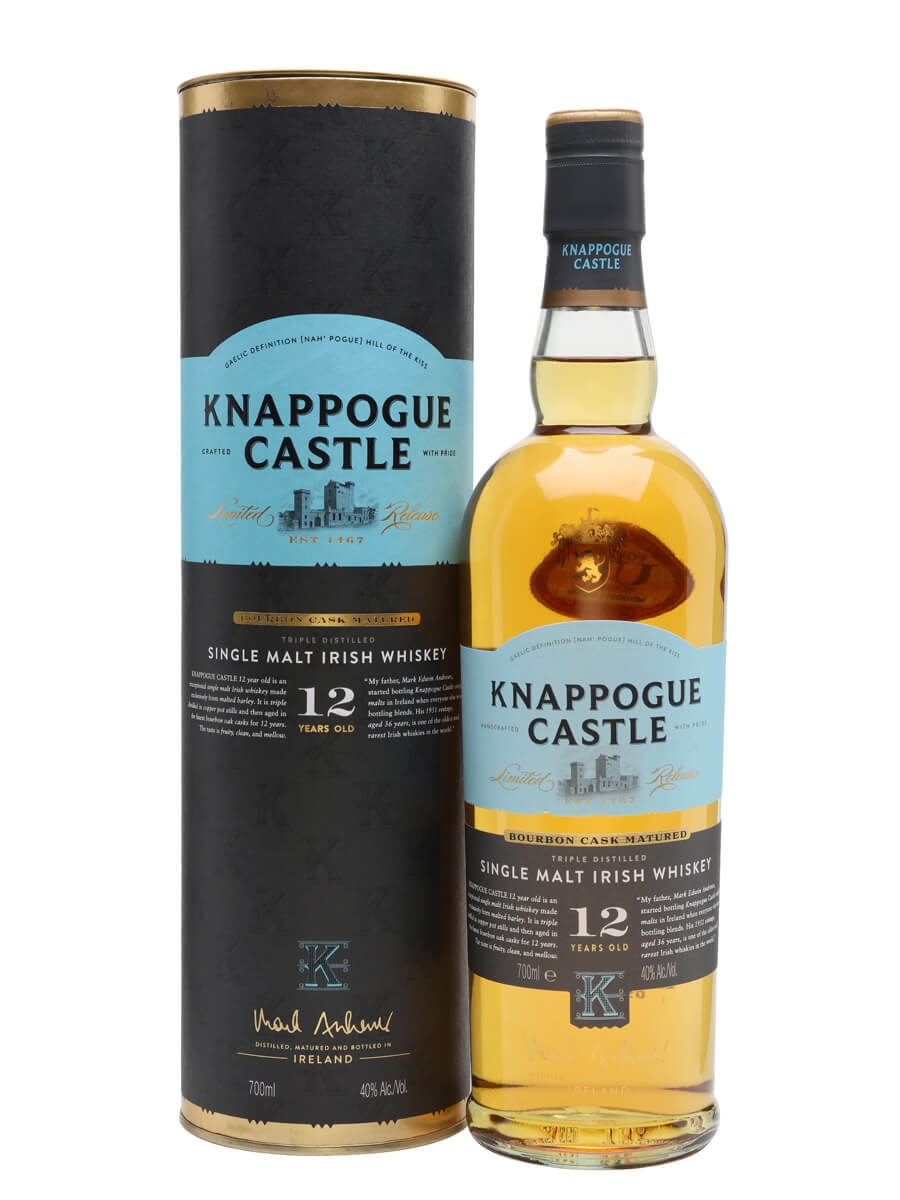 The brand's signature expression is made from malted barley and triple distilled, batch by batch, in traditional, onion-shaped copper pot stills within its castle home. It's then aged for 12 years in bourbon oak casks, creating a mellow biscuity flavour with pops of mild spice and a delicate fruitiness. Clean, and smooth, Knappogue Castle is an award-winning Irish whiskey.
The Sexton Single Malt Irish Whiskey
Presented in an unusual and sassy bottle, its hexagonal shape pays homage to the Giant's Causeway – home of The Sexton. Crafted from Irish malted barley and triple distilled in copper, the liquid is then aged in oloroso sherry butts, allowing the whisky to marinade in woody aromas. The whisky holds has a bold taste, with nutty, dark chocolate and marzipan notes.
Teeling Small Batch
Dublin's Teeling has launched their very first Small Batch Irish whiskey; a blend of malt and grain whiskeys. It undergoes a double ageing process, first in ex-Bourbon barrels, then in Central American rum casks for an alternative flavour – add it to coffee for the perfect boozy hot beverage. Non-chill filtered, Teeling's whisky is bottled at 46% ABV.
Writers' Tears Copper Pot
Taking its cue from 19th and early 20th century Ireland (a golden era for national playwrights, novelists and poets), this whiskey celebrates all things literary and the bygone relationship between writers and whiskey barons. Copper Pot is triple distilled, non-peated and matured in Flame Charred American Oak bourbon casks; named by Ian Buxton among "101 Whiskeys to try before you die".
KINAHAN'S Single Malt Irish Whiskey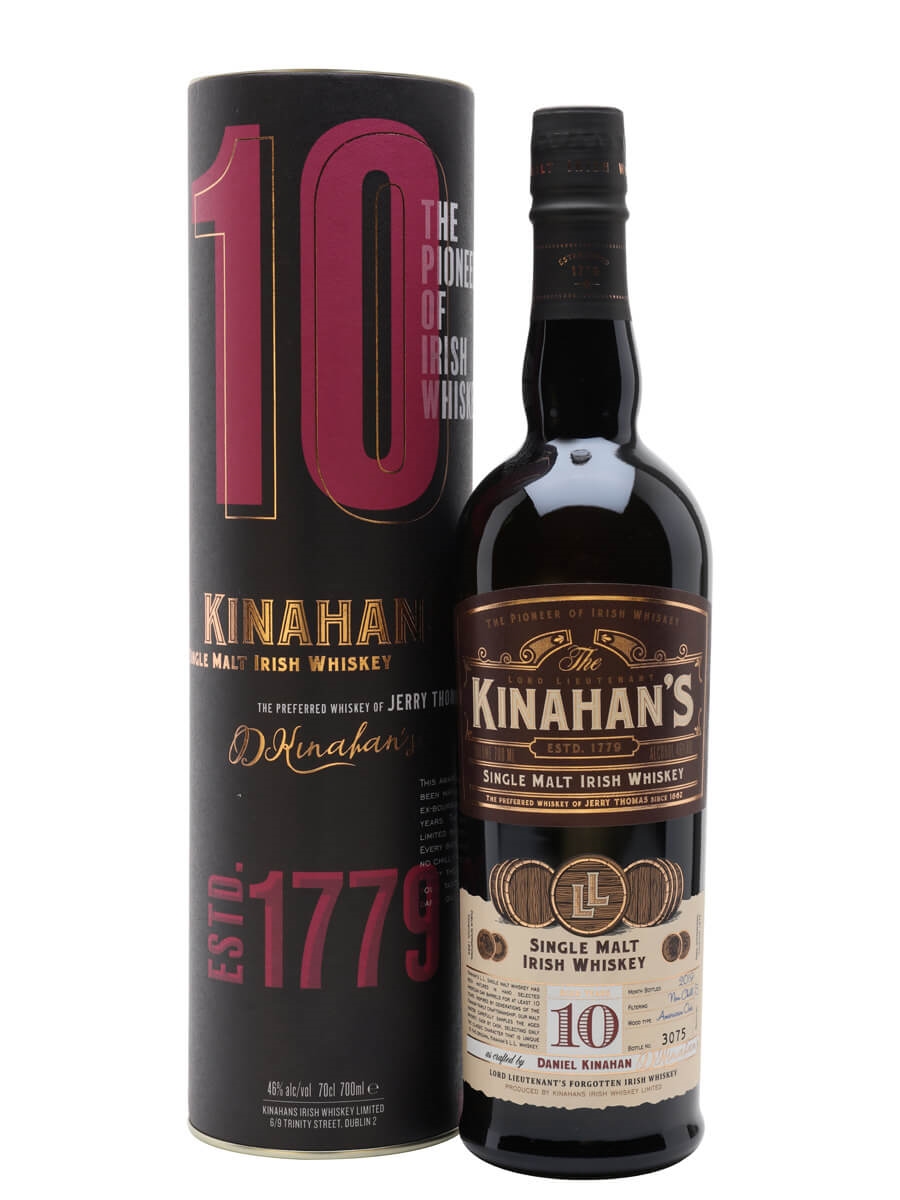 Matured in American oak, first-fill, ex-bourbon casks, this single malt takes on a shiny gold hue. In terms of its nose, you'll get a mix of bright citrus and moody cigar/tobacco vibes, that create a complementary contrast. The brand has a legacy dating back to the 1700s, with generations of the same family at the helm. This is perfect for those who like a traditional single malt, with a gentle and refined taste.