For this Valentine's Day, we have chosen the best luxurious chocolates to make your day that little more special. From boozy truffles to perfect pralines, we've uncovered decadent delights with the highest quality taste and five-star presentation.
Fortnum and Mason | Heart Chocolate Selection Box, 550g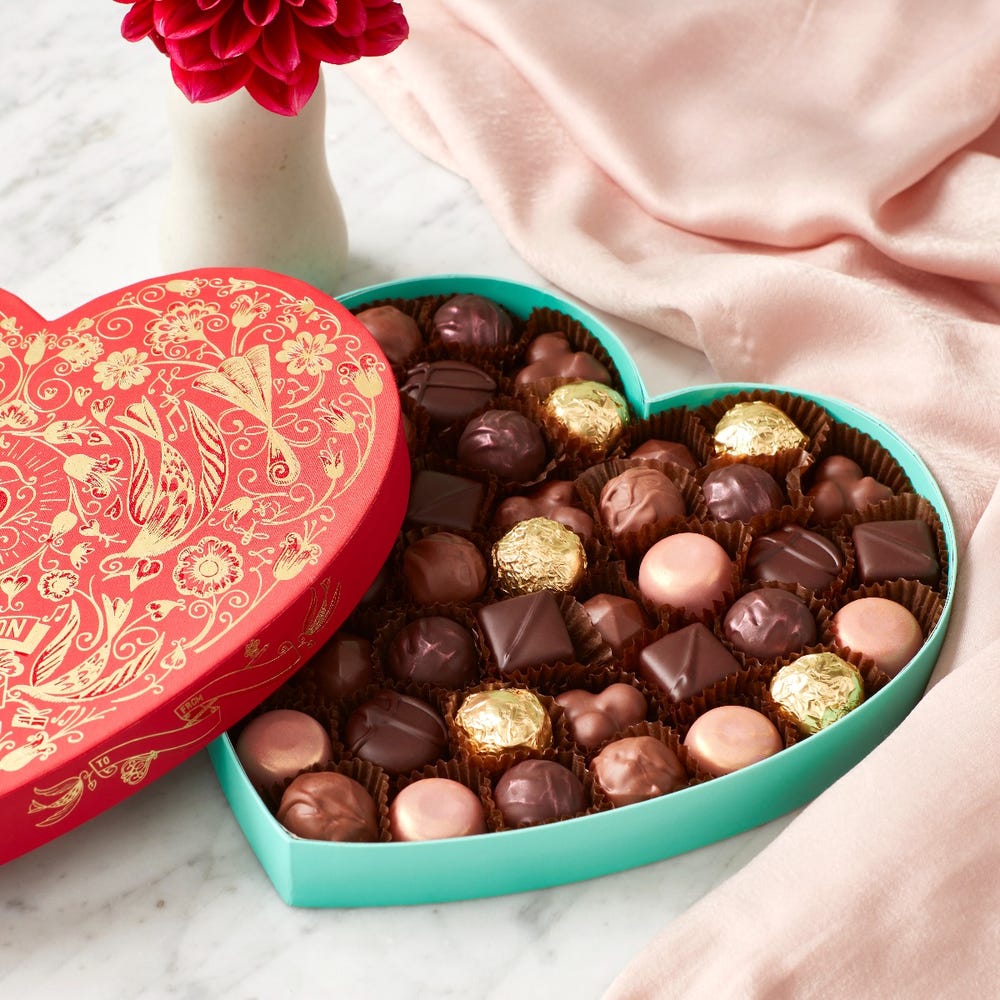 You can pamper your palate with this decadently smooth and creamy selection of milk, dark and ruby chocolates, perfect for someone who likes variety when it comes to chocolates. Indulge in the Dark Cherry Truffle infused with rich cherry liqueur, or a Milk Hazelnut Cluster with whole Turkish hazelnuts roasted, caramelised then double coated in velvety milk chocolate. Taste their Ruby Countess Grey Ganache, made using Fortnum's very own Fortnum's tea, Dark Chocolate Passionfruit Fondant, and Rosé Champagne Truffle filled with a dark chocolate ganache and enrobed in ruby chocolate. All presented in a heart-shaped box – how could you resist?
Farhi | Luxury Belgian Chocolate Heart Selection, 475g
You won't be able to resist the exquisite pink and white chocolate caramel praline hearts that is presented in the brand's signature nine-way gift box. This Luxury Belgian Chocolate Heart Selection is set to make you fall in love with Farhi's creations. Fillings include sweet pear, sharp rhubarb, tangy lime, grapefruit and exotic passion fruit ganache, all coated in an assortment of dark, milk and white chocolate – providing great variety in flavours. These luxurious chocolate hearts make the perfect gift for the hopeless romantic in your life.
Artisan Du Chocolat | Voyage de Chocolats, 1kg
Artisan du Chocolat's Voyage de Chocolat trunk invites you to travel the cacao route in style. Inspired by the glamour of vintage luggage, the Gatsbyesque trunk ties with a leather-like strap and opens to reveal individual drawers that are choc-full of exquisite surprises. Along the way on a voyage of chocolate discovery you'll discover salted caramels, classic truffles, shimmering pearls, coated fruit & nuts and exotically scented ganache. covered with a custom monogram of cocoa flowers and pods. This indulgent trunk is absolutely stunning and makes a unique gift and an unforgettable end to a dinner party.
Fortnum and Mason | 196 Piece Assorted Napolitains, 1.2kg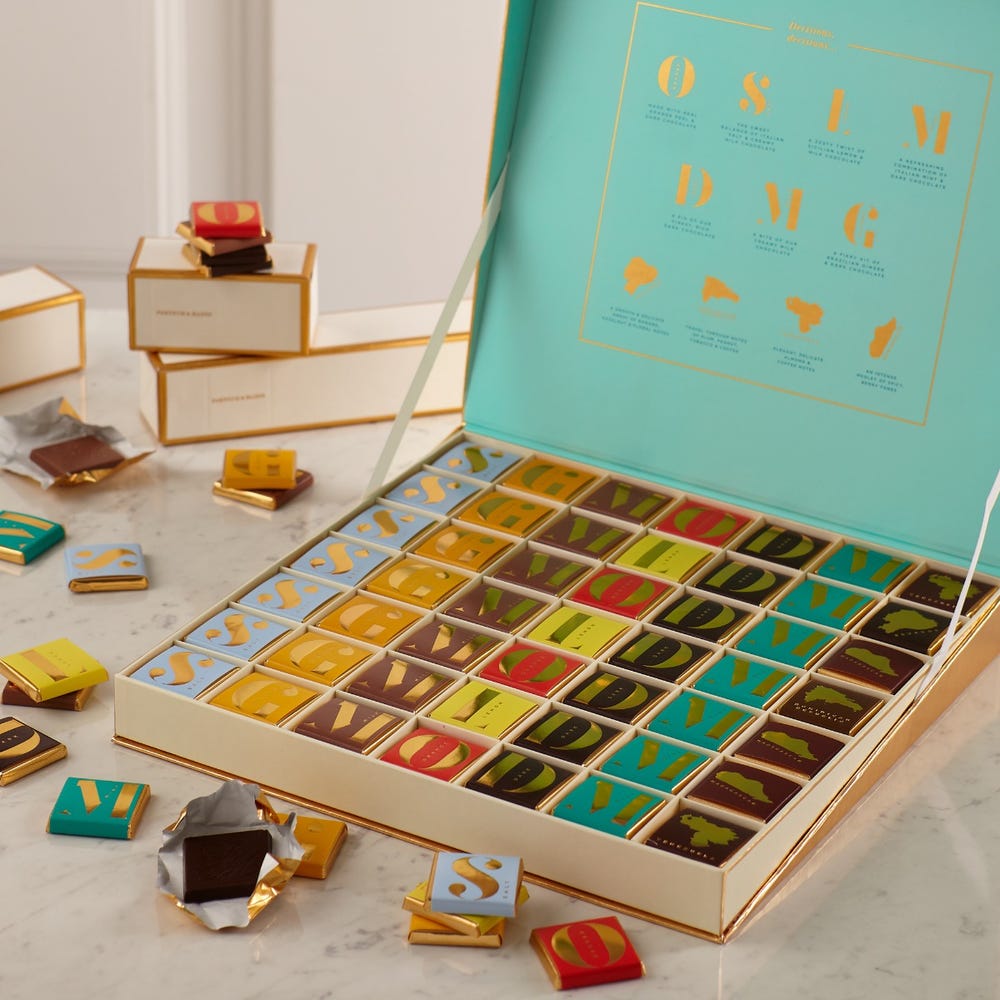 Fortnum's new Napolitains are made exclusively by a family chocolatier in Tuscany, Italy. "Napolitains" is the traditional Italian word for these individually wrapped squares of chocolate, served with a cup of coffee or after dinner as a small, sweet treat. This assorted box is perfect for someone who loves a wide variety with 196 chocolates to choose from, including: Madagascar dark chocolate squares, Dominican Republic dark chocolate squares, Venezuela dark chocolate squares, Ecuador dark chocolate squares, Sea salt milk chocolate squares, Ginger dark chocolate squares, Mint dark chocolate squares and many more. Indulging in a box with so many varying intense flavours and luxurious notes, this chocolate box creates an amazing gift.
Charbonnel Et Walker | Boite Blanche Milk Chocolate Sea Salt Caramel Truffles, 1.7kg
The ultimate decadence and a showstopping centrepiece to any party has arrived. This enormous Boite Blanche is probably the most luxurious gift box ever to grace shelves. Containing an astonishing 1.7kg of Charbonnel et Walker's velvety Milk Chocolate Sea Salt Caramel Truffles, inspired by a recipe dating back to 1668 that belonged to the Second Earl of Sandwich. Now that's a statement piece, perfect for your special someone! Established in 1875, Charbonnel et Walker is one of Britain's first and foremost chocolate makers; indeed with their Royal Warrant, they are chocolatiers to Her Majesty The Queen. Their shop has stood on Bond Street ever since and has been frequented by the likes of Princess Diana, Princess Margaret, Wallis Simpson, Sir John Gielgud, Sir Alec Guinness, Lauren Bacall, Noel Coward and many more.
Fortnum and Mason | Fortnum's Marc de Champagne Truffles, 500g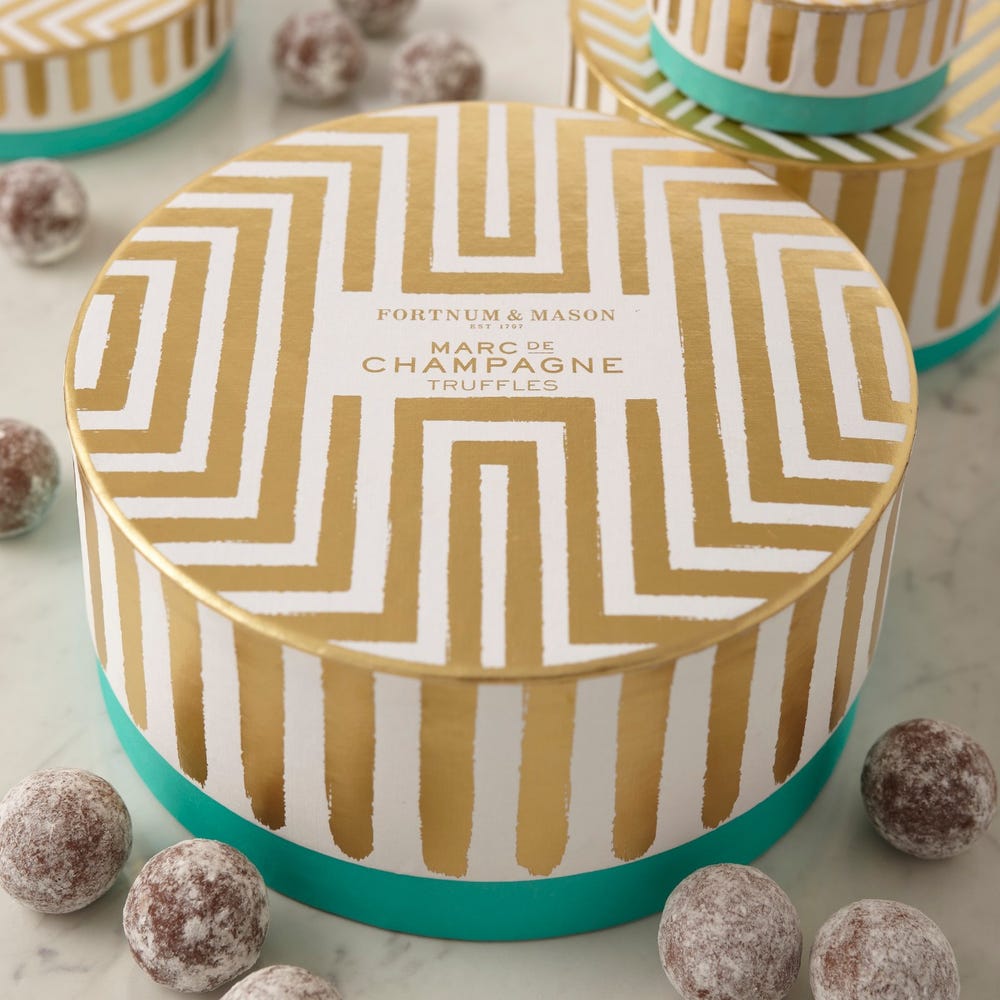 For the champagne lovers in your life, Fortnum' boozy, silky Marc de Champagne Truffles are here to give your taste buds cause for celebration. Champagne truffles are a fabulous option for Valentine's Day as they tie in seamlessly with the bubbly celebration of Valentine's Day. Made in England to an exclusive recipe, each truffle features an intense centre of Marc de Champagne, coated in creamy milk chocolate and finished with a dusting of icing sugar. These truffles are bestsellers at Fortnum's – one bite and it is easy to see why.