Never before has handwashing been so vital and topical. But it doesn't have to be a dull ablution. Give your bathroom a spa feel this festive season with a lavish take on liquid soap. Enjoy lasting opulent aromas and a thorough clean with our pick of luxury handwash brands. 
ARRAN Sense of Scotland – Kildonan Hand Wash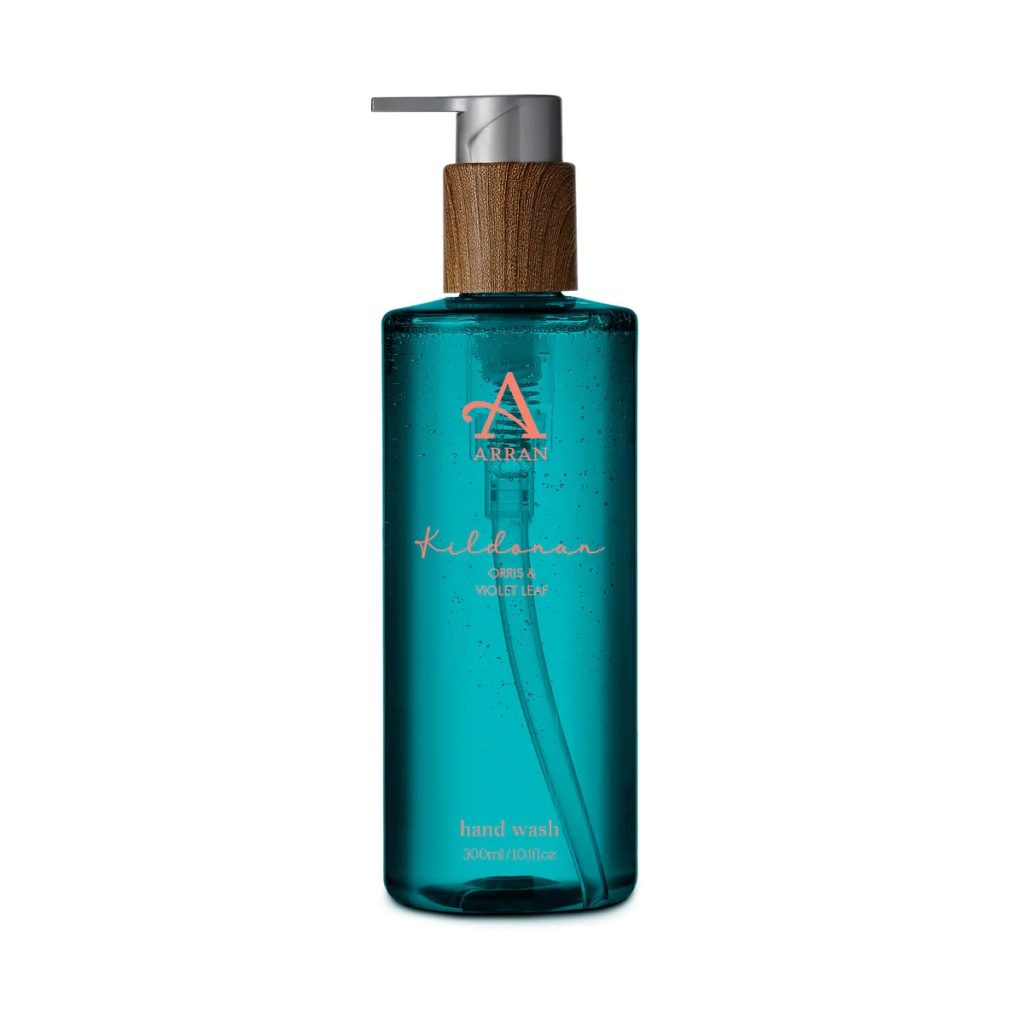 ARRAN Sense of Scotland new hand wash Kildonan offers a sweet and delicate violet fragrance warmed with the glow of velvety orris. It's the perfect scent for when you want to escape to paradise and relax in the sun. This new foaming hand wash is gentle and formulated to cleanse deeply while leaving your hands with a fresh and floral fragrance.
Byredo – Vetyver Hand Wash
Vetyver's understated design will complement the minimalist bathroom or WC nicely. Its gentle scent contains violet and cool jasmine, with a lasting woody undertone. The liquid's light texture carefully cleanses, hydrates and soften the skin, so is suitable for frequent use. You may also like to check out Byredo's rinse-free handwash, a convenient alternative when out and about. 
Tom Dixon – London Hand Wash
This masculine on-trend design features a jet bottle with matching black liquid hand soap. Its hue comes from the detoxifying blend of black clay and charcoal, which effectively cleanses without dehydrating. Take in the heady notes of smoky black pepper, oud wood, cedar and patchouli, reminiscent of London's upmarket streets and green spaces. The UK made hand wash is free from parabens and SLS.
Jo Malone London – Black Cedarwood Juniper Body And Hand Wash
Meadowfoam seed cleanses, while black cedarwood, juniper, moss, cumin and chilli leaves apply a delicious scent to the skin. Suitable for both body and hands, the translucent gel conditions and softens with a rich lather. Presented in Jo Malone's classic chic style, this is an attractive bathroom addition.
MALIN+GOETZ – Rum Hand + Body Wash
Take this Malin+Goetz wash into the shower or place it by the sink. The beverage themed aroma provides an intoxicating experience, especially when combined with steam. Amino acid technology blends with the brand's top-selling dark rum fragrance, while the foaming gel purifies, hydrates and balances the skin.
ESPA – Bergamot & Jasmine Hand Wash
If you need a soap-free option, check out this gentle and refreshing daily wash. Containing a blend of natural pure essential oils that harness the power of nature, you can enjoy the aromatherapy experience at home. Therapeutic bergamot and jasmine leave skin feeling soft, nourished and conditioned all day long. 
STORIES PARFUMS – STORIES No. 02 Hand and Body Wash
Crafted with high-quality raw materials sourced from all over the world, Stories No. 02, contains aloe vera, coconut oil and pro-vitamin B5. The nutrient-rich formula protects the skin and invigorates the body. Exotic notes of Bulgarian rose and spice, rich honey tobacco, opoponax, Tonka bean and patchouli remain on the skin for many hours after use, ensuring a delightful lasting experience. 
Goutal – Oriental Hand Wash
The sensual fragrance of Goutal's hand wash is inspired by the warm winds of the Oriental deserts. This theme is evoked using eastern top notes of incense, labdanum and benzoin, heart notes of iris absolute and vanilla, with warming base notes of geranium and patchouli. Pair it with the brand's exclusive hand cream, infused with the same ingredients and ideas.
Sans Ceuticals – Ph Perfect Body + Hand Wash
Maintaining the skin's delicate PH balance can be tricky, but this ethical hand and body wash provides an answer, cleansing without stripping the skin of moisture. It's sulphate-free and safe for everyone to use, even babies and those with dry or sensitive skin. Ph Perfect's ingredients are all pure and sustainable, including lychee extract and phytoceramide. It's also free from artificial colours, bleaches, artificial fragrances, aluminium/alumina, mineral oils, sulfates, silicones, steroids, petrochemicals, parabens, phthalates, vinyl and hasn't been tested on animals. 
Bondi Wash – Hand Lotion Tasmanian Pepper & Lavender
Add some Aussie vibes to your home with this 100% botanically-derived formulation. It contains extract of the super-plant Lilly Pilly containing high levels of Vitamin C as well as anti-oxidants to improve firmness and elasticity of the skin. Pure essential oil blends Tasmanian pepper and lavender alongside native citrus for a bright, yet comforting aroma. 
Dior – Jasmin Des Anges Liquid Hand Soap
Try the glamorous Jasmin de Anges liquid hand soap if you like an abundant lather. Your hands will be left soft, comforted and delicately scented. The liqueur-like fragrance was created in tribute to late summer, a warming floral-fruity concoction with notes of sweet candied apricots. 
Bamford – Geranium Hand And Body Wash
Uplifting and revitalising, this is a perfect choice if you prefer to feel energised after a wash. Suitable for all over the body as well as the hands, this comes from the famed spa house delivers life-giving oxygen to skin cells. The formula contains organic aloe vera, collagen-protecting antioxidants, gentle plant-based cleansers and the brand's signature blend of geranium, lavender, peppermint and tonka bean.
Aesop – Resurrection Aromatique Hand Wash
The Australian skincare specialist employs the latest innovations and botanical extracts to improve skin quality and balance skin moisture levels. Here, mandarin and cedar essential oils work as an antiseptic, while rosemary and lavender provide a zesty fragrance. Follow with Resurrection Aromatique Hand Balm for the full Aesop experience.