Its name means 'mountain home', referring to Bergamo's Alpine setting in the Lombardy region of Italy. The city has two distinct areas: the bustling, lower district of Città Bassa, and the older, cultured district of Città Alta, lying at a higher altitude and easily accessed via Bergamo's funicular. Romantic and beautiful, the city features quaint cobbled streets, medieval architecture, Venetian walls and ancient churches. It's also a great destination to experience authentic Northern Italian cuisine and discover local history (the settlement dates back to Roman times in 196 bc). Here are some of the city's most charming hotels.
GombitHotel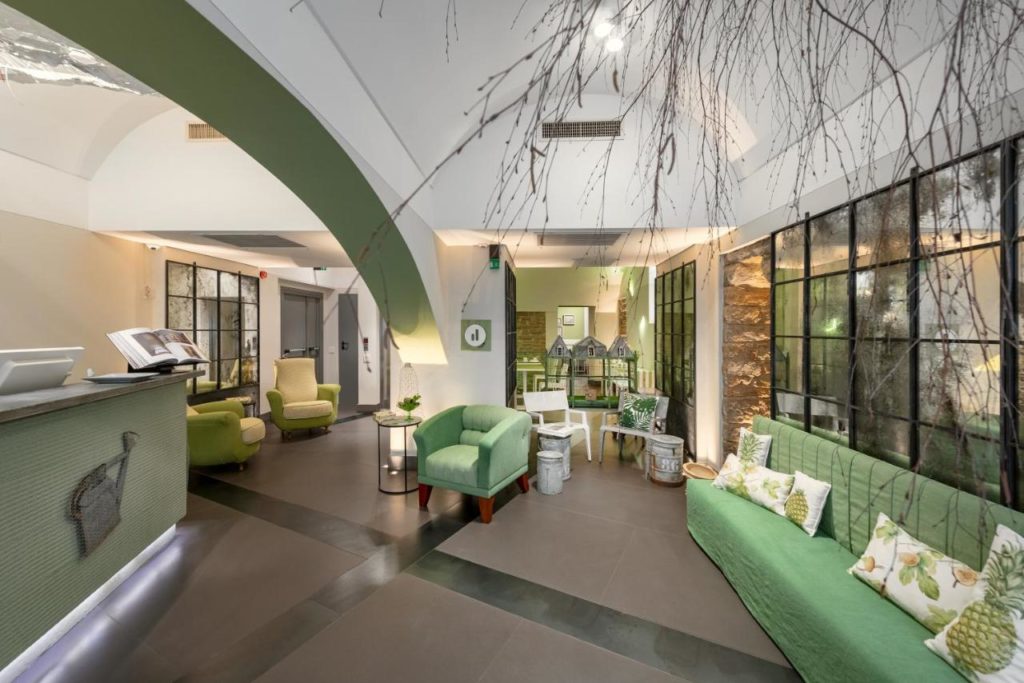 Just around the corner from Cappella Colleoni church, one of the most visited attractions in Bergamo, the GombitHotel sits at the intersection of two ancient Roman roads. The interiors are the work of forward-thinking young artists, crafted using simple materials and pastel hues to foster a sense of freedom and creativity. 15 bedrooms have an airy, urban feel. This is augmented by original features, such as heavily beamed wooden ceilings, adding an element of history to the otherwise contemporary styling. Housed in a stone tower, the alternative boutique hotel has a bar, a library, and a pool.
Relais San Vigilio
Those preferring a greener setting can book a stay at the Relais San Vigilio. Found in a provincial park, it houses nine bedrooms with minibars and soundproofing for an extra peaceful night's sleep. A large outdoor terrace looks down across the city and the hotel's manicured gardens, a delightful spot to enjoy a sundowner after a day's sightseeing – there's also a funky modern bar. Rooms are soothing and simple, making use of the building's existing materials, revealing original stonework, brick, wood and curved ceilings. There's a restaurant and snack bar, as well as a cosy fireside seating area in reception.