This magical isle in Italy's beautiful Bay of Naples boasts rugged scenery, with its most well-known landmark being the Blue Grotto, where sunlight passing through an underground cavern turns sea water to electric-blue. A good ferry service connects it with the nearby islands of Ischia and Procida, and to the mainland where such gems as Amalfi, Positano and Sorrento await. Moored yachts and up-market shops make this a playground for affluent holiday-makers, and some superb hotels reflect this.
JK Place Capri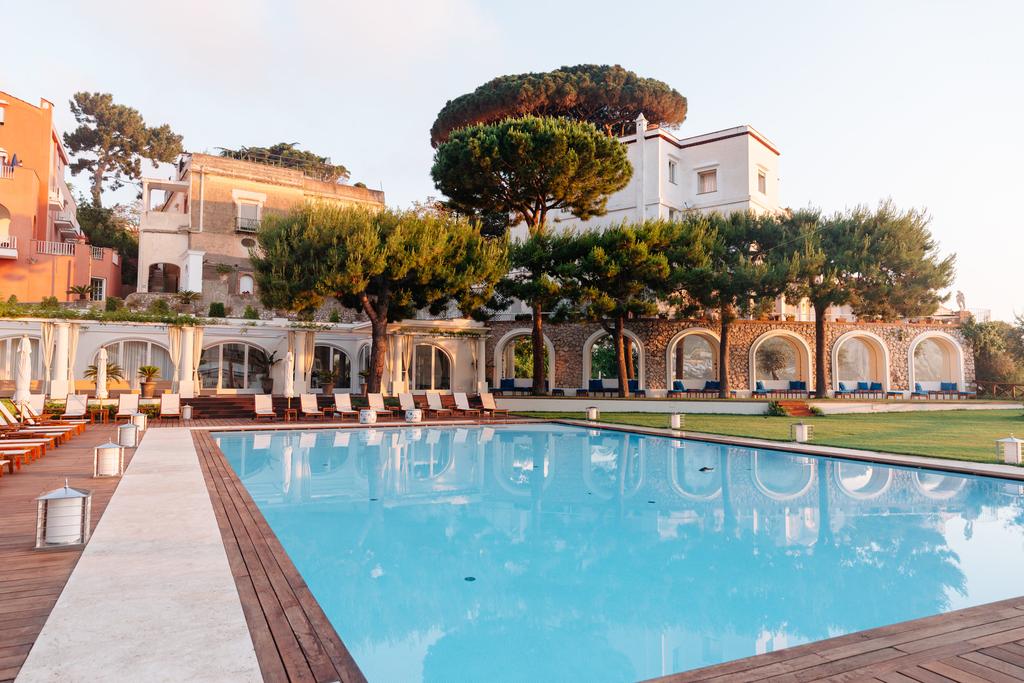 Close to the beach and port, rooms here provide air-conditioning, tiled flooring, mosaic-decorated marble bathrooms, free WiFi, and flat-screen satellite TVs. A spa, hot tub and wellness centre with sauna, Turkish bath and gym, together with a tennis court and outdoor pool, ensure guests' well-being. The JKitchen Restaurant serves regional cooking with organic produce, catering for special diets, and meals can be eaten on the terrace with its panoramic vistas.
Hotel Punta Tragara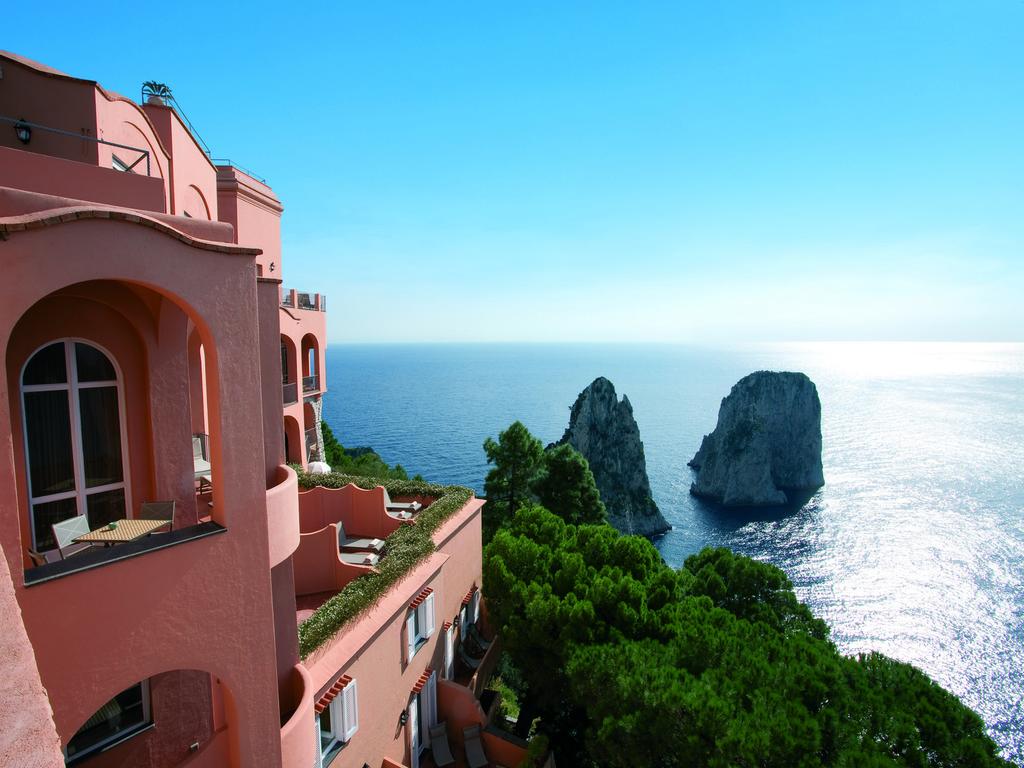 In a perfect location overlooking the Faraglioni rock formation, the villa was designed in 1920 by Le Corbusier for a Lombardy engineer. As the American military base during World War II, it hosted dignitaries like Eisenhower and Churchill, before becoming a summer home for the grandparents of the present owner. Converted into a hotel in 1973, it offers luxury accommodation and upgrades. Facilities include wellness packages, spa, gym area, and two swimming pools. Two restaurants serve Neapolitan fare, while a Gin Club and American Bar allow guests to take in the sunset over the bay.
Hotel Orsa Maggiore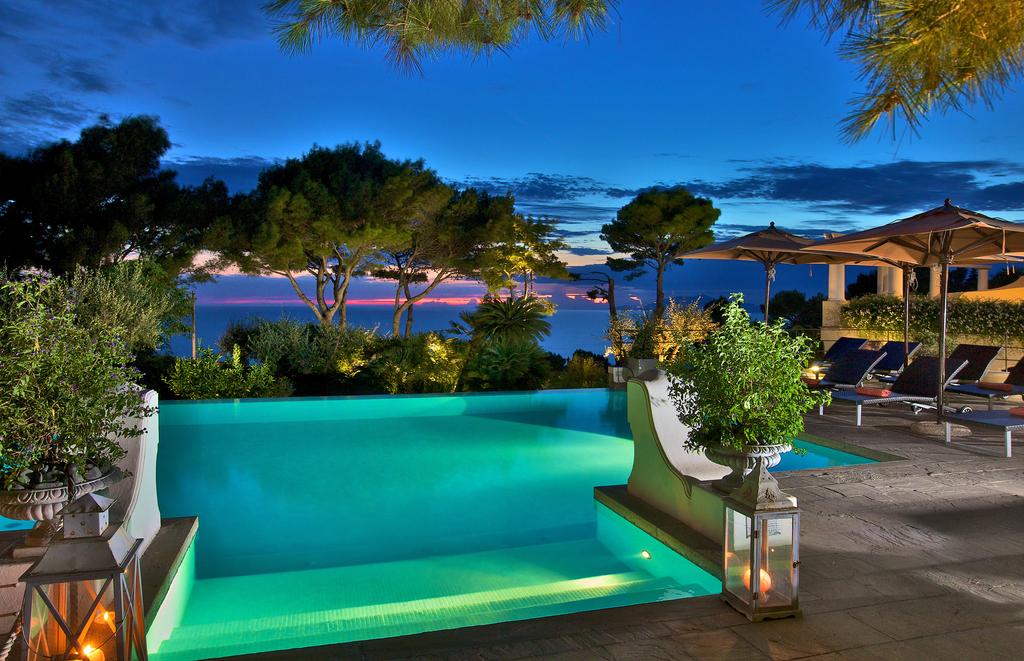 Ten minutes walk from the quieter town of Anacapri on the slopes of Monte Solaro, this boutique hotel is convenient for visiting the Blue Grotto or even Villa San Michele, the botanical Gardens of Augustus, Marina Grande and Marina Piccola, or for hiking off the beaten track. Rooms offer all amenities, and a shuttle service will take guests wherever they want to go. The poolside restaurant opens for lunches, with a bar and room service available for later, and a Roof Top Terrace for spectacular views and special occasions. A spa and gym for just two adds to the intimate feel of this jewel.
Hotel Caesar Augustus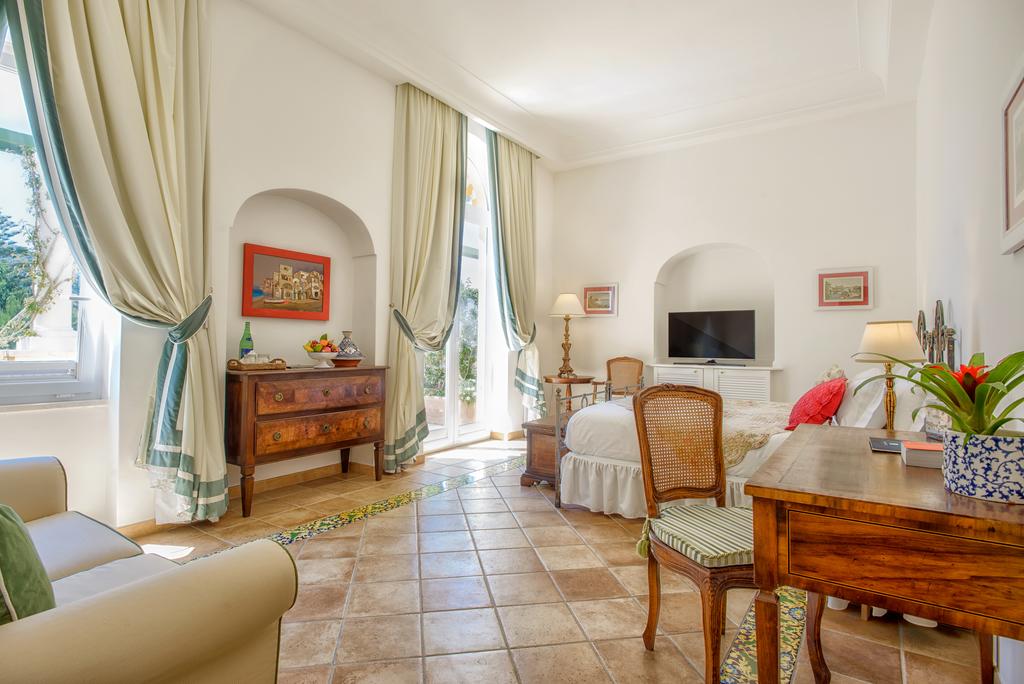 Another establishment in the area of Anacapri, with its artisan shops and chairlift to the top of Monte Solaro, the hotel is steeped in history. First noted in 1850 as a private villa, it became an inn that served workers constructing the Capri-Anacapri road in the 1870s, and then a twentieth-century refuge for a Russian exile who added art and culture. Sold around the time of the Second World War to the family of the present owners, it is now a renowned five-star resort. Rooms retain a mix of antique and modern, but with state-of-the-art amenities. Facilities on-site include a fitness centre, spa, infinity swimming pool, entertainment and a shuttle service (a local bus service also passes by), with wine-tastings and cookery classes that have to be experienced! Guests can absorb the breath-taking views from the terrace and bar, or from the restaurant, which has its own kitchen-garden.
Capri Tiberio Palace Hotel & Spa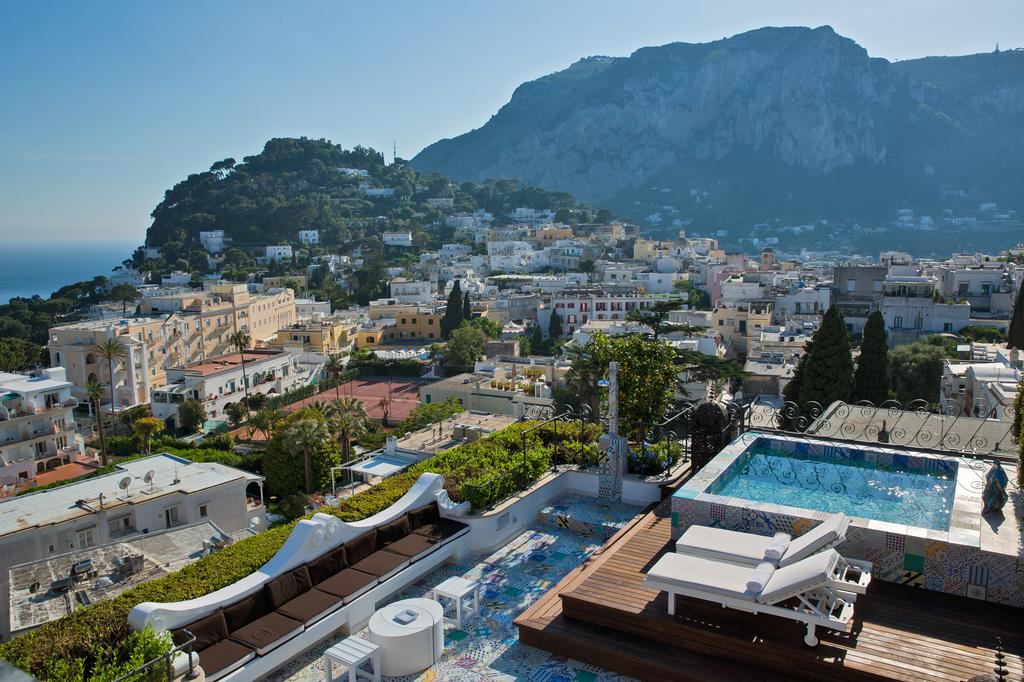 In a peaceful part of busy Capri town but only a short walk from the buzz of the Piazzetta, this nineteenth-century palazzo has been transformed into a de luxe boutique hotel with individually-designed rooms with all facilities, and pop art decorating the interior. A superior restaurant offers regional cuisine, Kosher and Halal options, and of course, a panorama to wow diners. Also available are upgrades, suites, spa and treatments, indoor pool and sauna, whirlpool tub, bar and rooftop terrace.
Grand Hotel Quisisana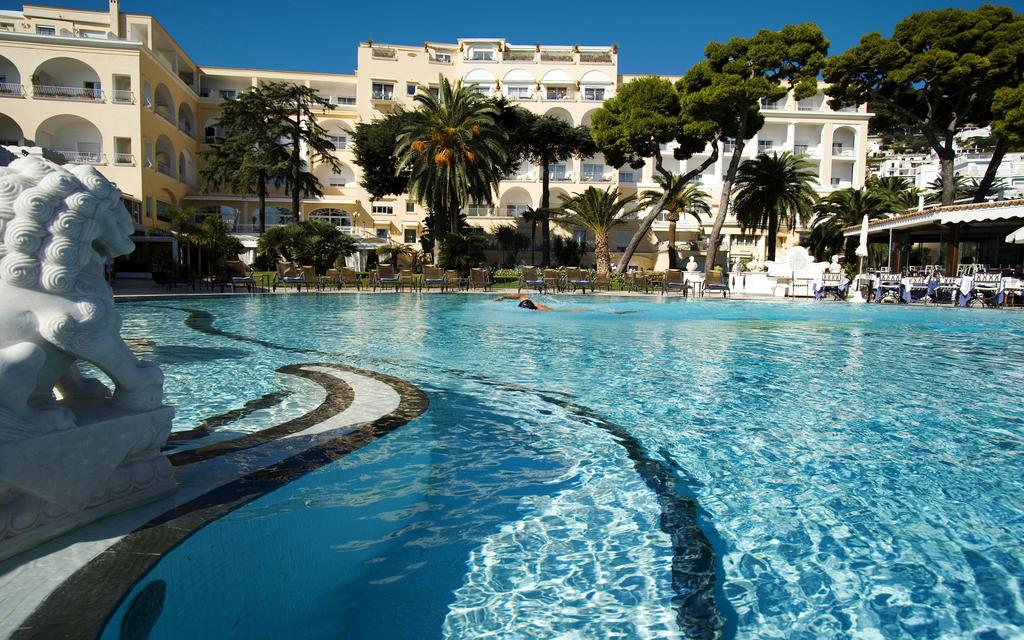 Close to the Piazzetta and the Via Camarelle with its exclusive boutiques and artisan workshops, this iconic location has been welcoming the rich and famous among its clients since 1845. Set within its own grounds and near the taxi rank and bus stops, the botanical gardens and Certosa di San Giacomo monastery are also within easy reach. Inside, chandeliers reflect onto marble floors, while rooms and suites with all luxuries are predominately white to showcase the colours of Capri. A spa, pool and hammam pamper guests, and meeting rooms are available for busier people. Three restaurants cater for fine dining, breakfast, special occasions, and poolside eating, with Bar Quizi and Caffè Morgano fulfilling other needs.
Hotel La Vega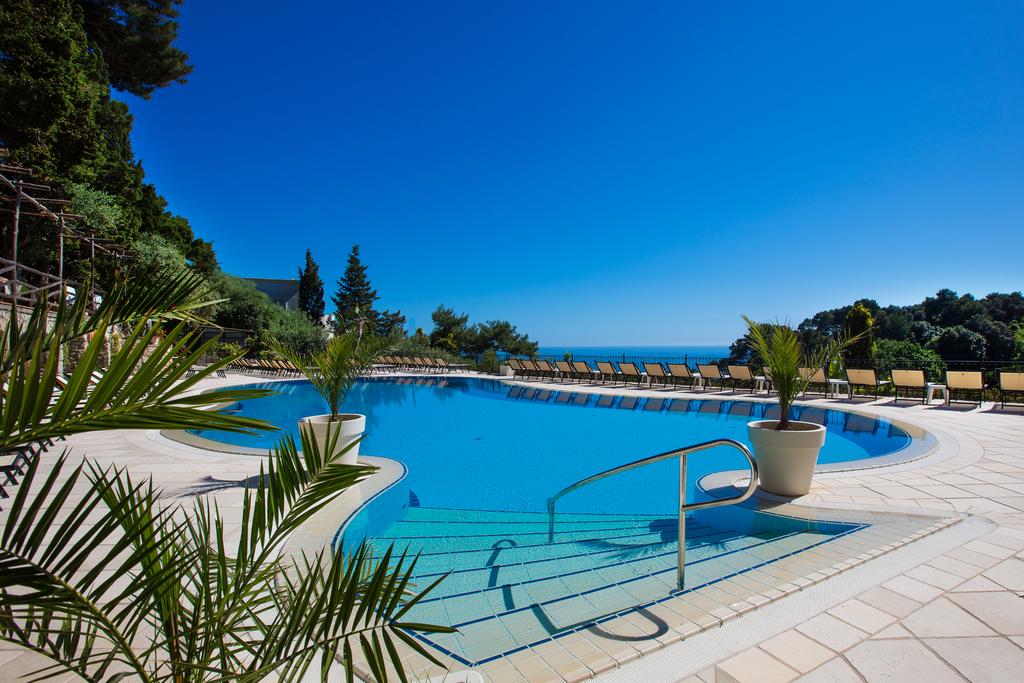 Located in a quiet quarter of Capri town but near its lively centre, the hotel faces the island's southern coast, giving guests stunning views from their balconies and terraces. Bedrooms are tastefully furnished with all modern conveniences, including whirlpool baths. A snack bar is ideally placed by the swimming pool, which is hewn out of the rock and shaded by olive trees, while the restaurant invites you to sample local cooking. It's a good base for sightseeing, but the adventurous should try the Via Krupp pathway, where bends hacked from rock lead to the Bay of Marina Piccola.