The southernmost country in Scandinavia is a land of fairy tales, cutting edge design and colourful marinal history. Officially a kingdom, this was the birthplace of Hans Christian Andersen and LEGO Tourists will find the country to be remarkably clean (Copenhagen's harbour is even suitable for swimming) with excellent green credentials, alongside a culture of respect, open-mindedness and tolerance. Quaint villages, safe cities, huge forests and unspoilt beaches found on the Danish Riviera make this a diverse and often surprising place to holiday. From medi-spas to boutique design hotels and huge historic buildings, these are the places we love to stay when visiting Denmark.
Copenhagen
Villa Copenhagen
Constructed in 1912, this building served as the Danish Post and Telegraph Office. Despite its neo-Baroque facade, Villa Copenhagen is thoroughly modern and promotes a sociable, homely vibe. On-trend with its sleek and chic Scandi design, it has 390 rooms, a brasserie (serving a fusion of organic local European and North African cuisine), a wine bar and a convivial courtyard. Climb to the rooftop terrace where you'll find a 25-metre eco-heated outdoor pool, gym, sauna and hidden herb garden. The hotel is located next to Central Station and opposite Tivoli Gardens, just 15 minutes from the airport. Look out for its private art collection – arguably the finest in the city. 
Nimb Hotel
This gorgeous hotel has a fairy tale façade in the fairy tale setting of Copenhagen's Tivoli Gardens. Its Moorish arches, towers, and minarets point the way to impeccable interiors with clean lines of Danish design enhanced by crystal chandeliers, candles, lanterns and flamboyant flower arrangements. All 38 rooms are unique with a harmonious blend of Nordic design, art and antiques, and the best in-room tech. Guests can enjoy a rooftop pool and small fitness room. Food and drink options are excellent with a brasserie, open sandwich restaurant, vegetarian restaurant, cake shop, and cocktail bar.
71 Nyhavn Hotel
A beautiful 4* hotel in a central location on the waterfront, 71 Nyhavn occupies two converted warehouses dating to the 1800s. Rustic with big Pomeranian Pine beams but contemporary with Danish design and an art collection, there's no shortage of character in the public spaces or the big, bright airy rooms. Guest facilities include a "boutique" and free tea and coffee in the lobby each afternoon. Dining is the SEA by Kiin Kiin restaurant which offers South Asian cuisine and a bar with craft beers and trendy gins.
AC Hotel Bella Sky Copenhagen
The striking silhouette of this modern Scandi-style hotel of two glass and aluminium towers linked by a sky bridge stands out on the Copenhagen skyline. Next to the green area of Amager Faelled (great for jogging and walking), it is an easily-reached 10 minutes from the city centre. The interior and accommodations are obviously Nordic with plenty of light, simple furniture, and curvy organic forms. Guest can dine in an excellent restaurant, work out in the fitness centre, or chill in the spa with its pool, sauna, and treatment rooms.
Nobis Hotel Copenhagen
One of the newest luxury hotels in Copenhagen, the 5* Nobis is centrally located and occupies an historic building from 1903 which used to be the Royal Danish Academy of Music. Standing next to the Ny Carlsberg Glyptotek art museum, the hotel's restored period features include a grand marble staircase and ornamental mouldings, now matched with modern light fittings, stark concrete and black leather. Rooms are stylish and tasteful and there's a basement gym and spa with a cold water plunge pool. The restaurant serves New Nordic cuisine very well.
Hotel SKT. PETRI
This hotel is centrally located in the Latin Quarter and despite its 5* rating, its luxury is beautifully laid-back and welcoming. The listed modernist building was once a bold and stark department store but is now full of geometric shapes, rich colours, and soft fabrics. Soundproofed rooms have a retro glamour, there's a peaceful courtyard garden with olive and fig trees and lavender, and bikes can be hired. There's a fitness room and for dining guest can opt for international cuisine at SKT PETRI Restaurant, Nordic Mediterranean at P Eatery, or lighter bites in the courtyard. Order a cocktail from the bar and sip it on the terrace.
Hotel SP34
A fine boutique hotel centrally located in Copenhagen's Latin Quarter, SP34 brings together in a happy marriage mid-century Danish design elements and modern furniture. Constructed from three townhouses, it is both, stylish and a little bit boho with high ceilings, real wood floors and full height bookshelves crammed with arty books, little curios and objets d'art and houseplants. Benefitting from plenty of natural light, rooms are typically Nordic in design and feel offering a comfortable stay. There are three lively restaurants offering everything from open sandwiches to the best burger in town. The music nights and poetry readings add to the arty vibe of this friendly hotel. Guests can also enjoy a fitness room or a movie in the 25-seat cinema.
Hotel d'Angleterre
One of the landmark hotels of the Danish capital, the Angleterre has a ritzy glamour and plays host to the rich, from royalty to rock stars. Located on Kongens Nytorv, a grand central square, the hotel has seen and indeed hosted, much of the city's history since 1755. It feels like a palace with its grandiose proportions, columns and chandeliers, accentuated by soft colours, luxury fabrics, and dramatic floral displays. Climate controlled rooms are sophisticated but comfortable. High class naturally means the restaurant has a Michelin star and if a glass of bubbly is on your mind, Balthazar champagne and cocktail bar extends a warm welcome. There's also a fitness room and spa with pool, sauna and hammam.
Manon Les Suites
A convenient location in the lakes area and with easy access to central attractions, Manon Les Suites offers self-catering type accommodation with luxury hotel standards. Looking like a picture straight off Instagram there's a definite wow factor in the design here; exposed pipework, jungle like planted areas, steel walkways and an eye-catching central pool area under a 5-storey glass roof. Rooms are self-contained with a kitchenette and separate sleeping and lounging areas. The rooftop is fabulous with a relaxed lounge and terrace with a bar/ bistro which serves light meals as well as a snack bar. Guests also enjoy access to a fully-equipped gym, sauna, steam room, and boxing arena.
Sanders is the place to stay in Copenhagen – the latest addition to the city's hotel scene, a unique property in the capital. The design, style and ambiance are at once classic and elegant yet also hip and highly individual. Sanders epitomises the current energy and creativity in Copenhagen. The hotel has been created with exceptional refinement and timeless elegance yet has a personality and style that's very much of the moment. Sanders is in the centre of historic Copenhagen, a stone's throw from the Royal Danish Theatre, where the hotel's founder and design visionary Alexander Kølpin used to perform the Principal 'danseur' in the Danish Royal Ballet. A such this hotel has been a very personal project for Kølpin, reflecting his love of the arts and travel (and also taking his nickname, Sanders!)
Skodsborg
Kurhotel Skodsborg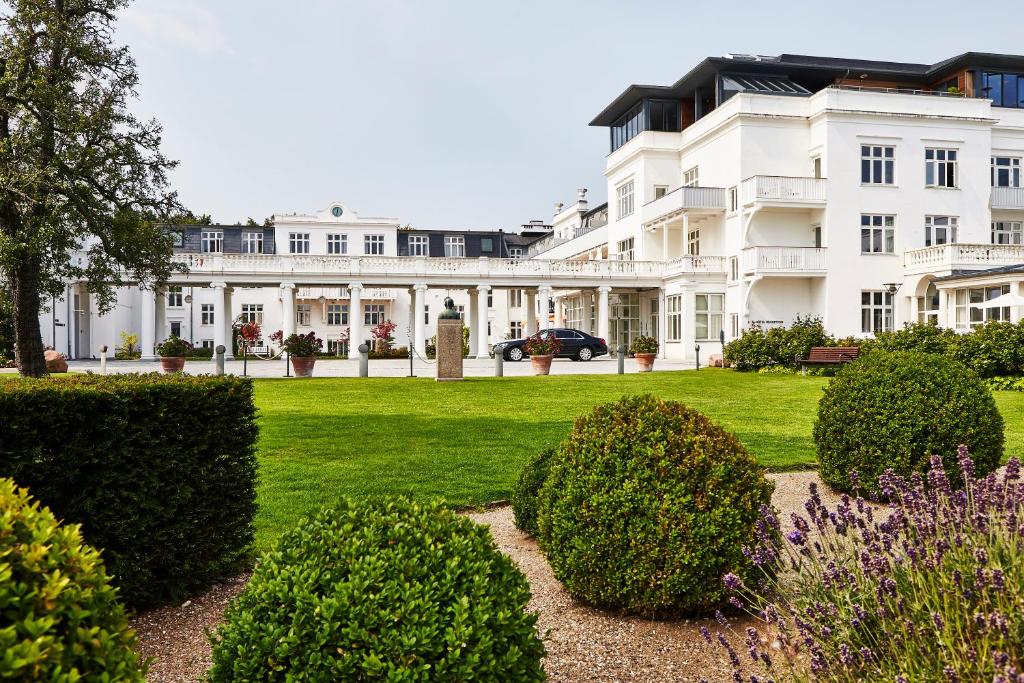 Now an expansive spa retreat and medical centre, this chic hotel was once a sanitorium used by Danish royalty. These days guests can take advantage of a variety of holistic services including acupuncture, reflexology, dentistry, psychiatry and physiotherapy. A huge pool and thermal suite aid relaxation in this dreamily peaceful spot. However, for those seeking activity, there are wellness talks, cookery workshops, live concerts and the opportunity to take the icy but glittering waters of the Oresund from the beach opposite. Continuing the healthy living theme, Kurhotel Skodsborg's three restaurants provide critically acclaimed, delicious and nutritious fresh gourmet meals.  
Aarhus
Villa Provence Aarhus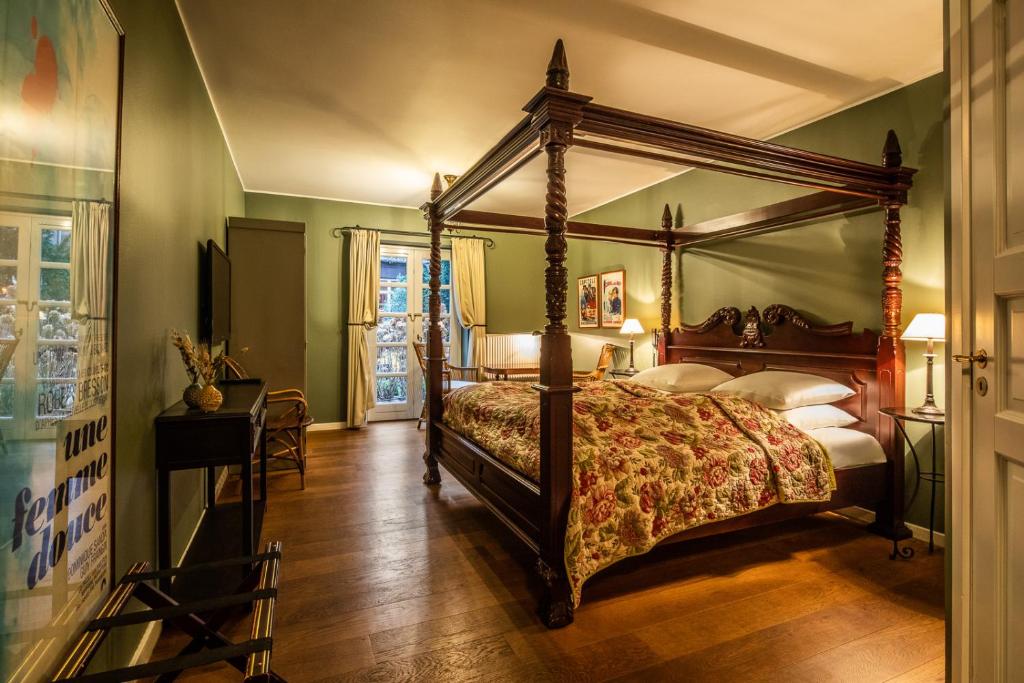 The Latin Quarter of Aarhus is a real gem – and it's this beautiful neighbourhood that's home to the seductive Villa Provence. Colourful retro movie prints, cosy antique French furnishings and contemporary style pieces adorn the 35 allergy-free bedrooms and four suites here. The hotel caters ably for solo travellers, with single rooms meaning you can avoid a supplement if staying alone. While larger suites provide separate sleeping and seating areas, oversized bathtubs, work desks and terraces. A charming cobbled courtyard with a bubbling fountain and artisan floristry sits at the villa's centre – a lovely setting to enjoy breakfast or an alcoholic beverage.