From the white-washed walls of the Greek Islands to the crystal-clear waters of the Mediterranean, Greece is a breathtaking destination that promises an unforgettable getaway. Discover the best luxury hotels in Greece, from 5-star resorts to boutique hideaways, so that you can experience the ultimate in comfort and luxury. Whether you are looking for an exquisite spa, a Michelin-star restaurant, or an exclusive beachfront property, you will find it here. So come explore the wonders of Greece and find the perfect luxury hotel for your dream holiday.
Featured Hotel
Porto Zante Villas & Spa
Nestled along a private sandy shoreline on the enchanting island of Zakynthos, Greece, Porto Zante Villas & Spa is a globally acclaimed resort providing unparalleled privacy and luxury. Raised above the Ionian Sea for spectacular views, the resort elegantly harmonises with its serene surroundings, offering guests a secluded haven to unwind, complemented by meticulous service and exclusive experiences. Guests at Porto Zante may savour a gastronomic journey in its two waterfront dining establishments, indulging in a myriad of flavours spanning Greek, Mediterranean and Japanese cuisines. The resort also offers the luxury of 24-hour In-Villa Dining and intimately romantic Private Beach Dining experiences. With amenities ranging from a private Waterfront Spa and a vibrant Kids Club to enthralling watersports and Private Yacht Excursions to renowned attractions and neighbouring isles, both couples and families may immerse themselves in the best of Porto Zante. Additionally, with its stunning natural landscapes and rich history, Zakynthos unfolds as a captivating destination, providing guests with unforgettable moments.
Athens
Gatsby Athens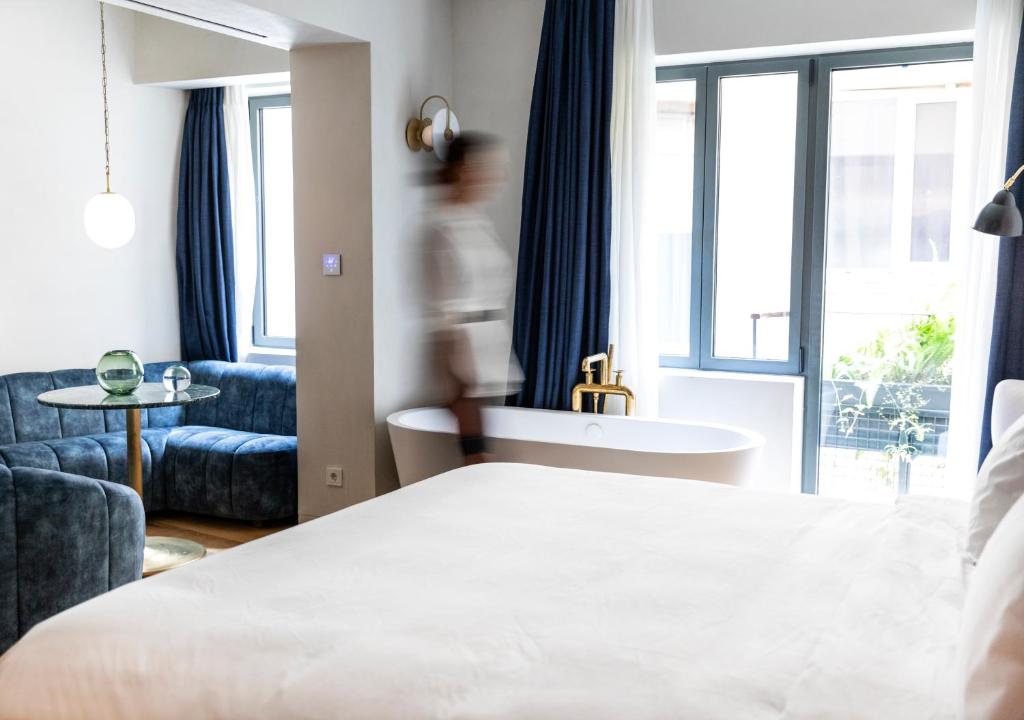 Gatsby Athens is the newest luxury hotel to welcome guests to the historic and beautiful city. The 33-room hotel balances sophisticated design with Greek traditions whilst guests can also enjoy personalised, attentive service with one-of-a-kind food, beverage, and entertainment offerings reflecting the best of the cultural and social milieu of its downtown location. The vibe at the hotel is an energetic one that evokes the glamour of mid-1930 Athens, The Gatsby Restaurant is the main social hub of the hotel, and Cloud 9 the rooftop garden bar offers a casual-cool atmosphere, welcoming hotel residents and guests to dine with stunning panoramic views and a glimpse of the Acropolis. Guests can also make use of the 24-hour detox GYM with the latest fitness equipment. Individual guest rooms and suites present an art-deco design; think signature pastel pink headboards and diamond-tiled showers along with state-of-the-art technology. This is more than just a place to sleep, it's a place to play and enjoy life!
xenodocheio Milos
World-renowned Greek restaurant group, estiatorio Milos, is delighted to announce the opening of the very first luxurious gastronomy 5* hotel right in the heart of Athens. Combining the concept of "philoxenia" – making a stranger feel at home – with striking simplicity, the hotel will offer guests world-class hospitality. Comprising 43 individually styled rooms and suites all of which present an air of Greek elegance; think high ceilings, marble bathrooms, wooden floors, and velvet soft furnishings. The restaurant is at the heart of the hotel and offers an artistic yet authentic Mediterranean menu; showcasing the finest quality produce to perfection. Guests can also make use of the 24-hour state-of-the-art gym and the hotel's prime location makes it the perfect base from which to explore exciting Athens.
Hotel Grande Bretagne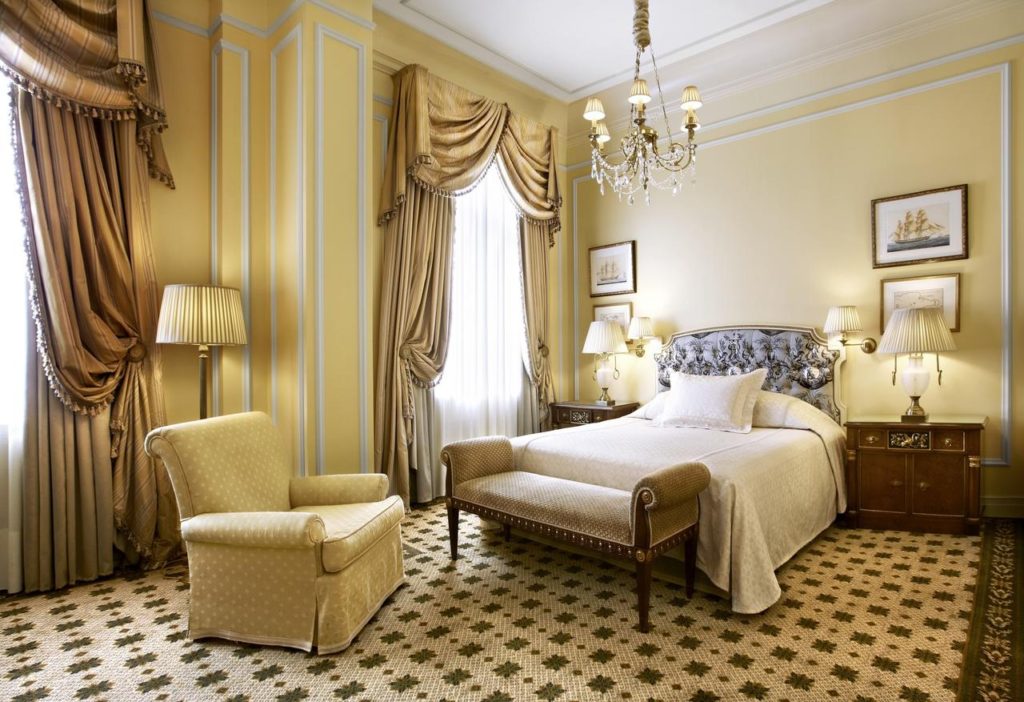 Located centrally next to Syntagma Square, the Hotel Grande Bretagne is a luxury hotel in Athens that was originally a residence built for a wealthy businessman in 1842. In recent times the hotel has had a full multi-million revamp to restore its former glory and it now has an indoor and outdoor pool a spa, a restaurant, a coffee shop and a number of attractive bars including a rooftop terrace where you can soak up the atmosphere of this vibrant city.
New Hotel, Athens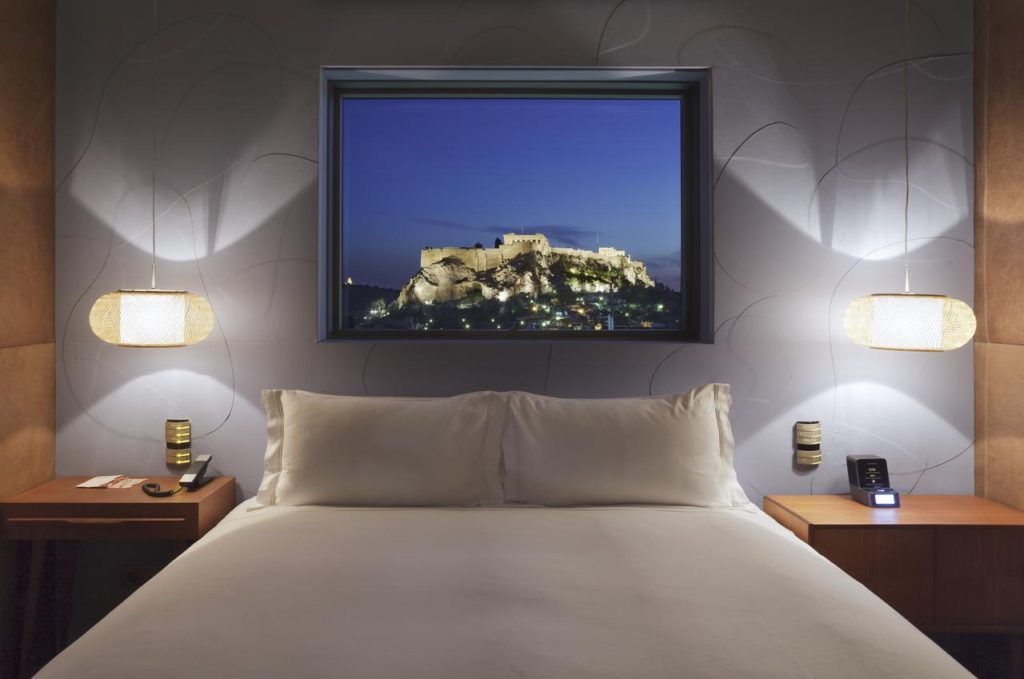 With its cutting-edge modern design, The New Hotel has a unique style that made headlines when it first opened in 2011 as part of the 'Yes!' chain of hotels spearheaded by Dakis Iaonnou whose love of modern art is reflected in the funky, retro designs. Ultra comfortable beds are a feature, as are futuristic-looking bathrooms with gold sinks that extend out into the room! The hotel has a spa, a gym and a number of excellent dining opportunities including The Art Lounge – a Mediterranean bar and restaurant on the top floor.
AthensWas Hotel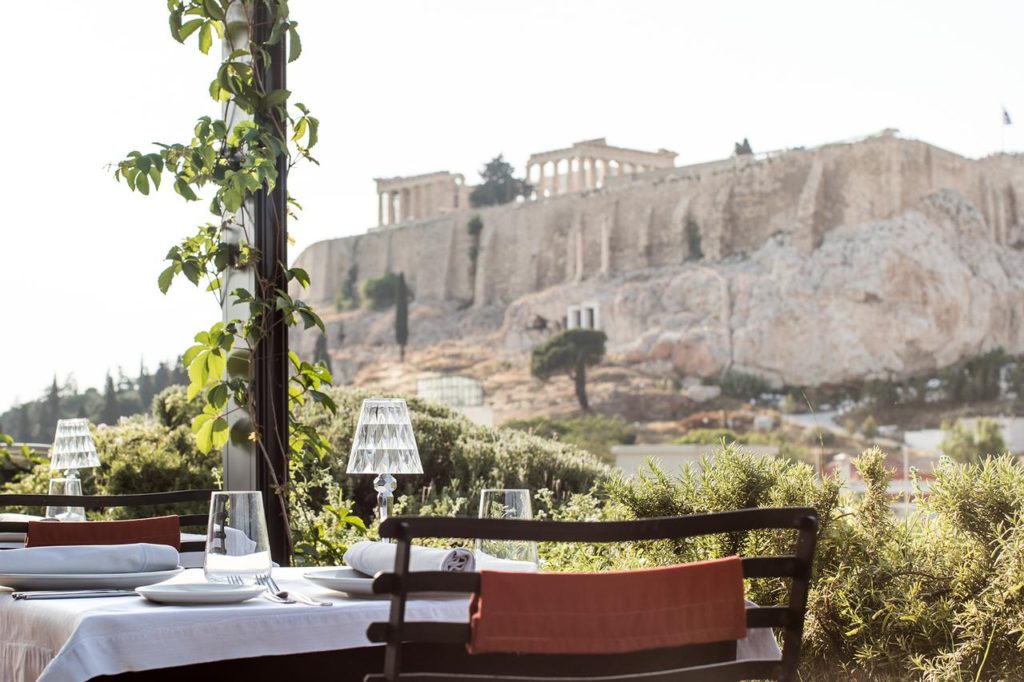 With a classy, sophisticated tone, this boutique hotel has a growing fan base of regular customers who love the mixture of modernistic furniture coupled with classic Greek art as illustrated in black and white photographs of ancient Greek statues. Rooms range from smaller sizes with work space and small balconies to more expensive suites each decorated in an individual style and with ample space and stunning views of the Acropolis from large balconies. Marble bathrooms come complete with luxurious Korres toiletries, and the hotel has a restaurant with a delightful interior garden for drinks, snacks or main meals.
AVA Hotel and Suites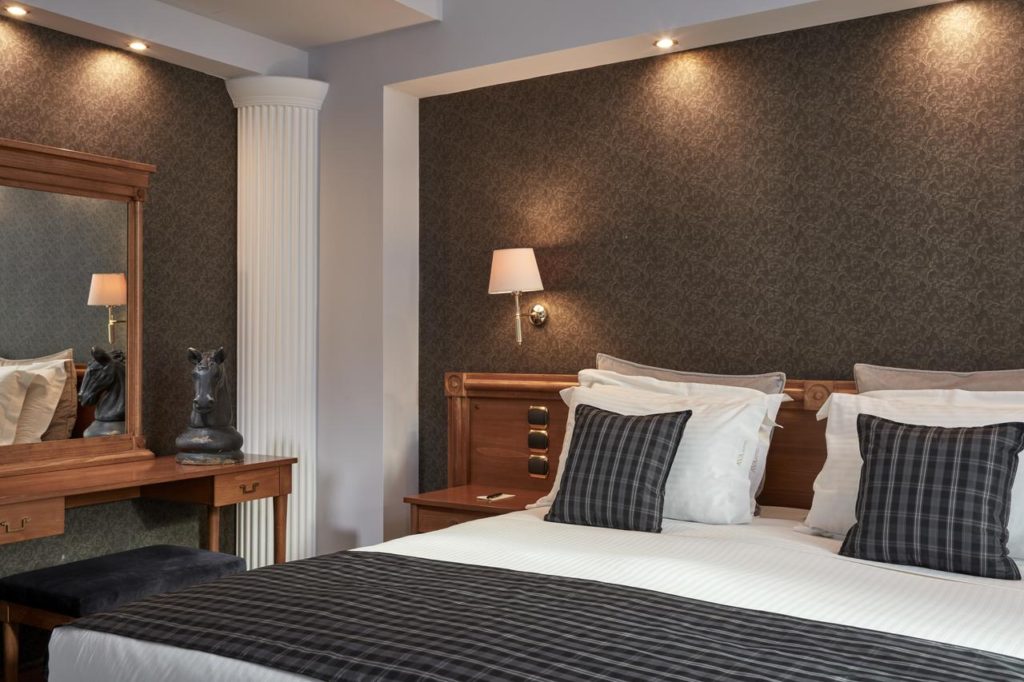 Near to the buzzing Plaka area but secreted away on a quiet road, the AVA Hotel and Suites is a small but perfectly formed hotel that is central to all that Athens has to offer for tourists and business travellers. Suites range from regular to larger executive and exclusive options, and the latter have a living area, a small kitchen and a large balcony. There is a subdued luxury throughout the hotel and each of the 16 rooms resembles apartments and is furnished in a bright, fresh style. Views from the balconies include the Acropolis, Hadrian Arch and the Temple of Zeus, and a bottle of champagne is an added luxury that is presented to every guest on arrival.
St George Lycabettus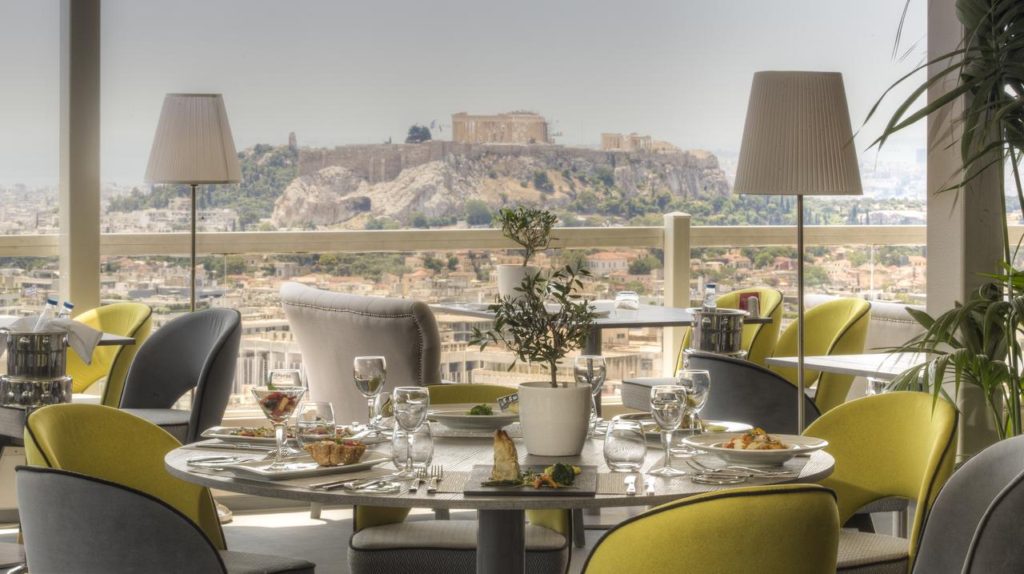 This hotel is set on a slight incline that gives superb views of Mount Lycabettus from the rooftop terrace, and which is also easily accessible for those interested in an early morning or evening stroll on the slopes. The hotel has a rooftop pool bar, a gym area and many rooms have great views of the magnificent Acropolis. There is also a spa with a pilates studio, and the rooftop restaurant has an unmissable panoramic view and a whole host of truly delicious dishes, for those hot summer months, the pool bar is a cool way to enjoy a relaxing drink.
18 Micon Street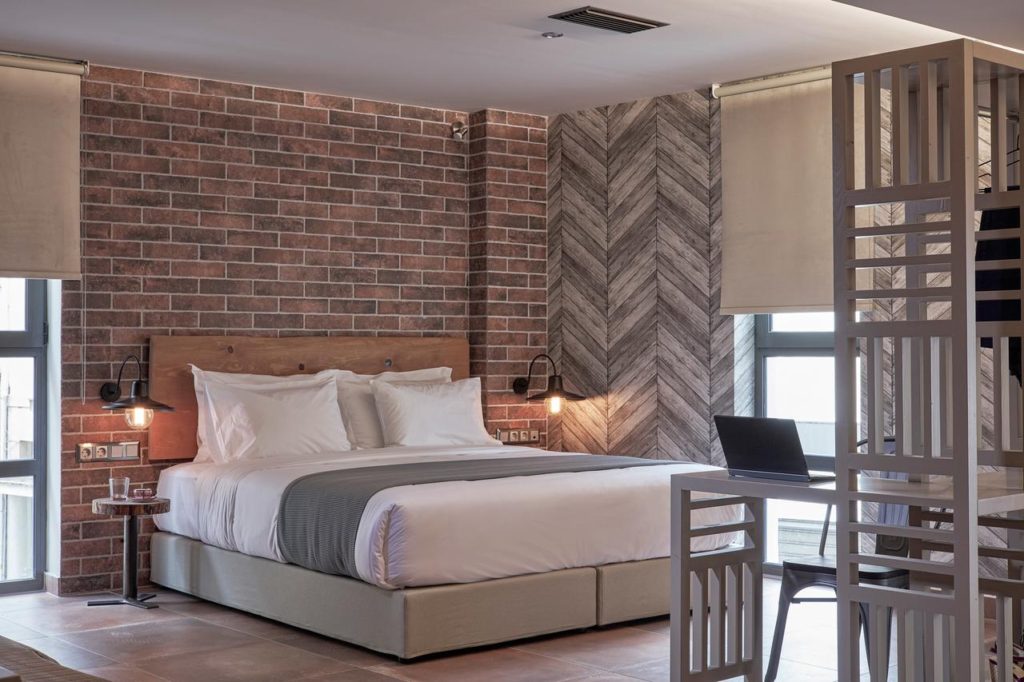 This unusually named hotel takes its inspiration from its Greek industrial past and was nominated at the 2018 World Boutique Hotel Awards. The designers have a thoughtful and ethical approach to preserving the history of the building and telling its story. All rooms have been designed using the 3 elements of construction – namely wood, cement and brick – to create a lovely effect of modern and traditional. Many rooms have amazing views of the Acropolis and city skyline.
MET34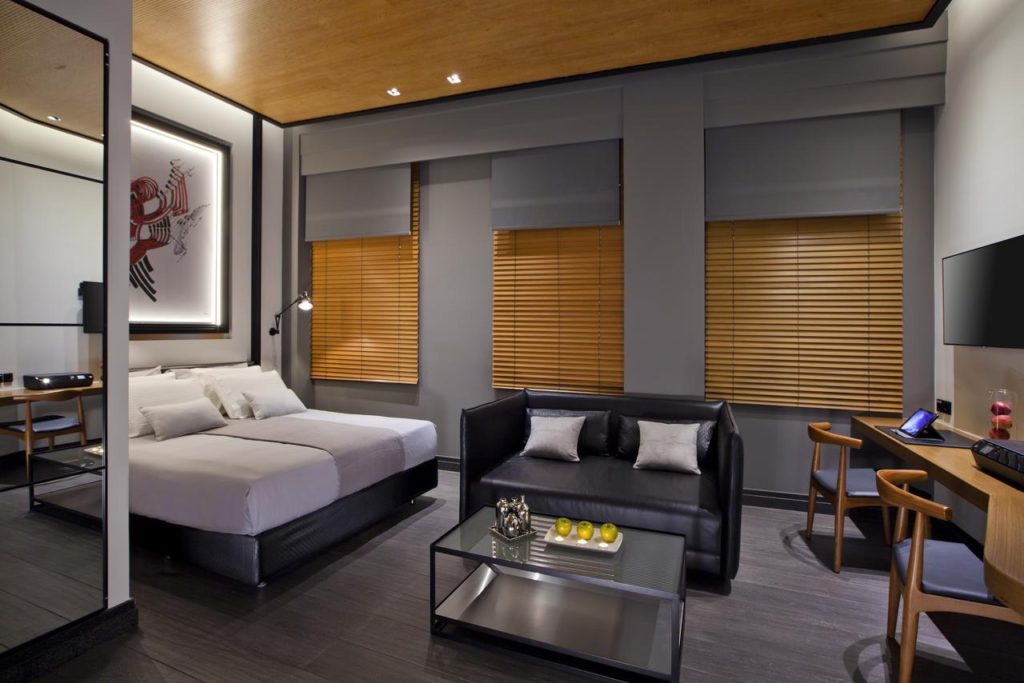 A luxury hotel near the lively Syntagma square, the MET34 offers luxury suites with high-tech materials and a central position in the hub of the main shopping areas and historical attractions. Rooms have king-size beds and marble bathrooms and are very spacious and ideal for groups of friends or family. The hotel is near to Syntagma and Monistiraki train stations and the location makes it easily accessible for the airport and Piraeus Port. The hotel also has a cafe-style bar and 24-hour room service.
Electra Metropolis Hotel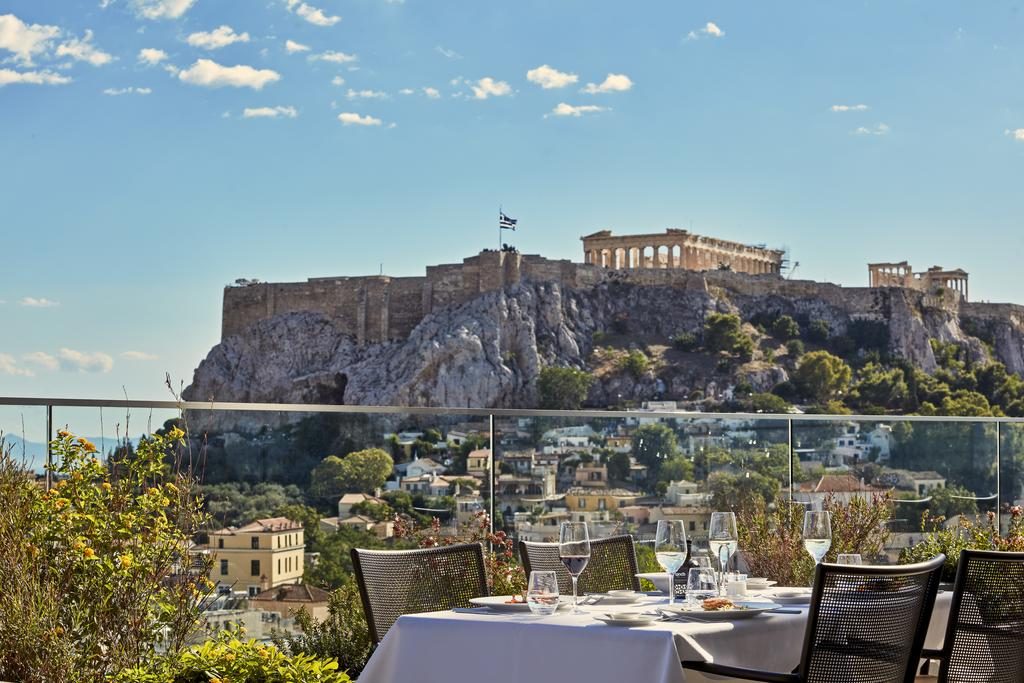 This former government building has been transformed into a hotel that is a hybrid mixture of chic 1950s and 1960s style with ultra-modern touches thrown in to create a luxurious experience for guests. The tenth floor houses a stunning roof garden with panoramic views over Athens. The hotel has two pools including one on the roof, a spa area, and one of its main attractions is a striking piece of artwork in the inner courtyard atrium which consists of swarming birds and bees that rise up to over 30m in height, and guests can sit and enjoy the view over a coffee.
Corfu
Angsana Corfu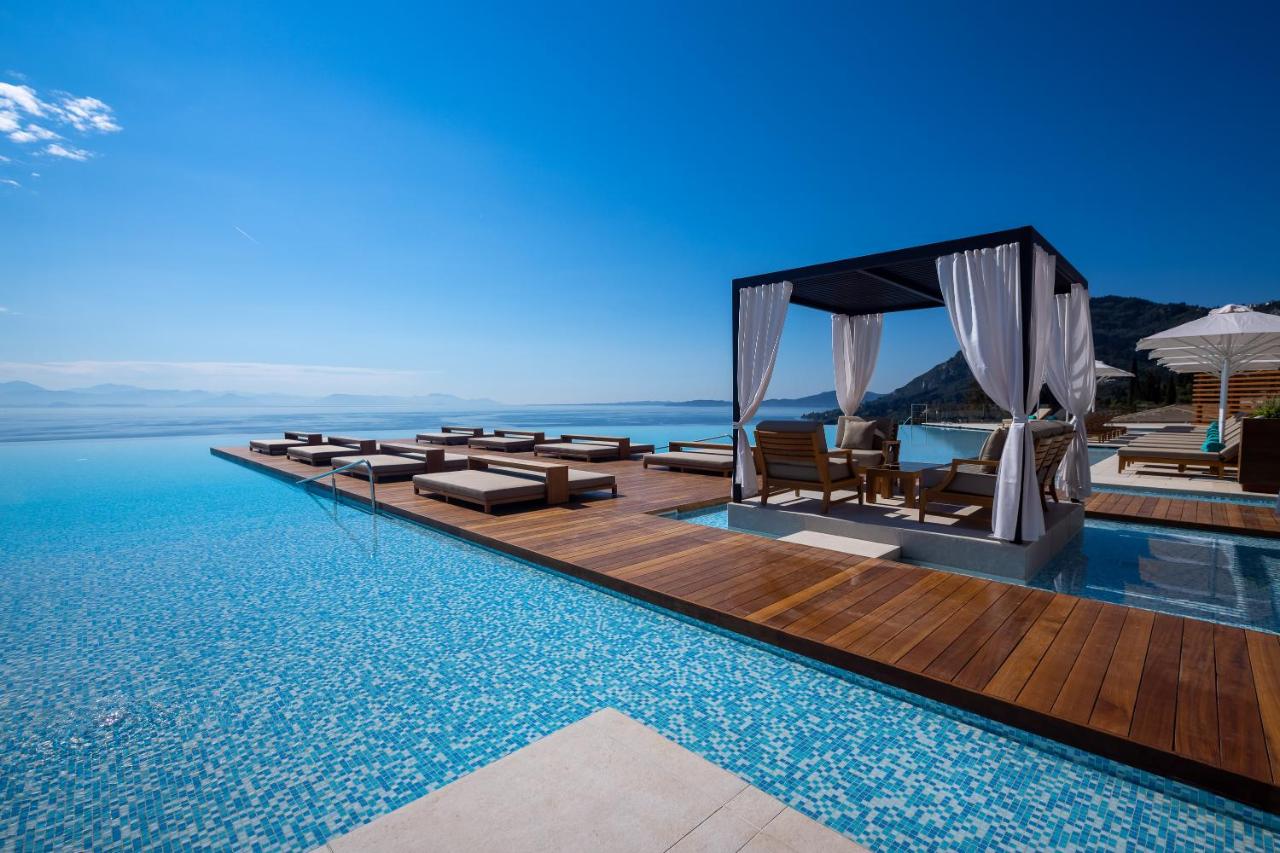 Angsana is set on a hillside beside Benitses Bay, creating a panoramic outlook best viewed from its infinity pool. There's also an indoor pool catering for the winter season, a spa, a salon, a gym, a kids' club, three restaurants, multiple bars (including a sky bar), a gallery and a fashion boutique on site. A short buggy ride will bring you to the resort's own private beach with clear waters and a casual eatery. The hotel, which encompasses Asian hospitality along with Greek, has 159 contemporary rooms and suites, as well as 37 villa homes. Designed in keeping with the local architectural style, it is surrounded by gardens with olive tree groves.
Domes Miramare, a Luxury Collection Resort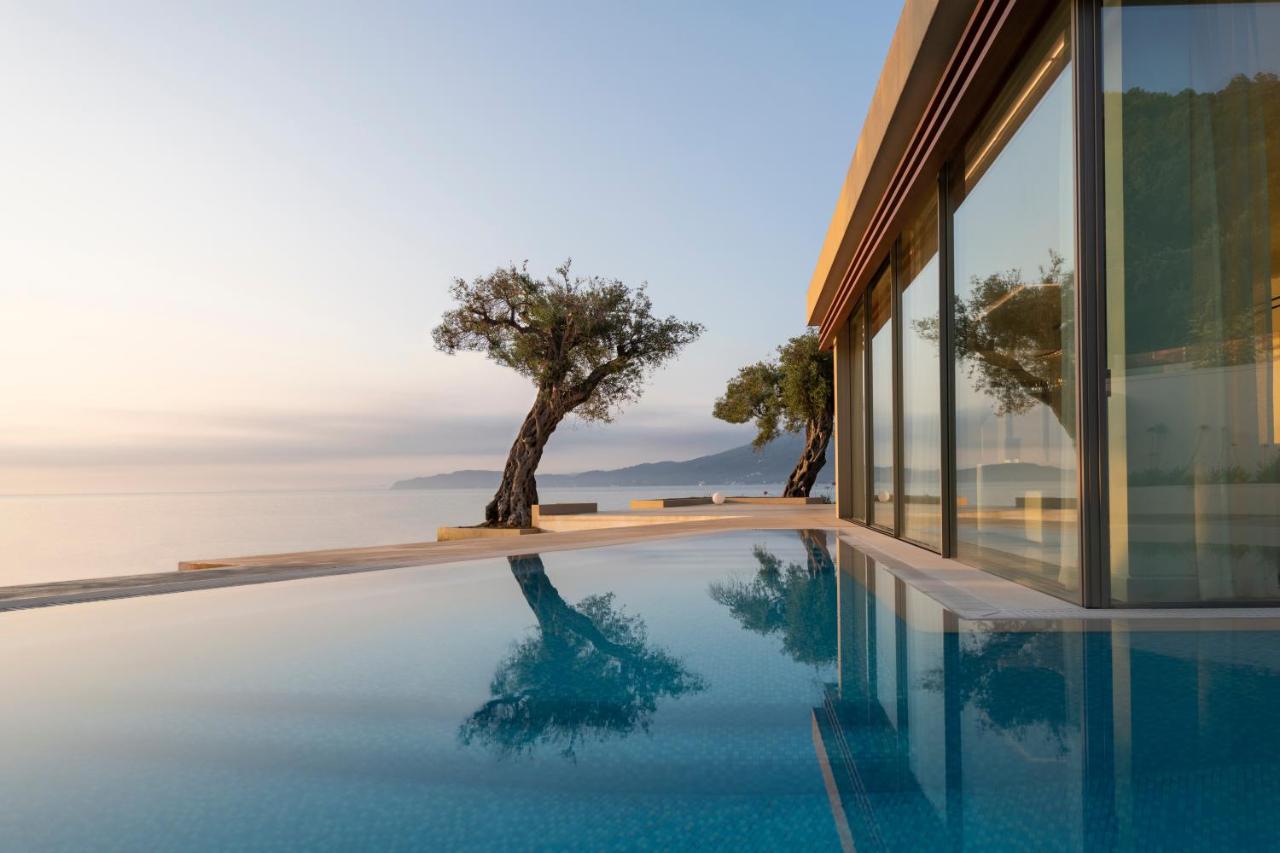 This adults-only resort is nestled at the base of a hill, wrapped in a five-century-old Venetian olive grove and overlooking the neighbouring bay. Modern yet regal, art-filled and often bringing the outside in, the hotel's interiors have been designed by Kristina Zanic. Guests are greeted by a white marble lobby, with a grand piano, a gold mosaic path leading to the promenade and an olive tree, but the glamour doesn't stop there; suites have features like private pools and jacuzzis. Guests can dine at the Raw Bar, on the degustation menu at Markis, or at one of the stunning pool bars.
MarBella Corfu Hotel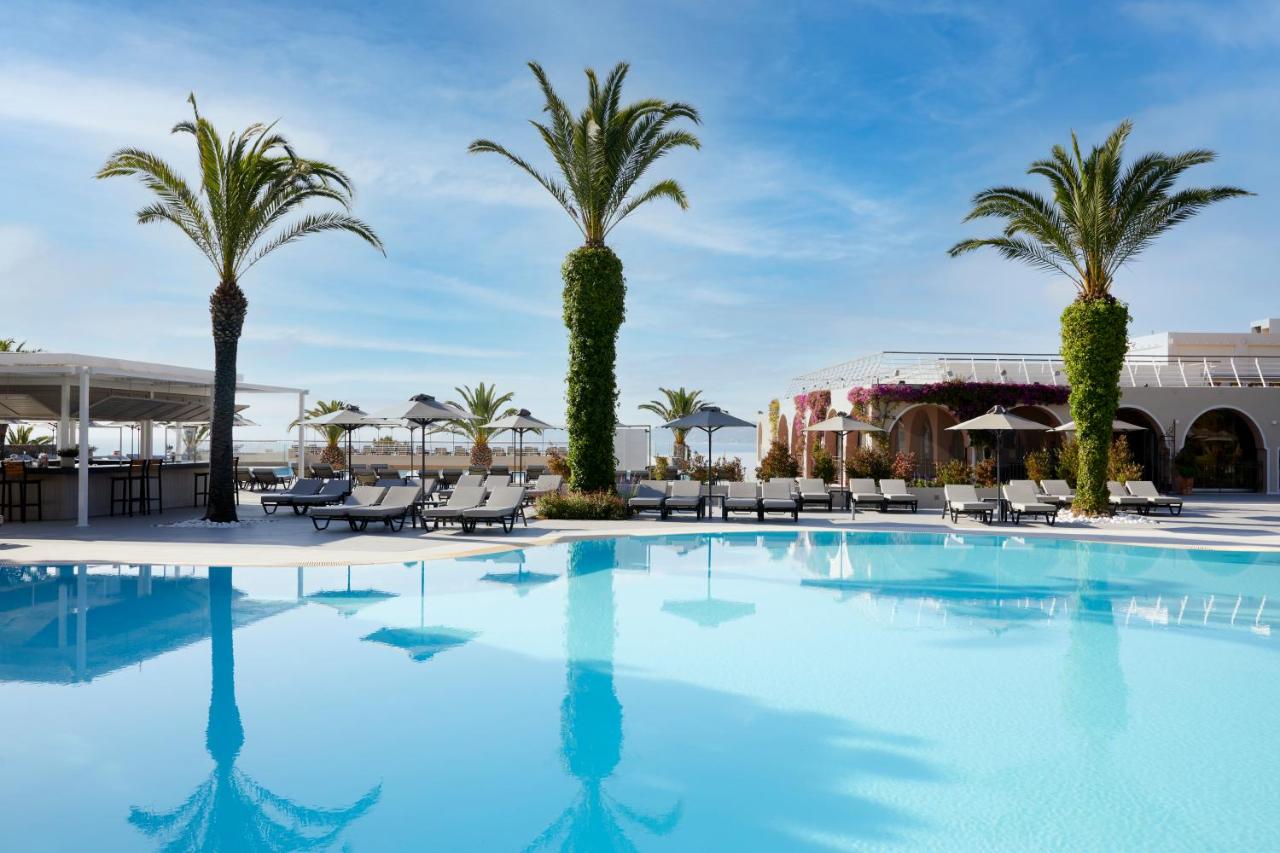 Just half an hour from Corfu Town, this five-star beachfront establishment has repeatedly been named one of the top 10 Resorts in Greece and Europe at the Conde Nast Traveller Readers Choice Awards. Guests have the opportunity to board a romantic dinner cruise or eat onsite at the Deck Bar & Grill, Comodo (Italian cuisine), Platea (Greek food), Kum Kuat (Pan Asian) or Celeste (French Provençale). Your bedroom will have a terrace or balcony, with views of either the sea, the mountains or landscaped gardens. Toddlers, children and teens have their own programmes of activities, overseen by Worldwide Kids UK childcare specialists, and they'll love the hotel's waterpark.
Domes of Corfu, Autograph Collection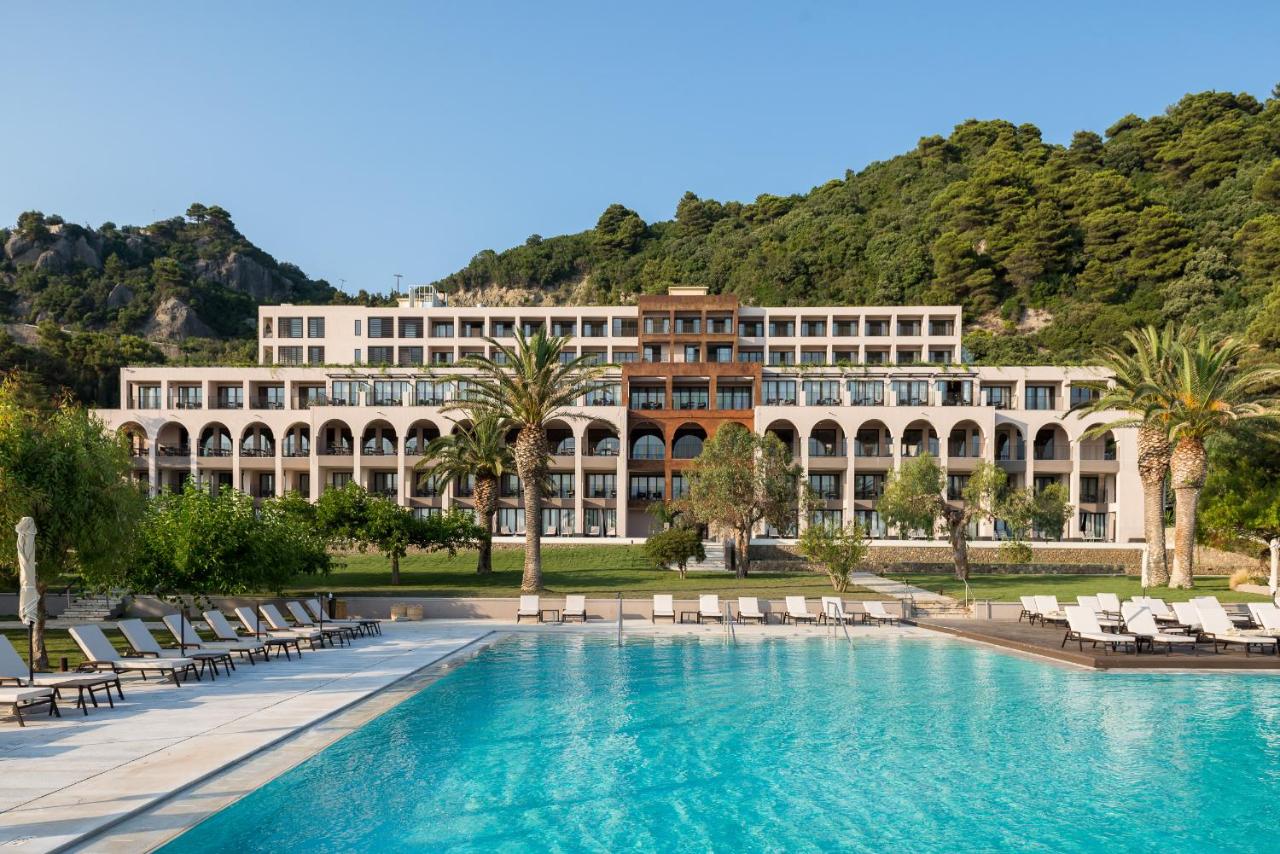 Located beneath pine and cypress-covered cliffs, this is the only luxury resort found on the sought-after blue flag-awarded Glyfada beach. It's an already magical setting augmented by fragrant gardens and Corfiot-style architecture. A creche and kids' club take their cue from the Montessori approach and two-bedroom suites cater ably for family groups. But couples too will love the sense of retreat here, with a fine dining restaurant and a romantic seafront taverna adding to the appeal. There are more restaurants and three bars, all following the gentle theme of Odysseus' journey and time on Corfu.
The Olivar Suites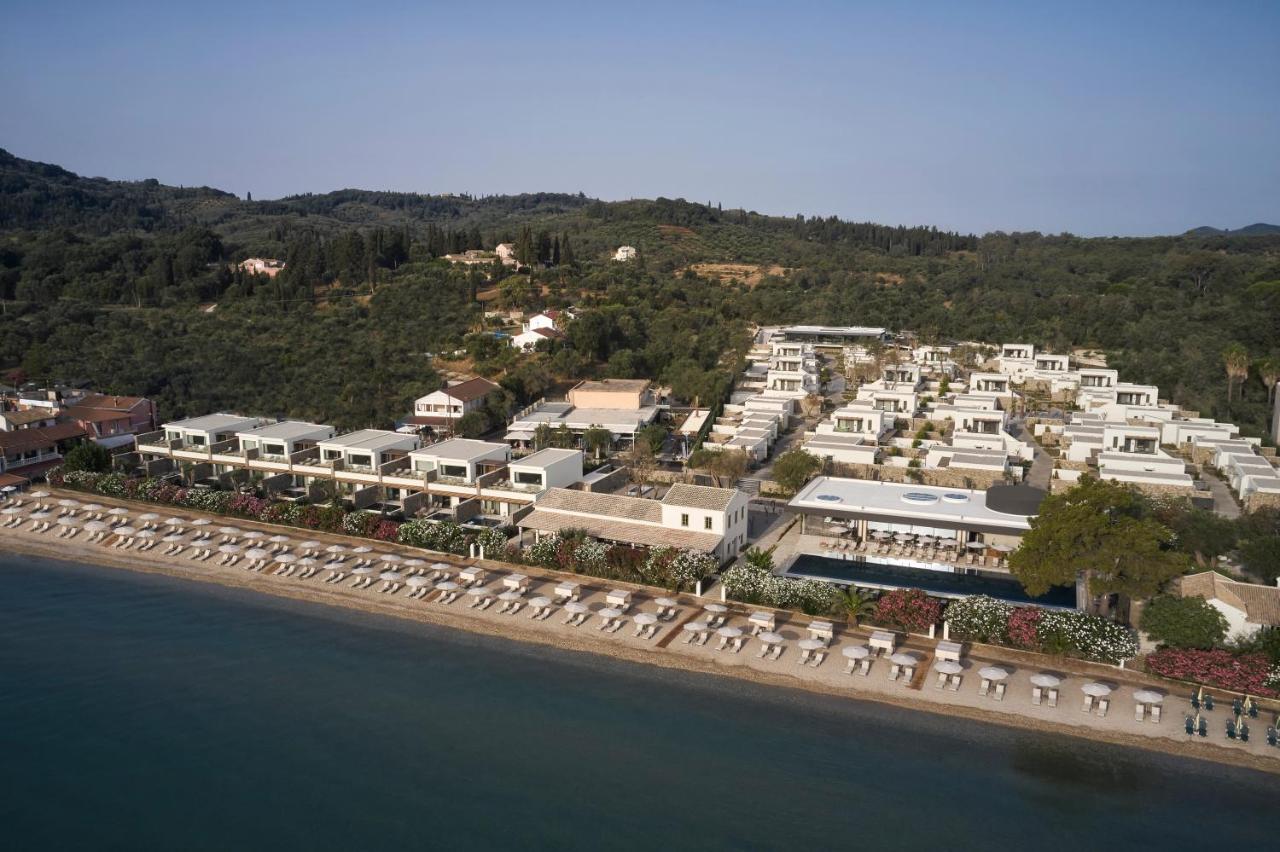 Stay in a late 18th-century olive oil mill where your standalone suite will include either a private pool and garden or a sundeck. Sophisticated yet earthy, the decor is contemporary and in keeping with the rural surroundings – much like Flya, the hotel's all-day fine dining restaurant. The ocean-view pool area is akin to a natural lagoon – albeit with plush loungers and the Olibar bar and eatery serving tasty meze. Tailor-made in-room private spa treatments are available for the VIP pamper experience and you can work out in the fitness centre.
MarBella Nido Suite Hotel & Villas Corfu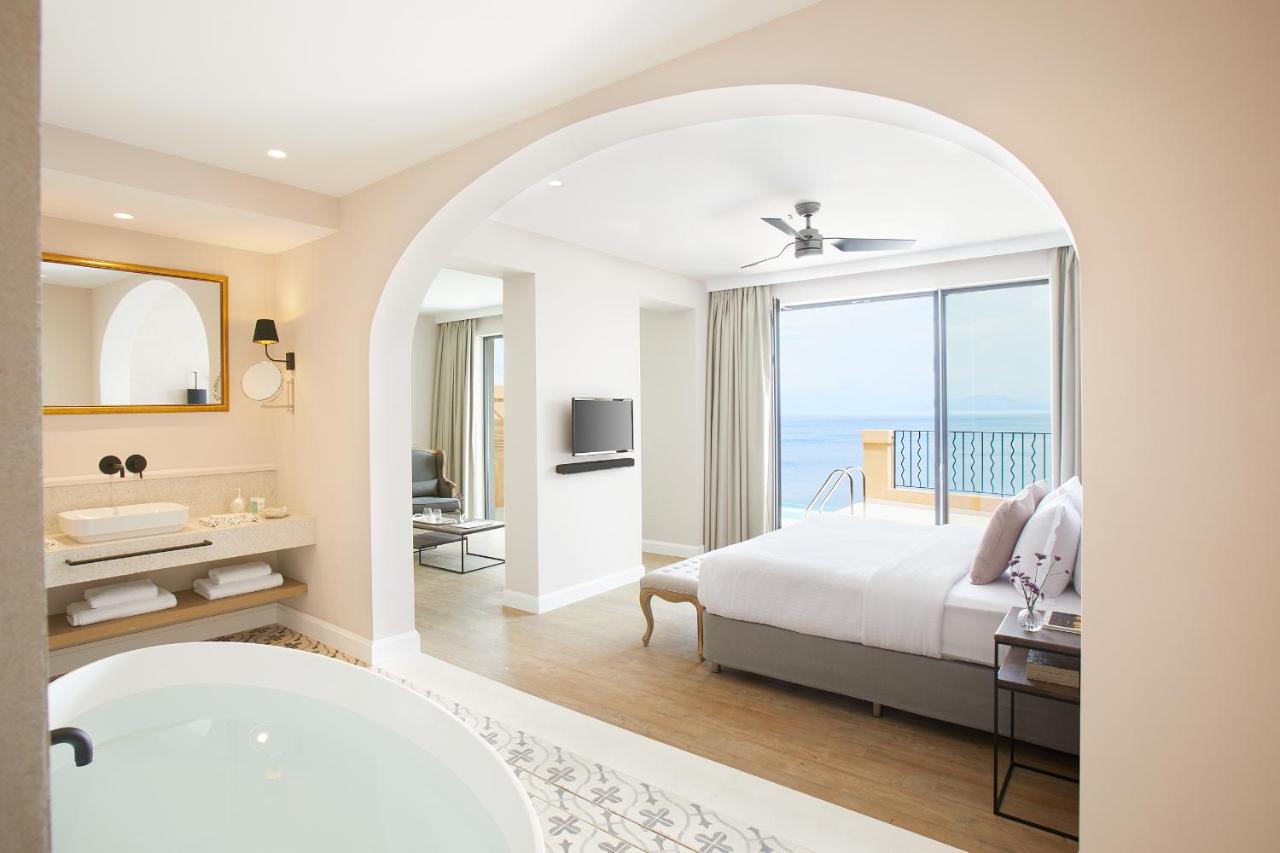 Sister property to Marbella's aforementioned Corfu hotel, this one is reserved for adults. Wake up to sea views from your veranda with a private pool or whirlpool. A member of Small Luxury Hotels of the World, it has three restaurants; a casual all-day dining venue on a pretty terrace, a gourmet fine dining establishment set beside the beach and an eatery beside the infinity pool. Ideal for a honeymoon or anniversary stay, the Nido Suite Hotel is tranquil and offers an array of experiences with romance in mind – including spa treatments for two.
Crete
LUX ME White Palace Grecotel Luxury Resort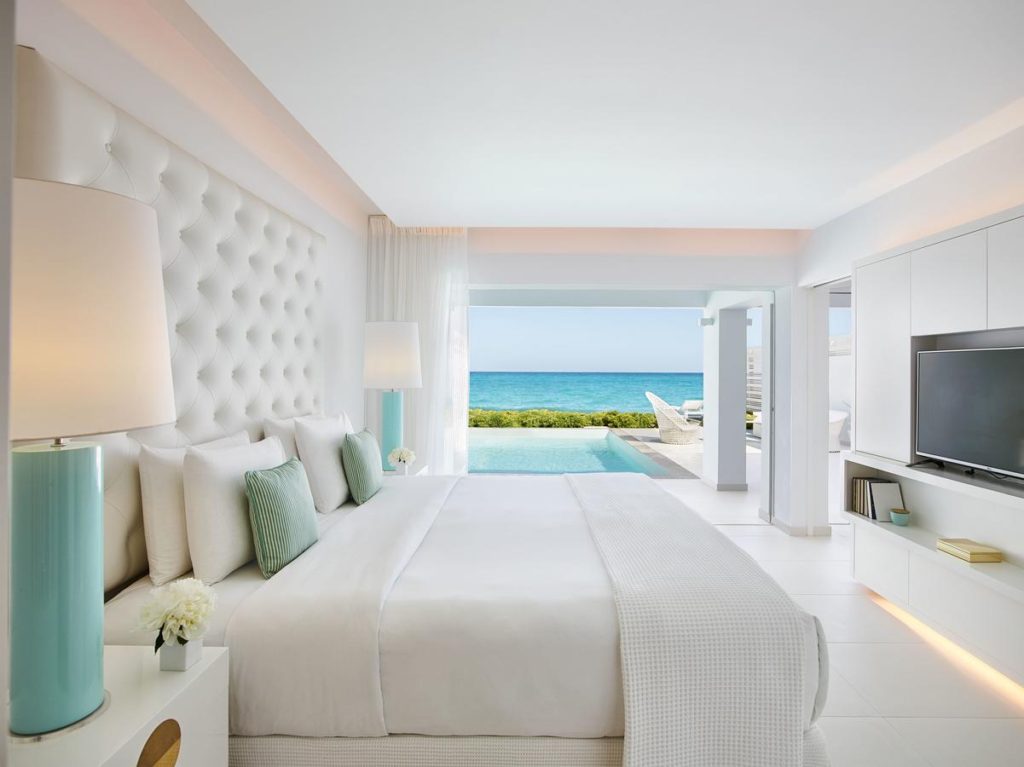 Built around a large and lovely saltwater swimming pool, this elegant hotel is set right next to the sea and boasts a fresh and breezy look and feel. The rooms and suites are spread across five buildings to provide plenty of privacy and bright white is the main colour that is used throughout the hotel complex. Each of the 263 rooms boasts plenty of luxurious touches from the huge beds and large picture windows to the range of first-class amenities that guests are treated to. Couples will never need to venture far from the luxury and privacy of their room as Nespresso machines and around-the-clock room service are provided, while the Sea View bungalows offer VIPS the chance to stroll straight down to the sand without ever having to meet any of the other guests.
Blue Palace Crete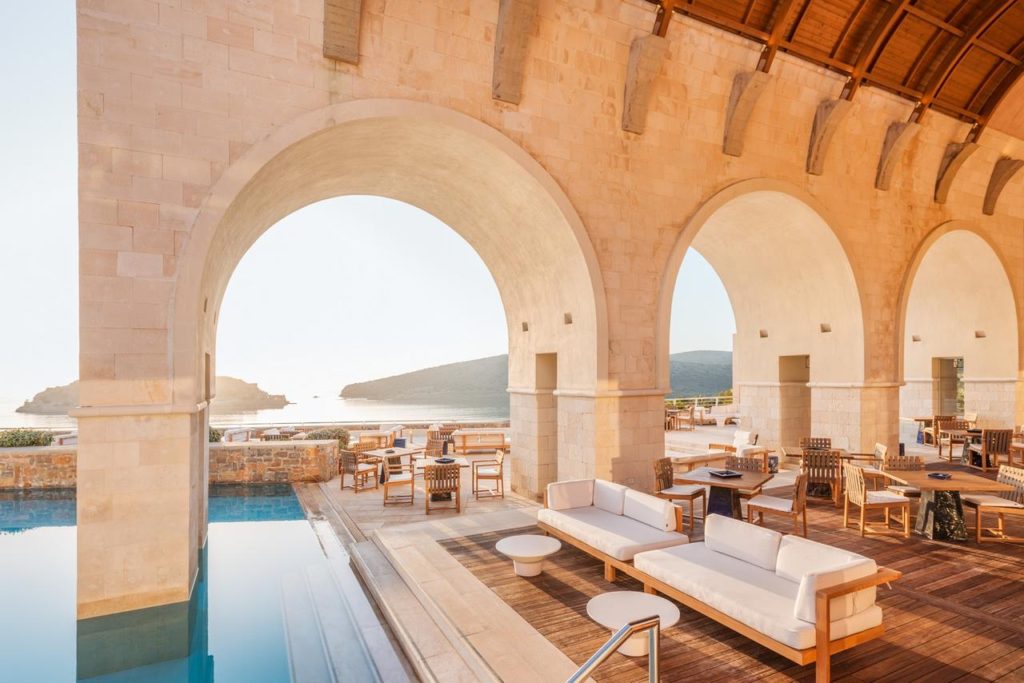 Offering guests breathtaking views of the island of the Spinalonga and the surrounding Cretan Sea, Blue Palace Crete is stylish and luxurious enough to make any guest feel like royalty. The suites here offer direct access to the impressive infinity-edge pool, which also delivers stunning ocean views while guests splash around or soak up the sun. In terms of style, contemporary meets tradition with pretty pebble mosaics, wooden shutters and clay roofs. Guests have their pick from spacious bungalows and suites that are set in a pretty palm and olive tree garden. Each room boasts light and bright furnishings with golden wood perfectly complimenting the marble bathrooms.
Elounda Gulf Villas & Suites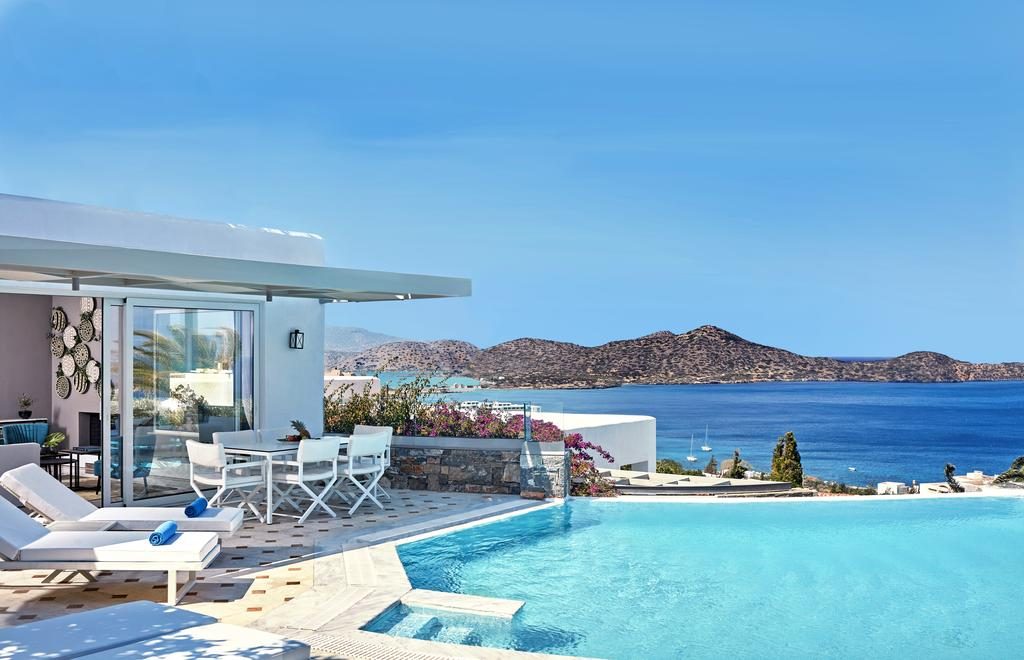 Attracting its fair share of celebrities such as Ronaldo and Lady Gaga due to the first class facilities and excellent seaside location, this exclusive resort is the first world in island-style chic. The resort is set on a hillside providing guests with sweeping views across Mirabello Bay to the island of Spinalonga and consists of several private villas for luxury lovers to choose from. Each of the villas comes complete with its own sauna and steam room, while there is even a small private gym for those who want to stay in shape while also indulging in plenty of pampering. Each villa also boasts a small saltwater pool so that guests never need to venture far in order to enjoy the best that island living has to offer. Guests will not want to miss the chance to enjoy a massage in their room while gazing out at the ocean and delicious seafood dishes that are created by the onsite celebrated chef can be served on private balconies for the ultimate romantic dining experience.
Daios Cove Luxury Resort & Villas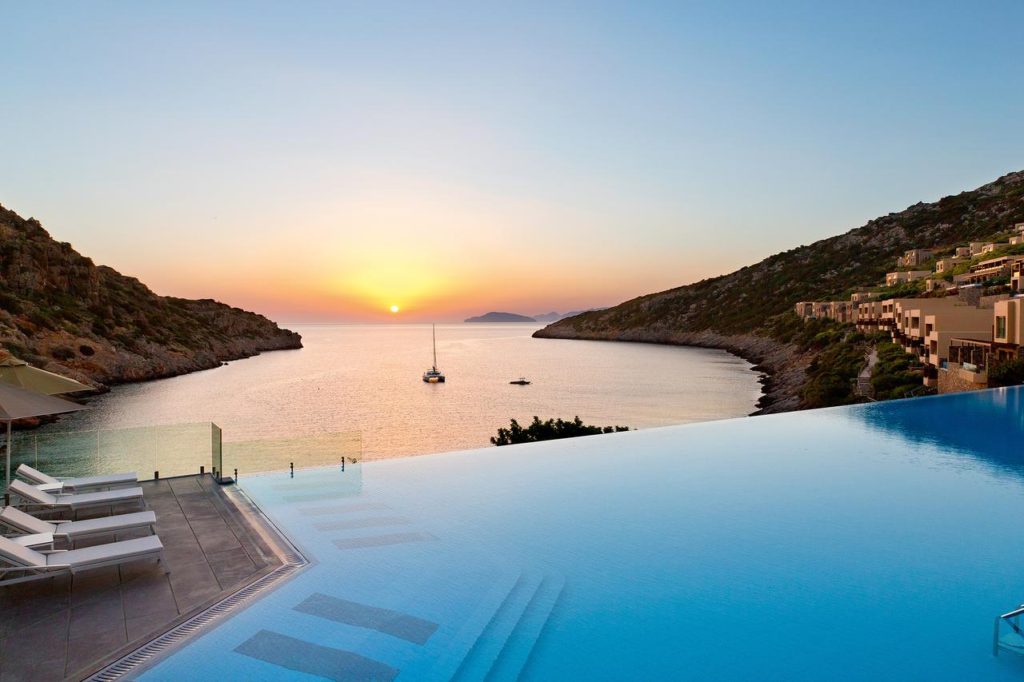 Set right on the edge of a private sandy beach conveniently close to the bustling town of Agios Nikolaos, Daios Cove Luxury Resort & Villas is a complex that consists of five levels with buildings connected by winding passageways and tunnels. There are 230 guest rooms as well as 30 spacious suites and 40 extremely luxurious villas and those who have a taste for the finer things in life will want to make sure that they book one of the extremely large two-floor villas. In terms of facilities, the resort is sure to impress as guests will be able to make full use of the two tennis courts, a whole host of outdoor swimming pools, a large sauna and a fully loaded fitness centre.
Amirandes Grecotel Exclusive Resort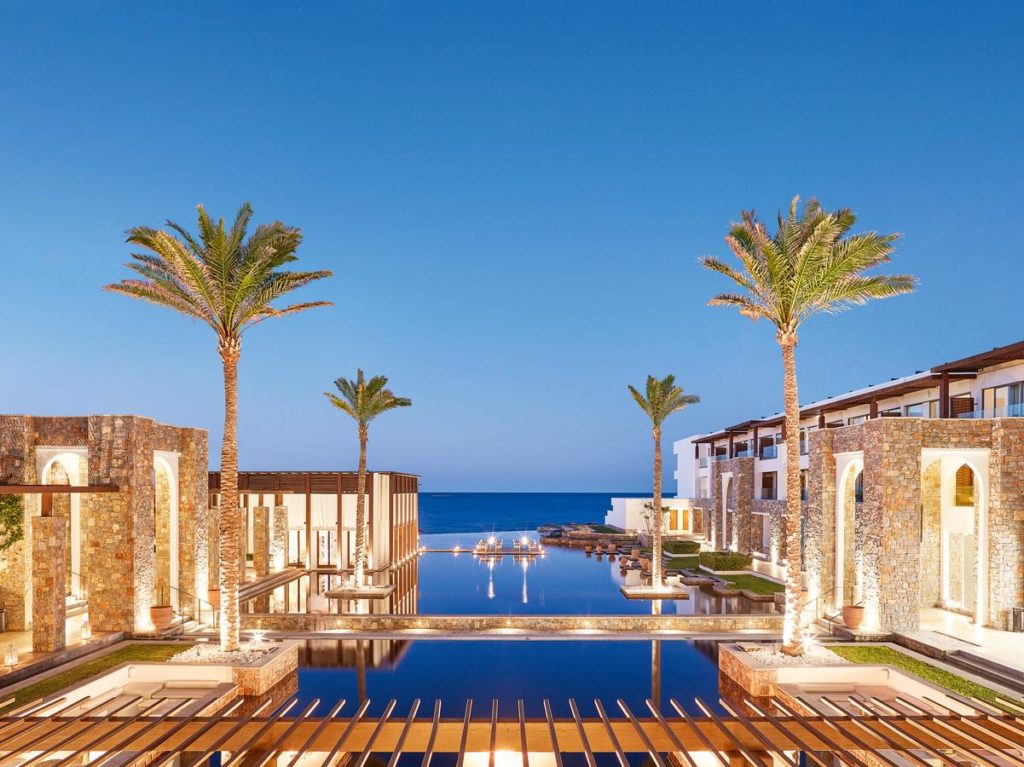 Water babies are sure to be in their element at this grand resort as it has been built around a large lagoon and features an Olympic-sized swimming pool as well as direct access to the crystal clear waters that lap the shore of the beach right at the foot of the resort. Taking a stroll through the resort's gardens is an enchanting experience as this large and lush green zone is scattered with fibreglass animals and Greek statues. The 216 rooms for guests come in a wide range of categories that will satisfy every style, while those who are searching for the most luxurious experience that money can buy should book one of the two-storey villas. These stunning villas come with huge balconies and private access to the beach and swimming pool, while the views that can be enjoyed from the second storey are simply stunning.
Kos
Aqua Blu Boutique Hotel
Guests who appreciate pure privacy and the finer things in life are sure to enjoy the secluded seaside location of this elegant boutique hotel. As you would expect, the hotel has been created in a contemporary style with plenty of artistic touches throughout. There are six different guestroom categories to choose from and by far the best pick is the palatial loft suite, which comes complete with a huge terrace set with a table and chairs for guests to unwind on. The Aqua Blu Boutique Hotel is famous for its creative cuisine and some of the treats that are just waiting to be enjoyed include tuna tartare served with a tangy passiflora and citrus sauce and kritharáki lobster served with ouzo and creamed peas.
Diamond Deluxe Hotel Kos
Guests who truly want to unwind in style and feel good from head to toe are sure to enjoy making use of the luxury spa at the Diamond Deluxe Hotel Kos. The huge lagoon-style water complex is a great place to splash around for a while and there is also an indoor pool that has been designed especially for guests who want to swim laps. Many of the guestrooms here open directly onto the main outdoor pool and guests can walk down a short flight of steps from their veranda into the waiting water. The decadent suites also come complete with private pools for guests to enjoy.
White Rock of Kos
Boasting excellent facilities such as a tennis court and huge outdoor swimming pool, the White Rock of Kos has long been a popular establishment among the rich and famous. Unwinding in a private Jacuzzi while soaking up the ocean and coastal views is sure to be an experience that guests will never forget and couples will want to make sure that they book a Superior Suite with Jetted Tub and Sea View. The large yet cosy dining terrace also provides guests with stunning views while they enjoy a range of international dishes that are prepared and served with flare.
Casa Cook Kos
This adults only establishment treats guests like royalty and is a popular place for couples to spend their honeymoon. Casa Cook Kos is set right on the edge of a beautiful stretch of sand and guests are treated to private beach access as well as stunning views of the ocean from their balconies and terraces. The large and modern spa complex comes complete with an indoor pool and a hammam, while the outdoor swimming pool is set with huge sunbeds where guests can soak up the sun and indulge in a cocktail or two. People who are in search of optimum luxury should make sure that they secure one of the villas that come with a private pool and beach views, while those who are in search of fine dining will not be disappointed.
Lango Design Hotel & Spa
This prime beachfront hotel also provides guests with quick and convenient access to Kos town and rooms are reserved solely for adults. There are two well-stocked bars for guests to unwind at, while wine lovers can request a special tour of the onsite wine cellar. People who appreciate art are sure to love the Design Suite, which comes complete with a private pool and plenty of artistic touches, while the Master Suite provides a stunning view of the ocean. The large outdoor swimming pool is set with a Jacuzzi as well as a large deck where guests can soak up the sun.
Mykonos
N Hotel Mykonos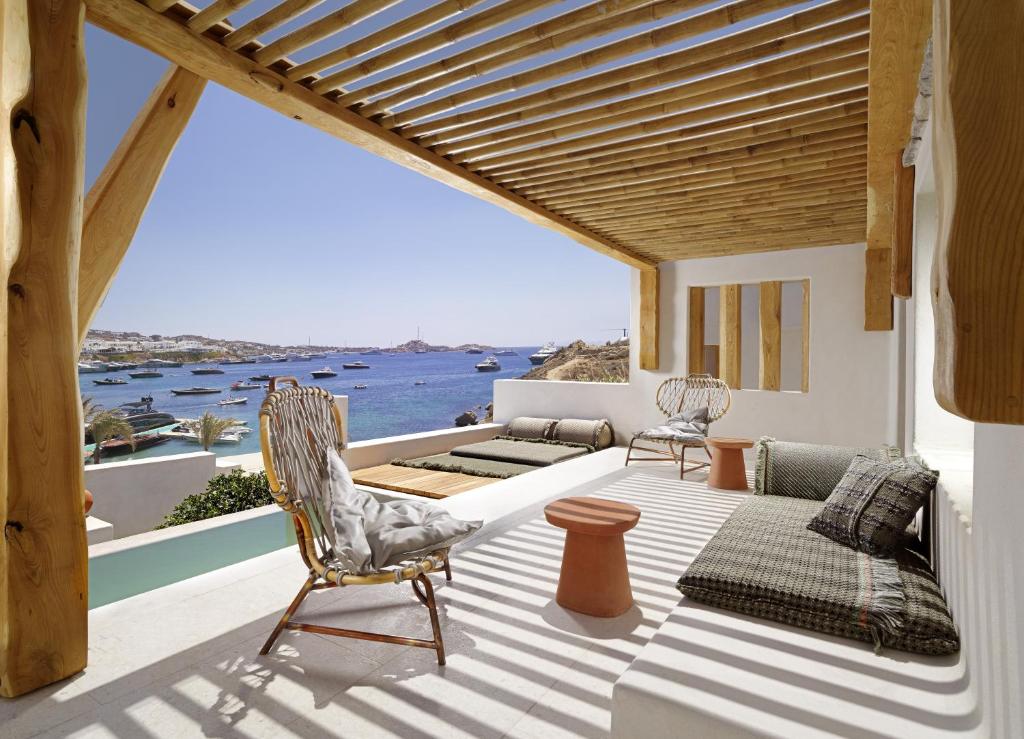 Five-star retreat, N Hotel Mykonos occupies a superb location on the beautiful Greek island enabling guests to easily explore, or its first-class facilities are perfect for those who want to enjoy life at the luxury hotel. The stylish hotel presents 31 rooms and suites, varying from Deluxe rooms to Master and VIP Suites. Every room features a private plunge pool, lounging area and large, impressive windows overlooking the Aegean Sea. Hotel guests also have access to Nammos Restaurant, where guests can enjoy the speciality menu followed by an afternoon of dancing, live shows, and parties. For those looking for relaxation time, the N Hotel Mykonos Spa offers a wide range of holistic rejuvenation and beauty treatments and also incorporates a state-of-the-art fitness area and yoga pavilion. The ultimate accommodation is discovered where the Psarou Villa and the Grand Villa combine to create the Grand Psarou Villa, a private 5-suite residence featuring state-of-the-art interiors and an indoor spa. Dedicated staff including a personal butler and personalised second-to-none services ensure all guest's needs are catered for down to the finest detail.
Mykonos Theoxenia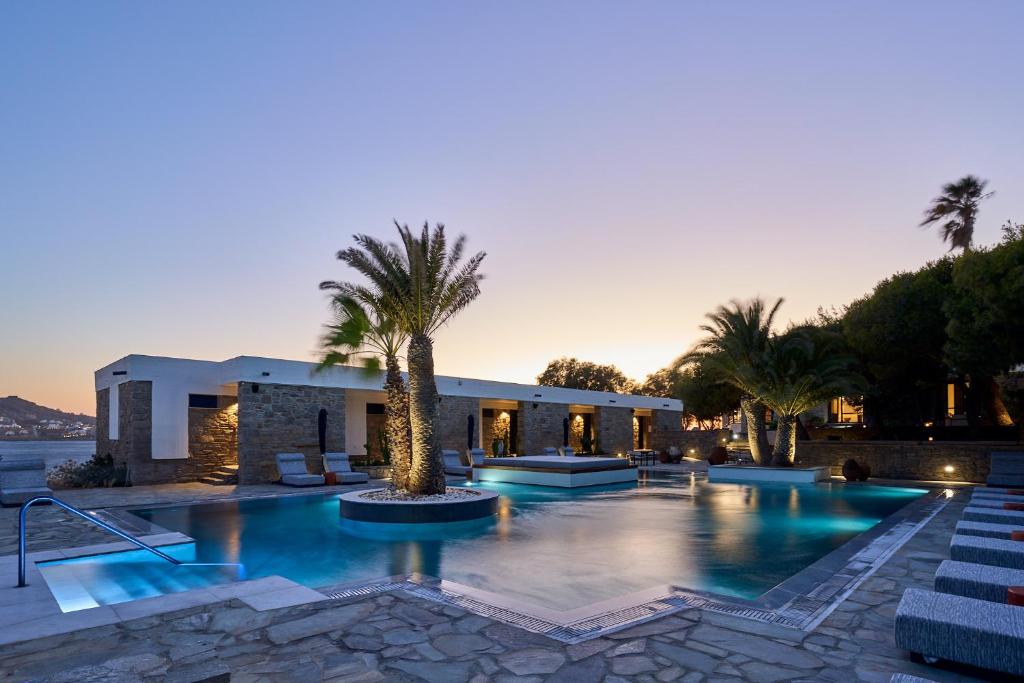 Found in an area protected by the Greek Ministry of Culture, Mykonos Theoxenia has a history dating back to the middle of the last century. The interior design takes its cue from Cycladic culture, with natural textures, sculpture and warm tones, while the exterior was built in a post-modern style. Oozing Aegean chic, it brims with a sense of effortless luxury, with a relaxed coastal feel. Mykonos Theoxenia has four signature suites with private swimming pools and terraces, 38 bedrooms, 100 square metres of olive groves, orchards and gardens, a Mediterranean restaurant serving healthy, nourishing dishes and regular mind and body sessions.
The Belvedere Hotel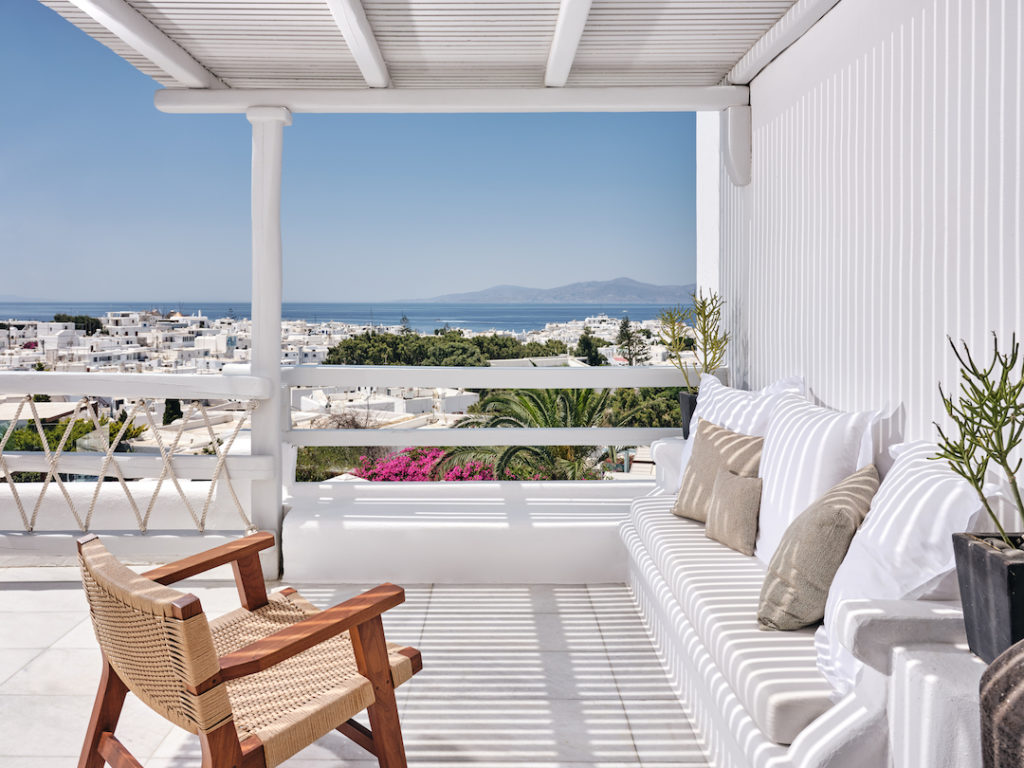 The Belvedere Hotel is located just on the edge of Mykonos Town; close enough for guests to soak up the cosmopolitan vibes yet removed enough to offer plenty of privacy and secluded luxury. With stunning views across the Aegean Sea combined with a level of service, comfort and hospitality that is second to none it is clear to see why The Belvedere Hotel has established a reputation for being one of the most luxurious hotels in the beautiful Greek island of Mykonos.
Bill & Coo Suites and Lounge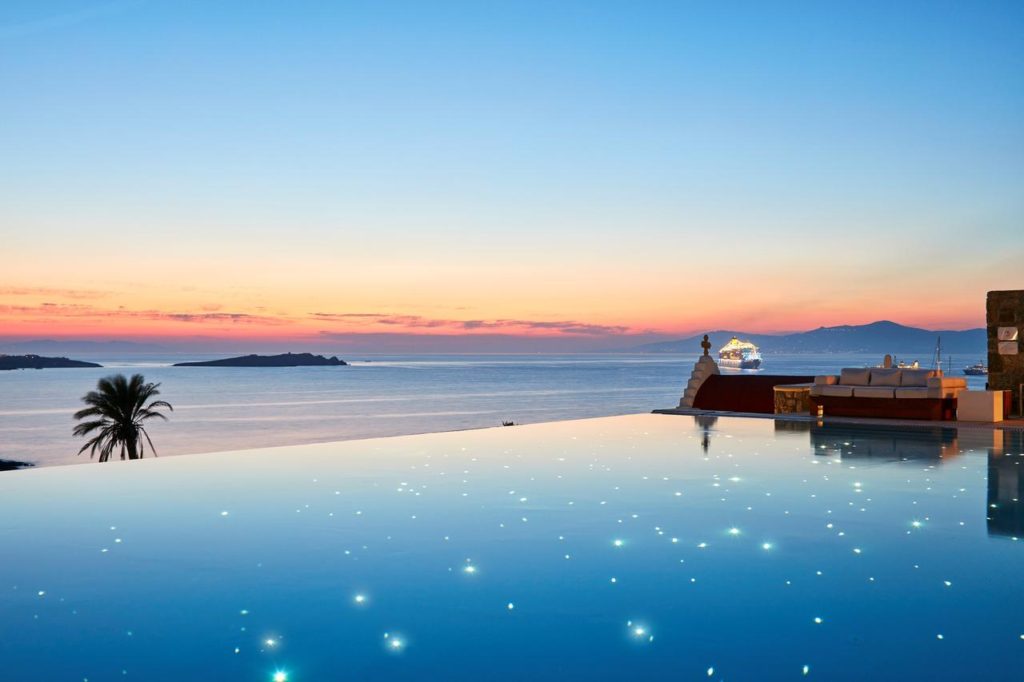 Boasting the perfect combination of pure luxury and privacy, Bill and Coo is set on the top of a sweeping slope overlooking the ocean and conveniently close to Mykonos Town. The light and bright colour scheme is enhanced by the chestnut wood furniture and gives the whole establishment a very fresh and clean look. There are just 30 suites for luxury lovers to choose from and the top options come complete with their own swimming pools. The main infinity pool is also a great place to keep cool, while guests will enjoy a selection of fresh seafood dishes in the award-winning on-site restaurant.
Cavo Tagoo, Mykonos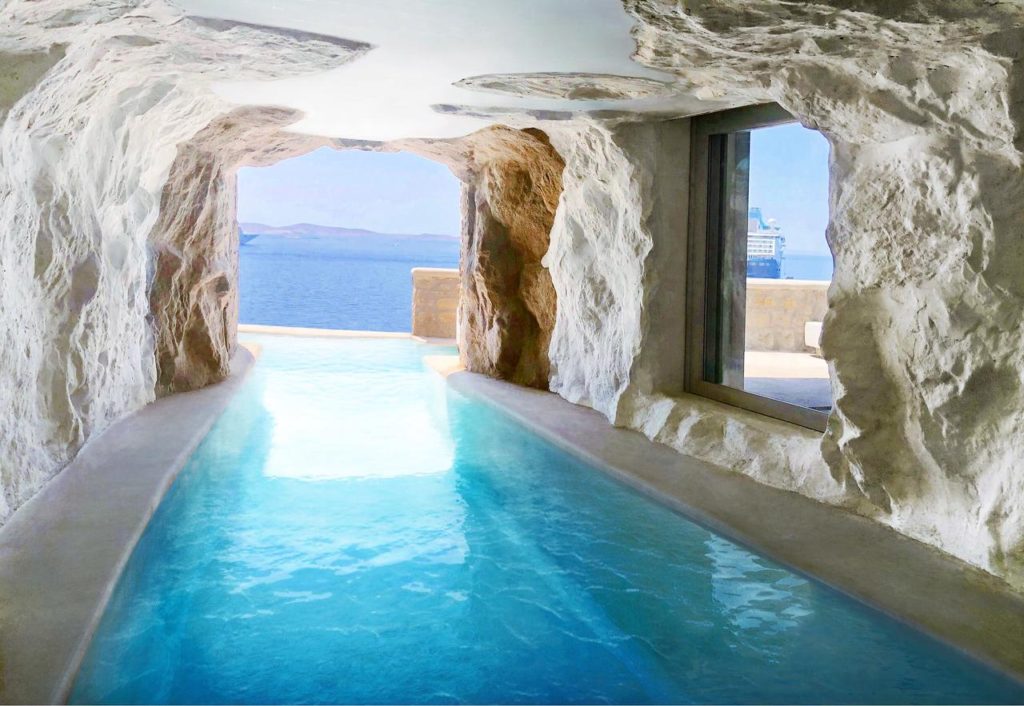 Situated on a hilltop overlooking the ocean just 500 metres from the town of Hóra, Cavo Tagoo has a strong reputation for being one of the most luxurious and popular hotels on Mykonos. With just 83 rooms, suites and villas to choose from, guests will want to make sure they book early so that they can secure their spot on one of the sumptuously padded sun loungers that graces the edge of the infinity pool. Those who book a villa will be treated to their very own plunge pool or hot tub as well as a whole host of goodies in the room itself, while fresh seafood lovers will be able to dine in style each evening at the on-site Kiku Sushi Bar.
Mykonos Grand Hotel & Resort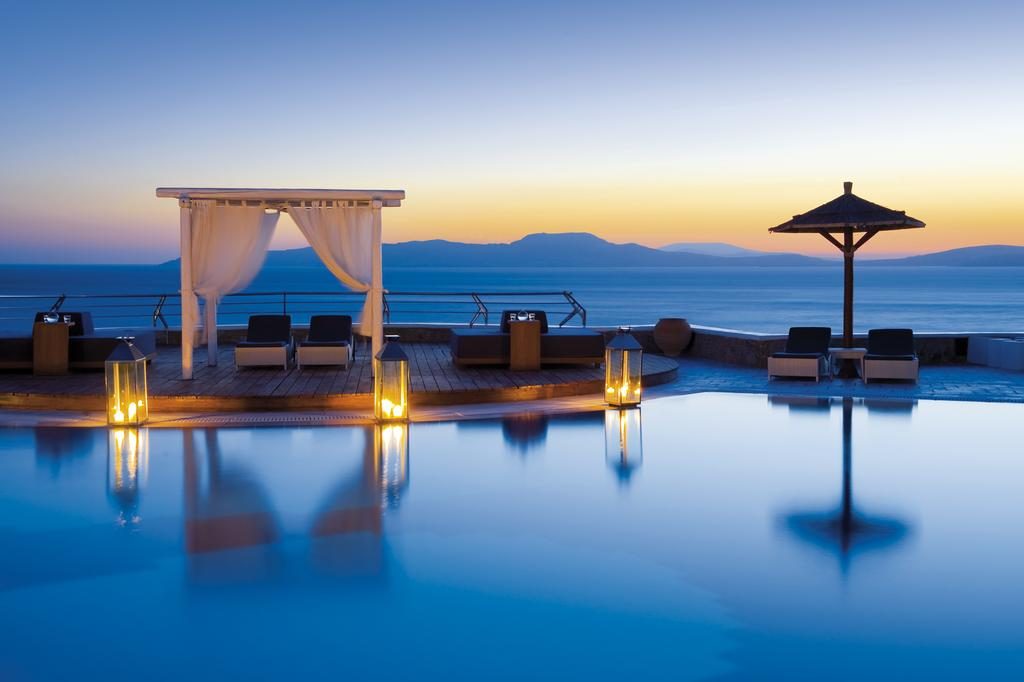 Providing guests with private access to the secluded stretch of sand that comprises Agios Ioánnis beach, Mykonos Grand Hotel & Resort has been recently renovated and is a very stylish spot at which to unwind. This is the perfect place to indulge in a little pampering and relaxation and guests are invited to take part in regular yoga and pilates classes in the amphitheatre that overlooks the ocean or work up a sweat on the tennis or squash court. While there are around a dozen different styles of rooms to choose from, luxury seekers will love the huge suites, which come with their own private infinity pools and steam cabins, while private banquets are offered by the personal chef that is supplied with these suites.
Semeli Hotel Mykonos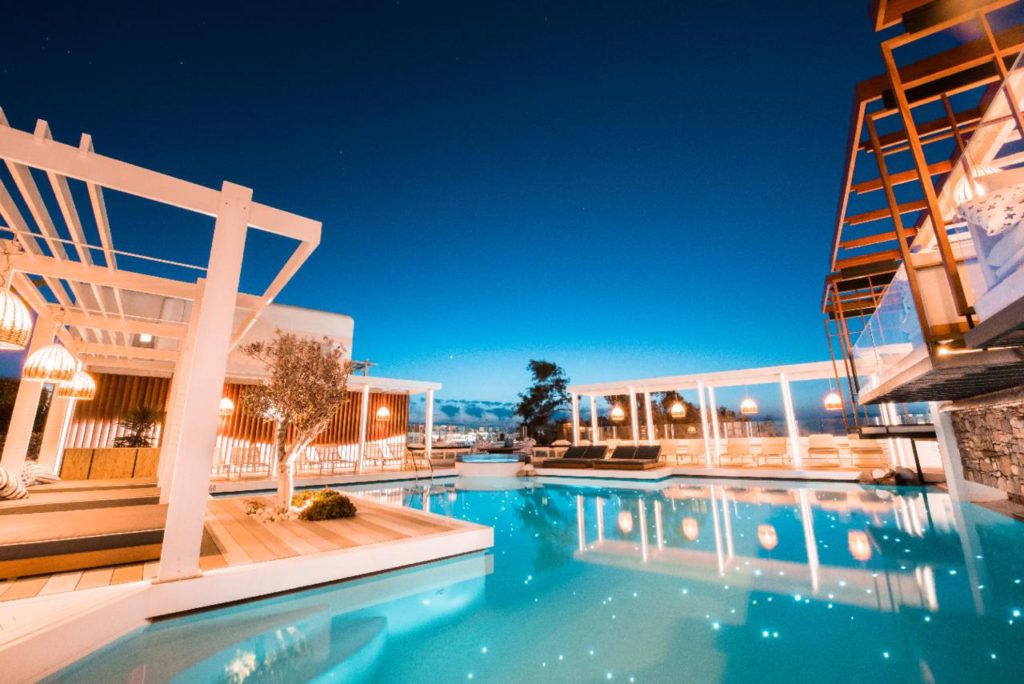 Popular with couples who are on their honeymoon, this premium hotel provides enough services and facilities so that guests will never need to stray far. One of the main focal points is the huge outdoor swimming pool complex and the infinity edge provides guests with unblocked views of the ocean as they spread out on one of the luxurious sun loungers and sip a cool cocktail or two. There are 64 rooms and suites in total, with most surrounding the pool and providing pretty views from their very large balconies. The hotel also boasts an on-site spa for those who want the chance to indulge in some pampering during their stylish retreat.
Kenshō Ornos Boutique Hotel & Suites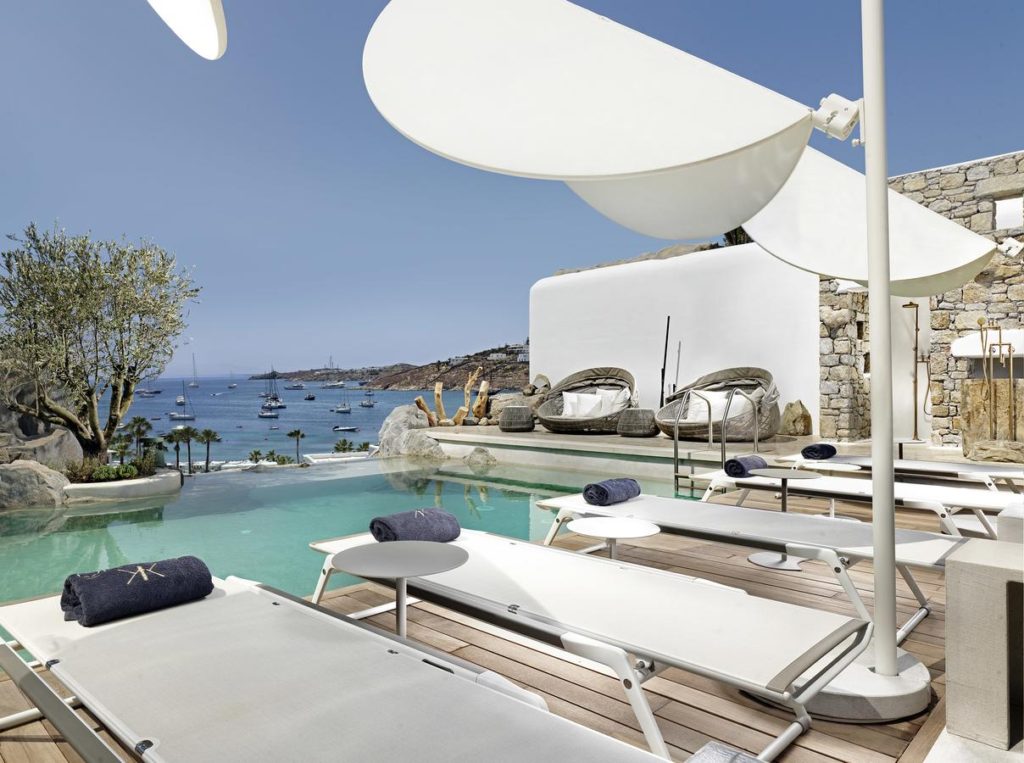 This impressive boutique hotel overlooks the pristine sands of Ornos Beach and is the perfect retreat for those who appreciate subtle Asian-influenced elegance. Guests are treated to views of two pretty coves as they dine in style on one of the large terraces or lounge in their room. Guests can take their pick from sea or mountain views from their spacious private balcony, while the bathrooms offer a real treat with both bathtubs and rainfall showers. People who want the chance to sample the finest classic Greek cuisine are sure to love the dishes that are available at the on-site restaurant, while the air-conditioned gym is the perfect place to work up an appetite before indulging.
Santa Marina, a Luxury Collection Resort, Mykonos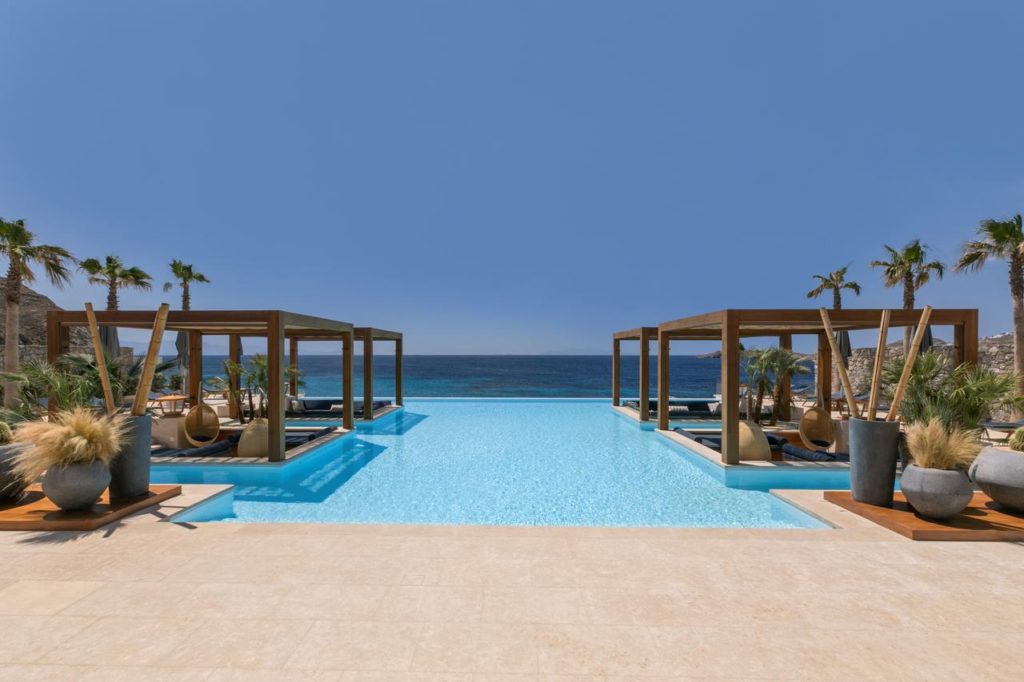 Those who seek ultimate privacy while surrounded by pure luxury are sure to find that Santa Maria is the perfect place to stay. Set on the edge of a private beach that graces Ornos Bay, guests can take full advantage of the fact that the staff are available to meet their every need and satisfy any whim. Each of the one hundred rooms is extremely spacious and has been designed to fully capture the enchanting view. Rooms are set on several floors to provide guests with extra privacy and among the most desirable options are the Deluxe Sea View Pool Suite with its private plunge pool and the simply elegant and spacious Presidential Villa.
Myconian Ambassador Relais & Chateaux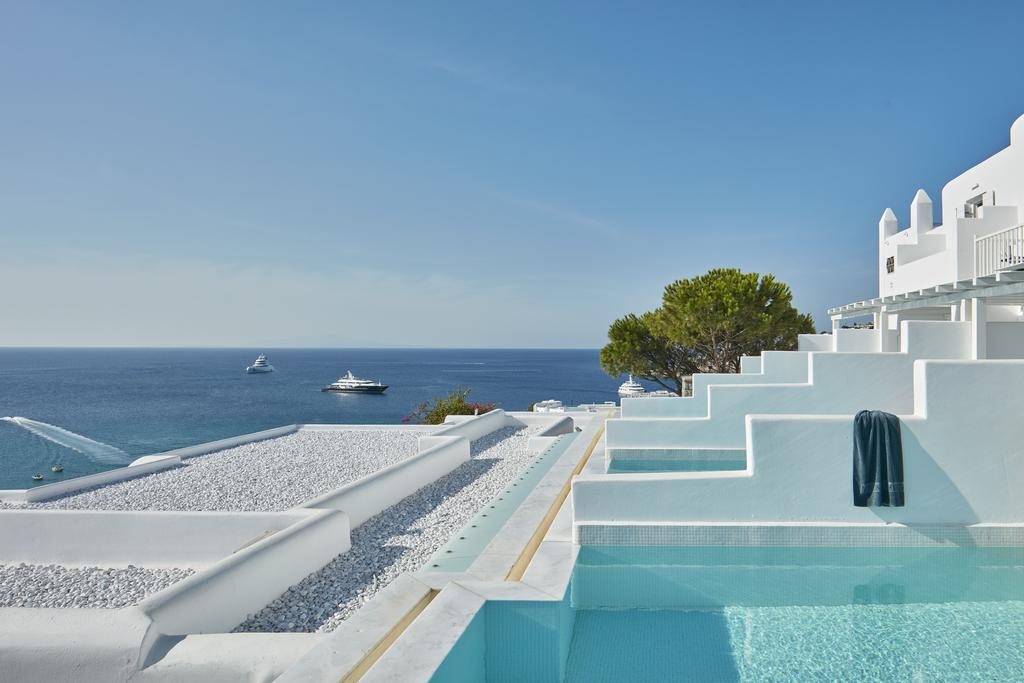 Famed as being the island's first five-star hotel, the Myconian Ambassador is a real trendsetter and has helped to shape the face of the luxury hospitality scene. The hotel can be found just a three-minute stroll from Platis Gialos beach, although guests never have to wander far to relax in the water as each ocean-facing room comes complete with its own plunge pool. There are just 70 rooms in total and each features plenty of space and light, while people travel from all over the island for the chance to enjoy a meal in the impressive on-site restaurant.
Paros
Cosme, a Luxury Collection Resort
A celebration of the authentic Mediterranean villages, this Luxury Collection Resort has been conceived to provide guests with a complete sense of serenity. It's the fourth property from boutique hoteliers Kalia Konstantinidou and Antonis Eliopoulos. Authentic and timeless, the village-style resort has 40 suites (the largest of which has its own pool and dining terrace), a private beach and beach club, a half-moon pool (mirroring the shape of the adjacent bay), a spa, a rooftop area for yoga/meditation and an Aroma Garden. The furnishings in the building are custom-made with handmade embroideries, sculptures, local ceramics and bespoke modern artwork.
Parīlio, a Member of Design Hotels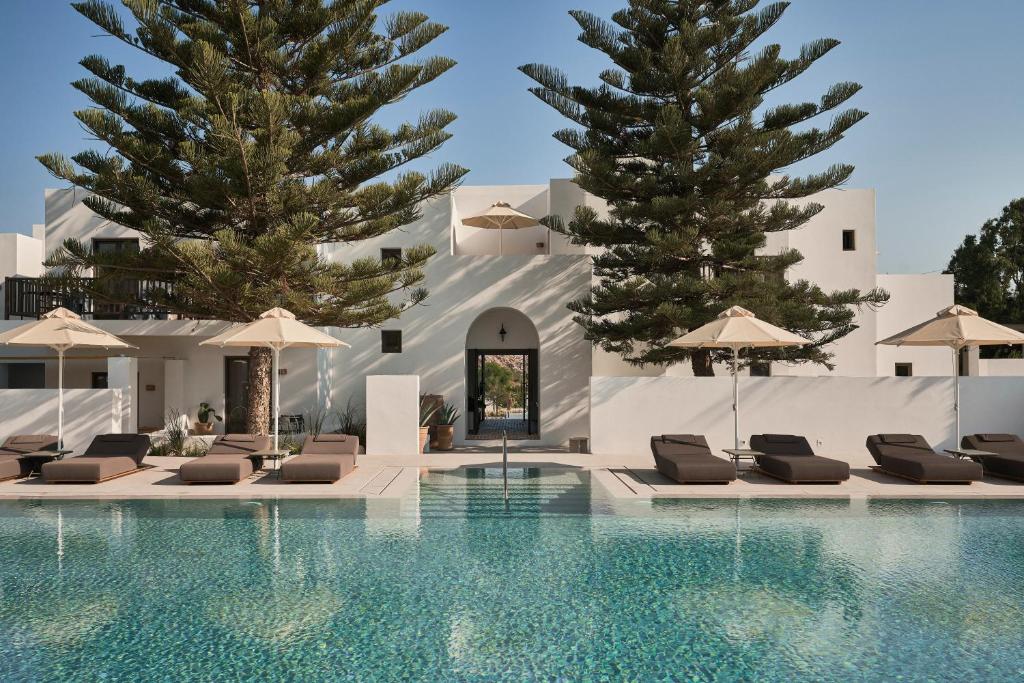 Another of Konstantinidou and Eliopoulos' hotels, Parīlio's style takes its cue from traditional Cycladic architecture. However, an international array of design pieces have been included in the interiors, with Italian lighting, Danish furniture and North African motifs. A cool simplicity comes from materials such as coloured concrete, terracotta floors and local marble. Found on the unspoilt northeastern coast, it has 33 suites, a cross-shaped swimming pool with a bar, a spa using organic products and a taverna-style restaurant. Although it's incredibly sophisticated and calming, Parīlio is also very family-friendly with space to play and a babysitting service.
Summer Senses Luxury Resort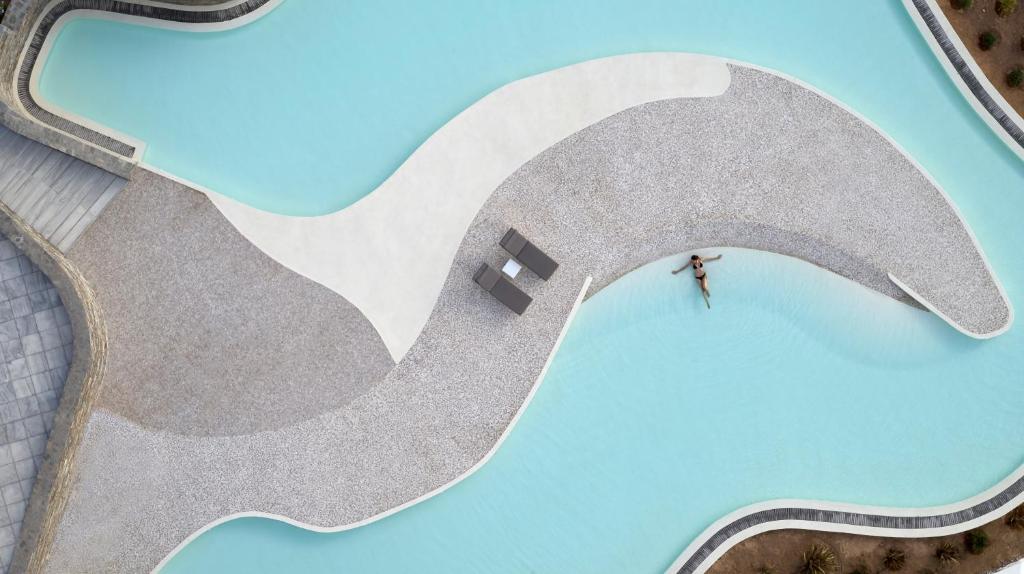 An enormous, sleek pool meanders through the terraces of Summer Senses, but, impressive as it is, it's just one of 12 pools on the premises. Guests staying here can book treatments at its Anassa Spa by Idolo, go kitesurfing on the adjacent beach and fine dining at two restaurants, Galazia Hytra and Gaia. And the concierge will be happy to arrange yacht charters, car hire, island tours and more. Families are well catered for, with their own shallow lounging pool, kids' menus, baby supplies and private nannies on hand. All rooms come with a balcony, a Marshall Bluetooth speaker and a Nespresso coffee machine.
Santorini
Sea Breeze Santorini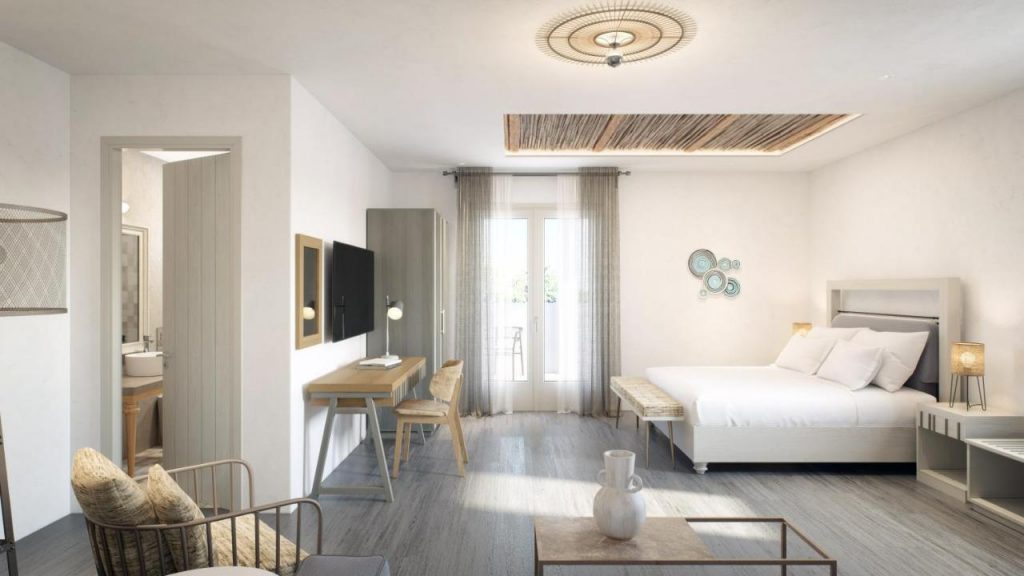 Recently opened (in spring 2022), this is the first Curio Collection by Hilton Hotel in Santorini and the group's second to arrive in the Greek islands. With a true barefoot luxury vibe, the on-trend, low-rise whitewashed property sits right beside a private beach, with a waterside bar and restaurant. Inside Sea Breeze, is a further restaurant and bar, a spa and a fitness suite. Each of the 37 bedrooms and duplexes comes with a private terrace, a hot tub or pool, a minibar, a coffee machine and airy decors such as stone walls, rattan light fittings and organic wooden furnishings.
Pegasus Suites and Spa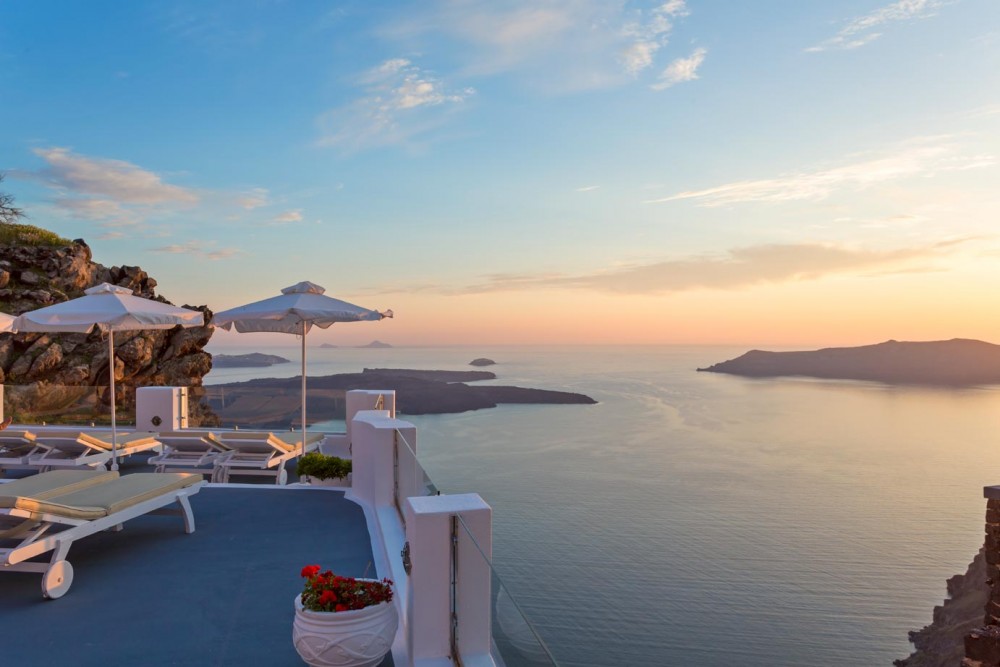 Perched high on the cliffs, overlooking Santorini's stunning caldera lies Pegasus Suites and Spa. This hotel effortlessly captures the elegance and romance of the island with its timeless yet modern decor and a fantastic range of exclusive spa services. The hotel incorporates elements of the traditional, classy Cycladic architecture like pristine whitewashed exterior walls and touches of vivid blue scattered throughout. While almost every room includes breathtaking views of the bay, some rooms also feature a private jacuzzi or pools for ultimate relaxation. Guests can also enjoy a shared pool and bar with sweeping views of the Caldera or take advantage of the hotel's fantastic spa and fitness centre providing exclusive spa treatments as well as an indoor heated pool and jacuzzi. Pegasus Suites and Spa also offers exquisite fine dining, under the under-the-stars restaurant serving traditional Greek cuisine with locally sourced ingredients and an excellent wine list. The hotel will also help you arrange a special candlelit dinner on a private balcony for true romance. With so much to offer, Pegasus Suites and Spa is easily one of the best luxury hotel options in Santorini.
Ikies Traditional Houses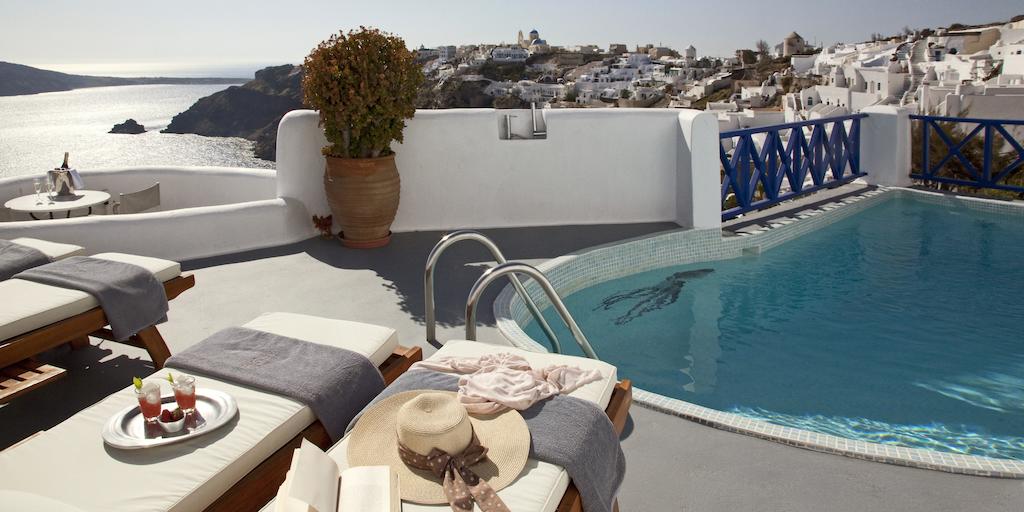 Located in the picturesque village of Oia, this five-star resort is made up of individual dug-out cave houses all oozing minimalist elegance. Room décor really speaks for itself here where Scandinavian cool combines with classic Aegean white and blue. Calming tones of steel grey, brown and white are in abundance and beds are decked in natural fibre soft furnishings. The 11 suites date from pre-1956 and have outdoor spaces boasting lovely views of the bay. Some even benefit from private spa tubs for soaking up the sweeping panoramas. Breakfast is served on your terrace in an hour of your choosing before guests can make use of the fair-sized communal plunge pool on the lowest terrace. Whilst the hotel doesn't have its own restaurant, it's just a 15-minute walk to the centre of Oia where there are plenty of options and staff are happy to make recommendations.
Astro Suites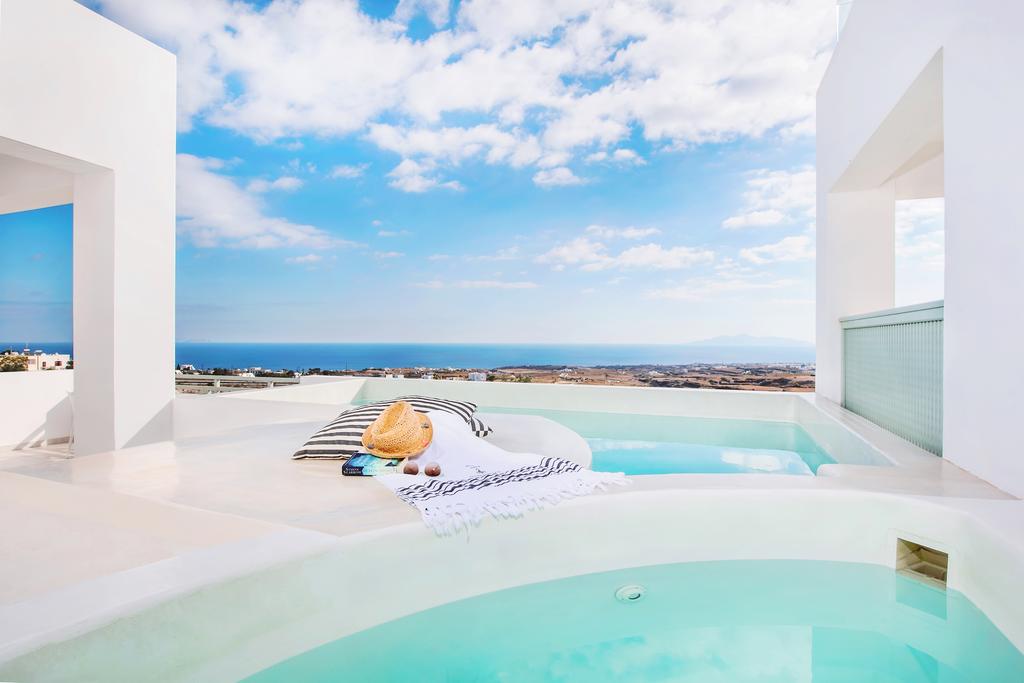 Directly near the stunning Skaros rock formation, clinging to the cliffs of Imerovigili is the renowned Astra Suites. The hotel is decked out with a decent-sized caldera-edge pool with day beds and wooden loungers, an ideal spot for soaking up the rays plus a small spa with hammam sauna for total relaxation. Although the predominant theme is still typically Greek white throughout, bathrooms are opulent in vibrant blue, green and red whilst some of the living space floors are tiled in jazzy rainbow patterns. Each room has unique art on the walls and splashes of vivacity are added through bright soft furnishings. We recommend the Pool Grade suites for ultimate privacy and your own private freshwater plunge pool with obligatory Aegean Sea views. Breakfast is brought to your terrace for a totally dreamy morning whilst the dusky blue restaurant offers traditional Greek dishes such as mylokópi En papillote with sunset vistas.
Atrina Canava 1894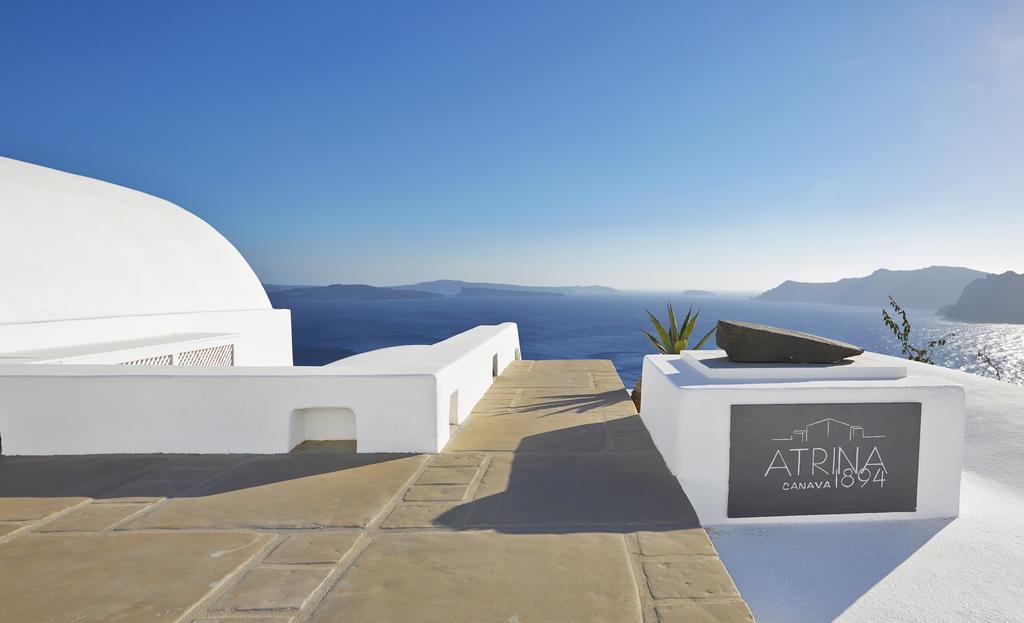 This compact cliffside hotel appeals thanks to its quirky individual rooms and boutique size and quality of service. Named after the year the owner's great- bought the land and then dug two kánaves (medieval wine cellars), this lovely hotel is located at the west end of Oia. Made up of nine suites or studios, five 'houses' and one villa, each space is unique. Three have private whirlpools and the Irene 'senior' suite boasts and incredible walk-in closet and stunning vaulted ceiling. Bathrooms have a grotto-like feeling about them and feature rain showers for the perfect drench and front terraces face out onto the sparkling turquoise water. The communal pool fades into the horizon and is strikingly surrounded by exposed volcanic rock walls, contrasting with the abundance of clean white. No on-site restaurant doesn't matter as such as you are so close to town but breakfasts (either American, English or Greek) are cooked to order.
Perivolas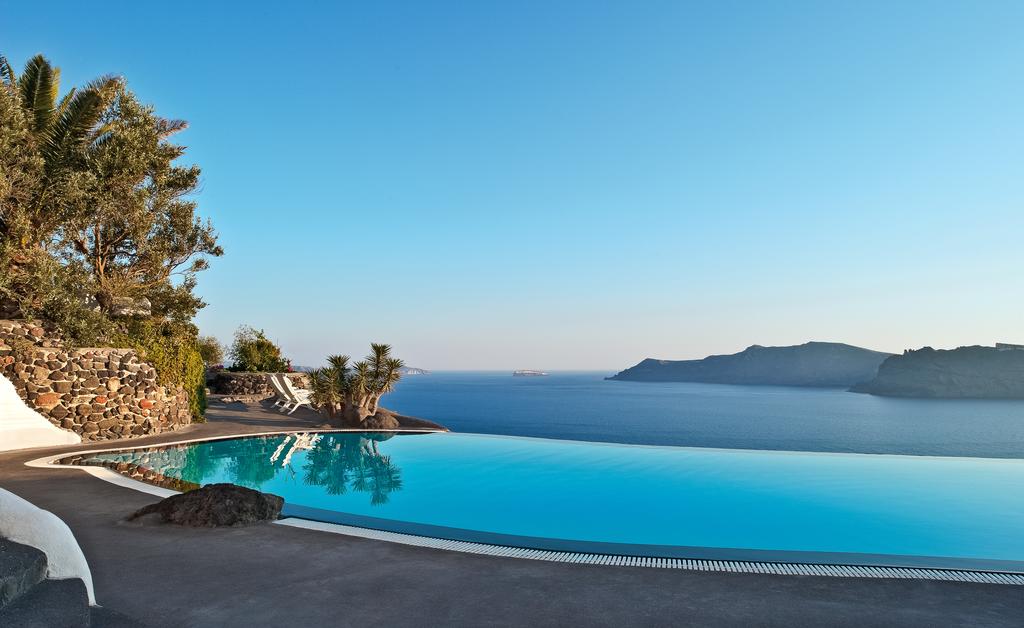 Situated on Santorini's northern tip and slightly out of town, this hotel enjoys a little more tranquillity and privacy than others in the area. The ultimate in honeymoon destination, Perivolas is a cluster of 300-year-old cave dwellings carved out of the hillside. Now forming 20 striking studios and suites, the caves are calming and minimalist in the obligatory Santorini white but with bright splashes of pink and lilac, alcove bed areas, arched windows and warm wood furniture. Some suites boast their own plunge pools, steam rooms and private terraces but there are definitely no TVs here – it's all about relaxation! Talking of, the hotel benefits from a private yoga and Pilates studio overlooking the caldera plus an intimate spa with natural Apivita products. The hotel's restaurant is quirkily housed in a converted wine cellar and a split-level pool terrace and serves simple Mediterranean dishes plus a wine list curated by top Greek wine-maker Panos Zoumboulis.
Erosantorini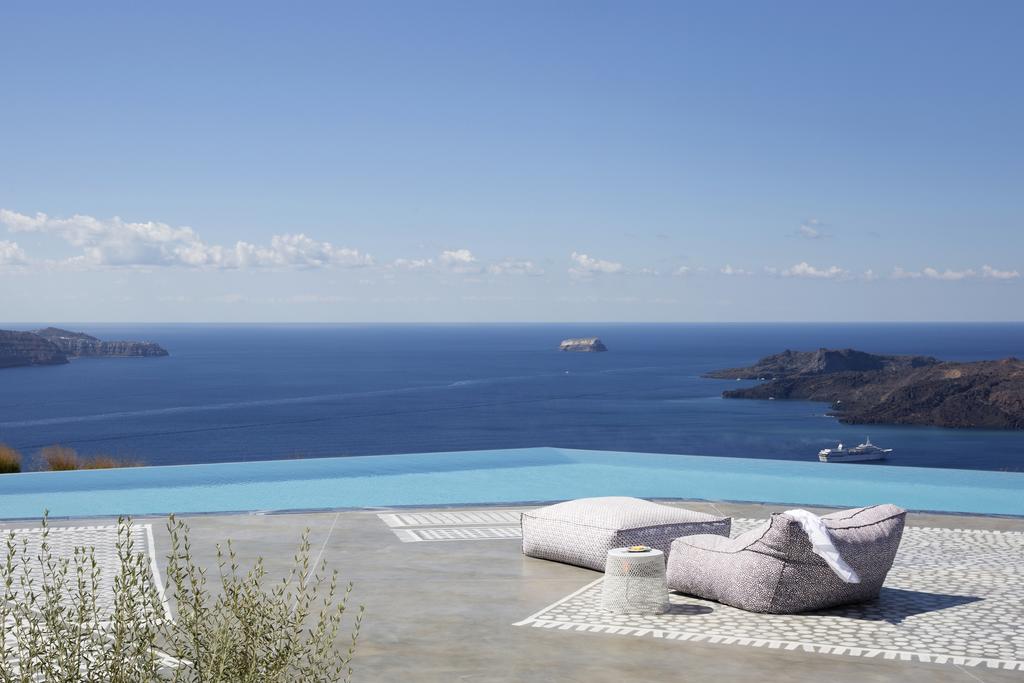 For the ultimate privacy and luxury, this private estate perched 1000 feet above the sea is ideal. The two-acre plot boasts total privacy away from the other crowded Santorini resorts. The capital of Fira is just over a mile away whilst Oia is a nine-mile drive, but when you have this complex to yourself, who needs to leave? The unrivalled views take centre stage here and again, with no other properties nearby, the vistas are pure un-spoiled drama. Accommodation is made up of four standalone bungalows, housing up to 14 guests. The outside and inside blend seamlessly through large day beds, outdoor showers and plunge pools. Luxe design elements run throughout including heated floors, floating fireplaces and marble and concrete bathrooms. Design lovers will appreciate the cubist architecture of the building and this striking simplicity continues inside through the black, white and grey colour palette. Whilst guests will have the resort to themselves, the property is fully staffed including a chef who has honed his skills at Michelin-starred restaurants.
Zakynthos
Olea All Suite Hotel
If space and luxury are your main concerns, you can be sure that you will feel right at home at the Olea All Suite Hotel. As the name suggests, you can be sure that you will be treated to your very own suite these spacious suites have been decorated in the iconic Greek style and come complete with lavish sitting rooms and other features that are sure to make guests feel right at home. Each suite also comes complete with a huge patio area that is set with a private pool or Jacuzzi and this is the perfect place to unwind for a while. There is also a huge lagoon-style pool complex for guests to splash around in, while the decadent dining terrace is the perfect place to indulge in a range of classic Greek treats.
Cielo Villas
With an excellent onsite restaurant and a pretty garden to unwind in, this luxury hotel features plenty of touches that guests are sure to appreciate. Each of the villas here is fully air-conditioned and features marble floors with modern decor in bright colours. The villas that come with a sea view are spacious enough for up to eight people to stay in. However, for optimum luxury, the three bedroom villa comes complete with its own private pool as well as a large living room set with a fireplace, a kitchen with a stove and dishwasher, and a huge terrace that overlooks the ocean. The bathroom is especially impressive and boasts both a huge bathtub and a shower.
Porto Zante Villas & Spa
Nestled along a private sandy shoreline on the enchanting island of Zakynthos, Greece, Porto Zante Villas & Spa is a globally acclaimed resort providing unparalleled privacy and luxury. Raised above the Ionian Sea for spectacular views, the resort elegantly harmonises with its serene surroundings, offering guests a secluded haven to unwind, complemented by meticulous service and exclusive experiences. Guests at Porto Zante may savour a gastronomic journey in its two waterfront dining establishments, indulging in a myriad of flavours spanning Greek, Mediterranean and Japanese cuisines. The resort also offers the luxury of 24-hour In-Villa Dining and intimately romantic Private Beach Dining experiences. With amenities ranging from a private Waterfront Spa and a vibrant Kids Club to enthralling watersports and Private Yacht Excursions to renowned attractions and neighbouring isles, both couples and families may immerse themselves in the best of Porto Zante. Additionally, with its stunning natural landscapes and rich history, Zakynthos unfolds as a captivating destination, providing guests with unforgettable moments.
Lesante Blu Exclusive Beach Resort
Set on the east coast of Zakynthos and providing stunning views across the water to Kefalonia, the Lesante Blu Exclusive Beach Resort offers guests a taste of the finer things in life. One of the things that makes this charming establishment one of the best luxury hotels in Zakynthos is the fact that it is reserved a haven for adults. This means that couples on their honeymoon and parents who want to take a break from their little ones will be able to unwind in pure style here. Couples are sure to love unwinding in one of the spacious sea-view suites, where they will be treated to their own pool with an infinity edge as well as plenty of privacy and luxurious touches.