Many a celebrity has been spotted holidaying in this Swiss resort. Gstaad is found in the Bernese Oberland area of the Alps and is one of the most exclusive towns in the ski zones of Europe. It's unusual in that it retains an old world feel, yet is dripping with luxuries and conveniences demanded by today's A listers. From the outside, the town looks much like a classic chocolate box scene, with wooden facades, gabled roofs and the mountainous backdrop. But it's not just the asethitcs that draw the rich and famous – the cross-country skiing here is excellent, and it's popular for hiking and tobogganing too. 
Grand Hotel Park Gstaad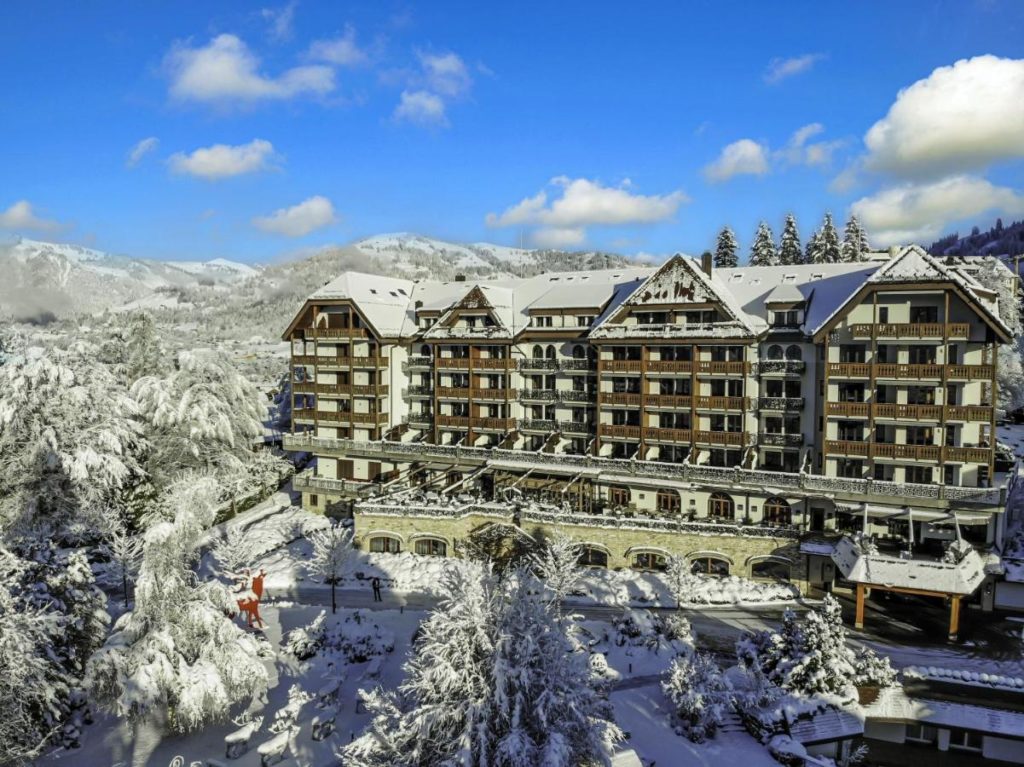 Dating back to 1910, this five floor hotel sports a traditional style, both inside and out. It has four restaurants (its newest, Chubut, has been inspired by the food of Patagonian Argentina) and a wine bar/cigar lounge. Found close to the slopes, the hotel also has an indoor salt infused pool and an outdoor pool, a spa, a tennis court (that doubles as an ice rink), a club for kids and 94 forms of sleeping accommodation. Grand Hotel Park Gstaad's fanciest room, is a four bedded penthouse suite – the largest in the Alps – with butler service and a private spa.
Gstaad Palace Hotel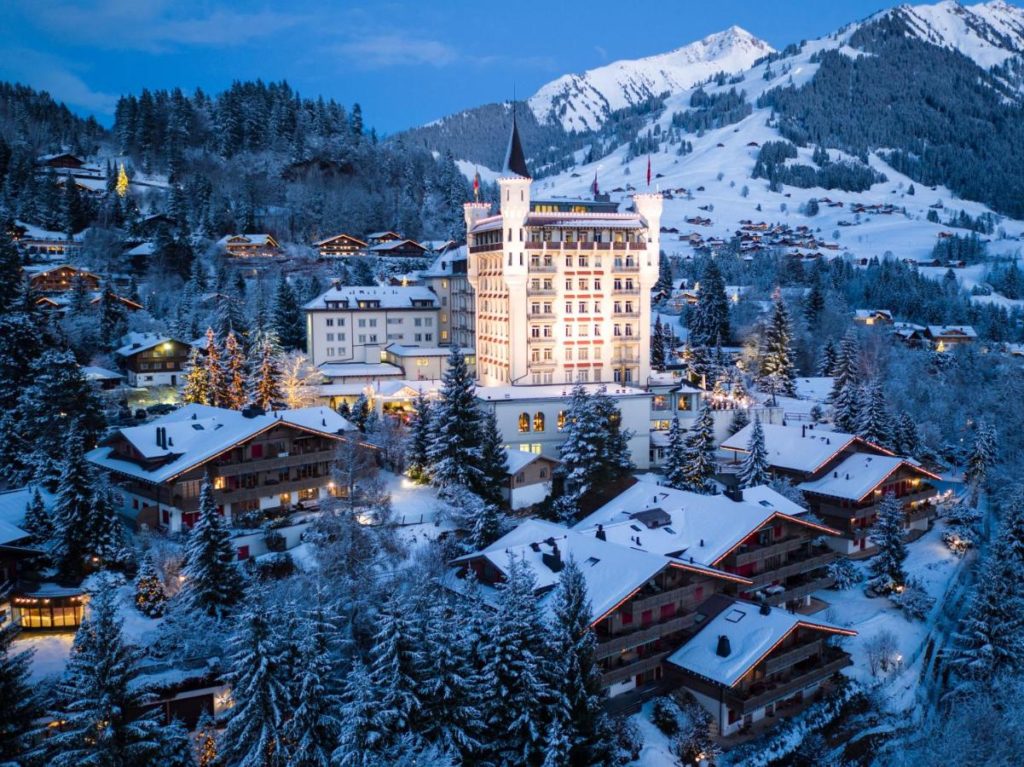 The grand turreted building housing the Palace Hotel is like something from a Disney movie – or a Bond film (Roger Moore himself once booked in here). Indeed, this has a reputation as one of the finest places to stay in the whole of Switzerland. Its elevated position looks out across the town and serves as an ever-present lofty landmark. The hotel is perfect for active types; an Olympic sized outdoor pool, another indoor pool, a pilates studio and a tennis court. Guests have a choice of four eateries, including La Fromagerie, housed in a former Swiss gold vault. The authentically retro GreenGo Club is the hotel's late-night venue and has hosted many big names since its mid-century heyday.
The Alpina Gstaad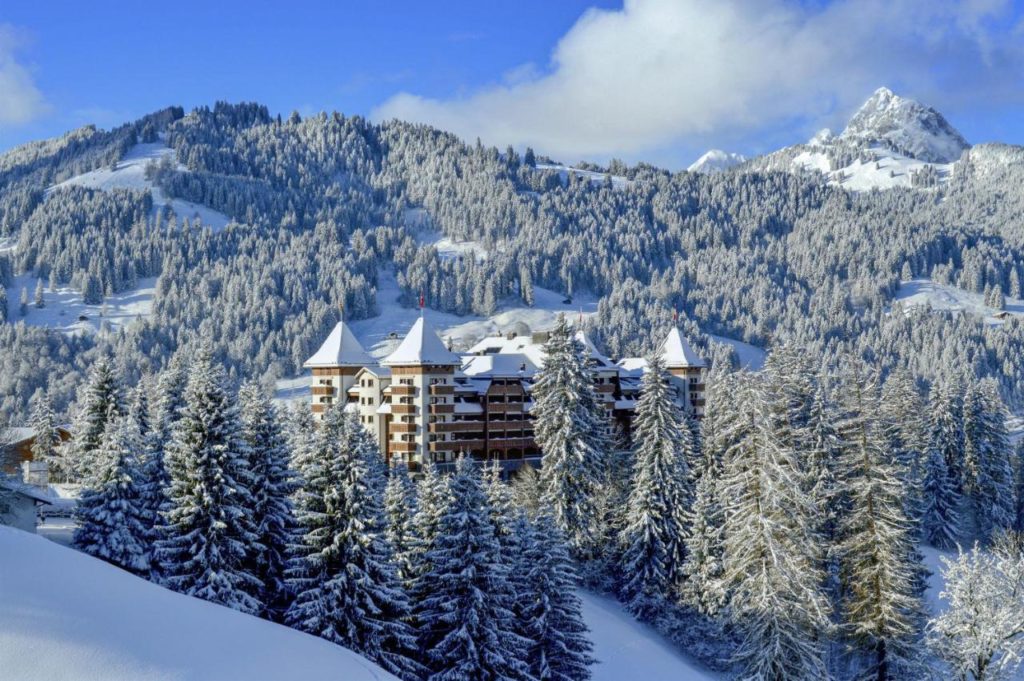 One of Gstaad's newer hotels, having opened in 2012, The Alpina has just 57 rooms. This gives it more of a boutique feel than some of its imposing neighbours. But it still packs a punch when it comes to facilities. Its Six Senses Spa boasts a range of thermal rooms, an indoor pool, an outdoor pool, a gym and a juice bar. There's also a ski shop, a Graff diamond boutique, a hair salon and a cinema. When it comes to food, the options are plentiful too – Megu, a fine dining Japanese restaurant, a Swiss Stübli, French cuisine at Sommetand and a casual lounge bar.
Le Grand Bellevue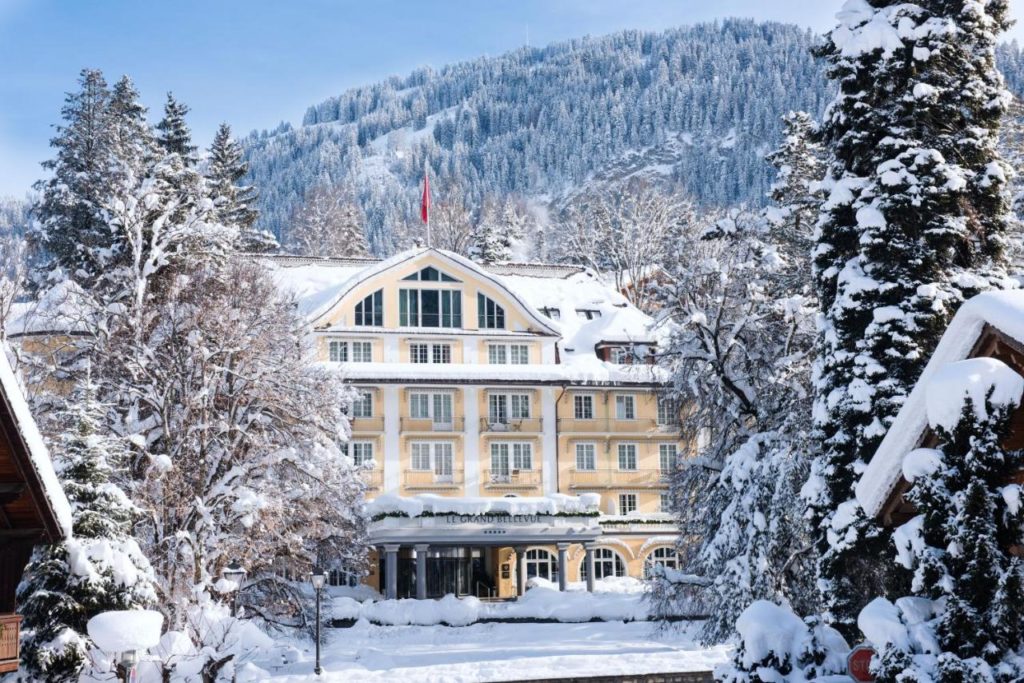 A pale gold exterior, art deco signage and a lavish entrance ensure guests receive an impressive welcome here. It's another small hotel in terms of bedrooms – 57 to be exact. But, like The Alpina, it has much to offer in the way of amenities; a huge subterranean spa with a 17 zone thermal suite, a salt grotto and an indoor hydrotherapy pool, an outdoor spa pool, fitness classes, tennis courts, a kids' club, a playroom and a cinema. The main restaurant, Leonard's, has a Michelin star, while Le Petit Chalet serves traditional Swiss comfort foods and there's the Sushi Bar for lighter, more casual meals.