Once known as Saigon (and often still referred to by this former title), Ho Chi Minh City is the largest metropolis in Vietnam. A business hub, some come here for work, many pass through while touring Asia, while others visit because they're intrigued by its complex history, both ancient and modern. The eclectic mix of buildings include skyscrapers, Colonial architecture, cathedrals, palaces, ornate temples and Chinese pagodas. The rooftop bars, along with vibrant colourful restaurants and the War Remnants Museum are not to be missed. Here are our picks of luxe hotels in Ho Chi Minh City.
Vinpearl Landmark 81, Autograph Collection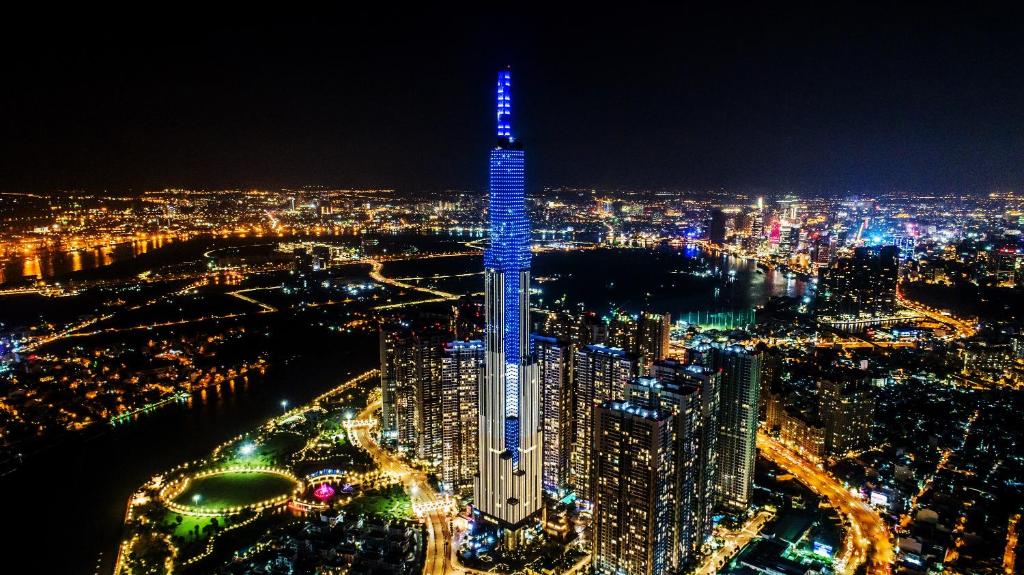 223 rooms and suites begin from the 49th floor at the Vinpearl landmark 81, offering views across the city's skyline and Saigon River via floor-to-ceiling windows. The spaces at this, the tallest hotel in Vietnam, are modern and artistic, incorporating local aesthetics and a signature scent. Dining options include the sky-high Oriental Pearl and the more casual Cloud for coffee by day and cocktails (as well as organic wine) by night. Akoya Spa offers both therapeutic and medispa treatments, and there's a thermal suite, with a 120-square-meter infinity pool outside.
The Reverie Saigon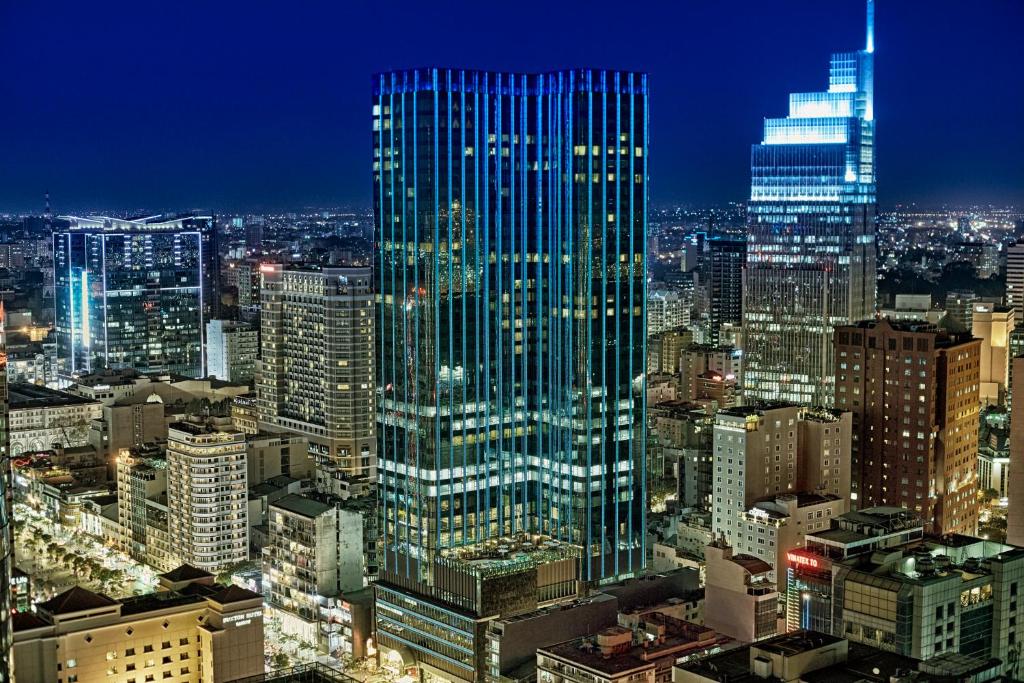 Conveniently located in District 1, within the high-rise Times Square Building, this hotel is palatial. At lobby level, you'll find an enormous 24-carat gold carriage clock. Climb to the rooftop and you can swim in the pool with views of the river. Everything here is ostentatious, with displays of champagne and caviar, heavy silver candelabra, polished marble services, heated toilet seats, expensive art pieces and ornate rococo ceilings. It's the opposite of simplicity, embracing its guests with contemporary opulence. Two formal and two casual restaurants, a two-floor spa and a fitness centre are also found within the impressive skyscraper.
Park Hyatt Saigon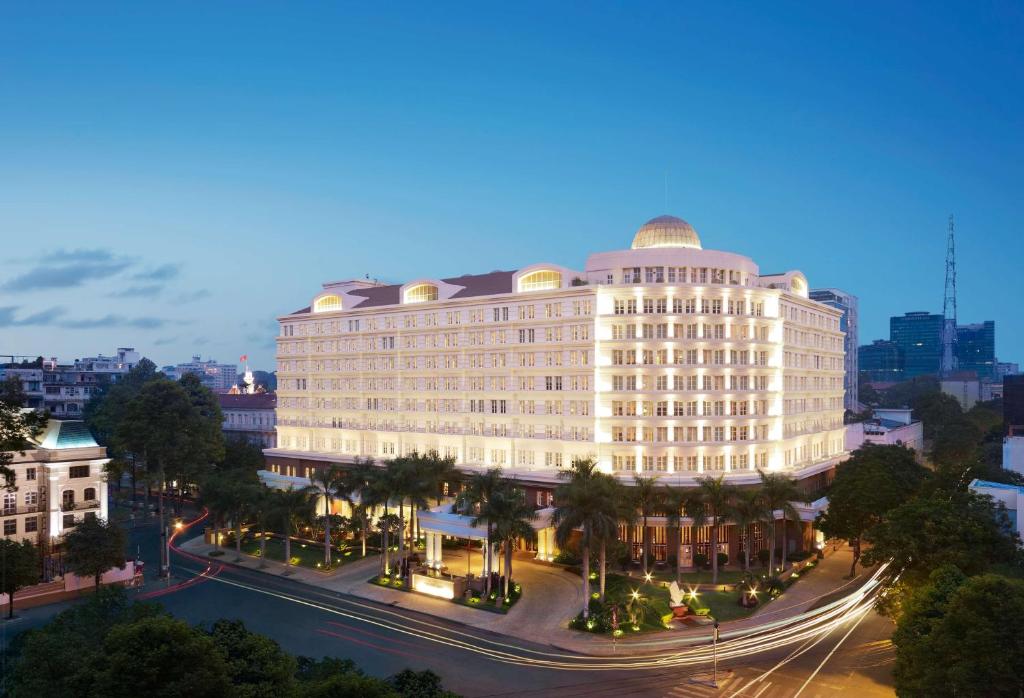 Built in a French Colonial style, this hotel also exudes an Americana luxury alongside Vietnamese touches incorporated into the room decor. The large, gleaming white building sits opposite the Opera House, with a glamorous pool and sunbathing area at the ground floor level of the rear, providing an idyllic outlook for many of the 245 bedrooms. Guests can drink and dine on authentic Italian cuisine at Opera, Vietnamese and European dishes at Square One, indulge in a classic afternoon tea in the Park Lounge and party the night away at 2 Lam Son. Treatments inspired by traditional Vietnamese beauty rituals using locally sourced ingredients are available at Xuan Spa.
Caravelle Saigon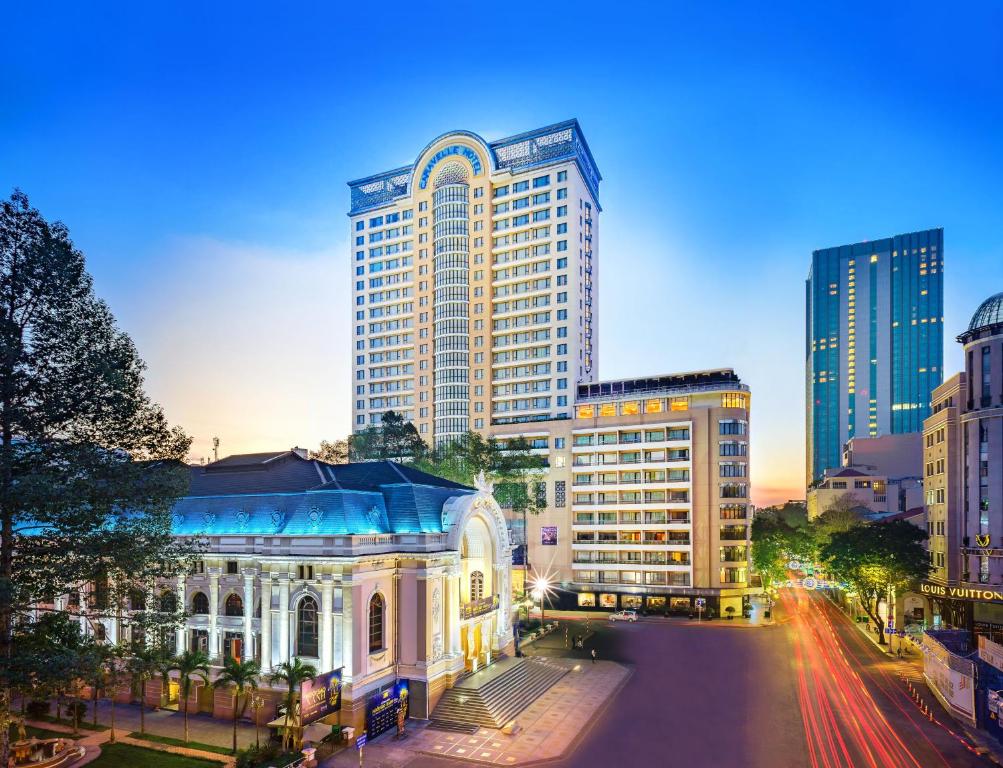 This hotel dates back to 1959 and has served as a landmark on the city horizon ever since. Now rising to 24 stories, it commands some of the best views in the city. In fact, back in the 1970s, the hotel's Saigon Saigon bar was used by US journalists to keep an eye on the front line. Now it's a super place to view the city's lights. The five-star property has a glitzy pool area, a spa and five varied eateries/bars. Higher grade rooms include Sealy Posturepedic beds, pillow menus, Appelles Black range toiletries and balconies.
Hotel Sofitel Plaza Saigon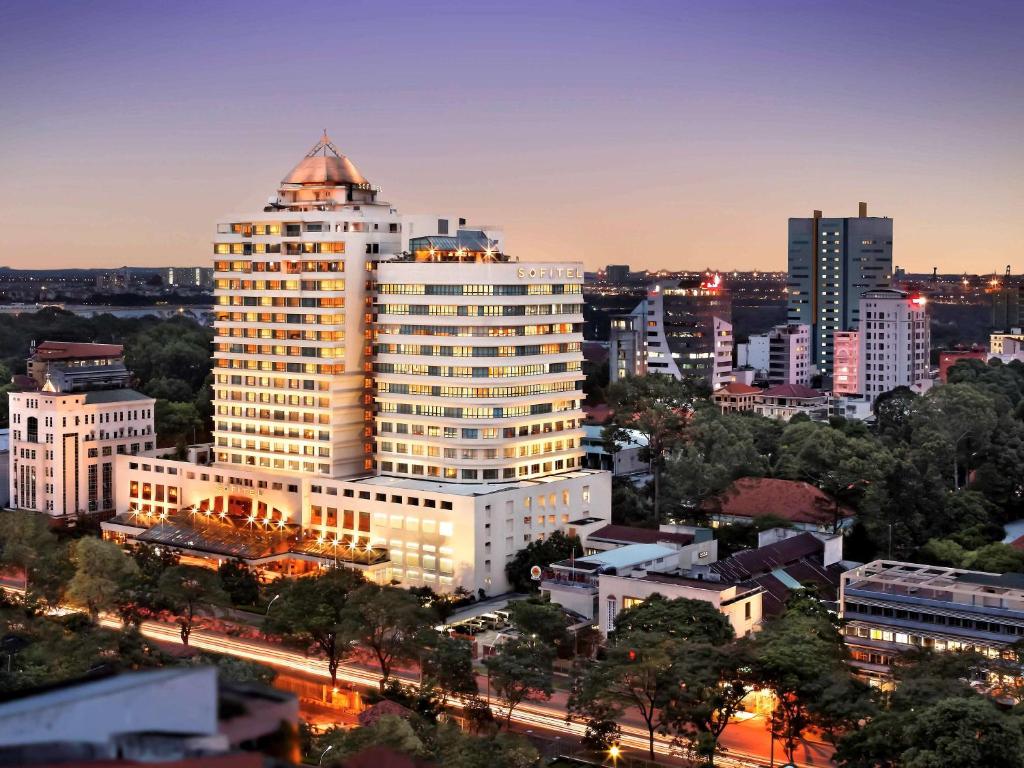 Displaying a distinctly French ambience and found on Le Duan Boulevard (across from the French embassy), is Hotel Sofitel Plaza Saigon. Guests can unwind at the RESET Private Club, work out in the Sofitel Fitness centre and swim in the stunning rooftop pool — found on the 18h floor and decorated with Indochine tiles, it's a glamorous spot. A bar-restaurant is also located beside the pool, or guests can dine in Mezz Restaurant, Le 17 Bistrot, T Lounge and Club Millésime (the latter is for Club Level guests). The Ministry of Men is the hotel's vintage-European bar, open till late.
Mia Saigon – Luxury Boutique Hotel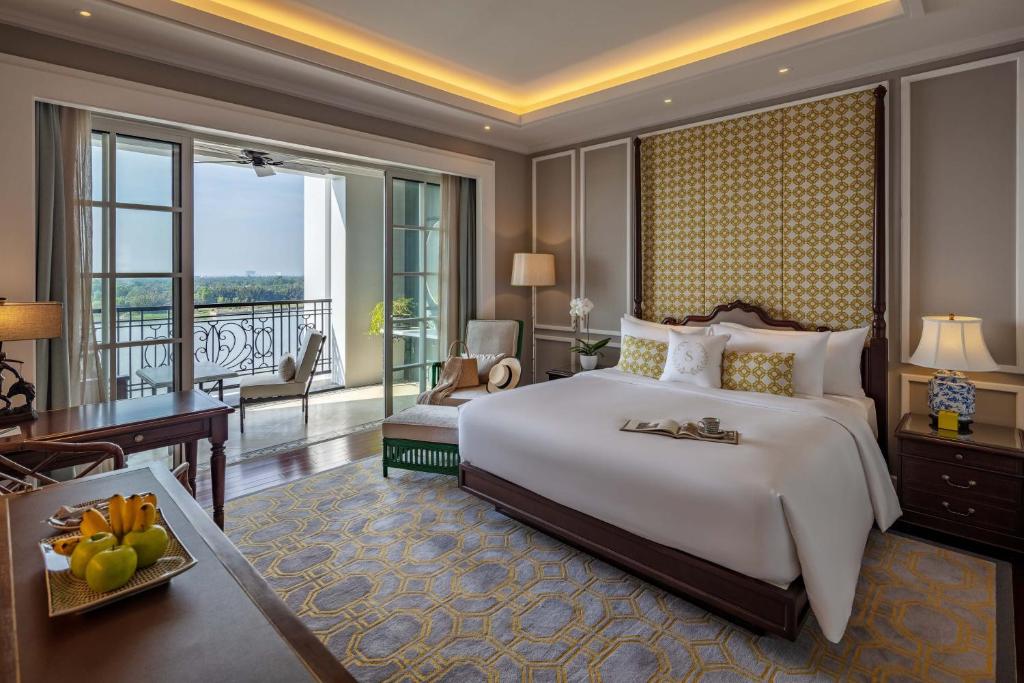 Many of the luxe hotels here are large, grand affairs. However, Mia Saigon offers something more intimate. Found in the riverside district of Thu Duc city, the 52 bedroom residence welcomes guests by boat, as well as by car and on foot. The property is nostalgic for the French Art Deco era, with effortless chic vintage decor and a wonderful wellness centre, Ô Spa. Madame Lam is the hotel's fine restaurant, with Kitchen by the River offering unpretentious yet on-trend dining and Gin on 8 (referring to its beverage speciality and floor), providing imbibers with epic views.
The Myst Dong Khoi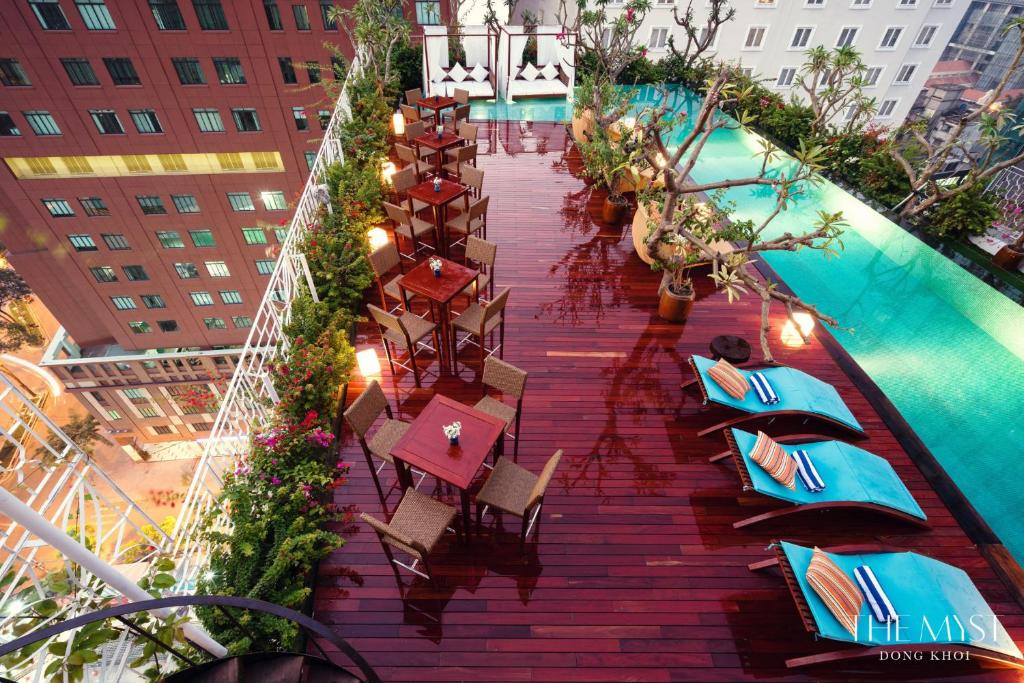 An uber-modern skyscraper accented by leafy green foliage jutting from countless crevices on the building's exterior, The Myst Dong Khoi is a design lover's delight. Vietnamese homes have served as the inspiration here, with interiors (that wouldn't be out of place in an arty magazine) featuring objets d'art, polished hardwood flooring, stained glass and wrought-iron hardware. And like the outside, there are plenty of plants and exotic plants inside. Attracting a fashionable set, its facilities include the KL Spa, two restaurants (Ery and The Nest), Bason cafe and Bar Bleu. A highlight is the cocoon-like outdoor pool area; a long thin strip of underlit water that's especially magical after dark.