Miami truly is a vibrant city that offers lots for the luxury traveller. From the trendy nightlife of South Beach and the colourful bustle of Calle Ocho, to the plush resorts of Miami Beach and the huge shopping opportunities like quirky boutiques of Coconut Grove. Art-deco architecture, buzzing nightlife, a blooming arts scene, an abundance of outdoor pursuits like golf, diving and sailing, plus beautiful sun-kissed beaches mean Miami is the ultimate holiday destination for many. The city is full of inventive cuisine too with European, American and South American influences mixing to create a creative and flourishing culinary scene. When the sun goes down is really when this city comes alive and no visit would be complete without sampling the salsa dance halls or plush rooftop bars. Check out The Luxury Editor's complete guide to the best hotspots for your stay in Miami.
The Mayfair House Hotel & Garden
Stay in the city's colourful Coconut Grove district, within easy reach of the beaches and downtown area. The Mayfair House has many impressive features, including an outdoor atrium garden, an Art Noveau lobby with a mini-rotunda and curved walls, and a pool area, where you can recline on a circular cabana beside an open fire. Of its 179 bedrooms, most have balconies and some have rolltop clawfooted tubs. The colour palette revolves around earth terracottas and turquoise, reflecting Miami's natural landscapes, while the interior aesthetic blends vintage styling with contemporary flair. Dine at the Grill, and pop into one of the wellness sessions (yoga, meditation and sound baths are available).
Loews Coral Gables Hotel
Located close to the Miracle Mile on a buzzing multi-functional plaza, the Loews Coral Gables Hotel has 242 bedrooms — book one on the higher floors for the best views. Guests can dine and drink at its locally-inspired venues; The Americana Kitchen, The Americana Bar, Miami Joe Coffee Co. and Phineas, an alfresco rooftop lounge nine storeys up. It has a health club featuring Peloton, an outdoor pool with cabanas, 2,787 square metres of meeting space (including an "event lawn") and a striking, modern aesthetic.
The Arlo Wynwood Hotel
Designed by NBWW Architects and Meyer Davis, this brand-new neighbourhood hotel is a cultural meeting point, as well as a place to stay. Art is a big deal at the property, whose exterior walls are emblazoned by the work of Miami-based artist Hoxxoh and interiors showcase over 250 innovative pieces, including specially commissioned, site-specific work. The building rises nine stories, topped with a rooftop deck that accommodates the pool, private cabanas, a bar, a café and a yoga deck featuring a plexiglass mural. Dine indoors or out, at its 2,666-square-foot restaurant, in MaryGold's and at its bodega.
The Setai Miami Beach
The Setai, Miami Beach, a member of Leading Hotels of the World, features 87 Art Deco rooms in the original building, 50 Ocean Suites in the tower, and one exception Penthouse with a pool. Facilities include the Valmont Spa and a Clefs d'Or Chief Concierge. The gardens, punctuated with water pods, sculptures and tropical plants, are where guests will find three temperature-controlled pools, and then the private full-service beach. Dining is led by Executive Chef Vijayudu Veena, and includes the vibrant Jaya restaurant, and on the beach, The Ocean Grill. It is a fusion of intimate, boutique personalised hospitality with the flair and style of one of the best Florida resorts. Staying at The Setai is to experience something truly unique in Miami Beach. This is undeniably a landmark breach resort, yet the landmark architecture and ingenious design creates a welcoming boutique feel that reflects the hotel's commitment to exclusive, personalised hospitality.
Mandarin Oriental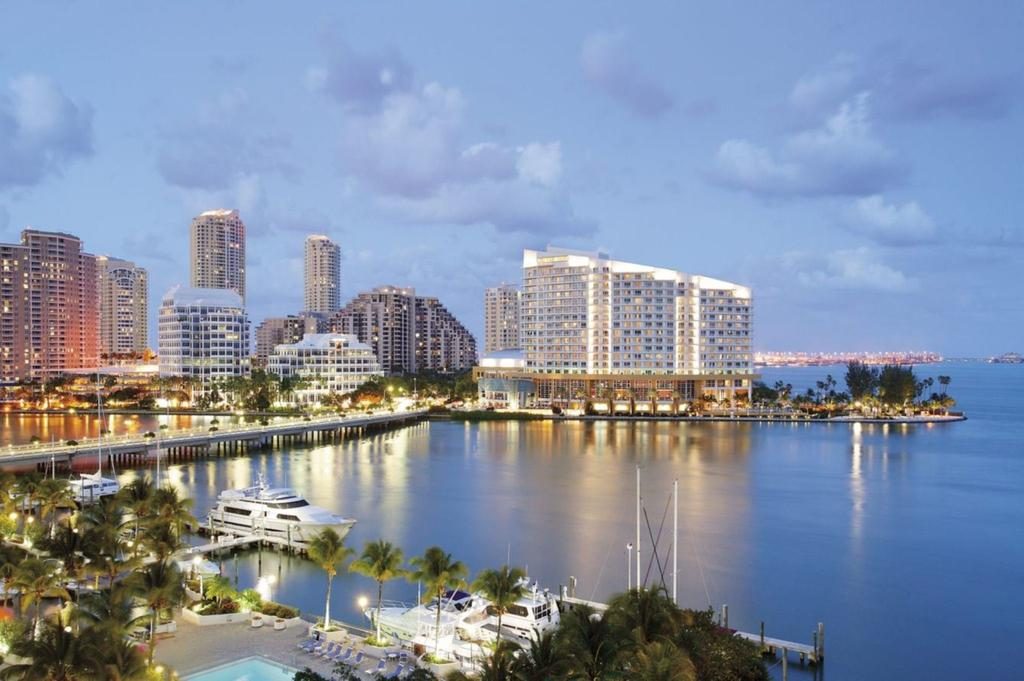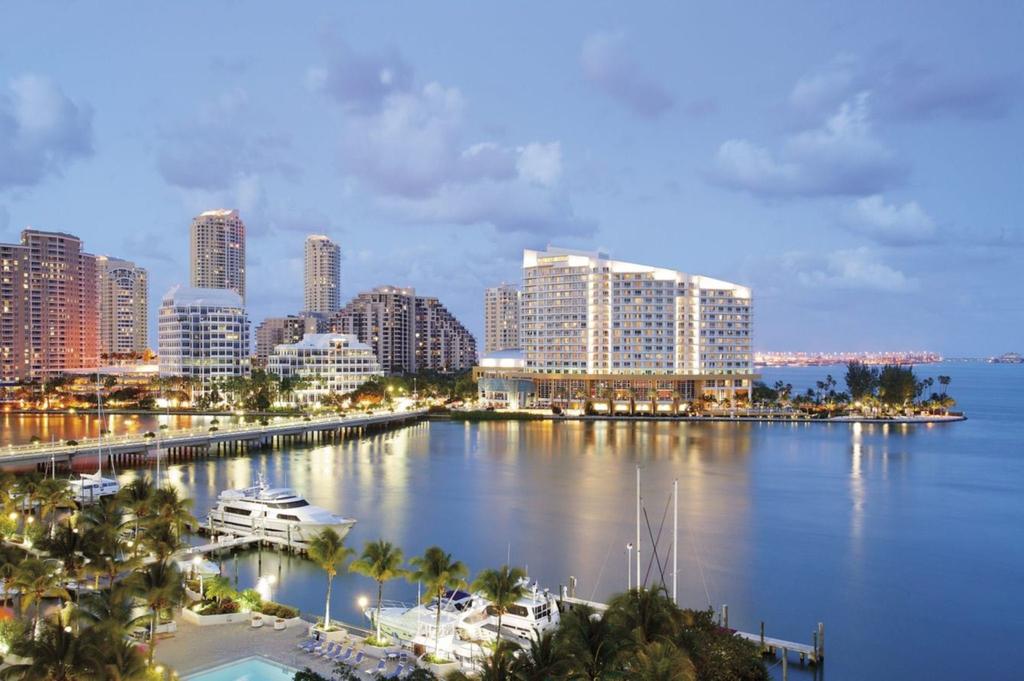 The Mandarin Oriental is situated on a distinctive island, an enclave off the mainland financial district of Miami. This famous five-star property is a real destination resort with a high-end Peruvian restaurant and a world-class spa. It Offers stunning views of the Biscayne Bay, while its outdoor dining venue and lobby bar gratify a buzzing after-work multitude. It's man-made beach and stylish pool, on the other hand, gives the guests an ideal environment to soak up the sun at the South Beach scene. All the rooms are furnished with luxurious items as well as classic furnishings in moderate tones of cream and honey. The spacious accommodation also includes large terraces and marble bathrooms that have soaking tubs.
Four Seasons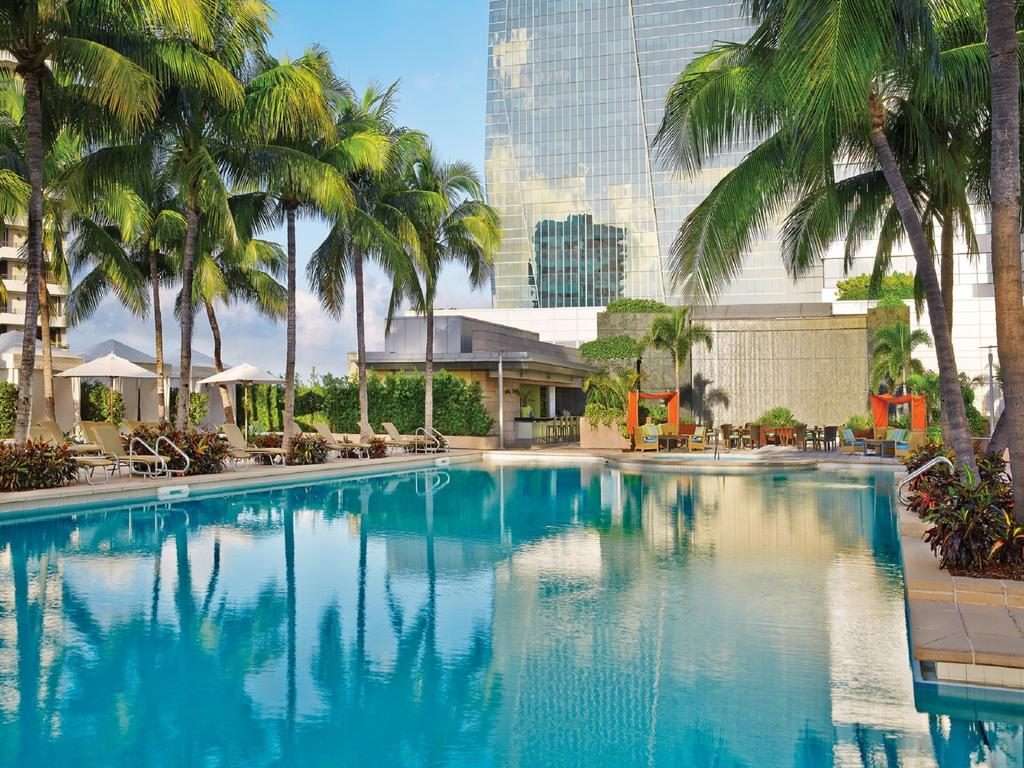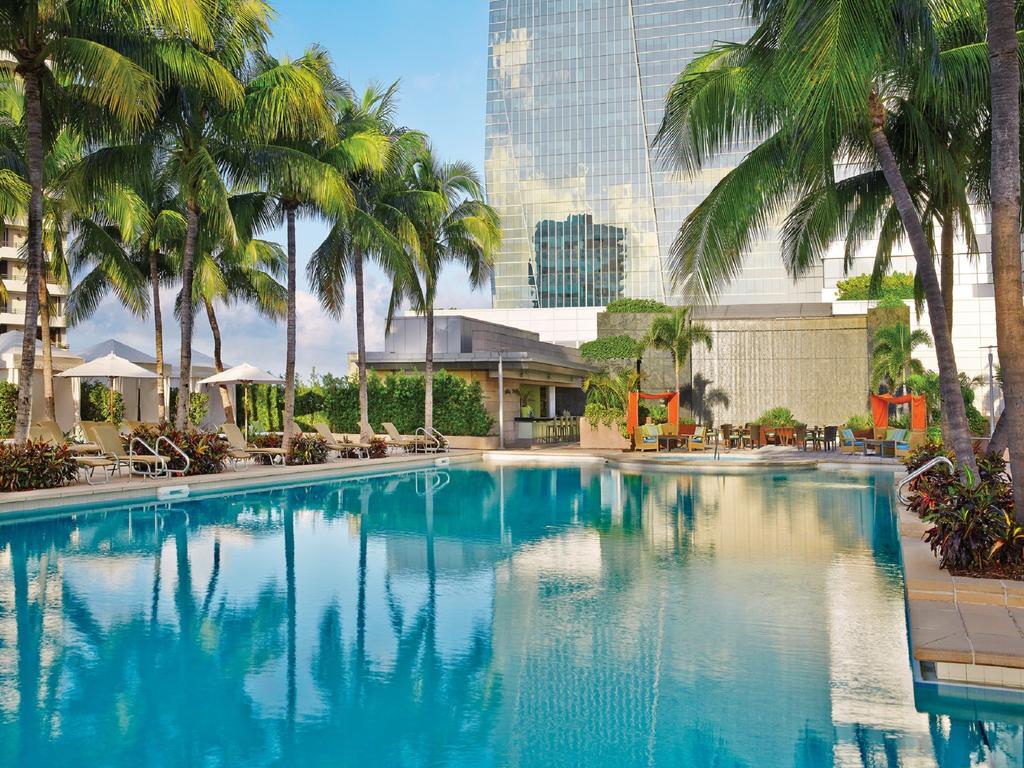 This historic Surf Club on Miami Beach has been renovated owing to the Four Seasons. The original Mediterranean Revival clubhouse has been restored and an additional 12-storey glass tower has been built. All these have made this luxury resort bring a little bit of the Old Florida charm back to Surfside. This resort offers sublime rooms, each with luxurious finishes and a plush white bed. The services and facility are also on point. The dark, atmospheric Shiseido Spa tops among its top facilities. Other facilities include Bar, Beach, Kids' club, Fitness centre, Laundry, Pool, Parking and Restaurants among others. The food and drinks all offer a great dining experience at this resort. To top it up, the staff is efficient and courteous.
EAST, Miami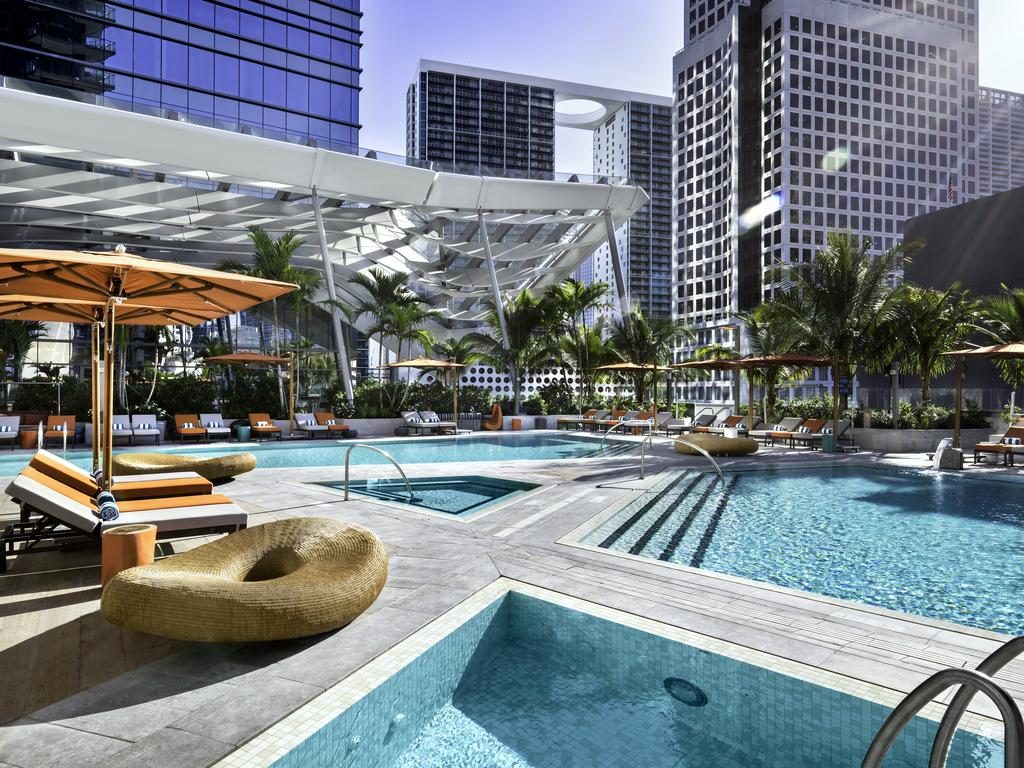 A stay at EAST, Miami is to feel the urban pulse of Miami. This strikingly contemporary upscale hotel blends modern aesthetics with South American flair, and Asian zen, within the sparkling leisure and business hub of Brickell City Center. EAST, Miami captures the energy of this remarkable city, and its signature restaurant, Quinta de Huella, immerses guests in a compelling South American dining experience that's all about the authentic open-fire parrilla and wood-fired oven – and top-quality produce. There are some 350 guest rooms and suites, including fully-equipped residential suites.
Faena Hotel Miami Beach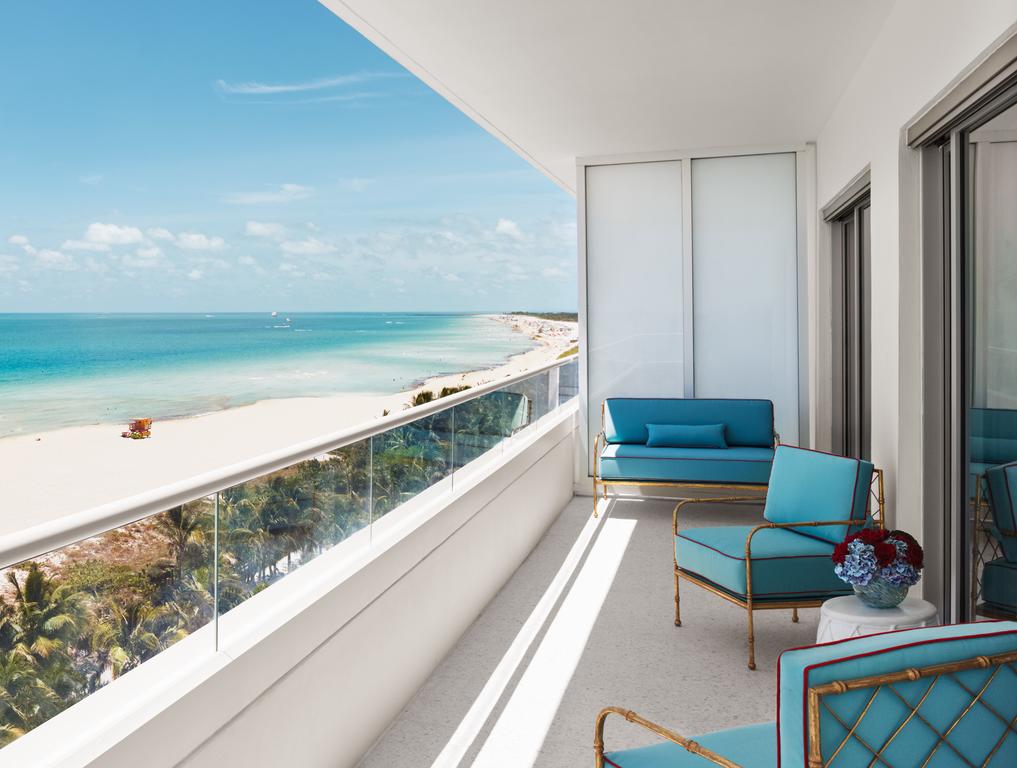 Located in the Faena District, this luxury hotel overlooks the Atlantic Ocean. Its look is that of a theatrical fantasia, covered in gold, red and tiger print and dusted with stunning contemporary art. The service and facility are of high standards. There is a fitness centre, a bar, a pool, a steam room, spa and room service among others. The attendants are hospitable while the food and drinks are outstanding. Master chefs at the Los Fuegos restaurant are there to offer great meals while exceptional cocktails are available at the Saxony Bar. This hotel generally offers value for money and is family-friendly.
The St. Regis Bal Harbour Resort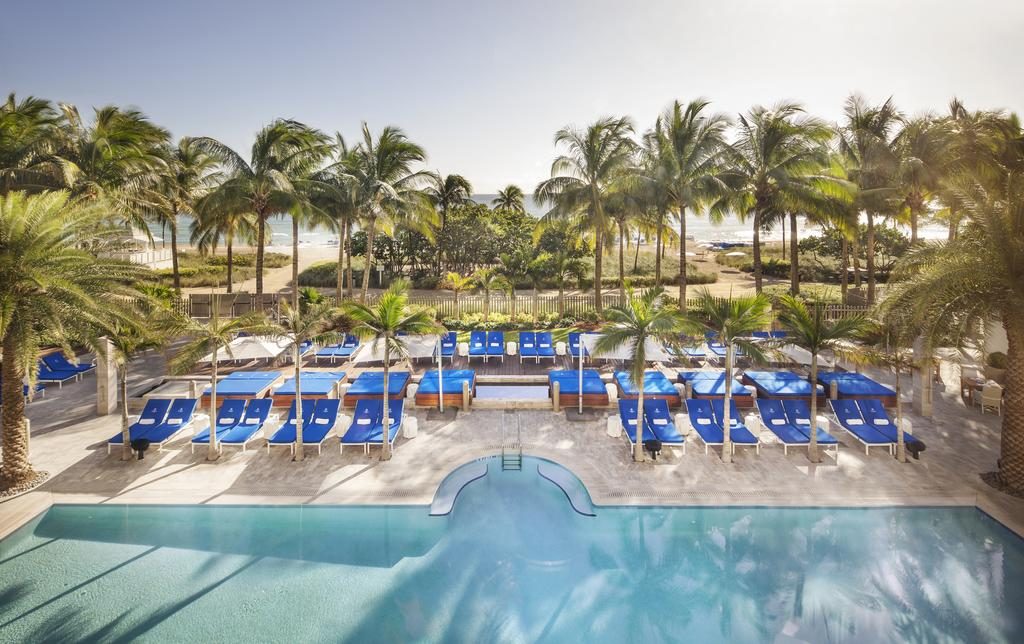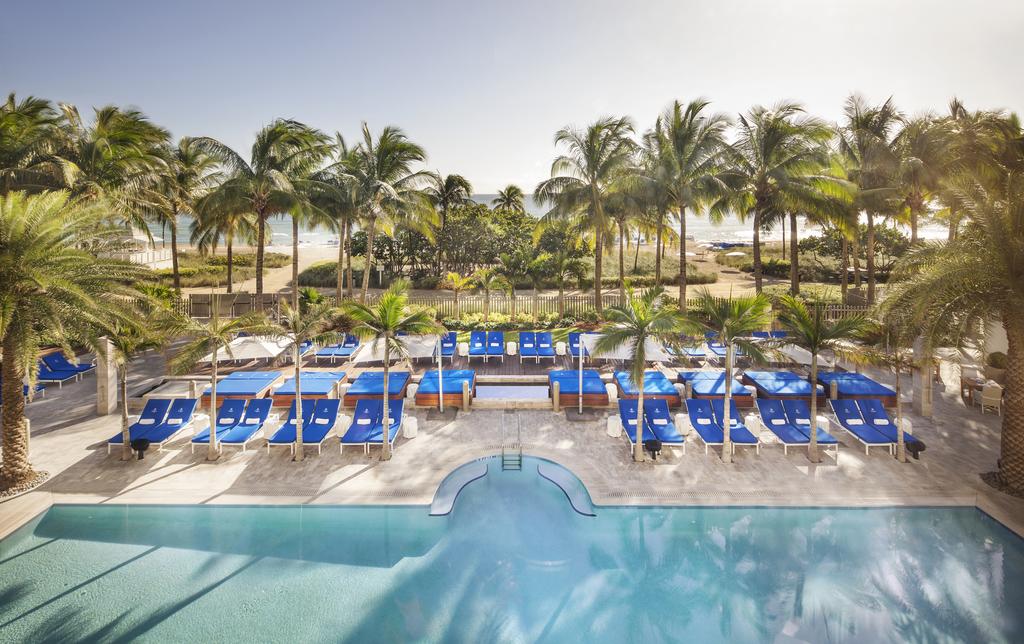 This hotel is located at the northern tip of Miami Beach. This 227-room hotel offers unrivalled service and amenities which includes a fitness centre, a bar, child care services and room service among others. The interiors consist of high ceilings, enormous crystal chandeliers and glass walls. The beach villas have their own butler and each villa has its own wet bar, bathroom, dining patio and indoor lounge. There is serves lunch and dinner throughout the week while the Wine Vault and St Regis Bar offer tea, cocktails and evening music events. This hotel offers access for guests with disabilities, it is family-friendly and offers great value for your cash.
The Miami Beach EDITION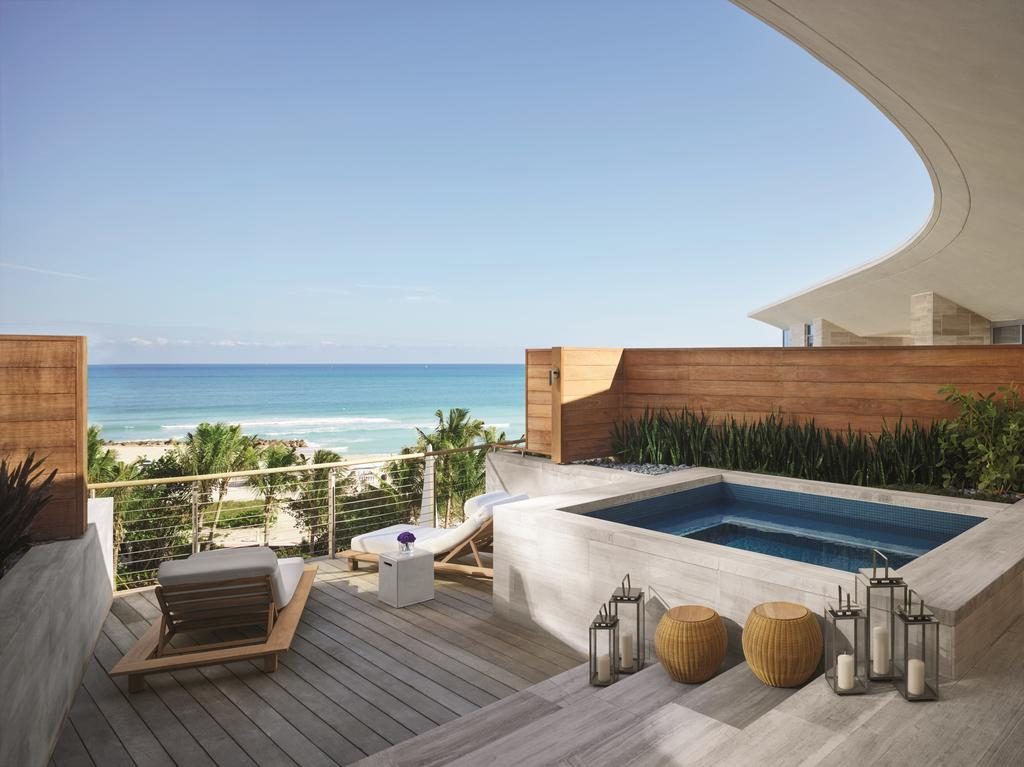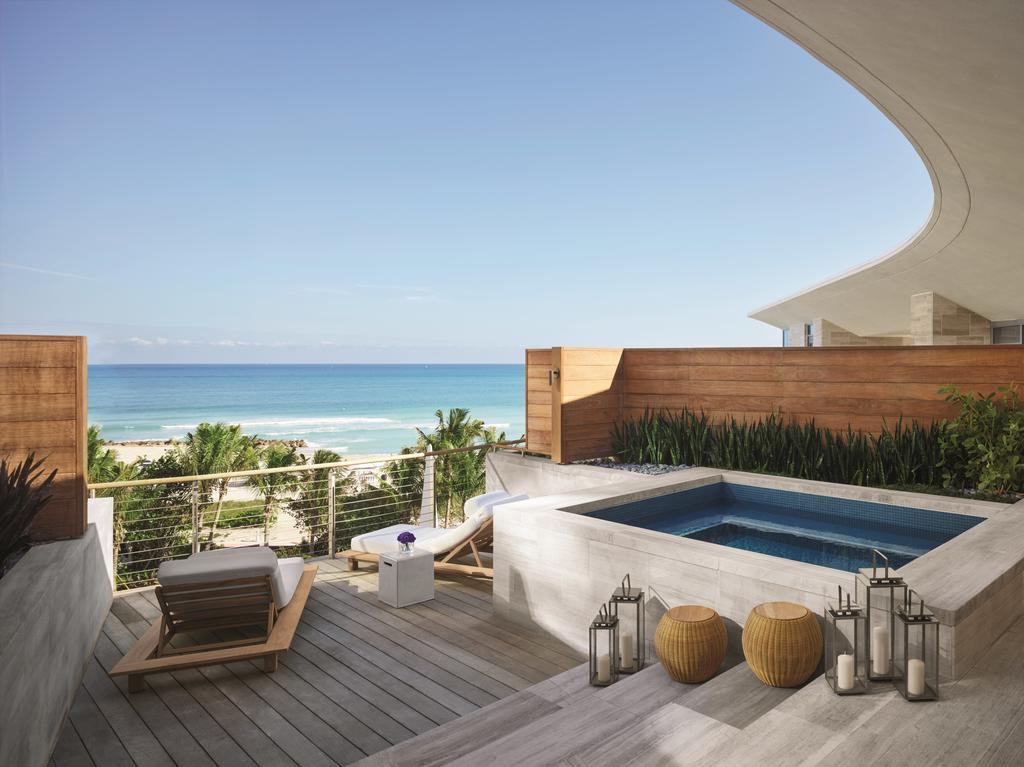 This hotel occupies a revived mid-century grand dame along the Atlantic Ocean. The design of this hotel toes the line between restrained modernity and sumptuous mid-century glamour with its sprawling, all-white marble lobby. The service and facility are excellent. Some of the facilities include a sauna, laundry, beach, room service and spa. The rooms all maintain their clean lines with some of them having private oceanfront balconies. Bluetooth speakers, as well as data-port connections, are available in every room. Food and drinks are offered by the eminent chef, Jean-Georges Vongerichten. The Matador Room is the place for all the great delicacies.
SLS Brickell Hotel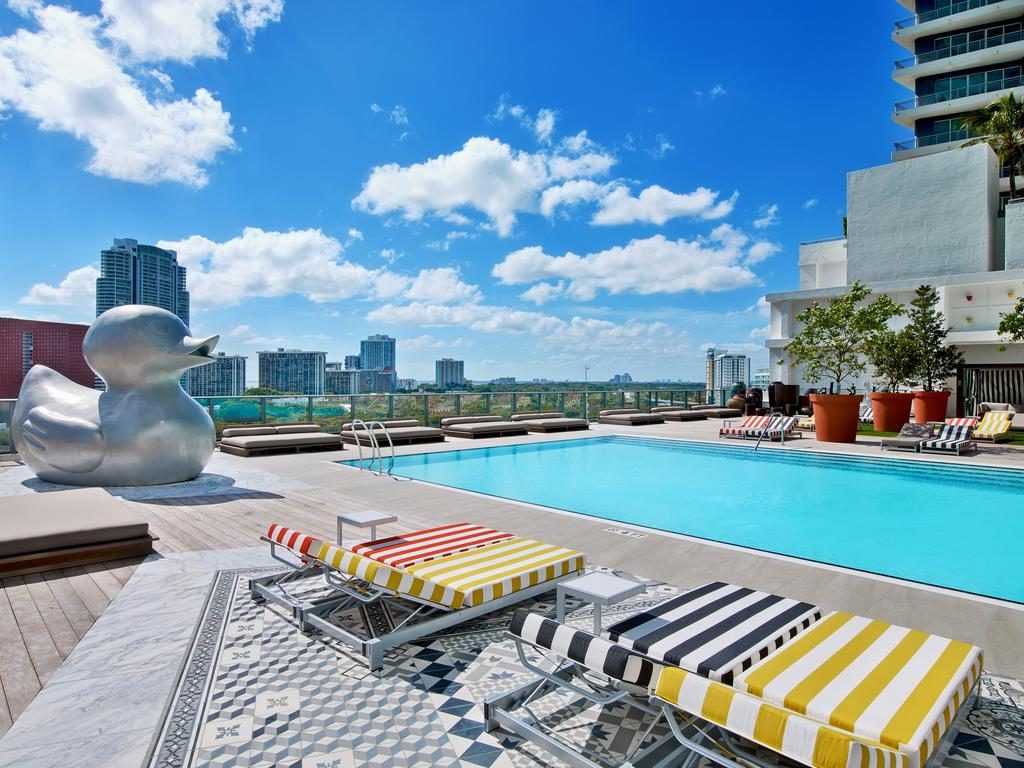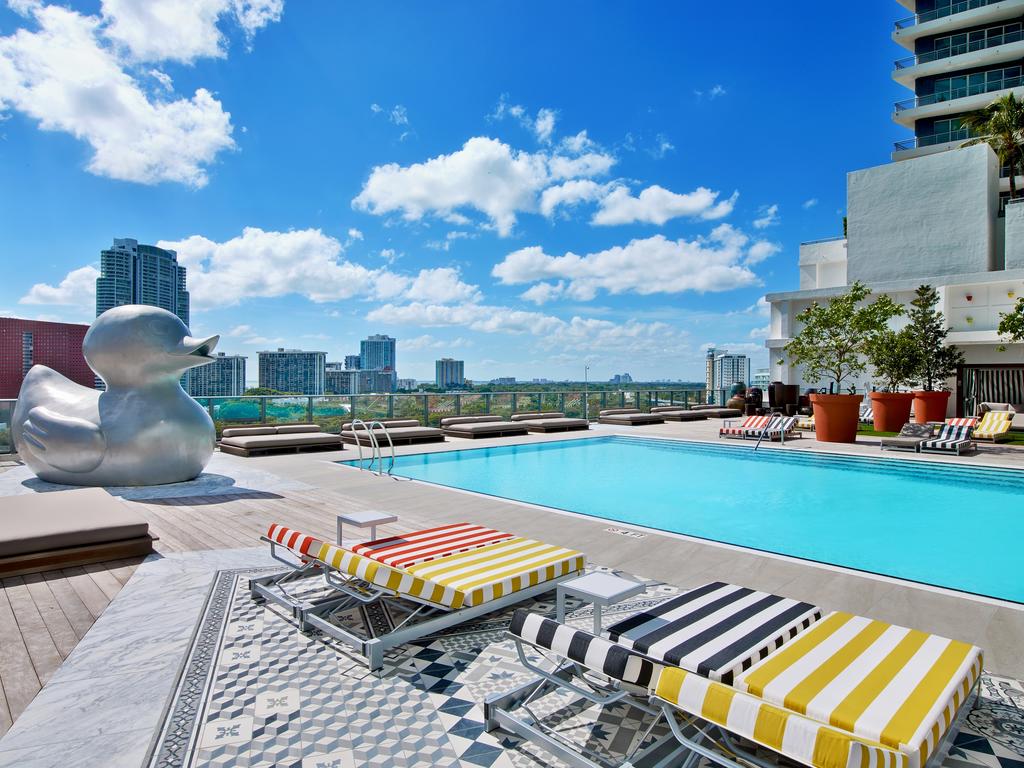 This spacious and fancy glass tower, located at the centre of Miami's financial district, comes with fantastical interiors and an impressive trendy art collection. The service is offered by friendly and professional staff and there are plenty of facilities including laundry, sauna and a fitness centre. The rooms are modern and spacious covered in white, pale pink and slate colours. Award-winning chefs provide outstanding meals at Bazaar Mar and Fi'lia restaurants. This hotel is family-friendly and offers value for your money.
W South Beach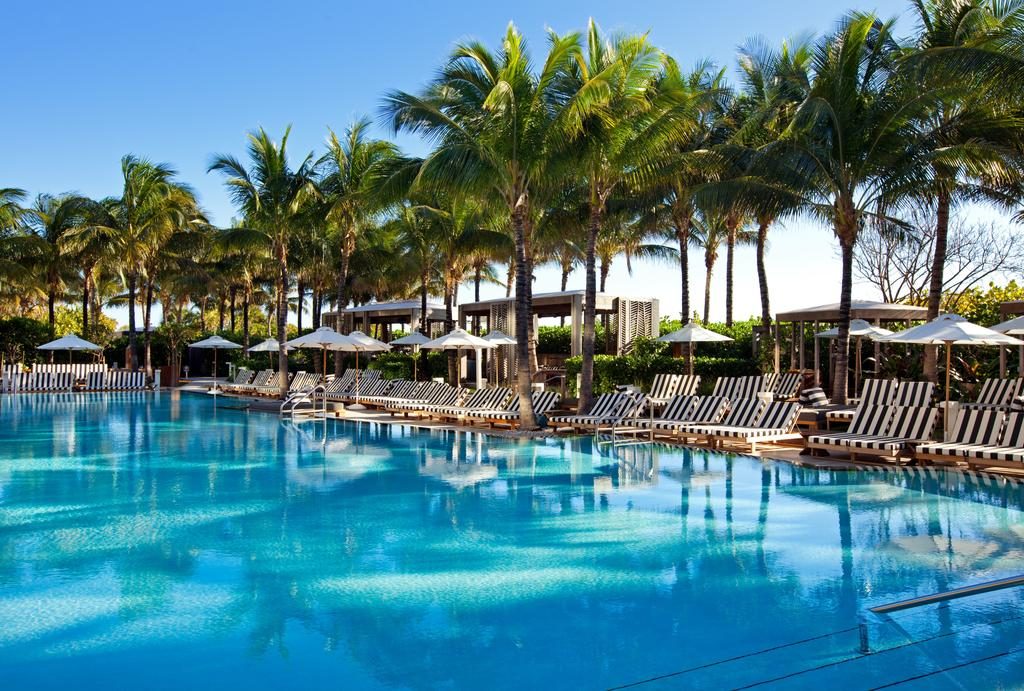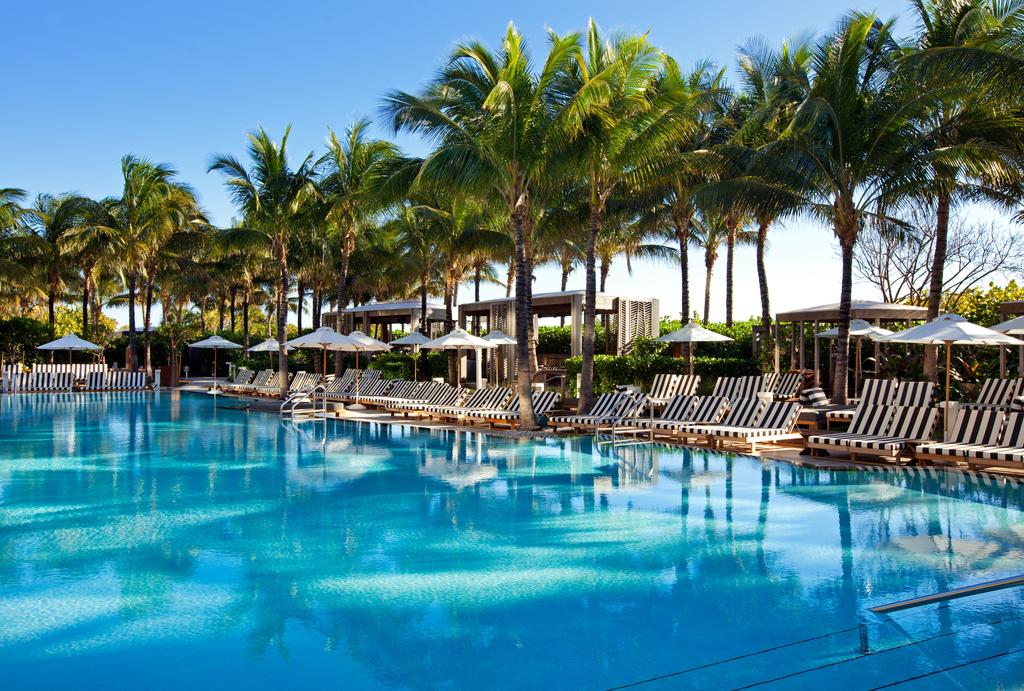 This hotel occupies an oceanfront space on Collins Avenue and the 22nd Street. It has massive and fun public spaces. The entrance lobby consists of Mongolian fur-covered chairs, huge brass screens, Jean-Michel Basquiat and Damien Hirst artworks on rotation and huge purple leather pouffes among others. The labyrinthine poolscape provides inspired lounging in an exuberant, expansive backyard. In its 408 rooms, there is a more relaxed luxury mood grey and with cool white interiors, chandeliers and mirrored surfaces. Every room has a balcony looking across the beach. There is also a kitchenette, Bliss toiletries, Bose sound system, and a docking station among other amenities. The Dutch and Mr. Chow restaurants offer incredible delicacies, while Living Room provides all the pre-dinner drinks. Wall, on the other hand, is Wall is a hotspot for the late-night revelry.
Kimpton EPIC Miami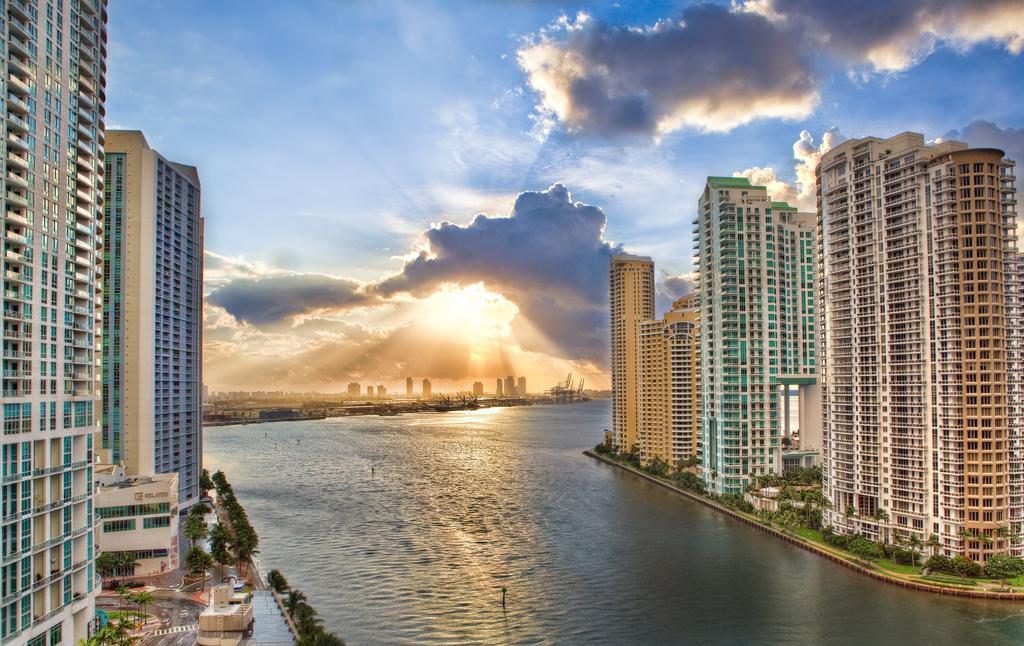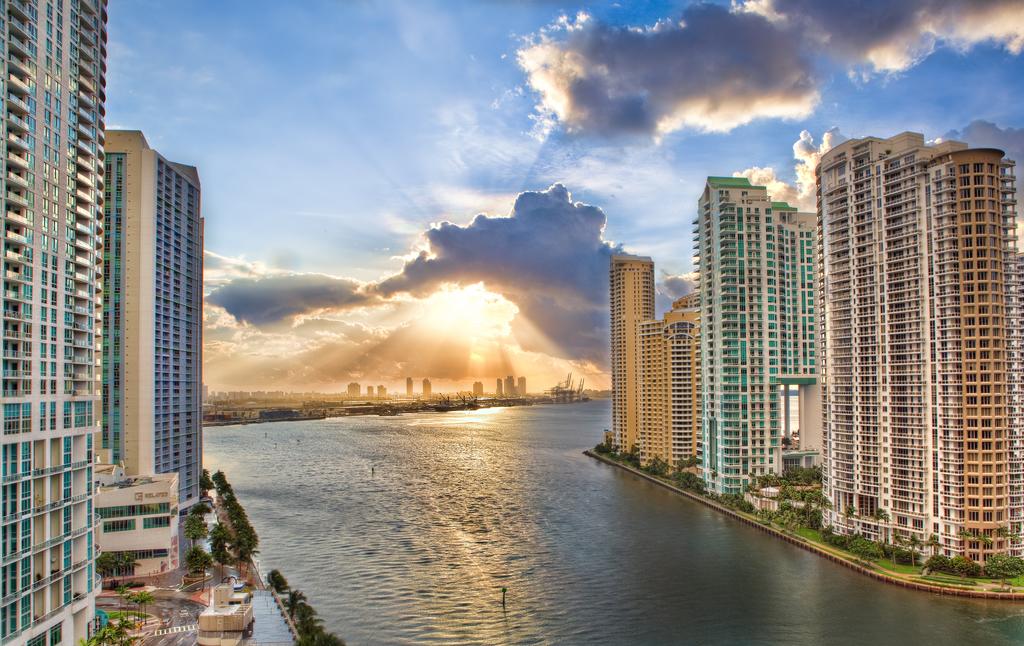 This 54-storey tower situated in downtown Miami comes offers sweeping views of the Biscayne Bay and Miami River. It features London transplant Zuma for a fine Japanese dining. On the 16th-floor pool deck is chocked with amenities consisting of the Exhale Spa and two angular infinity pools. The 411 suites and rooms each has a private balcony, floor-to-ceiling windows, honey-coloured wood furniture and sumptuous bedding.
W Miami
The 5-star hotel is an excellent choice for a luxury holiday in Miami. Guest rooms and suites offer modern interiors designed in the Hollywood Regency style and feature floor-to-ceiling windows presenting beautiful views across the city or Miami River. The hotel's 15th floor is the place to bask in the sunshine, splash in the pool or enjoy a sociable cocktail or two. The hotel's signature restaurant serves a truly international menu with a backdrop of panoramic Miami views. Hotel guests can also take full advantage of the state-of-the-art fitness centre or indulge in superb spa services at Icon Brickell Spa. The hotel's convenient location means guests can easily access many of the local Miami attractions too.