Officially a kingdom, the North African country of Morocco is diverse. Its delights range from ancient Roman and Islamic sites to the epic Atlas mountains, Saharan dunes and glitzy urban settlements. Here you can visit medinas, riads, kasbahs, waterfalls and Hercules' cave, go camel-trekking, feast on tajines, sweat in a hammam and shop for an authentic rug. Stop off in cities like the exciting Marrakech, legendary Casablanca, whitewashed Tangier and imperial Fez. Or enjoy the tropical climate by relaxing in a beachside coastal resort with a dreamy spa. These are our recommended hotels in the exotic land of Morocco. 
Marrakech
Hotel La Sultana
A luxurious romantic hideaway within a walled medina of Marrakech, La Sultana (read our review here) is moments away from the royals palaces, museums and souks of this magical city. This is a small, luxury hotel that knows how to spoil its guests, especially in the spa. From almonds to dates, prickly pears to Damask roses, the alchemist-like therapists make the most of Morocco's natural treasures. There's a Jacuzzi, two hammams and sauna here too – not to mention candlelit pools. Each of La Sultana's evocatively named Riad houses retains their own identity, but share an attention to outstanding craftsmanship that is a celebration of Moroccan artisan creativity. Think intricately carved cedar wood ceilings and beams, ornamental plasterwork, striking tiles and extravagant lamps – but without the pastiche or cliché of themed interiors.
Royal Mansour
Here's a hotel dripping with luxury where you can enjoy the stunning La Jardin with its verdant olive and palm groves providing pleasant shade and seclusion in and around the pool area and bespoke pavilions. Guests may also enjoy exclusive spa treatments that promise to rejuvenate the skin and prepare it for an enviable tan under the Moroccan sun. Night time dining is a delight, too, and you have 3 restaurants from which to choose your gourmet dining experience. The Royal Mansour truly has a touch of oriental magic to it that you will not forget in a hurry.
Riad Farnatchi
The ultimate home from home in Marrakech, the five star Riad Farnatchi is a lovingly converted collection of private houses located the heart of the oldest part of the Medina. International hoteliers Jonathan and James Wix have created a characterful, luxurious hideaway where ten exquisitely decorated bedroom suites sit alongside five-star service and facilities. Staff out number guests, service is slick and discreet, and the new spa in the hotel is worth booking in for. Riad Farnatchi will feel more like your home for the stay in the city than a hotel.
Four Seasons
Whether it's enjoying the exquisite Quiet Pool and nearby poolside under shady palm trees or enjoying the delights of the Moroccan spa where you can bathe and enjoy the best exfoliating treatments and exotic oils, the Four Seasons is the perfect place to base yourself while exploring Marrakech and beyond. Rooms come with garden and pool views and offer the ultimate in relaxation, replete with Moroccan decor, delightful handcrafts and marble bathrooms. Rooms also offer a recessed balcony presenting the perfect way to unwind with a good book during the heat of the day. Others have large terraces enabling you to enjoy the ultimate in al fresco dining.
Mandarin Oriental
Gaze up at the splendour of the Atlas Mountains as you enjoy relaxing amid the olive groves and fragrant gardens or even from your own luxury room. Within easy reach of the city and its main attractions such as the world-famous Medina and in laying close proximity to the Atlas Mountains, while at the same time being only 15 minutes drive from the airport, the Mandarin is perfectly situated to enjoy both the delights of the city and nature's craftsmanship. Undoubtedly the Mandarin Oriental offers the perfect respite for those travelling to Marrakech. The hotel is composed of 54 luxurious villas and 9 delightful suites offering an ideal sanctuary where you can enjoy exotic foods served by top chefs offering a delightful array of dishes celebrating the gastronomic heritage of Morocco. Enjoy a relaxing afternoon in the Pool Garden Restaurant offering mouth-watering dishes sourced locally as well as appealing to those seeking a Mediterranean style diet while also offering exotic flavours from farther afield.
Riad Kniza
This luxury retreat has the unmistakable touch of master craftsmen everywhere with ornate patios, gloriously spacious rooms, silk sofas and classy embroidered curtains all working together to create a magical experience. With rooms decked out in finest Moroccan artwork, gossamer curtains, cedarwood screens and marble bathrooms, you will be left feeling you're in the lap of luxury while staying at the Riad. The courtyard is a delightful place to dine in true Moroccan style as evening descends. Try the sumptuous multiple course evening spread while being serenaded by the haunting music of the desert. Situated in one of the Medina's main gates, the Riad is ideally located to get the most out of Marrakech.
Selman
Situated at the foot of the Atlas Mountains the Selman oozes luxury at every turn with grandiose chandeliers and Arabian decor fit for royalty. During the day you can simply unwind by the impressively huge 80 metre pool seeking shade under sleepy palms. The Selman also offers spacious villas for further privacy replete with their own private pools. The 3 restaurants, the Le Selman, the La Pavilion and Assys offer something for all pallets from fine dining to Mediterranean to classical Moroccan style. Eating in the Pavillion affords views of the hotel's delightful Arabian horses that truly complete the look of all things romantic and oriental. For the ultimate in relaxation, avail yourself of the hotel's luxury spa facilities that will truly rejuvenate you during your stay.
Palais Aziza
Whilst being located a little out of the centre of Marrakech the Palais Aziza is set amongst a tranquil and exclusive palm grove. If you prefer to wake to the sounds of nature in a leafy suburb and not the hubbub of the medina, this hotel is for you. Traditional in décor, the Palais Aziza boasts beautiful Zellige tiles, sparkling water features, handcrafted lanterns dotted about the place and Moorish arches aplenty. Rooms are spacious, elegant but unfussy, many with doors opening onto the interior courtyard. The suites, which are separate to the main building, are slightly more opulent with vaulted ceilings and their own private gardens. The hotel's main restaurant, Maroliano, serves up a fusion of Moroccan and Italian dishes in a romantic setting. Guests can also enjoy al fresco dining throughout the day and drinks in the traditional Moroccan Salon. The spa, whilst not huge, is appropriately kitted out with all the facilities you need for a relaxing experience and the skilled team will ensure you are the best version of yourself.
Fairmont Royal Palm Marrakech
Nestled in a vast estate of 231 hectares of palm, olive and orange trees with the Atlas Mountains offering a postcard backdrop, the Fairmont Royal Palm Marrakech is an oasis of luxury only 20 minutes from the heart of the city. The sprawling resort and country club offers anything a guest could desire, with an 18-hole golf course, a choice of six restaurants and bars, a huge lake-like swimming pool, and an incredible spa plus kid's club and fitness centre, you won't ever need to leave the hotel! The hotel's architecture mirrors the ksars of the Southern desert regions. The interior décor is equally stunning with an abundance of huge picture windows showcasing the landscaped gardens beautifully. In rooms, a mix of warming, tonal textures and textiles have been used to create a contemporary interpretation of Moroccan style. Cuisine hasn't been overlooked here either. Breakfast on the terrace of Le Caravane overlooking the pools and gardens, before trying L'Olivier for al Fresco lunch by the pool. The evening calls of the opulent Al Ain restaurant for a Moroccan feast before finishing your day in the jazz bar for some delectable cocktails.
Fes
Riad Fes – Relais & Châteaux
This Relais & Châteaux property is found within the medina. Chic and cosy, it combines traditional Moorish and baroque style, with contemporary touches to achieve a warm and welcoming feel. Treatments in the spa by Cinq Mondes & marocMaroc are grouped into either Quality, Authenticity or Ceremony categories and take guests on a sensorial journey. Guests receive a free drink on arrival, buffet breakfast and complimentary tea served throughout the day on the traditional patio. Cooking classes and wine tastings are available, plus the hotel has an outdoor pool with a cocktail bar, gift shop, library and a refined Moroccan restaurant.
Palais AMANI
One of the largest original riads in the old medina, this hotel is family-run. It incorporates 18 rooms, a hammam with an exfoliation room, a relaxation area and a pretty interior courtyard (where citrus and olive plants create a delicious aroma). Gastronomy is big here – the Palais' restaurant, Eden, offers lavish tasting menus, a signature menu and five-course paired wine tasting (all of which can be taken in the exquisite dining room, or on the roof terrace). Plus it's home to the Fez Cooking School, providing tailor-made experiences and group workshops including a souk outing. Guests can also learn calligraphy or henna art and take part in yoga classes while staying.
Karawan Riad
With just seven suites, each uniquely furnished, this riad feels intimate and exclusive. Its French owners display a range of antiques and artwork throughout, depicting their African travels. The building itself had a former life as a harem in the 17th century, with a traditional marble fountain at its centre and a terrace on the roof. Now it has a restaurant, hammam, spa, lounge and library. Some of the bedrooms include sunken stone baths and secluded private terraces. Karawan Riad is ideal for a grown-up getaway – children under 12 are not permitted to stay – with its elegant and refined atmosphere.
Casablanca
Villa Diyafa
Boasting an intimate atmosphere combined with luxury services and amenities, Villa Diyafa is sure to provide guests with a warm welcome. The garden pergola makes the perfect setting for a romantic dinner with someone special and you can be sure that the attentive staff are ready and willing to cater to your every need. With just ten spacious suites and one villa to choose from, this establishment has a truly exclusive feel and guests are sure to appreciate the chance to unwind in the traditional Hammam while taking advantage of a range of relaxing spa treatments.
Mazagan Beach Resort
Set on the edge of a stretch of sand that runs alongside the ocean for more than five miles, the Mazagan Beach Resort is set with five hundred guestrooms and suites to choose from. Stunning views of the ocean can be enjoyed from many of the guestrooms and suites as well as other parts of the hotel. This establishment is famous for its excellent amenities, which include a full golf course, three clubs for children of all ages to take part in, a casino and several great restaurants.
Four Seasons Hotel Casablanca
Located in the heart of Casablanca, the Four Seasons Hotel Casablanca features a luxurious spa centre and fitness centre. Guests are treated to full use of the outdoor pool and hammam, while indulging in a meal at the restaurant followed by a drink at the bar are experiences that should not be missed. Each of the spacious guestrooms at this five star hotel is air conditioned and fitted with a large flat-screen TV. Guests are sure to love the opportunity to unwind with a cup of coffee while gazing out at the ocean or garden. Special themed dining evenings are also arranged for food lovers to take part in.
Sofitel Casablanca Tour Blanche
Situated just a two minute stroll from the Medina, this impressive five star hotel comes complete with two restaurants that are popular among guests as well as residents of Casablanca. While each and every room here is comfortable and fitted with modern amenities, guests will want to make sure that they secure one of the rooms on the upper floors. The views that are just waiting to be enjoyed from the large picture windows are simply stunning and include sweeping vistas of the Medina, the Great Mosque and the ocean. Sofitel Casablanca Tour Blanche is famous for its SO Spa, which is spread out over two floors and is the perfect place to unwind. Unforgettable panoramic views can also be enjoyed from the rooftop bar on the 24th floor, and this is the perfect place to unwind at the end of the day with a cocktail or two.
Oualidia
La Sultana Oualidia Hotel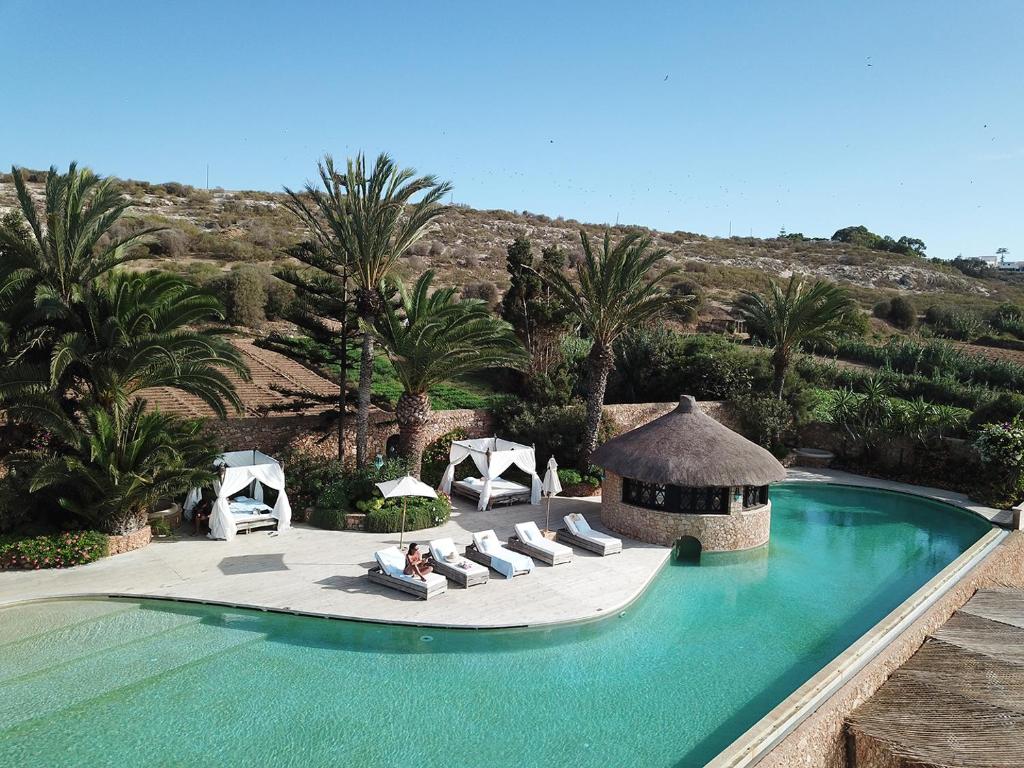 Overlooking a protected lagoon on Morocco's Atlantic coast, a few hours' drive west of Marrakech, one finds La Sultana's Oualidia Hotel (read our review here). It's a beautiful stone built property, a member of Small Luxury Hotels of the World, presented in the style of a large, exclusive villa, with terraces that run down to the tidal lagoon. There's a spa with indoor pool, stunning outside infinity pool, intimate gourmet restaurant and 12 very special guest rooms and suites, including a treehouse. Expect exceptional service from a well-trained and elegant staff; and a relaxing atmosphere where peace and tranquillity washes over you in calming waves.