Famous for being one of the most popular of the Greek islands, Mykonos is bursting with charm and boasts a vibrant nightlife scene. Lovers of luxury will find a good range of world-class hotels and resorts to choose from, with many of the best options being located right on the edge of the Aegean Sea and offering direct access to stunning sandy beaches.
Yi Hotel Mykonos
Yi represents a vibrant celebration of vitality and a fusion of flavours that last throughout the day. With its name derived from the Greek word for "land" and the Japanese word for "one," Yi Mykonos introduces a fresh perspective on minimalistic luxury. Nestled amidst the renowned Elia beach, a magnet for cosmopolitan sun-seekers, this property also grants easy access to the most breathtaking beaches of Mykonos. A haven for both groups of friends and solo adventurers, Yi Hotel Mykonos serves as a gathering place—a sanctuary where people can connect, unwind, and embrace a chic, carefree, and sociable ambience. It fosters a sense of community among its guests, offering a variety of distinctive experiences, from spirited DJ lessons to horseback riding, and from exhilarating quad biking to indulgent olive oil and wine tastings. Yi boasts the Sibá Restaurant, where an enticing blend of flavours is expertly crafted with an irresistible Greek touch. Additionally, guests can savour wholesome brunch options all day, enjoy the pool bar, and relax at the spa overlooking the breathtaking Aegean Sea.
Once in Mykonos
Situated on the island's beautiful southwest coastline and overlooking the iconic Ornos Beach, Once in Mykonos, is a trendsetting lifestyle resort that perfectly balances paired back luxury and elegance. The design has been inspired by ancient Greek amphitheatres along with a nod to its nostalgic past as a cosmopolitan villa. The adult-only resort comprises 59 rooms with three Signature Suites and two 2-bedroom villas with private pools and breathtaking views of the Aegean Sea. Infinity Restaurant is headed by distinguished Executive Chef Kyriakos Sotiriou where guests can enjoy an exquisite Greek and Mediterranean dining experience at the resort. Creative cocktails can be sipped at the Infinity Bar whilst international DJs and performers bring an eclectic energy to the exclusive summer pool parties. State-of-the-art wellness and fitness facilities are also available for guests to use at their leisure. The cosmopolitan Mykonos Town is only 10 minutes drive away for those wishing to explore the local area.
Myconian O
Family-owned by the Daktylides, this beachside adult-only hotel is part of a collection of 10 boutique resorts on Mykonos. This one is a love letter to the island, a stylish and restful place of sanctuary. Here you'll find uber cool features, such as vinyl record players and mustard yellow retro phones in bedrooms, rattan lights suspended over swimming pools, pops of monochrome and plush black daybeds. Menus forgo the standard holiday fare, in favour of bao buns, sashimi, vegan canapes and Old Fashioneds. O epitomises boho-chic and everything here is a true work of art.
N Hotel Mykonos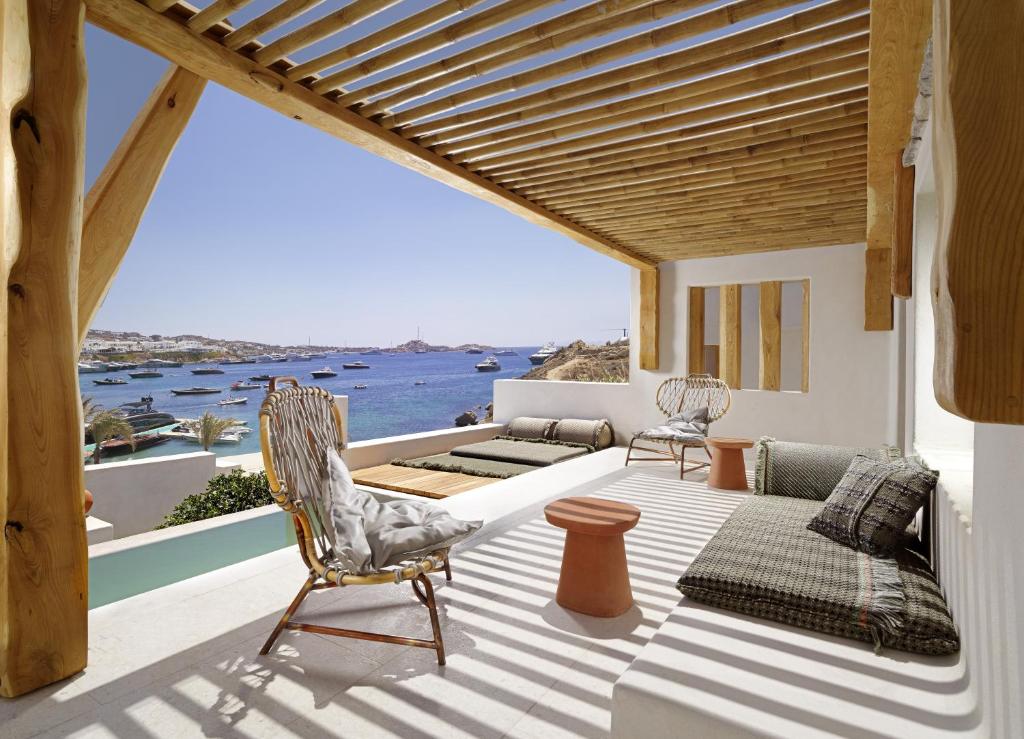 Five-star retreat, N Hotel Mykonos occupies a superb location on the beautiful Greek island enabling guests to easily explore, or its first-class facilities are perfect for those who want to enjoy life at the luxury hotel.  The stylish hotel presents 31 rooms and suites, varying from Deluxe rooms to Master and VIP Suites. Every room features a private plunge pool, lounging area and large, impressive windows overlooking the Aegean Sea. Hotel guests also have access to Nammos Restaurant, where guests can enjoy the speciality menu followed by an afternoon of dancing, live shows, and parties. And for those looking for relaxation time, the N Hotel Mykonos Spa offers a wide range of holistic rejuvenation and beauty treatments and also incorporates a state-of-the-art fitness area and yoga pavilion. The ultimate accommodation is discovered where the Psarou Villa and the Grand Villa combine to create the Grand Psarou Villa, a private 5-suite residence featuring state of the art interiors and an indoor spa. Dedicated staff including a personal butler and personalised second-to-none services ensure all guest's needs are catered for down to the finest detail.
Mykonos Theoxenia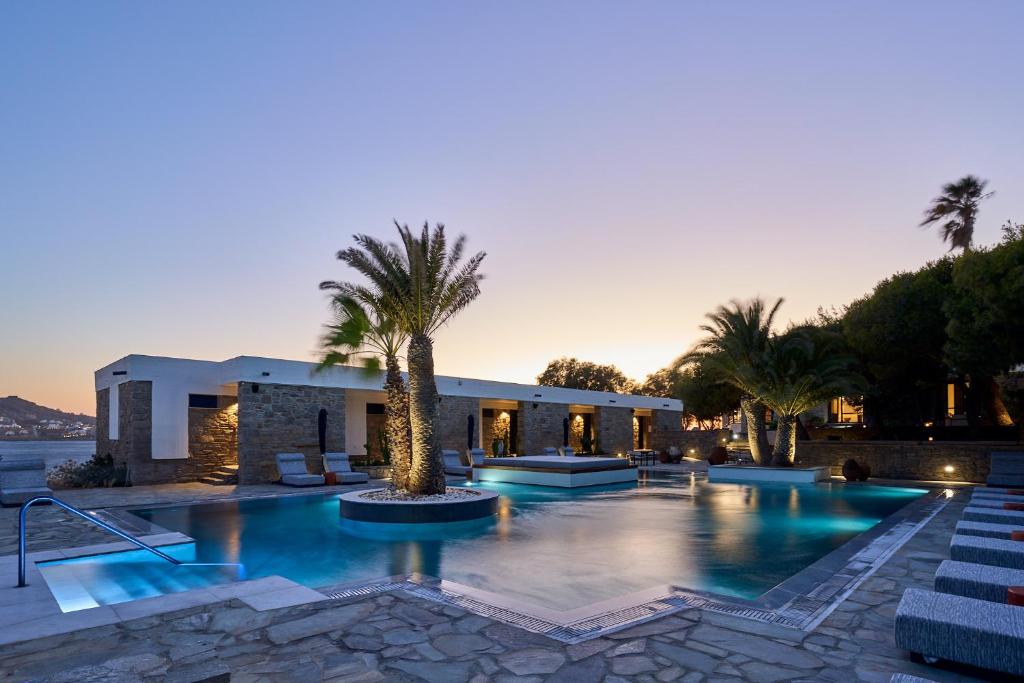 Found in an area protected by the Greek Ministry of Culture, Mykonos Theoxenia has a history dating back to the middle of the last century. The interior design takes its cue from Cycladic culture, with natural textures, sculpture and warm tones, while the exterior was built in a post-modern style. Oozing Aegean chic, it brims with a sense of effortless luxury, with a relaxed coastal feel. Mykonos Theoxenia has four signature suites with private swimming pools and terraces, 38 bedrooms, 100 square metres of olive groves, orchards and gardens, a Mediterranean restaurant serving healthy, nourishing dishes and regular mind and body sessions.
The Belvedere Hotel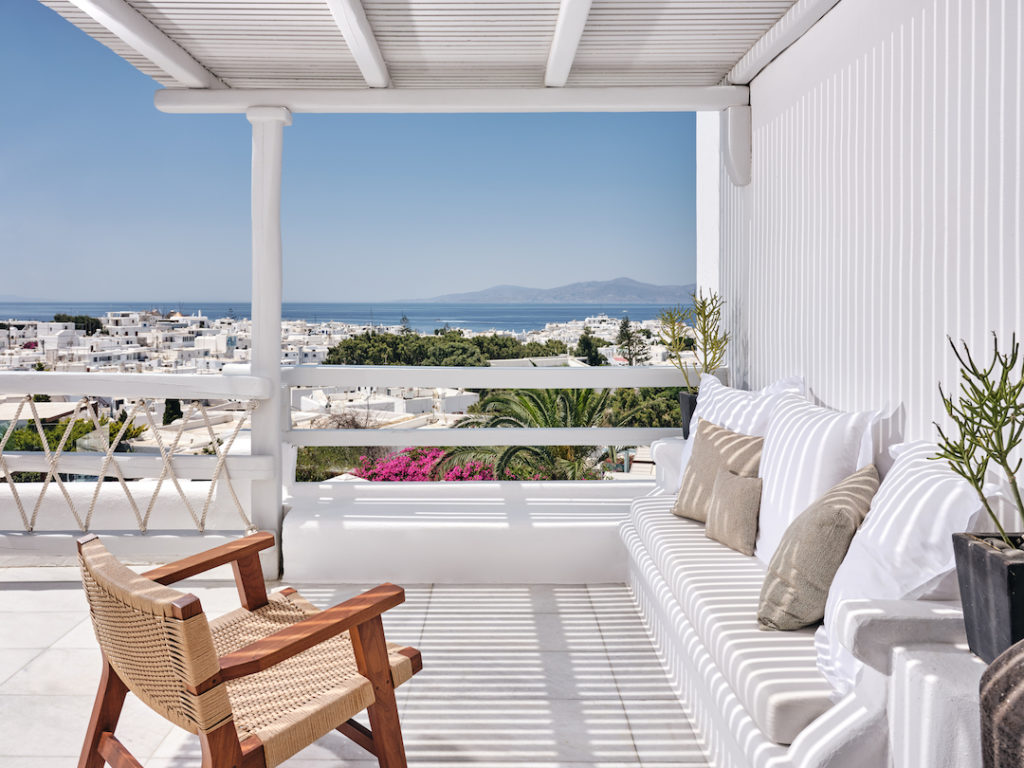 The Belvedere Hotel is located just on the edge of Mykonos Town; close enough for guests to soak up the cosmopolitan vibes yet removed enough to offer plenty of privacy and secluded luxury. With stunning views across the Aegean sea combined with a level of service, comfort and hospitality that is second to none it is clear to see why The Belvedere Hotel has established a reputation for being one of the most luxury hotels on the beautiful Greek island of Mykonos.
Bill & Coo Suites and Lounge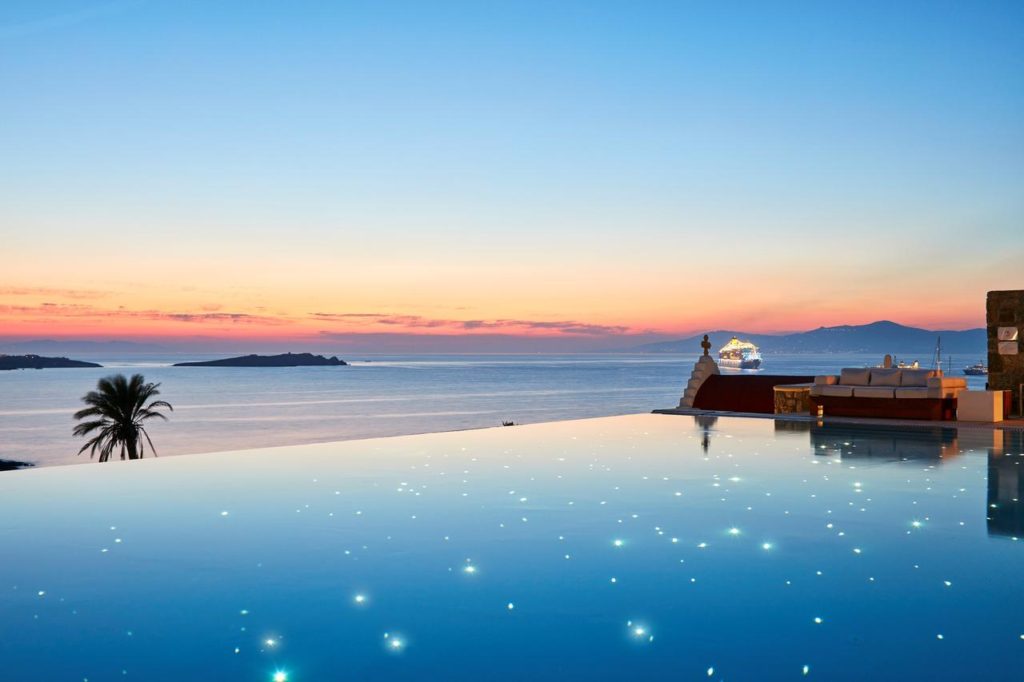 Boasting the perfect combination of pure luxury and privacy, Bill and Coo is set on the top of a sweeping slope overlooking the ocean and conveniently close to Mykonos Town. The light and bright colour scheme is enhanced by the chestnut wood furniture and gives the whole establishment a very fresh and clean look. There are just 30 suites for luxury lovers to choose from and the top options come complete with their own swimming pools. The main infinity pool is also a great place to keep cool, while guests will can enjoy a selection of fresh seafood dishes in the award-winning on site restaurant.
Cavo Tagoo, Mykonos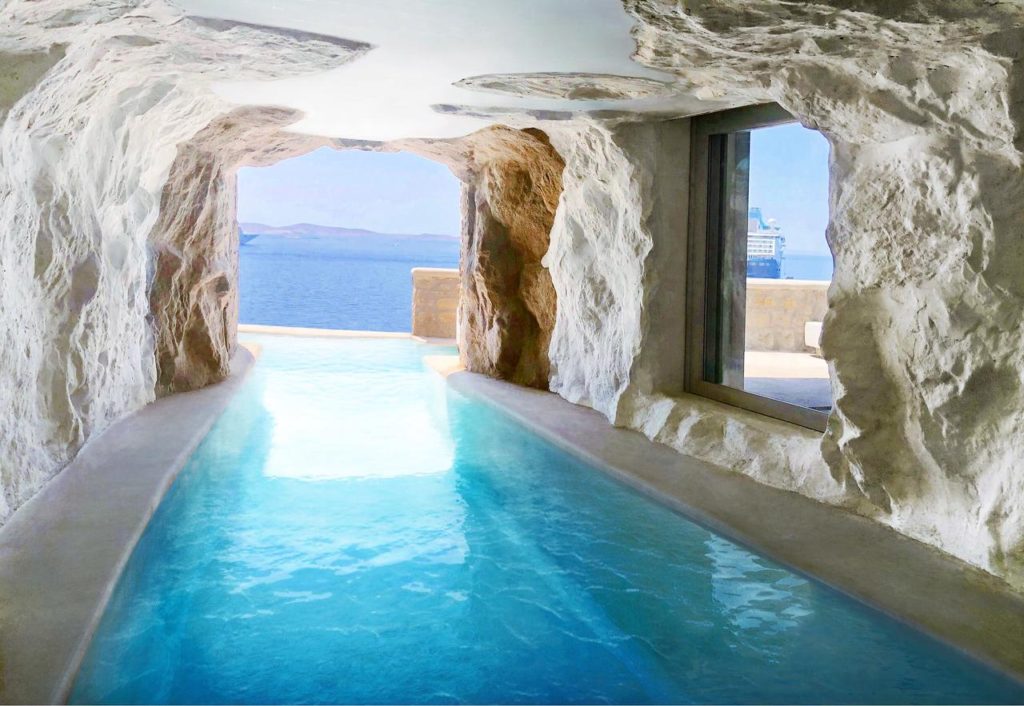 Situated on a hilltop overlooking the ocean just 500 metres from the town of Hóra, Cavo Tagoo has a strong reputation for being one of the most luxurious and popular hotels on Mykonos. With just 83 rooms, suites and villas to choose from, guests will want to make sure they book early so that they can secure their spot on one of the sumptuously padded sun loungers that graces the edge of the infinity pool. Those who book a villa will be treated to their very own plunge pool or hot tub as well as a whole host of goodies in the room itself, while fresh seafood lovers will be able to dine in style each evening at the on-site Kiku Sushi Bar.
Mykonos Grand Hotel & Resort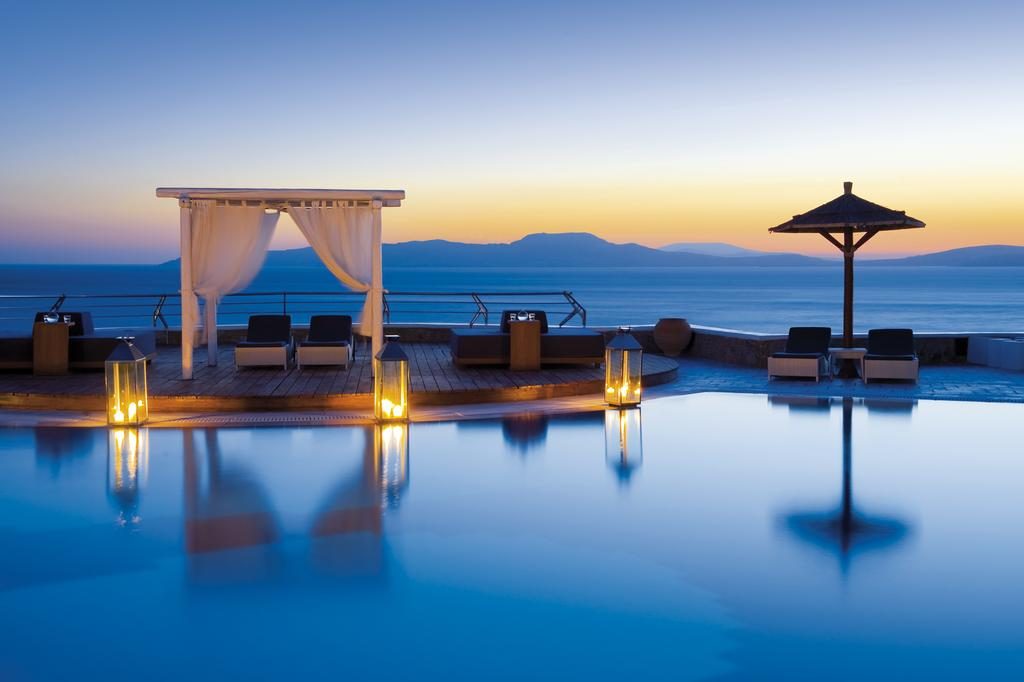 Providing guests with private access to the secluded stretch of sand that comprises Agios Ioánnis beach, Mykonos Grand Hotel & Resort has been recently renovated and is a very stylish spot at which to unwind. This is the perfect place to indulge in a little pampering and relaxation and guests are invited to take part in regular yoga and pilates classes in the amphitheatre that overlooks the ocean or work up a sweat on the tennis or squash court. While there are around a dozen different styles of rooms to choose from, luxury seekers will love the huge suites, which come with their own private infinity pools and steam cabins, while private banquets are offered by the personal chef that is supplied with these suites.
Semeli Hotel Mykonos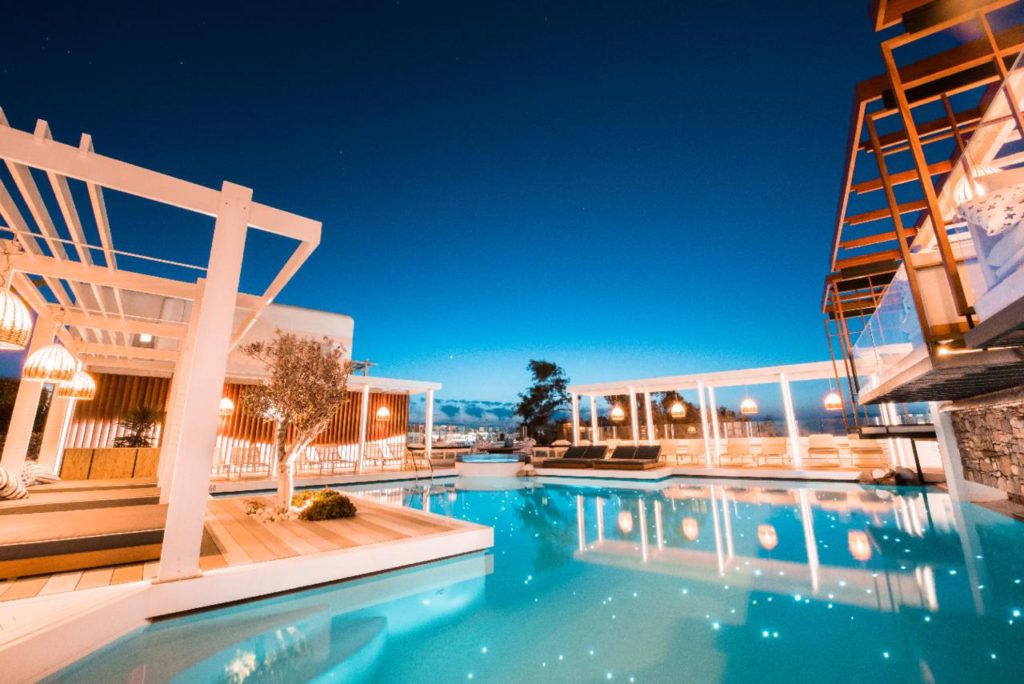 Popular with couples who are on their honeymoon, this premium hotel provides enough services and facilities so that guests will never need to stray far. One of the main focal points is the huge outdoor swimming pool complex and the infinity edge provides guests with unblocked views of the ocean as they spread out on one of the luxurious sun loungers and sip a cool cocktail or two. There are 64 rooms and suites in total, with most surrounding the pool and providing pretty views from their very large balconies. The hotel also boasts an on site spa for those who want the chance to indulge in some pampering during their stylish retreat.
Kenshō Ornos Boutique Hotel & Suites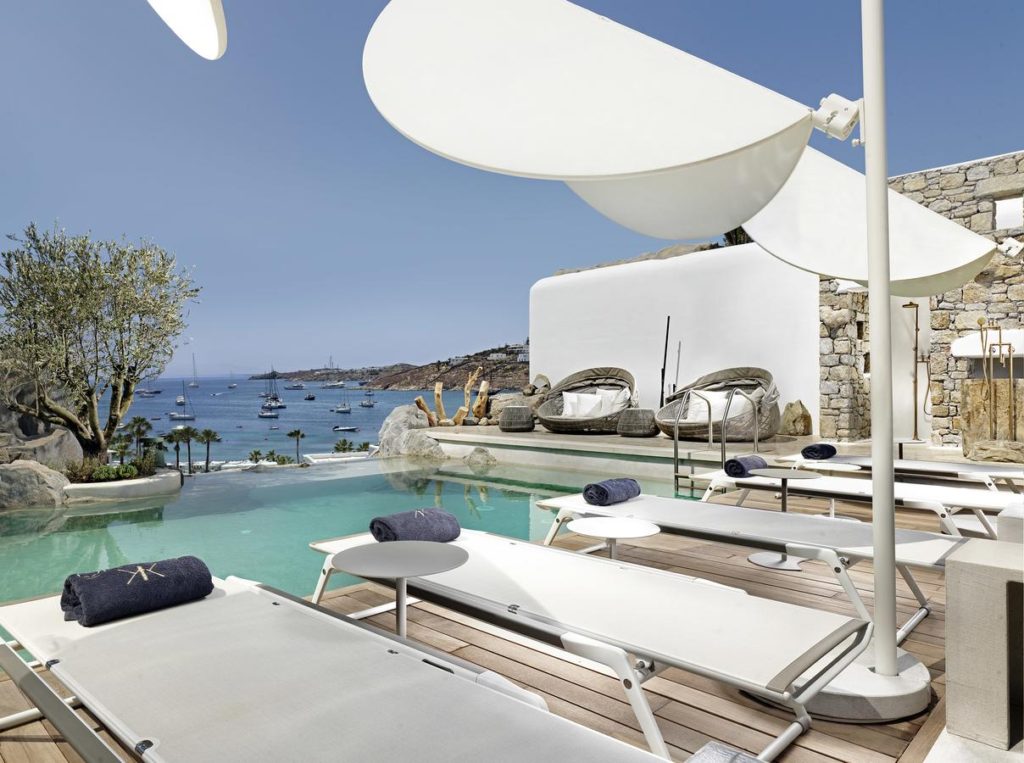 This impressive boutique hotel overlooks the pristine sands of Ornos beach and is the perfect retreat for those who appreciate subtle Asian influenced elegance. Guests are treated to views of two pretty coves as they dine in style on one of the large terraces or lounge in their room. Guests can take their pick from sea or mountain views from their spacious private balcony, while the bathrooms offer a real treat with both bathtubs and rainfall showers. People who want the chance to sample the finest classic Greek cuisine are sure to love the dishes that are available at the on site restaurant, while the air-conditioned gym is the perfect place to work up an appetite before indulging.
Santa Marina, a Luxury Collection Resort, Mykonos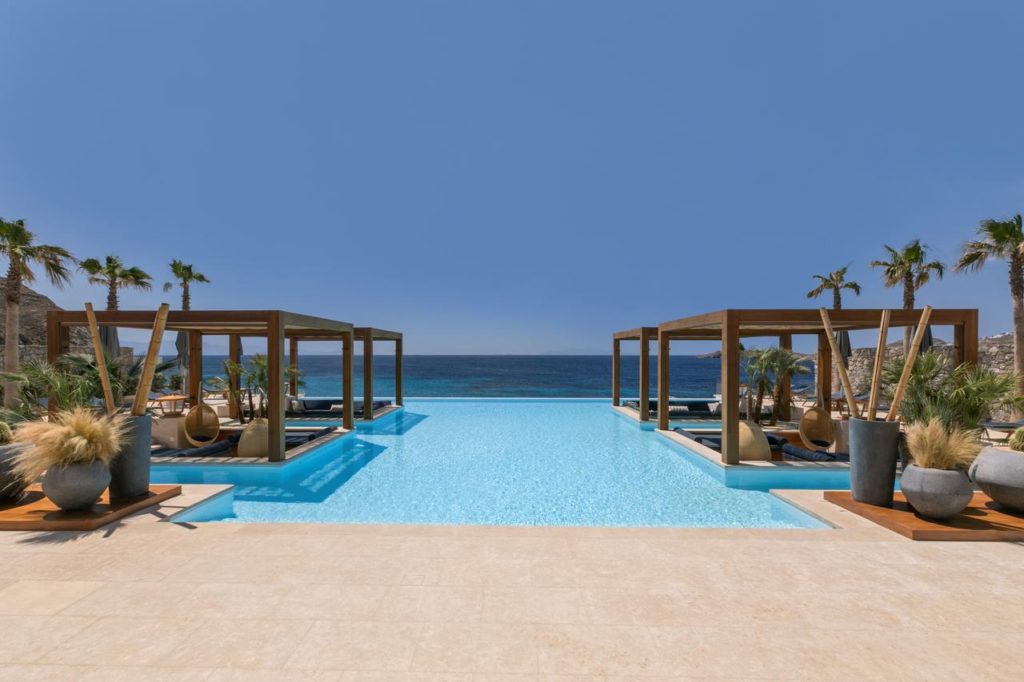 Those who seek ultimate privacy while surrounded by pure luxury are sure to find that the Santa Maria is the perfect place to stay. Set on the edge of a private beach that graces Ornos Bay, guests can take full advantage of the fact that the staff are available to meet their every need and satisfy any whim. Each of the one hundred rooms is extremely spacious and has been designed to fully capture the enchanting view. Rooms are set on several floors to provide guests with extra privacy and among the most desirable options are the Deluxe Sea View Pool Suite with its private plunge pool and the simply elegant and spacious Presidential Villa.
Myconian Ambassador Relais & Chateaux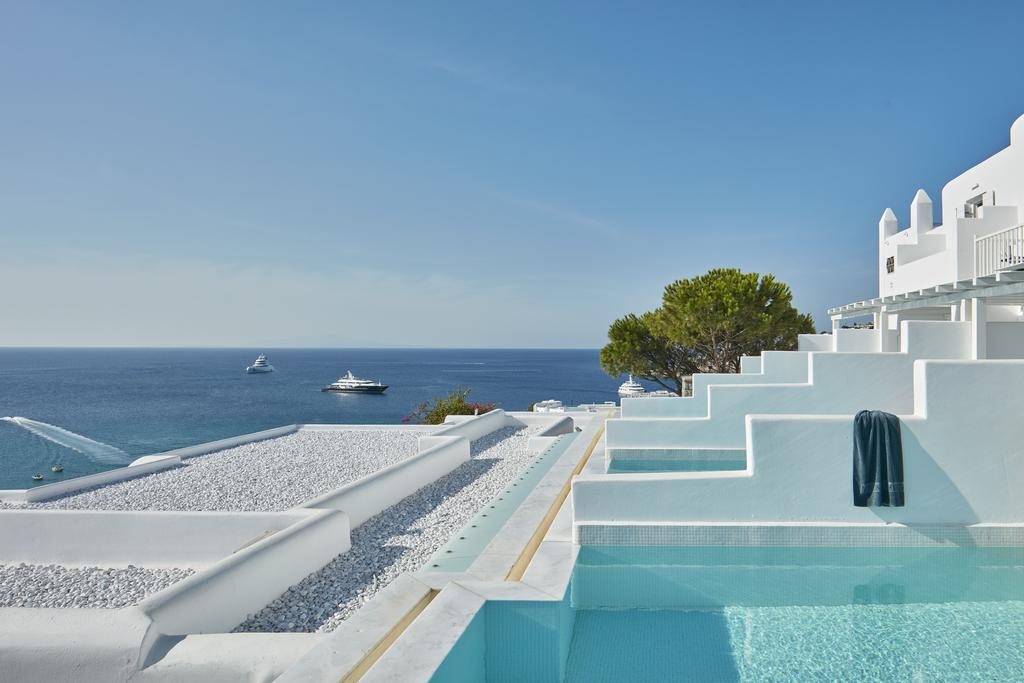 Famed as being the island's first five-star hotel, the Myconian Ambassador is a real trendsetter and has helped to shape the face of the luxury hospitality scene. The hotel can be found just a three-minute stroll from Platis Gialos beach, although guests never have to wander far to relax in the water as each ocean-facing room comes complete with its own plunge pool. There are just 70 rooms in total and each features plenty of space and light, while people travel from all over the island for the chance to enjoy a meal in the impressive on-site restaurant.