With its superb golf resorts, beautiful beaches and historic and captivating cities, Portugal is a destination that appeals to many different types of travellers. Browse our collection of the best luxury hotels and resorts and discover the perfect Portugal holiday for you.
Bairro Alto Hotel – Lisbon
This member of Leading Hotels of the World has five stars and sits in a charming spot on Praça de Camões at the heart of the cultural quarter – Barrio Alto. The building is a product of the 18th century, accommodating 87 bedrooms each drawing on Portuguese crafts from artisanal rugs to Costa Nova ceramics, a restaurant, spa and a beautiful rooftop terrace with sea views. It celebrates all things Portuguese throughout, from the on-point decor to the food, the artwork, and the furnishings. On the fifth floor is BAHR & Terrace serves the best of Portuguese cuisine in a contemporary setting and on the ground indulge in delicious baked goods at the in-house patisserie.
The Ivens Autograph Collection – Lisbon
Conveniently set in the centre of Lisbon The Ivens Autograph Collection is the perfect base for a city adventurer. Housed in an iconic building that encapsulates the spirit and culture of Lisbon, the hotel presents 87 unique rooms, of which ten are spacious suites including two signature top floor suites. Guests can choose to dine at the hotel's three restaurants; Rocco Restaurant is an Italian-inspired restaurant serving breakfast, lunch and dinner, Crudo Bar offers a gastronomic seafood journey and Gastro Bar presents light meals and an exquisite drinks menu . Guests can also make use of the gym which includes a range of cardio equipment and free-weights.
1908 Hotel Lisboa – Lisbon
Adães Bermudes first designed this building as apartments and indeed it served this purpose from 1908 to 2017, winning awards for the architecture. Now, the listed Art Nouveau property offers 36 guest rooms with interiors by Atelier Maldonado. Street art and installations have been incorporated into the contemporary-chic decor, with technology embedded into the guest experience (the concierge is accessed via WhatsApp). Infame is the lifestyle hotel's destination restaurant offering incredible seafood, with mixologists creating cocktails in the bar. But if you'd rather venture beyond the front door for food and drink, the local district of the Intendente has much to offer.
Lumen Hotel – Lisbon

Offering an especially unique experience as part of the stay, the Lumen Hotel presents a daily evening immersive light and colour video mapping show, taking place in the internal garden. This as well an outdoor pool rooftop pool, sundeck and bar with incredible views over the city makes it particularly appealing for those looking to turn a city break into a mini holiday. Bedrooms are contemporarily decorated and soothing with pops of vibrant colour via the soft furnishing accessories, while suites in the executive floor over plenty of space with separate living and sleeping areas. The minimalist modern style, with a touch of a mid-century influence, is found throughout the hotel.
Pine Cliffs Resort Algarve – The Luxury Collection – Algarve
Pine Cliffs is Marriott International's offering in Albufeira. It boasts an enviable location, overlooking the longest beach in Portugal, Praia da Falesia, and has a nine-hole golf course on site. There are 11 restaurants, and activities offered include a kids' club, tennis, water sports, a fitness centre, a spa, swimming pools, and many more. The golf course may not be the longest, but there are some spectacular holes to enjoy. With all that this expansive and pretty resort has to offer it's perfectly possible to enjoy a great holiday without venturing further afield.
EPIC SANA – Algarve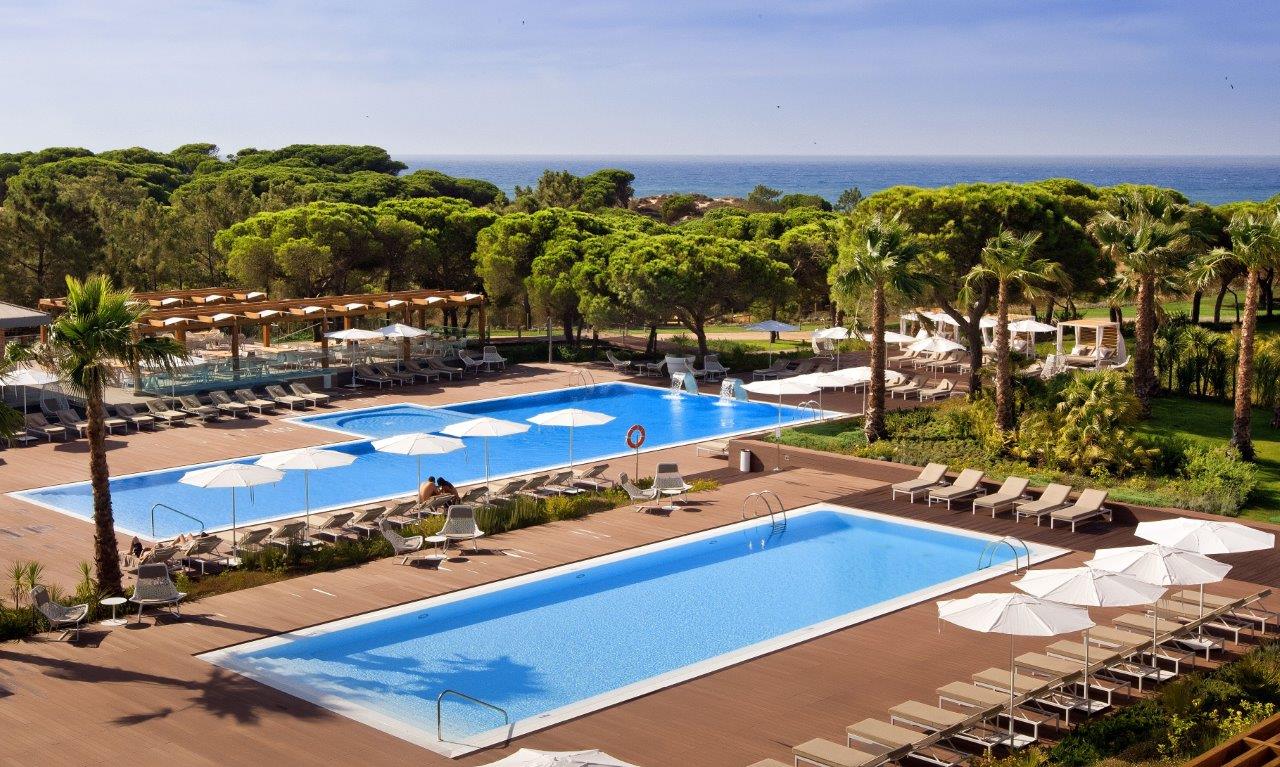 Secluded amongst landscaped gardens that lead onto the stunning Falesia beach one finds The EPIC SANA Algarve. This 5-star resort offers an intimate guest experience, ensconced in nature, close to the sea and beaches, with elegant suites, upscale dining at the spectacular Al Quimia restaurant, and a wellness spa specialising in residential retreats. The resort has thoughtful design with families rooms and one bedroom apartments having access to dedicated all-day dining and pools, whilst couples looking for a more romantic and private experience can book sea-view suites with large terraces in quieter areas of the property. The EPIC SANA Algarve has 162 Rooms, 24 Garden Suites and 43 Resort Suites, as well as studios and family-friendly 'Suite Home' one bedroom apartments.
Vilalara Thalassa Resort – Algarve
This hotel is situated in 11 hectares of truly stunning grounds, with its own, private, sandy beach nestled between sandstone rocks. It is located in Armacao de Pera, west of Albufeira, and offers a fine range of facilities including tennis, a fitness centre, and six outdoor swimming pools. There is also a spa where guests can enjoy thalassotherapy treatments and hot stone massages. The spaciousness of the resort means that it never feels too crowded, and the casual atmosphere makes for a relaxed and comfortable stay.
Conrad Algarve – Algarve

The Conrad is situated in Quinta do Lago, an area renowned for its superb golf courses. Some of the Algarve's famous beaches are also readily accessible. The hotels boasts a fitness centre and a tennis court, along with several swimming pools, including a heated infinity pool, plus a spa offering a range of treatments. Every room features a balcony, and foodies can enjoy an impressive breakfast spread and a variety of delicious meals prepared by well known chef Heinz Beck in the 'Gusto' restaurant.
Torel Avantgarde – Porto
Torel Avantgarde is a beautiful hotel which is nestled on a hillside, away from the hustle and bustle of the vibrant Porto city centre (which is only 10-minutes' walk away). Stunning views of the Douro River and the city can be enjoyed from almost every angle; from the outdoor pool and hot tub to the terrace restaurant 'Tenro by Digby', and not to forget the stylish front-facing rooms. But it's not just the natural beauty that is a sight to behold here, the 49-room boutique hotel is known as the "artists' hotel" with its design and concept inspired by the Avante-Garde era of the 1930's and 1940's. Each room and suite is dedicated to important historical-artistic global figures reflecting their individuality and creativity. The Frida Kahlo room, one of the most famous in the hotel, offers an incredible twin bathtub with views out to the city – check-in here and you won't be disappointed! The hotel's dining experience offers a contemporary twist on traditional Portuguese cuisine and presents guests with a relaxed yet stylish vibe. Unwind or rejuvenate with a treatment at the hotel's Calla Wellness & Spa, where natural and organic products from Phyt's and Oliófora are the order of the day.
Gran Cruz House – Porto
Ultra-boutique hotel, Gran Cruz House, is set right beside the Douro River and is at the heart of the vibrant city of Porto. Dating back to the 17th century, the building which houses the beautiful hotel oozes with history with many original features have been retained and are complimented by a flawless contemporary design. The seven stylish guest bedrooms present their own individual design and character with each given their own Wine Port category along with a special work of art.  Casario is Gran Cruz House's fine dining establishment, a cosy restaurant on the second floor with a riverside terrace. Guests can enjoy breakfast here along with a choice of tasting menus, a la carte menus, beautiful local wines and ports – a truly divine Portuguese gastronomy experience. This intimate hotel is one not to be missed.
Torel Palace Porto – Porto
The recently opened Torel Palace occupies a prime city-centre location in Porto with a fascinating history dating back to 1886.  The original palace, which is now home to the stunning hotel underwent significant restoration in 2020 and the grandeur of the building has been masterfully restored; from its grand winding staircase, ornate cornicing and beautiful library – every corner is filled with charm and character – which extends to the outdoor pool and restaurant too. Foodies will revel in the dining experience presented at the hotel's restaurant, Blind, a tribute to Portuguese writer José Saramago. The 10-course tasting-menu is inspired by chef Vítor Matos' childhood memories and will stimulate your taste-buds and your senses. With attentive service, spectacular views and the perfect level of privacy, the Torel Palace Lisbon truly is a haven of luxury in the heart of the capital.
MYRIAD, By SANA Hotels – Lisbon
Live the high life in Lisbon's bold and beautiful Myriad by SANA Hotels – a unique architectural design hotel, that's also home to Fifty Seconds the acclaimed Michelin starred restaurant. Your can read The Luxury Editor profile review of Myriad here. Towering over the shores of the mighty Tagus river, Myriad is at the heart of Lisbon's contemporary Parque das Nações district. The tower has 176 rooms and 10 suites, each confidently decorated in black, silver, grey and red making for a high impact style that echoes the striking architecture.
Four Seasons Hotel Ritz – Lisbon
Conveniently located close to many of Lisbon's most popular attractions, this luxurious hotel provides a stylish retreat from the hustle and bustle of the city. Guests are treated to their own private terrace so that they can gaze out over the city, while the blue and cream décor comes come with 18th century furniture for a truly decadent feel. Spending time in the spa is the perfect way to unwind after a day out exploring the city, whilst taking a dip in the 18-metre lap pool is a sure way to work up an appetite before enjoying a meal at Varanda Restaurant, which is a popular spot among Lisbon's elite.
Memmo Príncipe Real Design Hotels – Lisbon
Named after the 19th century king D, this stylish hotel is located in one of Lisbon's most prestigious neighbourhoods. The forty-one spacious rooms reflect the modern style of the rest of the hotel, while guests are treated to a large indoor swimming pool to splash around in. The view from the restaurant terrace is simply stunning and this is a great place to unwind in the early evening while sampling a number of traditional dishes that are given a new lease of life by the talented resident chef.
Hotel Palácio Fenízia – Porto
This luxury upmarket hotel is located close to a metro station and Porto Cathedral. This is a charming Pombaline building from the 1900s and styled with a tiled exterior. The rooms are decorated in a chic, vintage style, light and airy, with high ceilings and free WiFi. Breakfast is available at the hotel if guests desire.  Some of the rooms share balconies, while others have private patios that step out onto the garden. The hotel has a lovely lounge with a romantic fireplace and guests are able to enjoy a delightful courtyard garden for alfresco drinks and dining.
Pestana Palácio do Freixo – Porto
For those looking to live the high life, this is the hotel in Porto for you. This is a grand 18th-century Baroque building that overlooks the Duoro River and is a short walk from the beach. This hotel offers the chance to holiday like a royal in its large over the top public spaces, elegant architecture, and comfortable modern rooms with all the amenities guests would expect from such an establishment. The hotel boasts a lovely infinity pool that overlooks the river for guests to soak up the sun and relax, along with an indoor pool, spa and Turkish bath. Buffet breakfast is served at the onsite restaurant and is made with the freshest ingredients. Food can also be served by the pool or at the hotel's bar.