The fable goes that Positano was founded by the god Poseidon and when you set eyes on the postcard perfect town, you might almost believe it to be true. Positano is maybe one of the most Instagrammable places in Italy and you will never get bored of looking at it. During Roman and Medieval times, Positano was an important port town but by the 1950s and 60s, hit was a vibrant hub for artists, musicians and film stars. Thanks to its great beaches, wealth of stunning architecture, captivating history, and array of beautiful hotels and boutiques, Positano is often called 'the pearl' of the Amalfi coast.
Il San Pietro di Positano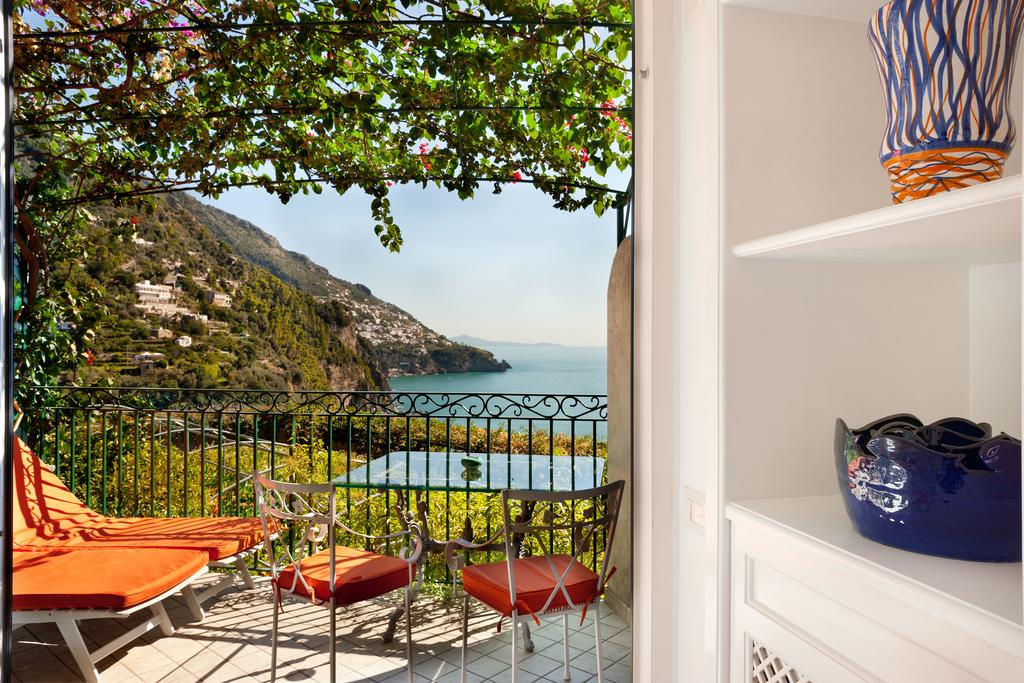 Clinging to the cliffs below the main coastal road, this family-owned hotel has achieved legendary status since its opening in 1970. Popular with celebs like Gregory Peck, Peter O'Toole, Tina Turner, Barbra Streisand, Dustin Hoffman, King of Jordan, and more recently Julia Roberts and George Clooney., the San Pietro is suitably glamorous, but discreetly so. The star-dust from the fabulous regulars mixed with the attention to detail and friendly service characteristic in a family-run affair, creates an ideal luxury hotel. Facilities here are second to none with everything you would want on site from private boat hire and a Michelin-starred restaurant to a private beach and tennis courts. The rooms and suites echo Positano's set up as they graduate down the cliff side in a series of terraces, each with its own private outside space and of course, stunning sea views. Décor is fresh and vibrant with white walls, hand painted ceramic tiles, and bright textiles in Mediterranean inspired colours. 
Hotel Marincanto

Another iconic family-run hotel in picturesque Positano is Hotel Marincanto. Having supposedly inspired painters and been used as a movie set Hotel Marincanto has been open since 1967 and offers elegance, privacy and five-star service for guests year round. For those who visit to relax, the infinity pool which blends with the horizon, the exclusive private beach and the ocean-view fitness area will be ideal whilst the Terrazza Cele restaurant offers sophisticated local cuisine on an intimate terrace overlooking the sea. The hotel décor is predominantly cool, muted tones of white or cream, wooden floors, classic furniture, with splashes of colour thanks to vibrant textiles. The owners are hands on with service and the intimate size of the hotel (only 32 rooms) means you can always expect to be treated like a star (even if you aren't one!). 
Palazzo Murat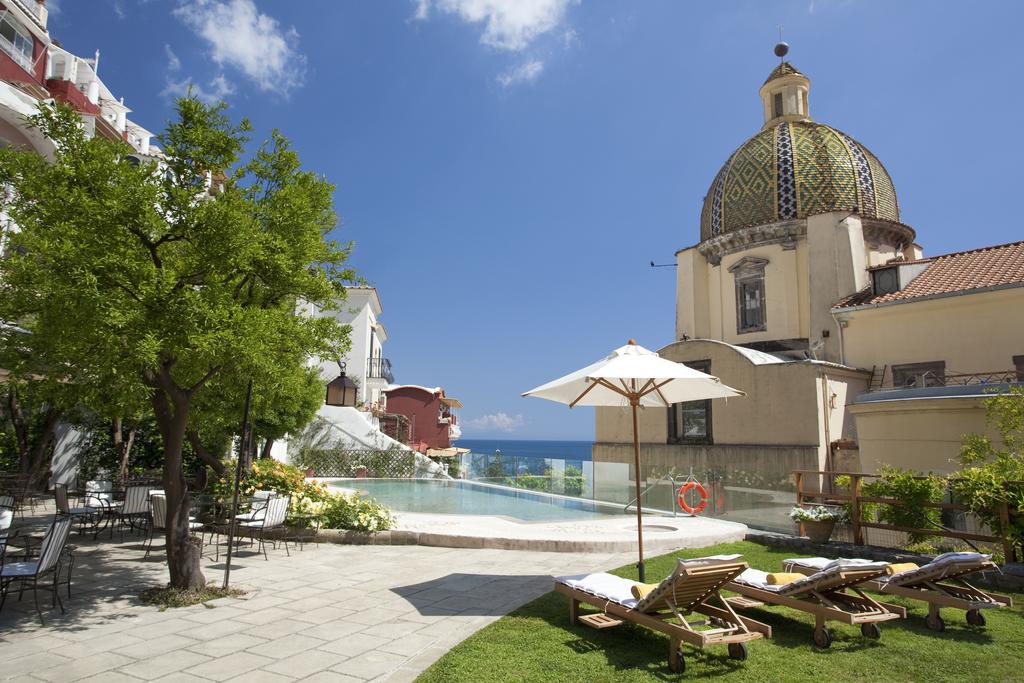 Set amongst a shaded garden of citrus trees and Donna Carmela roses is Palazzo Murat, a tranquil oasis at the heart of the town. Legend has it that Joachim Murat, the King of Naples visited the palace when he came to Positano in 1808, loved the property, and spent the hottest summer months here with his lovers. And it's no wonder – this hotel is beautifully romantic, despite being right at the centre of town. The public rooms have a certain grandeur about them with vaulted ceilings and are peppered with antiques and fine paintings. Whilst the décor is kept quite simple and fresh here, the details do the talking – expect opulent fabrics, four poster beds and tall French windows opening onto private balconies. Pass beneath the intricate wrought-iron gateway and find yourself in the romantic courtyard, covered in sweet smelling Bougainvillea. The hotel also boasts an incredible restaurant where tables sit under a leafy pergola and specialises in fresh seafood like lobster and turbot.  
Le Sirenuse Positano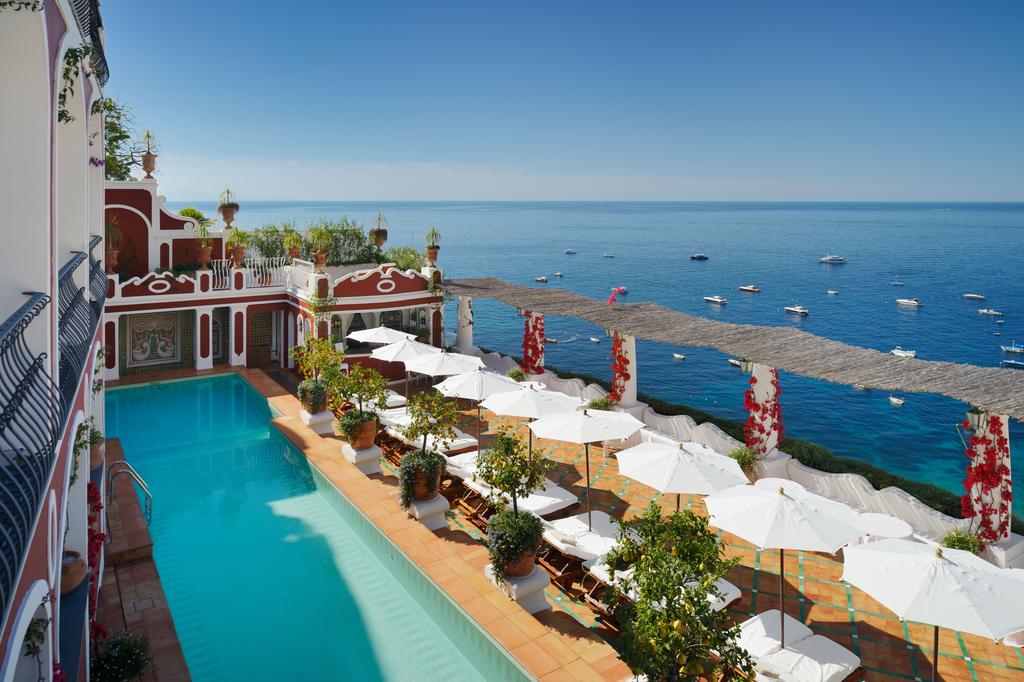 Opened in 1951 by four Neapolitan brothers who turned their summer house into a charming hotel overlooking the bay, Le Sirenuse is now a 58-room resort and known to be one of Italy's leading and most enduring seaside luxury hotels. Located at the centre of the town on the Amalfi Drive, the rooms and terraces are 70m above the beautiful sea and offer views of the town itself but also the breathtaking bay. The maroon painted frontage makes Le Sirenuse stand out amongst the other neutral buildings on the terraces. Inside you will find an eclectic collection of antique furniture and curated art in the rabbit warren of rooms. Walls are kept white and contrast with the terracotta-tiles on the floor, whilst large French windows opening onto massive terraces provide lots of light. If you fancy spending more time outside, the compact pool terrace has outdoor loungers with lemon trees offering welcoming shade, whilst the Michelin-starred La Sponda restaurant is entirely candle-lit and views over the twinkling resorts lights – romance at its best! 
Villa TreVille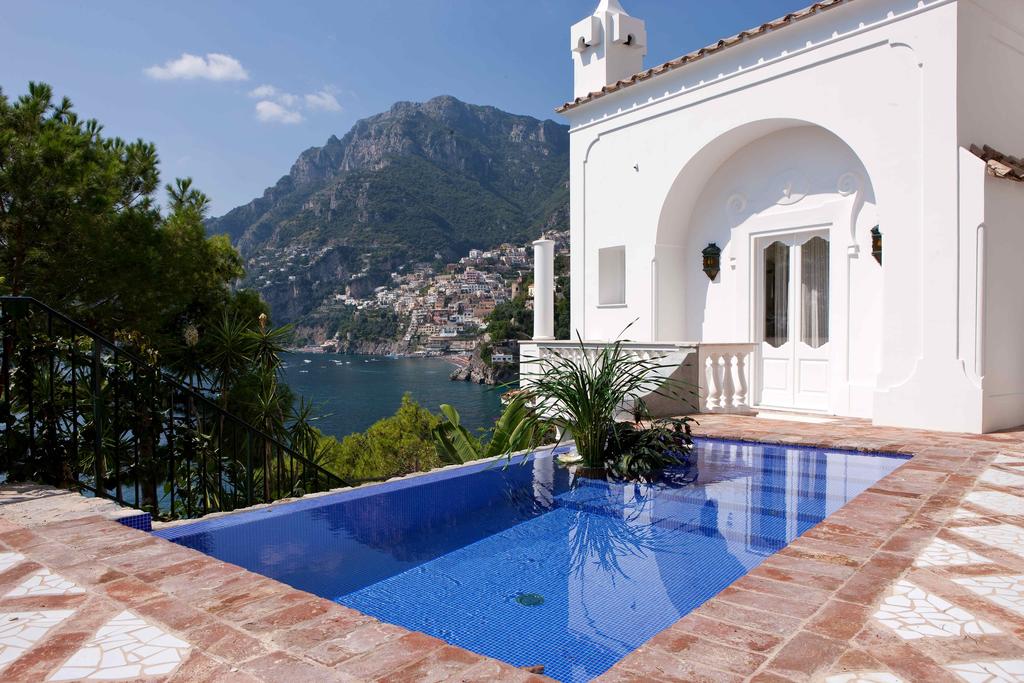 Once the private estate of film director Franco Zeffirelli and having played host to well-heeled visitors such as Elizabeth Taylor, Villa TreVille is no stranger to a bit of glamour. Enjoy total peace and privacy at this stunning estate consisting of four villas, filled with much of Zeffirelli's collection of art and curiosities with each of the 16 guest suites being uniquely decorated to reflect their namesake cultural icons. Our favourite might be the Aida suite decorated in refreshing blues and whites and featuring delicate Arabic decorations and paintings to bring a subtle exotic flavour to the room, reminiscent of Verdi's epic opera. The villas are surrounded by verdant gardens with lovely reclusive spots to relax, cooling plunge pools to escape the heat, and private balconies for a romantic view like no other. Meticulous attention to detail us the key here and the resort promises discreet and personalised service, whether you have an Elizabeth Taylor attitude or not.