Often referred to as the heel of Italy, the pretty southern region of Puglia is a great place for fun-loving visitors to explore. This part of the country boasts a large number of vibrant cities for visitors to stay in such as Bari, Brindisi and Foggia. Located on the beautiful coast of the Puglia province of Italy, Bari offers interesting museums, hot nightspots and both exciting and relaxing beach activities. In the heart of the old city of Bari is the Basilica di San Nicola. Consecrated in 1197, this Norman Cathedral contains some of the finest stonework in Italy. The church houses the relics of San Nicola that were taken from the Byzantines during the Crusades. In addition to these relics, particularly remarkable are the 12th-century altar canopy, the intricate mosaic tiling behind the altar and the episcopal throne beyond the mosaic. Bari also boasts a large number of luxury hotels, making it a great place to use as a base while exploring the region. Read on to discover a selection of our favourite luxury hotels in Puglia.
Masseria Muzza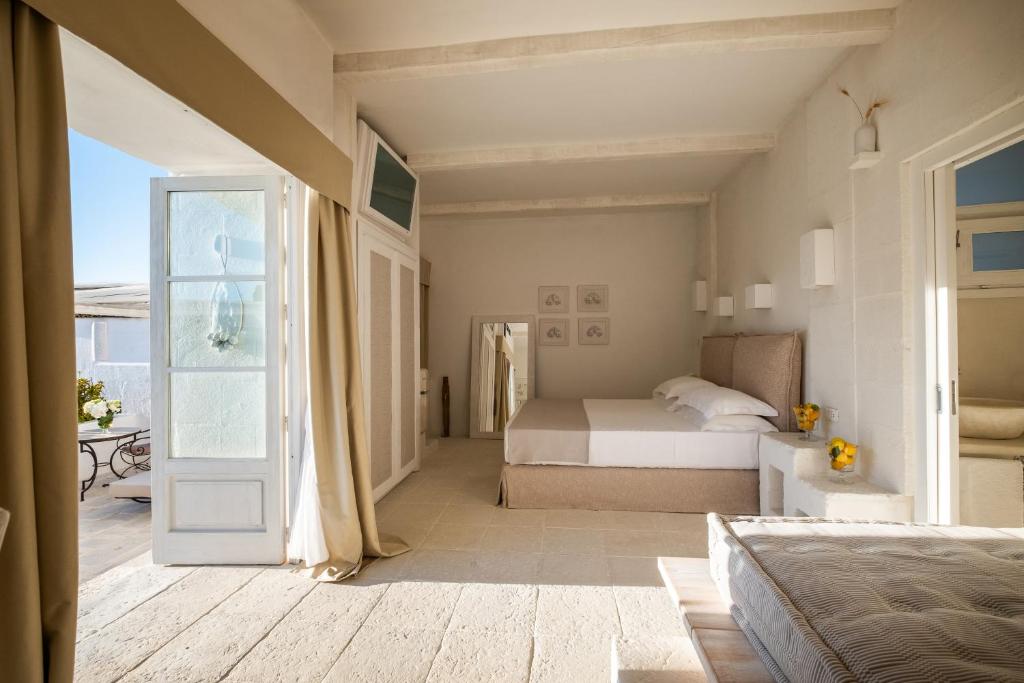 Surrounded by olive groves and beside the Salento sea, Masseria Muzza boasts a beautiful countryside location. Decorated in classic Puglian style, 40 bedrooms and suites have a cool vibe, with much use of local stone and neutral tones. Some come with a futon in addition to beds and a private patio, and with a maximum occupancy of five per room. The hotel has three restaurants (Le Site, Mirto and La Limonaia), a spa, kids' club, indoor and outdoor pools and a chic pool bar. Close to Otranto, there are many excursions to be enjoyed from here, like coastal kayaking, gourmet tours, sailboat trips, e-bike rides and horse treks.
Palazzo Ducale Venturi – Luxury Relais & Wellness
Located in the quaint village of Minervino di Lecce Palazzo DucaleVenturi is a luxury 5-star boutique hotel in a restored aristocratic palace from the 16th century. The palace has been carefully restored to offer 20 refurbished guest rooms including four majestic suites with floor-length windows – with one offering guests direct access to the outdoor pool whilst another direct access to the indoor pool. Guests can also enjoy delicious cuisine in the unique restaurant, make use of the outdoor saltwater swimming pool and indoor pool, relax in the luxury spa, rejuvenate in Puglia's first Cryotherapy chamber, enjoy the beautiful outdoor spaces at the hotel or discover a wealth of Apulian traditional experiences in the local area.
Hotel Masseria San Domenico
This enchanting Masseria San Domenico dates back to the 15th century and provides a luxurious retreat surrounded by lush palm tree-filled gardens. Guests are sure to enjoy wallowing in the large lagoon-style pool and indulging in a little pampering in the modern spa. The hotel can be found on the edge of the sleeping fishing town of Savelletri, while the ocean is just a 500-metre stroll away. There are forty spacious rooms to choose from here and by far the most luxurious is the San Domenico Suite, which boasts a raised patio that overlooks pretty olive groves and the ocean.
Masseria Cimino
Seated on the tranquil plains of the east coast close to Savelletri di Fasano, Masseria Cimino provides guests with pretty views of ancient olive groves and the Adriatic Sea. This is the perfect place to sample traditional Puglian cuisine in a stylish setting and guests who choose the half-board option will be treated to a hearty buffet each evening, while a special four-course dinner is served during the summer months. There are just fourteen spacious guestrooms set in the converted farmhouse as well as the tower and surrounding rural buildings. Guests who have a taste for the finer things in life should splash out on the Tower Suite, which comes complete with a cosy sitting room and a raised terrace where guests can soak up ocean views.
Masseria Torre Maizza
People who want the chance to get back into the swing of things while surrounding themselves with luxury are sure to love staying at this traditional Puglian Masseria as it comes complete with its own golf course. Forty bougainvillea-draped rooms feature balconies that face the ocean, while there is a pretty a vine-shaded collonaded pool. Guests are also treated to a private beach as well as several beachside restaurants to unwind at.
Masseria Torre Coccaro
This family-friendly establishment has grown up around a traditional 16th century Masseria and provides a wide range of activities for guests to take part in during their stay. In addition to activities that are organised in the two private beach clubs, regularly cooking classes are held here. The pretty garden is set with pomegranate trees as well as bougainvillaea and hibiscus. There are 36 spacious guestrooms and suites to choose from and luxury lovers can book a large private villa, while those who book the Suite Aranceto, will be treated to a sunken swimming pool that is shaded by orange trees.
Borgo Egnazia
Walking into this sumptuous establishment is like wandering through the set of a lavish Hollywood set with plenty of decadent elements for guests to appreciate. Borgo Egnazia boasts two private beaches as well as four swimming pools and five international restaurants, each of which offers a variety of culinary adventures. Guests will find everything they need here for a holiday filled with the ultimate in pampering, including a Michelin-starred restaurant for food lovers and free daily yoga classes. The most luxurious villas here are elegantly furnished and feature private pools that are set in picturesque gardens.
The Fiermontina Urban Resort in Lecce
Located in the very heart of Lecce, The Fiermontina Urban Resort in Lecce provides guests with a large outdoor swimming pool that is set in a pretty garden. An Italian-style breakfast is served each morning, while food lovers can enjoy a range of dishes that are created by the onsite restaurant and served on the large outdoor terrace. The Duplex Suite provides an impressive 35 square metres of space and features a large patio area to unwind on as well as a modern bathtub and a wide range of other modern conveniences.
Canne Bianche Lifestyle & Hotel
Set right on the edge of a beautiful sandy beach, the Canne Bianche Lifestyle & Hotel invites luxury lovers to make this establishment their home away from home. While the amenities and decor runs towards the lavish, the atmosphere here is friendly and laidback. There are plenty of places here to unwind in style such as at the huge outdoor pool area, while each guestroom and suite comes complete with a patio or balcony that looks out onto the ocean. Guests can book an hour-long session at the sauna each day, while a wide range of treatments are waiting to be enjoyed in the modern spa, which also features an adjoining fitness centre.
Hotel Relais La Sommità
This luxurious hotel makes full use of its historical architecture will provide guests with a wide range of lavish amenities and facilities. The emphasis here is on pure relaxation and there are plenty of different areas where guests are invited to simply unwind such as in the solarium and the well-stocked reading room. The large Spanish garden is set with orange groves and olive trees and is a pretty place to take a stroll and work up an appetite before heading to the terrace to indulge in a delicious meal at the Michelin-starred onsite restaurant.