Santorini probably features in many people's travel bucket lists. The crisp white buildings clinging to cliff-sides, the sparkling Aegean Sea, the incredible ancient architecture, and the attraction of delicious Greek meze makes it one of the hottest holiday destinations on the planet. The island is actually part of an archipelago, the remnants of a volcanic caldera. Santorini itself squeezes in over 800 hotels on this 12 by 7 km island so choice can be difficult, but here at The Luxury Editor we have found five of the best so you know you are staying in style…
Magma Resort Santorini – The Unbound Collection by Hyatt
Magma Resort, a distinguished establishment within The Unbound Collection by Hyatt, presents an opulent sanctuary where personalized, attentive service converges with state-of-the-art amenities and contemporary aesthetics. Nestled amidst lush surroundings, the resort features a captivating infinity pool, adorned with plush daybeds and sun loungers, providing an idyllic setting to soak in breathtaking vistas of the countryside. As twilight descends, guests can indulge in the culinary delights of Magma by Spondi, an exquisite fine dining restaurant on-site, meticulously curated by the esteemed two-star Michelin chef, Arnaud Bignon. Additionally, the resort boasts the renowned Lava Spa, Santorini's largest subterranean wellness retreat. Situated in the serene Vourvoulos region, Magma Resort offers a strategic location for exploring the captivating wonders of Santorini, surrounded by vineyards and within easy reach of the picturesque towns of Oia and Fira, renowned for their Instagram-worthy panoramas, just a short drive away.
Sea Breeze Santorini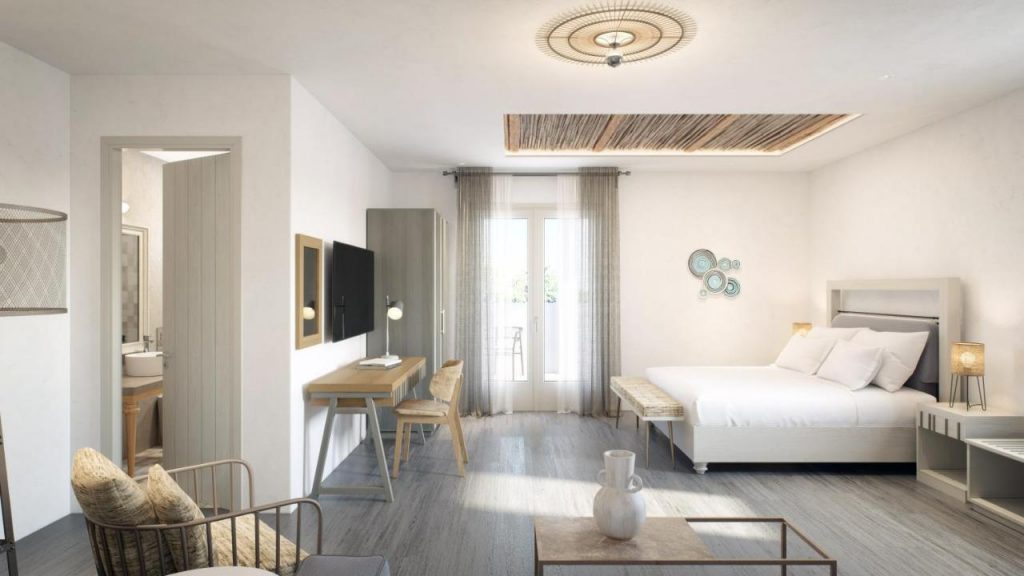 Recently opened (in spring 2022), this is the first Curio Collection by Hilton hotel in Santorini and the group's second to arrive in the Greek islands. With a true barefoot luxury vibe, the on-trend, low-rise whitewashed property sits right beside a private beach, with a waterside bar and restaurant. Inside Sea Breeze, is a further restaurant and bar, a spa and a fitness suite. Each of the 37 bedrooms and duplexes comes with a private terrace, a hot tub or pool, minibar, coffee machine and airy decors such as stone walls, rattan light fittings and organic wooden furnishings.
Pegasus Suites and Spa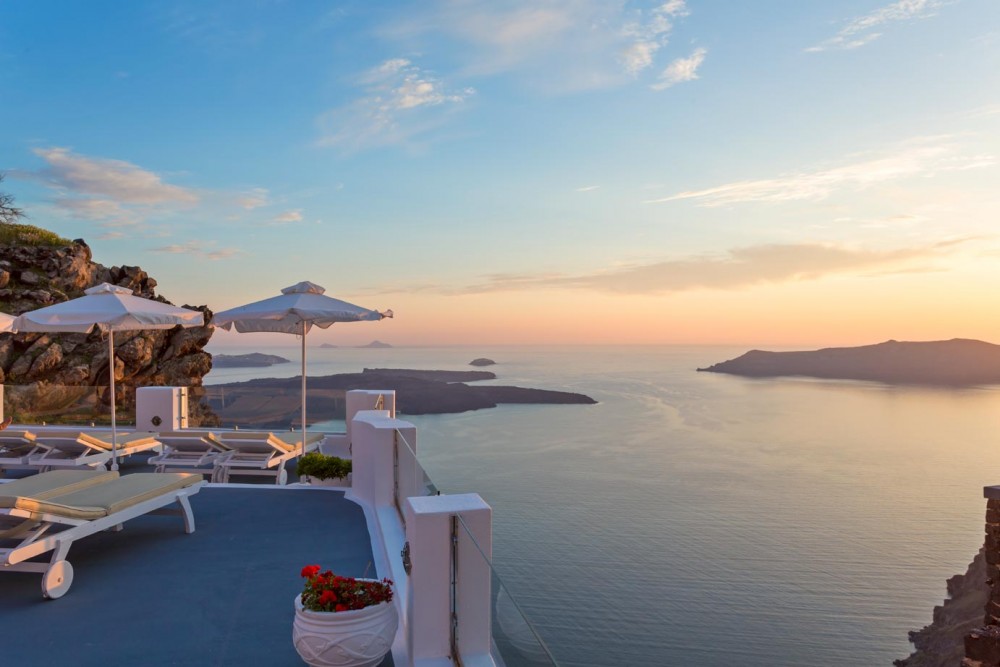 Perched high on the cliffs, overlooking Santorini's stunning caldera lies Pegasus Suites and Spa. This hotel effortlessly captures the elegance and romance of the island with its timeless yet modern decor and a fantastic range of exclusive spa services. The hotel incorporates elements of the traditional, classy Cycladic architecture like pristine whitewashed exterior walls and touches of vivid blue scattered throughout. While almost every room includes breathtaking views of the bay, some rooms also feature a private jacuzzi or pools for ultimate relaxation. Guests can also enjoy a shared pool and bar with sweeping views of the Caldera or take advantage of the hotel's fantastic spa and fitness centre providing exclusive spa treatments as well as an indoor heated pool and jacuzzi. Pegasus Suites and Spa also offers exquisite fine dining, under the stars restaurant serving traditional Greek cuisine with locally sourced ingredients and an excellent wine list. The hotel will also help you arrange a special candlelit dinner on a private balcony for true romance. With so much to offer, Pegasus Suites and Spa is easily one of the best luxury hotel options in Santorini.
Ikies Traditional Houses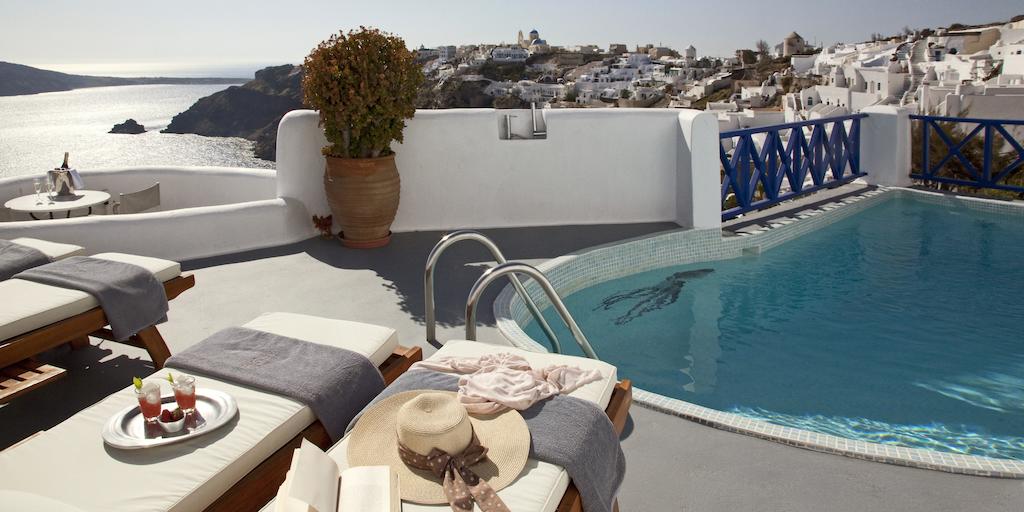 Located in the picturesque village of Oia, this five-star resort is made up of individual dug-out cave houses all oozing minimalist elegance. Room décor really speaks for itself here where Scandinavian cool combines with classic Aegean white and blue. Calming tones of steel grey, brown and white are in abundance and beds are decked in natural fibre soft furnishings. The 11 suites date from pre-1956 and have outdoor spaces boasting lovely views of the bay. Some even benefit from private spa tubs for soaking up the sweeping panoramas. Breakfast is served on your terrace in an hour of your choosing before guests can make use of the fair sized communal plunge-pool on the lowest terrace. Whilst the hotel doesn't have its own restaurant, it's just a 15-minute walk to the centre of Oia where there are plenty of options and staff are happy to make recommendations.
Astro Suites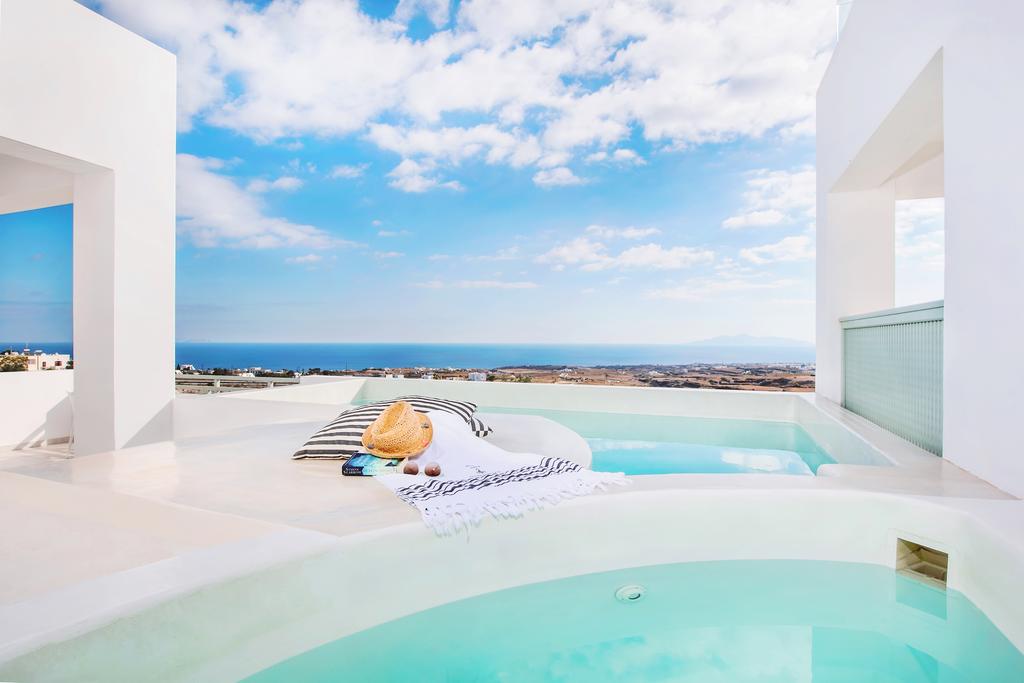 Directly near the stunning Skaros rock formation, clinging to the cliffs of Imerovigili is the renowned Astra Suites. The hotel is decked out with a decent sized caldera-edge pool with day beds and wooden loungers, an ideal spot for soaking up the rays plus a small spa with hammam sauna for total relaxation. Although the predominant theme is still typically Greek white throughout, bathrooms are opulent in vibrant blue, green and red whilst some of the living space floors are tiled in jazzy rainbow patterns. Each room has unique art on the walls and splashes of vivacity are added through bright soft furnishings. We recommend the Pool Grade suites for ultimate privacy and your own private freshwater plunge pool with obligatory Aegean Sea views. Breakfast is brought to your terrace for a totally dreamy morning whilst the dusky blue restaurant offers traditional Greek dishes such as mylokópi En papillote with sunset vistas.
Atrina Canava 1894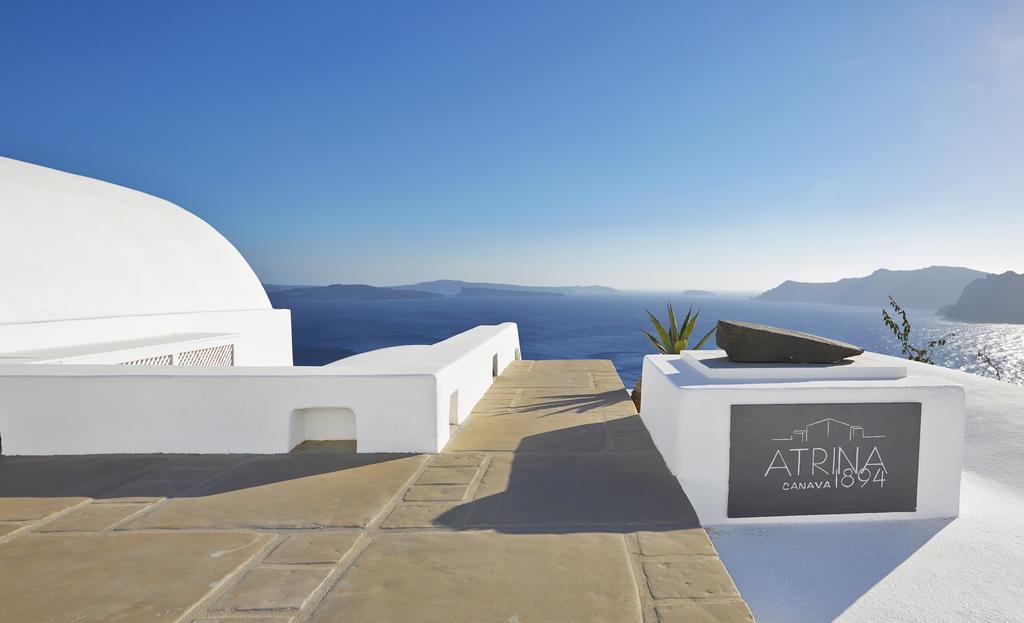 This compact cliffside hotel appeals thanks to its quirky individual rooms and boutique size and quality of service. Named after the year the owner's great- bought the land and then dug two kánaves (medieval wine cellars), this lovely hotel is located in the west end of Oia. Made up of nine suites or studio, five 'houses' and one villa, each space is unique. Three have private whirlpools and the Irene 'senior' suite boasts and incredible walk-in closet and stunning vaulted ceiling. Bathrooms have a grotto-like feeling about them and feature rain showers for the perfect drench and front terraces face out onto the sparkling turquoise water. The communal pool fades into the horizon and is strikingly surrounded by exposed volcanic rock walls, contrasting with the abundance of clean white. No on-site restaurant doesn't matter as such as you are so close to town but breakfasts (either American, English or Greek) are cooked to order.
Perivolas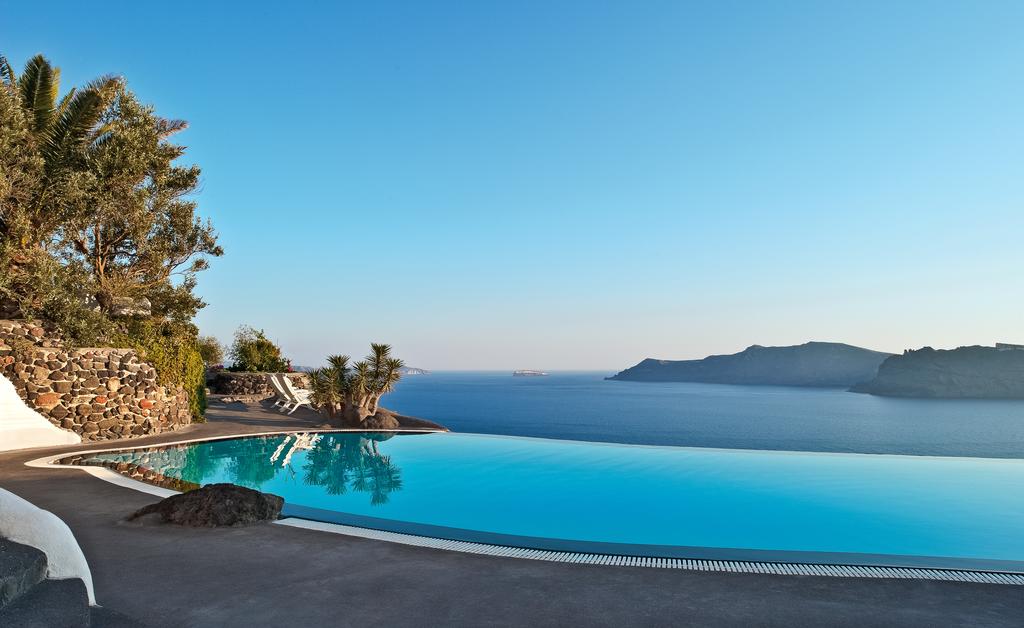 Situated on Santorini's northern tip and slightly out of town, this hotel enjoys a little more tranquility and privacy than others in the area. The ultimate in honeymoon destinations, Perivolas is a cluster of 300-year-old cave dwellings carved out of the hillside. Now forming 20 striking studios and suites, the caves are calming and minimalist in the obligatory Santorini white but with bright splashes of pink and lilac, alcove bed areas, arched windows and warm wood furniture. Some suites boast their own plunge pools, steam rooms and private terraces but there are definitely not TVs here – it's all about relaxation! Talking of, the hotel benefits from a private yoga and Pilates studio overlooking the caldera plus an intimate spa with natural Apivita products. The hotel's restaurant is quirkily housed in a converted wine cellar and a split-level pool terrace and serves simple Mediterranean dishes plus a wine list curated by top Greek wine-maker Panos Zoumboulis.
Erosantorini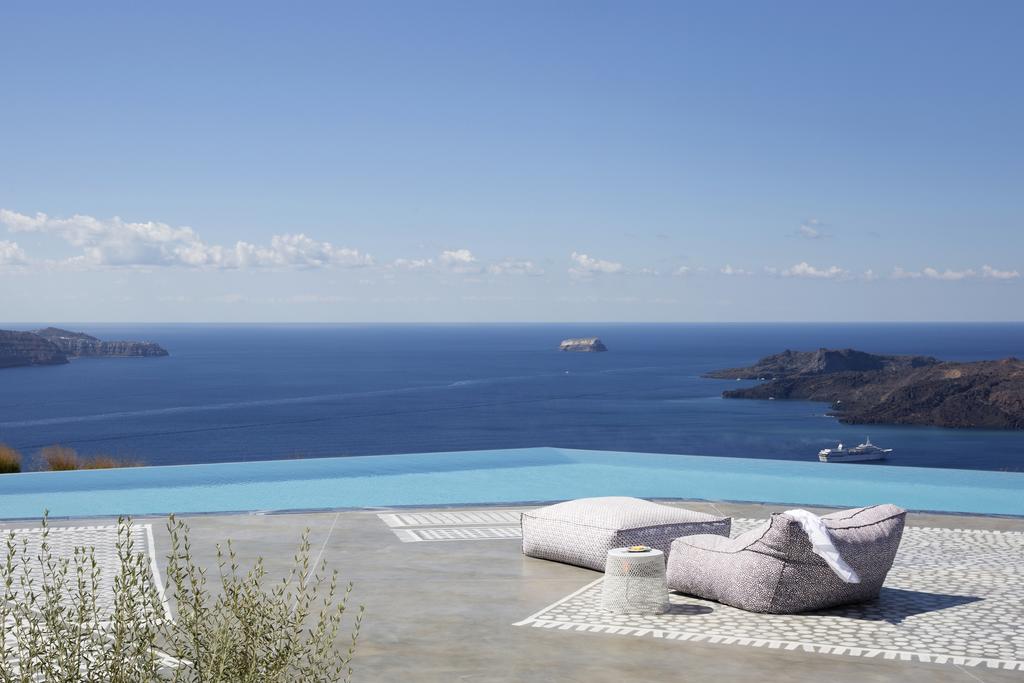 For the ultimate privacy and luxury this private estate perched 1000 feet above the sea is ideal. The two-acre plot boasts total privacy away from the other crowded Santorini resorts. The capital of Fira is just over a mile away whilst Oia is a nine-mile drive, but when you have this complex to yourself, who needs to leave? The unrivalled views take centre stage here and again, with no other properties nearby, the vistas are pure un-spoilt drama. Accommodation is made up of four standalone bungalows, housing up to 14 guests. The outside and inside blend seamlessly through large day beds, outdoor showers and plunge pools. Luxe design elements run throughout including heated floors, floating fireplaces and marbles and concrete bathrooms. Design lovers will appreciate the cubist architecture of the building and this striking simplicity continues inside through the black, white and grey colour palette. Whilst guests will have the resort to themselves, the property is fully staffed including a chef who has honed his skills at Michelin-starred restaurants.